Pages 193-195
An Inventory of the Historical Monuments in the County of Northamptonshire, Volume 3, Archaeological Sites in North-West Northamptonshire. Originally published by Her Majesty's Stationery Office, London, 1981.
This free content was digitised by double rekeying and sponsored by English Heritage. All rights reserved.
63 WEEDON BEC
(OS 1: 10000 a SP 66 SW, b SP 65 NW)
The parish, covering some 770 hectares, lies in the valley of the R. Nene which flows E. across Lias Clay between 100 m. and 75 m. above OD. To the N. and S. the land rises to a height of between 120 m. and 150 m. above OD on clay and Marlstone though in the N. this is covered by glacial deposits.
There are three separate settlements in the parish, Lower Weedon on the S. side of the Nene, Upper Weedon above it on the hillside to the S.W., and Road Weedon, N. of the Nene, straddling the junction of Watling Street (A5) and the Daventry-Northampton road (A45). Road Weedon is likely to be a secondary settlement which grew up in response to traffic along the main roads. The only monument of special note is the early 19th-century redoubt or gun battery (2) associated with the famous barracks of 1803.
Prehistoric and Roman
There are records of worked flints in the parish but the exact location is not clear (OS Record Cards). Recent air photographs (in NMR) seem to show a ditched trackway (SP 60745774–60945725; BNFAS, 5 (1971), 45; 6, (1971), 18). However on vertical air photographs taken in 1947 (RAF VAP CPE/UK/1994, 4166–7) a headland between two end-on furlongs of ridge-and-furrow can still be seen intact (see Lamport (19)). Other cropmarks are said to have been seen further to the E. (at SP 62205778; OS Record Cards) but no details are known.
For Roman Road 1f, Watling Street, see Appendix.
Medieval and Later
b(1) Hollow-way (SP 620588), lies on the S. side of Upper Weedon, on a N.-facing slope, on Marlstone Rock, at 100 m. above OD. A former close behind the existing houses, bounded on the S. by a curving bank and ditch, is crossed diagonally by a broad hollow-way running S.W. from the present road to Farthingstone (air photographs in NMR).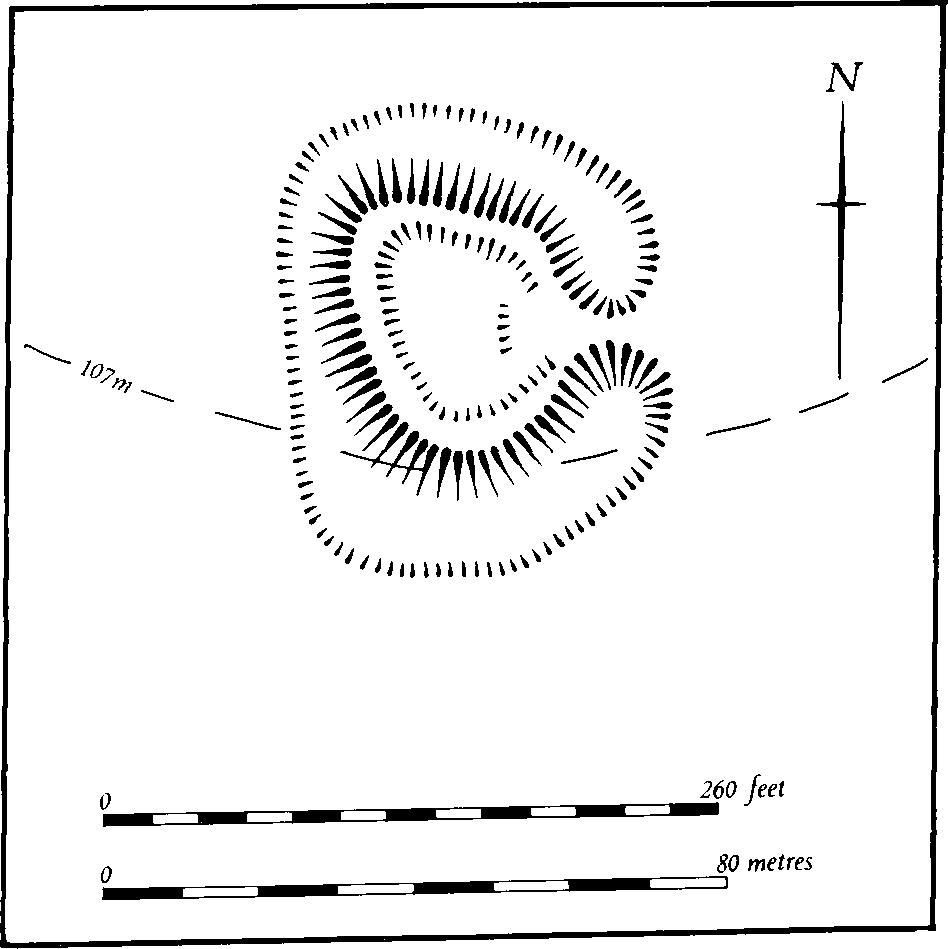 b(2) Redoubt (SP 62155977; Fig. 143), probably an early 19th-century military work, lies N.W. of Weedon Barracks on the N. side of the R. Nene on land sloping S., at about 100 m. above OD.
Although it has been described as a Norman castle (Ass. Arch. Soc. Reps., 38 (1927), 361), there is no doubt that it is post-medieval in origin and associated with the military use of the area following the construction of Weedon Barracks in 1803. Clearly it lies on top of ridge-and-furrow, though the latter has now been ploughed out (RAF VAP CPE/UK/1994, 1268–9). On the OS 1st ed. 1 in. map of 1834 the site is described as a 'Redoubt' and is shown as a rectangular feature with a projecting S. end. It may have been constructed as part of a defensive system around the barracks but its tactical situation makes this doubtful and a more likely explanation is that it was constructed as part of military training soon after 1803.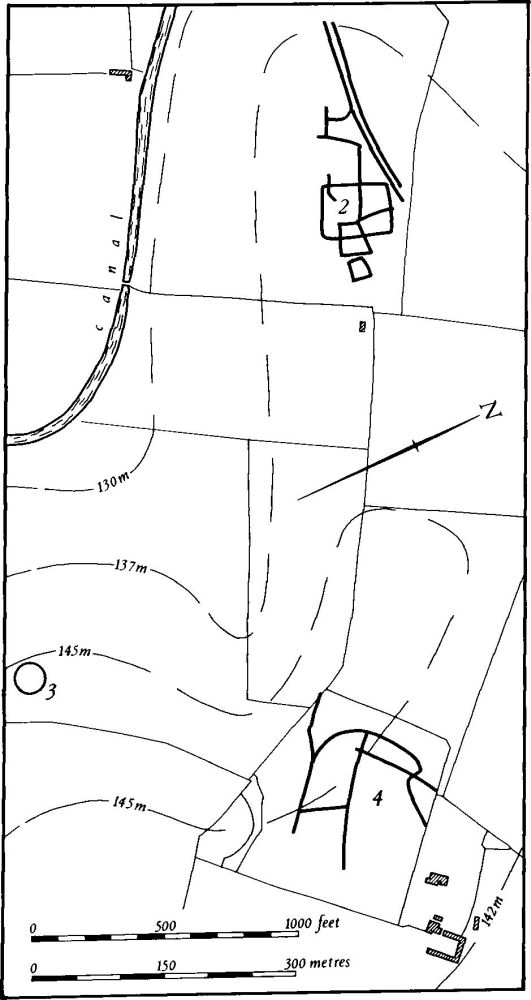 The site has been badly damaged by later activity but enough remains to indicate its original form as a redoubt, that is a small detached stronghold without provision for flank defence. It consists of a bank of bastion form some 1.5 m. high with the point of the bastion facing N.W. The N.E. angle still survives though the S. one is now rounded. The entrance is to the E.; below the banks is a surrounding ditch, now only 0.5 m. deep, with a causeway across it on the E. giving access to the interior. The latter is disturbed by trenches, probably of recent date.
(3) Cultivation remains. The common fields of Weedon Bec were enclosed by Act of Parliament in 1777. Ridge-and-furrow of these fields can now be traced either on the ground or from air photographs over less than half of the parish, mainly within a roughly rectangular area around the villages of Upper and Lower Weedon. Here the ridges run at right-angles to the R. Nene and two of its N.-flowing tributaries so that the furlongs appear to radiate from the villages. A few interlocked furlongs also survive in the S.W. of the parish near Weedon Lodge (centred SP 607575; RAF VAP CPE/UK/1994, 1268–71, 3155–7).
Undated
b(4) Burials (unlocated, but said to be close to the Roman road). During the 19th century some skeletons were discovered which were thought to be 17th-century plague burials. However they may have been Roman or later (Baker, Hist. of Northants., I (1822–30), 454).