Pages 33-34
An Inventory of the Historical Monuments in the County of Northamptonshire, Volume 3, Archaeological Sites in North-West Northamptonshire. Originally published by Her Majesty's Stationery Office, London, 1981.
This free content was digitised by double rekeying and sponsored by English Heritage. All rights reserved.
13 BYFIELD
(OS 1: 10000 a SP 45 NE, b SP 45 SE, c SP 55 NW, d SP 55 SW)
The roughly rectangular parish of 1230 hectares lies across the valleys of four small S.-flowing tributary streams of the R. Cherwell. The N. part is mainly on Upper Lias Clay at 165 m.–200 m. above OD. To the S., between the streams, large areas of Marlstone Rock are exposed with Lower and Middle Lias Clay in the valley bottom between 120 m. and 150 m. above OD. Immediately S. of the village the land rises steeply across a broken scarp of Upper Lias Clay to a maximum height of just over 180 m. above OD. Two Roman sites (1) and (2) have recently been discovered in the parish; one (1) appears to be the site of a villa or major building, with at least one kiln, recorded in the 19th century but never published.
The village of Byfield consists of three separate parts, Church End, High Street and Westhorp, each based on a N.–S. street running along a ridge. This is best depicted on the Enclosure Map of 1779 (NRO) before modern development obscured the pattern.
Prehistoric and Roman
A flint scraper was found in 1970 (sp 505526; NM; BNFAS, 5 (1971), 1). A small quantity of Roman pottery and a metal dagger scabbard have been discovered in the N.E. (SP 521546) and other Roman sherds in the E. (SP 526531). A complete 4th-century pot was found in an ironstone-quarry N. of the village in 1960 (sp 519542) and a puddingstone quren further to the S. (SP 518538; OS Record Cards).
d(1) Roman villa and kiln (centred SP 506545; Fig. 33), N.E. of Pitwell Farm on Northampton Sand at 177 m. above OD. Roman pottery, including grey and colour-coated wares and a mortarium sherd, associated with patches of burnt earth, stones and roof tiles, has been found in recent years E. of the farm (SP 506543; BNFAS, 5 (1971), 44; NM). Earlier unpublished discoveries, in the mid 19th century, show that this is probably the site of a villa with at least one outbuilding and a pottery kiln.
In the Dryden Collection (Central Library, Northampton) are notes made by Sir Henry Dryden on two separate discoveries in the area. He gives a plan of a building which was uncovered in 1851 in a field 'of Mr. Fairbrother joining the Byfield-Marston road, a short distance south west of Iron Cross'. This would be perhaps about SP 506546. The plan shows the external walls of a large rectangular stone building, orientated N.–S. with almost square compartments projecting at the N.E. and S.E. corners. The walls were said to be of 'red stone' and up to 1 m. thick. No dating evidence is given on the plan though the building is described as 'Roman Remains'. The plan is obviously incomplete but suggests a corridor villa with projecting wings.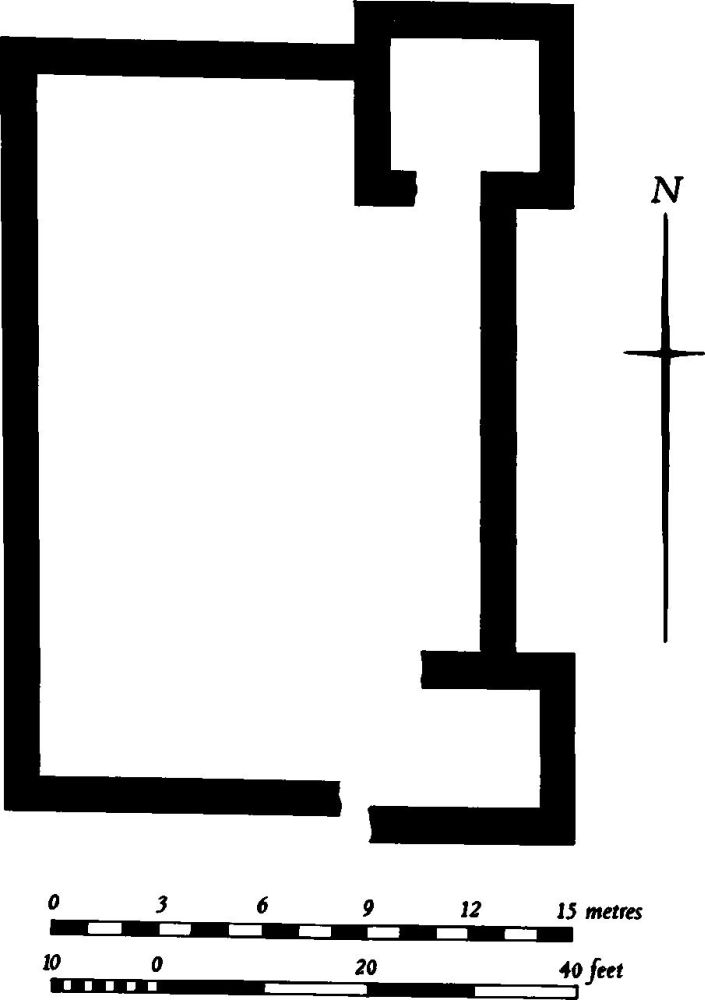 A later plan and note recorded further features discovered in 1863 in the same area and these can be more accurately located (probably at SP 50635449). They comprised a piece of walling, L-shaped in plan with arms about 3 m. long and with another piece of wall in the angle. This was associated with ashes, charcoal and 'grey pottery'. A 'mill stone or quern' was also found about 30 m. to the N.W. and an iron knife 60 m. to the N. Just N. of the wall the remains of a circular stone-lined kiln, containing pottery and ashes and with a stoke-hole on the S. side, were discovered.
d(2) Roman settlement (SP 508549), in the N. of the parish, 700 m. N.E. of (1), and in a similar position. A scatter of Roman pottery, mostly grey ware but also some samian and colour-coated ware, pieces of tiles and a patch of burnt stones, have been discovered (BNFAS, 5 (1971), 44; NM).
Medieval and Later
d(3) Settlement remains (SP 518532), formerly part of Byfield village, lay along the E. side of the road between the manor house and Church End, on a steep W.-facing slope at 145 m. above OD. Air photographs (RAF VAP CPE/UK/1994, 4155–6) show what may have been a series of shallow ditches bounding closes between the road and the adjacent ridge-and-furrow to the E. but the remains have been entirely destroyed by modern cultivation. The site was already devoid of building in 1779 (NRO, Enclosure Map).
d(4) Windmill mound (SP 515523), S. of the village on Northampton Sand at 172 m. above OD. A low mound, and a circular soil-mark visible on air photographs, represent the site of a windmill which stood here in 1779 (NRO, Enclosure Map) and which remained until the mid 19th century (1st ed. OS 1 in. map (1834); RAF VAP CPE/UK/1994, 4155–6).
(5) Cultivation remains. The common fields of the parish were enclosed by an Act of Parliament of 1778 (NRO, Enclosure Map, 1779). Ridge-and-furrow of these fields remains on the ground or can be traced on air photographs over most of the parish except where extensive ironstone-quarrying has removed all trace. It is mainly arranged in rectangular end-on or interlocked furlongs, often of reversed-S form, except in the S. of the parish (around SP 518524) and in the E. (around SP 528536) where the curving hillsides produce a radiating pattern of furlongs (RAF VAP CPE/UK/1994, 2148–53, 3142–7, 4102–7, 4153–7).