Pages 82-84
An Inventory of the Historical Monuments in the County of Northamptonshire, Volume 3, Archaeological Sites in North-West Northamptonshire. Originally published by Her Majesty's Stationery Office, London, 1981.
This free content was digitised by double rekeying and sponsored by English Heritage. All rights reserved.
28 FARNDON, EAST
(OS 1: 10000a SP 78 NW, b SP 78 SW)
The parish is small, covering less than 600 hectares, and lies against the Leicestershire boundary, only part of which is here formed by the R. Welland. The highest ground, in the S.E., with a maximum height of 155 m. above OD, is covered by Boulder Clay. From there the land falls away gently towards the R. Ise to the S.E., but to the N. and W. the slopes, N. to the Welland valley and W. to a N.-flowing tributary, are almost precipitous. Lower and Middle Lias Clays are exposed there, and river gravels and alluvium occur in the wide valley bottom at around 85 m. above OD.
The main earthworks in the parish are the settlement remains (4). Owing to their scale as well as to their dominating position above a steep slope, those to the W. of the village have in the past been wrongly interpreted as fortifications of prehistoric, early medieval or Civil War origin.
Prehistoric and Roman
A small perforated stone, possibly a spindle whorl and probably pre-Roman, has been found in the parish. A bronze spearhead has also been discovered, as well as the base of a 1st-century Roman pot (Trans. Leics. Arch. Soc., 51 (1882), 285; OS Record Cards; Market Harborough Museum).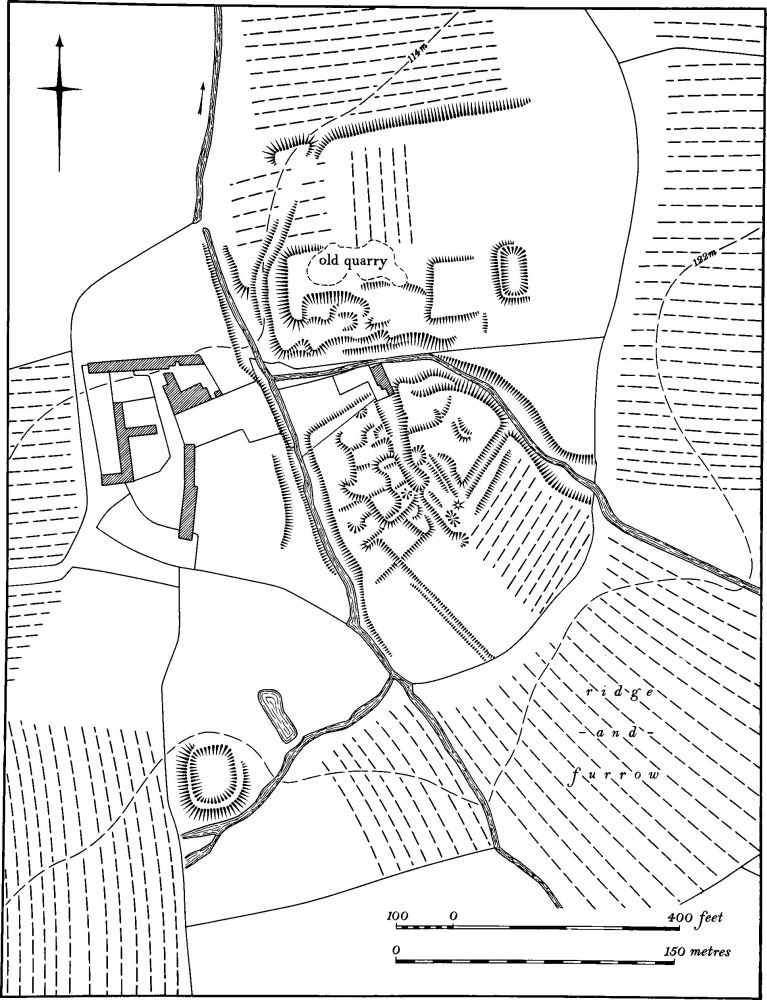 a(1) Roman settlement (?) (sp 709860), in the extreme N.W. of the parish, on Lias Clay at 115 m. above OD. A scatter of Roman pottery has been found (Northants. Archaeol., 11 (1976), 192; for Saxon material from this site see (3)).
b(2) Roman settlement (?) (sp 718837), in the S.E. of the parish, on Boulder Clay, at 140 m. above OD. A small scatter of Roman sherds has been noted (Northants. Archaeol., 12 (1977), 212).
Medieval and Later
A metal object, thought to be a 13th-century sword pommel, was found in the parish sometime before 1872 (PSA, 5 (1872), 34; Trans. Leics. Arch. Soc., 4 (1878), 138). At least two mounds, on the S. side of the village (at SP 71588476 and 71648454), have been traditionally identified either as moot hills, or as Civil War burial places (e.g. J. Bridges, Hist. of Northants., II (1791), 30). Both are quarry mounds derived from nearby pits and thus are of no archaeological significance.
a(3) Saxon settlement (?) (SP 709860), on the Roman settlement (1). A scatter of Saxon sherds has been found (Northants. Archaeol., 11 (1976), 192).
a(4) Settlement remains (centred SP 717851; Fig. 67), formerly part of East Farndon, lie to the W. and N. of the village. There are three main areas. On the crest of a hill to the W. of the village ('a' on plan), on Lias Clay and Boulder Clay at 145 m. above OD, in an area known as Hall Close, is a large area of earthworks, much damaged by later quarry pits (SP 71608500). They consist of the fragmentary remains of rectangular closes bounded by low scarps and banks nowhere above 0.5 m. high. Slight depressions on the E., close to the existing village street, may be the sites of former buildings. On the W. the area is bounded by a broad ditch or hollow-way with an external bank, which follows the curve of the hilltop in a marked double bend. At its S. end the ditch is up to 2 m. deep and the bank is 2.5 m. high but further N., beyond the bend, the ditch is only 1.5 m. deep and the bank less than 1 m. high. To the N. again a later quarry and a track have disturbed the remains and the ditch, when it reappears, is once more 2 m. deep and is on a slightly different alignment. The whole feature is probably no more than an old back lane separating the inhabited area of the village from its fields to the W., but its form and size are unusual.
The size of these remains and their unknown origin have led to much speculation about their function. In the early 18th century Morton (Nat. Hist. of Northants. (1712), 546; see also J. Bridges, Hist. of Northants., II (1791), 30) described them and claimed that they were 'a defence work against the Danes'. Other authorities have described the earthworks as a 'camp' or as a Civil War defensive site (J. Nichols, Hist. of Leics., II (1798), 701; Arch. J., 46 (1889), 209; Whellan, Dir., 829; VCH Northants., II (1906), 256). All these theories can be discounted.
To the E. of this area, immediately E. of East Farndon Hall (SP 717851) are two small pasture closes ('b' on plan). In both there are slight scarps and banks, probably the remains of former buildings.
At the N. end of the village, N. of Home Farm (SP 718852; 'c' on plan), there are several large rectangular paddocks bounded by shallow ditches and containing later ridge-and-furrow. The site has been damaged by quarrying.
a(5) Windmill mound (SP 71118551), immediately N.W. of the village, on the summit of an isolated clay hill capped by glacial deposits, at 145 m. above OD. A well-marked circular mound 10 m. in diam. and 0.5 m. high partly overlies a broad raised trackway between ridge-and-furrow. There is also a large quarry pit. A windmill existed here as late as 1856 and is shown on a map of that date (NRO); the hill was then called Mill Hill (RAF VAP 106G/UK/636, 4129–30).
a(6) Stone (SP 71218603), known as the Judith Stone, lies N.N.W. of the village on land sloping gently E. It is a large irregular rounded boulder some 1.5 m. long, 1 m. wide and just under 1 m. high, partly buried, with the adjacent ridge-and-furrow swinging outwards to avoid it. It is shown named and in its present position in 1856 (Map in NRO). The boulder is said to be of Scandinavian granite and is probably a glacial erratic but it may have been deliberately set up in this position for some unknown purpose (OS Record Cards).
(7) Cultivation remains. The common fields of the parish were enclosed by an Act of Parliament of 1780. Ridge-and-furrow of these fields is unusually well preserved, especially on the hill slopes to the W. of the village. There is evidence of a grave shortage of arable land at some date; very difficult land has been ploughed, for example in a steep-sided combe below the settlement remains (4) (SP 71438490) where the surviving ridges are heavily lynchetted and of markedly asymmetric form (RAF VAP 106G/UK/636, 4127–32, 3128–31).