Pages 155-157
Ancient and Historical Monuments in the City of Salisbury. Originally published by Her Majesty's Stationery Office, London, 1977.
This free content was digitised by double rekeying and sponsored by English Heritage. All rights reserved.
Bedwin Street
Monuments (470–4) on the N. side of Bedwin Street appear on the maps of Gore's and Parsons Chequers, pp. 144 and 146.
(470) Royal George Inn, No. 17, of two storeys with timber-framed and brick walls and with a tiled roof, is of 15th-century origin, but has been extensively altered. The S. front has early 19th-century square-headed sashed windows in the lower storey and segmental-headed casement windows above. Timber framework is exposed in the N. elevation. Inside, the two middle bays of the four-bay range are original and have a roof of three tie-beam trusses with cambered collars, king-struts, lower and upper angle braces and wind-braces. A first-floor doorway has a 17th-centry oak frame with chip-carving.
(471) House, No. 31, of two storeys with an attic, has rendered brick walls and a tiled roof and is of the late 18th or early 19th century.
(472) House, No. 33, of two storeys with attics, has brick walls and tiled roofs and dates from the second half of the 18th century. The five-bay S. front is approximately symmetrical, with a pedimented central doorway, square-headed sashed windows with keystones, and a moulded string-course. The W. bay of the lower storey contains a service through-passage. The house was extensively refitted in the 19th century and the N. wing was added.
(473) Houses, pair, Nos. 35–7, are two-storeyed with attics and have brick walls and tiled roofs; they were built during the second half of the 18th century. The upper storey of the S. elevation has four plain sashed windows and a parapet with a dentil cornice; the lower storey of No. 35 has a modern shop-window.
(474) House, No. 45, of two storeys with brick walls and a tiled roof, was built early in the 19th century. In the lower storey the two-bay S. front has a round-headed doorway and a three-light sashed window; above are a single plain sashed window and a projecting window of three sashed lights.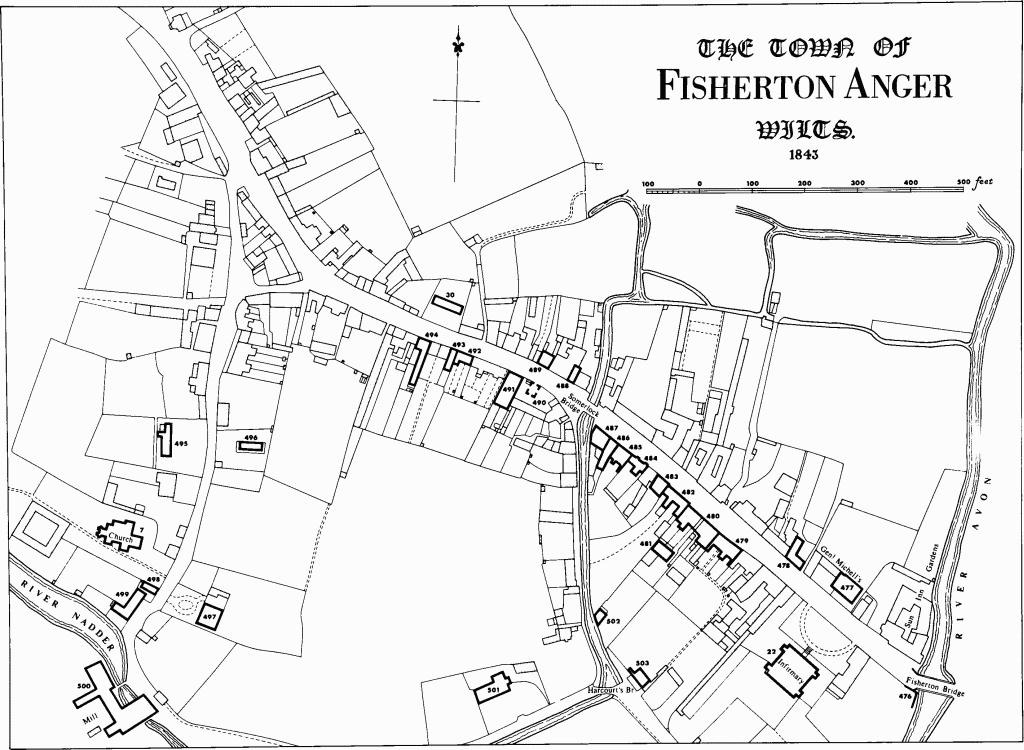 (475) School, built in 1860, 70 yds. N. of the foregoing, incorporates part of a late 15th-century roof from the former Maidenhead Inn (25). (fn. 1) It has four false hammer-beam collar trusses and is largely of 1860, but moulded wall-plates, chamfered purlins and cusped windbracing are in part original.
Reset in the same building is a 15th-century carved stone fireplace with a roll-moulded elliptical head in an ogee-moulded square surround under a frieze of five quatrefoil panels enclosing plain ribbed shields; above, the moulded cornice includes a blank scroll and a deep hollow-chamfer with spaced leaf bosses. This also comes from the Maidenhead Inn.
FISHERTON AND ST. PAUL WARDS
Until brought into Salisbury by the Municipal Corporations Act of 1835 and subsequent legislation, Fisherton was an independent parish with its own church (7) and parochial administration. (fn. 2) The map on p. 156 is based on the Tithe Map of 1843. (fn. 3) Monuments not covered by this map are enumerated on the general map in the end-pocket.