Pages 53-55
Survey of London: Volume 10, St. Margaret, Westminster, Part I: Queen Anne's Gate Area. Originally published by [s.n.], [s.l.], 1926.
This free content was digitised by double rekeying and sponsored by English Heritage. All rights reserved.
XXII.—No. 32 GREAT GEORGE STREET: (Demolished).
General Description and Date of Structure.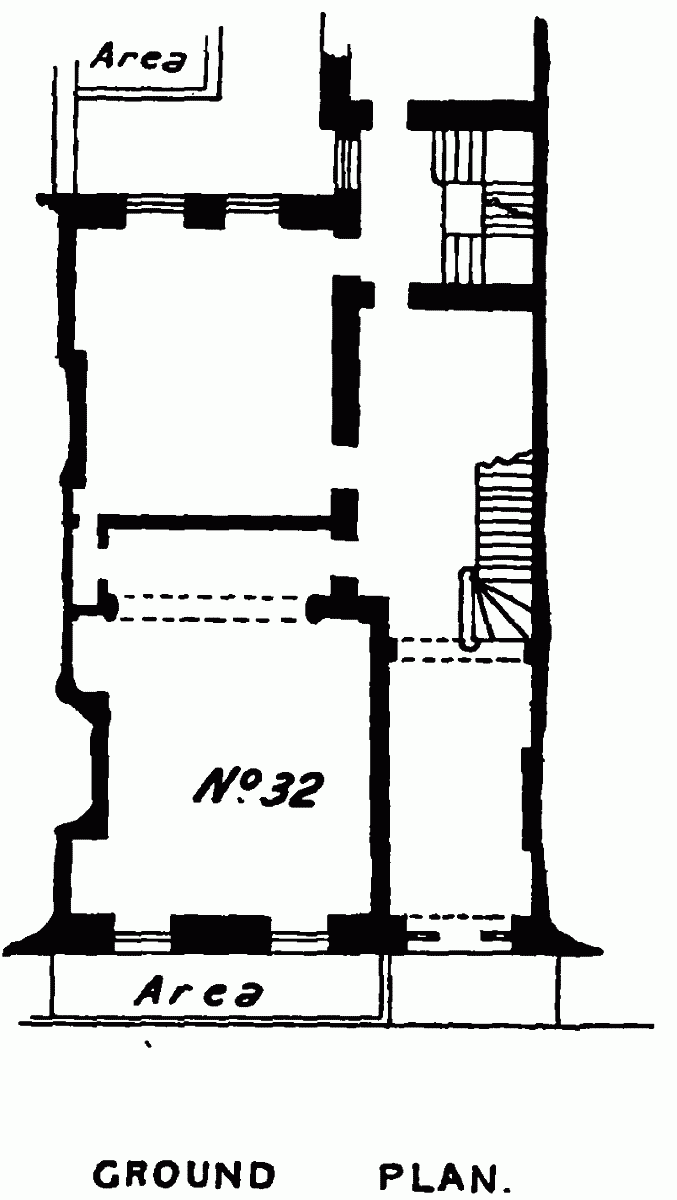 On 4th November, 1755, a lease (fn. n1) was granted to William Wilkinson and John Horne of the fourteenth house on the north side of Great George Street, the measurements of the ground being given as: frontage 29 feet 9 inches; in the rear 29 feet 6 inches; on the east side 86 feet 5 inches; on the west side 86 feet. As a few months later the lease was assigned to Samuel Cox as security for the repayment of £1000, (fn. n2) the house had evidently been to a large extent built by then. Nevertheless it does not appear in the ratebooks, even as an empty house, until 1772, and it was not until 1785 that it was occupied.
The exterior was in plain brickwork, like the adjoining premises on the east side, and had a semicircular ornamental fanlight over the entrance doorway.
The back portion of the front room on the ground floor was recessed and decorated with wood fluted oval columns and pilasters (fn. n3) (Plate 60), while the capitals under the volutes contained carved lions' heads. The walls had a wood dado with carved moulded skirting and chair-rail, and a decorated plaster frieze. The mantelpiece, in marble, was inlaid with a material to represent Jasper (Plate 65).
A detail of the central tablet is illustrated on the following page.
The front room on the first floor had an ornamental plaster ceiling with a circular centre-piece of acanthus leaves carved in strong relief in wood and gilded. The mantelpiece, which was of white marble, had a carved classical vase to the centre tablet, and flutings to the frieze and pilasters, while the moulded skirting and chair-rail to the room were carved in wood. The mantelpiece to the rear room was also of marble, and had the frieze inlaid with a design in a yellow composition.
The ceiling in the front room on the second floor had the corners decorated with a scroll design enclosing small monochrome figure medallions (Plate 61).
The main staircase, which stopped at the first-floor level, had stone treads and ornamental wrought-iron panels of scroll design interspaced between plain square balusters, and a mahogany handrail (Plate 59). The barrel ceiling was decorated with plaster plaques containing well-modelled figures, (fn. n4) and was furnished with an elliptical lantern-light (Plates 62 and 63).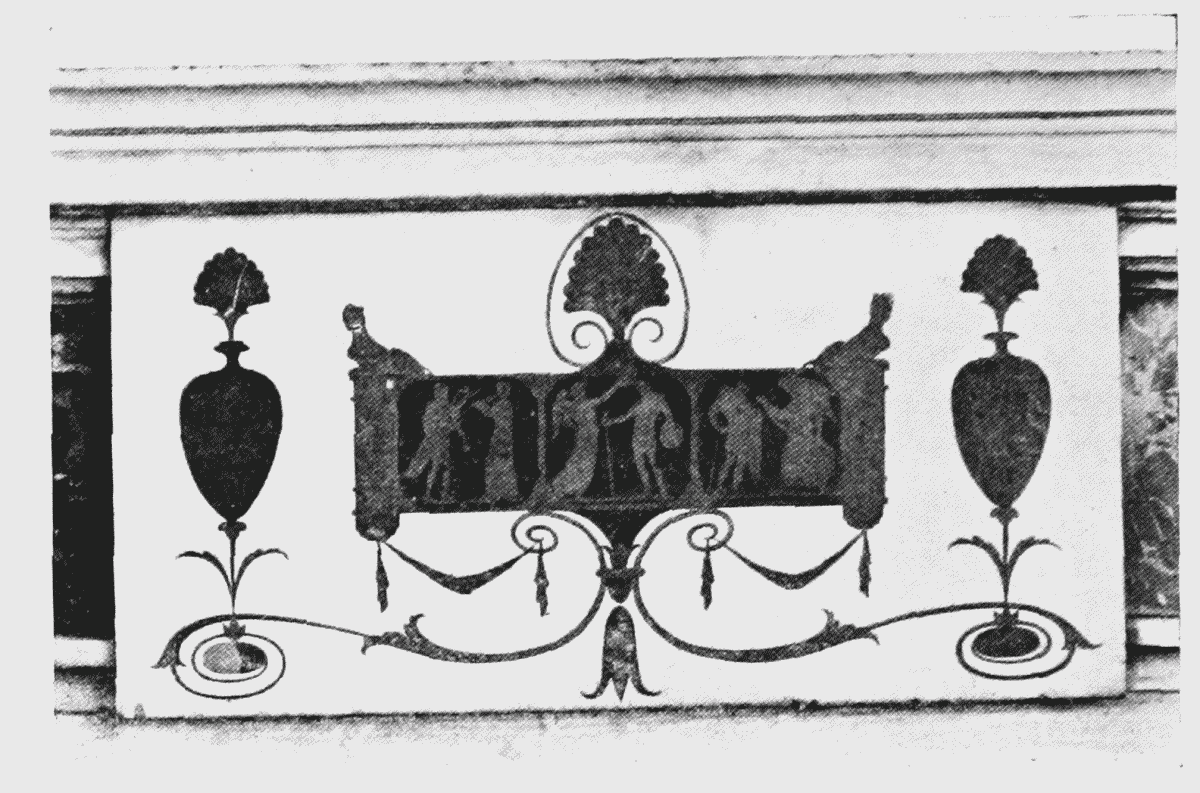 Historical Notes.
The occupiers of No. 32 up to 1840, as given by the ratebooks, were as follows (fn. n5) :—
1785–86
— Oswald.
1787–88
Mrs. Oswald.
1791–99
William Lygon.
1800–07
Bryan Cook.
1808–36
James Mure.
1837–38
James Crawshay.
1839
William Crawshay.
1840
Charles Barry.
For Mrs. Oswald, see p. 39.
William Lygon, son of Reginald Pyndar, who had assumed his mother's maider name of Lygon, was born in 1747. From 1775 to 1806 he represented Worcester County in Parliament. In the latter year he was created Baron Beauchamp of Powycke (a title which had been borne by his ancestors in the 15th century), and in 1815 was made Viscount Elmley and Earl Beauchamp. He died in 1816.
Charles Barry, son of a stationer in Bridge Street, Westminster, was born in 1795. As he showed a taste for drawing, he was in 1810 articled to a firm of surveyors. He stayed with them for six years, and during the latter portion of the time regularly exhibited at the Royal Academy. In 1817 he left England and travelled extensively in Europe and the Near East. On his return after three years' absence he attracted considerable notice among architects for his beautiful sketches. He now began to compete for commissions. In this he met with success, and in the course of the next fourteen years designed St. Peter's, Brighton; the Royal Institute of Fine Arts, Manchester; the Travellers' Club House, Pall Mall; and King Edward VI.'s Grammar School, Birmingham; gaining a steadily increasing reputation. In 1835 his great opportunity arrived. In October, 1834, the Houses of Parliament had been burned down, and in June of the following year a competition was advertised for the new building. Barry was awarded the first premium. The river wall was begun in 1837, the first stone of the building laid in 1840, and "in 1841 he moved to 32 Great George "Street, Westminster, to be near his work." (fn. n6) The House of Lords was in use in 1847, and both houses were formally opened in 1852 (soon after which occasion Barry was knighted), but the building was not finished until after his death. Among other buildings designed by Barry, mention may be made of Bridgewater House, The Privy Council Office, the Reform Club and Highclere House. He was elected A.R.A. in 1840, R.A. in the following year and F.R.S. in 1849. According to Boyle's Court Guide he left Great George Street in 1853. He died in 1860 at his residence at Clapham Common.
The Council's Collection are:—
(fn. n7) General view of alcove to front room on ground floor (photograph).
(fn. n7) Marble mantelpiece to front room on ground floor (photograph).
(fn. n7) Detail of central tablet (photograph).
Ceiling to front room on first floor (photograph).
Detail of central ornament to ditto, first floor (photograph).
Marble mantelpiece, first floor (photograph).
Marble mantelpiece, rear room, first floor (photograph).
Detail of ornament to mantelpiece, rear room, first floor (photograph).
(fn. n7) Ceiling to front room on second floor (photograph).
(fn. n7) Staircase balustrading (photograph).
(fn. n7) Ceiling and lantern-light of staircase well (photograph).
(fn. n7) Plaster plaque to ceiling of lantern light (photograph).
(fn. n7) Ground and first-floor plans (measured drawing).