Pages 109-110
Survey of London: Volume 18, St Martin-in-The-Fields II: the Strand. Originally published by London County Council, London, 1937.
This free content was digitised by double rekeying and sponsored by English Heritage. All rights reserved.
CHAPTER 15: ROBERT STREET, ADELPHI
The east side of this street (shown in Plate 104a) formed part of the island block demolished with the houses of Adelphi Terrace during 1936. The west side, which is still standing, has a similar elevation. The southern face, with the corresponding houses on the eastern side of Adam Street, formed advanced wings to the main architectural composition of the Terrace front. This southern face, which is divided into three bays by ornamental pilasters, terminates with a shallow pediment, and retains the characteristic decorative features incorporated in the general scheme.
No. 1, 2 and 3 (west side).—The chief rooms to Nos. 1 and 2 have ornamental ceilings with a central panel surrounded by elliptical bands incorporating a series of medallions containing classical subjects in light relief stucco work (Plate 105a). On the ground floor to No. 1 there is a carved wood mantelpiece and a good cast-iron grate. There is a similar mantelpiece and grate to the second-floor room of No. 2 (Plate 105b).
No. 3, which was formerly the Caledonian Hotel, is now connected with the two adjoining houses. The end room on the first floor was probably the chief reception-room of the hotel and is an apartment of good proportions. The western side, as will be seen by the inset plan, has a segmental end and there is a deep cove on the northern side. The ornamental ceiling is set out with a central panel within an elliptical band in the customary low relief, while the window reveals and door linings have carved enrichments. The doors are six-panelled in mahogany. The statuary marble mantelpiece follows the curve of the end wall and has the frieze adorned with four delicately carved female heads in relief. The corresponding room on the floor below has similar features. The mantelpiece is also in marble and curved, but more restrained in detail. The entrance hall has a screen of Doric columns and a good cast-iron grate. The landing to the floor above has a corresponding screen of Ionic columns supporting an entablature set in an arched opening. The stairs were in stone with plain cast-iron balustrading and top lighted. The main stairs have, however, been reconstructed in wood.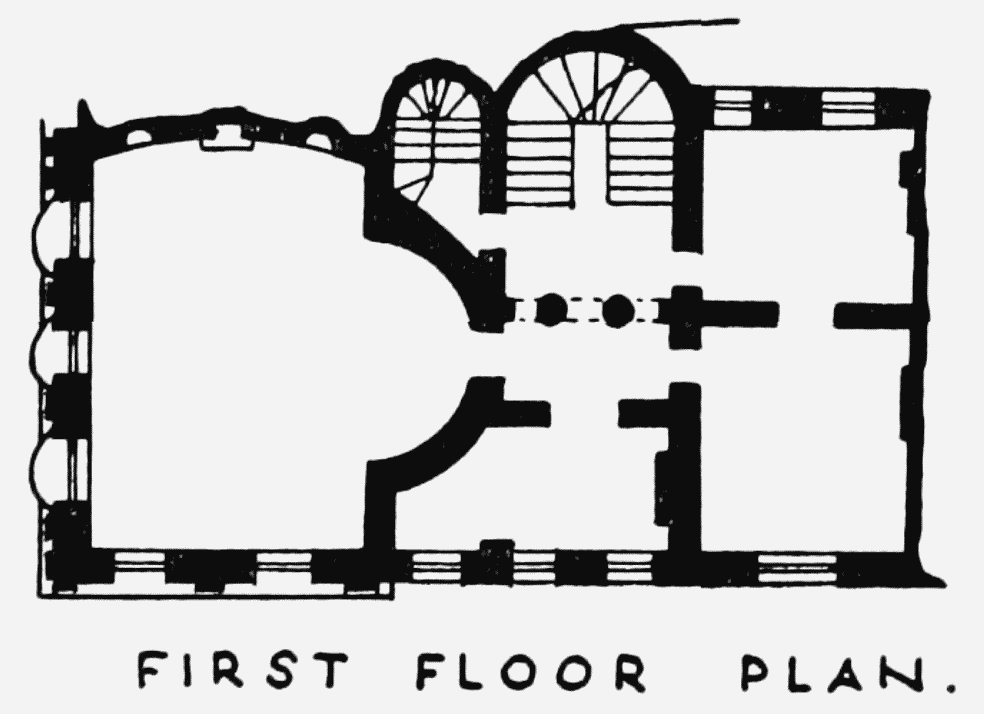 No. 5 (east side—demolished).—On the first floor of this house there was a plaster ceiling, comprising a ring of eight medallions of classical subjects, and a statuary marble mantelpiece (see Plate 83a).
Condition of Repair.
Very good.
Ground Landlord.
Nos. 1–3 are the property of Mr. G. H. Drummond.
Historical Notes.
Nos. 1, 2 and 3 (west side).—Nos. 1 and 2 were among the first houses in London to be built specially to be let in flats or chambers. In the particulars of prizes for the Adelphi Lottery No. 1 was valued at £5,000, and a note stated that "These chambers have been greatly sought after; but not being quite finished, no Bargain could be fixed for them till the Lottery should be drawn."None of the earlier residents in these two houses were of note, though Benjamin Booth (at No. 1) may have been the inventor of book-keeping by double entry.
William Henry West Betty, known in his youth as the Young Roscius, occupied chambers at No. 1 in 1835–45, having previously been at No. 14, John Street. He had retired from the stage and was living on the fortune earned in his teens. Henry Ryall, the well-known Victorian engraver, lived at No. 1 from 1841 till 1850, and John Urpeth Rastrick, one of the pioneers of English railways, was there in 1847. From 1793 to 1795 the ratebooks show a Thomas Rowlandson in occupation of the basement of No. 2. This was, in all probability, the artist and caricaturist who afterwards lived at No. 1, James Street (see p. 112). If so, his fortunes must have been at a low ebb just at that period, for in 1796, the year following his removal, the rate collector noted that this basement was "a dismal uninhabited place, and likely to remain so."
The poet, Thomas Hood, lived at No. 2 from 1828 till 1830, when he moved to Winchmore Hill.
Robert Adam moved to No. 3 from Adelphi Terrace in 1778 (see p. 105). Early in the nineteenth century this house was turned into the Caledonian Hotel. There, in July, 1824, died the King of the Sandwich Islands of smallpox, a disease which had caused the death of his wife, Tamehamelu, a few days previously at Osborn's Hotel in John Street. (fn. 129)
Since 1908 the three houses have been known collectively as Adelphi Terrace House. Among the many residents there who have attained fame in literature or politics may be mentioned: E. Temple Thurston (1909–10), Joseph Pennel (1909–17), John Galsworthy (1917–18), Margaret Bondfield (1925–6), and Sir James Barrie (1911–37).
No. 5.—Bennett Hooper Brough, the mining expert, was at No. 5 in 1887.
No. 6 (sometimes numbered 12, John Street).—As soon as this house was completed William Adam moved into it from No. 6, Adam Street (see p. 118). It was afterwards subdivided and in 1849 it is entered in the P.O. Directory as New Adelphi Chambers. Of recent years it has been used almost entirely for offices.
During the nineteenth century the back part of No. 10, Adelphi Terrace was sometimes let separately from the front and was known as No. 4, Robert Street. Edward (afterwards Sir Edward) Hyde East occupied No. 4 from 1801 until 1813, the year in which he was appointed chief justice of Calcutta. East is chiefly known as a legal writer from his Reports of Cases in the Court of King's Bench, the first law reports to be published regularly at the end of each term. (fn. 119) Holmes Coote, who was at No. 4 in 1841, served as a surgeon in the Crimean War, and afterwards wrote several papers which, though they contain little original matter, are of interest as evidence of the practice of his period.