Pages 61-62
Survey of London: Volume 26, Lambeth: Southern Area. Originally published by London County Council, London, 1956.
This free content was digitised by double rekeying and sponsored by English Heritage. All rights reserved.
THE COMMONS
Most of the common land appurtenant to the Manor lay in Mitcham and Streatham; only about three and a half acres lay in South Lambeth (plot 23). In 1806 the Dean and Chapter requested John Middleton to survey the waste lands of Vauxhall Manor. (fn. 43) In his report he stated that inclosure would be opposed by "persons from London, who live in Genteel houses which front the commons"; and to avoid the consequent trouble and expense of obtaining an Act of Parliament he suggested that the Dean and Chapter should grant small pieces of the waste to such persons as would inclose and cultivate them. Only the consent of the Homage was necessary for this. Middleton also reported that the three and a half acres of South Lambeth Common, bounded by Lansdowne Way, Clapham Road and South Lambeth Road, had been inclosed with posts and rails by the subscriptions of people living near by, who alone kept cattle on the land, although as they were all inhabitants of Stockwell Manor they had no right to do so. He advised the removal of the posts and rails to prevent the "squatters" acquiring a claim to the land. His advice was followed, and in 1817 Edward Shewell of Stockwell was admitted as a copyhold tenant to the three and a half acres, on condition that the land was cultivated and not built on except for the erection of a gardener's cottage. (fn. 44) In 1838 John Notley of Clapham Road, builder, was admitted as a tenant, and five years later he obtained the discharge of the building restrictions and covered the ground with houses. (fn. 45) The small triangle on which the clock-tower stands is the only part of the Common left open (fig. 20).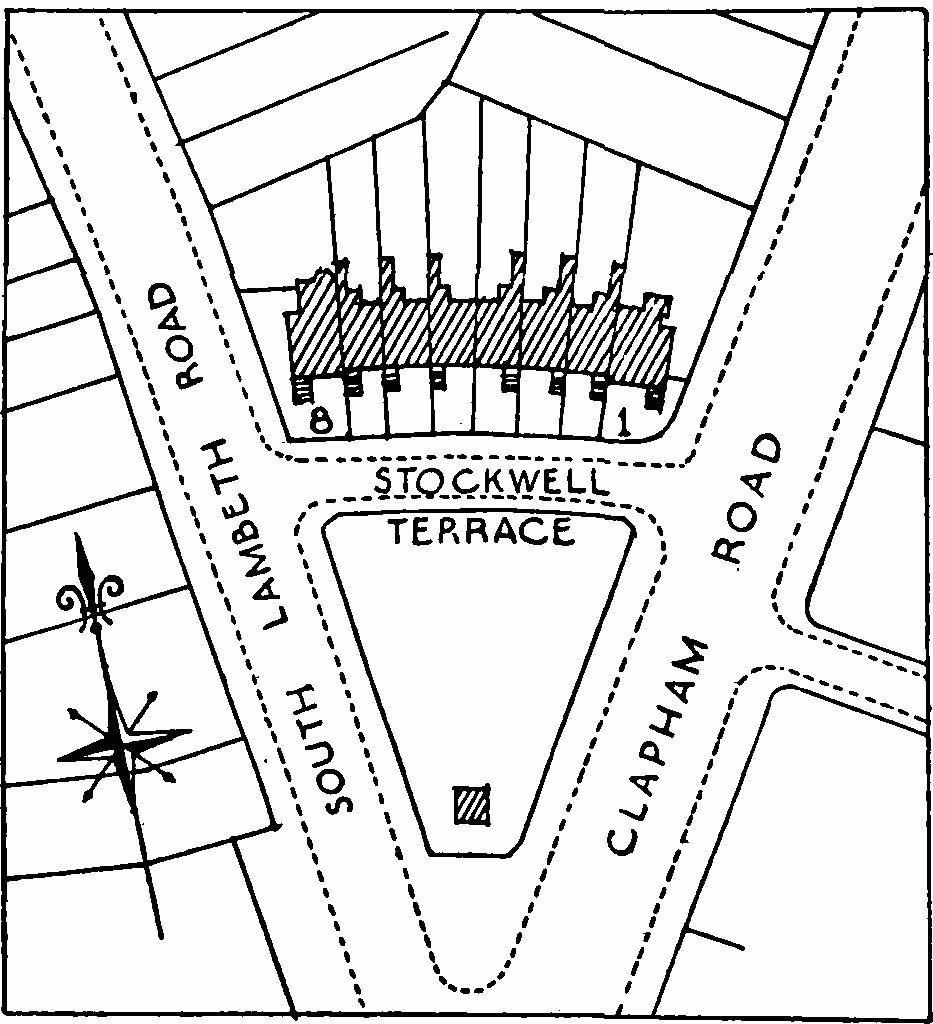 Nos 1–8 (consec.) Stockwell Terrace
Formerly Stockwell Crescent
Fig. 19, plot 23.
These houses (Plate 51d, fig. 21) were erected on the Common (fn. 46) shortly after 1843 by John Notley. They are raised above semi-basements, have three storeys and attics, and are built in yellow stock brick with stuccoed ground storeys and surrounds to the first-floor windows. The stucco-work is channelled except on the end houses where it is rusticated.