Pages 317-324
Survey of London: Volume 38, South Kensington Museums Area. Originally published by London County Council, London, 1975.
This free content was digitised by double rekeying and sponsored by English Heritage. All rights reserved.
The Occupants
The standard of respectability among the occupants was higher than that of the architectural façades they lived behind. Virtually without exception the residents here were put (or put themselves—it is not clear which) into the Post Office Court Directory, and the area in its heyday was overwhelmingly a stronghold of the haute bourgeoisie.
The rate of occupation
These big houses were not taken at an even or evenly accelerating pace. The Post Office Directory may be used as a guide, though an imperfect one. (The date of occupation has here been taken as one year earlier than the first year of occurrence in the Post Office Directory.) The houses began to fill up in c. 1857, and in the year 1860 35 houses received their first occupants. This number fell to 11 in 1862, rose to 26 in 1864 and remained at some 20 to 26 a year until 1869 when it rose to 32. The greatest influx was in 1872 when 50 houses were first occupied. It fell to only one in 1879, and then continued at a very low fluctuating level until the area was completely built up and occupied in 1901. (By then, of course, big blocks of flats were also in occupation.)
In terms of its occupants, therefore, this is an area of families that in the main moved into new houses between, say, 1859 and 1877. The opening of a temporary church for the Queen's Gate Gardens area in 1866 (fn. 3) and then permanently as St. Stephen's, on the other side of Gloucester Road, in 1867, was no doubt as important as the opening of St. Augustine's, Queen's Gate, in 1871. (An unexecuted proposal by C. J. Richardson had been for an iron church, in the plainest 'Gothic', to be built on Lord Harrington's land, but this had probably been intended only for the duration of the 1862 Exhibition. (fn. 4) ) In 1872 a post office was opened in Exhibition Road, a little south of the present office. (fn. 5)
The figures seem to confirm the comparative slump in the house market at the time of the 1862 Exhibition and also the importance of the opening of the South Kensington Station at the end of 1868. They explain the optimism of estate developers in the early 1870's.
The early inhabitants
Many of the first residents had moved from another address in London. Where this was can sometimes be discovered with greater or less certainty from the Post Office Directory. The likely address is known for some 138 residents who moved in between the later 1850's and c. 1876. Some 35 came from southern Kensington (or Westminster south of Knightsbridge), some 23 from Belgravia (including Chelsea north of Sloane Square), 22 from Bayswater or northern Kensington, 20 from Mayfair or St. James's, 10 from St. Marylebone or Regent's Park, 6 from Pimlico and 22 from the rest of London. The figures are not very striking but suggest a readiness to move comparatively short distances and from districts that were themselves quite recently built up.
The average age of the male householder when he first moved in has, for the main streets and squares, been estimated from the 1871 census and the Post Office Directory. He was already middleaged, about 45 or 46 years old, varying from 40 or 41 in the moderate-sized houses of Stanhope Gardens to 51 or 52 in Cromwell Road.
His stability of tenure once he moved in is difficult to assess against a criterion. Eighteen out of fifty houses listed in the 1861 census still had the same householder in 1871. On the north side of Queen's Gate Terrace in 1875, seventeen out of twenty-three adjacent householders had been there for nine years or more: in 1872 four adjacent neighbours in Queen's Gate Gardens had been unchanged for eleven years. Perhaps Nos. 64–72 Princes Gate in Exhibition Road were the most stable in their occupants. All nine remained unchanged for the eight years 1879–86 and eight adjacent houses for twelve years: five houses remained in the same families' occupation for twenty-five years or more from 1873—a situation comparable to St. James's Square in the eighteenth century. Generally in the area, however, there was much less permanence than here.
Some at least of the shopkeepers put down roots in this profitable soil. At eleven adjacent premises at Nos. 17–35 (odd) Gloucester Road (Plate 84b) there were only three changes from 1860 until 1877 or perhaps later. (fn. 1)
The structure of households in the principal streets in 1871
The most detailed evidence at present available about the way the households of the early residents in this part of South Kensington were made up is provided by the census taken in 1871. (fn. 6) By that time the building of a large proportion of the houses had been completed, and most of them were occupied. The tables on pages 357–64 give the individual name of each householder, his occupation where known, and information about the other members of his household. They show that in those streets under consideration 297 houses, none of them as yet subdivided, were in occupation, and that in the nine mews there were 139 inhabited coach-houses.
The householders in these 297 houses included nine peers, three dowager peeresses and ten sons, daughters or daughters-in-law of peers. Four of the peers (including the Duke of St. Albans and the Earl of Durham) lived in Cromwell Road, and four others in Queen's Gate, while in Queensberry Place Prince Murat (son of the Napoleonic marshal) and his son had taken temporary refuge in two adjacent houses during the FrancoPrussian War and the Commune. There were also six baronets and nine knights. Nineteen of the householders were Members of Parliament, one of them, H. A. Bruce, being Home Secretary, and two others junior ministers. Twenty-seven of the 297 householders are known to have owned a country seat as well as a town house here, and it may confidently be asserted that others did so too.
Twenty-seven householders were or had been army officers. Fifteen of these were of the rank of lieutenant-colonel or above, and they included one peer, one peer's son, one baronet and four knights. The navy was sparsely represented by two admirals and a captain, while the Home Civil Service's small contingent of four householders included two inspectors of hospitals. The civilian administrators of India seem, however, to have regarded this part of South Kensington as an appropriate place for retirement or in which to take a house during their periods of leave. The twelve who found a home here in 1871 included Lord Lawrence, the former governor-general of India, Sir William Grey, lieutenant-governor of Bengal, and Sir Frederick Halliday, member of the Council for India. At least eight of them were in retirement, and of these eight, one had set up as an East India merchant and two others were practising in the field of law.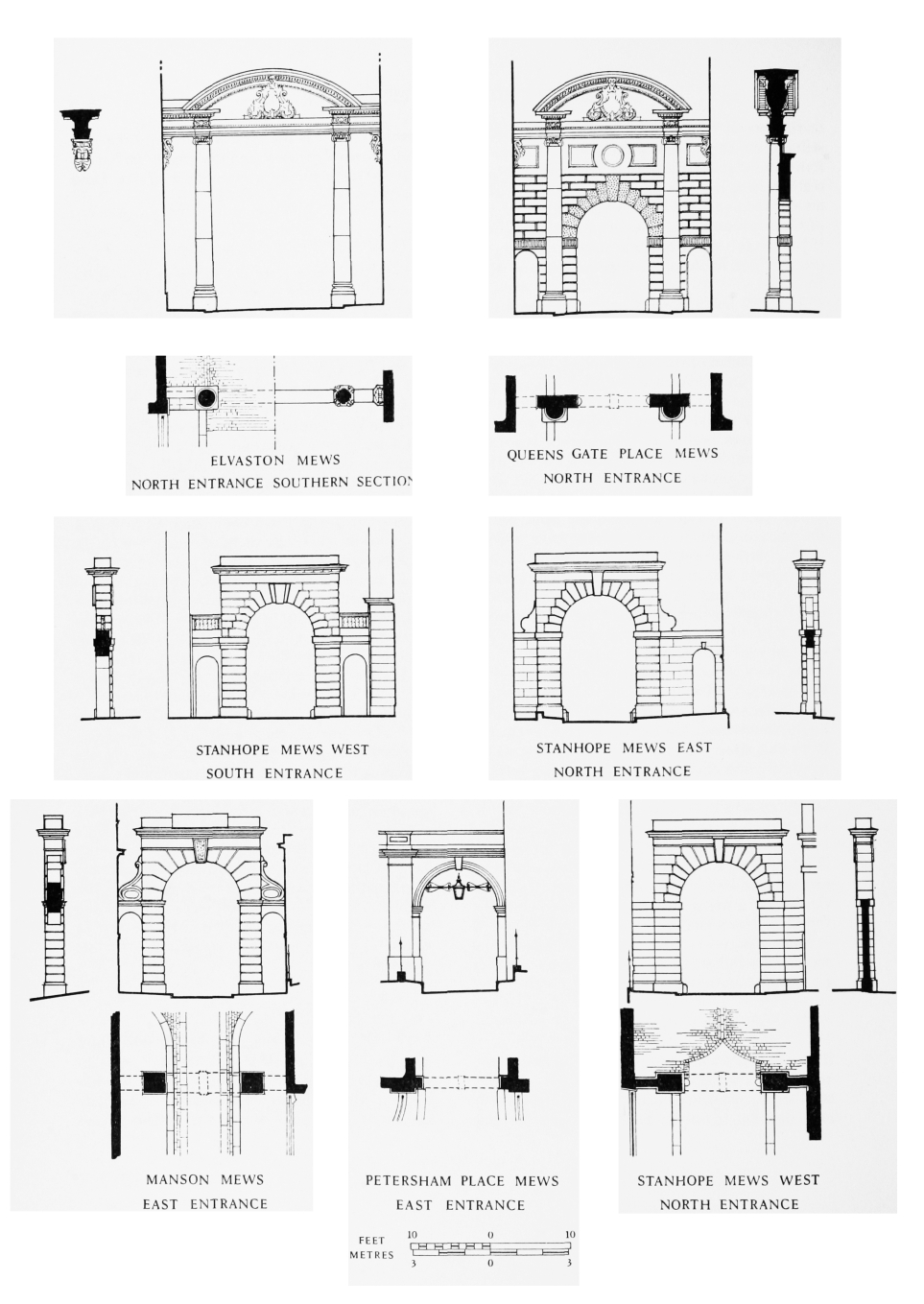 Except for lawyers, professional men were not numerous, there being four doctors and surgeons, three clergymen, two civil engineers, one of whom also described himself as a railway contractor, two artists (J. E. Millais and the baronet Sir Coutts Lindsay) and one 'architect' (Antony Gabrielli, member of a firm of contractors). The lawyers, however, with forty-one householders, provided the largest single occupational group in the area. Twenty-seven of them were barristers, of whom six had dual occupations, such as 'barrister and landowner'; eleven were solicitors, and there was also one law agent (formerly an Indian civilian), one magistrate, and one county court judge, the latter being a baronet. Baron Cairns, of No. 29 Cromwell Road, had already served as Lord Chancellor under Disraeli, and was to do so again. Two other barristers were Members of Parliament, one of them, Sir Richard Baggallay, of No. 55 Queen's Gate, having been SolicitorGeneral in 1868, a post which he was to hold again in 1874 before becoming AttorneyGeneral.
Only thirteen householders may be classed broadly as industrialists, of whom four had dual occupations, e.g. barrister and newspaper proprietor. Four were brewers—Edward Charrington, Richard Courage, Augustus Perkins and Samuel Whitbread, M.P. Three were substantial builders active in the locality—C. J. Freake, William Jackson and John Spicer—and three more were mine- or quarry-owners. The other three were J. E. Taylor, proprietor of The Manchester Guardian, and Robert Dalglish, a calico printer of Glasgow, for which he was Member of Parliament, and John Aiton, the railway contractor and civil engineer referred to above. Mrs. Dorothea Baird of No. 4 Queen's Gate may also be mentioned among the industrialists, being the widow of Francis Baird, formerly proprietor of the Baird Ironworks at St. Petersburg. Thus actual factory-owners were very few.
The men of commerce were considerably more numerous, and indeed if their varied activities are grouped together they outnumbered even the lawyers. There were six bankers (one of whom, John Stapleton, M.P., also described himself as a barrister), and one each of the following: publisher, auctioneer, estate agent, steamship-owner, colonial broker, army agent, chairman of a life assurance society, and professional gambler. This last was Henry Hill of No. 52 Queen's Gate Terrace, who had graduated from being general factotum for Lord George Bentinck to the ownership of his own string of racehorses and to extensive speculation on the Stock Exchange. But the thirty merchants formed by far the largest category within the commercial group. Two of them—both Scots—were also Members of Parliament, and at least half of them were engaged primarily in foreign trade. These included four trading with India (one of whom had evidently retired from the Indian Civil Service), three with China and one with both India and China. Trade with America, Australia, Sweden and the West Indies was represented by one merchant each, and there was also one 'colonial' merchant. About a dozen other members of this group of thirty merely described themselves as 'merchant', but some of them no doubt had extensive foreign interests, notably C. L. Norman, a partner in the firm of Baring Brothers.
Another eighteen householders described their 'rank, profession or occupation' in the census schedules as 'annuitant', 'fundholder', 'rentière', or similarly. Of these, twelve were women. Two of the men specified house property as the source of their income, and another combined 'investments' with land ownership. Eight other men (including one Member of Parliament) described themselves as 'gentleman' or of 'no occupation'.
Lastly there were the landowners. Eighteen householders, of whom three were Members of Parliament, described themselves simply as landed proprietors, and another eight combined landownership with another occupation, such as the army, the bar, brewing or coalmining. For reasons to be given below, however, these figures understate the extent of the landed interest among the householders of the area.
The table below expresses the information given above about householders' 'rank, profession or occupation' as percentages of the 297 households under consideration. The number of landowning householders is, however, considerably understated. None of the nine peers resident in the area described themselves as landowners, and so have not been included in the table among the twenty-six landowning householders. Yet among these peers were such great landed magnates as the Duke of St. Albans and Lord Methuen, each of whose estates was worth over £10,000 per annum in 1883. Moreover, commoners resident on the night of the census did not always describe themselves as landowners when they nevertheless had good claim to do so. A case in point is Henry Bruce, the Home Secretary, who owned lands in Glamorganshire worth £12,113 in 1883. Another is Frederick Milbank, M.P. for the North Riding of Yorkshire and owner in 1883 of lands there and in Durham worth £19,094 (on the grouse moors of which he once shot ninety-five brace of birds in twenty-three minutes). The landowners, in fact, formed a considerably more numerous group than the figure of 8.8 per cent given in the table would suggest.
It is also evident that the sources of the great wealth needed to acquire and maintain a large house in this part of South Kensington were often mixed, revenues from land, for instance, being frequently associated with income of industrial or commercial origin. In this field precision is impossible, but a few examples may nevertheless be cited. In 1883 the third Earl of Durham's lands in Northumberland and Durham were worth over £71,000 per annum, but nearly 90 per cent of this came from the coal mines beneath them, as, no doubt, had been the case when his father, the second Earl, had lived in Cromwell Road in 1871. Edward Charrington of Queen's Gate Gardens described himself as a brewer and insurance company director as well as a landowner, while both Lord De L'Isle and Dudley of Queen's Gate (family estates worth £10,232 per annum in 1883) and the Hon. Robert Grosvenor, also of Queen's Gate (later second Baron Ebury, family estates worth £5,803 per annum in 1883), were in 1896 directors of several public companies.
Householders' 'rank, profession or occupation', 1871 (fn. 2)
% of 297 householdes
Persons of title
13.1
Members of Parliament
6.4
Naval and military officers
9.1
Home Civil Service
1.3
Indian Civil Service
4.0
Professions excluding law
4.0
Lawyers
13.8
Industrialists
4.4
Merchants
10.1
Other commerce
4.7
Annuitants
6.0
Landowners
8.8
[No information]
25.5
111.2
Even when land appears to provide the sole source of income, the family pedigree may suggest a commercial origin for much of the fortune in question, as in the case of W. H. North, later eleventh Baron North, of Cromwell Road (family estates worth £18,217 per annum in 1883), who was a great-grandson of Thomas Coutts, the banker. In the case of the third Baron Abinger, also of Cromwell Road, and whose mother lived in Queen's Gate Terrace, the family fortune appears to have been accumulated in the West Indies and at the bar. His grandfather, James Scarlett, had been born in Jamaica, where the family 'held considerable property and had long been resident'. At the age of sixteen Scarlett had been sent to England to complete his education, and in due course became a very successful barrister before entering Parliament, where he served as Attorney-General before being appointed Lord Chief Baron of the Exchequer and raised to the peerage as Lord Abinger. In 1813 he had bought a country seat and estate at Abinger in Surrey, but his grandson, the third Baron, had sold most of it and invested the proceeds in land in Inverness-shire; in 1883 the family estates were worth £5,035 per annum.
The bar was, indeed, a not unusual aid to wealth. Sir John Rose, a Scot who had emigrated while still a boy and earned a fortune in the Canadian courts before entering politics there, had combined the bar with London banking, and in 1871, when he was living in Queen's Gate, described himself as a merchant. More unusual, perhaps, is the case of the Bethell family, whose wealth appears to have been made solely in the professions, Slingsby Bethell of Queen's Gate Terrace, a barrister and clerk of the House of Lords, being the grandson of a Bristol physician and the younger son of Lord Chancellor Westbury, who in his earlier days had practised at the bar with conspicuous success. Three consecutive generations in the professions can, however, be matched, in the person of Bonamy Dobree of Queen's Gate Place, banker, by three consecutive generations in the mercantile world of the City. Permutations in the sources of wealth of the householders of this part of South Kensington are, indeed (as no doubt elsewhere), almost endless.
On the night of the census, 2-3 April 1871, 62 of the 297 houses so far discussed were not in substantially normal occupation. In some of these 62 houses the householder and his family, or part of it, were absent, the servants, or some of them, being left in charge, while in others a caretaker, often with his or her family, had been installed in a newly completed house until a tenant could be found; and in Queen's Gate Terrace several adjacent houses were already in use as a hotel, and there was also a girls' boarding school. These 62 houses have therefore been excluded from the following calculations.
In the remaining 235 houses, the average number of inhabitants per house (and so per household, since no house was subdivided), was 10.9, of whom 6.2 were servants, including governesses. There was therefore an average of 1.3 servants for each member of the householder's family and for each visitor resident on the night of the census.
In the 139 occupied coach-houses in the nine mews within the area the average size of household was 4.09 persons. Of the mews residents 197 were described as coachmen, grooms or servants. If it is assumed that 75 per cent of these 197 were in the service of the householders of the 235 houses in the streets of the area under consideration, then the average number of servants was 1.5 for each person living on the other side of the green baize door.
The tables on pages 357–64 also show that only 27 per cent of the 235 households included relatives of the householder other than his or her sons and daughters. Indeed, despite their great size, comparatively few of these houses accommodated the householder's brothers, sisters, nephews, nieces, grandchildren or in-laws. The total number of governesses—forty—was also comparatively small, owing to the fewness of young families: the average age of the male householder was now nearly fifty.
Over 57 per cent of all the residents in the 235 houses were, of course, servants, and those working in the 49 houses in normal occupation in Queen's Gate may be cited as examples of this elaborate domestic hierarchy. In these 49 houses 339 servants attended to the needs, or supposed needs, of the other 252 residents, and on average there were 6.9 indoor servants per house. Of the 339 servants, 23 per cent (78) were male, and 77 per cent (261) female. The average age of the 78 menservants was 28 years, but 73 per cent of them (57) were unmarried, and of the 21 who were married, only 2 lived under the same roof as their wives—Henry Spearing, the butler at No. 7, married to a lady's maid, and a carpenter at No. 61, who with his wife (both described as servants) provided for the wants of the only other resident there, a middle-aged clergyman. The average age of the 261 female servants was 29 years, but over 91 per cent of them (240) were spinsters, the remainder being windows (8), or married (13). Of these 13 married women, only the wives of the 2 menservants mentioned above had their husbands living on the same premises. In Queen's Gate, at any rate, domestic servants evidently suffered considerable curtailment of marriage prospects, and if they did marry, the chances of their being able to live with their spouses were extremely small. Even the butlers, who as senior members of the domestic establishments might be expected to have received favourable treatment, fared badly, for of the 29 butlers in the 49 Queen's Gate houses under consideration, only 14 were married, and of these 14 only Henry Spearing of No. 7 was able to live with his wife. And of course none of the resident married servants of either sex had any children living in.
The coachmen were, however, in an entirely different situation. They lived in rooms over the stables and coach-houses in the mews, and in the 139 such dwellings in the nine mews under consideration, 86 per cent (120) of the householders were coachmen: 114 of the 120 were married, and of these 114 all but four had their wives with them on the night of the census. Many of them also, of course, had children as well, and grooms and servants often lodged with them.
In reviewing the census returns a few households attract particular attention (remembering, however, that one night may not be typical). The two most populous households, at No. 1 Queen's Gate and No. 4 Cromwell Gardens, each contained 23 persons. At each house that total included 13 servants, the highest number represented in the returns, which occurs also at No. 3 Cromwell Road. At No. 1 Queen's Gate they were a butler, two footmen, a housekeeper, two lady's maids, two housemaids, a kitchen maid, a scullery maid, a schoolroom maid, a nurse and a nursemaid. Presumably a cook was usually also resident. The largest family numbered twelve, at No. 28 Queen's Gate Gardens (parents, nine children and a nephew). It is remarkable that, with governesses excluded, only 21 households had fewer than four servants. At No. 27 Cromwell Road a window of seventy-six had eleven servants. At No. 21 Queen's Gate Place a couple aged thirty and twenty-four, apparently without children, had eight servants. Comparative youthfulness was, in fact, no hindrance to the command of service: in the ten households whose head was in his or her twenties the average number of servants was 5.6. In Stanhope Gardens one unmarried lady of thirty-five had six servants and nearby an unmarried army officer of twenty-seven also had six, male and female, to look after him. In that household the oldest member was the twenty-nine-year-old butler.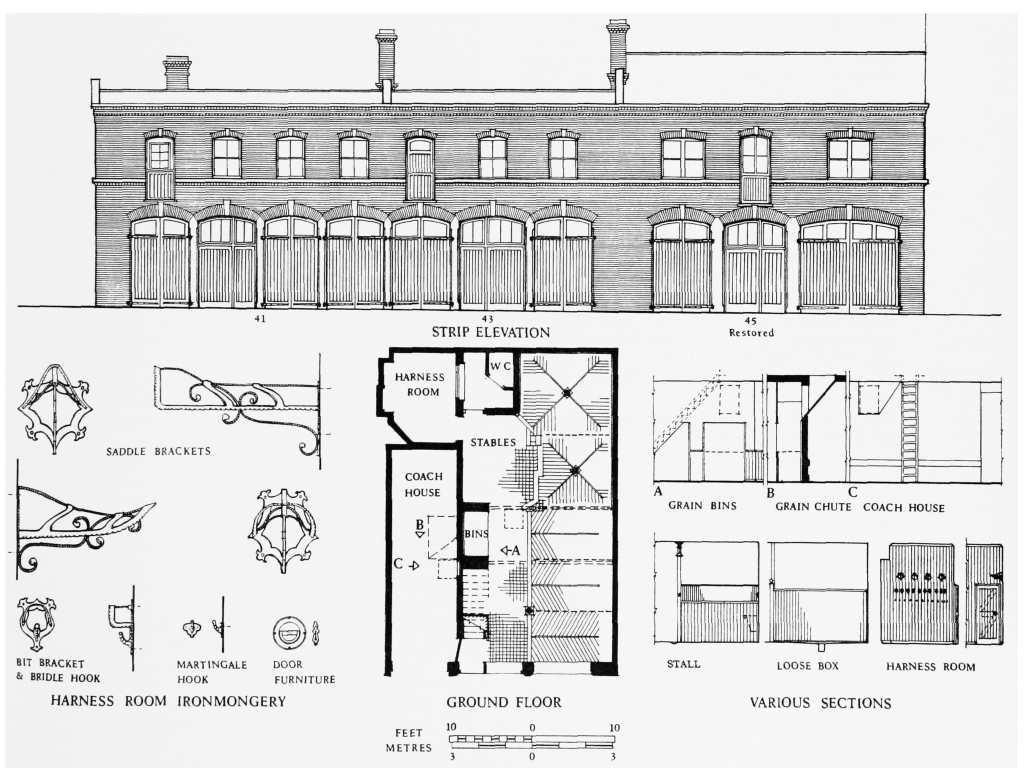 The houses in this area were not, of course, always in continuous occupation by the family. As a witness in favour of the proposed underground railway told the committee of the House of Lords in 1864, some of the inhabitants 'are independent proprietors who have country houses, and they come there for the season'. (fn. 7) Many years later an observer of the obvious wealth of the area noted: 'The district is not cheerful, however, after the London season has come to an end.' (fn. 8)
The change of occupational character
In 1880, apart from the South Kensington Hotel, there were virtually no residential hotels in the area discussed in this chapter north of Harrington Road, or if there were they did not announce themselves in the Post Office Directory. On the other hand eight residents were of higher rank in the peerage than a more viscount (four in Cromwell Road, three in Queen's Gate and one in Queen's Gate Gardens). By 1890 one or two hotels were appearing at the bottom end of Queen's Gate and at the south-west corner of Stanhope Gardens; also a 'college' and 'apartments' in Queensberry Place. (fn. 9) But Kipling could still give the heir of a shipping tycoon and his aristocratic wife an over-grand house in 'the Cromwell Road' in 1894. (fn. 10) By 1900 avowed boarding houses, apartments, hotels and schools numbered about a dozen (again, exclusive of Harrington Road), the chief increase being in the southern part of Queen's Gate, off the three main landowners' estates. But one hotel appears in both Queen's Gate Gardens and Cromwell Place on the Alexander estate, (fn. 9) which seems to have been starting to licence such uses. (fn. 11) By 1910 a hotel had appeared at the northern end of Queen's Gate, but with this exception the area northward of the Cromwell Road neighbourhood remained (ostensibly at least) almost wholly private. By 1930 this had ceased to be so (Elvaston Place, however, not yet succumbing as Queen's Gate Terrace had). But the greatest change was the division of most of the houses used for private residence into divided occupation and this has, of course, continued. (fn. 9)
In Queen's Gate Mews a 'motor car house' was built for Captain G. D. Sampson of Hyde Park Gate in 1898. (fn. 12) Estate-agents were then thinking too many stables had been built for the demand. (fn. 13) Today this seems fortunate, but it has not been possible to trace chronologically the conversion of stables to garages. Nor is evidence forthcoming to plot the change overhead of residential mews-accommodation from the home of servants to the 'amusing' address of the smart and then to the ordinary home of small fairly well-to-do families.
In common with other parts of more-or-less central London this area has in recent years tended to revert to occupation by the comparatively wealthy: nevertheless the subdivision of the houses and their miscellaneous use has left them in appearance, at least, rather déclassé. This is not quite so true of the important buildings that remain to be described, which have, however, more frequently suffered total demolition.