Pages 211-228
Survey of London: Volume 41, Brompton. Originally published by London County Council, London, 1983.
This free content was digitised by double rekeying and sponsored by English Heritage. All rights reserved.
The Estates of James Gunter the Younger and Robert Gunter the Younger, and others, 1864 to 1878: the Redcliffe Estate of Corbett and McClymont, Builders
The leasing of Nos. 1–8 Bolton Gardens to Spicer was concluded in March 1864. In November ten new houses were leased to their builders on the south side of Tregunter Road and the north and south sides of Cathcart Road, extending those streets a little westward. The lessor was Robert Gunter's younger brother James and the lessees, together or individually, were William Corbett and Alexander McClymont, builders. (fn. 181) With these transactions an expansion of the building activities of the Gunter brothers was initiated. James Gunter was then about thirty-one and like his elder brother a captain in a regiment of the Dragoon Guards. He ultimately rose to the command of the Fourth or Royal Irish Dragoon Guards and retired as a major-general in 1887. He had seemingly shared his brother's home at Earl's Court Lodge for a time, and for many years after Robert's removal to Wetherby in 1857 continued to be designated as 'of Earl's Court' in titledeeds. He does not figure there in directories, however, conceivably because he used his step-mother's house at No. 16 The Boltons as his pied à terre. In the 1880's he is described as of Boston Hall, Tadcaster, Yorkshire, where he was a rider to hounds and in steeplechases. He married in 1891 and died in 1908. (fn. 182)
The ensuing development differed from the earlier by being carried out more extensively on the property of James than of Robert Gunter (so far as the area south of Old Brompton Road is concerned) and by being placed almost entirely in the hands of Corbett and McClymont, except in so far as they brought in what George Godwin called 'some few undertenants' in the persons of other local builders. Corbett and McClymont seem to have been in a sense the motivating force and their wave of building flowed uninterruptedly over the adjacent land of R. J. Pettiward (at K on fig. 58), the small property of the Robinsons at the south-east end of Redcliffe Gardens (see page 194) and two other properties, those of J. L. Tomlin at a, g (fig. 58), and of members of their own firm of solicitors, Lewins of Southampton Street, at j, k.
They named all their large leasehold property here the Redcliffe Estate and publicized it under that designation, regardless of the various ground landlords' boundaries, or the minor sites of subordinate builders (fig. 64).
At the same time Corbett and McClymont were working on Robert Gunter's estate at Fulham and on other estates in and out of London.
The evidence of the buildings themselves is conclusive that the kind of house they put up on the 'Redcliffe Estate' was more or less unaffected by the freehold boundaries across which they operated. In Redcliffe Gardens, for example, the ranges between Fawcett Street and Tregunter Road are similar on both sides (and similar to some of Corbett and McClymont's houses in Avenue Elmers at Surbiton), although on the east the freeholder was James Gunter and on the west R. J. Pettiward (Plate 88b). That the designs all came from the office of George and Henry Godwin seems probable. The scattering and mingling of architectural detail throughout the area suggests this. So does the evidence of the lease of one building erected on the Pettiward estate, the former Redcliffe Arms public house at No. 268 Fulham Road. All the other Pettiward leases have only block plans on them, but there the room-plan was given and it is drawn in the 'house-style' attributable to the Godwins' office. (fn. 183)
The westward spread of building by the Gunter brothers in 1864 was dependant on the purchase of the land (B, C, H, M on fig. 58) that had been acquired at the beginning of the century by Philip Gilbert and that separated the land already built upon around The Boltons from the inherited lands of James Gunter at L and of Robert Gunter at A, G.
In March and April 1864 James Gunter bought the requisite land from the widow of the Reverend Edward Gilbert, in whom Philip Gilbert's property had become vested. (fn. 184) The piece of three and a half acres that had not yet been freed from its copyhold status had been enfranchised by Mrs. Gilbert in February for £948. (fn. 36) James Gunter paid her £15,810 for the area B, C, with Coleherne House and Hereford House standing upon it, and £15,500 for the piece H, M, less the eastward limb of M at m (fig. 58). (fn. 184)
This latter piece, which hitherto had followed the same line of descent as the rest of M, had been sold by Mrs. Gilbert and her mortgagees in the previous month, January 1864. The purchaser was Spencer Robert Lewin, a partner in the firm of solicitors in Southampton Street already mentioned. (fn. 185) The property lay across the head of two streets, the well-established Seymour Walk, which remained a cul-de-sac, and Redcliffe Road, to which it was to give outlet at the northern end. This latter road had just been completed (except at its south-west end), the last conveyances of the new houses there having been made two months before, by Lewin himself and his father Robert Lewin. The making of this road has been described on pages 175–6. Its significance here is that it had brought together in one enterprise the Gunters' architect, George Godwin, the Lewins' firm, and the builders Corbett and McClymont. Unusually, the undertaking had concluded with the grants of the freehold tenure of the houses to Corbett and McClymont. At plot m (fig. 58) the same procedure was followed, and soon, in April 1864, S. R. Lewin, for an unknown consideration, granted the eastern part to McClymont and the western to Corbett. (fn. 186) On the eastern extremity of his plot McClymont built Cathcart House, finishing the east side of Redcliffe Road, for his own occupation (see page 176). Cathcart Road was laid out along the north side of the strip of ground, giving Redcliffe Road westward communication with the streets to be built on the Redcliffe Estate. On its south side Corbett just had room for four houses, one completing the sequence on the west side of Redcliffe Road, and three, double-fronted but shallow, facing Cathcart Road (Nos. 1–7 odd Cathcart Road). On the north side of the road lay the back gardens of Nos. 9–23 (odd) Tregunter Road on the separate property of Robert Gunter.
Nos. 1–7 (odd) Cathcart Road (Plate 84b) came into occupation in 1865–6. (fn. 54) At No. 7 the first occupant from 1865 to 1868 was an architect employed at South Kensington by the Science and Art Department, John Liddell, (fn. 187) who moved here from Elm Place during his brief period of hopeful prosperity before sinking to the obscurity in which he eked out his resources by acting as occasional draughtsman to, among others, Corbett and McClymont. (fn. 188)
Despite the immediate proximity to Redcliffe Road, where the development was closely associated with Godwin, and where some of the characteristic architectural features of the Redcliffe Estate are on display, the houses built on Corbett's freehold in Cathcart Road, although by no means beyond Godwin's stylistic vagaries, are more in the manner of some of the houses at Corbett and McClymont's starting point in Pimlico.
Perhaps because Robert and James Gunter's advisers were finding it better to work through one or two lessees, and because Godwin was pleased with Corbett and McClymont's work in Redcliffe Road, they had the chief role henceforward south of Old Brompton Road, just as John Spicer was given a large 'take' north of that road.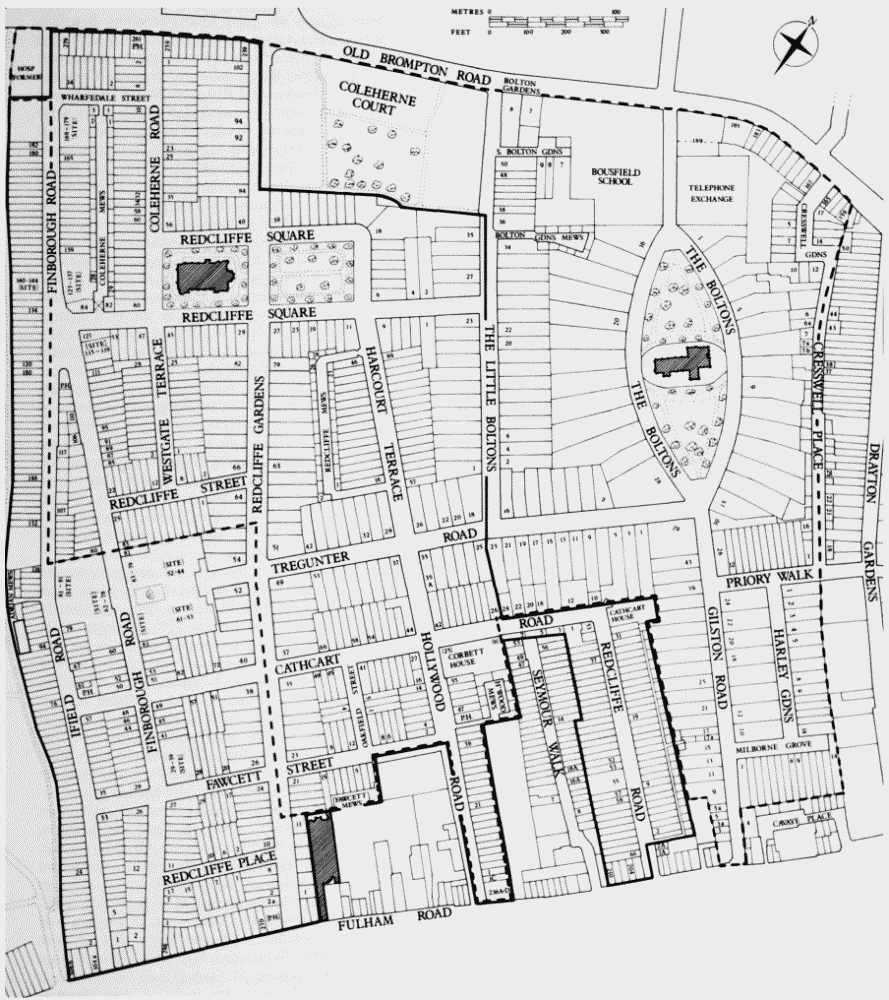 Layout and Progress
As has been seen, the expansion westward into the new territory began promptly, with a few houses at Nos. 25 and 27 Tregunter Road and Nos. 26–32 (even) and 9–15 (odd) Cathcart Road in 1864 (the last now replaced by part of Corbett House). Generally, Corbett and McClymont worked from the south-east part, around the lower half of Hollywood Road, westward and northward. This was a natural progression which also accommodated the fact that the piece of property west of Walnut Tree Walk at J on fig. 58 was acquired only in June 1866, when Robert Gunter bought it for £8,500 from J. G. Hillersdon of Wexham, Berkshire, as copyholder of the manor of Earl's Court. (fn. 189) In April 1867 Gunter paid £2,228 to enfranchise this plot of seven and a quarter acres. (fn. 36)
This completed the Gunters' major freehold purchases in the area here dealt with. The site of Hawk Cottage was bought in the following year and small properties were acquired at the bottom of Gilston Road and in Holmes Place in 1865 and 1881 (see pages 174, 229). In 1877 Robert Gunter wisely ignored a suggestion, made by Corbett via Tomlin, that he should buy the freehold of the land already developed at Nos. 1–14 Redcliffe Road. (fn. 190)
A factor in the progression of Corbett and McClymont's work, slightly modifying its south-to-north tendency, was evidently a wish to see the two main-road frontages quickly occupied, so that the two ranges at Nos. 239–259 and 261–279 (odd) Old Brompton Road were built as part of the campaigns of 1866–8, slightly before other 'northerly' areas and at about the same time as the development of the southern frontage at Nos. 266–306b (even) Fulham Road in 1865–9. In view of the age-old liking of London builders for making taverns the first structures to be put up on their building-sites it is not perhaps surprising that the public houses (five in number) erected on the Redcliffe Estate were either, like the Hollywood Arms, in areas of naturally early development, or built a little before most of the surrounding houses. The latter is also true of two sites, at the south side of Wharfedale Street (in lieu of the site of the Coleherne Arms) and the north-west corner of Redcliffe Mews, which were originally meant to accommodate public houses (Plates 85c, 92a).
The layout of streets, submitted in its southern part by Corbett and McClymont to the Metropolitan Board of Works from the Redcliffe Estate Office at No. 2a Redcliffe Gardens in April 1864 and approved by the Board in June, was straightforward. (fn. 191) It already proposed a network of streets over both the Gunter and Pettiward properties. The main lines of communication ran north and south. Hollywood Road and Harcourt Terrace were to continue the line of Hollywood Grove (and in 1866 were still intended to traverse the land now covered by Coleherne Court to meet Old Brompton Road (fn. 192) ). Redcliffe Gardens was a widening of the existing Walnut Tree Walk. At the extreme western margin of the area Honey Lane skirted the boundary of Brompton Cemetery from Fulham Road to Old Brompton Road. Corbett and McClymont obtained permission to close this so far north as the line of Tregunter Road, and to replace it by Ifield Road a house-plot's width to the east. (fn. 191) Robert Gunter's acquisition of plot J on fig. 58 in 1866 allowed the rest of Honey Lane to be closed, and Ifield Road and Finborough Road proceeded northward. In 1866 the proposal was to make the northern third of this route, after the junction of the two roads, prolong the direction of Finborough rather than of Ifield Road, (fn. 192) but this was soon changed and a full depth of house-plot was thus obtained on the west side of the road. Behind Ifield Road on its west side Adrian Mews preserves the name which, in the form Adrian Terrace, was borne by this part of Ifield Road until 1909. It represents a portion of what Corbett and McClymont called 'the old Cart Road' of Honey Lane.
A plan of the layout intended in summer 1866 differs from what was built chiefly in the northward extension of the line of Hollywood Road, the construction of streets of houses on the northern part of the site of Coleherne House, and the positioning of Redcliffe Square on the southern part of that site and westwards — that is, one 'block' northward of its actual location. A church adumbrating St. Luke's, Redcliffe Square, is shown but is placed further south, at the southern corner of Redcliffe Street and Redcliffe Gardens. (fn. 192)
Setting aside the 62 house-sites that had been granted to Corbett and McClymont in 1861–4 in Redcliffe Road and Cathcart Road and the 14 more made over to them in Redcliffe Road and Fulham Road in 1866 (see pages 175–6, 212), the numbers leased to them in the years 1864 to 1876 south of Old Brompton Road were 827 houses and some 72 mews premises, including in this number 156 houses and 22 mews leased to other builders at their nomination. Additionally a run of 25 houses and 5 mews at Nos. 70–118 (even) Ifield Road were granted by S. R. Lewin in 1868 direct to other builders but in every other respect were integral parts of the Redcliffe Estate and were advertised as such by Corbett and McClymont.
This whole west side of Ifield Road and its continuation as Nos. 120–194 (even) Finborough Road was, however, rather distinctive in the history of its freehold ownership. In July 1867 R. J. Pettiward and his trustees, with whom Corbett and McClymont had already come to some agreement concerning the disposal of his freehold land (K on fig. 58), conveyed the strip west of Corbett and McClymont's intended road, the future sites of Nos. 2–118 (even) Ifield Road and Nos. 304a–306b Fulham Road (k), at the request of Corbett and McClymont to Henry Lewin, who was the head of their firm of solicitors. (fn. 193) The following month, August 1867, Robert Gunter conveyed the adjacent strip northward (j) at the west side of his newly acquired plot J, where Nos. 120–180 (even) Ifield Road were to be built, to Corbett and McClymont, who in February 1868 conveyed it to Henry Lewin's brother Robert. (fn. 194) In June 1869 Robert Gunter conveyed the northernmost section, south of Brecknock House, at the future site of Nos. 120–194 (even) Finborough Road (a, g, on the west side of his inherited property A, G on fig. 58) to Corbett and McClymont: in August they conveyed it away, again to one of the men of business they were constantly dealing with, Gunter's own solicitor, J. L. Tomlin. (fn. 195) In each case the beneficiary of the grant proceeded to make building leases to Corbett and McClymont or (in the limited instance noted above) to builders doubtless associated with them. (In the southernmost section these leases were made by S. R. Lewin as the trustee, and successor at Messrs. Lewin, of his uncle Henry. (fn. 196) ) Corbett and McClymont's handling of the legal and financial interests in their properties was not simple or easily intelligible, but this conveyance-and-lease-back arrangement may have been merely some kind of remuneration for professional services. If so, it was in one of the least choice, but perhaps in one of the 'safer', parts of their estate.
The numbers of houses leased to Corbett and McClymont or their nominees in each year, generally betokening the numbers roofed-in during that year, rose from 12 in 1864 to 156 in 1867: the most active period was the four years 1866–9, when 524 house-sites were leased, the number falling to 7 in 1876. (fn. 197) The last ones to be leased, in 1872–6, were, with the exception of Nos. 72–82 (even) Finborough Road, all in the vicinity of Redcliffe Square. (This last period of Corbett and McClymont's activity also encompassed their only substantial ventures north of Old Brompton Road, with the houses over shops westward from No. 232 Old Brompton Road round the corner into Earl's Court Road in 1875–6 and the big houses at Nos. 198–224 Old Brompton Road ('Bolton Gardens West') in 1876–8.)
The totals given here comprise under 'Corbett and McClymont' leases granted to each individually, with the other a consenting party, and to both of them.
The number of houses built by Corbett and McClymont in 1871–7 was much greater than the number built by any other firm within the area of the district surveyor for South Kensington in the ten years 1871–80, even though the period 1871–7 was past the peak of Corbett and McClymont's activity. (fn. 198)
This surge of building ended with the bankruptcy of Corbett and McClymont in 1878 with liabilities of some one-and-a-quarter million pounds. The little that can be said about the way they conducted their business and its bearing upon their failure will be reverted to below, but it may be noted here that so far as the ground landlords' estates were concerned the bankruptcy might well have been much worse timed, as in the event the fields had just been safely covered with houses.
Corbett and McClymont, Builders, and Others
When William Corbett and Alexander McClymont had first worked in southern Kensington, at Redcliffe Road in 1861, both were living as 'esquires' at houses in Winchester Street, Pimlico. (fn. 135) The former, born in London, was aged thirty and the latter, born in Scotland, aged thirty-four. Both were married, with a child or children. (fn. 199) McClymont had a builder's and estate agent's office in St. George's Road, where he was also manager of the National Savings Bank. (fn. 135) Corbett at that time described himself in titledeeds, significantly, as an accountant and continued to do so until 1863, changing in 1864 to McClymont's designation of 'builder'. (fn. 200) He had probably begun his working life as a clerk in the solicitor's office of Messrs. Lewin, (fn. 201) and if so this, too, would have been significant. Lewins were to be much involved in Corbett and McClymont's work, giving them, especially in the person of William Corbett, access to the wide borderland where legal and financial expertise (or the assumption of such) overlapped.
In 1863 Corbett moved to No. 14 Redcliffe Road as its first occupant and in 1865 McClymont to No. 22 in the same street. (fn. 54) For the next thirteen years both lived on their Redcliffe Estate (Corbett for longer), success enabling each to take a larger house. McClymont in 1867 moved to one of the estate's few detached houses, Cathcart House, newly built at the top of Redcliffe Road, and Corbett in 1870 to a new house at No. 35 The Little Boltons (semi-detached from the house of one of the firm's backers, the banker W. G. Logan, at No. 33). (fn. 54) In 1871 each had two female servants living in. McClymont at least (then aged forty-four) additionally employed a coachman, stable boy and gardener. (fn. n1) In 1871 Corbett's elder son, W. G. Corbett, aged seventeen, was still at school. (fn. 204) In 1874 the younger daughter seems to have gone away to school. By 1878 both sons (aged twenty-four and twenty-one) were working for their father: they called their parents 'Pater' and 'Mater'. (fn. 205)
The firm's offices were in Fulham Road just east of Hollywood Road from 1866 to 1869. In the latter year they were moved permanently to No. 2a Redcliffe Gardens: for a year or two the firm also had an office at No. 259 Old Brompton Road. (fn. 55) In 1866 the site of No. 2a Redcliffe Gardens had been briefly in use as a 'Bowling Saloon' with 'Billiard Rooms' over it, in connexion with the newly established Redcliffe Arms next door at the corner of Fulham Road. That year the Metropolitan Fire Brigade considered taking the site for a fire station. Corbett and McClymont would have welcomed this but when the brigade did not do so converted the premises into their offices. (fn. 206) In 1870–2 No. 2a Redcliffe Gardens also accommodated an office of T. E. Lewin, brother of S. R. Lewin and a member of Corbett and McClymont's firm of solicitors: since 1866 or 1867 he had lived on their estate in a detached house at No. 18 Tregunter Road.
As a building firm Corbett and McClymont attracted some attention for the modernity of their methods. Steam-powered joiner's machinery, supplied at a cost of about £1,000 by Samuel Worssam and Company of Chelsea, was used from at least 1867 and was fully described by George Godwin in a leading article in The Builder the following year, with a relish for the great economies in labour it effected. (fn. 207) The plant was then apparently on the Redcliffe Estate, but by 1872 the main works had been moved (probably in 1871) to buildings erected for Corbett and McClymont near Lillie Bridge in Fulham, at the corner of Seagrave and Merrington Roads. (fn. 208) From about 1870 they also had a workshop at No. 26 Redcliffe Mews (Plate 92a). (fn. 209)
One feature of their work that was praised by their friend The Builder was their roofing. The tops of some houses were sealed by two or three courses of plain tiles laid in cement over arched wooden ribs, the whole then being rendered and cemented to give the house an impermeable (if very heavy) roof, slightly convex in section, that was thought resistant to fire. This kind of roof survives quite extensively, particularly in the streets of smaller houses. The earliest are some of 1862 in Redcliffe Road. Conceivably others survive unrecognizably under orthodox roofs. Some are also to be found on the Gunter estate in Chelsea, at the south-east end of Edith Grove. But, as The Builder commented, 'good workmanship is necessary'. (fn. 210)
Relations with the workmen were not always good, and Corbett and McClymont held out longer than most firms against their men's demands in the strike in 1872 before a compromise was made. McClymont was reported in The Building News as asserting the firm's determination not to be bound to a set rate of pay but to observe differentials for superior skill. Furthermore (McClymont said), 'it should be understood the firm did not occupy the position of ordinary builders or contractors who regulated their prices by the ruling or standard wages of the day, but more resembled an independent gentleman employing workmen to build on his own land. No matter what he paid he could get no more than a certain rent for his houses, and was fully justified in purchasing his labour cheap if he could, without reference to the custom or regulations of the trade. . . . [Since 1862] they had got around them a great body of workmen whom they were now sorry to part with, but whom they had never ceased to classify or pay according to merit and ability.' (fn. 211)
The workmen — or the joiners at least — were, as the true-blue Corbett said, 'mostly Liberals!!' and enough of them were employed in the 'large joiners Shop' at Lillie Bridge in 1874 to make it worthwhile for a prospective Parliamentary candidate to come and harangue them in the Conservative interest. (fn. 212) In 1872 and 1878 some 500 men were employed. (fn. 213) That Corbett and McClymont's establishment was extensive is suggested by Corbett's comment to an employee on his property at Westgate in Thanet, whom he instructed to use a work-diary or day-book — 'I have diaries used by all my leading men in Town and they are found very useful'. (fn. 214)
Not all the work on the Redcliffe Estate, however, was done by Corbett and McClymont themselves. They built the roads and sewers, (fn. 215) but were inclined to make a 'selling-point' of the fact that, for example, Nos. 1–7 (odd) Cathcart Road and the houses in Redcliffe Road (on their own freehold) had been built by them. (fn. 216) They subsequently employed at least two local builders to do repairs on their estate. (fn. 217) And at some sites, particularly in the years 1865–8, they arranged for other builders to receive the leases to which they were entitled by their agreements with the ground landlords. The most extensively involved was a local builder, John Beale, who was a nominee for leases of house-sites from 1864 to 1868, (fn. 218) (as well as being lessee from Robert Gunter in Fernshaw Road, Chelsea, in 1863 and 1865), (fn. 219) and was marked 'bankrupt' in the ratebooks in 1869. (fn. 220) By 1868 bankruptcy had also overtaken the builder A. M. Greig, (fn. 221) who came from Pimlico and was nominee for leases in 1864 (fn. 222) and 1866. (fn. 223) Other nominees were William Forster and Joseph Temple of Paddington (1865–6), (fn. 224) John Gibbings of Chelsea (1865–6), (fn. 225) Thomas Hussey and Thomas Huggett (1865), (fn. 226) Frederick Saunders (1865), (fn. 227) and George Smith of Pimlico (1865–6). (fn. 228) Rather later Jeremiah Little had a substantial 'take' as nominee in Redcliffe Gardens (1869) and Coleherne Road (1872–3). (fn. 229) Gibbings, Greig and Saunders are also known to have been sub-lessees from Corbett and McClymont. (fn. 230) So were other builders — R. G. Sharpin, for example, (1867), (fn. 231) George German of Pimlico (1868), (fn. 232) and Richard Fitt of Pimlico (1868), (fn. 233) who also worked for Corbett at Westgate. Doubtless there were other sub-leasing builders whose names are not known.
Generally the areas of these 'subsidiary' builders do not coincide perceptibly with significant 'breaks' in the handling of the houses. The division between Beale's and Little's houses at Nos. 23 and 25 Coleherne Road is noticeable but there is four years' difference of date and doubtless a change of intention on the part of Robert Gunter's surveyor between them. Little's adjacent houses facing Redcliffe Gardens seem more coarsely detailed than the similar houses in the same street south of Redcliffe Square, perhaps by Corbett and McClymont themselves. This is explicable in the light of Corbett's own words in 1879. He was describing how the work had been carried on at another part of Robert Gunter's estate, in Fulham: 'Mr Tomlin (Col. Gunter's solicitor) and Mr Godwin his Surveyor hold a set of elevations and specifications; and it was understood that when we had built a house, other houses that might be built afterwards, were to be similar to that already built; therefore any house in St Oswald's Road would be a pattern house, for those to be erected'. (fn. 234) This time-worn procedure would account for some variations over and above the brisk diversity of the Godwins' taste.
Architects and Architecture
That taste was seemingly for harsher motifs brought together in a more random manner than in most of the pre-1864 work. It is, however, foreshadowed in the houses in Redcliffe Road and Harley Gardens of 1861–3. It may be that the influence of Henry Godwin, who was thirtyfour in 1865 to his brother's fifty, was taking effect. The contrast is marked in The Little Boltons—on the east side Spicer's plain and mild houses of 1858–64 and on the west Corbett and McClymont's of 1867–8, still plainish but square-jawed and raw-boned (Plate 85a, b). Ruthless chamfering did what was desired there, but elsewhere a gaunt effect was more simply achieved by misproportioning, as at the forbidding houses, Nos. 2–26 (even) Finborough Road. Opposite, at Nos. 1–7 (odd) and No. 17 Redcliffe Place, the lavishing of unsightly motifs on the high stock-brick hulk of the ordinary London terrace does at least powerfully evoke what 'London' in its western reaches means to many dwellers in bedsitting-rooms (Plate 92c, d). In the smaller cross-streets such as Fawcett Street or Wharfedale Street the more subdued use of the repertory of motifs is less unpleasing (Plate 85c). The two terraces of shops at Nos. 239–279 (odd) Old Brompton Road (1866–8, Plate 89d) have the gawky appeal of 'downmarket' quasi-Gothicizing (rarely used hereabouts) and are quite different from Corbett and McClymont's other ranges over shops west of Redcliffe Gardens, which at Nos. 270–296 (even) Fulham Road (Plate 89b) repeat something of the style of Nos. 204–210 Fulham Road. And where the miscellany of stylistic devices is employed without inhibitions, on public houses such as the Hollywood Arms (1865) and Coleherne Arms (1866), the effect is, in its way, invigorating (Plate 89a, 89c). Redcliffe Square, built so far as its characteristic parts go in 1869–76, is an undiluted example of one version of the Godwins' mixed 'style', illustrated and published under their names (Plates 90, 91, 96a, 108, fig. 68). Here the vivacity of detailing at one time extended to the mansard roofs, where the zinc flashing was originally cut into the form of acanthus leaves and the use of two tones of slate gave a polychromatic effect.
If the 'Corbett and McClymont' phase of building in this area is harder on the eye than are the earlier, eastern, streets it is partly because the arrangement less frequently permitted the front gardens which in those streets by their lushness happily recall Brompton's horticultural fame. Nor was this yet quite the period when trees were commonly planted in London streets (unlike Westgate, where in 1877 Corbett was planning to plant many poplars and sycamores (fn. 235) ).
George Godwin's magazine The Builder in March 1868 named him and Henry as the architects on the Redcliffe Estate for the Gunter brothers and Messrs. C. Lee and Sons as architects for 'the freeholder of another part of the estate'. (fn. 207) This presumably meant R. J. Pettiward's property at K but, as has been seen, there is no perceptible all-over difference in the mixture of styles on his and the Gunters' land. Neither The Builder nor The Building News mention work for Pettiward in their obituaries of Charles Lee in 1880. (fn. 236) The stress in the obituary in The Builder then lay on Lee's career as a surveyor. Perhaps that was chiefly his role here.
The relations of the Godwins with Corbett and McClymont seem, so far as the perhaps obscuring evidence of Corbett's business-letters shows, to have been formal and distant, with Tomlin normally an intermediary. George Godwin certainly, however, and perhaps Henry also, was involved with the firm's work as an investor. In 1872 Corbett and McClymont repaid £800 which George Godwin had lent them and one of the Godwins still had an involvement as to £500 in 1878. (fn. 237) George also bought some improved ground rents—of six houses in The Little Boltons in 1867, for example, (fn. 238) and of five houses in Hollywood Road in 1868, (fn. 239) as well as at least one house in Ifield Road. (fn. 240)
Corbett and McClymont did employ an architect of their own. He was F. Nesbitt Kemp, who on his death was said by The Builder, in a not wholly accurate obituary, to have been 'responsible for the layout of large areas in Kensington, including Redclyffe-square [sic]'. (fn. 241) This statement was made, however, in 1939, and although Kemp had by then begun practice 'over 70 years ago' that can hardly have been appreciably before 1869, and he does not occur in the Architect's, Engineer's and Building Trades Directory of 1868. Possibly he set up with his elder brother Alfred as architect in Lincoln's Inn Fields in 1869. (fn. 135) The stylistic tone of the Redcliffe Estate was by then established, and some of the Redcliffe Square houses must have already been designed. In 1871 Kemp, then aged twenty-four and the son of a bill-broker, was living in his parents' house at No. 12 Finborough Road. (fn. 242) By 1873 he had a professional address at Corbett and McClymont's Redcliffe Estate office at No. 2a Redcliffe Gardens, whence he applied to Kensington Vestry, seemingly in his own right as architect, to erect Nos. 280 and 282 Earl's Court Road, which were then being constructed by a builder, Edward Francis. (fn. 243) Although off the Redcliffe Estate, they are rather in its manner. After Corbett and McClymont's bankruptcy in 1878 Kemp, called by Corbett in 1880 'our late Architect', drew some room-plans of 'Bolton Gardens West' for them, to help sales. He had previously had the working drawings of these houses in his room at Corbett and McClymont's offices. (fn. 244) But it may be that here, as was evidently the case in Redcliffe Square, his role was that of setting-out or site architect, not designer. In 1881 he developed an estate of small houses around Dancer Road, Fulham, (fn. 245) in a blunt 'red-brick' manner which has no affinity with that of the Redcliffe Estate beyond its striving for variety.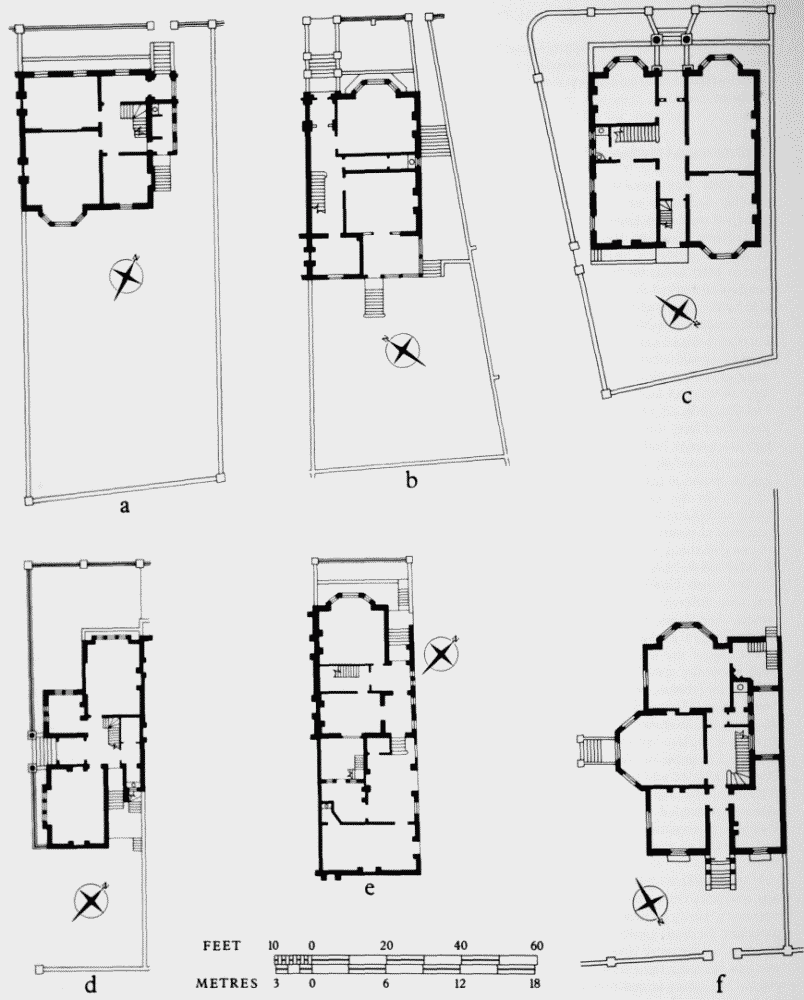 At Westgate William Corbett employed C. N. Beazley as his architect. It seems certain, however, that although later, in 1882–96, Beazley lived at No. 32 Harcourt Terrace (fn. 135) he had nothing to do with the Redcliffe Estate as architect. This seems negatively apparent from Corbett's letters. Further, in 1870 Corbett invited him and a Westgate landowner to come up from Thanet to view the firm's workshops and then go down to see their operations at Surbiton, which suggests that Beazley was not very familiar with what was going on in and around London. (fn. 246) A reference by Corbett in 1878, addressing the Royal Insurance Company, of which he had long been an agent, to 'my old friend Mr Chas N. Beazley the architect, whose name has come several times before you in connection with the Westgate on Sea Estate' similarly seems to make it unlikely he had also been known in the context of Kensington. (fn. 247) Beazley's houses for Corbett at Westgate have little or nothing of the Redcliffe Estate about them stylistically.
Only at one place is there any hint of the possible adjustment of the range of 'styles' of the house-exteriors in connexion with a known architect. This is at Nos. 20 and 22 Tregunter Road — houses in a slightly different manner from their neighbours, not least in their display of 'red' brick (Plate 86d, fig. 63c). There Corbett and McClymont's nominee for the lease in 1865 was an architect, J. H. Strudwick, who had been a resident in Priory Walk and became the first occupant of No. 20 Tregunter Road. (fn. 248)
House Plans and Types
If the architecture of this swathe of building is not attractive the arrangement of individual houses, so far as the Godwins' ground-floor lease-plans indicate, was sensible and sometimes ingenious. (fn. 249) Extending the view back to include the houses built before 1864, one or two points appear. In the smaller terrace houses the number where the front and back rooms are shown intercommunicating is notable. This was made possible because in these houses the staircase was almost always given its traditional position at the rear of the entrance hall. Fewer front and back rooms are so connected in the semi-detached houses, perhaps because borrowed light from one room to the other seemed less necessary.
Throughout all the houses three rooms on the ground floor was the general rule. Some small sites had only two rooms, but in the earlier part of the development, in the 1850's, two-roomed ground floors also occur even in uncramped semi-detached houses: in Gilston Road and Harley Gardens, for example, less need seems to have been felt to contrive a third room than in the streets of ten or fifteen years later. At the big terrace houses in Redcliffe Square the third, rear, room was an important apartment, often the full width of the house and lit from the garden or, where a corner location gave side light, extending over most of the available space at the back. Only a very few houses had more than three ground-floor rooms. Two or three corner houses in Redcliffe Square had four, and Nos. 16 and 17 The Boltons six (unless some of these were service areas).
About a quarter of the Redcliffe Square houses generally conformed to old town-house practice of the grander sort in having two staircases (fig. 68) — a very unusual provision in the area occurring elsewhere, so far as the lease-plans show, only at the detached house, No. 51 Redcliffe Gardens (fig. 65c).
The difference in the management of the staircase between the east and west sides of The Boltons has been noticed. In the semi-detached houses generally the placing of this feature varied. Sometimes the usual terrace-house entrance-cum-staircase hall was retained, more usually on the 'outer' side of the house than against the party wall. The arrangement on the west side of The Boltons was partly adumbrated in Gilston Road, where, for example, the plan of Nos. 18 and 20, built by William Harding in 1852, is very close to what Spicer built on a larger scale and with a very different stylistic dress, at Nos. 18 and 19 The Boltons in 1857. (fn. 250)
Most of the plans and all the 'semi-detached' plans seem to show water closets on the ground floor. Only smaller terrace houses in the western streets and in Milborne Grove seem to be without them.
These plans were presumably in general not much susceptible of modification, although in 1871 at No. 32 Coleherne Road Corbett and McClymont may have adjusted the plan for the lessee and occupant, a dilettante-architect, A. H. Edmonds. (fn. 251)
At No. 44 Cathcart Road, a corner house, the arrangement was conceivably adapted to the needs of the first occupant, a surgeon. A distinct rear room is provided, with separate access from the side road. (fn. 252) Other houses, like some on the west side of The Boltons or Nos. 1 and 2 Harley Gardens look as if they might have been arranged with a 'professional' man in mind or at least a 'man of business', having smallish rooms set off to one side of the entrance hall away from the larger reception rooms, as if for the conduct of business or to serve as waiting rooms. At No. 27 Cathcart Road, finished in 1866, the single-storey, top-lit rear building opens, as at No. 44 opposite, to Hollywood Road: here, however, as the building lease states, it was 'intended to be used as Studios' (fn. 253) (Plate 84d, fig. 65e). It is separately numbered as 16 Hollywood Road and was indeed first occupied by a sculptor, Morton Edwards, until he became bankrupt in about 1870. (fn. 54)
A top-lit rear room was provided also at No. 19 Redcliffe Square, but there it was perhaps a billiardroom (fn. 254) (fig. 68).
Another Victorian amenity, the conservatory, seems to be supplied in the ground-floor plans of a number of houses, some of modest size, over a range of years. They are probably discernible on plans of Nos. 1 and 2 Harley Gardens (1851), Nos. 18 and 20 Gilston Road (1852), Nos. 13 and 14 Milborne Grove (1862), Nos. 9–13 (consec.) Harley Gardens (1863), Nos. 45–49 (odd) Cathcart Road (1866), Nos. 1–27 (odd) The Little Boltons (1866–7, fig. 65b), and Nos. 92 and 94 Redcliffe Gardens (1869). (fn. 255)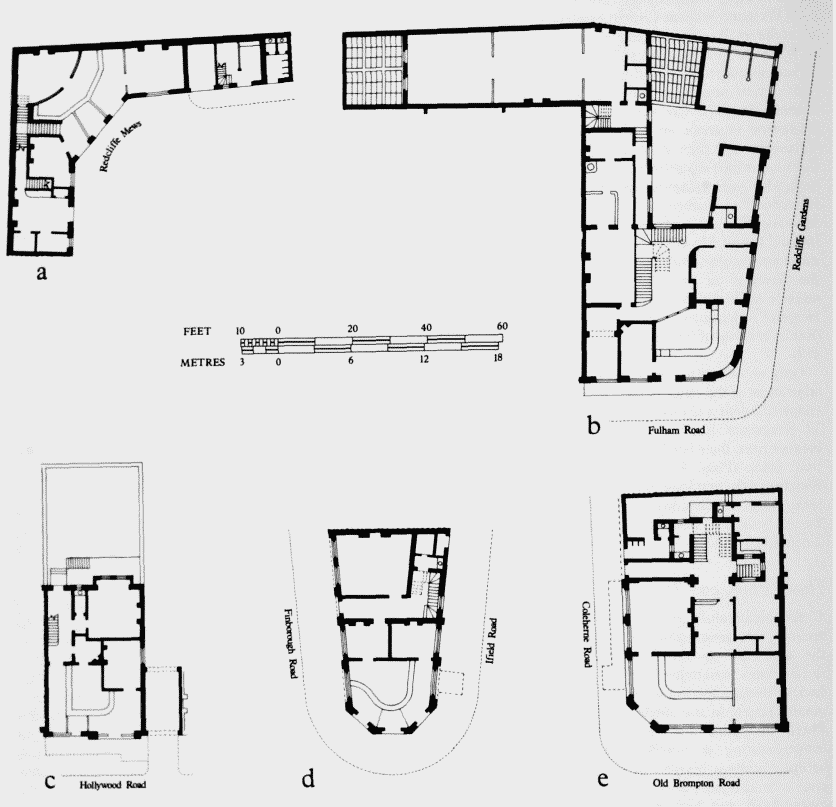 As to the general types of house built by Corbett and McClymont, these continued the existing pattern: very few detached houses, and many semi-detached. The proportion of terrace houses was, however, higher than before, as the more westerly streets brought a rather humbler client within the aim of the Redcliffe Estate. One departure was that, whereas the terraces built in the 1850's and early 1860's were all set out as pairs of houses with mirrored plans, Nos. 9–25 (odd) Cathcart Road of 1864–5 introduced the terrace of identically planned houses here, and thereafter Corbett and McClymont (or the Godwins) used that arrangement as freely as the other. It was used in Redcliffe Square (and at the big houses of Bolton Gardens West on the north side of Old Brompton Road).
Shops and Public Houses
One type of building shown on the plans for the Redcliffe Estate not represented in the earlier phase is the purposebuilt shop. This was not an elaborate matter, the planning being little more than the inclusion of a wide, flat shop window and second entrance, and (sometimes) the omission of the partition between front and back rooms. On the Gunter and Robinson estates the plans show shops intended from the first at Nos. 106–116 (even) Finborough Road (1868–9), Nos. 236–238a (even) and Nos. 266 and 266a Fulham Road (also 1868–9), Nos. 2–14 (even) and 47–55 (odd) Hollywood Road (1865), and at the two ranges originally called Coleherne Terrace (Nos. 239– 259 odd Old Brompton Road, 1867) and Claro Terrace (Nos. 261–279 odd Old Brompton Road, 1866–8, Plate 89d). (fn. 256)
Most of these groups of shops included or were adjacent to public houses. There were none of these within the earlier-developed part of the Gunter estate, but their provision was important to Corbett and McClymont, who were permitted to erect six on their Redcliffe Estate—this presumably by agreement between the Gunters and R. J. Pettiward. In fact, Corbett and McClymont built, between 1865 and 1868, only five operative public houses—two on Robert Gunter's land (the Coleherne Arms, now The Coleherne, Old Brompton Road (Plate 89c), and Finborough Arms, Finborough Road), two on R. J. Pettiward's (the Ifield Arms, Ifield Road, and the former Redcliffe Arms, Fulham Road, Plate 89b), and one (the Hollywood Arms, Hollywood Road, Plate 89a) on James Gunter's land. Corbett thought this a slenderer provision than on other estates of comparable population in London, which at least tended to make the five 'very valuable properties'. (fn. 257) Corbett and McClymont sold their lease of the Hollywood Arms in 1866 to a victualler from Southwark for £6,500. On a sale in 1872 the price was down to £6,000, but in 1894 the reduced term of the lease was bought by Watney and Company for £10,000. (fn. 258) The sixth of the prospective public houses, the Harcourt Arms, intended to be placed at Nos. 26 and 28 Redcliffe Mews (Plate 92a), was never opened. Corbett and McClymont used the premises as a workshop until their bankruptcy and thereafter James Gunter would not let them convert it to a tavern. (fn. 259) On the leases of public houses the groundfloor plans are drawn as carefully as those of dwelling houses, showing the bar arrangements (fig. 66). The Redcliffe Arms was an extensive establishment, with separate drinking-places besides the main bar (too spacious, perhaps, to be called snuggeries), and, initially, stabling, bowling saloon and billiard-room. (fn. 260) Separate drinking-rooms seem to have been provided at the Hollywood Arms and Coleherne Arms; (fn. 261) and at the Finborough Arms and the abortive Harcourt Arms, in addition to these snuggeries, the main bar was divided in three with separate entrances. (fn. 262) Segregation was evidently desired even at the last of these, in what must have been intended wholly as a working-man's tavern.
Rents and Prices
The houses of the 'Corbett and McClymont' period were not, generally, designed for or taken by prospective frequenters of the 'Harcourt Arms'. There is an exception to be made to this, but most of the new streets initially attracted 'middle class' families. The well-informed Builder said in 1868 that the range of rents then current on the Redcliffe Estate was £50–£160 per annum. (fn. 207) By 1871 the big houses in Redcliffe Square were being built and in that year The Builder gave the range of rents as from £46 (a realistic figure, being the actual rent of No. 7 Cathcart Road in 1879 (fn. 263) ) to a perhaps unrealistic £600 per annum. (fn. 264) In 1872 Corbett and McClymont themselves advertised houses at £80 to £300 per annum (fn. 265) and in 1873 The Builder gave the range of rents as £50 to £400 per annum. (fn. 266) The rival Building News reported a visit of the Architectural Association to Redcliffe Square in the same year. The opinion (whether its own or the Association's) was that the houses 'while apparently well and substantially built, are somewhat meretricious in design, although by no means bad specimens of what wealthy people are content to pay from £200 to £300 a year for.' (fn. 267) Corbett himself put the range at £50 to £500 in 1877, the lower limit in Redcliffe Square being £170. (fn. 268) In 1878 one house, No. 27 Redcliffe Square, was let at £465 per annum. (fn. 269)
The asking-price for the long leasehold of this same large corner house in 1874 had been £6,000 (fn. 270) and for the smaller No. 23 probably about £4,350. (fn. 271) In 1877 Corbett and McClymont claimed owners of their houses could obtain twenty-two and a half to twenty-five years' purchase of the improved ground rent when they sold them. (fn. 272) Other actual sale-prices are mostly known for the period of depression in the house-market that immediately followed: perhaps about £2,250–£3,350 in Redcliffe Square, £2,200–£2,900 in Redcliffe Gardens and £1,900–£2,000 in Tregunter Road or The Little Boltons. Houses in Redcliffe Road sold for £1,050 in 1879 and in Finborough Road for £530 in 1880. (fn. 273) At the time of Corbett and McClymont's bankruptcy in 1878 their houses were said to be valued as assets from £500 to £8,000 each. (fn. 274)
The range was thus wide, but did not reach quite down to the area of mass-demand. At the time of the bankruptcy and perhaps with reference to it The Estates Gazette said that the keenest demand was, rather, for houses letting at about £40 per annum. (fn. 275)
Occupants in 1871 and Later
The census of 1871 shows the modest and perhaps rather strained respectability of two ordinary streets within the Redcliffe Estate. (fn. 242) At 25 houses in Fawcett Street 87 members of the 'family' were attended by 32 resident servants. None of the houses was in divided occupation, but one was run by a lodging-house keeper and four others had lodgers in them. At four houses resident servants were dispensed with—perhaps a better arrangement than at No. 19, where one young woman from Poplar served a family of ten. A stockbroker, a wine merchant (without a servant), a silk merchant, a bookseller, an art dealer, three annuitants (one of them a lady of twenty-nine with three servants), an officer's widow, six clerks or civil servants, a 'professor of languages', a twenty-two-year-old actress living with one servant, a dressmaker, an elderly man who gave his occupation as 'Navy Reserve' (and took in four lodgers) and a policeman made up the twenty householders whose designation was recorded.
In Finborough Road most of the 57 houses then in normal occupation were seemingly in the hands for which they were intended, but there are perhaps some signs of a misjudgement of the market. At the big houses, Nos. 2–14 (Plate 92d), the occupants included an artist and a manufacturer (each with two servants), a rentier (with three), a colonel in the army (two servants) and a billbroker (one servant), but also a servantless dressmaker and three families in one house (No. 14). In all the houses 258 members of the 'family' were attended by 71 servants. Four houses were in divided occupation, five were run by lodging-house keepers, and twelve others had lodgers in them. Thirteen houses were without servants. At two houses a young female servant had ten of the family to look after. At the ten houses from No. 139 northward, all in undivided tenure, the householders gave their occupation as 'Parson (C. of E.)', surgeon, 'dividends', lodging-house keeper, secretary of Joint Stock Bank, colonel, 'boarding house', builder's foreman, clerk and hardware traveller. One of the bigger houses, No. 121 at the corner of Redcliffe Square (now neighboured by post-war flats of Kensington Borough), had not yet come into occupation, but when it did Charles Appleyard of Lincoln's Inn, esquire, had what sounds in an inventory of 1872 like a very respectable home there of a traditional kind. There was a servants' bedroom (with two beds), probably in the basement, a dining-room, library and boudoir (with a Kirkman piano in it) on the ground floor, a drawing-room and two bedrooms on the first floor, more bedrooms and a bathroom above, and a conservatory somewhere. All the reception rooms had Brussels carpets, and the main rooms furnishings and curtains en suite — in crimson rep downstairs, blue rep in the upstairs drawing-room and dimity in the bedrooms. The interior was shiny with a lot of mahogany, mirror-glass, china and glass ornaments and framed pictures. Outside there were 'fancy tile flowerboxes' at the windows. (fn. 276) Perhaps Mr. Appleyard felt his house was not really in Finborough Road at all, like the owner of another corner house at what was meant to be No. 73 in that road, who changed his address to No. 54 Tregunter Road. (fn. 277)
In the latter road the Post Office Directory in 1880 shows the houses of this phase seemingly filled up at a rather wealthier level, with one person of title and four army officers. That was the characteristic picture—two 'titles', three officers (one a major-general), a clergyman, a Q.C. and an architect in Redcliffe Gardens, for example. (fn. 135)
The architect was John Butler, architect to the Metropolitan Police, who was at No. 11 Redcliffe Gardens from 1870 to 1901, for many years with his son John Dixon Butler, who held the same position and continued there until 1907. Similarly at No. 62 Cathcart Road the architect Thomas Verity was the first occupant in 1868 until his death in 1891, when his architect son Frank continued there for another year. Other first or early occupants of these houses were the architect Richard Popplewell Pullan at No. 87 Harcourt Terrace in 1877–80, the decorative artist Percy Macquoid briefly at No. 253 Old Brompton Road in 1876 and the chronicler of art, Algernon Graves, successively at No. 1 Redcliffe Place in 1871–2 and No. 51 Finborough Road in 1873–93. At the south end of Finborough Road the first occupant of No. 2 in 1869–70 was Arthur Hughes and an early occupant of No. 7 opposite in 1875–83 Richard Doyle, in grim-looking houses than which none could seem less suitable for the painter of 'April Love' and the illustrator of 'In Faery Land'. (fn. 135) Corbett and McClymont were not (any more than the Godwins) suppliers of 'the Artist's House'.
Builders as Landlords
Corbett and McClymont's attitude to their estate was in some respects, however, the opposite of perfunctory or uninvolved. They were willing to sell leaseholds (or freeholds where they had them), but the statements of housevalues already noticed show how often the yearly lettable value was what mattered. Corbett and McClymont were the resident owners to a great many 'tenants'. (fn. 278) They kept a sharp eye on such things as the uniform painting of adjacent houses. (fn. 279) More than this, as extensive leasehold owners, there was, compared with many large builders' operations, a proprietorial element in their attitude, hinted at in McClymont's reference to the 'independent gentleman'. After writing to Switzerland to entice a physician to take up residence in Redcliffe Square in 1877, Corbett confided to a friend, 'Entre nous there is a good opening for a "good Man". We have only really two good men on this large Estate.' (fn. 280) In 1874 he had felt able to assure a Conservative backer of the firm that 'the majority of our Tenants, to the number of I should think at least 600 will vote for Mr Gordon', the Parliamentary candidate for Chelsea. He added 'If all other districts are as Conservative as the "Redcliffe Estate" Mr Gordon's return is a certainty'. (fn. 212) Writing to congratulate William Gordon on his election he offered to help 'if at any time we can afford you any information relative to the neighbourhood'. (fn. 281) Corbett was involved with the Little Chelsea and West Brompton Benevolent Society, (fn. 282) bought his beer from the Hollywood Brewery (fn. 283) and used, among other banks, one on their estate at No. 202 Fulham Road, the London and South Western. (fn. 284) There was a note of pain in his comment when houses were being auctioned off after the bankruptcy: 'It is a cruel thing to see these sales carried out by auctioneers of whom we know nothing, and who do not take proper care of the premises'. (fn. 285) Corbett had attended divine service at the Park Chapel in Chelsea for some years, but this was pending the erection of the long-projected church of St. Luke's, Redcliffe Square, on their own estate. (fn. 286) When it was built he went there, would report an 'excellent Sermon' to his partner, (fn. 287) and was, with him, patron of the living for some eight or nine years. (fn. 288) This addition to the amenities of the estate was something in which Corbett and McClymont were, for good or ill, deeply involved. The financing of the work, which may have materially increased their troubles, is described, with the building of the church, on pages 235–6.
Unprospering West Brompton
The exception to the actual or pretended gentility of the Redcliffe Estate was Ifield Road. This was not particularly apparent in the outward aspect of the houses, comparatively small though they were (Plate 87d). But in its occupants the road was from the beginning mainly plebeian. A sprinkling of 'run', 'gone' and 'excused' in the ratebook for 1870 warns that Ifield Road was not the home of affluence, and the census of 1871 confirms this. (fn. 289) In 94 houses there were 29 servants, 797 members of the 'family' and 153 other residents. In most streets nearby the average number of occupants per house seems roughly proportionate to the average size of the house but in Ifield Road the density of occupation is noticeable, with ten or eleven persons per house whereas in Finborough Road, for example, where the houses are in general larger, the number was six or seven. Comparatively few of the Ifield Road houses were avowed lodging-houses, but this seems to have been because its social level was below that, with more than half the houses in divided occupation and lodgers frequent in working-class homes. At two houses, Nos. 74 and 85, there were 27 occupants, in four and five separate families respectively. The most noticeable feature of the population of the street was the proportion of heads of families who worked in the building trades—66 out of 188 that are known. There were 21 who had work in transport old and new—six coachmen, two carmen, two cabmen, a cab-proprietor, two horsekeepers, three omnibus drivers or conductors, and five railway employees (two guards, a signalman, a clerk and a porter). Five were butlers or valets, but to households elsewhere. Mechanical technology accounted for only three—an engine-fitter, a gas-fitter and a hot-water engineer: another was a wireworker. Only one was a 'professional man'—an architect, Augustus Dempster, who shared No. 71 with two other families (a railway guard's and a carpenter's) and himself took in four lodgers. Another architect lived in the street, G. V. McLellan, as the son of an out-of-work tailor who took in a boarder and also shared No. 2 with a railway porter and a mason's labourer.
In 1902 Charles Booth noticed Ifield Road as one of the few exceptions to the generally decent level of prosperity in the area ('Some poor in Ifield Road, inhabited mainly by artisans and labourers') and marked it on his analytic map as 'poverty and comfort mixed'. (fn. 290) Its 'backwater' location, hemmed against the long wall of Brompton Cemetery, perhaps told against it—the same factor which has probably accounted for its very recent rise in the world.
The rate at which the Redcliffe Estate's houses were taken for occupation was satisfactory for some years. In 1871 The Builder said nearly all the completed houses were let. (fn. 264) This seems to be more or less borne out down to 1870 (after which the test can no longer be applied) by the comparison of the years in which house-carcases were leased and those in which rates were first paid. There is a tendency for the northern streets and northern ends of streets to 'go' a little slower. Harcourt Terrace of 1867–8 and Westgate Terrace of 1869–71 seem, on the less certain evidence of the Post Office Directory, to show a slowing-up, and this was conspicuously the case in Redcliffe Square, built 1868–76. (It was even more so with the houses of 1874–8 on the north side of Old Brompton Road.) It may have been Corbett and McClymont that The Estates Gazette had in mind when it said in 1878, a few days after their bankruptcy, that 'one firm of builders in the neighbourhood of Kensington have houses unlet on their hands to the value of £10,000 a year'. (fn. 275)
Thereafter the streets here, more than those in the earlier-developed part, evinced decline in the last decades of the century. It is particularly in the nineties that the change declares itself in the Post Office Directory, although this probably records belatedly an earlier change. In Coleherne Road, Fawcett Street, Redcliffe Road and Finborough Road particularly 'apartments' replace private residences and other households cease to be noticed at all. In 1902 Charles Booth thought the decline of parts of West Brompton could be ascribed to the fact already noted, that it was an area where the houses were built for a richer class than was becoming willing to inhabit them. It showed 'a failure on the part of ground landlords and builders to appreciate the economic strength of the classes who keep no servants and make no pretence to fashion, . . . amongst whom are to be found every year a larger proportion of the population. The mischief seems to be an inevitable consequence of the construction of property for which there is no sound demand . . .' (fn. 291)
Harcourt Terrace in 1900 had not, avowedly, succumbed to apartments, but had been slow to fill. One class for which this part of South Kensington seems to have gained rather than lost attraction was the officer of the armed services. In 1880 ten had lived in Tregunter Road and five in Westgate Terrace. By 1900 they were more noticeable in Harcourt Terrace (a general, two colonels, a major and a captain). It was evidently not the ramrod architecture of that street (more conventional than others on the Redcliffe Estate) which attracted them, as Redcliffe Square was also favoured, with seven officers.
The Methods and Bankruptcy of Corbett and McClymont
On 4 May 1878 Corbett and McClymont suspended payment. The immediate occasion seems to have been the maturing of certain promissory notes, perhaps in particular those of the incumbent of St. Luke's, Redcliffe Square (see page 236). The verdict of The Building News at the time on the general cause was simply that in South Kensington 'they have over-built'. It spoke of empty houses in one road 'which must have meant £200,000 lying idle'. (fn. 292) On 6 May The Times reported their joint liabilities as an estimated £1,300,000 and their separate liabilities as £65–70,000 (Corbett) and £45,000 (McClymont). (fn. 293) In February 1879 the Bankruptcy Court made an order for the payment of 2s. 6d. in the £ to creditors of the joint estate and 6d. in the £ to those of the separate estates. (fn. 294) Much of their property in London and elsewhere was sold off or passed into the hands of mortgagees, but some remained to them. Corbett moved to a narrower house at No. 57 Cathcart Road (Plate 87c) in autumn 1878 and McClymont (not too cast down by his misfortunes, however, to go to the 1879 Boat Race) moved to a house at No. 318 King's Road, Chelsea, where in 1881 he called himself a 'retired builder'. (fn. 295) Corbett obtained some income from a long-standing agency for the Royal Insurance Company, through which the insurance of all houses on the Redcliffe Estate had been effected. (fn. 296) The firm remained at No. 2a Redcliffe Gardens (fn. 135) administering what remained of its estate until the partnership was dissolved in c. 1880. (fn. 297) Alexander McClymont disappears from King's Road after 1882. (Someone of the same name, perhaps his son, was at No. 32 Cathcart Road in 1891–8.) Corbett moved in 1882 or 1883 to No. 2 Redcliffe Gardens, next to the firm's old office, where Corbett and Company continued until 1889 as 'builders', although seemingly not house-builders. William Corbett disappears after 1889 but his younger son, A. J. Corbett, kept the firm going in the late nineties and then moved with it to No. 19 Finborough Road until 1905. (fn. 135)
As has been noticed, in South Kensington Corbett and McClymont's houses had all been built by the time of the bankruptcy. Some finishing needed to be done, however, and much of this work seems to have fallen to Aldin and Sons. (One big house brought them a contract for £1,500. (fn. 298) ) Corbett and McClymont's relations with rival building firms are not known. Corbett had sent a circular to Freake on behalf of at least one West Brompton charity (fn. 282) and dispatched one of his sons with a polite letter to Spicer asking him to subscribe to St. Luke's Church. (fn. 299) With Aldins the relations were closer, perhaps because of a common association with one of the bankers at Coutts, W. G. Logan. (fn. 300) (Corbett interested Charles Aldin in his estate at Westgate, for which Aldin negotiated to supply him with bricks from a field at Slough, and where the younger Charles Aldin had a house. (fn. 301) )
Something of the background of the bankruptcy is revealed in copies of William Corbett's office out-letters, which survive, with gaps, for the years 1870–80. Unfortunately, one of the gaps is from the end of March 1878 until the bankruptcy on 4 May. The light thrown on the firm's workings is further limited by a fact stated in one of Corbett's later letters—'the practical part of our business was conducted by Mr McClymont'. (fn. 302)
Corbett's detachment from the building process seems to have been complete. His letters show little interest in the design or planning of the product his firm was offering. That this was more than scrupulosity in regard to his partner is suggested by the paucity of such references in the many letters concerned with his own estate at Westgate (where McClymont, however, did have some involvement). Nor did Corbett very much concern himself with salesmanship. The chief agents for the Redcliffe Estate seem to have been Rogers and Chapman of Gloucester Road. At least one general layout plan was publicized. (fn. 265) Particulars and room-plans of some big houses which Corbett and McClymont were especially anxious to be rid of were prepared for circulation in 1880, but Corbett's comment to the architect employed to make them that 'similar things I find have been prepared and distributed by some of the Builders of South Kensington for their large Houses' (fn. 303) suggests the firm had not been very forward in using this kind of inducement to customers.
The half of the firm represented by Corbett was concerned solely, it seems, with financial management and with the legal technicalities necessary to raise funds. In Corbett the accountant (or ex-accountant) and the lawyer both found a voice—he spoke in 1874 of his 'success in life' being 'mainly due to the Legal profession and my connection with it' and about that time he was joining the Temple Club. (fn. 304)
It was presumably Corbett who would have been concerned to determine the apportionment of the building leases between him, McClymont and both of them. Those individually granted were thereupon sub-leased by each to the other at an increased ground rent, thereby creating an 'improved ground rent', which could in turn be sold or mortgaged. (fn. 305) In June 1877 Corbett said they had sold upward of £200,000 of these. (fn. 306)
The prevailing rate of interest was one of Corbett's most anxious concerns. In November 1873, for example, he was deploring that 'Bank rate has today reached the enormous figure of £9 per cent'. (fn. 307) (The 'prevailing' rate of interest was not, however, as will be seen, a simple matter.) Its importance was, of course, in the effect it had on Corbett's main activity in the seventies, that is, raising money. If Corbett abjured McClymont's 'practical' concerns he often called on his partner to help obtaining new creditors or persuading old ones to provide more funds ('Will you see Price and get £2000 if you can' (May 1874), 'I hope you have done some good today as to Cash' (June 1874), 'I hope you will do no end of good tomorrow re funds (July 1877) (fn. 308) ). In 1873 Corbett and McClymont do not seem, in fact, to have had great difficulty in attracting creditors, who were 'very civil' or even 'very civil indeed'. (Later, they tended to be only 'pretty civil'.) (fn. 309) But the chase after funds was energetic. In February 1874, for example—'I saw Houseman, Jarrett, Weiss, Cole, Gabriel, Matthews, Ingpen and Griffith Davies and Lewin; got on well at each place and must not grumble at the days work' (fn. 310) (a day, that is, at solicitors' offices, with one call on a bank manager). One morning in June 1877 Corbett went from Redcliffe Gardens to (another) bank manager in Old Brompton Road at 9 o'clock, then to the Gunters' lawyer Tomlin (perhaps at his house in Bolton Gardens rather than at his office in Old Burlington Street), then back to Redcliffe Gardens at 9.45 to see McClymont, then to another solicitor (presumably at his office in Storey's Gate rather than at his house in Bayswater), then back to Redcliffe Gardens to meet a third solicitor at 11.30. (fn. 311)
The sources of funds were various and numerous. Some money came from the Gunters via Tomlin, although in other respects the relations with the ground landlords seem to have been distant. In 1874 the firm had a loan from Robert Gunter, who declined, however, to advance a further £10,000 on a second mortgage, and Corbett was hopeful of getting £5,000 that James Gunter would shortly have for investment. (fn. 312) As has been seen, George Godwin was an investor on a modest scale. Some private backers occur. Lady Price, a widow, living in Lowndes Square, was mortgagee of some houses in The Little Boltons (from Spicer as well as from Corbett and McClymont) and Redcliffe Gardens. (fn. 313) An E. L. Price, colourman of Ebury Street, was also a backer, although a trade connexion is possible there: (fn. 314) Alfred Waterman of Gracechurch Street, timber merchant, and Henry Bingley, slate merchant, were also lenders. (fn. 315)
Insurance companies seem not to have been much used. The chief sources of money were solicitors and bankers, and nearly two dozen solicitors occur in this role. The firm of Lewin seems to have had an involvement at one time to the extent of £50,000. (fn. 316) How far solicitors' money was their own does not usually appear, although one, in Essex Street, held mortgages to secure £27,700 'of which about ¾ths are Mr Cole's own money'. (fn. 317) The most important firm in some respects was Farrer, Ouvry in Lincoln's Inn Fields, whose contact with Corbett and McClymont was through a partner, W. J. Jarrett. Farrer, Ouvry's importance was largely due to the fact that they acted for Coutts and Company, a major source of funds. Coutts's contact with Corbett and McClymont was more directly through W. G. Logan. He, apart from being Corbett's next-door neighbour in The Little Boltons, was closely connected with Thomas Logan and Company, wine merchants, in Buckingham Street, who supplied and perhaps ran the hotel at Corbett's Westgate, and was himself an interested resident there. (fn. 318) (Tomlin and the Lewins also had or took houses at Westgate. (fn. 319) )
Coutts was not the only bank involved with Corbett and McClymont. The National Bank at Grosvenor Gardens, the Union Bank at Chancery Lane, and nearer home the London and Provincial in Old Brompton Road and the London and South Western in the Fulham Road were all used for loans. Their managers were important people to Corbett and McClymont. (The manager of the National Bank was given the free use of a house at Westgate at Christmas 1876. (fn. 320) ) None, however, was so important as Coutts. The extent of Coutts's financial commitment does not appear, but in 1874 was sufficiently large for Corbett to be anxious to satisfy one of the partners that he was a sound man even in the matter of party politics. (fn. 212) And it was Coutts who were sufficiently involved to take active, if ineffectual, steps to protect their stake in the firm. In February 1878 they evidently asked an estate agent and surveyor to report on the firm's progress (perhaps in building at Surbiton) when another large loan was under discussion on the security of this new work. One of the partners was sufficiently concerned to go and see for himself. Corbett wrote to McClymont: 'From a whisper I heard I think Mr Ryder [later the fourth Earl of Harrowby, of Coutts] and Mr Jarrett [of Farrer, Ouvry] will be down when not expected. Pray keep a sharp look out and see that all outside is going on properly.' (fn. 321) Rather in the manner of an 'institutional shareholder' nowadays Coutts also put in an accountant to inspect the firm's books. (fn. 322) This was W. F. Marreco of Marreco and Gilbert, whose name introduces the final phase. In the same month the manager of the London and Provincial bank refused the offer of some property (probably at Westgate) as security for the continuation of a loan of £1,000. Corbett paid the loan off and closed the account with a dignified letter. (fn. 323) But the charge of debt could no longer be kept at bay and on 4 May 1878 Marreco exchanged his role as 'company doctor' for that of receiver for and manager of a firm in liquidation.
As to the cause of failure, Corbett wrote immediately afterwards to a solicitor who was one of the firm's creditors (perhaps with a touch of malice in the apparent naivety) that 'Messrs Coutts and Co. who have assisted us very largely, found great fault when they discovered we had been paying interest exceeding five per cent, but there were others besides yourself, to whom we had been paying a similar rate'. (fn. 324) It is evident from Corbett's letters that since at least the beginning of the year he had been striving hard to rearrange the firm's credit on the basis of long-term mortgages and that this conventional method had by no means been the staple of its borrowing. (fn. 325) Much of the money had been raised not by first or second mortgages but by a complication of short-term loans, often on the security of the deposit of title-deeds and at a high rate of interest. (fn. 326) In January 1878, for example, he had to ask for £250 for three or four months at seven and a half per cent, but arranged for £2,000 on mortgage at four-and-a-half per cent. (fn. 327) As Corbett told his 'confidential clerk' in that month, with an eye to Coutts's investigation, 'every effort must be made to clear off temporary loans and make permanent mortgages'. (fn. 328)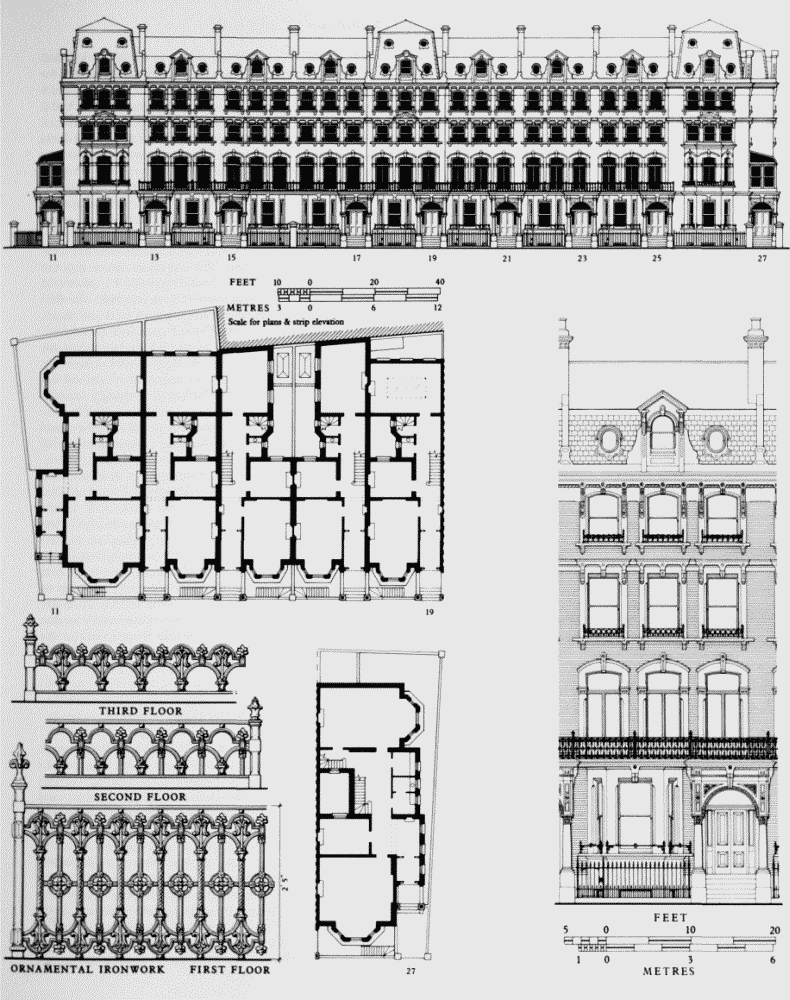 The hazards of money-raising were increased by a falling-off in the demand for the wares Corbett and McClymont were offering and, probably, a rise in costs. In summer 1877 Corbett was complaining of the high cost of materials and labour. (fn. 329) The firm's obduracy against wage-demands has been noticed and possibly explains Corbett's dislike, expressed in 1875, of the London School Board and its 'mania' for building: (fn. 330) perhaps this spoilt the labour-market. And demand which in 1873 was still good was evidently declining in 1877.
Houses in a range on the west side of Redcliffe Square had, Corbett said, been valued at £3,000 when built in 1873 or 1875. (fn. 331) The asking price of one in 1877 was £2,625 (fn. 332) and of another in 1880, after the bankruptcy, £2,250. (The offer of £1,600 for the latter brought Corbett as near as he came to boiling-point—'Whoever makes this offer can be no well wisher to us or our Estate, in fact it is neither more nor less than an insult'.) (fn. 333) A house on the south side, valued at about £4,350 when built in 1874, was on offer at £3,350 in 1880. (fn. 334) (Even more difficulty was found with the big houses of 'Bolton Gardens West' on the north side of Old Brompton Road.)
A year after the bankruptcy the depression in the house market was such that Corbett was able to persuade the trustee for a bankrupt creditor that properties on the Redcliffe Estate which had been made security, by second mortgages, for £8,000 would not sell at auction even at their reduced estimated value of £4,800 and successfully offered £4,000 to discharge the mortgage. Characteristically Corbett and McClymont had to borrow £3,500 of this from another lawyer. (fn. 335) Elsewhere, the deeds of properties on which a customer of the Union Bank had advanced money had been lodged with the bank and then transferred, with the loan, to T. E. Lewin. But the brute fact was that in April 1879, as Corbett confessed, the properties were 'not of sufficient value to pay the amount due upon them'. (fn. 336) In these circumstances Corbett was at a loss: 'the sad misfortune which befell us', he wrote to W. G. Logan in May 1879, 'was from no fault of mine; and the most terrible depression of property which has happened, not only on our Estate, but also in the neighbourhood, I could not possibly avoid'. (fn. 337)
So far as Corbett's letters suggest, personal inadequacy (other than sickness — both he and McClymont had gout (fn. 338) ) was probably not a major element in the failure. The Builder in 1870 had praised Corbett's 'energy and clear-headedness', (fn. 339) and his letters are lucid, measured and concise. Neither he nor (so far as the letters suggest) his partner was idle. Corbett wrote twenty-nine letters, for example, on Boxing Day 1877 (fn. 340) and sixty-one on 4 and 5 April 1879 (very few of them merely as routine). (fn. 341) And it is evident that in its complicated dealings the firm at least thought it knew what it was doing. Its straightforwardness is less easy to judge. After the bankruptcy Corbett was seemingly guilty of at least disingenuousness when in November 1879 he tried to sell No. 26 Redcliffe Mews to a fellow-builder with the prospect of its use as a tavern a week after he had told the Union Bank there was 'no chance whatever of a licence'. (fn. 342)
The wide range of the partners' activities does not seem to have helped the firm. The Westgate estate was not greatly prospering in 1877 (and early in 1878 Corbett sold such of his land there as was still undeveloped). The firm had building interests on Robert Gunter's land in Fulham, and on other estates in Surbiton, Putney and Croydon.
To some extent the firm seems to have recognized the situation, if belatedly. There are signs of retrenchment in its activities in 1877. (fn. 343) But the leasehold system did not make this easy for builders who had to meet legal commitments in regard to their property, and this difficulty must have been greater for firms which, like Corbett and McClymont, had little or no business as contractors to fall back upon.
Perhaps in an attempt to move with the times, Corbett had been interesting himself early in 1877 in buying 'good Red Bricks' (fn. 344) —a commodity not much used on the Redcliffe Estate. This apparent recognition came too late to help there, where the firm was trying in the late seventies to dispose of houses built in strong versions of the 'style' of the late sixties. It was unfortunate for the firm that the phasing of the Redcliffe Estate, presumably in some measure at the behest of Tomlin and the Godwins, saddled it in a difficult market not with its more modest and muted houses but, in Redcliffe Square and on the north side of Old Brompton Road, with some of its biggest and least appetizing.