Pages 91-101
Survey of London: Volume 41, Brompton. Originally published by London County Council, London, 1983.
This free content was digitised by double rekeying and sponsored by English Heritage. All rights reserved.
Bonnin, Basevi, and Pelham and Egerton Crescents
In 1822 James Bonnin, a builder who was then engaged in building Brompton Square and who was to play a major role in the development of both the Smith's Charity and Alexander estates over the next twenty-five years, entered into a building agreement with the Smith's Charity trustees to erect a terrace of eight houses on the north-west side of what was then Fulham Road but is now the western end of Brompton Road. The site is now occupied by St. George's Garage, St. George's Court and Nos. 264–268 (even) Brompton Road. The agreement provided for the granting of sixty-year leases (fn. n1) from 1823 at a total rent of £42 per annum, (fn. 52) and the terrace was called Onslow Terrace after the second Earl of Onslow, one of the trustees. No. 1, at the northern end of the terrace, which had extensive grounds at the rear (the site now of St. George's Garage) was leased in 1823 to William Wilberforce the younger, the son of the celebrated emancipationist, but he only lived there for a short while. (fn. 53) The most notable later occupant of the terrace was Giuseppe Mazzini, the Italian statesman, who lodged at No. 2 (later renumbered 18 Fulham Road) from 1861 until 1871, when he returned to Italy for the last time. (fn. 54)
The southernmost house was demolished in about 1866 for the building of the Metropolitan District Railway, and in 1883 shops were built on the forecourts of six of the remaining houses, then numbered 18–28 (even) Fulham Road, by Edward Yates of Walworth Road, a major speculative builder who worked mostly in south London. (fn. 55) Yates's shops and Bonnin's houses behind were demolished in 1934.
At the rear of the terrace Bonnin built himself a single-storey cottage with a workshop and timber yard, where he lived and conducted his business trom 1826 until 1838. (fn. 56)
The surveyor of the trustees' London estate during the building of Onslow Terrace was John Booth. His appointment, probably in 1819, seems to have marked a change of policy by the trustees, the London estate having previously been under the control of the charity's general surveyor, William Clutton, the son of the William Clutton who had been first appointed to that post in 1769. (fn. 57) Booth, who was a minor architect. (fn. 58) proved somewhat dilatory in carrying out his duties, and his laxness in drawing up the agreement with Bonnin had enabled the builder to erect the workshops and sheds for his own use at the back of Onslow Terrace, much to the chagrin of the trustees. (fn. 59) Not surprisingly he was replaced in 1828.
The leases which had been granted to Novosielski in 1785 were due to expire in 1830, and when the trustees wanted a report on the state of the houses erected under these leases and the best method of re-letting them they turned not to Booth but to George Basevi junior. The decision was probably taken at the trustees' meeting on 22 August 1828 as the letter inviting Basevi to undertake the work was written shortly afterwards. (fn. 60) This commission appears to have pre-dated Basevi's appointment as surveyor to the neighbouring estate of John Alexander, and may have been given to him because the trustees knew and admired his work in Belgrave Square, by then well advanced.
Like Booth before him, Basevi was only surveyor for the charity's London properties, the country estates remaining under the control of the Clutton family, and his first tasks were humdrum enough but important to the trustees. He was paid £212 for his report on the houses in Michael's Place and nearby streets and further sums for surveys, estimates of dilapidations and statements of the improvements which he considered necessary. These included a new sewer and pavements in Brompton Crescent, which were constructed by James Bonnin at a cost of over £1.350. (fn. 61)
Most of the houses erected by Novosielski or his sublessees were re-let on twenty-one-year leases at rack rents which produced a considerable improvement in the income of the charity, (fn. 62) but some new building also took place, principally in Yeoman's Row. Here the back gardens of the houses in Michael's Grove were shortened and some twenty narrow terrace houses were erected over several years by Edward Aldred of Gray's Place, Kensington, and Edward William Burgess of Soho, builders, on sixty-three-year leases from 1830. (fn. 63) These houses were demolished on the expiry of their leases in 1893. Burgess may also have rebuilt three houses in Michael's Grove, for which he was granted leases for similar terms, (fn. 64) but these houses too have been demolished.
Pelham Crescent, Pelham Place and Pelham Street
In 1832 the bankruptcy of Samuel Harrison and William Bristow, the nurserymen, (fn. 65) freed some eight and a half acres of land for development, and thereby provided Basevi with the opportunity to make a much more substantial contribution to the appearance of the estate. Here Pelham Crescent and Place and most of Pelham Street (formerly Pelham Road), which were named after Henry Thomas Pelham, third Earl of Chichester, one of the trustees, were laid out under two building agreements with James Bonnin. The first, dated 1 June 1833, covered the eastern half of Pelham Crescent, the eastern side of Pelham Place, both sides of Pelham Street between Pelham Place and Fulham Road, and a short frontage to Fulham Road on each side of Pelham Street. The second agreement, dated 21 October 1838, was for the remainder of Pelham Crescent and Pelham Place and the sites now occupied by Nos. 12–26 (even) Pelham Street. A third agreement, for the building of Nos. 6–10 (even) Pelham Street and a number of houses on the north side of that street which were demolished for the building of South Kensington Station, was made with Bonnin's son, James Bonnin junior, on 25 July 1843. Some of the land covered by the last agreement was taken from the nursery of Thomas Gibbs, whose lease had expired in 1843.
Basevi provided elevations and details for Pelham Crescent (Plate 50a) and nine houses in Fulham Road, six with ground-floor shops to the north of Pelham Street and three without shops between that street and Pelham Crescent. (Only two of the latter were in fact built, and all eight houses, known collectively as Onslow Place, have been demolished.) He also drew the flank elevations of the houses at the junction of Pelham Crescent with Pelham Place and thus determined the lines of the adjoining houses in Pelham Place. (fn. 66) Whether he drew out any more elevations is not known (those for the houses without shops in Fulham Road only being prepared at the express suggestion of Reginald Bray, the trustees' clerk and treasurer (fn. 67) ), but his influence was paramount and it is clear that very little was built during the period of his surveyorship, which lasted until his death in 1845, without his architectural imprimatur.
Under the agreement of June 1833 Bonnin took the ground for eighty years from 1833 at an initial rent of £25 per annum rising annually to £220 in the seventh year, when the development was to be completed. He was to build houses worth at least £800 in Pelham Crescent and £600 in Pelham Place and Fulham Road. Pelham Street was regarded as being of much less importance and Bonnin was allowed to erect stables on its southern side at the backs of the houses in Pelham Crescent, and to erect semi-detached pairs of 'cottages' on the north side to elevations which were to be approved by Basevi but not necessarily provided by him. A plot at the north end of Pelham Place (now occupied by Nos. 16 and 18) was also set aside for cottages. The agreement specified that the leases were to contain covenants that the houses were to be repainted externally every four years including the stucco work, 'each house of an uniform colour with the whole' that no alterations were to be made to the external appearance of houses without consent; and that, apart from the six shops in Fulham Road and the first two houses in Pelham Street, which were allowed to be used as shops (one was the Pelham Arms public house), all the houses were to be used as private dwellings only. (fn. 68)
The trustees covenanted to provide a communal garden in Pelham Crescent for the occupants of the houses in the crescent and Pelham Place. Basevi designed the iron railings enclosing the garden (which were removed during the war of 1939–45) and they were manufactured by May and Merritt at a cost of £333. (fn. 69) Thomas Gibbs undertook the planting in the garden. (fn. 70)
The agreement of 1838 was also for the granting of eighty-year leases, this time dating from 1838, at an ultimate ground rent of £200 payable in the fifth and succeeding years. Bonnin had to complete the development within six years and, in an extra stipulation not contained in the earlier agreement, he was by then ' to correct all errors that may be made in the elevation' and replace all the materials that were contrary to the specifications. He was permitted to erect three cottages or stables at the back of the houses on the west side of Pelham Place to elevations approved by Basevi.' (fn. 71)
The third agreement, which was made in 1843 with James Bonnin junior for the western end of Pelham Street, provided for the granting of eighty-three-year leases at a total ground rent of £96 per annum. (fn. 72)
James Bonnin senior proceeded with great despatch as soon as he had signed the first agreement in June 1833. In July he disposed of most of the ground on the north side of Pelham Street and the small plot at the end of Pelham Place (the site of Nos. 16 and 18) to James Jolley of St. James's, builder, in a subsidiary agreement. (fn. 73) One of the witnesses to the agreement was James Bonnin junior, who was thus clearly assisting his father from the start. (fn. n2)
John Bonnin, a grocer, another of the builder's sons, was paying rates on the first house in Onslow Place by the end of 1833 and all eight houses there were occupied by 1836. No. 1 Pelham Crescent was occupied in 1835, Nos. 2, 4 and 11 in 1836 and the remaining houses in the eastern half of the crescent by 1838. The first six houses in Pelham Place, originally Nos. 1–6 but renumbered as 2–12 (even) in 1864, were taken by 1839, and the seventh house, now No. 14 followed in 1841. (fn. 23)
Only in his arrangements with James Jolley does Bonnin appear to have run into serious difficulties. Building along Pelham Street proceeded slowly and intermittently, and in about 1842 Bonnin and Jolley were on the verge of litigation. (fn. 75) One problem was that Jolley had relied on the open Blacklands Sewer which ran parallel to, and a little distance to the north of, Pelham Street, for house drainage. But shortly after building commenced the lower portion of this sewer had been diverted into a new' sewer which had been built in Pelham Crescent and Pelham Place, with the result that his houses, lacking proper drainage, ' have been so inundated as to render them uninhabitable, and the Tenants have left them in consequence'. (fn. 76) Jolley was eventually declared bankrupt in 1842, and the undeveloped plots on the ground which had been taken by him were transferred to James Firby of Chelsea, gentleman. (fn. 77) Firby was also the lessee, in March 1842, of Nos. 16 and 18 (formerly Nos. 8 and 9) Pelham Place, which had been built on a plot included in the agreement with Jolley and which are marked on a plan of 1840 as 'houses built by James Jolley. (fn. 78) Firby was the first occupant of No. 16 in 1842, and No. 18 was let in the following year. (fn. 23)
Building under the second agreement proceeded more rapidly. The first houses in the western half of Pelham Crescent were completed by 1840 and the whole crescent was occupied by 1843. The seven houses on the south side of Pelham Street covenanted to be built by this agreement, originally known as Pelham Terrace and later as Nos. 42–48 (consec.) Pelham Street before being renumbered in 1897 as 12–24 (even), were also completed by 1843. (Of these, Nos. 12–18 were rebuilt in 1883–4 in dark brick and stone, probably to the designs of Charles Jones of Ebury Street, architect. (fn. 79) ) The west side of Pelham Place, originally numbered 10–23 (consec.) from north to south and renumbered in 1864 as 1–29 (odd) from south to north, was completed by 1844. (fn. 23)
Bonnin also built two adjoining cottages behind the west side of Pelham Place. The northerly one, called Pelham Cottage, was occupied by Bonnin himself in 1841–2; the other was called Park Cottage (now Park House) after its first occupant, Thomas Park, a tailor. (fn. 80) Both are long, narrow, two-storey buildings treated in a pleasantly vernacular manner with informally planned interiors. (fn. 81) Approached only by narrow passageways from Pelham Street or Onslow Square, both cottages enjoy almost total seclusion and have been much sought after in recent years. Perhaps inevitably, they have also undergone much alteration. In 1888 a large studio was built (by Killby and Gayford) to the south of Park House and separated from it by a stone-paved courtyard. (fn. 82)
The remaining houses in Pelham Street erected under the agreement of 1843 with James Bonnin junior, of which only Nos. 6–10 (even) survive, were completed by 1848. (fn. 23) Six houses were also built in the northward continuation of Pelham Place towards Thurloe Square (Plate 49b). This short stretch of road was originally known as Pelham Place North, but the houses have all been demolished.
Besides James Bonnin senior and junior, a number of other builders assisted with the development. Samuel Archbutt took leases, or was a party to leases, of Nos. 9–21 (odd) Pelham Place, but the applications to connect these houses to the sewer in the road were made by his son, Robert Archbutt. (fn. 83) James Buckley of Brompton, plumber and glazier, was the sub-lessee of a house in Onslow Place which he himself occupied and also took leases of No. 18 Pelham Crescent and several houses in Pelham Street now demolished. (fn. 84) Robert Cox of Chelsea, builder, was also much involved in building operations in Pelham Street and constructed sewers and pavements there; he was party to a sub-lease of Nos. 55 and 57, which form part of the attractive surviving terrace at Nos. 51–61 (odd) Pelham Street. (fn. 85) (fn. n3)
The Bonnins obtained some of the finance needed for the development by the normal method of mortgaging the building leases which were granted to them by the trustees. The intermediary in several of these transactions was Robert John Ashton, an attorney of Queen's Buildings, Brompton, and the mortgagee in a number of instances was his father, Robert Ashton, a retired builder. The Ashtons were later the first occupants of No. 2 Pelham Crescent. (fn. 87)
Many of the building leases, however, were not granted to the Bonnins or other builders, or to the occupants of the houses, but to third parties who can usually be presumed to have been providing some of the financial backing for the development. The lessee in such circumstances would normally grant a sub-lease to a builder for virtually the whole term of his head lease at an enhanced ground rent, the money he had evidently made available to the builder being perhaps a capitalisation of the improved ground rent. The builder often then proceeded to mortgage his sublease.
To take an example of how this worked, at No. 8 Pelham Crescent the head lease was granted by the Smith's Charity trustees in December 1835 to Ann Wissett of Bruton Street, Mayfair, a widow, for seventy-eight years from 25 March 1835 at a ground rent of £4 per annum. In September 1836 Ann Wissett granted a sub-lease to James Bonnin senior for seventy-seven-and-a-half years, less three days, from 29 September 1835 at a rent of £12 per annum. Bonnin mortgaged the sub-lease in October 1836 for £500 to which £300 was later added, and in January 1840 he assigned the sub-lease for £187, still subject to the mortgage of £800 and, of course, to the rent of £12, to the first occupant of the house, George Newman, a wine merchant. (fn. 88)
The mortgagee in this instance was Stroud Lincoln, esquire, who lived firstly at No. 23 and then at No. 8 Alexander Square, (fn. 23) and who was the most important of Bonnin's early sources of finance. Several of the trustees' leases were granted directly to him and, as indicated by this example, he also provided standard mortgages at five per cent interest. (fn. 89) At his death in 1850, when his estate was worth £20,000, he was still the head lessee of seventeen houses on the Smith's Charity estate and nine on the neighbouring Alexander estate. (fn. 90)
Another important backer in the 1840's was Stephen Phillips, a timber merchant with an address in New Broad Street in the City. (fn. 91) He was the head lessee of nearly all the houses in Pelham Street erected under the agreement with James Bonnin junior, (fn. 92) and he was also very much involved in James Bonnin senior's development in Brompton (now Egerton) Crescent (see below). Like Lincoln, Phillips also provided normal mortgages, such as one to James Bonnin junior for £4,000 on the security of four houses in Thurloe Square (on the Alexander estate) and two in Pelham Street. (fn. 93)
The price of a new house in Pelham Crescent was about £l,000. (fn. 94) No prices are known for houses in Pelham Place when new, but in 1861 five houses there, which were let at rack rents of between £60 and £65 per annum each, were sold at an average price per house of slightly over £700. (fn. 95)
The distinguished ensemble of stucco-faced houses in Pelham Crescent and Pelham Place for which Basevi and Bonnin were responsible remains amongst the most attractive in this part of London (Plates 49, 50, fig. 24). The two continuous ranges in the crescent, consisting of thirteen houses to the east of Pelham Place and twelve to the west, have diree main storeys with basements and attics. At the corners with Pelham Place and in mat street itself there are no attic storeys (apart from two later additions). The facades are treated with the kind of austere Graeco-Roman detailing which Basevi handled so well, those in the crescent being slightly more embellished. There the enclosed porches framed by pilasters with highly individual palm-leaf capitals, the horizontal channelling of the stucco on the ground storey, the stringcourse at second-floor sill level and the crowning balustrade were all faithfully executed from Basevi's drawings, as was the unusual provision of casement windows with balconies on both the ground and first floors. The ironwork of the balconies is, however, more omate and less in keeping than the simple geometrical pattern of interlacing lozenges prescribed by Basevi, but the area railings, with the 'spear' heads matching the palm leafs of the capitals, are as he intended. The six-panelled doors shown in the drawings were replaced by equally elegant four-panelled ones, some with narrow bands held in place by studs. The latter are similar in design to some of the doors in Alexander Square, where Miss Dorothy Stroud has seen Sir John Soane's influence on Basevi, who was formerly one of his assistants. (fn. 96) (The bands are shown on one of the detailed drawings accompanying the second agreement of 1838.) The fanlights were also varied in execution.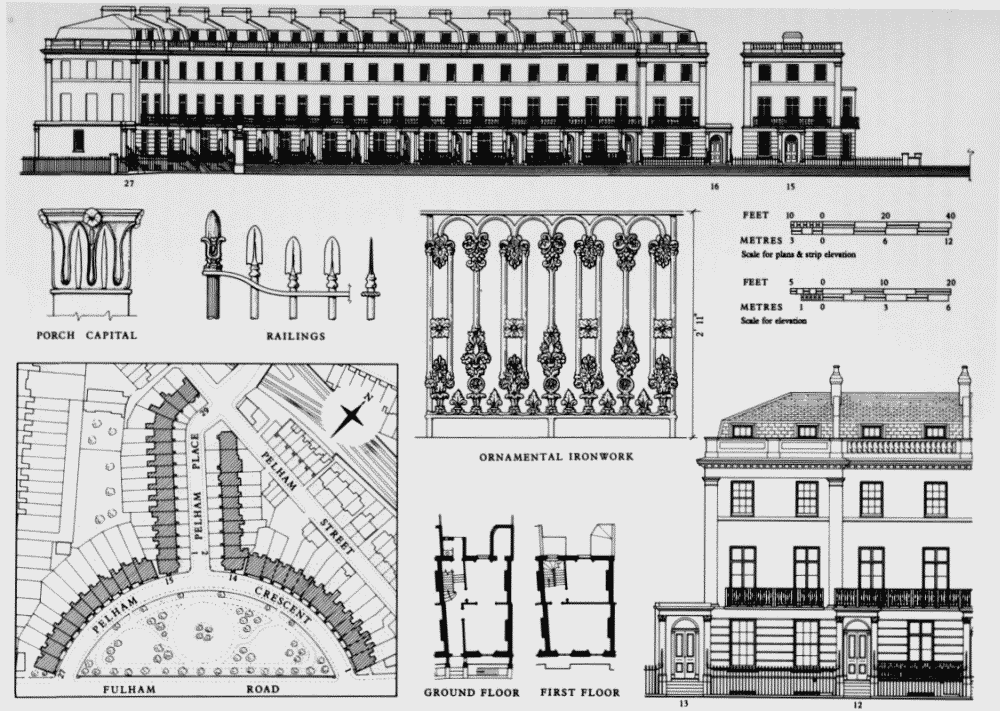 In Pelham Place the porches are dispensed with, the first-floor windows have individual balconettes with pattern-book cast-iron railings and the ground-flour windows are fitted with conventional sashes. The end houses of the main blocks on each side arc marked by simple square pilasters and canted bays rising through three storeys (including the basement), although not to the height shown on Basevi's drawings. Those at the corner with Pelham Crescent, which are numbered 14 and 15 in the crescent, have porches and ironwork in common with the remainder of the crescent on their south fronts, with the bizarre effect that the balcony ironwork on the principal façade of each house differs from that on the return front. This was not anticipated by Basevi, whose drawings show the same ironwork used in both streets. No. 15 Pelham Place, the centre house on the long west side, is singled out for a different treatment and has a blocked parapet instead of a balustrade, wide architraves to the windows and a continuous balcony at first-floor level with railings which may be of a later date. (fn. n4)
Nos. 16 and 18 Pelham Place are exceptions to the general pattern and consist of an attractive pair of two-storeyed stuccoed houses with wide Doric porticoes (which were added in 1872 (fn. 98) ), overhanging eaves and outside shutters to the windows. In the building agreement Bonnin was to be allowed to build 'a small cottage' on this plot, and in the event he let the ground to James Jolley, as described above.
Pelham Street, too, was to be set aside for semidetached pairs of 'cottages', and Basevi's responsibility for the houses in this street probably extended only to approving the elevations and materials Partly no doubt because Bonnin let some of the ground to Jolley, who ran into difficulties, a very heterogeneous collection of houses was in fact erected along its length, most of which has been demolished. The two main groups to survive, Nos. 20–24 (even) and 51–61 (odd), are pleasant small two-storeyed stuccoed houses with basements. Nos 6–10 (even) were built under the agreement with James Bonnin junior in 1843 and are similar houses, but have been more altered.
Most of the houses in Pelham Crescent and Pelham Place have straightforward plans with side hallways and dog-leg staircases at the rear, two rooms to a floor (although frequently made into one from the beginning by an arched opening on both ground and first floors) and shallow extensions at the back (fig. 24). In Pelham Crescent a barely perceptible splay to the houses compensates for the curve of the crescent. Here the end houses of each segment have extensions at the side containing the entrances, which were originally single-storeyed but which have now been heightened in two instances, and Nos. 14 and 15, at the corners with Pelham Place, have central entrances.
Shallow cornices and simple chimney-pieces provided the main decorative features before the embellishments made by later owners. (Sir) Nigel Playfair, the actor-manager, whose residence at No. 26 Pelham Crescent from about 1910 to 1922 is commemorated by a Blue Plaque, surprised his visitors by his taste in interior decoration which included a dark, bold wallpaper of peacocks, the use of black in the colour scheme of the house, and a yellow ceiling and walls to the dining-room. (fn. 99) The architect Philip Tilden decorated No. 3 Pelham Crescent with an elaborate trompe I'oeil scheme in the early 1920's when he took up residence there. (fn. 100)
At the time of the census of 1841 twenty houses in Pelham Crescent were in substantially normal occupation. Eleven of the householders classified themselves as 'independent' (seven men and four women), and there were also two clergymen, two clerks, a merchant, an architect (George Godwin the elder), a serjeant-at-law, a private tutor and a schoolmistress. There were 122 occupants in the twenty houses (an average of almost exactly six per house), including 42 servants (just over two per house on average), of whom all but three were female. In Pelham Place only seven houses were in normal occupation. Their householders included the judge and journalist Sir John Stoddart and the comedian Frederick Vining, together with two independents (one of each sex), a barrister, a clergyman and a student at law. There were thirty-seven occupants in the seven houses (an average of 5.3 per house). Of these eleven (all female) were servants, divided between five households with two servants each, one with one and one with none. (fn. 101)
On the night of the census of 1851 all twenty-seven houses in Pelham Crescent and twenty-one in Pelham Place had their usual complement of inhabitants as far as can be determined. Of the twenty-seven householders in the crescent, thirteen apparently derived their income from such sources as government funds, annuities, house property or land, and of these seven were women including five widows. There were also four merchants, three architects (Godwin, Alexander F. Ashton and William Drew), a senior clerk, an army major, an army superintendent, a barrister, a solicitor, a surgeon and a music publisher. The occupants, excluding visitors, numbered 165 (again an average of almost exactly six per house), of whom 67 (2.5 per house on average) were servants, all but four female. In Pelham Place, of the twenty-one householders ten indicated that they were living on income from investments of one kind or another, and of these six were women, five of them widowed. The occupations represented were those of barrister, solicitor, army agent, army clothier, civil engineer, wine and spirit merchant, confectioner, comedian (Alfred Wigan) and 'bookseller's assistant', while two women kept lodging-houses. Excluding the lodging-houses, the occupants of the other nineteen houses totalled 103 (5.4 per house), of whom 32 (1.7 per house) were servants, all women. (fn. 102)
The evidence of the census enumerators' books suggests that Bonnin and the trustees, under Basevi's guidance, catered for a solidly middle-class clientele, a considerable number of whom could be described as rentiers. Those who had occupations belonged mainly to the professions, with the mercantile element following closely behind.
Other inhabitants of Pelham Crescent during the nineteenth century included the French statesman and historian, François Guizot, who maintained Brompton's tradition as a place of refuge for exiles when he lived at No. 21 in 1848–9 after the revolution of 1848. (fn. 103) The actor and actress Robert and Man Ann Keeley lived at No. 10 from 1856, he until his death in 1869 and she until her death in 1899. (fn. 104) Another celebrated theatrical figure, the actor and impresario Charles James Mathews, who pursued an early, brief career as an architect, occupied No. 25 from 1865 to 1870, (fn. 105) and Edward John Trelawny, the adventurer and companion of Byron and Shelley, lived at No. 7 from 1861 until 1881. (fn. 106)
Sussex Terrace
Another small development which had begun slightly earlier than Bonnin's in Pelham Crescent was the erection of a row of houses known as Sussex Terrace on the south side of Old Brompton Road, on the site of the present block of flats called Sussex Mansions. The builder was Thomas Rice of Brompton, a mason. In an article which was written at a later date in The Builder, probably by George Godwin junior, the comment was made that this was looked upon as a 'somewhat hazardous' venture at the time because of the rural nature of the vicinity, and sure enough Rice was declared bankrupt in 1833. (fn. 107) The terrace consisted of seven houses to which James Bonnin senior added another for his own residence in 1842–3. (fn. 108) This was a substantial bow-fronted end-of-terrace house with its entrance in the middle of the side elevation and a central hallway and staircase across the width of the house. There was also a large yard at the side with a workshop at the rear. Bonnin had given up Onslow Cottage to his builder son James in 1839 and had lived successively at No. 3 Pelham Place, at Pelham Cottage and in South Street before making his home in Sussex Terrace in 1843. (fn. 23)
Egerton Crescent, Egerton Terrace and Crescent Place
On the same date, 25 July 1843, that James Bonnin junior had entered into his agreement to complete the building to Pelham Street, James Bonnin senior contracted to undertake a much more substantial development on the site of Brompton Grange. This was made possible by the financial difficulties of the singer John Braham which forced him to give up the mansion and its extensive grounds. In 1843 the trustees decided to demolish the house, and thereby made six acres available for building development. Bonnin agreed to take the land, and the trustees undertook to grant leases to him or his nominees for terms equivalent to eighty-four years from midsummer 1843 at an ultimate total ground rent of £250 per annum, payable in the fifth and succeeding years (the same rent that Braham had been paying for Brompton Grange). (fn. 109)
The development produced thirty-four houses in Brompton (now Egerton) Crescent, eighteen in Michael's Grove (now Egerton Terrace) to which two more were added in 1850 at the south end of the east side under an agreement with the builder Benjamin Watts, ten in Yeoman's Row to which two more were also added under Watts's agreement (all now demolished), and thirteen 'cottages' and some stabling in Crescent Place. The houses in Brompton Crescent, made up of twenty-four in the crescent proper and two short return 'wings' of five houses each, were numbered 26–59 (consec.) in continuation of the numbering of the existing late-eighteenth-century houses opposite to the new crescent (see page 90). This numbering was retained both when the latter houses were demolished in 1885 and when the street was renamed Egerton Crescent in 1896 after the Honourable Francis Egerton, one of the Smith's Charity trustees. The houses on the cast side of Michael's Grove were numbered 1–10 Grange Villas or The Grange until renumbered as 23–41 (odd) Michael's Grove in 1877. On the west side of the street the northernmost house was called Michael's Grove Lodge, Grange Lodge or simply The Lodge and the houses to the south of it were numbered 1–9 (consec.) Grange Terrace. In 1877 these ten houses were renumbered 6–24 (even) Michael's Grove. The numbers given in 1877 were retained when the street was renamed Egerton Terrace in 1898.
Like Pelham Crescent and its adjoining streets, the development appears to have proceeded rapidly and, judging from the rate of occupancy, successfully. Twelve houses in Egerton Crescent were in occupation by 1845 By 1847 only two houses, Nos. 45 and 47, remained empty and the) were taken in 1849 and 1848 respectively. The eighteen houses in Egerton Terrace which were built under the agreement with Bonnin were all occupied by 1848 and those in Crescent Place likewise. (fn. 23)
James Bonnin senior's actual involvement in building operations may have been confined to Egerton Crescent and even here he was not the direct lessee from the trustees of any of the houses, though he was sub-lessee of thirteen and a party to two other sub-leases. The principal speculator involved in Egerton Crescent was Stephen Phillips, the timber merchant who was at the same time James Bonnin junior's main backer in Pelham Street. Twenty-eight of the thirty-four houses in the crescent were leased directly to Phillips by the trustees at ground rents, with one exception, of £2 per annum each. (fn. 110) Phillips then sub-let the houses, usually to James Bonnin senior or other builders, at improved ground rents, generally £15 per annum. (fn. 111) As in Pelham Crescent, these sub-leases were usually mortgaged to obtain additional capital, Bonnin, for instance, borrowing £2,000 from George Newman, the wine merchant of No. 8 Pelham Crescent, on the security of his sub-lease of Nos. 50–53 Egerton Crescent. (fn. 112) Stephen Phillips, who was also the lessee of some twenty of Bonnin's houses on the Alexander estate and the owner of extensive property interests in North Kensington, Paddington and Islington, retired to Preston, near Brighton, and when he died in 1862 his effects were valued at nearly £35,000. (fn. 113)
Another large-scale undertaker who was active in the vicinity of Egerton Crescent was Benjamin Watts. He was living in Harriet Street, Lowndes Square, when development began, but moved to No. 49 Brompton Crescent in 1845, (fn. 114) and in 1851, when he was sixty-eight years old, he described himself as a retired builder. (fn. 115) He was the lessee of the terrace of ten houses erected in Yeoman's Row (now demolished) on the actual site of Brompton Grange, as well as of one house in Egerton Crescent, three in Egerton Terrace and ten in Crescent Place. In c. 1850 he also contracted with the trustees to build two more houses at the southern end of Yeoman's Row and Nos. 39 and 41 Egerton Terrace. Two houses in Crescent Place were leased to Benjamin Watts junior, who kept the Admiral Keppel public house in Fulham Road. (fn. 116) Benjamin Watts senior, like Phillips, generally granted subleases of his houses to other builders at improved ground rents. (fn. 117) (fn. n5)
Unlike Pelham Crescent, no drawings survive for Egerton Crescent, but there is no reason to doubt Basevi's responsibility for the design. An obituary which appeared in The Builder shortly after his death and which was probably written by the journal's editor, George Godwin the younger, a resident in nearby Alexander Square, stated that 'the new part of Brompton Crescent' was designed by Basevi, and in 1847 the trustees reimbursed Bonnin £22 which 'he had paid Mr. Basevi for drawings', perhaps for Egenon Crescent. (fn. 119)
Egerton Crescent does not have a break in the middle, and the continuous stuccoed terrace of twenty-four houses which Basevi designed to fit the curve of the crescent is articulated in a more complex manner than the shorter ranges of Pelham Crescent (Plate 51a, 51b, fig. 25). Each house is basically a two-bay unit of about twenty-four-foot frontage, but three types can be distinguished. The principal type, which has a basement, three main storeys, and garrets within a conventional mansard roof, is closest to the houses in Pelham Crescent and has similar plain window openings and a continuous stringcourse at third-floor level. The two houses in the centre differ in having a full attic storey with a double-pitch roof behind a tiny linking parapet, but are otherwise identical to the first type.
The terrace is, however, punctuated at regular intervals by a third type of house which is advanced from the general building line. Of four full storeys above ground with a hipped roof, it has quoins at the sides and triple windows at first- and second-floor level, that on the first floor having pilasters with anthemion-and-palmette capitals and a full entablature, and that on the second consisting of a triple sash window in a wide opening. It is in these houses and their relationship to the rest of the terrace that the stylistic changes of the decade since the design of Pelham Crescent are most apparent.
Even within houses of the same type variations are introduced by the placing of the doorways to create a complex rhythm of paired and single porches. Some of the entrance doors still retain the studded bands already noticed in Alexander Square and Pelham Crescent.
The unifying factors are the stuccoed façades, channelled on the ground floor and plain above, the continuous dentilled cornice above the third storey and the balconies, which are joined on all except the projecting houses. The ironwork of the balcony railings, which consists of straight bars relieved by clusters of leaves at top and bottom, is particularly pleasing. The shallow porches too are identical throughout and are formed by square three-quarter columns with conventional Ionic capitals carrying plain entablatures and dentilled cornices. As in Pelham Crescent there are casement windows at both ground- and first-floor level, the former opening on to balconettes with iron railings of the same pattern as those above.
The short, straight wings at the sides of Egerton Crescent, consisting of Nos. 26–30 on the west and Nos. 55–59 on the east, introduce further variety. Formerly each range contained three three-storey houses with basements and garrets flanked by two houses with four full storeys above basements, but the reconstruction of Nos. 26 and 27 after war damage as a single block of flats with an over-fenestrated façade, and other alterations, have marred the symmetry. In both ranges the first-floor windows have straight, bracketed hoods, and there is room for full Ionic porticoes and small front gardens.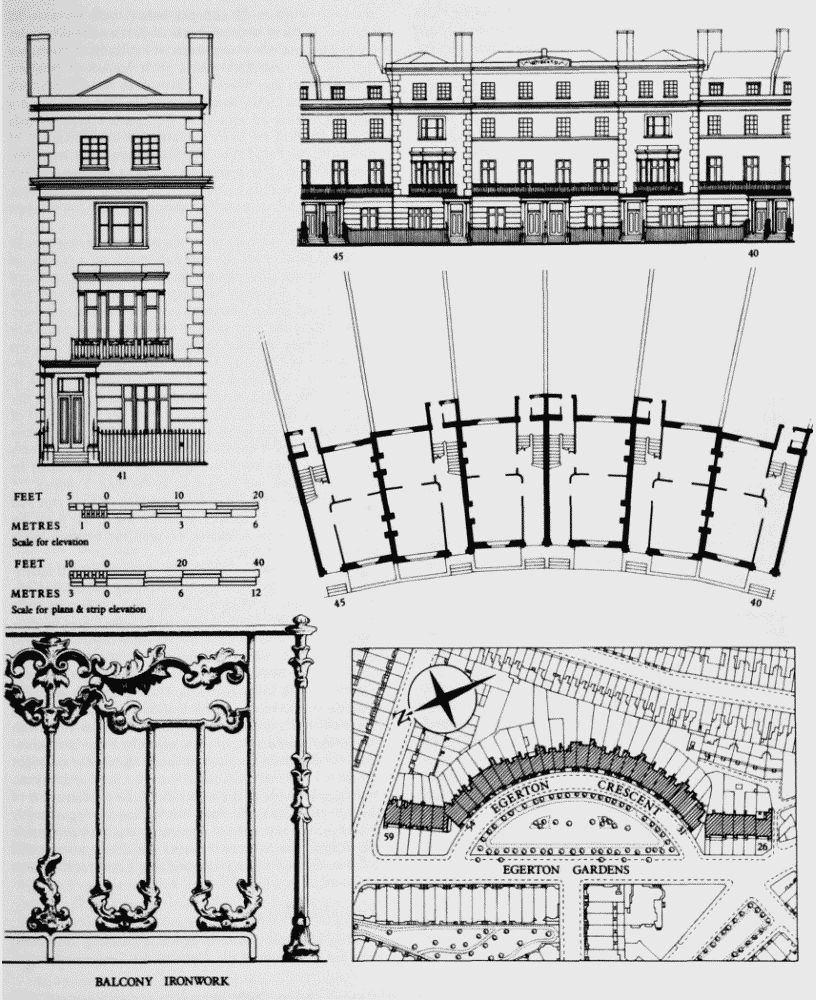 The interiors are relatively plain and simple. The houses around the crescent arc of a conventional side hallway type, and the ground-floor plans drawn on their leases show that they generally had openings between the front and rear rooms and very shallow closet wings at the back of the staircases (fig. 25). Only in the end houses of the short ranges at each side of the crescent was anything more ambitious in plan attempted, the now demolished No. 26, for instance, having had a side entrance and an open-well staircase in the centre of the house. The original decorative features chiefly consist of cast-iron balustrades to the stone staircases and some modest cornices and chimneypieces.
The cul-de-sac of Egerton Terrace contains groups of houses of different design, and Basevi's role here is more uncertain, but characteristically all the houses have succeed façades and are pleasing in their variety. They comprise a semi-detached pair of three-storey villas with a bracketed eaves cornice at Nos. 23 and 25, an individual house with a central entrance at No. 6 (where James Robinson Planché, the antiquary and dramatist, was the first occupant), a terrace of two storeys above a semibasement on the remainder of the east side, and a terrace with three main storeys and garrets, also above a semibasement, on the west.
The detailing of the terrace on the eastern side is crisper and more inventive and includes sharply incised Greek Corinthian capitals to the prominent porches, straight hoods carried on carved consoles to the ground-floor windows, a deep bracketed cornice and a balustraded parapet (Plate 51c). (fn. n6) The houses in this terrace have wider frontages and greater depth than those opposite, and sometimes they also have an interesting plan variant in the form of an L-shaped hallway in which the staircase makes a quarter turn in its upper flight. Originally they also had flat rear elevations with no closet wings, but most of them have been altered at the back and some also now have added attic storeys.
Charles Gray, who, as an architectural student, helped to found the Architectural Association in 1847, was one of the first occupants of No. 31 Egerton Terrace (formerly No. 5 Grange Villas) from 1846 until at least 1851. He lived there with relatives, including an aunt who derived her income from an annuity and was the rated occupier. Gray was not a prolific architect in later life but produced some highly distinctive buildings including Nos. 56 and 58 Queen's Gate Terrace, Kensington. (fn. 120)
The first occupants of the houses built during the 1840's in Egerton Crescent and Terrace differed little in their social composition, in fact, from the inhabitants of Pelham Crescent and Place. At the time of the census of 1851 thirty of the houses in Egerton Crescent appear to have been in normal occupation. These thirty houses were inhabited by 186 people (6.2 persons per house on average), of whom 71 (2.4 per house) were servants, all but two of them women. Nine of the householders described themselves as annuitants or fundholders, including five widows, and four others were landed proprietors, three of them also widows. There were two doctors, two attorneys, two clerks (employed in the War Office and a banking house), an official in the Queen's household, a colonel in the East India Company, a superintendent of mails with the Post Office, a civil engineer, a tax inspector, a music teacher, two merchants, a dealer in fancy goods, a hosier and a retired builder (Benjamin Watts, who, although he did not state it on the census form, received an income from house rents). (fn. 121)
The houses surviving from the original development in Crescent Place, Nos. 1a and 1–8, make up a terrace of simple but attractive double-fronted houses, brick-faced except at No. 1a which has been stuccoed, each with two main storeys and a basement and two rooms per floor. Most of them also have small closet wings at the rear. They were originally intended in part to form a buffer between the houses in Egerton Crescent and any undesirable developments which might take place on adjoining land in Chelsea which did not belong to the trustees, 'it being the intention of the said Trustees … that the north front of [each house] shall present a neat and clean appearance to the occupiers of houses in Brompton Crescent and be a skreen [sic] from any more unsightly buildings yards or gardens on land not belonging to the said Trustees'. (fn. 122) The occupants were not to hang washing or keep pigs and dogs in front of the houses and were not to use them for any trade or business, lunatic asylums and brothels being specifically prohibited.
The small houses in such 'back' streets provided much-needed accommodation for the working population engaged in supplying those numerous services demanded by the nearby well-to-do residents which could best be provided close at hand. In 1851 the twelve occupied houses in Crescent Place were inhabited by no fewer than 105 people. Three households to a single house were common and there were sometimes four. The occupants included married out-servants, several building tradesmen, tailors, dressmakers and milliners, a cowkeeper and dairyman with two living-in milkmen, and that essential Victorian tradesman, the shoemaker, who lived here with his wife and eight children. (The dairyman and shoemaker lived at premises, since demolished, on the west side of the southern arm of the street, where the ban on trades was presumably waived.) Such a pattern of occupancy was probably not to the liking of the trustees, however, for their treasurer and solicitor, Reginald Bray, later said that 'Crescent Place was built against my wish'. (fn. 123)
Brompton Hospital
In May 1844 the trustees signed a building agreement with the governors of the Hospital for Consumption and Diseases of the Chest who soon afterwards built a new hospital on about three acres of the charity's lands. The site was eventually sold to the governors in 1868 and the history of Brompton Hospital (as it became known) is described in Chapter VII.
The Deaths of Basevi and Bonnin
On 16 October 1845 Basevi was killed by a fall while inspecting the western tower of Ely Cathedral. His death deprived the estate of architectural guidance of a high order. The developments undertaken in the seventeen years of his surveyorship produced distinguished, well-mannered terraces which have, for the most part, survived with relatively little alteration, although their facades have been surprisingly disfigured in places by the addition of drainage pipes. Completely stuccoed except in the most minor of houses, the façades vary in style from the uncluttered late-Regency of Pelham Crescent to the more transitional early-Victorian of Egerton Crescent. Philip Tilden remarked of Pelham Crescent, 'How very pleasant it is to live in a crescent', (fn. 124) and certainly these gently curved terraces, echoing the grander classical traditions of Bath but with tree-shaded communal gardens in front, retain a serenity which the more ostentatious products of the Italianate style often lack. (fn. n7)
In July 1846 James Bonnin senior was declared bankrupt. (fn. 125) There were no indications in his work on the Smith's Charity estate that he was encountering difficulties, and, judging by the rapid occupancy rate, the houses which he built there seem to have met with the approval of prospective purchasers and tenants. Three years after his bankruptcy he attributed his failure to 'undertaking more than my means would justify, … the fluctuations in the funds in 1845 and 1846, and fall in House property with some heavy losses', (fn. 126) but his explanation does not accord with what is known about the general economic conditions in these years. Interest rates had begun to rise in 1845–6, but the extreme volatility of the financial markets and the crisis which led to a sharp downturn in building activity' did not come until after Bonnin's bankruptcy. Nevertheless he may have been an early victim of the depression which affected builders in South Kensington particularly severely in 1847–8.
His assessment of the reasons for his failure were given in a letter to the Kensington Board of Guardians in which he successfully solicited money to assist him in emigrating to South Australia, some of his children having already emi grated there. He landed on 26 December 1849 with his wife and four other children but died in Adelaide on 8 January 1850 of 'natural decay'. (fn. 127) His builder son James Bonnin junior had also been declared bankrupt in 1848, (fn. 128) but he did not emigrate and, after a short spell as Inspector of Nuisances for the Kensington Board of Guardians in 1848–50, (fn. 129) he later resumed his building career in London.
In 1845 the total rental value of the estate amounted to £3,734 per annum. (fn. 130) Five years earlier it had been a little over £4,000, but some land had since been let for building and no return on it was yet being received. In fact the substantial increase in the rental value of the estate since 1825 (when it was £1,023) had come, not from the new-developments, but from the rack rents obtained from the twenty-one-year leases which had been granted in 1830 of Novosielski's houses in Michael's Place, Michael's Grove and Brompton Crescent.