Pages 107-109
Survey of London: Volume 45, Knightsbridge. Originally published by London County Council, London, 2000.
This free content was digitised by double rekeying and sponsored by English Heritage. All rights reserved.
The Montpelier Estate
Formerly part of the Moreau family property broken up in 1759 (see page 77 and fig. 21), the Montpelier estate came into separate being in September 1824 with the sale by Elisha Biscoe junior of some 7½ acres of undeveloped land behind Brompton Row, his father's development along the north side of Brompton Road. (fn. 1) John Robins, of the wellknown family of auctioneers, paid £6,000 for the ground, nearly all of it in the parish of St Margaret, Westminster, the exception being a portion belonging to Kensington parish at the south end. The property included the last house in Brompton Row (later No. 188 Brompton Road) and with it a passageway to the Brompton road. Robins sold on the estate shortly afterwards, for £4,735 down and £5,000 payable at interest by way of a mortgage, to John Betts esquire of Brompton Row, and Thomas Weatherley Marriott, an ironmonger of High Row, Knightsbridge. (fn. 3)
Marriott was the son of Solomon Marriott of Knightsbridge, himself an ironmonger, and his wife, Mary Weatherley of Uxbridge. Not recently illustrious, the family was descended from a figure of some standing, Richard Marryott J.P. (c. 1626–1703) of Finchingfield, Essex, and Worlingworth, Suffolk, whose career as accountant and estate agent included senior appointments with the Duke of Norfolk, the Council of Queen Catherine of Braganza, the Bedford Level Corporation and the Duchy of Lancaster. (fn. 4)
Over the next couple of years, Betts and Marriott laid out streets and a square, set up brickworks and began letting plots on building leases. The name of the new estate had been adopted by November 1824, when a building plan was presented to the Westminster Commissioners of Sewers on their behalf by a Chelsea builder, Samuel Symons. (fn. 5) Whether spelt with a single or double 'l', 'Montpelier' was already becoming something of a cliché as a name for new developments, intended to evoke images of fashionable salubrity. (fn. 2)
Robins was soon paid off, and a series of mortgages was taken out in the new year. Betts 'agreed to retire' from the concern in August 1826, selling out to his partner for £3,000. (fn. 6)
A significant drawback to the estate in the early stages of its development was the absence of any road access to the north. This was overcome in 1827, when Marriott sold a strip of land north of Montpelier Mews to Lord Dungannon, owner of the neighbouring Trevor estate: part of the strip was set aside for a roadway connecting Montpelier Square with a new street, the present Trevor Place, and thence with the Kensington road. (fn. 7)
In 1830 Marriott took a £10,000 mortgage loan from Robert Lawton esquire, of Devon, and he continued to borrow on the estate. Parts were sold off freehold. In 1839 he tried unsuccessfully to obtain finance from the Corporation of London Assurance to carry on the development, (fn. 8) and in 1842 he re-mortgaged much of the estate to Charles Chatfield, Edward Layton and Henry Snook. (fn. 9) In the 1850s, the freeholds of several properties were sold to or bought for John Snook the younger, a merchant.
On T. W. Marriott's death in 1857, the Montpelier estate, somewhat reduced, passed to his numerous children, subject to a trust administered by his son Thomas Weatherley Montague Marriott for paying off the mortgages. In time, following the death of another son, who died intestate, a law suit became necessary to determine the distribution of his estate, and by order of the Court the Marriott property in Montpelier Square and adjacent streets was disposed of at auctions in the early 1890s. (fn. 10)
In 1896, after Snook's death, most of his property was bought from his trustees, his relations Henry Snook and Sir Charles Dilke, by the governors of Queen Anne's Bounty. The Ecclesiastical Commissioners, as successors to the Bounty, sold their freeholds during the 1930s and '40s, as leases began to fall in, since when there has been no large landlord in the area with the exception of Harrods, which had acquired a number of properties by the First World War (now disposed of).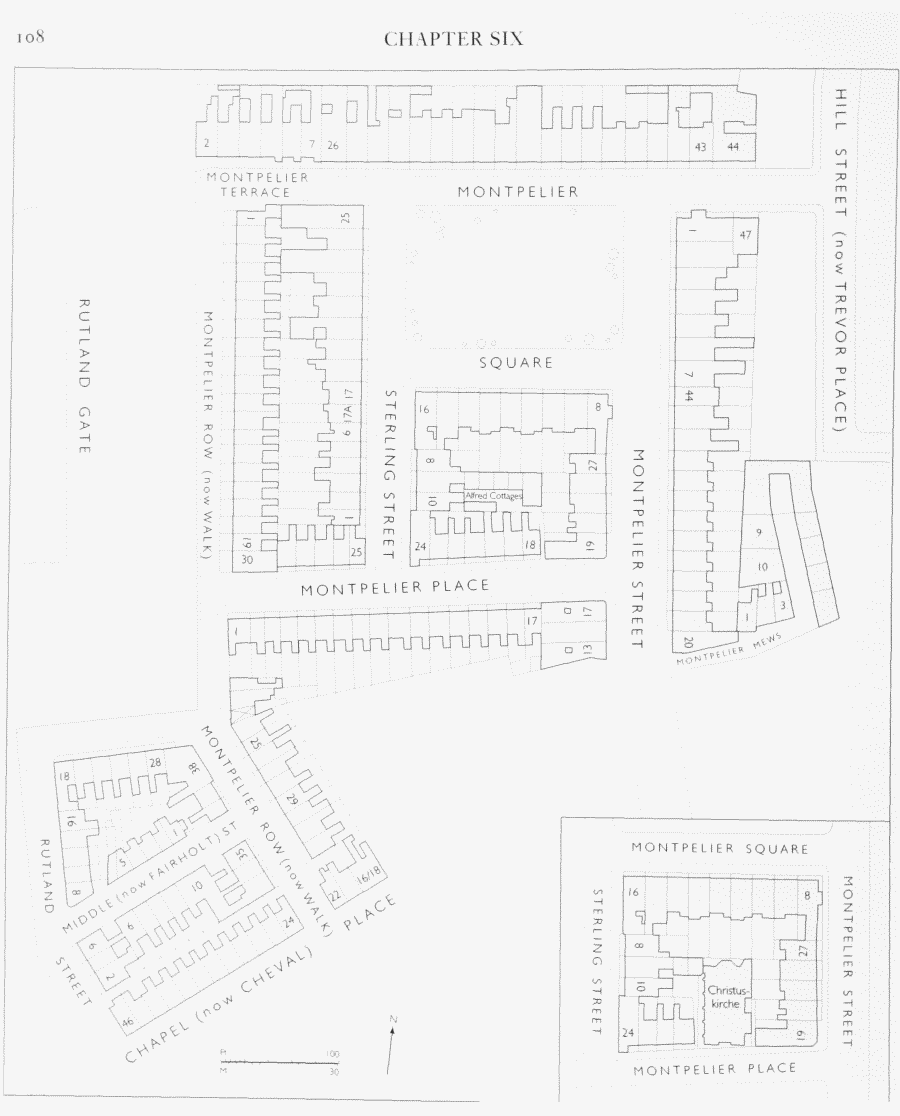 Building on the estate made fastest progress in the south and west, where Montpelier Walk, Montpelier Place, Cheval Place, Rutland Street and Fairholt Street were mostly built up between 1825 and 1830. To the east, much of Montpelier Street, and most of Montpelier Mews, remained unbuilt-on until the late 1830s. The south side of Montpelier Square went up as planned in the mid-to-late 1820s, but remained untenanted for several years; the other sides saw little further progress until the east and west sides were completed in the early to middle 1840s, and half the north side remained vacant until the early 1850s, when Montpelier Terrace was also built. A few cottages off Montpelier Place more or less completed the development in 1852–3. T. W. M. Marriott was refused permission in 1857 to build on a spare piece of ground, probably behind Nos 24 and 25 Montpelier Square. (fn. 11)
Socially and physically, the area underwent a noticeable change between the wars. The hitherto working-class streets to the south and west were transformed from the mid-1920s, as leases expired and freeholds were snapped up by those in search of conveniently placed, easily managed residences. 'All these little back streets are in a transition state and require bathroom and lavatory accommodation', wrote the architect Baillie Scott in 1925. (fn. 12) The newcomers, most of them from the upper-middle and upper classes, often single women, wanted more than plumbing of course, and many houses were extended, remodelled or entirely rebuilt. Some were provided with integral garages. By the mid-1930s, however, demand was falling off and unmodernized little houses (especially those with basements) were proving difficult either to let or sell. (fn. 13)
In this inter-war period, residents of the square and near neighbours fought off incursions into what had become a fairly select enclave. Harrods was thwarted in its attempt to build a large bakery with warehousing and despatch facilities on Montpelier Street. There was opposition to the establishment of lodging-houses or businesses, such as a domestic service agency, and concern that the Eresby House development in Rutland Gate would generate traffic to and from its rear entrance in Montpelier Terrace. The area escaped severe damage during the Second World War, since when little has been rebuilt and relatively few of the larger houses have been made into flats.