Pages 91-125
Survey of London: Volume 8, Shoreditch. Originally published by London County Council, London, 1922.
This free content was digitised by double rekeying and sponsored by English Heritage. All rights reserved.
I.—THE CHURCH OF ST. LEONARD, SHOREDITCH.
Early history.
Our earliest knowledge of a church in Shoreditch is derived from three documents of about the middle of the 12th century. These are (i) a grant (fn. 1) by R., Bishop of London, to the Priory of Holy Trinity, Aldgate, of the church of "Soredich"; (ii) a confirmation (fn. 2) of this grant by T., "Archbishop of Canterbury and Primate of all England," witnessed by, among others, "R. de Ponte epi, etc., . . . clericis"; and (iii) a mandate (fn. 3) by R., Bishop of London, on the subject of the complaint by Ralph, Prior of Holy Trinity, to the effect that a certain layman called Baldwin had deprived the Priory of the church of "Soredicha" [implying the English form "Soredich"]. R., Bishop of London, may be either R[obert] 1141– 1151, or R[ichard], 1152–1162. Roger de Pont l'Evêque was made Archbishop of York in 1154. Ralph was Prior of Holy Trinity from 1148 to 1167. T[heobald] was Archbishop of Canterbury from 1138 to 1161, and was made papal legate some time before 1150. The fact that Roger is called merely a clerk is sufficient to show that document (ii) dates from before 1154, and the omission of the title "legate of the Apostolic See" from the description of the Archbishop in the same document suggests that its date is before 1150. The probabilities of the case may therefore be met by ascribing documents (i) and (ii) to the period 1141–49, while (iii) is probably a few years later.
The grant to Holy Trinity was subsequently revoked. A charter (fn. 4) of G[ilbert Foliot], Bishop of London, declares that the church of St. Leonard of "Soresdic" had been shown in the King's court to belong to the gift of the King as against the canons of Holy Trinity, and that accordingly Walter de Witten had been constituted parson. The charter is witnessed by, among others, Walter de Coutances, Bishop of Lincoln. Walter was consecrated bishop in July, 1183, and in 1184 was elected Archbishop of Rouen. The date of the charter is thus limited to 1183–4.
On 26th March, 5 John (1204), the King allocated (fn. 5) the church of "Sordig" to the precentorship in the church of St. Paul, and as a result William, (fn. 6) Bishop of London, granted it (fn. 7) to Benedict de Sansetun, who had been instituted to that office. At some time subsequent to this, but before 1324, (fn. 8) the church was alienated from the office of precentor and appropriated to the Archdeaconry of London, to which it is still attached.
The old church.
There is no record extant of the erection of the mediæval church. A view of it by West and Toms in 1735 (Plate 4) gives prominence to the windows at the eastern end, which appear to date from the 15th century. A square tower in three stages is shewn at the western end, the upper stage being weather-boarded and surmounted by a bell-cote. According to a plan prepared by Sir Charles Frederick (Plate 5) in 1735, and preserved in the British Museum, the chief dimensions of the church were: length, 81 feet, (fn. 9) and breadth, 65 feet 6 inches. The tower at the west-end, in which five bells were hung, (fn. 10) was about 70 feet in height. The church was constructed at first in chalk and rubble (fn. 11) and afterwards in brick and stone, with a tiled roof, the inside of which was ceiled in wood. (fn. 12) Hatton, in 1708, described the church as "having four aisles, which is one more than I have anywhere met with."
It seems probable that the church originally contained only three aisles, and that the fourth was formed by the chantry chapel erected by Sir John Elrington (see below) in or shortly before 1482. The middle light of the east window of this (the northern) aisle was filled with painted glass, with a figure of St. George in armour (Plate 6), with his cross upon his surcoat and upon the pennon in his right hand, while on a shield over his head were the arms of Elrington (argent, on a fess dancetty sable, between five herons five bezants) impaling those of Echingham (azure, a fret argent). (fn. 13)
The two chief religious foundations connected with the church in pre-Reformation times were (i) the chantry of Sir John Elrington and (ii) the charity of Angela Johns.
(i) On 5th June, 1482, a licence was granted (fn. 14) to the former to found "in honour of Our Lord Jesus Christ, the Blessed Virgin Mary his Mother, St. John the Baptist, and St. Margaret the Virgin, a chantry" to celebrate divine service "in a chapel of the same Blessed Virgin Mary newly built by him on the north of the parish church of St. Leonard Shoreditch." The annual value of the foundation was £8 2s. 8d., made up as follows (fn. 15) :—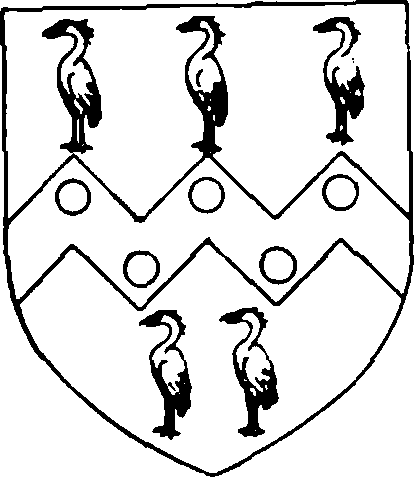 Of this amount £7 represented the salary of the chantry priest, (fn. 17) exclusive of 4s. allowed for his chamber.
(ii) No record has been discovered of the founding of Angela Johns' charity. It was, however, subsequent to 1527, for both Angela and her husband, who died before her, (fn. 18) were alive in November of that year. (fn. 19) The annual value of the foundation was £5 19s. 8d. (fn. 20) made up of rents received in respect of tenements in Shoreditch in the tenure of—
The purposes of the foundation are described (fn. 25) as "to thentent that the churchewardens shulde yerely dyscharge the pore people of the said parishe of all maner of dewties and charges for and consernyng the charges at Easter, ther iiij offeryng dayes, ther howselyng, for the pascall light to the rode lofte, and suche licke."
Other property held by the church for what became known as "superstitious" purposes consisted of (i) half an acre of meadow in Hackney Marsh, (fn. 26) and (ii) three acres of land in Hackney Marsh called the Swan's Nest, (fn. 27) both charged with the maintenance of a lamp in Shoreditch Church.
At the time of the dissolution of chantries, etc., there were two Fraternities connected with the church. In the course of his evidence, (fn. 28) given in 1589 by Thomas Haddon, on the subject of the school-house, he mentioned that "when he . . . was younge [he was 70 years old at the time of his deposition] many of the parishioners . . . being laymen and womenn, did sondry tymes meete togither and did make good cheere together and contrybute their monyes towardes the mayntenaunce and repayringe of the churche, (fn. 29) which meetinges were termed amongst them brotherhoodes, viz., One Brotherhood of St. Christoffer and St. James, and one other of Our Lady: and the place of their meetinge was at the house wherein Williamson did dwell." Other references to these two Fraternities occur, (fn. 30) as also a reference (fn. 31) in 1366 to the Fraternity of the Rood.
Before the Reformation the church contained images of the Virgin Mary, St. Katherine, and St. Margaret. In a record dating (fn. 32) from about 1350 we are told that thieves broke in and carried off two silk hoods (capitegia) worth 6s. 8d., viz., one from the image of the Blessed Mary and another from the image of St. Katherine. The altar of St. Katherine appears to have been in the south aisle. (fn. 33) Again, Robert Heryong in his will (fn. 34) dated 2nd May, 1500, desired burial "in the Chauntry Chapell (fn. 35) afore thymage of Seynt Margarete." Mention is also made of a chapel of St. Mary Magdalen. (fn. 36)
In 1581 a gallery was built (fn. 37) within the great door of the church "well pewed in oak," and we are told (fn. 38) that the pulpit was in cedar.
In 1617 a gallery was erected on the north side of the church at the cost of certain parishioners, and in 1630 Capt. James Slade, a servant of the East India Company, built a gallery on the south side of the church. A long seat was between that and the north gallery "for the Catechising of Youth out of the Pulpit, according to the Order then given," (fn. 39) but there are apparently no illustrations of these galleries.
In 1675 the church was repaired. (fn. 40) In 1700 the chancel was raised and repaired and the altar-piece freshly painted with the Commandments, Lord's Prayer and Creed in white on a black ground, while the whole was enclosed within a balustraded rail. (fn. 41) At the time of these repairs, we are told, "some rogues, having concealed themselves in the church, stripped the pulpit cloth, etc., of their gold and silver orrice embroidery, etc., which had but just been put at the expence of Samuel Benson, Esq." (fn. 42) Some velvet remaining was used in the new church. Further repairs were carried out to the old church in 1704. (fn. 43)
In spite of the repairs effected from time to time the condition of the building grew far from safe. According to a note on West and Toms' engraving of the church, the parishioners in 1711 unsuccessfully petitioned Parliament that a new church to take the place of the ancient structure might be included among the fifty churches to be built within the area of the Bills of Mortality. (fn. 44)
At some date unknown, but apparently in or about the year 1713 (fn. 45) a high wind carried off a part of one of the corners of the steeple, exposing two of the bells. On 23rd December, 1716, a much more serious accident took place. According to Ellis, one of the corners of the tower gave way, but Malcolm (fn. 46) states that "the walls of the old church rent asunder, with a frightful sound, during Divine service, and a considerable quantity of mortar falling, the congregation fled on all sides to the doors, where they severely injured each other by their efforts to escape." A contemporary reference (fn. 47) rather supports the second account.
As a result of these incidents, which revealed the bad structural condition of the building, as well as because of its unhealthy state, largely due to the floor being eight feet below the level of the street, (fn. 48) the bishop informed the inhabitants that they must either thoroughly repair or rebuild the church.
In 1733, a committee was appointed to view the fabric of the church, and it was decided that steps should be taken to erect a new building. In 1735 an Act of Parliament was obtained appointing trustees, and authorising them to "cause the said parish church and the steeple thereof to be pulled down and to be rebuilt after such model, and of such dimensions and of such materials, and in such manner as by the said trustees shall be agreed upon." The Act further authorised the erection of a "tabernacle" during the rebuilding. On 6th October, 1735, the work of setting up this temporary structure (fn. 49) in the churchyard was begun, and on 31st May, 1736, the demolition of the old church was commenced.
Several views of the old church are extant. Mention may be made of—
(i) View by West and Toms, dated 1735, showing the church from the East (Plate 4).
(ii) View from the west as in 1695, reproduced on invitation ticket of 1720 (fn. 50) (Plate 3).
(iii) Distant view from north in Eyre's Views of the Fortifications of London, 1642–3 (see p. 41).
(iv) View from south-west by Lens in 1735.
The western gateway, which appears to have been of early Renaissance design, had a representation of the 100th Psalm in a musical setting, while on the lintel over it were carved emblems of mortality: a skeleton lying at full length and two skulls with an hour-glass on the top of the pediment.
Smart Lethieullier (fn. 51) produced before the Society of Antiquaries in 1739 (fn. 52) a plan (Plate 5) of the old church indicating the positions of 30 monuments, as well as five drawings (Plates 6 to 8) of monuments, all prepared by Sir Charles Frederick in 1735, and now preserved in the British Museum. (fn. 53) As, with two exceptions (see below), the list compiled by Lethieullier to accompany the plan contains all the monuments recorded as being in the old church, it is here reproduced. Those marked with an asterisk were afterwards transferred to the new church and are described among the monuments of that building. Historical and other additions to Lethieullier's list are printed in small type.
Monuments in The Church of St. Leonard, Shoreditch, before it was pulled down Ao 1735 . . . . N.B. those marked thus [+] have theyr Epitaphs printed in ye Last Edit. of Stowes Survey. (fn. 54)
1. A Monument for 4 Ladys of the Westmerland & Rutland Familys.[+]
[Plate 7. The ladies in question were: (i) Lady Katharine Stafford (d. 1553), daughter of Edward, duke of Buckingham and wife of Ralph earl of Westmoreland; (ii) Lady Eleanor (d. 1551), daughter of Sir William Paston, and wife of Thomas, earl of Rutland; (iii) Lady Margaret Neville (d. 1560), daughter of Ralph, earl of Westmoreland, and wife of Henry, earl of Rutland; (iv) Lady Katherine Neville (d. 1591), daughter of Henry, earl of Westmoreland, and wife of Sir John Constable. The monument was also in memory of (v) Sir Thomas Manners (d. 1591) and Oliver Manners (d. 1563), fourth and fifth sons of Thomas, earl of Rutland.]
2. Jane Hansby Grand-daughter to Sr Thos Manners, ob. 1617.[+]
3. Theodosia Vavasour, ob. 1616.[+]
4. Sr Thos Seymer, Ld Mayor of London, ob. 1532.[+]
[Sir Thomas Semer (Seymour) was mayor in 1526–7, Master of the Mercers' Company 1518 & 1526, and died on 11th December, 1535. The inscription on the tomb which gave the year as 1532 must be due to a mistake. (fn. 55) The monument also records "Dame Mary his wife" who outlived him. He left 40s. "to the reparac[i]ons of the parish church of Shordich nere London."]
5. Sr Humphrey Starky Cheife Baron of The Exchequer Temp. Hen. VII.[+]
[He was made chief Baron of the Exchequer, 1484, and died 1486, leaving bequests to the church of Shoreditch, in which he desired to be buried "according to my degree." He also provided for "an honest prest of good conversacion and condicion to sing . . in the same church for x hole yeres" at a salary of ten marks a year. (P.C.C., 25 Logge.) The monument also records "Isabella, his wife." She died in 1496.]
6. Anne Dixon, ob. 1656.
[Wife of Thomas Dixon.]
7. Catherine Lively, ob. 1623.[+]
[Wife of Edward Lively and daughter of Henry Hodge, brewer.]
8. Anne Slater, ob. 1681.
9. Anne the wife of Richard Leigh Merchant, ob. 1618.[+]
[Erected by Richard Leigh in memory of his wife Anne, "who lieth here interred by the body of Richard Brattuph, her first husband," and of her three children, Richard, Sarah and John Brattuph.]
10. George Gips ob. 1611.[+]
11. Benjamin Ash Merchant ob. 1726.
12. George Finnimer, ob. 167
(fn. 56) 13. Elizabeth Benson, ob. 1710.
14. Eliz; wife to John Skory Bishop of Hereford, ob. 1592 near her Lies Her Son Sylvanus Skory, ob. 1617.[+]
[See p. 171.]
15. Wm. Fremlin, Esq. ob. 1645.[+]
[Wm. Fremlin of the East India Company's Service.]
16. Easter Haughton ob. 1668.[+]
[Ellis gives the date of death of Esther Haughton, wife of Samuel Haughton, as 1688.]
(fn. 56) 17. Francis and Sarah Clerk ob. Ille 1690, Illa 1709.
18. John Austen, Esq. ob. 1650.[+]
19. No inscription.
20. Thomas Austen Esqr. ob. 1658.
21. Dr. Giles Pooley ob. 1720.
22. The Revd. Mr. Richd. Wilson ob. 1734.
23. Sr John Elrington & his Lady.
[Plate 8.]
24. Robert Hary Young ob. 1545.[+]
[Plate 7. The monument is in memory of Robert Haryong and Margaret his wife, Richard his son and the latter's wives Elizabeth and Margaret. Both Robert and Richard were Provosts of the Mint. It was the latter, not Robert, who died in 1545.]
25. Sr Alexander St. John Kt. his lady ob. 1656.[+]
[Margaret, daughter of John Trye, married (i) Thomas Drayner (see p. 58) who died 2nd June 1632, and (ii) on 12th November, 1633, Alexander St. John, son of Oliver, Lord St. John, baron of Bletso.]
26. Sr Thos Leigh ob. 1545.[+]
[Plate 6, see p. 17.]
27. John Byde Esqr ob. 1665.[+]
[See below.]
(fn. 56) 28. Thos & John Austen Esqr.[+]
29. Winifride & Mariana Ye Wife and Daur of Sr Charles Pitfield, in a Vault belonging to Ye Family. The Wife died 1676, Ye Daur 1673.
(fn. 56) 30. Richard Wallis gent ob. 1726
Mary Mason Neice to Ye R. Wallis ob. 173½.
Joseph Mason Gent Her Husband ob. 1733.
The two additional memorials of which we have information are (fn. 56) :—
31. Cuthbert Burbage and Elizabeth his wife (d. 1636).
32. John Gadde (d. 14 . . .) and Anne his wife (d. 1483–4).
The Byde memorial (No. 27 above) was transferred, on the demolition of the old church, to the chapel at Ware Park, (fn. 57) and is now on the north wall of the chancel in the little church of St. Leonard's, Bengeo, Herts. As the monument is still in existence a description of it is here given (Plate 9).
It is an interesting grey and white marble monument in excellent preservation. It is supported on carved corbels and has a moulded frame enclosing an elliptical panel, enriched with a border of acanthus leaves. Ionic columns at the sides support an entablature which breaks forward over the panel and is surmounted by a broken segmental pediment, in which is a shield bearing the arms of Byde, with helm, mantling and crest. The arms are:—Or, on a pile engrailed azure, 3 anchors erect or. Crest: an arm erect vested azure (cuffed argent) holding in the hand an anchor sable, the fluke or. Resting on the pediment and issuing from behind each side of the helm are swags of fruit.
The present church.
The foundation-stone (fn. 58) of the present structure was laid on 15th November, 1736, and the first service was held in the church on 23rd August, 1740. The cost of building, including the provision of the "tabernacle," parliamentary expenses, etc., but not including the vestry, churchyard wall, and a few other items, amounted to £7,485. (fn. 59) To meet this the trustees appointed under the Act of 1735 were authorised to borrow money and grant annuities on the burial and other rates to an amount not exceeding £8,000 at 8½ per cent. This authority was apparently exercised to the full.
The architect was George Dance, the elder, one of the most prominent architects of the day. (fn. 60)
Description of the church.
Some repairs were being effected to the steeple in 1920, and the opportunity was taken to secure measurements to enable complete drawings to be made both of the church and the steeple (Plates 13 to 16).
The general treatment of the exterior of the building is severely plain, the western front, with its dignified steeple and Doric portico executed in Portland stone, alone having architectural pretensions. Originally it was probably more imposing, as it was approached by ten steps, now reduced to four.
The portico (Plate 12) has a panelled and moulded soffit surmounted by a pediment. Rising behind this pediment is the steeple, 192 feet in height, of considerable distinction and elegance of design. It has three main stages changing, with success, from the solidity of the base to the lightness of the terminating spire, reminiscent somewhat of the steeple of St. Mary-le-Bow, though hardly on Wren's supreme level of architectural quality. Up to the level of the windows of the belfry the construction is square; at this point a series of corbels occurs forming an octagon, while above the construction is cylindrical, the several contractions in the design being formed by a series of domes (Plate 16). The steeple may be regarded as among the most picturesque of the many of its period that London possesses, and its situation enables it to be viewed to advantage.
Apart from the two special features already referred to, the general treatment of the exterior is of brick with stone dressings, the sides having two stages of semi-circular headed windows and recesses divided by a plain stone band. The main walls are finished at the top with a moulded cornice surmounted by a high brick blocking course, now cemented over. The east end (also executed in brick with stone dressings) has a large semicircular-headed window lighting the sanctuary, with a circular window over, above which the main cornice, following the rake of the roof, forms a pediment, in which is placed a semi-circular brick opening filled in with louvres.
The new recreation room, which greatly mars the south elevation, was erected in 1902.
The plan of the church is of rectangular form, typical of the period, the nave being separated from the aisles by Doric columns resting on pedestals and supporting block entablatures. Springing from the latter are semicircular arches supporting the clerestory walls, in which, above a moulded string course, are segmental-headed windows. The ceiling is divided into flat panels and has a well moulded cornice.
The galleries which were over the aisles and connected with the present (western) gallery were removed in 1857.
Small vestries are placed in the north and south angles at the east end, the space between forming a shallow sanctuary, which has its complement in the west gallery bay.
At the western end are the entrance lobbies, but in one the staircase which led to the galleries has been removed and the room converted into a choir vestry. The remaining staircase in the south-west lobby, contemporary with the church, has a bold balustrade, square newels with moulded caps and pendants, moulded close outer string and a panelled dado continued up the staircase, the whole work being executed in deal and painted.
The interior is lofty, well lighted and with an air of spaciousness, which it is possible the removal of the galleries may have emphasised.
The church fittings are as follows:—
Bells.
When the church was built, a peal of eight bells, cast by Thomas Lester, of Whitechapel, was provided and hung in the tower at a cost of £800 5s. (fn. 61) In 1765 two bells were added by Messrs. Lester and Pack, of Whitechapel, and in 1807 the London Cumberland Ringing Society added two more, making a total of twelve. The last-mentioned were cast by Messrs. Mears, of Whitechapel. They were re-cast in 1823 and again in 1913, on which occasion Nos. 3 and 4 were also re-cast. In 1820 the "tenor" was re-cast by Messrs. Mears, and again re-cast in 1875 by Messrs. Blews, of Birmingham, after it had been cracked for many years.
In 1911 the then vicar appointed a committee to collect funds to admit of the whole peal being placed in good ringing order. It was found necessary to have the old oak frame cleared away and a new steel frame substituted. The four small bells, as before mentioned, had also to be re-cast, and all had to be supplied with new headstocks and fittings. The work was carried out by Messrs. J. Warner and Sons, of Spitalfields, in 1913, at a cost of nearly £500. Previous to this restoration the bells had not been rung for nearly twenty years. (fn. 62)
All the bells bear inscriptions recording their casting or re-casting, and in certain cases the names of the persons who bore the expense. The wording of No. 5 (C) is exceptional:—
At Proper Time My Voice Il Raise & Sound To My Subscribers Prais Tho. Lester.
Benefaction Panels.
A list of charitable bequests to the parish is painted on wood panels to the lower portions of the north and south walls of the sanctuary.
Books.
In the vestry, south of the sanctuary, there was a library of 870 books, left by will of John Dawson, of Hoxton Market Place, the shelves of which were inscribed "Oct. 14th 1763, To the Vicar and Churchwardens of the Parish for the Time being and their successors for ever." The books were removed to the Shoreditch Public Library in 1892. Owing to borrowings before their removal 227 volumes are missing. (fn. 63)
Bread Cupboards.
In the north and also in the south lobby there is an oak bread cupboard (Plate 29) 5 feet 3 inches long and 4 feet 3 inches high, enclosed by a pair of doors surmounted by a frieze of the Doric order with triglyphs, and a moulded pediment supported on fluted pilasters. There are fixed shelves within and a note that 50 loaves were formerly placed upon them and dispensed on Sunday mornings to the poor, according to the will of Robert Brainsforth and other benefactors who left donations for this purpose.
The panels of the doors are made of upright slats so cut as to give the effect of an openwork screen of diamond-shaped pieces attached to one another at their points.
Chairs.
There are two chancel chairs with arms, and two without, of Jacobean character, but their construction and detail are such as to raise considerable doubt whether they are not the product of the 19th century. They are elaborately and boldly carved, with spiral turning in the backs and side rails, the seats and backs being upholstered in red stamped mohair velvet. The woodwork is so heavily stained and varnished that it is difficult to tell with any certainty what wood was used, but probably it was English walnut.
Clocks.
The original clock in the tower was set up in 1742, (fn. 64) and was the work of J. Shrie, of Bethnal Green. A new one was erected in 1881 at a cost of £200. John Dawson, by his will dated 14th October, 1763, left the sum of £100 for the purpose of procuring a set of chimes.
The case enclosing the clock on the gallery front is of a very elaborate character in the style of Chippendale. The carving consists of fruit and flowers surmounted by an eagle with outstretched wings. It is placed upon a plain ground painted dark blue, flanked by carved flowers and fruit, and framed with an architectural structure of carved mouldings, pediment and side brackets, the whole of the ornament being gilded (Plate 28).
Communion Table.
In 1740 Richard Bowles, a mason, and Ralph Fordham, a cabinet maker, gave the marble slab and the mahogany frame respectively for the communion table. (fn. 65) The slab is in red scagliola, 13/8 inches thick, and has been extended in length at each end by portions, 12 inches wide, joggled on, which make the dimensions of the slab now 2 feet 10¾ inches by 7 feet 6 inches. The mahogany frame below has a carved ovolo moulded and enriched frieze to the front, decorated in the centre with a cherub's head and wings. The upper part of four cabriole legs remain, but the legs themselves have been cut off level with the bottom of the frieze, plain square ones substituted, and two intermediate legs added.
It is interesting to note that in the recreation room there is a small table top, supported by large mahogany cabriole legs which obviously were not made for it, and which fit the stumps upon the existing communion table frame. It is possible that Fordham's gift included these legs, but that the table not being high enough to use for church services, the original legs were cut off and square oak ones inserted, the marble top being at the same time lengthened. A restoration of the original table is shewn in Plate 26, and, as will be seen, bears a striking resemblance to the work of Kent.
Font.
In 1740 Mrs. Mary Drought (fn. 65) gave £20 towards the font, which may be the present one (Plate 27). It is in white marble with a grey vein. It consists of a circular basin, supported on a hexagonal moulded baluster stem, in a style contemporary with the church. A modern carved oak cover is suspended from the gallery soffit.
Gallery.
The gallery, which also contains the organ, extends across the west end of the nave. It has a deal panelled front supported on Doric columns, and is approached by the staircase leading out of the south-west lobby.
Glass.
The sanctuary is enriched with a painted glass window made up of glass removed from the former church (Plate 20). It is a valuable example of early 17th-century work, and is particularly noticeable for the balancing of the colours and the arrangement of the figures in the upper half of the window, which gives an appearance of unity to what are three separate subjects. These are "Jacob's Dream," "The Reconciliation of Jacob and Esau," (fn. 66) and "Jacob praying for deliverance from Esau." In the last Jacob is shewn on his knees, a ribboned scroll issuing from his mouth with the inscription: "Minor sum cunctis miserationibus tuis et veritate tua quam explevisti servo tuo." Under the length of these three subjects is painted:—"Ex Dono Thome Austen, Civis et Clothworker, London—Ano. Dni. 1634." Above are small figures of the four Evangelists with their names below, and on one side a panel with the arms of the Clothworkers' Company (sable, a cheveron ermine between 2 habicks in chief argent and a teazle in base slipped or; crest, a mount vert, thereon a lamb statant or), and on the other side a panel with the arms and crest of the donor (azure, on a cheveron or, between 3 lapwings or, 3 quatrefoils pierced vert; crest, a lapwing argent).
In the lower half of the window is the principal subject, (fn. 67) which extends over the whole width and depicts the Last Supper. (fn. 68) In the lower righthand corner is written: "Baptista Sutton 1634." Three small panels over have further subjects:—(i) "Our Lord washing the feet of His disciples," (ii) "The agony in the garden," (iii) "Judas receiving the purse of money," and a little panel on the bottom left-hand corner represents Judas hanging from a tree.
The window was restored in 1864, and releaded and repainted in parts in 1906.
Organ.
The organ, in the west gallery, originally constructed with three manuals by Bridge in 1757, was renovated and enlarged by Messrs. Bishop and Son in 1913. It has an interesting mahogany case, decorated with carved cherubs' heads as brackets to the pipe clusters, with the Crown and Mitre as terminals.
Paintings.
The two painted panels of Aaron and Moses which are now over the west end of the south aisle and were formerly at the east end of the church, are not the original pictures presented by Thos. Page in 1740. The latter were removed in 1792, and two others "painted by a youth of seventeen years old, a scholar of Mr. West's, the King's Historical Painter, were substituted." (fn. 69)
Plate.
The church has suffered from many thefts, and, though the records show various presentations of plate to the former church, all that remains consists of six pewter plates, 11 inches in diameter, with "S.S.L." and "F.E." engraved on them with date "1677," which are preserved in the vestry.
Peal Boards.
In the central entrance lobby are two peal boards, (i) on a copper panel in gilt writing on a black ground within a gilt carved frame, an inscription recording the ringing of, by the Society of Cumberland Youths, a peal of 12,000 Treble Bob Royal, on 27th March, 1784 (Plate 31); (ii) in gilt writing on a black ground enclosed within a carved frame, an inscription recording the ringing, by the College Youths, of peals of 10,000 and 11,080 Oxford Treble Bob Royal, on 18th February and 19th May, 1777 (Plate 30). Two other boards are in the ringing chamber of the tower: (i) in a deal moulded frame, with a pediment over, an inscription recording the ringing by the Society of Cumberland Youths of a peal of 5,040 changes of new double triples, on 28th March, 1750, and (ii) in a deal frame with ribbed columns and consoles, an inscription recording the ringing by the same Society of a peal of 5,220 changes of Court Bob Royal on 7th April, 1801.
Pulpit.
The pulpit is hexagonal on plan, supported from behind by the shafts of two fluted Ionic columns and below by foliated brackets springing from the hexagonal stem. The hexagonal sounding board is also carried by the columns and has carved moulded edges. The whole structure is of oak of dark colour and heavily varnished, and is contemporary with the church (Plates 21 to 24).
It would seem that when the galleries were removed in 1857 the pulpit was reduced in height by shortening the pedestals and stem, and making other alterations which have not improved its appearance. This is particularly noticeable in the unsubstantial effect of the feathery brackets supporting the pulpit.
The raised panels are inlaid, the front panel bearing the sacred monogram in an aureole of twenty points, and the side panels having two pairs of stars.
The bolection moulding at the lower edge of the pulpit is finely carved and freely pierced, except in the front, which is solid, probably a later addition. Three out of the four pierced carvings are badly damaged, with parts missing.
The pulpit is approached by a flight of six steps with carved spandril brackets, twisted balusters and moulded handrail. This staircase has suffered alterations due to the reduction in height, the newels being of later date.
The bottom step has been cut away and a piece of wood added of a different shape.
Registers.
The registers are kept in a large iron safe in the vestry and are in a very good condition. The earliest volumes (size 11½ inches by 16 inches), written on parchment, are bound in leather with brass clasp fastenings, and date from the first year of the reign of Elizabeth (1558). A note on the inside of the two earliest volumes (volume I. Burials, 18th November, 1558 to 31st January, 1654 inclusive, and volume I. Baptisms and Marriages, 26th November, 1558 to 30th September, 1653) states that they were bound in 1686 by Francis Emerson and William Hulks, churchwardens.
For a few years from 1653, marriages were performed by the Justices, who, however, in the case of Shoreditch, entered the particulars in the registers. There is, therefore, no break in these records. (fn. 70)
Volume III. has the following entry copied from a similar entry on the original cover (now destroyed):—" Noe christenings were registered from Jan. 27, 1663 to March 11, 1666," "Noe Burialls registered from July 7, 1663 to March 8, 1665" and "Noe Marriages registered from July 16, 1664 to June 3, 1666."
Royal Arms.
The Arms are those of the Hanoverian Dynasty prior to 1800. They are carved in wood, gilded and painted and fixed below the clock to the centre panel of the gallery at the west end (Plate 28).
Seating.
The carved scroll ends to the screens enclosing the choir stalls (Plate 25) show the carving of this period at its best, and it would be interesting to know where the rest of the choir woodwork was sent when the comparatively modern stalls and screens in oak were erected. The body of the church has plain panelled seating in oak.
Monuments.
The monuments in the present church which date back to the period preceding the 19th century are as follows:—
1. On the east wall of the south entrance lobby a white marble tablet (Plate 32) to Richard Wallis, his niece and her husband. Over the inscription is carved a shield bearing the arms: Party palewise, argent and sable, a cheveron between three mason's squares, all countercoloured (Mason); impaling or, a bend gules (Wallis). Crest: a stag's head rased sable, attired or, gorged with a ducal coronet of the last. The inscription, the latter part of which, relating to the 19th century, is omitted, reads:—
Near this Place lieth Interr'd the Body
of Richard Wallis Gent: late of Charles
Square in this Parish, who Departed this life
April 10th 1726, Aged 86.
Also in the same Place lieth Interr'd the Body
of his Niece Mrs Mary Mason, Wife of
Joseph Mason Gent: She Departed this life
January 20th. 173½ Aged 66.
Likewise Joseph Mason Gent: Husband of
the abovesaid Mrs Mary Mason, who Depd.
this life Sepr 17th. 1733 Aged 74.
South wall to south aisle (commencing at the west end):—
2. A moulded light Siena marble tablet on a black marble setting to Elizabeth and Nahum Crosley and others (Plate 33). Over the inscription is a carved cartouche in statuary marble, with the arms of Crosley:—Gules, a fess between 3 cross molines or; crest, a dragon's head rased, pierced through the neck with an arrow. A white marble panel bears the inscription:—
In a Vault beneath lie the Remains of
ELIZABETH CROSLEY Wife of NAHUM CROSLEY
of this Parish, Gent. Died February 26th. 1760
in the 54th. Year of her Age.
Also NAHUM, Son of NAHUM and ELIZABETH CROSLEY
Died April 29th. 1760, in the 26th. Year of his age.
Also MARY COOKE Daughter of the above died March 2d.
1773, in the 33d. Year of her age.
Likewise NAHUM CROSLEY Husband of the abovesaid
ELIZABETH CROSLEY died Febry 4th: 1774 in the 68th. Year of his age.
Also Mr. PETER WHITELOCK of this Parish departed
this life August 10th: 1781 Aged 79 Years
Also Captn. JAMES ALEXANDER a sincere Friend to
the above family, departed this life September the 27th. 1781 Aged 62 Years.
Also the Body of SAMUEL CROSLEY Son of the above
who departed this life December 3d: 1784 Aged 47 Years.
Also ELIZABETH CROSLEY Wife of the above
SAMUEL CROSLEY Died February 12th. 1789 Aged 55 Years.
Also Mrs; MARY HILLS Died Feby; 9th: 1790
in the 59th; Year of her Age.
3. A black and white moulded marble tablet commemorating the Rev. Edward Kimpton and Anne his wife belongs to the 19th century, but contains references to their children: Thomas Edward Rickard Kimpton (d. 22nd May 1784, aged 16), the Rev. William Willmot Kimpton (d. 7th November 1798, aged 26), Edward Kimpton (d. 7th January, 1798, aged 21) and Mary Anne Kimpton (died in infancy).
4. In an architectural white marble frame resting on carved brackets is a black marble panel (Plate 34) to the brothers Austen. It has a broken segmental pediment, in which is a shield bearing the arms of Austen surmounted by a helm, with mantling and crest (a lapwing). Below the panel are two shields bearing on the left:—Azure, on a cheveron between 3 lapwings or 3 quatrefoils vert, in chief a label of 3 points gules (Austen); sable a wolf salient or, in chief a fleur-de-lys between two pellets or (Wilson); and on the right:—Austen, with a crescent in chief for difference; Barry of 5, or and sable, in chief 3 crosses patty gules (Winstanly).
The inscription reads:—
Near to this place in the Chancell by the Communion
Table lyeth Interred the Bodyes of Thomas Austen
and Iohn Austen Esqrs: two most dearly affectionate
Brothers (On each side of their worthy Father
Thomas Austen Esqr:) of this parish who were
both of the Honbl. house of Lincolns' Inn.
Thomas Austen Marryed Katherne Wilson daughter
to Robert Wilfon Citizen and Draper of London
had ishue by her two sons and two daughters, and
departed this life the 31th. October 1658 aged 36 yeares
Iohn Austen Marryed Susanna Winstanly daughter
to Iames Winstanly Esqr.: had ishue by her a daughter
and departed this life the 29th February 1659
aged 32 yeares.
RESVRGEMVS.
5. A white marble monument (Plate 35) of fantastic design shews two skeletons tearing asunder an oak tree, suspended from the branches of which is a draperied panel bearing the following inscription:—
Quicquid mori debuit
ELIZABETHÆ BENSON,
Clarissimi Philosophi Filiœ,
Clarissimi Germanœ,
Gente Paternâ Atavis Pannoniæ Regibus,
Materna Equestribus Cantianis, editæ:
Matronæ Religiosæ
Sanctæ, Piæ, Munificæ,
Ingenio vivido,
Antiquâ Virtute, & Fide,
Hujus Ecclesiæ Coemeterio,
Sub eodem Sepulchrali marmore contegitur
Quo Pia Fraternos cineres condiderao.
Hanc talem; Heu ! Nonagenariam,
Valentem, nec Senectutis fuae poenitentem,
Insidiose Libitina Pede proripuit;
Et Stamina vitœ non ecoluta funt
fed disrupta,
XIV°. KAL. IAN.
MDCCX.
Below the panel and resting at the foot of the tree is a carved cartouche with the arms of Benson:—Or, three trefoils bendwise slipt vert, between two cotises gules; impaling Huniiades: azure a bird close on a radicated staff bendwise sable, beaked and eyed or, in his beak a golden ring.
On the root of the oak is the motto:—RAPIT MATURIOR VIS.
North Aisle.
6. A memorial to William Champion (d. 1799) and Ann, his wife, consisting of an inscription on a moulded white marble on grey backing surmounted by an urn, dates from the 19th century.
7. A moulded Derbyshire and statuary marble tablet with inscription on a circular panel of statuary marble:—
Near this Place
lieth the Body of
JOSEPH NEWSON ESQR.
of this Parish, One of His Majesty's Justices
of the Peace, for the Counties of Middlesex
and Essex, Who departed this Life the
22d day of June, 1770, Aged 34.
The latter part of the inscription is omitted, as it relates to the 19th century.
8. On a carved draperied white marble monument (Plate 36) with a cartouche over, the following inscription:—
Subtus jacent Fr: Clerke Am: Mr: &
Saræ uxoris ejus exuviæ, quas
Deposuere;
Alter Sepbris 25to: An[no]: Dom[ini]: 1690.
Ætatis 65:
Altera cum Viri obitum charissimi
Annos penè 20: flevisset vidua
ejus hic in gremio demiùm
doloribus succubuit,
Aug: 17 1709.
Ætatis 64.
Hic ex antiqua de Chisfield in agro Hertf:
prosapia ortum ultimus tulit, marium inde
omnium et ultimus morti cessit;
Ecclesiæ Stoke-dauborn Surr:
olim Rector.
Illa Rich: Bankes 3bus Regibus Lapicidæ
soboles novissima exsilivit;
Reliquisq: Fratribus 2bus, Sororibus 3bus, etiam
Superfuit
Annos propè 19 perduxerunt Conjuges;
Filios habuēre 14, Filiamq: unicam, Saram,
quam & Filium, unicum Fr: natu minimum,
Posteros reliquere.
in suorū parentum memoriam Virtutum
hocce addidit Filij Solius Gratitudo
Cenotaphium.
F: C: 1712/11
His accessit Rebeccah, Uxor dicti
Francisci Clerke filij Prima, Septembris
26to: Anno Dom 1715 Ætat 22do
The cartouche bears the following arms with the charges faintly displayed thereon:—Party cheveronwise azure and or, in chief 3 leopards' heads or, and in base an eagle displayed azure (Clerke), impaling, on a cross or, between four fleur-de-lys or, a cross patty gules (Bankes).
9. At the west end under the gallery south of the central entrance is a tablet of variegated marble with inscription as follows:—
SUSANNA DRAPER
died March the 18th 1775
Aged 28 Years.
Life's little Stage is a small Eminence
Inch high above the Grave; that Home of Man,
Where dwells the Multitude: we gaze around;
We read their Monuments; we sigh; and while
We sigh, we sink and are what we deplor'd !
Thou poor pale piece
Of outcast Earth in Darkness ! what a Change
From Yesterday ! Hark ! what Voice is this
Which in hoarse Accents murmurs from Her Tomb ?
Instant. "Prepare to meet thy God ! Fly from
The Wrath to come !" Ere irrevocable
Thy dreadful doom by Death be fix'd in Woe
Unutterable !
MARTHA DRAPER
died January 22d 1777
Aged 69 Years.
10. On a white marble slab with a moulded edge:—
JOHANNES KEENE.
Inclytus Musicarium Genius
peritissimus et exercitatissimus
Elegantiarum vere Arbiter.
Natura factus ad Lyram,
Volucri quodam Igne ingenii
Grandiore animi vena efferbuit.
Ægregias immortalis HANDEL
Animas expressit;
Cecinit aequa Laude sacra, prophanaque
Alumnus simul et Æmulus valde dilecti
Præceptoris STANLEI.
Nunc laureato cineri Marmor hoc plaudit,
Ut accinet ad aeternam Citharam
Famae Consensus.
Obt III. Kal: Martii anno Salutis MDCCC
Ætatis suæ LXXVII.
Modulator sacrae Scientiæ
intra hoc Templum vivebat
et idem amplius XL annos decorabat.
The undermentioned are in the vaults under the church. Unless otherwise described, each monument is a headstone set up against the brick wall. Starting from the west end of the south side, the stones are taken in the order in which they are found:—
South Side.
1. A plain wall tablet:—
Mary Pigge
Wife of William Pigge
died April 30th 1765 Aged 44 Years
Also Margaret Pigge
Sister to the above
died February 22nd 1782
in the 80th Year of her age
Also the above said
Mr William Pigge
who died August the 20th 1793
Aged 79 Years.
2. The most interesting tomb in the crypt is the altar tomb to Huniiades (Plates 37 to 41). According to the inscription, it was erected by Elizabeth Benson to the memory of her brother, who died in 1696, and as she died in 1710, it must have been set up some time between these dates and therefore in the old church. For some reason, however, the tomb is never referred to by 18th or 19th-century writers. The plan (Plate 5) by Sir Chas. Frederick of the former church gives the position of Elizabeth Benson's own monument, but no mention is made of the Huniiades tomb. Hatton in his "New View of London," 1708, while describing the other monuments in the church, has no reference to this. (fn. 71) Strype, in his edition of Stow's Survey of London and Ellis in his History of Shoreditch (1798) also fail to notice this tomb, though the Benson monument is described. It is possible that the crypt was bricked up during the 18th century, as most of the vaults belong to the following century.
The tomb, which is constructed of limestone, is richly ornamented and has projecting carved panels to the sides. That on the south has a representation of the Resurrection, and the other panels contain emblems relating to mortality, such as skulls, jaw and other bones, coffins and hour-glasses, relieved with sprays of palm leaves. The top of the tomb has a heavy ogee moulded slab, below which is a carved egg-and-tongue moulding in strong relief, with a frieze of well-carved acanthus leaves, which stops against the projecting panels. The lower surface of the sides to the tomb, apart from the panels, is pulvinated and enriched with a floral design of entwined acanthus leaf decoration in good relief. The whole is completed with a moulded base moulding broken round the projecting panels and raised on a platform above the general floor of the crypt.
On the cover-stone, carved in an oval, is a shield bearing the arms of Huniiades with a lengthy interesting inscription below. The arms on the shield are:—A bird close on a radicated staff bendwise, in his beak a ring. These arms are similar to those impaling Benson on the monument to the memory of Elizabeth Benson, Huniiades' sister.
With the exception of the latter part, which relates to the 19th century, the inscription on the top slab is as follows:—
Hic jacet
IOHANNES BANFUS HUNIIADES
filius Iohannis Banfi Huniiadis Rivuliensis Hungari Regali x
stirpe nati ex Dorothea filia Francisci
Colton de Comitatu Canti Mil, Philosophus
Consummatus et omnibus numeris absolutus Artis
Spagiricae (fn. 72) et professor et ornamentum integritate
intracta et Singulari morum bonitate inter morta-lium illustriores ducendus
Excessit e Vita decimo quinto die Novembris
MDCXCVI Ætatis Suae LXXV
In gratum cujus memoriam Elizabetha Benson
Soror ejus charissima & ex asse haeres hoc posuit
Sepulchrale marmor.
Also several of the Descendants of the
above named Elizth.. Benson.
3 On a flat tombstone with moulded edge, with brick sides:—
Here lieth Interr'd the Body of
Mr THOMAS DROUGHT
Citizen and Clothworker of London
who Departed this life the 31st
of July 1718 in the 70th Year of his Age
Here Also Lyeth the Body of
Mrs MARY DROUGHT Relic of the
aboves'd Mr Thos Drought, & Sister
of Mr John Burton, Senr of this Parish
who Departed this life March ye 7th 1740/1
in ye 82d Year of Her Age.
Here also lieth Interr'd the Body
of THOMAS DROUGHT Son of the
above-faid who departed this Life the
17th of December Anno Domini 1677 Aged
two Years and three Months.
Below the inscription is a shield carved in low relief within an oval
(Plate 41), bearing the arms of the Clothworkers' Company with helm,
mantling and crest.
4. On a flat tombstone with moulded edge and brick sides, alongside the latter tombstone:—
Here Lyeth Interr'd ye Body
of Mr JOHN BURTON
who Departed this Life
the 10th of October 1709
In the 62d year of his Age
Also ye Body of Mrs REBECCAH
BURTON Daughter of Mr
John Burton and wife of
Mr John Burton Senr who
Departed this Life June ye
17th 1726 Aged 36 years
Also the Body of Mrs
MARY TIMMINGS Æt 49.
5. On a carved stone cartouche in brick vaulting of Crypt:—
In Memory
of Mr Edward Roberts
of Ruardean in the County
of Gloucester, Butcher who Died
Novr 29th 1719 in y 46 Year of his Age
And also of Elizth his Wife, who Died
Oct 28th 1729 in the 63 Year
of her Age, whose Remains lies
Near this Place, Who left issue
one Son & 5 Daughters.
6. East End.—A shaped headstone:—
In Memory of
NATHANIEL LAMBERT, Son of
EDWD & CHARLOTTA LAMBERT
of this Parish, who Departed
this Life January the 14th 1758
In the third Year of his Age
Sleep soft sweet Babe & wait ye Almighty's will
Then rise unchang'd & be an Angel Still.
Also In Memory of
WILLIAM LAMBERT Son of
the above who departed this
Life June 3rd 1770 Aged 18 Years
Blest youth escaped from Sorrow, Sin & Pain
To thee to live was Christ and Death is gain.
7. On a plain segment-headed stone resting on stone corbels:—
In Memory of
MRS SARAH MARLOW
Wife of the Revd MICHAEL MARLOW Rector of Frelton Suffolk
Who departed this life February 17th 1791 aged 65
Be ye also ready (Matt 24 v 44)
Revd MICHAEL MARLOW Rector of Frelton and Lackford, Suffolk
Died 30th January 1795 Aged 81 Years
On a plain segment-headed stone below:—
This Vault
belongs
to the Families of
CHAUNTRELL
LAMBERT
and MARLOW.
8. A shaped headstone:—
In Memory of
Mrs ANNA CHAUNTRELL
Widow, of the Parish of
All-hallows Lombard Street
who departed this life
Octr 11th 1776 in the 57th Year
of her Age
Also
CHARLOTTA CHAUNTRELL
daughter of the above
Mrs ANNA CHAUNTRELL
who departed this life August
10th 1781 Aged 21 Years
Also THOMAS CHAUNTRELL Esq.
Brother of the above who died
October the 4th 1797
Aged 58 Years
Likewise his Sister
ANNA CHAUNTRELL who died
May 17 Aged years.
9. In Memory of
Mrs Susannah Scott
who Died the 17th Novbr
1789 Aged 79 Years
10. On a segmental headed stone over entrance to Vault:—
This vault was purchased of this Parish by Mr John Arthur
in the Year 1764
Wherein are deposited ye Remains of Mr John Arthur his Father
Who departed this life March 17th 1764 Aged 65 Years.
11. North Side.—With carved palm branches to head:—
Here lyeth the Body of Mr
CHARLES JACKSON of this Parish
Obijt Feb 4th 1724/5 Aetatis 69
Here Also lyeth the Body
of Mrs SARAH JACKSON
Widdow of the Above Mr
Charles Jackson who Died
Novr 26th Anno Dom 1738
in the 80th Year of her Age
JOHN JACKSON of the same Parish
Son of the above Charles & Sarah
obt 9th Novr 1754 Æt 67
HANNAH JACKSON of Broad Street
Buildings, of St Botolph Bishopsgate
Widow of the above John Jackson
Obt 10th Nov 1766 Æt 47
Mark the perfect Woman & Behold the upright
For the end of that Woman is peace
12. On a plain stone adjoining the last:—
Also Mr JOHN JACKSON
late of Broad Street Buildings
who died 26th January 1793
in the 72nd Year of his Age.
13. Shaped headstone decorated with a cherub's head and a torch:—
In Memory of
Mrs ANN MUNDAY
Died May 27th 1773
Aged 35 Years
Also Mrs SARAH MUNDAY
who died September (?)
aged 80 Years
Also Mr WILLIAM MUNDAY
Husband to the above who died
1 August 1794 Aged 69 Years.
14. A shaped headstone:—
In Memory
of
Mrs ELIZABETH GREEN
of this Parish
who departed this life the 26th
July 1779 Aged 77 Years.
15. On a floor slab:—
Here lies Interr'd the Body of
Mrs ANN WILLAN
Wife of Mr ANTHONY WILLAN
of this Parish, who departed
this life March the 30th 1784
in the 79th Year of her Age
Also the Body of
Mr ANTHONY WILLAN
her husband who died regretted
by all who knew him and more
especially lamented by his
Relatives and Friends
The 14th Day of December 1788
Aged 74 Years.
16. Adjoining the latter on a floor slab:—
Morti debemur nos nostraque
Sub hoc Cippo
Jacet
Omne
Quod mortale est
De JACOBO BIRCH
Qui annos feptuaginta et novem natus
Mortem oppetiit
Pridie Calendarum Januarii 1794
Laus immerita haud prodest mortuis et nocet
Viventibus. Sed veritas, quae utrisque debetur
nec est celanda nec reticenda
Ergo hac regula fervata licet praedicare Fato
defunctum in omni longae vitae cursu justitiam
aliasque virtutes fideliter coluisse omnibus
quibus immortuit carum in vita ac iis in morte
valde defletum.
Also a record of Elizabeth his wife (d. 1813)
17. On a stone with a pediment-shaped head and consoles:—
Near this Stone
lieth the Body of
Mrs DOROTHY DARBY, widow of
Captn JOSEPH DARBY
late of his Majesty's Twenty fourth
Regt of Foot. She departed this
life the 14th day of January 1781
in the 74th year of her Age.
18. A wallstone with shaped head and a moulded edge:—
The Body of
THOMAS
the Son of
James and Jane
ROYSTON
of Hoxton
lieth here Interr'd
Born 27 June 1729 Died 2nd Nov. 1743
His Innocence, Good Nature & Affability
were his Parents Joy
Now are their GRIEF—but—HOPE.
19. On a moulded string over vault:—
This Vault was Purchased by Mr JOHN CHANT Janry 2nd 1788 On an upright stone below vault:—
In this Vault lies Interr'd Mrs MARY THORPE
Late wife of Mr RICHd THORPE Daughter of the
Above Mr JOHN CHANT who Departed this Life
December 27th 1787 in the 27th Year of her Age
Here Crop't in Youth lies Low, Rosey Bloom
And left my Heart to Bleed for that laid in this Tomb
Also a record of the burial of Richard Thorpe (d. 1805).
20. On a slab below:—
Inscription on top edge of slab (indecipherable)
Also Mrs MARY CHANT
Wife of the above Mr John Chant
who died July 23rd 1789, Aged 58 Years
The remainder of the inscription relates to the 19th century.
21. On an upright stone to vault:—
This Vault
Was Purchased and
Inclosed By
Michael Foster Esq.
of this Parish 1772.
On a stone below, with moulded lintel and a carved urn on keystone:— Sacred to the Memory of
Mrs Ann Foster late wife of
Michael Foster Esq who departed
this Life July 5th 1772 Aged 51 years
Also Michael Foster who died
November 18, 1789 Aged 69 Years
Likewise Master Michael Foster
Lench (late Grandson to the above)
who died in his Infancy
Also Mrs Elizabeth Lench
who died 16th June 1797 In her 44th Year
The remainder of the inscription relates to the 19th century.
22. Under middle of the church at the west end:—
IN
the Family Vault of
Mr THOMAS PORTER
situate under the Steeple
are deposited the remains of
Mrs ELEANOR PORTER
Wife of the above who died Jany 12th
1800 in the 39th Year of her Age
There follow records of the death of others of the same family during the 19th century.
23. A shaped headstone with carved coupled cherubs' heads and trumpets; with a moulding around the inscription:—
In Memory of
Mrs Eliz Fordham late
Wife of Mr Ralph Fordham
of this Parish who departed
this Life May 20th 1733 in
the 63rd Year of her Age
An Indulgent Mother and a Loving Wife
And also of
Mr Ralph Fordham
Husband to the abovesaid
who departed this Life
June ye 20th 1758.
Vicars.
The following is a list of the vicars based on Hennessy's Novum Repertorium Ecclesiasticum Parochiale Londinense.
The churchyard.
The churchyard has on two occasions been added to. (i) Thomas Austen, who died in 1658, left to the parish £100, which was laid out in purchasing from his son Thomas a piece of ground adjoining the churchyard on the east. (fn. 74) The ground, which is copyhold, was surrendered at a Court Baron, held on 14th December, 1671, for use as a burial place for ever. (fn. 75) (ii) In 1792 some land in Austin Street, and (iii) in 1820 part of the glebe on the south side of the churchyard, were purchased and added to the churchyard.
The churchyard is enclosed by well-designed cast-iron railings (Plate 42) contemporary with the church, and wrought-iron gates. Preserved under a thatch roof on the north-west side are the old stocks and whipping post (Plate 43).
The undermentioned are the monuments in the churchyard from which it is possible to obtain information. Others are undecipherable or belong to the 19th century.
North Wall of Clerk's House (from west end).
1. Mr. Richard Prigg, son of Mr John & Susanna Prigg . . 1766 aged 24.
John Prigg, Junr. March 13 1761 aged 17.
Susanna Prigg Oct. 1st 1767 aged 56.
Lucy Prigg Aug 17th 1769 aged 21.
2. James Cranch July th 1791 aged 46.
also Sarah Cranch, wife, 25 June 1811 aged 60.
3. Catherine Cranch, daughter of James & Sarah Cranch Feb. 14 1775, aged 7 months.
Elizabeth, daughter . . . Aug. 1775 aged 16 days.
Geo Graham Cranch, son, April 14 1785 aged 10 months, & others of the family in the 19th century.
4. John Parkinson, Surgeon, late of this Parish 10 Jan 1784, aged 59.
5. . . . Caroline . . . Nov 1778 1 year . . . months and 6 days. also Catherine their daughter May 1763. 3 years 10 months. also Thomas Hind . . . .
6. Mr. Edward Boreman, Gent, Dec 29 1798 aged 70 years.
Mrs Mary Ann Boreman, wife, Nov 10 1800 aged 75.
South Podium Wall to Church Portico.
7. . . . . Robert Stacey . . 1787 (?).
8. The following children of John & Mary Hack.
Jane, James & Eliza . . 17 . . .
who died in their infancy.
Also the said Mr. John Hack of St. Bride's, May . . . 1794 aged 43.
John, the Grandson of the above & son of Mr. [R] Hack of Hackney.
South-west End of Church against the wall adjoining the Clerk's House.
9. Mr Richard Weale 6 June 1791 . . . Aged 33 years.
10. The following inscription is on a headstone at the south-east end of the church, against the east face of the boiler house:—
TAKE YE HEED, WATCH AND PRAY
FOR YE KNOW NOT WHEN THE TIME IS.
1787. THIS STONE IS PLACED HERE
In Memory of
MR JOHN ONELY.
who died march 24th 1777.
aged 36 years.
also four infant children of
T. T. GORSUCH,
of this parish surgeon.
and MARY his wife.
Carved on a tablet over:—
By the will
of
MR THOS TALBOT GORSUCH
of this parish 1820
this stone is to be preserved by the
Vicar & Churchwardens
and the surplus distributed to the
deserving poor of the parish
Restored By The Rev. Septimus Buss ll.b. vicar 1893.
Stephen Fordham
Joseph W. Vandy Churchwardens.
(The last three lines are in a sunk panel).
On Pavement in front of Mortuary.
11. Edward [Ca]rnall . . . 171 . . . aged 77.
Phillis the relict of E[dwar]d C[arna]ll 19th Jan. 1719 aged 71.
12. An elaborate shaped headstone, decorated with a shield of arms, a carved helm, and an ostrich as crest. The arms are: On a chief, three martletts, . . . . on an inescutcheon a cheveron between 3 stars in chief and a boar's head rased in base.
Wm. Wray . . 1708 (?).
Martha . . 1708 (?).
East end of Church.
13. William Gome, citizen & Fishmonger, July . . 1769 aged 32.
Elizabeth, William, Isabel & Elizabeth Ann, who all died young & Elizabeth widow.
14. Susanna Driver . . . 1767 aged 28 daughter of Thomas Driver.
also T. Driver . . . 1768 aged 57.
15. John Matta[m] Aug 1759 Aged 42.
North side.
16. Mr. James Ca[h]ais 6th July 1802 aged 85. and Mrs Martha Ca[h]ais wife, April 1796 aged 59.
17. Mrs John Thornton Sept 1767 aged 61.
18. Mrs Elizabeth Burrison . . . 1700 . . .
19. James and Elizabeth Samuel . . 1792.
North Podium Wall.
20. William Paine April 11th 1775 aged 39
Ann, daughter . . . 1772 aged 3 years and 10 months
Samuel Paine, son . . . 1786 aged 19.
East end of Churchyard.
21. Wm. Webb, Gent, of Chas Sq. Hoxton, Mar 18th 17[5] 9 aged 68. also Sarah Webb, youngest daughter April . . . 1742 aged 5 years.
In the Council's collection are:—
(fn. 76) East prospect of the Church of St. Leonard, Shoreditch, by West & Toms, 1735 (engraving).
(fn. 76) Plan of the old church, 1735, from the Smart Lethieullier collection (photograph).
(fn. 76) View from the west as in 1695, reproduced on invitation ticket of 1720.
(fn. 76) Tomb of Sir John Elrington and his lady, from the Smart Lethieullier collection, British Museum (photograph).
(fn. 76) Tomb of Robert Hary Young and Margaret hys Wyfe, from the Smart Lethieullier collection, British Museum (photograph).
(fn. 76) Monument to four Ladies of the Rutland family, from the Smart Lethieullier collection, British Museum (photograph).
(fn. 76) Drawing of East Window of an additional Isle on the North Side of Church, and a small Monument against the wall of the North Isle, 1735, from the Smart Lethieullier collection, British Museum (photograph).
(fn. 76) View of church from corner of Kinglsand Road, coloured print by George Cooke, 1827 (photograph).
South-west prospect of church, 1740. Print by Toms, in Church Vestry Room (photograph).
View of tower and portico and north-west entrance gateway, 1785. (British Museum— Crace collection) (photograph).
(fn. 76) Elevation of west front (measured drawing).
(fn. 76) Exterior from north-west (photograph).
Exterior from south-east do.
(fn. 76) General view of portico do.
(fn. 76) Plan of church at ground level (measured drawing).
(fn. 76) Cross section looking east (measured drawing).
(fn. 76) Section through tower looking north (measured drawing).
(fn. 76) Detail of cast-iron railings to churchyard (measured drawing).
(fn. 76) View of interior looking east (photograph).
(fn. 76) do. do. west do.
(fn. 76) East window to chancel do.
(fn. 76) General view of pulpit. do.
(fn. 76) Enlargement of stained glass east window (photograph).
Staircase in south-west lobby do.
(fn. 76) Clock-case and Royal Arms to west gallery front (photograph).
Byde monument at Bengeo (photograph).
do. do. (measured drawing).
(fn. 76) Wallis monument (photograph).
(fn. 76) do. (measured drawing).
Crosley monument (photograph).
(fn. 76) do. (measured drawing).
Kimpton monument (photograph).
do. (measured drawing).
(fn. 76) Austen monument (photograph).
(fn. 76) do. (measured drawing).
(fn. 76) Benson monument (photograph).
Shakespeare Players commemoration monument (photograph)
Champion monument (measured drawing).
Newson monument do.
(fn. 77) Clerke monument do.
do. (photograph).
(fn. 77) Huniiades monument do.
(fn. 77) do. general elevation (measured drawing).
(fn. 77) do. details to panels do.
(fn. 77) do. do. do.
(fn. 77) Details of font (measured drawing).
(fn. 77) General detail of pulpit (measured drawing).
(fn. 77) do. mouldings to pulpit (measured drawing).
(fn. 77) do. do. do.
(fn. 77) do. choir-stall ends do.
do. Royal Arms to gallery front (measured drawing)
do. carved chairs in chancel do.
(fn. 77) do. dole cupboard do.
(fn. 77) Communion table as restored (measured drawing).
(fn. 77) Commemorative peal board (photograph).
(fn. 77) do do.
Charity board do.
do. do.
(fn. 77) Old stocks in church yard, general view (photograph)
(Denne's Register of Benefactions, p. 27.)