Pages 107-119
An Essay Towards A Topographical History of the County of Norfolk: Volume 8. Originally published by W Miller, London, 1808.
This free content was digitised by double rekeying. All rights reserved.
FELBRIGG.
Roger Bigot, ancestor of the Earls of Norfolk, had a grant of this lordship on the expulsion of two freemen of Guert, (brother of Harold, the King, and slain with him at the battle of Hastings,) who held 2 carucates of land, with one villain, 7 borderers, two carucates in demean, and one amongst the tenants, &c.; 4 acres of meadow; 8 socmen also belonged to it, with 63 acres of land, and a carucate and an half of the tenants, &c. valued then at 40s. at the survey at 4l.; it was half a leuca long, 4 furlongs and 3 perches broad; paid 3d. ob. gelt; and Metune was 5 furlongs long, (fn. 1) and 4 furlongs and 6 perches broad, and paid 5d. gelt. (fn. 2)
Ailward de Felebrigge seems to have he'd under Bigot, at the survey, and was lord of a small fee in Winterton, which is then said to be valued in this manor.
The ancient family of De Felbrigg assumed their name from this town, of which they were thus enfeoffed by the Bigots, on the conquest.
Roger de Felbrigg married a daughter and coheir of Gilbert de Norfolk, lord of Beeston, by whom he had Richard de Felbrigg, his son and heir, lord of Felbrigg, whose son and heir William, by Mary his wife, left no issue, and died before his father. (fn. 3) In the 4th of Henry III. a fine was levied between Mary de Merlai, petent, and Richard de Felbrigg, tenent, of the 3d part of 2 carucates of land in this town, of 40s. rent, in lands at Runton, of one carucate of land in East Herling, of one mark's rent in Massingham, and of a mill and pond in Newton; of which William de Felbrigg, son and heir of the said Richard, formerly husband of Mary (how the wife of John de Merlai) had endowed her; and Richard grants to her the land in Herling, Massingham, and lands in Runton, with the services of several persons, and to her heirs, paying a certain rent; and she released all her right in the rest.
On the death of the said William, Richard de Felbrigg had an only daughter and heir, Maud, who married Sir Simon le Bigot, 3d son (as is said) of Hugh le Bigot Earl of Norfolk, by Maud his wife, daughter of William Mareschal Earl of Pembroke; Sir Simon was living in the 20th of Henry III. but died before the 36th of that King; Maud his wife being then a widow, and in the 56th of the said King. Of this family I shall here give the pedigree, and make some remarks thereon.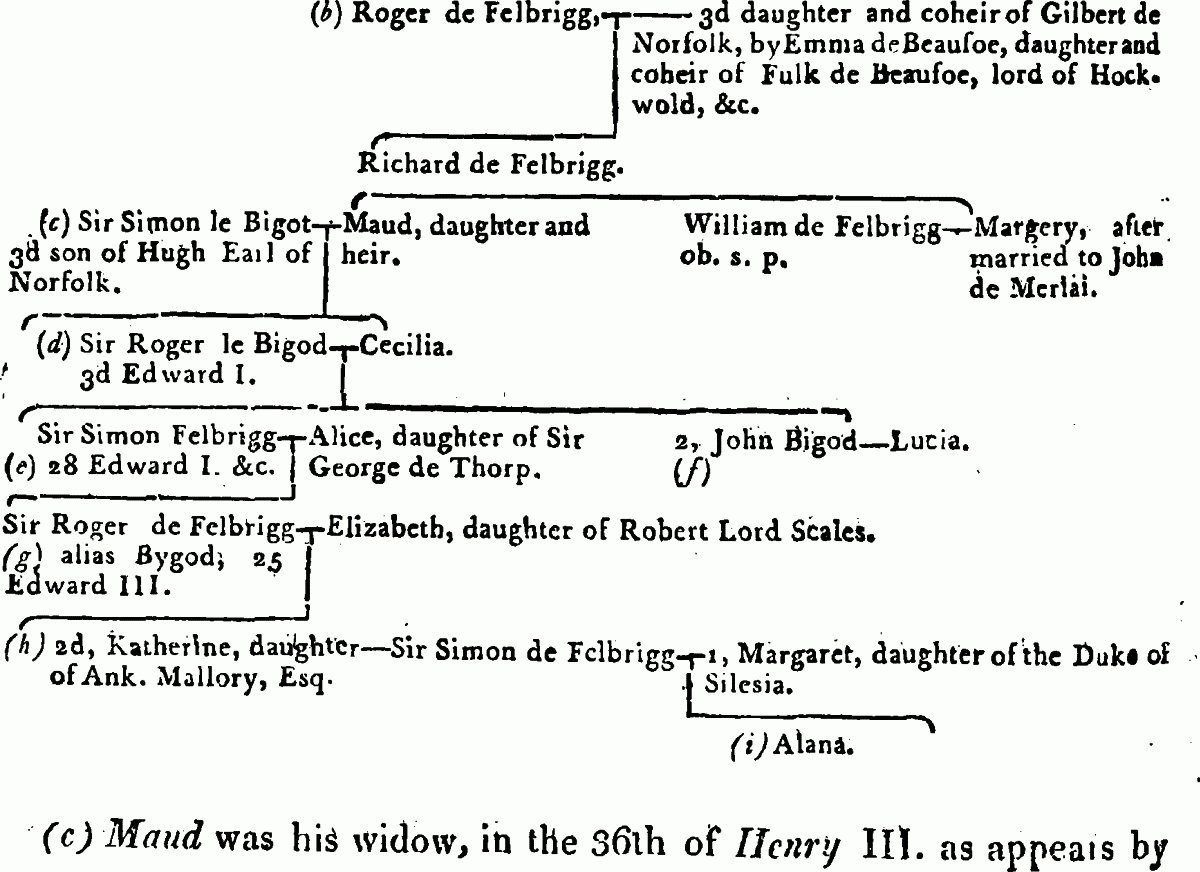 (c) Maud was his widow, in the 36th of Henry III. as appears by a fine then levied; and in the 3d of Edward I. claimed wreck of sea, assise of bread, &c.
(d) Sir Roger had a grant of free warren in the 9th of Edward I. he and Cecilia living in the 23d of that King.
(e) Sir Simon was lord in the 9th of Edward II. and 22d of Edward III.
(f) John Bigod, Esq. was lord of Tuttington, in Suffolk, as will be shown.
(g) Sir Roger de Felbrigg, alias Bigod, was lord in the 25th of Edward III. and had a mercate and fair here; in the 28th of that King, he is said to have been prisoner in the wars of France; was living in the 41st of the aforesaid King, and sealed with a lion salient, died at Paris in France, and was there buried.
(h) Sir Simon Felbrigg was standard bearer to King Richard II. and held a patent in the 18th of that King, for 100l. per ann. the usual fee or allowance; in the 22d of that King, was one of the knights of the King's chamber, and had a grant of the manor of Beeston Regis, in Norfolk, late Richard Arundel's, who was attainted. In the 8th of Henry V. he and Sir William Beauchamp, Sir John Beaufoe, Kinghts, Robert Lovell, &c. were appointed commissioners to muster 500 men at arms, 1000 archers, commanded by Hugh Courtney Earl of Devonshire, and the Lord Botreaux, for the guard of the narrow seas; being made Knight of the Garter in the 2d of that King, in 1422, at St. George's feast at Windsor, with Humphrey Duke of Gloucester, Richard Beauchamp Earl of Warwick, Robert Lord Willoughby, Henry Lord Fitz-Hugh, Lewis de Robesart Lord Bouchier; Sir John Cornwall, Sir Thomas Erpingham, Sir Walter Hungerford, and Sir John de Robesart, his senior knights, and Will. de Hertaulolux, his junior, reciting that King Hen. V. in his life, had instituted Garter to be principal of the office of arms, but that no maintenance was settled on him; they, during the nonage of King Henry VI. settle several annual pensions on him, payable by every Knight of the Garter.
He married first, Margaret, daughter and heir (as our historians say) to the Duke of Silesia, and Theise in Germany, (nephew to the King of Bohemia,) cousin to Ann, Queen-consort of Richard II. King of Englund, (daughter of Charles IV. and sister to Wencislaus, Emperors of Germany) who came into England with that Queen, on her marriage, in 1381, and was one of her maids of honour. His 2d wife was Catherine, daughter of Anketill Mallory, Esq. of Winwick in Northamptonshire, widow of Ralph Grene, Esq. of Drayton, in the said county, (who died October 4 in the 5th of Henry V.) the said Catherine survived Sir Simon, who made his will several years before his death, dated at Felbrigg in September, in the 10th of Henry VI. appoints Ralph Lord Cromwell, Robert Lord Willoughby, Thomas Lord Scales, William Lord Bardolph, Sir John Clifton, Sir William Paston, &c. trustees; his manors of Felbrigg, Runton, Baningham, Colby, Tottington-hall, and Ingworth in Norfolk, are mentioned; the manors of Felbrigg and Aylmerton, to be sold after his wife Catherine's decease, to pay his debts and legacies; (fn. 4) to Alana, his daughter, wife of Sir Tho. de Wanton, the manors of Brisworth in Suffolk, and of Sharpenhow and Strutley in Bedfordshire; they giving sufficient security not to disturb his trustees in the executing the residue of his will; and the heirs of her body failing, he gives them to Sir John Fellbrigg, &c to Ann, his daughter, a nun at Brusyard in Suffolk, 13s. 4d. per ann. to be paid out of the manor of South Repps, for life, and after to the abbess and convent aforesaid, for ever; also 8 marks per ann. to the said Ann for life, out of the manor of Fellbrigg, after the decease of Catherine his wife.
His will was proved February 20, 1443; Catherine his widow, and Oliver Groos, Esq. being executors, she held in jointure from Ralph Green, the manor of Chalton, and Culworth in Bedfordshire, Buckworth in Huntingdonshire, White Roding in Essex, Cumberton in Cambridgehire, Wabenham's, called Green's Wolston, and Emberton in Buckinghamshire.
By her will, dated February 14, 1459, she orders her body to be burned in the choir of the Friars-Preachers of Norwich, by the body of Sir Simon her husband; gives to Isabel Lady Morley, a cross of gold; to Joan Toppe, her neice, a silver girdle; to Elizabeth Coppledike, her neice, 40s. to Ela, wife of Sir William Yelverton, the judge, a silver pix, gilt with gold; and 20l. to the building of a new steeple to the Friars church. His arms were or, a lion saliant, gules.
Alana, daughter and heir of Sir Simon Fellbrigg, by his first lady, was, in the year 1431, the wife of Sir Thomas Wanton; whom I take to be her 2d husband, and Sir William Tyndale of Dean, in Northamptonshire, to be her first, by whom she had issue; and her grandson, Sir William Tyndale of Hockwold in Norfolk, was made Knight of the Bath, at the creation of Arthur Prince of Wales, son of King Henry VII. and declared heir (in right of his grandmother, Margaret,) to the kingdom of Bohemia. Some writings say that Sir Simon had by his lady, Margaret, 2 or 3 sons, besides the 2 daughters abovementioned; but it is certain that (if he had) they were all dead at the time he made his will; in the 2d year of Henry VI. he is called Maxime Scnex.
To this account of the elder branch of the Fellbriggs I shall add that of the younger branch, who had some interest in this lordship, as is apparent from the will of Sir Simon. It has been observed, in the pedigree above, that Sir Roger le Bigod had by Cecilia his wife, 2 sons, Sir Simon the eldest, and John, his 2d son, from whom descended the Suffolk, or younger branch.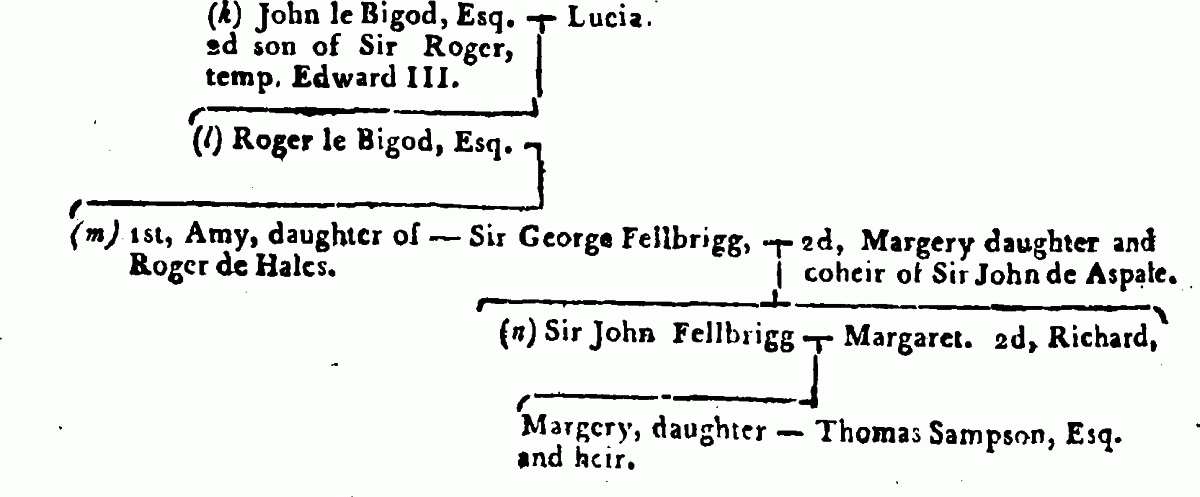 (k) John le Bigod, was lord of Tuttington in Suffolk, in the 13th of Edward III. by the gift of his father.
(l) Roger, son of John le Bigod, alias Fellbrigg, lord of Tuttington Hall, in 41st of Edward III.
(m) Sir George Fellbrigg, about the end of King Edward the Third's reign, was Esq. of the body to that King. In the 41st of that reign, the King wrote to the Archbishop of Canterbury, his chancellor, to pardon his beloved Esq. George de Fellbrigg, for money due to the Crown, for lands granted to him on the forfeiture of John But of Norwich, dated 8th of June. In the first of Richard II. he was one of the jury who found Alice Perers (late King Edward the Third's mistress) guilty of maintenance. In the 7th of that King, he and Margery his wife, held the manors of Wortham, and Ingham in Suffolk; and about the said time, Roger Mortimer Earl of March granted to him and Roger Mareschall, Esq. the manor and park of Standon, in Hertfordshire, to farm; his seal was then, a lion salient, and crest, a plume of peacock's feathers issuing out of a ducal coronet; and that of Mareschall, a chevron between three crescents. He was in the King's army, when he marched against the Scots, in his 9th year; was knighted by him on his entrance into that country, and had, on Septem. 9, a grant of 40l. per ann. for life, payable out of the issues of Norfolk and Suffolk, by the sheriff; was appointed one of the King's proctors in his 10th year, to conclude a league with William Duke of Guelderland, and by Thomas Duke of Gloucester, and constable of England, October 12; in the 15th of the said King, one of the lieutenants in the court of chivalry, to hear and determine the cause between the Lords Morley and Lovell.
He married two wives; Avice, his first, was the relict of Edmund de Reedesham, daughter and heir of Sir Roger de Hales, in whose right he held, by the courtesy of England, the manor of Hales Hall, but had no surviving issue by her.
His 2d wife was Margaret, first daughter and coheir of Sir John de Aspale, widow of Sir Thomas Naunton; she occurs his wife in the 3d of Richard II.
Sir George's will is dated February 3, 1400; he was buried in the church of St. Mary of Playford, in Suffolk, and appoints Margery his wife, and Sir Roger Drury his executors, proved May 18 following. (fn. 5) The will of Margery, his widow, bears date on July 16, 1419; she appoints Richard Fellbrigg her son, executor. In a window of the church of Playford, which was built by Sir George, was his portraiture, and that of his lady, Margaret, and the arms of Fellbrigg, impaling Aspal, azure, three chevronels, or.
(n) Sir John Fellbrigg was son and heir of George, by Margery his wife; he left one daughter and heir, Margery, married to Thomas Sampson, Esq. Sir John, by his will, dated October 2, 1423, was buried in the chancel of Playford church, in which church were the arms of Fellbrigg, impaling Waldgrave, probably his lady. Thomas Sampson, Esq. and Margery his wife, were there buried. Thomas died in 1439, and his quartered coat was then, — Sampson, argent, a cross flory, gules, between 4 escallops, sable, quartering Fellbrigg; Saket ermine, on chief indented, sable, two estoils, or, and Aspal.
The manor of Felbrigg being left by Sir Simon Felbrigg, to be sold after the death of his wife, Catherine, Thomas Lord Scales, one of his trustees, bought the reversion of it of his executors, and after sold it to John Wymondham, Esq. which John had also a lease of it from the Lady Catherine; he and his wife, the Lady Margery, relict of Sir Edward Hastings, of Elsing in Norfolk, daughter of Sir Robert Clifton of Bokenham castle in the said county, lived here, when Sir John Felbrigg, eldest son of Sir George Felbrigg, abovementined, made a forcible entry, in the absence of her husband, threatened to fire the house, she having looked herself up in a room to keep possession, and at last dragged her out by the hair of her head, and took possession but John Wymondham, having the King's order, to Thomas Montgomery, Esq. sheriff of the county, to be put in possession, he came to an agreement, and Wymonham paying to Sir John 200 marks, he released all his right and claim to this lordship; and in the 39th of Henry VI. Sir John, and his wife conveyed it to John Wymonham by fine.
This Sir John had the manor of Crownthorp in Norfolk, conveyed to him in the 15th of Henry VI. by William Hales of Wells, and Margaret his wife.
His 2d wife was Elizabeth, daughter and heir of Sir John Reedesham, of Suffolk, relict of Sir Thomas Heveningham.
He beqneaths by his will, April 26, 1475, his body to be buried in the church of the Friars-preachers, at Norwich, which was proved January 22d, 1476. Reg. Gelour, fol. 115.
John Windham was his son and heir retained by, and in the service of Sir John Howard, (afterwards Duke of Norfolk,) in the beginning of the reign of King Edward IV. and in the 7th of that King, married Margaret, 4th daughter of the said Sir John; in the treaty of his marriage, it was agreed, that Sir John should provide and find all manner of array for John Wyndham, junior, Esq. and Margaret, his daughter, at, and for the said marriage, and all manner of meat and drink, for all manner of persons, and all other things necessary, behoffull and convenient, at the proper cost and charge of the said Sir John, for the space of 2 years following the said marriage continually, with meat and drink for the said John and Margaret, convenient for them, their servants, and their horses. Her jointure was to be in the manors of Crownthorp, Baningham, Colby and Ingworth. In 1489, he was with King Henry VII. at the battle of Stoke, and there knighted, but on the 6th of May, in 1503, he with Sir James Tyrrell, were beheaded as traitors to the King, (on Tower-Hill) on a conspiracy in favour of Edmund de la Pole Earl of Suffolk, and was buried in the church of the Austin-friars of London, where several who had suffered on the part of the house of York were interred. He is said to have married to his 2d wife, Alianore, daughter of William Wellesborn, Esq. Sir Thomas Windham was his son and heir, as the following pedigree shows: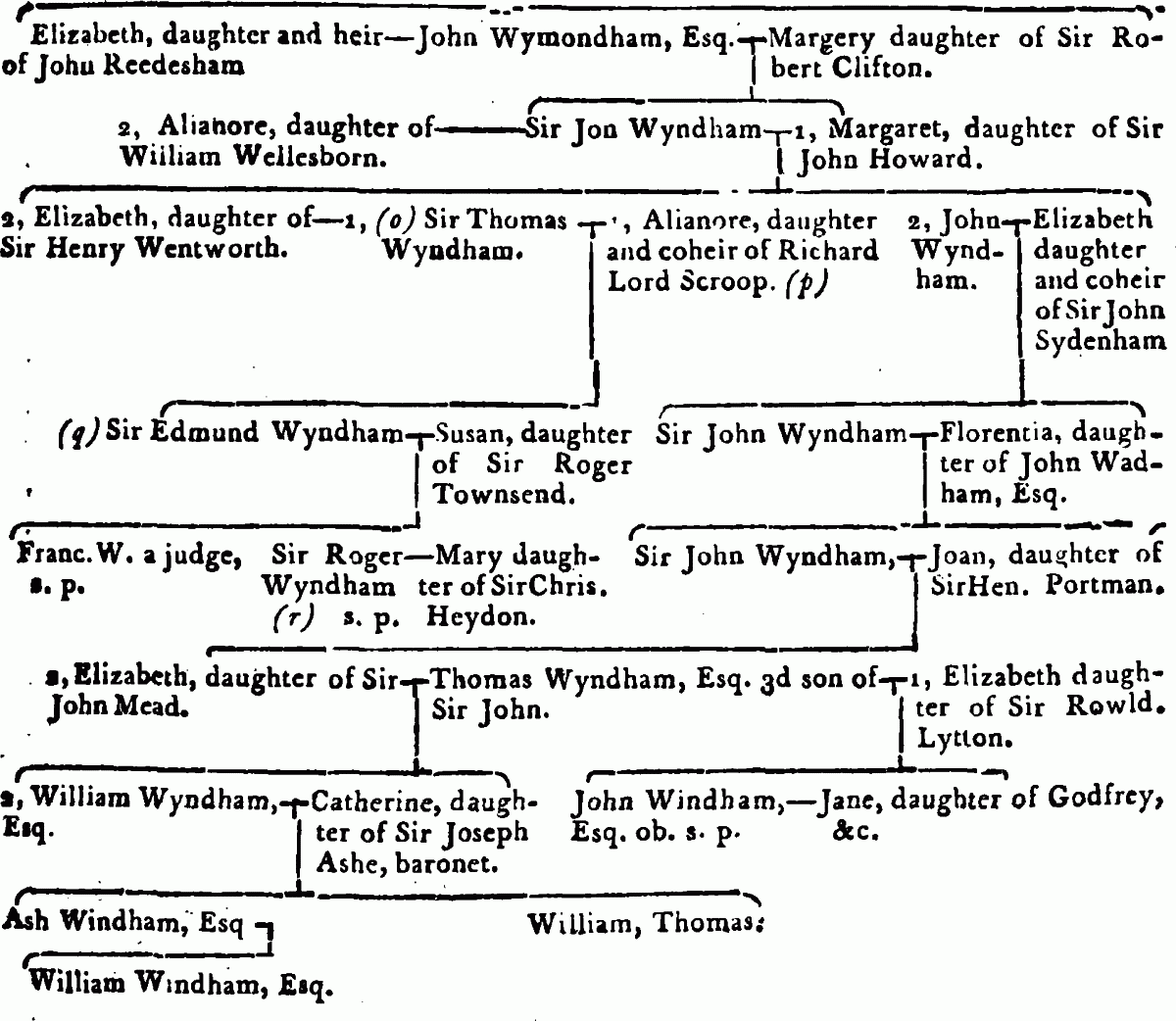 (o) Sir Tho. Wyndham, son and heir of Sir John, and the Lady Margaret, was restored in blood, and knighted by Sir Edward Howard, admiral of the English fleet, at Crowton-Bay, near Brest, in the 4th year of King Henry VIII. he was vice-admiral, knight of the King's body-guard, and one of his privy council. He married to his first wife, Alianore, daughter and heir of Richard Scroop, lord of Upsall in Yorkshire, or as some say, of Sir Henry Scroop; his second wife was Elizabeth, daughter of Sir Henry Wentworth, of Nettlestead in Suffolk, widow of Sir Roger Darcy, of Danbury in Essex. It appears by his will, dated at Felbrigg, Octobert 22, 1521, that he had the lordship of Botley, Hamesthwayt, and Wighton in Yorkshire. Crownthorp, Wicklewood, Hackford, Aylmerton, Rungton, Baningham, Ingworth, Tuttington, Colby Briston, Wolterton, Metton, Melton-Cockfeld's and Felbrigg; appoints his Lady, Elizabeth, and Thomas Earl of Surry, his executors; gives to his wife 500 marks worth of plate, as she should choose, with the moiety of his household stuff, and the use of the other moiety for life only; to Margaret and Elizabeth Darcy, his wife's daughters, each 200l. appoints his body to be buried in the middle of the chapel of the Blessed Virgin, in the cathedral of Norwich, and orders a tomb with his arms and badge, and of his 2 wives, (if his wife Elizabeth will be there buried,) to be erected. This chapel was at the east end of the cathedral, now in ruins; and the tomb erected for this Knight was removed into Jesus chapel, in the said cathedral, where it now remains, with this inscription;
Orate p. a'i'ab; Thome Windham, militis, Elianore, et Domine Elizabethe uxorum ejus, qui quidem Thomas fuit unus conciliariorum, D'ni Regis Henrici Octavi, et unus militum pro corpore ejusdem D'ni regis necnon vice-admirallus - - - - - - - - - - -
His own effigies and those of his two wives were on it, with the arms of Wyndham, argent, a chevron, between three lions heads erased, or, impaling, azure, a bend, or, with a crescent for difference, Scroop, quartering, argent, a saltire ingrailed, gules, Tiptoft; the arms of his first wife, as appears by the epitaph, and before the year 1502, when he was knighted. Also Windham impaling Wentworth, his second wife, and her quarterings; first, sable on a chevron, between three leopards heads, or, a crescent for difference, Wentworth; 2d, quarterly, argent and gules, in the 2d and 3d, a frett, or, on a bend, sable, three mullets of the first, Spencer;—3d, gules, a cross ingrailed, argent, Ingaldesthorp;—4th, argent, a fess, between two bars gemel, gules, Badelesmere; 5th, barry of six, or of eight, or and gules, a canton, ermin; quere if not Gawsell?—6th, gules, lucies haurient, argent, and crucily of cross crosslets, or, Lucy.
(p) John Windham, Esq. 2d son of Sir John, and brother of Sir Thomas, married Elizabeth, daughter and coheir of Sir John Sydenham, of Orchard in Devonshire, where he and his descendants lived, and from whom the present Earl of Egremont descends.
(q) Sir Edmund Windham, eldest son of Sir Thomas, by Alianore, his wife, succeeded in his estate, married Susan, daughter of Sir Roger Townsend, of Rainham, by whom he had 3 sons, Roger, Francis and Thomas, and a daughter, Amy, married to Henry Heveningham, Esq. he died at Felbrigg, July 23, in the 11th of Elizabeth, and was there buried.
(r) Sir Roger, son of Sir Edmund, married Mary, daughter of Sir Christopher Heydon of Baconsthorp, in Norfolk, and died s. p.
Francis Windham, Esq. his brother, was judge of the Common Pleas, and married Elizabeth, daughter of Sir Nicholas Bacon, keeper of the great seal, and died s. p. leaving his estate entailed on his brother, Sir Roger, Thomas Windham, and Jane his sister, (wife of Humphrey Conynsbye, Esq.) who all died s. p. the judge was buried in the church of St. Peter's of Mancroft, where, against the north wall of Jesus chapel, is a monument much defaced, in memory of him, and the effigies of a judge down to his waste, in his robes, with the arms of Windham, and his crest, a lion's head, erased, within the bow of a fetter-lock; also Windham quartering Scroop, and Tiptoft, and impaling Townsend, with his quarterings, Haywell, Brewse, Ufford, Carbonell, and Shardelowe. It does not appear to have had any inscription, but he was here interred July 18, 1592.
Sir Roger, and the rest of his family, dying s. p. as is observed, this manor, &c. came by entail to Thomas Windham, Esq. 3d son of Sir John Windham, of Orchard, by Joan his wife, daughter of Sir Henry Portman of Orchard Portman in Somersetshire, great grandson of Sir John, who was brother of Sir Thomas Windham, as the pedigree sets forth.
This Thomas married, first Elizabeth, daughter of Sir Rowland Lytton, Knt. of Knebworth in Hertfordshire, by whom he had John, his son and heir; and by Elizabeth, his 2d wife, daughter of Sir John Mead, Esq. of Lofts in Essex, he had William Windham: Thomas, the father, lived to the age of 82, and died on May 1, 1653.
John Windham, Esq. his son and heir, had 4 wives; first, Jane, daughter of — Godfrey, Esq. of Hindringham, who died in 1652, aged 25;—2d, daughter of Sir Roger Townsend, Bart.;—3d, Dorothy, daughter or sister of Thomas Ogle of Bardwell in Suffolk;—4th, Frances, daughter of Arthur Earl of Anglesea, and afterwards married to John Thompson Lord Haversham, but died without any surviving issue.
William Windham, Esq. his brother-in-law, inherited this lordship on his death, and took to wife Catherine, daughter of Sir Joseph Ash, Knt. and Bart. of Twickenham in Middlesex, by whom he had several sons;—Ash Windham, Esq. the eldest, William, Thomas, &c. William Windhum, Esq. died in 1689; Ash Windham, Esq. was lord and patron in 1740, also of Instead, Beckham-East, Wicklewood, Aylmerton, Colby, Crownthorpe, Tuttington, Ingworth, Baningham, Tofts, Metton, Runton, Thurlton, and Dilham; William Windham, Esq. was his son and heir, and died lord in 1761, October 30.
The Windhams are a family of great antiquity, and took their name from Windham, a considerable market town in Norfolk; Alward de Wymondham was a witness to the foundation charter of William de Albini, (Pincerna Regis,) founder of Wymondham priory in the reign of Henry I. as were Richard, son of Alward and Edrick de Wymundham. Thomas de Wimundham was treasurer, and one of the King's council, præcentor of Litchfield, and baron of the Exchequer, and died in 1277.—William de Wimundham, clerk, was overseer of the silver mines in Devonshire, in 1293. John de Wimundham, and Beatrix his wife, held lands in Kirby-Bedon, &c. in Norfolk, in the 28th of Edward III. William, son of Ralph de Windham, purchased by fine, rents in Norwich, in the 12th of Edward I. and in the 31st, he, and Joan his wife, lands at Redenhale in Norfolk, by fine.
In the 24th of Henry III. John Rede was found to hold here the 8th part of a fee, of Hugh Lord Bardolph, and he of the Bishop of Norwich, and John Rede claimed frankpledge of his tenants, in the 3d of Edward I. and was summoned to show his right in the 14th of that King, before the itinerant judges, Sir Solomon de Rochester, Walter de Hopton, Richard Boyland, Robert Fulco, Mr. Thomas de Sothyngton, and Walter de Styvecley. In the 20th of Edward III. it was held by the Felbriggs, who paid 5s. scutage for it; Sir Simon Felbrigg had it in the 3d of Henry IV. and Edmund Windham in the 24th of Henry VIII. and paid every 30 weeks 10d. ob. castle guard to Norwich,
William Windham was colonel of the Norfolk militia, and author of a treatise for the use of that corps. His indefatigable application to study accelerated his death in 1761, leaving his son a minor, lord of Aylmerton, Sustead, Metton, Parnow Hall, Barningham, Tutington, with Crackford, Ingworth, Runton-Hays, East Beckham, Isaac's, and East Beckham Marriot's; Toft Overhall, and Netherhall, Thurlton, Bainard's, Crownthorp, Wicklewood, and Felbrigg in Norfolk.
On the pavement of the church, near to the pulpit, lies a large marble grave-stone, whereon, as under an arch of canopy-work in brass, is the portraiture of Sir Simon Felbrigg, Knt. of the Garter, in complete armour, treading on a lion couchant with his hands erect, and joined in a praying manner; between his right arm stands erect, on a staff, the standard of King Richard II. thereon the arms of Edward the Confessor, a cross flory, between five martlets, impaling France and England, quarterly. King Richard is said to have accounted and esteemed the Confessor as his tutelary saint; and a few years past, on a visit that I paid to the late Dr. Symonds of Bury, he shewed me a large shield of stone, taken up lately out of the ruins of that abbey, with the said arms curiously carved on it. On the upper part of each arm, near the shoulder, is the shield of St. George, argent, a cross, gules; on his right side hangs a dagger, on his left a large broad sword, from a belt embossed and gilt, as his spurs are; and on his left leg the garter, all in brass. In a like arch with canopywork curiously wrought, by his left side, is his lady, in a close vest, and a cloak over it, hands erect, &c. about her head a sort of coronet, and on each side of it a large lustre of jewels in the form of a rose, about her temples. On the summit, between the middle of the pillar of the canopy-work, are 2 shields, one with the arms of St. Edward, impaling quarterly, France and England: the other St. Edward, with the said quartering, being the arms of King Richard II. impaling, quarterly, in the 1st and 4th, argent a spread eagle, with two heads, sable, crowned, or; in the 2d and 3d, a lion rampant, being the arms of his Queen, Ann. On the middle pillar of the canopy-work are the arms of this knight, a lion saliant, impaling a spread eagle, the arms of his lady, and below that, on each side of the said pillar, is a fetterlock, his badge; which was also used by the house of York, and by King Edward IV. His supporters are not here, but are said to have been two lions, and his crest a plume of peacock's feathers, and some time a garb argent, banded ermine, in a coronet, or; the family also used the crest of a lion's head erased, in the bow of a fetterlock, as appears from a deed of Sir Simon in the time of Henry VI. and one of Sir George Felbrigg.
The inscription at the bottom,
Hic jacent Simon Felbrygge miles quonda' vexillari' illustrissimi D'ni. D'ni. Regis Ricardi Se'di qui obijt — die mensis — Anno D'ni. m.cccc. — et D'na Margareta quonda' consors sua natione et generoso sanguine Boama, ac olim domicella nobilissime D'ne. D'ne Anne qu'da' Anglie regine, que obiit xxvii die mensis Junij Ao. D'ni m.cccc.xvi, quar' a'i' ab; p'pitietur Deus, Amen.
It is to be here observed, that no date either of the day or year of Sir Simon's death, is here fixed; no doubt, when he laid this stone, in memory of this lady, his design was to be buried by her; but it is certain, his mind was afterwards changed, and he was buried in the choir of the Preaching-Friars of Norwich, in 1442, as was his second lady, Catherine, by him, in 1459. Hugh Bygot Earl of Norfolk, who married Maud Mareschall, bore on one side of his seal, himself in complete armour, on horsebak; on the other side a lion saliant, the field was party per pale, or and vert, and the lion, gules, so that the Felbriggs, as descended from him, only varied (as was customary) the field, but retained the lion; and the legend of Earl Hugh's seal was Sigill: secretum comitis Hugonis Bigoti.
In the said church are several grave-stones for the said family:
Infantali duo Georgius et Joh. Windham, alter patris quartus, alter filius primogenitus, hic amplexus miscent, donec surgite resenet a D'no natus et decessit 29 Martij, 1648, natus 20 Maij, decessit 15 Junij, 1648.
Quid prosunt facies formosa, et membra decora, Ipsa sub hoc gelido marmore forma jacet?
Symond de Felbrigg gyst ici, Dieu de sa alme eit mercy; ceste ymage — fait en remembrance de Alice sa feme que fuit la feme—
This is in remembrance of Sir Simon and his wife, who lived in the reign of Edward I.
Ceste ymage est fait en remembrance de Mons. Roger de Felbrigg q. morir en Paris, la est son corps enterré.
Dame Elizabeth q. fuit la feme Monsr. Roger de Felbrigg gyst icy.
Hic jacet Georgius Felbrigg, de Tutyngton, armiger, qui obiit 6 die mensis Octob. Ao. D'ni 1411.
Here lyeth the body of Jane Coningsbye, widow, one of the daughters of Sir Edmund Wyndham, knight, first married to John Pope of Oxford, Esq. and after, to Hump. Coningsby, Esq. and died without issue November 22, 1608, aged 67, in memory of whom, Sir John Windham of Orchard in Somersetshire, her cosin and heir, hath placed this marble.
Jana ex antiqua familia Godfreydorum de Hindringham, uxor Johs. filii primogeniti et hœredis Tho. Windham de Felbrigg armigr. post septenne connubium obt. pridie calend. Januar. 1652, ætat. 25, nulla quidem partâ sobole, sed inclytâ conjugatis fidei, pietatis, probitatis, comitatis memoriâ œternum superstite.
A neat tomb for Sir Edmund Windham, quartering Scroop and Tiptoft, but no inscription.
On a monument on the north side of the chancel,
Memoriœ sacrum—Tho. Windham de Felbrigg in agro Norfolc. — armigeri filij Johs. Windham de Orchard, in com. Somerset. equitis aurati, qui bino conjugio felix, uxorem primam habuit Elizab. Rowlandi Litton, equitis aurati in com. Hertf. et ex eâ susceptum filium unicum Johan. nuper defunctum. Alteram Elizab. Johs. Mead de Lofts in Essex. equitis item aurati filiam numerosa prole ab eodem, Tho. fœcundam; quatuor masculis, Tho. Guliel. Georg. et Joh. et fæminis duabus Eliz. et Johanna, maritoq; mortuo, extruxit hoc monumentum — Obijt (annorum ac opum satur) ætat. suæ 82, 1 Martij, 1653.
On this monument are the arms of Windham, and of his wives; Lytton, ermine, on a chief indented, azure, three crowns, or; and Mead, sable, a chevron between three pelicans wounding themselves, or.
On the south side of the chancel a monument,
In memory of Richard Chamberline, Esq. decended from the Chamberlins of Astley Castle in Warwickshire.
A marble monument,
In memory of John Windham of Lincoln's Inn, youngest son of Thomas Windham of Felbrigg, Esq. and Elizab. Meade, &c. and of Thomas Windham his eldest brother, who both died of the small pox, John, June 2, 1676, and Thomas died in 1661, and were buried at Lofts.
Here lieth the body of Thomas Windham, Esq. 3d son of Sir Edmund, who lived a single life, and died December 20, 1599, to whose memory Sir John Windham of Orchard in Somersetshire, his cosen and heir, hath set this marble.
Liv'st thou Thomas? Yes—where? with God on high, Art thou not dead? Yes, and here I lye.
I that with men on earth did live to die, Dy'd for to live with Christ eternally.
William Windham, Esq. second son of Thomas, by Elizabeth, his wife, is buried in a vault; he died June 9, 1689, in the 42d year of his age, and had by Catherine his wife, 8 sons and 3 daughters.
In the church windows were these arms; Felbrigg impaling Aspale. Delapole and Wingfield quarterly. Felbrigg impaling checque, or and gules, a fess, ermine, Thorp. Felbrigg impaling Scales. Felbrigg impaling, azure, an eagle displayed, &c. sable. Probably the arms of the Lady Margaret, wife of Sir Simon Felbrigg, Knt. of the Garter.
The church is a rectory. The ancient valor was 8 marks, and paid Peter-pence, 7d. In the reign of Edward I. the rector had 50 acres of land and a manse. The present valor is 6l. 18s. 3d. and is discharged.
Rectors.
Nicholas occurs rector in 1286.
In 1340, William Waryn was instituted, presented by Sir Simon Felbrigg.
1341, Thomas de Walcote. Ditto.
Ralph Colby occurs rector in 1344.
Thomas de Walcote, in 1348 and 1382.
In 1384, John Zymme, presented by George Felbrigge, and John Wolterton.
1445, William Bough, on the resignation of William Pope, by the Lady Catherine Felbrigge.
1448, Richard Laxton rector, resigned.
1482, William Byshop, rector.
1484, John Everard, by John Wyndham, Esq.
Robert Gold, rector in 1603, returned 68 communicants.
Benj. Beck, A. M. rector, and prebend of Norwich, in 1708.
1729, Edward Barnes, on Beck's death, by Ash Windham, Esq.
1736, Tim. Jones, by ditto.
1760, John Alexander, by William Windham, Esq.
1764, Mr. Lukin.
In the 2d of Edward I. Nicholas Panton of Felbrigg granted to Friar Hamond de Montania, master of the hospital of St. Anthony of Vienna, in France, 40 acres of land, and 10s. rent in Felbrigge, by fine; of this hospital was a cell in Broad-street, London. See Stow's Survey of London.
Several towns take their name from Fel, a river, as this, and the bridge over it; thus, Felmingham, Felton, Felstead, &c.