Pages 189-202
A History of the County of Bedford: Volume 3. Originally published by Victoria County History, London, 1912.
This free content was digitised by double rekeying. All rights reserved.
EATON SOCON (with its Hamlets)
Eton (xii–xv cent.); Eaton-cum-Soka (xvi cent.); Eaton Soken, Socon (xvii–xx cent.).
Beger (xiii cent.); la Beggerye (xiv cent.); Bissemed (xiii cent.); Divelho (xiii cent.); Dewlowe (xvi cent.); Forde (xv cent.); Godewyk (xiii cent.); Honydene (xv cent.); Stapelho (xiii cent.); Subur' (xiii cent.); Wiboldestone (xiii cent.); Wyboldston, Wyboston (xvi cent.).
Eaton Socon, the largest parish in the county, occupies an area of 7,602 acres. The land slopes from west to east, attaining at its highest point to 224 ft. above ordnance datum, and sinking to 52 ft. in the east where the land is subject to floods. Of the area of the parish 4,894¼ acres are arable land and 2,357¾ acres permanent grass. (fn. 1) The soil is rich loam and the subsoil gravel in most parts, the remainder of the soil being mixed and the subsoil clay. The principal crops produced are wheat, barley, oats and beans; a large and increasing area in the parish is devoted to market gardening, a flourishing industry. Eaton Socon is well wooded, there being 101¾ acres of woods and plantations in the parish. (fn. 2) Staple, Bushmead and Garden Woods are situated within the Priory grounds; Cateswood (of ancient origin), Home Wood and Hook Wood in the north of the parish are all of some size.
Eaton Socon is well watered by the Ouse—which forms the eastern and county boundary—and its tributaries; of the latter may be mentioned Begwary Brook, which enters from Colmworth in the south-west, and flows in an easterly direction to join the Ouse; and Duloe Brook, which rises in the north-west and flows south-east to enter the main stream.
On Windmill Hill, as its name implies, is a windmill now supplemented by steam.
The village itself is situated in the east of the parish on both sides of the main road to York, through which at one time thirty-six coaches ran daily to and from London. It is of some importance, and presents rather the appearance of a small county town, with good shops and modern residences, though a few thatched cottages are still to be seen. It is provided with numerous inns, as is indeed the whole of this parish, probably owing to its position as a thoroughfare in coaching days. The vicarage is on the east of the road, and is a fine house with good grounds. The church, standing in a spacious graveyard, occupies one side of the village green in the south of the village. In its rear and nearer the river is the Castle Hill and site of the old castle, near which stands the Castle Mill on the west bank of the Ouse. West of the churchyard is an ancient two-gabled structure, once the parish lockup; the remaining sides of the green are occupied by an inn, with several shops and private residences.
Eaton Ford, on the banks of the Ouse some 2 miles north-east of the village, is directly opposite St. Neots, of which it is now practically a suburb. There is little left to recall its antiquity, and it is rapidly becoming built over, mainly with artisans' dwellings in grey and yellow brick. Between it and Eaton Socon, on the western side of the road, is St. Neots Workhouse, a large building in extensive grounds.
Wyboston is a straggling hamlet of some size in the south-east of the parish. It was at one time in the possession of the ancient barony of Greystock, and in the 15th century had a chapel of its own. A moat on the south of the road and the Manor Farm mark the site of former manors. About a mile west is Begwary, an ancient district, now only occupied by a farm-house with a few dependent cottages. Begwary Farm is a very dilapidated half-timbered structure, the bricks between the framing being laid in herring-bone fashion, while the windows are filled in with double-hung sashes and the walls covered on the outside with plaster. The roof is of slate, and the building is partially surrounded by a moat. Goodwich Farm, still further south-west of Wyboston, recalls an ancient estate, whose history, dating from the 13th century, will be traced below. Honydon, another outlying district with ancient memories, is north-west of Wyboston, and contains two farms—Upper and Lower Honydon—a Methodist chapel and a few cottages.
Crosshall is now marked by two ancient homesteads: Crosshall Farm, a brick building with a tile roof; and Dert House, formerly a hostel, and a few cottages.
Bushmead is situated in the extreme north-west of the parish, 3 miles from Eaton Socon. It is on high ground, and consists of the Priory and grounds with a few cottages and farms attached. The Priory, the residence of Mr. William Wade-Gery, stands in a well-wooded park of 80 acres; it is a comparatively modern building, but ruins of the ancient house still exist in the grounds. East of Bushmead are the flourishing hamlets of Staploe and Upper Staploe, from the former of which is approached Basmead Manor, the site of an old estate. It is a brick building, now used as a farm-house. The brick chimney on the south side has a stone base of 16th-century date. Though the original internal arrangement is now much altered, an 18th-century panelled room is still intact on the first floor, while in a room below is a large mantelpiece of 'Adam' style. Part of a moat can be traced inclosing about 3 acres of land. Still further east is Duloe or Devilhoe, (fn. 3) a compact hamlet with several good farm-houses, in one of which is to be seen an ancient square brick dove-house, having a moulded brick cornice and pantile roof. Its roof is partly hipped, though the hips are not carried to an apex, but stop against the bases of two small triangular gables formed by the side slopes of the roof which meet at the ridge.
In addition to the chapel in Honydon already mentioned there are a Wesleyan chapel in Eaton Socon, Primitive Methodist chapels in Eaton Ford and Wyboston and a Gospel Hall in Staploe.
Eaton Socon was inclosed by Act of Parliament in 1795. (fn. 4)
The following place-names have been found in the 16th century:—Akerncaustrete, Crose Close, Patsale Lease and Plasworth.
BARONY AND MANOR
At Domesday Eaton Socon was the seat of Eudo Dapifer, who had succeeded Wulfmar, the great Bedfordshire thegn. His lands later became known as the barony of Eaton. Eudo was also tenant at this date in Berkshire, Cambridgeshire, Essex, Hampshire, Hertfordshire, Huntingdonshire and Northants, (fn. 5) but his principal property was in Bedfordshire, where he held 67 hides 2 virgates, of which EATON MANOR comprised 20 hides, and included two mills worth 36s. 2d., 100 eels, woodland for 400 swine, and 2 acres of vineyard. (fn. 6) Eudo Dapifer died in 1120, when his Bedfordshire lands, escheating to the Crown, were granted to a member of the house of Beauchamp. The barony of Eaton is not mentioned in the returns of 1166, (fn. 7) but Hugh son of Oliver de Beauchamp, (fn. 8) the earliest baron of Eaton of whom mention has been found, paid £23 1s. 3d. for his lands in Bedfordshire on the occasion of an aid in 1156. (fn. 9) According to Dugdale, about the year 1176 he accompanied the daughter of Henry II to Palermo, where her marriage with the King of Sicily was celebrated, and in 1186 he went to Palestine on pilgrimage. (fn. 10) This latter statement is confirmed by an entry in the St. Neots cartulary recording a grant of lands by Philippa wife of Hugh de Beauchamp on the occasion of her husband going to Jerusalem. (fn. 11) Dugdale states that he died on pilgrimage, but it would appear that he survived into the early part of the following century at an advanced age. Between the years 1200 and 1203 he was engaged in litigation with William de Lanvaley, who claimed the vills of Eaton and Sandy as the right of his mother Gunnora, granddaughter of Hamo de St. Clare, (fn. 12) who held the lands of Eudo Dapifer in 1130. (fn. 13) Between 1210 and 1214 Hugh de Beauchamp rendered knight's service for two fees in Eaton, the service by which this barony is henceforward found held. (fn. 14) He died soon after, for in 1217 Roger de Beauchamp, his brother, having done homage, entered upon his inheritance in Bedfordshire. (fn. 15) Roger died about 1221, when John son of William de Beauchamp and nephew of Roger paid £10 to have seisin of his uncle's lands in Eaton and Sandy. About the year 1240 the barony included six tenants holding fractions of knights' fees of the new enfeoffment and twelve of the ancient. (fn. 16) About this date John de Bury and Hadwisa his wife (daughter of William Lanvaley, who petitioned against Hugh de Beauchamp) unsuccessfully renewed the former claim to Eaton and Sandy. (fn. 17) John died before 1287, when his son Ralph de Beauchamp claimed certain rights and privileges in his manor of Eaton as the caput of his barony. (fn. 18) Ralph died in 1294, when the inquisition then taken states that he held the manor of Eaton by barony, doing service of one knight's fee in the king's army. (fn. 19) Roger de Beauchamp was his son and heir. In 1296 Roger de Bray and Isabella his wife acknowledged Roger de Beauchamp's right and that of his wife Alice to lands in Eaton and Wyboston. (fn. 20) Roger held the barony for two knights' fees in 1302–3, (fn. 21) and appeared before the king's justices in 1330 to prove his right to certain manorial privileges. (fn. 22) In 1343 Roger acquired licence to alienate Eaton Manor to John d'Engayne, retaining for himself £4 rent, five messuages and 26 acres of land, which were to revert on his death to John. (fn. 23) In 1346 John d'Engayne and Roger de Beauchamp and their tenants are declared to hold the two fees representing the barony, (fn. 24) but after the alienation of Eaton Manor, though the overlordship of manors held of this barony passed to John d'Engayne and his descendants, they made no claim as barons. Returning to the history of the manor, John d'Engayne made a settlement of the manor on his son John and Joan his wife in 1348. (fn. 25) He died in 1358, his son John having predeceased him, and Eaton Manor passed to Thomas, his eldest surviving son. Joan widow of John d'Engayne, junior, had meanwhile married Sir William Colville. (fn. 26) Thomas d'Engayne died in 1367, when his three sisters—Joyce wife of John Goldington, Elizabeth wife of Laurence de Pabenham, and Mary wife of William Bernake—became his co-heirs. (fn. 27) To Joyce passed that third which later became Goldington's Manor (q.v.), and which was retained by Joan Colville till her death in 1390. (fn. 28) Mary and Laurence de Pabenham retained the remaining two-thirds of the manor, which from the 15th century is called Eaton Manor. (fn. 29) In 1399 Katherine daughter of Laurence de Pabenham received pardon, on payment of a fine of 10 marks, for acquiring two-thirds of Eaton Manor from her father without licence. (fn. 30) This was probably on the occasion of her marriage with Sir William Cheney, (fn. 31) on whose death she married Sir Thomas Aylesbury, who died in 1418. (fn. 32) Eaton Manor next passed to her son Laurence Cheney, who held one fee of Eaton Barony in 1428. (fn. 33) His son Sir John Cheney died seised in 1489. (fn. 34) In 1492 Thomas son of John Cheney, and the last of the name to hold the manor, was engaged in litigation with John Ormond and Joan his wife, who declared that Thomas d'Engayne (ob. 1367) did not die without issue, and that they represented such issue. (fn. 35) Their claim came to nothing as regards Eaton, which Elizabeth, sole daughter and heir of Thomas Cheney, brought in marriage to Thomas Lord Vaux of Harrowden. (fn. 36) This family, whose descent has been traced under Pavenham (q.v.), retained Eaton Manor until 1624, (fn. 37) when Edward Vaux Lord Harrowden sold it to Rowland Squire of Ford End in this parish. (fn. 38) At his death in 1644 Eaton—which now begins to be called Eaton-cum-Soka, or Eaton Socon—passed to his son Gaius Squire. (fn. 39) He made a settlement of the manor in 1656. (fn. 40) He had a daughter Mary (aged about four in 1634), (fn. 41) who is perhaps to be identified with the Mary Mathew, widow, who with Henry Ashley, junior, and Alice his wife conveyed this manor in trust to Edward Carter in 1692–3. (fn. 42) In 1708 Henry Ashley, senior, and Henry Ashley, junior, made further settlements (fn. 43) preparatory to a sale, which took place in the same year, to the Duke of Bedford. (fn. 44) It was retained by the Dukes of Bedford until towards the middle of the 19th century. In 1847 John Hill Day of St. Neots was lord of the manor, which belongs at the present time to his representative, Mr. Frank Day.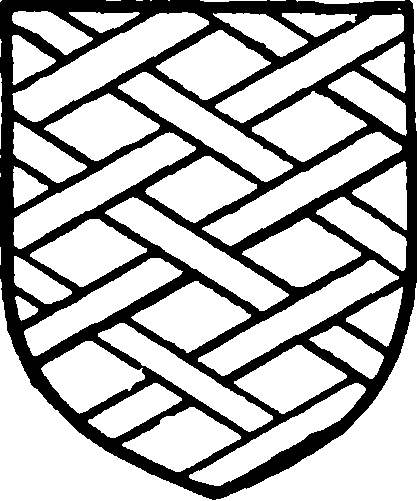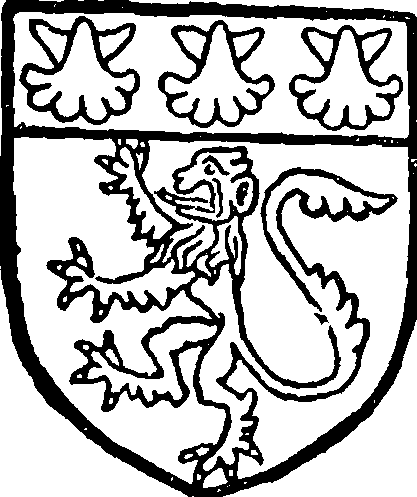 CASTLE
The Beauchamps had a stronghold in this parish, whose remains have been described in the article on 'Earthworks.' (fn. 45) The inquisitions give no indication of this castle, and it has been conjectured from the nature of the remains and the absence of masonry that it was constructed entirely of earth and timber. Leland mentions 'vestigia castelli,' but does not indicate their nature. (fn. 46)
In 1086 Eudo Dapifer held WYBOSTON MANOR, assessed at 6 hides 3 virgates. It had been held during the Confessor's reign by four of his thegns, at liberty to sell to whom they wished. (fn. 47) Like the remainder of Eudo's property, it became attached to the barony of Eaton (q.v.), (fn. 48) though in the 15th and 16th centuries it is described as held of the Crown in chief. (fn. 49) The earliest tenants found of this manor are the Fitz Williams, later barons of Greystock. In 1221 John Fitz William paid £10 into the Exchequer for relief of his lands in Eaton Socon and Sundon. (fn. 50) Ralph Fitz William his descendant, 'baron of Greystock,' who was summoned to Parliament in 1295 as 'Ralph Fitz William,' held by knight service in 1302 and in 1316. (fn. 51) An inquisition was held on his lands in the following year; he then held Wyboston Manor, worth £10 1s. 7¼d. (fn. 52) His son Robert, who was thirty-six years of age and more, survived his father two years, when one-third of the manor passed to his widow Elizabeth in dower, the remainder going to his son and heir Ralph. (fn. 53) He, who assumed the name of 'de Greystock,' and is so named in his writ of summons in 1321, (fn. 54) died in 1323, leaving as heir his infant son William. (fn. 55) William de Greystock made a settlement of the manor on trustees in 1343–4, (fn. 56) and died seised in 1358, when Wyboston was worth £18, (fn. 57) being succeeded by his son and heir Ralph, aged six. One-third was at this time held by William's mother Alice (Audley), who retained it till 1374–5. (fn. 58) Wyboston passed from Ralph Lord Greystock to his son John in 1417. John died in 1436, and Ralph his son succeeded him. (fn. 59) Ralph, last Lord Greystock of this house, died in 1487, when, his son Sir Robert Greystock having predeceased him, Elizabeth daughter of Robert became his heir. (fn. 60) Elizabeth, suo jure Baroness Greystock, who died in 1516, married Thomas Lord Dacre of Gillesland, (fn. 61) and her son William Lord Dacre and Greystock died seised of Wyboston in 1563. (fn. 62) His son Thomas Lord Dacre and Greystock made a settlement of the manor on Lady Mounteagle in 1566, (fn. 63) and died the same year. George, his son, was then five years old; he died three years later, when his sisters Anne, Mary and Elizabeth, all minors, became his co-heirs. (fn. 64) Mary Dacre died in 1578, whilst still a minor and a ward of the queen. (fn. 65) Wyboston passed to Anne, who married Philip Howard Duke of Norfolk, and her grandson William Howard Viscount Stafford made a settlement of the property in 1641. (fn. 66) A further settlement of Wyboston took place in 1656, and was possibly preparatory to an alienation (fn. 67) which appears to have taken place about this time. Early in the next century it passed to the family of Whetham, (fn. 68) of whom Thomas Whetham owned Wyboston Manor in 1748. (fn. 69) One of the same name was a landowner in Eaton Socon at the time of the inclosure of 1795, (fn. 70) and the following year Arthur Whetham was lord of Wyboston Manor.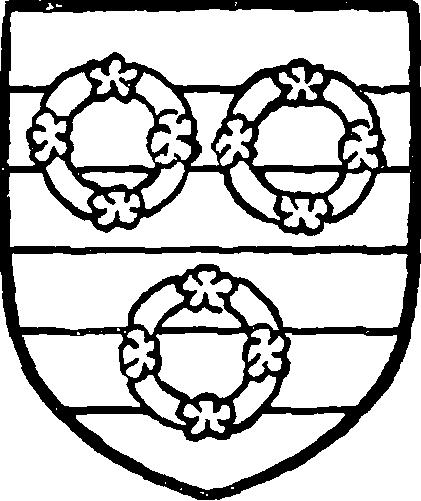 The manor of BASMEY or BASMEAD was held of the barony of Eaton by half a knight's fee. (fn. 71) The last mention of the overlordship has been found in 1613, when it was held of Lord Vaux as of Eaton Manor by fealty and suit of court. (fn. 72) The earliest tenants of this manor were a family called de Bath or de Baa, from whom it derived its distinctive title. As their name indicates, they came from Bath, in Somerset, in which county they owned much property. They owned land in this parish certainly during, if not before, the reign of John, when Reginald de Bath acquired 26 acres of assart from Robert de Meisil. (fn. 73) In 1240, the year in which John de Bury and Hadwisa his wife brought the action against William de Beauchamp, which has been dealt with under Eaton Manor, Osbert de Bath and Agnes de Bath were called to prove their title to 1 carucate of land in Eaton, of which Agnes, probably the mother of Osbert, held 1 carucate in dower. (fn. 74) The manor next passed to Reginald de Bath, who died seised of half a knight's fee in Wyboston in 1254–5. (fn. 75) His son Reginald succeeded him, and was followed some time before 1286 by Osbert, who in that year made a settlement of the manor (here so called for the first time) on the Bishop of Bath and Wells. (fn. 76) He died in 1296, leaving a daughter. Her name is given in the inquisition as Elizabeth, (fn. 77) but it seems as if this might be a mistake, and that her identity is to be sought in the Emma wife of Robert Wauton to whom in the following year were quitclaimed one messuage, 373 acres of land, meadow and wood, and 7 marks rent in Staploe. (fn. 78) Certainly Robert Wauton, described as 'of Basmey,' and his descendants are found holding the manor for the next 150 years. (fn. 79) Robert Wauton was one of the constables of the peace for the county, and in 1308 complained that Alice Le Latimer, Joan Comyn and many others had besieged him in his dwelling at Eaton Beauchamp (sic), neither suffering him to go forth from it nor to discharge his duties as conservator of the peace. They had felled his trees and destroyed his fences, and thrown them, together with hay found in his meadow, into the River Ouse, and had assaulted those of his servants sent to guard the hay and cut the corn. (fn. 80) In 1328 Robert Wauton, together with John de Relegh, acknowledged a debt of 80 marks, to be levied on his goods and chattels. (fn. 81) He appears to have been followed by Thomas de Wauton, who is mentioned in an aid of 1346, (fn. 82) but very little has been found about the family in connexion with their property during the following century. John Wauton was justice of the peace and commissioner of array for the county of Huntingdon (on which Basmey Manor bordered) in 1382. (fn. 83) Thomas Wauton, described as of Eaton, was one of more than 800 men, 'for the most part girt with swords,' who gathered at Bedford in 1439 on the occasion of the assizes. They were said to have uttered contumelious words in the presence of the justices, but received pardon on payment of a fine, because the certificate against them was made 'of mere malice.' (fn. 84) There is a brass in Eaton Church in memory of Ellen Wauton, widow of Thomas Wauton (possibly the above), who died in 1458. (fn. 85)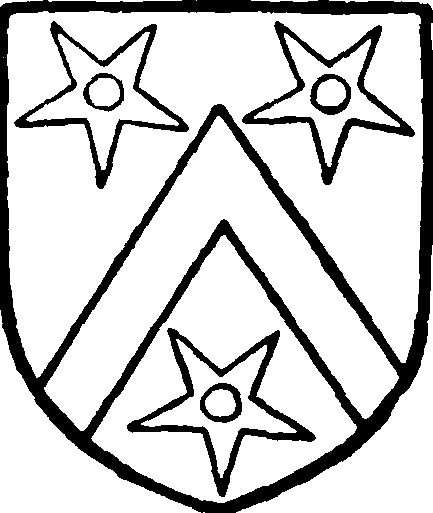 In the beginning of the 16th century one Sir Thomas Wauton died, leaving a widow Anne and two daughters, co-heirs. (fn. 86) The manor thus became divided into moieties, and it will be convenient first to discuss that part which passed to Cicely Wauton, who married Sir Nicholas Luke, whose family has been traced under Cople (q.v.). John, eldest son of Nicholas and Cicely, died seised of half of Basmead in 1566. (fn. 87) In 1581 his son Nicholas Luke of Woodend in Cople and other coppice-owners (not named) had a dispute with William Gery as to the boundary between Basmead and Bushmead, by which it was agreed that the value of wood of the double hedge which separated the two properties if sold was to be shared by the two owners. (fn. 88) Nicholas Luke died in 1613, when his Basmead property was extended at a moiety of five messuages, 618 acres, 35s. 5d. rent and two capons in Basmead, Over and Nether Staploe, Devilhoe, Wyboston, Honydon and Eaton. (fn. 89) Sir Oliver Luke of Woodend, kt., his son made settlements of the manor in 1616, about which time the other moiety appears to have been added to his estate. (fn. 90)
In 1627 Sir John Luke alienated the property to Edmund and Edward Bagshawe, (fn. 91) in whose family it remained till 1665, when Mary Bagshawe, who appears to have been the daughter of Edmund, (fn. 92) with others, conveyed it by fine to Edward Atkins and Anthony Browne. (fn. 93) It passed later to the Danvers family, for a monumental inscription in Eaton Socon Parish Church, dated 1741, bears the name of John Danvers of Basmead, son of Samuel Danvers of Smithland. (fn. 94) One of the same name, possibly a son, suffered a recovery of the manor in 1748. (fn. 95) On his death the property was put up to sale and was purchased by Thomas Smith. (fn. 96) About the middle of the 19th century it was acquired by a family named Squire, whose representative, Miss Squire, owns and resides at Basmead Manor at the present day.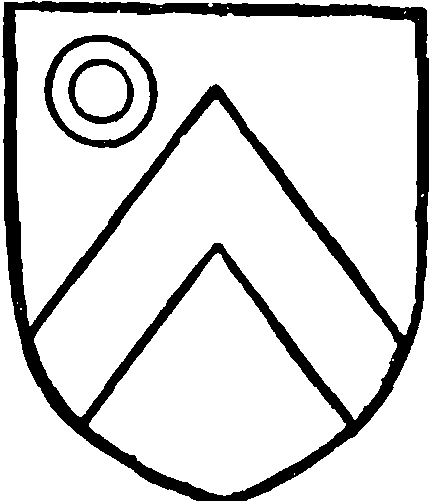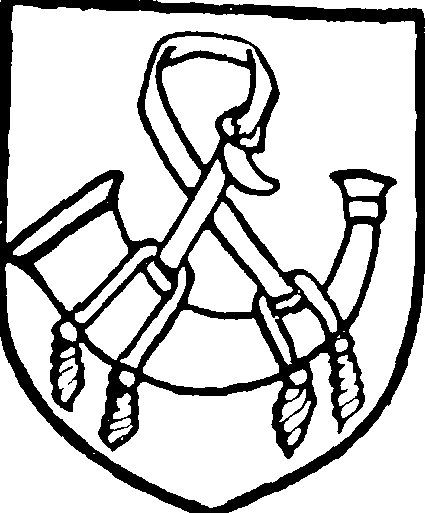 Returning to the other moiety of Basmead Manor, left to the co-heirs of Thomas Wauton in the early 16th century, it is found that c. 1504–15 Thomas Fitz Hugh (who appears to have married Cicely Wauton's sister) owned a messuage with lands called Wautons in Eaton, of which Anne widow of Thomas Wauton had seized the title deeds. (fn. 97) Robert Fitz Hugh, a descendant, died seised in 1609 of a messuage called the Farm House, a cottage and lands in Eaton, Wyboston, Roxton and Shelton. He left two daughters, Anne Cromwell and Mary Astry, and a grandson Robert Saunders as co-heirs. (fn. 98) In the settlement of 1616 the names of George and Lora Astry are coupled with that of Sir Oliver Luke as deforciants, (fn. 99) and in the alienation to the Bagshawes in 1627 Thomas and Mary Saunders appear with Sir John Luke, from which it may be inferred that the whole manor was at this time alienated. (fn. 100)
In 1208–9 Robert de Braybrook received a confirmation from the Crown of lands in Eaton granted to him by Hugh son of Oliver de Beauchamp, (fn. 101) which lands were later known as CADBURY MANOR. This manor was held as of the barony of Eaton (fn. 102) by yearly service of two pairs of gilt spurs, or 12d. and suit of court, no mention of the overlordship being found after its grant to Bushmead in 1380.
Cadbury Manor follows the same descent as Potton Regis (q.v.), passing on the death (c. 1270) of Christine wife of Henry son of Robert Braybrook to her granddaughter Alice Latimer. (fn. 103) In 1286–7 Alice Latimer and William her husband were called upon to justify their claim to view of frankpledge in this manor; he was at the time abroad, and they did not come up for judgement on the day appointed, and the manor was therefore taken into the king's hands. (fn. 104) In 1309 Alice Latimer made a settlement of the manor on herself for life, after which it was to pass to her son Nicholas. (fn. 105) In 1313 the Prior of Bushmead claimed 10 marks damage against Alice Latimer and nineteen others, her tenants, for trespassing; she claimed as justification that she and her tenants of Cadbury had had a right of way through the prior's wood from time immemorial. (fn. 106) There is no evidence that Nicholas succeeded his mother, and Cadbury Manor may have returned to the Braybrook family, (fn. 107) for in 1380 Robert Braybrook, Bishop of London, and Reginald his brother (possibly acting for others) and various trustees alienated the manor to Bushmead Priory. (fn. 108) At the Dissolution 120 acres of woods called Cadbury are mentioned among its possessions, (fn. 109) and passed to the Gery family, following the same descent as Bushmead Priory (q.v.), but no further mention has been found of the manor. Cates Wood still exists in the north of the parish.
A manor known as GOLDINGTON or EATON MANOR appears in the 15th century. Its origin is found in that third of Eaton Manor which on the death of Thomas d'Engayne in 1367 passed to his sister and co-heir Joyce wife of John Goldington of Essex. (fn. 110) In 1370 John and Joyce made a settlement of the third part of the manor on John de Hemmyngford, Nicholas de Styvecle, William de Castelacre, Robert de Huntingdon and Thomas Walton, to hold to them and the heirs of the said Nicholas de Styvecle. (fn. 111) Joan wife of William Colville and widow of John d'Engayne, brother of Joyce, held the whole manor until her death in 1390. Joyce's third was then said to be the right of John de Hemmyngford, William de Castelacre and Robert de Huntingdon, survivors in the above settlement. (fn. 112)
The descent of the manor is lost from this date till 1510, when Sir John Fisher died in possession of it. (fn. 113) His son Michael, who died in 1550, also held Goldington Manor, as it was now called. His granddaughter Agnes, daughter of John Fisher, married Oliver St. John, to whom the manor then passed. (fn. 114) It was retained by the St. John family till early in the 17th century; Oliver Lord St. John held it at his death in 1618. (fn. 115) According to Lysons it next passed to the Gery family, and was sold by them to William Dobbs in 1649. (fn. 116) The same authority states that it was subsequently in the families of Kent, Brewer, Sibley and Waller, (fn. 117) and that in 1782 it was purchased of Joseph Green by John Brickwood, who had again sold it to Mr. Becket, a coachmaker at Huntingdon. (fn. 118) No later mention of the property has been found.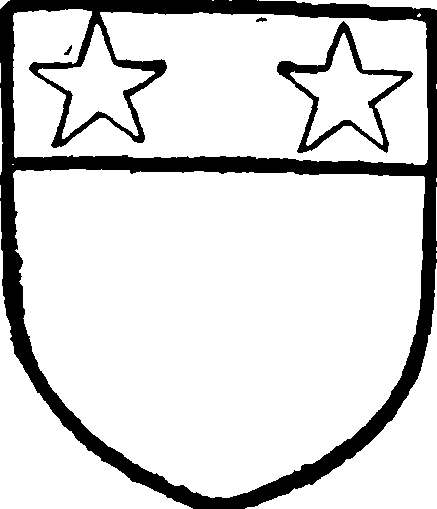 An estate in this parish known as HONYDON or CAMOYS MANOR was held of the barony of Eaton by knight service and suit of court. (fn. 119) The first tenant of whom mention has been found was William de Kirkeby, whose widow Christine held here in 1302–3. (fn. 120) His sister and co-heir Margaret, to whom this manor passed, married John Camoys, member of a well-known Sussex family, (fn. 121) whose descendant Sir Thomas Camoys, kt., in 1389 made a settlement of this manor on Robert Braybrook, Bishop of London, and others. (fn. 122) Sir Thomas died in 1421, when his grandson Hugh, son of Richard Camoys, succeeded to Honydon Manor, then worth £6, with 4s. 8d. rent of free tenants and tenants at will. (fn. 123) Hugh died in 1426, whilst a minor, and his sisters—Margaret wife of Ralph Rademilde and Eleanor wife of Roger Lewknor—became his heirs. (fn. 124) The manor thus became divided into moieties. Dealing first with that portion which passed to Margaret Rademilde, her husband Ralph, who outlived her, is found in possession of her share at his death in 1443. (fn. 125) No mention of Honydon is found in the inquisition taken as to the property of Robert son of Ralph Rademilde, who died in 1456, leaving a son William. (fn. 126) William Rademilde's name occurs as a commissioner of the peace for Sussex between the years 1476 and 1485 (fn. 127); but there is no evidence that he held the Honydon property, whose history at this date becomes confused. In 1476 Robert and John Spence were farming Honydon—then apparently in the hands of the Crown—for 106s. 8d., (fn. 128) and in 1483 a commission was sent to the 'tenaunts of the manoir' to accept J. Whitloke as their lord and to content unto him their dues. (fn. 129) Camoys or Honydon Manor next appears as the property of Avery Michell, who in 1557 leased it for twenty-one years at a rent of £12 to Nicholas Fitz Hugh, who in 1570 brought an action against William Morgan, representing Avery. Nicholas complained that owing to his sickness whilst in Warwickshire there had been some delay in the payments of the rent, and his lease had been transferred to William Gery. (fn. 130) In 1577 John Michell alienated Honydon to Oliver Lord St. John, (fn. 131) who in the same year received the other moiety of the manor, whose history may here be conveniently traced. Eleanor Lewknor's moiety passed to her son Roger, whose two daughters each inherited one-fourth of the manor. Of these daughters one married Sir Arthur Poole. (fn. 132) Lady Joanna Poole suffered a recovery of Honydon in 1557, (fn. 133) and her fourth share appears to have passed to Thomas Foster and others, who in 1576 alienated it to Lord St. John. (fn. 134) Catherine second daughter of Roger Lewknor married John Mill, and her son Lewknor Mill (fn. 135) in 1577 also alienated her share to Oliver Lord St. John, (fn. 136) who had now acquired the complete manor. He did not long retain it, however, but alienated it in 1580 to Thomas Anscell. (fn. 137) About this time the manor was again broken up. Part passed to Oliver Luke of Begwary, as appears from an entry in his will in which he leaves to his wife Frances '10 acres of arable sometimes Camoyes late purchased of Thomas Anscell.' (fn. 138) Francis Dillingham, who died in 1624, also owned parcel of the 'manor or farm' at that date, and in 1638 Richard Gery held a manor called Eaton or Camoys. (fn. 139) Walter Reynolds held tenements in Honydon in 1639, (fn. 140) and it is noteworthy that a family of the same name were landowners in this parish till the latter part of the last century. (fn. 141) In 1731 the Duke of Bedford bought a farm in Honydon from James Grassineau for £1,500, and in 1777 another farm of 118 acres in the same hamlet from Foster and Rycroft. (fn. 142) George Thompson was plaintiff and Ann Glassbrook deforciant in a fine levied of the manor of Honydon alias Camoys in 1784, whilst Lysons, writing some twenty years later, says that a manor adjoining Bushmead 'called Kingswood or Chamois Park' was then the property of James Dyson. (fn. 143) At the present day there are several farms in Upper and Lower Honydon, but all traces of a manor (save the name) probably disappeared in the 17th century.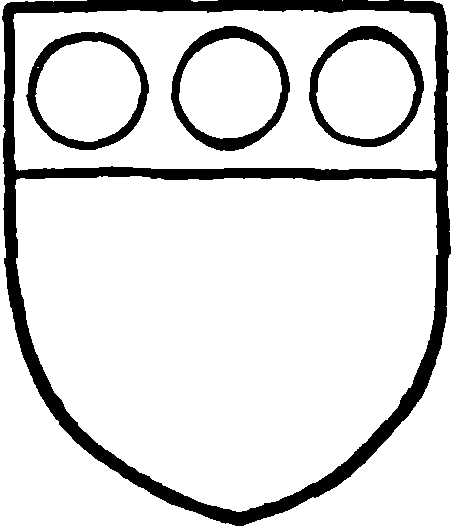 The Countess Judith owned 2 hides 3 virgates of land in Barford Hundred, with which has been identified SUDBURY MANOR, the only place in this hundred found later as held of her honour of Huntingdon. (fn. 144) The overlordship was attached to that branch of the honour which passed to Robert Bruce and later to the Crown; the tenants held by service of half a knight's fee and monthly suit at the court of the honour. The last mention of the overlordship is found in 1461. (fn. 145)
The Domesday tenant was Osbern, who had succeeded Ulfech, a steersman of King Edward (fn. 146); he seems to have been followed at some time in the following century by a family who took the name of de Sudbury or Subiry from their estate. In 1214 Earl David, representing the honour of Huntingdon, received a quitclaim from Wischard Ledit of all right in the lands and services of Roger de Sudbury. (fn. 147) Next mention of the family has been found in 1286–7, when William son of William de Sudbury claimed view of frankpledge and freedom from the hundred and county court in his manor of Sudbury as of right immemorial. (fn. 148) At this time William le Moyne and Juliana his wife held Sudbury in dower. William de Sudbury died before 1302–3, at which date Margery his widow and Juliana, also a widow, were assessed at half a fee. (fn. 149) Margery died in 1315, leaving a son John to inherit the manor. (fn. 150) His name appears in 1316 under Sudbury 'villata,' (fn. 151) and in 1318 as holding a moiety of a fee, value 40s., of the honour of Huntingdon. (fn. 152) In 1324, together with his wife Joan, he made a settlement of the manor, (fn. 153) and was summoned in 1330 to prove his right to a view; he did not appear in answer to the summons, and the liberties were taken into the king's hands, being restored on payment of a fine. (fn. 154) John de Sudbury died in 1333–4 (fn. 155) and his wife Joan in the following year. The estate at this time included a capital messuage, a broken-down dove-cot, a garden, 200 acres of arable land, 6 acres of meadow and 20 acres of wood. The rents of free tenants amounted to 36s., and there were 3 lb. of pepper rents. The manor also included an island in the Ouse containing half an acre, from which the reeds were cut at the Feast of the Purification, and were worth yearly 2s. (fn. 156) William de Sudbury was their son and heir. He was assessed for a feudal aid in 1346, (fn. 157) and died in 1348, leaving William, a child of thirteen, to succeed him. (fn. 158) Katherine his widow had the custody of the manor in 1351, (fn. 159) but an alienation took place before 1376, when the manor was conveyed by Thomas Ruggerwyk and Margery his wife to John Ragon, kt., and others. (fn. 160) This family (who held in Bromham, q.v.) held the manor till 1442, when Elizabeth widow of Reginald Ragon granted it to Thomas Aydrop. (fn. 161) It next passed to John Fray, Chief Baron of the Exchequer, who died seised in 1461. (fn. 162) Of his four daughters, Katherine wife of Humphrey Stafford acquired Sudbury Manor. She died in 1482, leaving an infant son Humphrey. (fn. 163) In 1555, together with Elizabeth his wife, he made a settlement of Sudbury on Sir William Stafford, kt., possibly his son. (fn. 164) Sir William Stafford died in 1606, and the inquisition then taken refers to his son and heir William, aged two and three-quarter years, his daughters Bridget, Elizabeth and Mary, for whom portions had to be raised, and his brothers John, Walter and Anthony. (fn. 165) Shortly after his death the manor passed to Charles Bolle, who settled it by fine in 1616, (fn. 166) preparatory to a sale to Roland Squire, who owned at his death in 1644 'parcel of the manor of Sudbury, or lez Sudbury grounds, late the possession of Humphrey Stafford,' and a free fishery bought in 1617 from Sir Charles Bolle, kt., and Richard Cracroft. (fn. 167) It thus became attached to and absorbed in the principal manor of Eaton Socon (q.v.), and henceforward follows the same descent. No further reference to its name has been found.
Under the lands of Nigel de Albini there appear at the Survey 9 hides 1 virgate which Pirot held of the king, (fn. 168) part of which appears later as SOKES MANOR or LAURENCE PLACE. Pirot held this fee of the king at Domesday, and the property is later described as held of the Pirot fee, no reference to the overlordship being found later than 1428. (fn. 169)
In the time of the Confessor twelve sokemen had held Pirot's property, with liberty to sell, and a family called le Sok continued to hold this fraction, probably from Domesday, though evidence of them has not been found before the reign of King John. Thus the charter of confirmation granted by that king to Robert Braybrook mentions the gift of William son of William le Sok of 10 acres of land in Wyboston. (fn. 170) The name of Roger le Sok occurs in a fine of 1262, (fn. 171) whilst Godfrey le Sok held a fee here in 1302–3, (fn. 172) and in 1316 William le Sok. (fn. 173) In 1330 the latter, or one of his name, claimed to have exercised view of frankpledge in his manor of Wyboston from time immemorial. (fn. 174) In 1338 William le Sok and his sons John and Simon, with many others belonging to Eaton, were accused of interfering with Robert de Redeware in the discharge of his duty of arresting William de Wymyngton. They had killed four horses, valued at £60, and rescued William from the hands of justice. (fn. 175) William le Sok's name occurs in 1346, (fn. 176) but no further mention has been found of the family, and in 1428 the assessors for an aid declare that it was not then known who held William le Sok's fee. (fn. 177) This property reappears in 1617 as 'Sokes Manor,' and was then conveyed by Anthony Garnons and Christina his wife (fn. 178) and other members of the family to Edmund Moore. (fn. 179) He alienated it in 1619 to Sir Thomas Penruddocke, kt., and others, (fn. 180) and between this date and 1641 it became the property of William Howard Viscount Stafford lord of Wyboston Manor (fn. 181) (q.v.), with which its history is henceforward identical, separate mention of it occurring in 1796. (fn. 182)
There are traces of another WYBOSTON MANOR, which appears to have originated in part of the 9 hides and 1 virgate held by Pirot at Domesday. (fn. 183) It was held by the Karun family, of whom Walter conveyed half a virgate in Eaton to Robert Cokrel in 1236. (fn. 184) In 1262 Roger le Sok acknowledged the right of Walter Karun to part of half a knight's fee in Wyboston. (fn. 185) Another Walter Karun held one fee with Godfrey le Sok of Ralph Pirot in 1302–3. (fn. 186) Between 1316 and 1330 Walter Karun enfeoffed Roger de Beauchamp of this property. From him it passed to John de Beauchamp, who appears to have represented a younger branch of the family, and who at this date claimed view of frankpledge here, as having been held from time immemorial by the ancestors of Walter Karun. (fn. 187) The name of 'John de Beauchamp of Wyboldeston' occurs in a charge of riot in 1338, (fn. 188) and in 1384–5 John de Beauchamp, his descendant, alienated lands in Wyboston, Chalston and Eaton to Richard Belgrave and Margaret his wife, (fn. 189) but no further trace of this manor has been found.
The estate known as BEGWARY or BEGGARY or GOODWICH MANOR was held of the Prior of St. Neots by homage and service of 20s. (fn. 190) It doubtless originated in the 2 hides and half a virgate of land with woodland for 100 swine which the monks of St. Neots held at Domesday of Richard son of Count Gilbert. (fn. 191) The manor acquired its first name from a hamlet which still exists, and of which mention is found in 1240 (fn. 192); Goodwich is also called a hamlet in 1276, (fn. 193) and at the present day a farm of this name is adjacent to Beggary.
A family who took the name of de Beggary were resident here in the 13th and 14th centuries, for in 1317 Joan widow of Richard son of Roger de Beggary confirmed lands in Eaton to Richard de Braybrook, (fn. 194) but there is no evidence to connect them with the family of Fitz Hugh, the first tenants of Beggary Manor.
In 1374 an inquisition was held as to the property (here described as a messuage, with 100 acres of land in 'la Beggerye') formerly held by William Fitz Hugh. His son John, to whom William had granted them by charter, had been murdered about this time by his wife Elizabeth, and on account of her felony the lands were taken into the king's hands. (fn. 195) It was found by this inquisition and a similar one held in 1383 that the right heir was Richard son of William Fitz Hugh. (fn. 196) Very little information is available with regard to this family, but they evidently continued to hold Beggary for the next century and a half, for in 1568 Richard Fitz Hugh suffered a recovery of the manor. (fn. 197) One of the same name was vouchee in a recovery of 1574, which appears to have involved a transfer to Walter Luke, who belonged to a branch of the Cople family. (fn. 198) Walter Luke of 'Begwary' died in 1613, and Nicholas, probably his son, (fn. 199) made a settlement of Beggary in 1619. (fn. 200) He died in 1622 seised of 'a tenement' in Beggary, and was followed by another Nicholas Luke, (fn. 201) who made settlements in 1624 and 1628. (fn. 202) Ten years later Richard Fitz Hugh, son and heir of Richard who made the settlement of 1574, acknowledged the right of William Luke to this manor. (fn. 203) It seems possible that this property, of which no further mention as a manor has been found, passed to the Stockers, a family for some generations resident in the parish. (fn. 204) Richard Stocker, described as of Beggary, died in 1656, (fn. 205) and Oliver Stocker in 1667. (fn. 206) Lysons says that the manor had long belonged to Thomas Whetham, lord of Wyboston Manor (q.v.), and its site is probably marked by 'Begwary Farm,' in existence at the present day. (fn. 207)
The Augustinian priory of Bushmead, later known as BUSHMEAD MANOR, was founded by Hugh de Beauchamp of Eaton ante 1187, in which year he met his death whilst on crusade. (fn. 208) He endowed the canons with the site of the priory, with certain rights of wood and pasture and with the tithes of his park of Eaton. (fn. 209) This endowment was supplemented by private grants in this parish and elsewhere during the following century, and in 1291 the prior was assessed at £6 2s. 10d. for lands in Eaton alone. (fn. 210) In 1302 he held one-fortieth of a knight's fee here of the Eaton barony, (fn. 211) and in 1330 claimed view of frankpledge from all his tenants in Eaton as of right immemorial. (fn. 212) Between 1350 and 1364 various parcels of land were added to the possessions of the priory, (fn. 213) and in 1380 the important manor of Cadbury (q.v.) was acquired. At the Dissolution the value of the priory lands in Eaton and its outlying districts of Staploe, Devilhoe and Honydon was £14 2s. 8½d. (fn. 214) The priory and its lands then became Crown possessions, and, as appears from a letter written by Sir Francis Bryan to Cromwell in 1537, were at first granted to Sir John St. John. Writing on behalf of Sir John, 'a man of gentle nature,' Sir Francis says: 'When the king was last at Ampthill he gave Sir John Sant Johne the abbey of Bushmead in farm because he had £8 a year within the same, and it lay so near his house that if he should be driven to remove he could find no place so meet. I am sure his name was entered in the book, but I hear Mr. Gasgyne (fn. 215) labours for the same in recompense of the land he exchanged with the king.' (fn. 216) In spite of the appeal to Cromwell the exchange with Sir William Gascoigne was confirmed by letters patent in the same year, and he received the Bushmead property, which included:—
The house and site of the late priory of Bushmead and all houses, &c., within the inclosure and circuit of the said priory; and all lands . . . viz. a field called Plasworth field, containing 300 acres; two meadows of 3 acres; a pasture with a pond, 3 acres; a pasture called Milgelde, 100 acres; pasture called Patsall lease, 8 acres; closes of Great Catburie, Little Catburie and Cootes, containing 40 acres; a close called Dovehouse Close, containing 40 acres; a field of 80 acres, called le Wyndmylfeld; 30 acres of land lying near with a windmill; also the church, steeple and churchyard of the priory. (fn. 217)
The Gascoignes did not long retain Bushmead. In 1545 Sir John Gascoigne son of Sir William made a settlement on Anthony Cokett, (fn. 218) and in 1562 alienated the property to William Gery. (fn. 219) William son of William Gery succeeded his father, and held Bushmead till his own death in 1596. (fn. 220) His son Richard, who was then under age, became Gentleman of the Privy Chamber to James I, and later to Charles I. He was a staunch adherent of the latter, and when Sheriff of Bedfordshire in 1636 is found writing to the Privy Council with regard to ship-money. 'My predecessor having gathered up what was willingly paid, the residue left to collect has to be compelled, or is not to be had, making it a work of time and difficulty. I will not be wanting in my utmost endeavours to expedite the service.' (fn. 221) Richard Gery died apparently before 1647, in which year his son William, also an ardent Royalist, compounded for delinquency in arms and was fined onesixth of his estate, valued at £740. (fn. 222) He died before the Restoration, and his son William, who for his adherence to the Royalist cause was 'himself plundered to his shirt,' retired abroad, meeting the exiled king at Breda. (fn. 223) On the accession of Charles II both William Gery and his sister Anne are found petitioning for appointments under the new régime. She, whose married name was Dartiguenave, asked on behalf of her husband in 1660 for the clerkship of the Bills for Customs in the port of London, and in 1662 for the post of Dresser to the queen for herself. (fn. 224) She complained that, owing to the devotion of her family, who had lost £12,000 in all, she was 'left to inherit nothing but sadness.'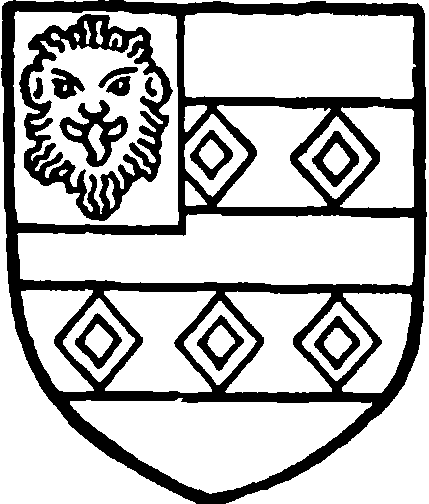 William Gery asked for a commissionership as a reward for his services in the royal cause, (fn. 225) and though it does not appear whether he was successful in obtaining this appointment, his circumstances improved sufficiently to allow of his return to the family seat at Bushmead; for in 1675, when he married Katherine widow of Richard Taylor, the marriage licence states that the ceremony was to be performed in the parish church at Eaton Socon, or his chapel at Bushmead. (fn. 226) He died before 1688, when Charles Gery suffered a recovery of the manor. (fn. 227) In 1738 William Gery held the property, (fn. 228) and one of the same name who possessed Bushmead in 1788 (fn. 229) was possibly his son. Hester, third daughter and co-heir of this last-named William Gery, married in 1792 the Rev. Hugh Wade, rector of Thurning, who on his marriage assumed the additional surname and arms of Gery, (fn. 230) and who on the death of his father-in-law bought up the portions of his sisters-in-law in accordance with their father's will, (fn. 231) Bushmead Priory remaining henceforth with Hester and her heirs. William Hugh Wade-Gery, her son, succeeded his father in 1832. He died in 1870, and his son Mr. William Hugh Wade-Gery is the present representative of the family and owner of Bushmead Priory.
The remains of Bushmead Priory consist of the refectory—a rectangular building ranging east and west, which is now part of a comparatively modern house. It is built of cobble-stones, and at the east end is the label of a 13th-century window, now replaced by a 15th-century window with three cinquefoiled lights and tracery; the tracery is now blocked and a door inserted underneath. At each side is a 13th-century buttress of one stage. On the north side is a blocked window of three trefoiled lights, with early trefoiled cusping under a square head, and there is a rear arch with jamb shafts and capitals of the end of the 13th-century. There is a 13th-century doorway on the south side, with moulded jambs and a detached shaft, each side having moulded capitals; the arch is pointed and has an inner order cinquefoiled at the crown. The refectory was turned into a dwelling-house in the 16th century, an intermediate floor being built to convert it into two stories, which are lighted by mullioned windows. There is also a blocked doorway of the same date in the south wall of the upper story.
The roof is of the 15th century, with a moulded wall-plate and trusses, having octagonal king-posts with moulded capitals and bases, and struts supporting a centre-piece. The ends of the rafters are triangulated.
There are some fragments of old glass in the south-west window, including a coat Azure, on a pale raguly a lion rampant or.
The Knights Hospitallers owned an estate known as EATON MANOR, as well as the advowson of Eaton Socon. Though not mentioned in the confirmatory charter of Richard de Clare to their preceptory at Melchbourne, it is possible that the Hospitallers may have acquired their rights from the Clares, who had an interest in this parish. (fn. 232) The first mention that has been found of their lands is in 1218, when Amicia, daughter of William the Miller, acknowledged their right to a virgate of land in Eaton. (fn. 233) In 1286 the prior claimed view of frankpledge from his tenants, (fn. 234) and again in 1330, at which date his manor extended into Wyboston, Beggary, Honydon, Staploe, Devilhoe and Ford. (fn. 235) In 1338 the manor included a dwelling-place with garden, two dove-cotes, 140 acres of land worth 12d. an acre, 10 acres of meadow, 16 acres of pasture. The pleas of court amounted to 20s., and the rents of assizes to 10 marks. Together with the church the entire value of the property was 116 marks, 5s. 7d., whilst the outgoing expenses, including the expenses of the bailiff and his family, were 30 marks, 5s. 8d. (fn. 236) At the dissolution of the religious houses this manor became Crown property, and was granted in 1562 to Thomas Beverley and his heirs, to be held as of the manor of East Greenwich. (fn. 237) Thomas died without issue, and Eaton Manor passed to his great-nephew, William Beverley, (fn. 238) who died in 1605, when his daughter and heir Elizabeth was aged five years. (fn. 239) She married Sir Henry Moore, created a baronet in 1627, (fn. 240) and, together with her husband, alienated the manor to Richard Gery in 1629. (fn. 241) It was retained by the Gery family till 1640, when William Gery and others conveyed it by fine to Gaius Squire, (fn. 242) who owned the principal manor of Eaton, with which its history is henceforward identical.
A spurious manor, called WALES MANOR, is found in Eaton during the 17th and 18th centuries. (fn. 243) It first appears in 1618, when John and Paul Luke conveyed it by fine to Henry Lyde. (fn. 244) He died in 1641 seised of four messuages, three cottages and lands in Wyboston, Eaton Socon and Roxton; his heir was his son Henry, aged thirty-eight and more. (fn. 245) By 1653 Wales Manor had become the property of Anthony Cogan and Anne Posthuma his wife. (fn. 246) She was still surviving in 1696, when together with Ann, Katherine and Sara Cogan, spinsters, and Francis Needham and Mary his wife, she made a settlement of the manor on Thomas Brooke. (fn. 247) Six years later it had again changed hands, Thomas Drake and Elizabeth his wife, Henry Rogers and Alice his wife, and Samuel Scott and Elizabeth then conveying to Allan Reynardson. (fn. 248) It appears in 1728 as the property of John Godfrey and Mary his wife, who may have been the daughter of Allan Reynardson. (fn. 249) In 1769 she, then a widow, William Theed and Elizabeth his wife held the manor, (fn. 250) which was retained by the Theed family till the close of the century, last mention of it being found in 1796, when William and Henry Theed suffered a recovery of Wales Manor. (fn. 251)
Part of Nigel Albini's land in Wyboston, held at Domesday by Pirot, passed later to the Braybrookes, and appears to have been attached to their adjacent manor of Colmworth (fn. 252) (q.v.). Joan de Braybrooke and John de Longueville held half a fee here in 1302, (fn. 253) and Gerard de Braybrooke claimed view of frankpledge in 1330. (fn. 254) The last mention is found of the Braybrookes' interest in 1428. (fn. 255)
Azelina, the wife of Ralph Tallebosc, held 5½ virgates in Wyboston in 1086, (fn. 256) and Hugh de Beauchamp held half a virgate. (fn. 257) These lands became attached to the barony of Bedford, (fn. 258) and were held in the 13th and 14th centuries by a family called Stagsden. (fn. 259)
Ramsey Abbey held 1½ virgates in Wyboston in 1086, having as tenant Eudo Dapifer. (fn. 260) No mention has been found of the abbey in connexion with this parish.
Eaton Socon, as its name implies, was a soke or liberty in the 13th century, which was free of suit at the hundred court of Barford Hundred. In 1247, on the occasion of a trial concerning the murder of a man at Eaton, the plea was brought forward that Eaton, as a soke, did not share in the jurisdiction of the hundred. (fn. 261) In 1287 Ralph de Beauchamp had the right of holding view of frankpledge twice yearly, without the presence of the king's bailiff except in cases of robbery. (fn. 262) Wyboston, whose lord owed suit to the hundred court in 1330, (fn. 263) does not appear to have been included within the soke.
Eaton Manor had two water-mills at Domesday, worth 100s. in 1358. (fn. 264) Three water-mills are mentioned in an extent of 1485, (fn. 265) and four in 1625. (fn. 266) A free fishery, view of frankpledge and free warren were also parcel of this manor.
In 1330 Roger de Beauchamp claimed a weekly market on Wednesday, and also a three-day fair on the feast of St. Peter and St. Paul, by a charter of Henry III to William de Beauchamp. When called up for judgement, however, he declared that both market and fair had been discontinued because none came to buy. (fn. 267)
The Earl of Arundel received a grant of free warren in 1617 in his manor of Wyboston, (fn. 268) to which was also attached a free fishery. (fn. 269)
Bushmead Priory had a windmill in the 16th and 17th centuries. (fn. 270)
In a charter of confirmation of Richard I to St. John's, Colchester, founded by Eudo Dapifer, (fn. 271) mention is found of a grant by him of half the tithes of Eaton, the tithes of the mills and pannage. (fn. 272) It appears to have been commuted, for no further mention of it has been found.
CHURCH
The church of ST. MARY THE VIRGIN consists of a chancel 38 ft. 3 in. by 18 ft. 9 in., a nave 77 ft. by 18 ft. 6 in., with north and south aisles 15 ft. 10 in. wide and a western tower 14 ft. 10 in. by 15 ft. 1 in.
The church appears to have been built almost as it now stands about the beginning of the 15th century, but with re-use of older nave arcades, the arches of which, except those of the east bay on each side, are early 14th-century work, while the columns, with their capitals and bases, are 15th-century work. The chancel arch and those in the east bay of the arcades are in larger stones than the rest, and are probably of the 15th-century date, and the nave may have been lengthened a bay eastward at that time. Other evidences of older work are the south door of the nave, with an early 14th-century head, the 12th-century font, and the west window of the south aisle, which is of 14th-century style and probably a copy of an older one.
The walls of the church are built of cobble-stones with a good deal of squared ironstone in the tower, and all are finished with embattled parapets, which have been restored. The east window of the chancel consists of five cinquefoiled lights, with good 15th-century tracery under a two-centred arch. At the east angles of the chancel are diagonal buttresses in two stages with projecting gargoyles; to the north is the vestry, also dating from the 15th century, but somewhat later than the chancel, with an original lean-to roof. A chamfered doorway with a four-centred head leads into it from the chancel, and a little to the west, higher up in the wall, is another doorway, opening towards the church, as to a gallery. In the east wall of the vestry is a window with modern tracery of two trefoiled lights in two chamfered orders, the inner being hollow, and in the north wall is a small doorway with moulded jambs and a four-centred head. In the south wall of the chancel is a doorway with a four-centred head like the outer doorway of the vestry, and on each side of it is a window of three cinquefoiled lights, with details like those of the east window, the mullions having been restored; below the sill of the south-east window is cinquefoiled stone panelling for sedilia and to the east a cinquefoiled piscina-recess under a square head. The chancel arch is in two wave-moulded orders, resting on capitals having rather shallow mouldings. The roof, which is in four bays, has old main timbers, filled in with modern panels.
An organ transept has recently been built out on the north-east, and the window formerly in the chancel wall moved out to the north wall of the transept.
The nave arcades are alike and are in five bays, with arches of two orders, the inner wave-moulded and the outer chamfered, springing from octagonal pillars with moulded capitals and bases; they have plain labels stopped on grotesque heads. In the east respond of the north arcade is a doorway to the roodloft; and there are six two-light clearstory windows on each side equally spaced without regard to the nave arcades; they have cinquefoiled lights and tracery under a four-centred head. The roof, which is low pitched and in six bays, is plain and in part old, but repainted, the east bay being ceiled and more elaborately coloured.
In the east end of the north aisle opening into the organ chamber there is a four-light window with mullions and tracery, but no glass, under a four-centred head. In the north wall are a small 15th-century doorway in the east bay, with moulded jambs and four-centred head, like the small priest's doorway in the south wall of the chancel, and four windows of four cinquefoiled lights, exactly like that into the organ chamber just described, except that the most easterly of the four has its jambs moulded on the outside instead of the inside. The north doorway, which is between the western pair of windows, has a two-centred head and continuous mouldings, with a label stopped on grotesque heads; to the east of the door is a stoup in a recess with a four-centred head. On a square buttress, at the north-west of the aisle, is inscribed, 'Neare this place lyeth the body of Jeams, the Sonn of Jeams Topham, who was buryed the 17 day of January 1684.' In the west wall is a window of three cinquefoiled lights, in two chamfered orders separated by a casement, under a flat four-centred head, to the soffit of which the mullions are carried up.
In the east wall of the south aisle is a window of four cinquefoiled lights, like the north-east window of the north aisle, with the jamb mouldings on the outside. The east window in the south wall is similar to those on the south side of the chancel, but has four cinquefoiled lights instead of three. There is a piscina with a four-centred head and two windows of four cinquefoiled lights like those in the north aisles. The south porch is modern and has a window of two cinquefoiled lights under a four-centred head in each side; the inner doorway has a pointed head of early 14th-century date in two moulded orders separated by a hollow, and modern jambs. To the west of the porch is a window like the last. In the west end of this aisle is a modern window of three trefoiled lights in two chamfered orders, with quatrefoiled net tracery under a pointed head and moulded label. The north aisle roof has very fine pierced tracery in the spandrels; the south aisle is of the same character, and has the arms of France and England on a boss in the east bay.
The west tower is built in five stages with a moulded plinth, the walls being of cobble-stones with bonding courses of squared stone; there are two square buttresses in six stages at each angle; on the north side in the middle stage is a small chamfered trefoiled light under a square head and label, and a similar one in the stage above with no label, and one like it in the same stage on the east side. In each top stage are pairs of two-light windows. Beneath the parapet is a string with carved ornament and a gargoyle in the centre of each face. The west door is in two continuous moulded orders separated by a hollow with a pointed head and label stopped on heads. The door has good modern scroll hinges. In the stage above is a window of three cinquefoiled lights in two chamfered orders with a pointed head and label containing 15th-century tracery; and over it are three trefoiled niches, the two outer having crocketed ogee-shaped heads and the centre a plain gablet. Over them again is a square window, set diagonally and containing quatrefoiled tracery with a moulded frame. The south side is like the north, but there is a chamfered door with a four-centred head to the stairs, and the upper niche has an ogee-shaped label. The tower arch is in three chamfered orders, with shallow moulded capitals to the two inner; there is an internal door to the stairs, with a pointed head and label, which has been blocked up.
The font has a square bowl of Purbeck marble, dating from about the middle of the 12th century, ornamented with carved intersecting arcading on a modern base, consisting of a pedestal and shafts. There is a restored rood-screen in three bays, with 15th-century tracery in the heads and cusped panelling below with carved spandrels, capped by an embattled cornice, ornamented with square flowers; round the head of the doorway is a row of pierced quatrefoils, but an inner order appears to have been broken away, the jambs have attached shafts with moulded capitals and bases. Some of the bench-ends in the aisles date from the 15th century, and have fine large poppy-heads with a number of different beasts, &c.
In the chancel floor is a stone, from which three brasses have been removed; two remain, small figures of two girls and a small shield with the arms a cheveron between three bugle horns with a crescent in chief for difference, impaling quarterly with a label of three points. In the nave floor is a stone slab with a brass figure of a woman; a second figure and an inscription are missing. In the north aisle is the brass of a civilian and his wife, c. 1450, with scrolls inscribed 'Qui venturus es judicare Dne dona nobis requiem sempiternam.' There are three other slabs with brasses missing. In the south-west respond of the nave arcade is a brass tablet to Mrs. Elizabeth Brakin, 1655, and in the west respond opposite is a brass plate inscribed with 'Hic jacet dna Elena Wawton quondam uxor dñi Thome Wawton militis, que obiit V° die mens ffebruarii a° dni milmo CCCCLVIII cujus anime propicietur deus, amen.'
There are six bells, the first by Jo. Eayre of St. Neots, 1740; the second by Miles Graye, 1654; the third of 1832, by Wm. Dobson; the fourth of 1607, inscribed 'Sum rosa pulsata mundi Maria vocata'; the fifth by Thos. Russell of Wootton, 1741; and the sixth by Thomas Newman, 1705.
The plate consists of a communion cup marked Eatonsocon, and cover paten of the 17th century (?); another larger cup with cover paten, the cup being inscribed 'Anno Domi 1609 John Goodman and Hughe Dixse Churchwardens of the parishe of Eaton in Com Bedfford.' On the lid is I.G. HD 1609. There is also a paten of 1635.
The registers previous to 1813 are as follows:— (1) all entries, 1566 to 1645; (2) the same, 1645 to 1703; (3) the same, 1704 to 1760; (4) marriages 1754 to 1788; (5) baptisms and burials 1760 to 1812; (6) baptisms and burials 1773 to 1803; (7) marriages 1788 to 1812.
ADVOWSON
The advowson of the church of Eaton was given to the Knights Hospitallers by the Beauchamps, which gift was acknowledged in a fine of 1219 between Hugh de Alneto, prior of the order, and Roger de Beauchamp. (fn. 273) In 1283 Ralph de Beauchamp confirmed the gift of his predecessors, on which occasion the prior is said to have paid £100 in silver. (fn. 274) A vicarage was ordained some time before 1291, when the vicarage was assessed at £4 6s. 8d. (fn. 275) After the Dissolution the advowson of the vicarage was acquired by William Vaux Lord Harrowden, who was lord of Eaton Manor, and who was in possession in 1556. (fn. 276) The right of alternate presentation was reserved by the Crown and granted with Eaton rectory (q.v.) in 1608 (fn. 277) and follows the same descent. The right of presentation vested in Lord Vaux was attached to Eaton Manor (q.v.) until between the years 1839 and 1847 it was alienated to Thomas Atkinson, who presented at the latter date. By 1864 it had passed to the Rev. Edward Horley, who was both patron and vicar.
The rectory of Eaton was retained by the Crown until 1576, when it was granted by patent to Thomas Beverley. (fn. 278) This grant was confirmed to him for three lives in 1593, (fn. 279) and a further confirmation made to James Beverley in 1601. (fn. 280) In 1608 Francis Philipps and Richard More were grantees, (fn. 281) and three years later Sir Thomas Lake received a permanent grant. (fn. 282) Sir Thomas Lake, kt., and Sir Henry Yelverton, attorney-general, acting on behalf of the king, were deforciants in a settlement of the rectory in 1619. (fn. 283) Sir Thomas Lake died in 1629. (fn. 284) His son Sir Thomas Lake suffered a recovery of the rectory in 1634, (fn. 285) which he alienated in 1645 to Ralph Whitfield and others. (fn. 286) John Bigg owned the rectory in 1673, (fn. 287) and this family held it until 1747, when the Duke of Bedford purchased the rectory with 40 acres of land and cottages from John Bigg for £5,250. (fn. 288)
In the 14th century a gild or fraternity was founded in Eaton Socon Church, dedicated to Corpus Christi, by John d'Engayne. (fn. 289) First mention is found of it in 1353, when Henry Coket, chaplain, and John de Eton, clerk, granted five messuages, 60 acres of land and 1 acre of meadow in this parish to the brethren, who paid 100s. for licence to acquire. The endowment was to provide a chaplain to celebrate service daily in Eaton Church in honour of Corpus Christi, for the soul of the king, his progenitors, his heirs and all benefactors of the gild. (fn. 290) In 1392 the brethren received a confirmation of these grants. It was further granted to them at the same time that they might meet annually on the Sunday after Corpus Christi and elect two masters of the gild to be its governors; that they might increase their numbers at pleasure; that they might acquire lands not held in chief to the yearly value of 5 marks towards the maintenance of a chaplain and the support of other works of piety. (fn. 291) The gild received a further grant in 1413–14, (fn. 292) and c. 1536 the brothers and sisters were declared to have land in Eaton valued at £8 9s. 4d. (fn. 293) At the dissolution of the chantries in the reign of Edward VI the capital messuage or common hall, with kitchen and garden annexed, was in ruins and worth only 2s. (fn. 294) The gild priest Robert Kippest was resident but 'meanly lerned,' and had a stipend of 100s. from the fraternity endowment. (fn. 295) At this time the object of the gild was said to be the providing of a priest, the distribution of money to divers poor folks being brothers and sisters of the gild, and to other 'poore folke' every year upon Sunday after Corpus Christi Day. There were also goods and ornaments worth £6 3s. in the hands of the two masters. (fn. 296) In 1570–1 the site of the brotherhood was granted to Henry Seckford, (fn. 297) and some years later on a twenty-one year lease to William Webster. (fn. 298) Last mention of the fraternity has been found in a grant of 1607 to Sir John Ramsey, kt. (fn. 299)
In 1476 William Stokker, kt., John Stokker, citizen of London, and Henry Stokker, inhabitant of Wyboston, received a licence to found a perpetual chantry of one chaplain to celebrate divine service in a certain chapel dedicated to St. Mary, St. James and St. Christopher which they had recently built. (fn. 300) At the dissolution of the chantries this 'chappel' was worth about £7. It was declared to be in Wyboston, 'a thoroughfare' one mile from the parish church, and to be frequently used in winter by the parishioners of Chawston, who 'by occasion of waters' were unable to get to their own church. The ornaments included 'one chalyce gylte within the cuppe' and a bell. (fn. 301) On the dissolution of the chantries William Smith and Peter Grey received a grant of Wyboston, (fn. 302) but no trace of the ancient chapel exists at the present day.
In 1291 Ralph de Beauchamp granted a messuage, land and rent to a chaplain in St. Mary's Chapel, Eaton. (fn. 303) This grant was enlarged and confirmed by his successor Roger de Beauchamp in 1331, (fn. 304) and again five years later. (fn. 305)
The Beauchamps also appropriated 10 acres of land to the church to provide a lamp burning near the cross in the church. In 1389 the lamp had been in disuse for twenty years, and the profits of the land had been acquired by the Prior of St. John of Jerusalem. (fn. 306) It may possibly have been restored to its original purpose, however, for at the dissolution of the chantries the churchwardens of Eaton received 8s. 10½d. rent from certain lands for the maintenance of divers lights in the church. (fn. 307)
CHARITIES
In 1630 Simon Oldham by will devised an annuity of 10s. charged on an estate at Upper Staploe for distribution among twenty poorest persons on St. Thomas's Day. The charge has been redeemed by the transfer to the official trustees of £16 13s. 4d. consols, now producing 8s. 4d. a year.
The Poor's Land consists of 12 a. 3 r. 36 p. awarded on the inclosure in 1796 in lieu of land formerly purchased with £60 benefaction money and other open field land in Duloe hamlet. The rents amounting to £25 a year were formerly laid out in barley and distributed on the Feast of the Epiphany. The net income is now applied as a contribution of £20 to the coal club and balance to old widows and spinsters and old men in workhouses belonging to the parish.