Pages 336-337
A History of the County of Bedford: Volume 3. Originally published by Victoria County History, London, 1912.
This free content was digitised by double rekeying. All rights reserved.
THE HUNDRED OF MANSHEAD
CONTAINING THE PARISHES OF
ASPLEY GUISE
HOLCOT
SALFORD
BATTLESDEN
HOUGHTON REGIS
STUDHAM
CHALGRAVE with TEBWORTH and WINGFIELD
HUSBORNE CRAWLEY
TILSWORTH
LEIGHTON BUZZARD, with BILLINGTON, EGGINGTON, HEATH and REACH, and STANBRIDGE
TINGRITH
DUNSTABLE
TODDINGTON
EATON BRAY
TOTTERNHOE
EVERSHOLT
WESTONING
HARLINGTON
MILTON BRYANT or BRYAN
WHIPSNADE
HOCKLIFFE
POTSGROVE
WOBURN (fn. 1)
The hundred of Manshead includes the Domesday hundred of Manshead and half-hundred of Stanbridge; the latter is mentioned separately until 1316, after which date it became merged in the larger unit. (fn. 2) In 1086 it comprised the parishes of Eaton Bray, Studham, Tilsworth, Totternhoe and part of Edlesborough now in Buckinghamshire, and was assessed at 60 hides. (fn. 3) Houghton Regis, of which Dunstable was then an integral part, and Sewell, now included in Houghton Regis and Leighton Buzzard, are assessed separately as royal demesne, at 43 hides, although Gladley in Heath and Reach, one of the hamlets of Leighton Buzzard, appears under the hundredal heading. Whipsnade is not mentioned, and Westoning, though assessed in Bedfordshire at 5 hides, is surveyed under Hertfordshire. The hidage of Manshead Hundred, exclusive of Stanbridge Half-Hundred and the royal lands and Westoning, was 115¼ hides. (fn. 4) Several changes have taken place since the returns of 1831. The ecclesiastical parish of Woburn Sands was formed in 1867 out of the civil parish of Aspley Heath and parts of the parishes of Aspley Guise and of Wavendon, Buckinghamshire. By an Order of the Local Government Board dated 30 September 1897 a detached part of Houghton Regis, known as Buckwood Stubbs, was transferred to the new parish of Markyate, Hertfordshire, formerly part of Studham parish, which was at the same date placed wholly in Bedfordshire, while a detached portion of Whipsnade, Ballington Bottom in Hertfordshire, was transferred to Markyate parish. During the last quarter of the 19th century also the hamlets of Leighton Buzzard have been made into separate civil parishes.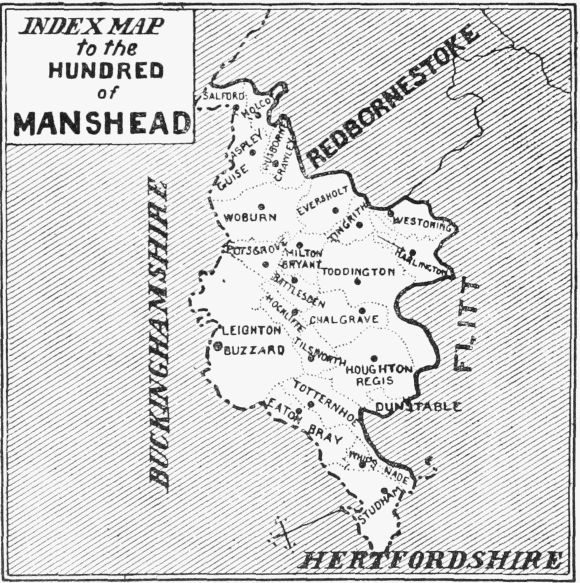 Within the hundred of Manshead were the liberty of Leighton Buzzard, which with its hamlets formed a soke and owed no suit to the hundred court, and the borough of Dunstable, which with its extensive jurisdictional privlleges was completely independent of all hundredal control. Even as late as 1604 the tenants of Leighton Buzzard Manor were exonerated by writ from the taxation which fell on the other towns of the hundred. (fn. 5) All other free tenants were bound to do two suits at the hundred court at the sheriff's tourn, and each vill had to contribute half a mark towards the bailiwick, although in 1276 they complained of being amerced 6 marks. (fn. 6)
In the reign of Edward III the hundred paid £121 2s. 0¾d. towards a general subsidy, (fn. 7) and in 1557 and again in 1604 it was assessed at £107 1s. 10¾d. (fn. 8) In 1612 Edward Lord Bruce received the office of bailiff, (fn. 9) but in 1631 a grant of the hundred for a rent of £8 3s. was made to Thomas Earl of Cleveland, (fn. 10) who forfeited it during the Commonwealth. The total value of the rents called certainty was then £10 18s. 6d., and the profits of the court leet kept half-yearly with a three weeks court, fines and amercements were valued at £8. (fn. 11)