Pages 34-35
A History of the County of Bedford: Volume 3. Originally published by Victoria County History, London, 1912.
This free content was digitised by double rekeying. All rights reserved.
THE HUNDRED OF WILLEY
CONTAINING THE PARISHES OF
BIDDENHAM
ODELL
BLETSOE
PAVENHAM
BROMHAM
PODINGTON with HINWICK
CARLTON
SHARNBROOK
CHELLINGTON
SOULDROP
FARNDISH
STAGSDEN
FELMERSHAM with RADWELL
STEVINGTON
THURLEIGH
HARROLD
TURVEY
WYMINGTON (fn. 1)
The hundred of Willey included, in the Survey of 1086, Carlton, Chellington, Farndish, Felmersham with Radwell, Harrold, Odell, Podington with Hinwick, Sharnbrook, Thurleigh, Turvey and Wymington, assessed at 95 hides and a small fraction short of 3 virgates, of which the value was £80 10s. as opposed to £133 2s. in the days of the Confessor. (fn. 2)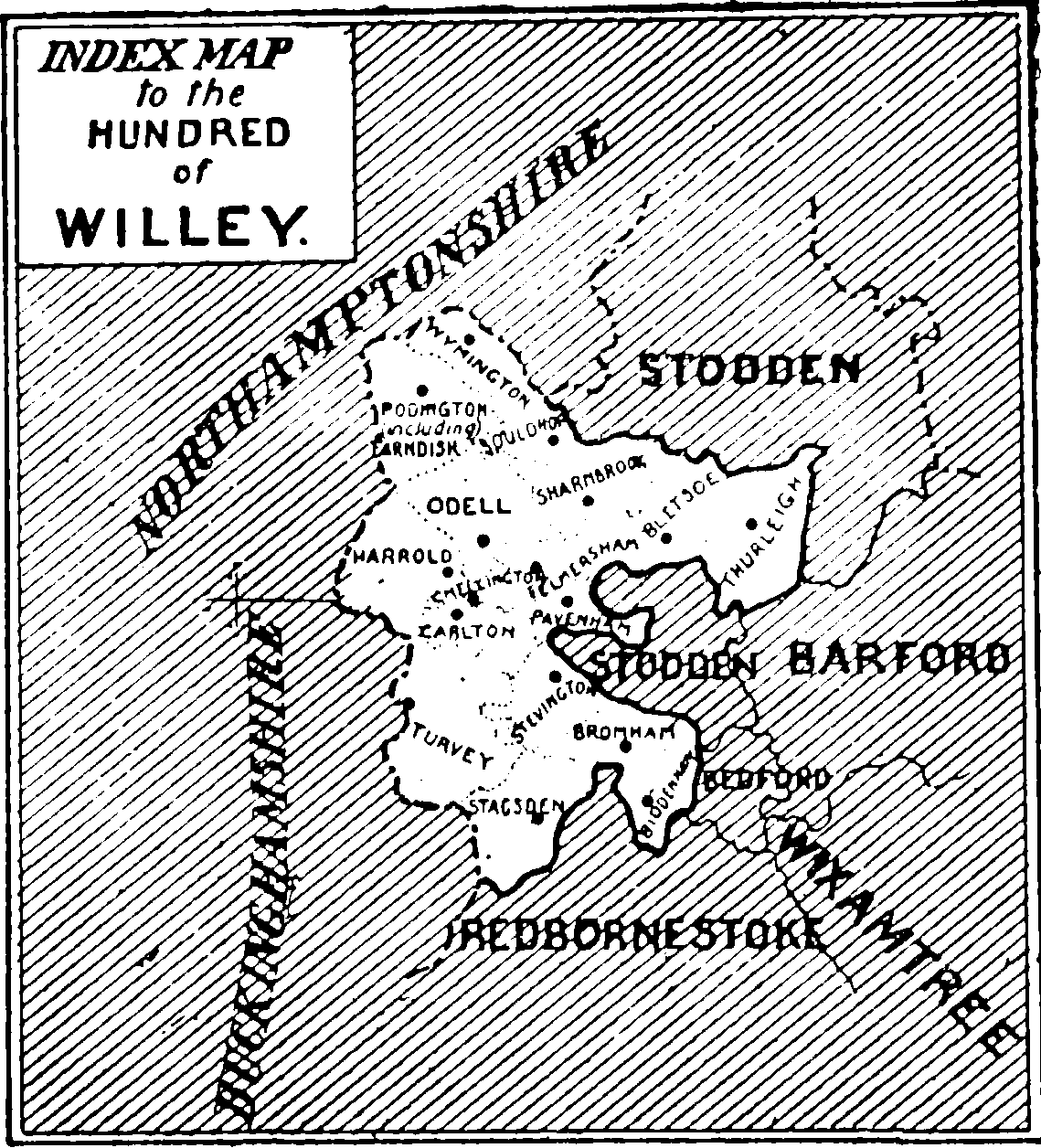 The remaining places, with the exception of Souldrop, which is not mentioned in the Survey, are found in the half-hundred of Bucklow, which also included 12 hides in Goldington and Colmworth (Great Barford Hundred). This half-hundred was assessed in the Survey at 58 hides 2¼ virgates worth in all £69 1s.; here also there was a depreciation in value since the Confessor's reign, when Bucklow was estimated at £91 14s. (fn. 3) Until the 17th century the hundred of Willey and the half-hundred of Bucklow continued to be associated together for administrative purposes, after which Bucklow became absorbed in the larger hundred, and in 1831 the parishes were all grouped under the one heading.
Willey and Bucklow were originally royal hundreds, and in the 13th century the office of 'Keeper of the bailiwick of Wilie and half bailiwick of Bukkelowe' appears to have been hereditary, being held in return for 4 acres of land in Milton and a messuage in the same parish. (fn. 4) It was held by Hugh de Willey until his death in 1278, when his son Roger succeeded him. (fn. 5)
In 1629–30 Onslow Winch obtained a forty years' lease of Willey and Bucklow from the Crown. (fn. 6) Although there were still eighteen years of this lease to run, a parliamentary survey of 1651 states that at that date all the hundredal rights were vested in Oliver Earl of Bolingbroke, (fn. 7) in whose family they continued to remain. Thus in 1755 Lord St. John of Bletsoe suffered a recovery of what is here called—from a natural confusion of idea where the rights had ceased to have much meaning—'the half-hundred of Willey,' (fn. 8) and in 1780 another recovery was made. (fn. 9) It seems probable that these hundreds—to which no rights or profits are now attached, and which are only used as units of local jurisdiction, as, for example, in defining the swine-fever areas—still technically belong to the St. Johns of Bletsoe.
Willey and Bucklow have at different times furnished varying sums towards national aids and subsidies. In 1346, when an aid was levied for knighting the king's eldest son, they, assessed at 15 fees and a fraction, furnished £30 2s. 5d. (fn. 10) In 1517 on the occasion of a subsidy the parishes contained in these hundreds provided £49 17s. (fn. 11) A certificate of a general muster of the county taken by Lord Mordaunt and other commissioners in 1539 states that Willey could furnish 67 archers, 179 billmen and 24 pairs of harness towards national defence. (fn. 12) A general subsidy in 1586–7 produced only £12 1s. 7½d. from Willey and Bucklow, showing a deficit of £62 17s. 4½d. on the official assessment, (fn. 13) whilst in 1638 ship-money, levied on 70 persons in these hundreds, produced £29 14s. 8d. (fn. 14) During the Interregnum a very heavy tax was levied on the county for the maintenance of the forces under Sir Thomas Fairfax, and Willey alone was mulcted of £206 9s. 4d. (fn. 15)
In 1651 a survey was made of Willey and Bucklow, when their value from quit-rents and royalties was declared to be £29 5s. 5d., (fn. 16) the leaseholder paying a rent of £22 6s., whilst possible improvements were estimated at £6 14s. 8d. (fn. 17)
Willey and Bucklow held two courts leet yearly, and also a threeweekly court at which the tenants performed their suit and service to the lord of the hundred. In 1651 these courts were worth £6 yearly, (fn. 18) but have long since fallen into desuetude.
The parishes included within these hundreds have always been of an essentially agricultural character, (fn. 19) and include no great manufacturing centres, the industries being principally those peculiar to a rural district, lace-making—a home industry, a little straw plaiting, rush-work and wickerwork. There are at the present day no market towns in the hundred of Willey, but Odell had a market in the 13th and 14th centuries and a fair in the 19th, whilst Harrold also enjoyed these privileges from the 17th to the 19th century. The proximity of Bedford probably accounts for this comparative lack of markets and fairs.