Pages 1-2
A History of the County of Berkshire: Volume 4. Originally published by Victoria County History, London, 1924.
This free content was digitised by double rekeying. All rights reserved.
THE HUNDRED OF COMPTON
Containing The Parishes Of Aldworth; Catmore; Chilton; Compton; Franborough; East Ilsley; West Ilsley
In the Domesday Survey the places now included in the hundred of Compton are returned as belonging to that of Nachededorne, which included in addition Stanford, Brightwalton and Yattendon. Certain manors in both East and West Ilsley, however, belonged to the hundred of Kintbury. The hundred was assessed under Edward the Confessor at 118 hides and 2 virgates, but under William the Conqueror at only 88½ hides less 1 virgate.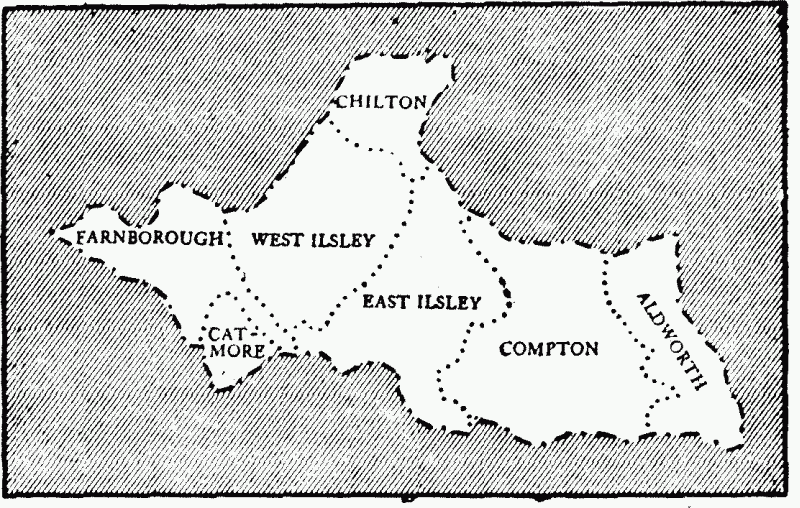 The exact site of Nachededorne, which gave the name to the hundred, cannot be identified. (fn. 1) The manor of Nachededorne no doubt afterwards Combined with the Domesday holding of Compton to form the later manor of Compton, and by the reign of Henry II Compton had been adopted as an alternative name of the hundred. (fn. 2) By the end of the 13th century (fn. 3) the hundred apparently comprised only the parishes of Aldworth, Brightwalton, Chilton, East Ilsley, West Compton and West Ilsley. Yattendon had probably been annexed before this date to Faircross Hundred, and Brightwalton, though included in 1307, was in 1316 (fn. 4) entered as a liberty of the Abbot of Battle, but again included in 1337. (fn. 5) The omission of Catmore and Farnborough at this date is not explained, as both are included later. (fn. 6) Thus by the middle of the 14th century the area corresponded with the modern hundred, and no further alterations appear to have taken place in it during the following centuries. (fn. 7)
West Ilsley was geldable with the hundred of Compton until the date of the battle of Lewes, when it was withdrawn by Simon de Montfort, then overlord. (fn. 8)
The hundred was appurtenant to the royal manor of Compton. It was held in 1227 by the Bishop of Salisbury of the gift of Joan de Malesmains, (fn. 9) who held part of the original manor at that date, but in the reign of Edward I the hundred was claimed by the Prioress of Kington, who held the other part. She, however, did not know at what date it had come into her possession. (fn. 10) She probably made good her claim to it, for in 1291 she conveyed it to the Bishop of Bath and Wells, (fn. 11) and it has remained with that see to the present day. It was leased out to the Pottingers for many generations, (fn. 12) and appears with the manor of Compton in a settlement made by Richard Pottinger in 1776. (fn. 13)
A rent of £2 9s. out of the hundred was conveyed in 1687 by Thomas Loder to Sir Jonathan Raymond, (fn. 14) then lord of the manor of Farnborough, and was inherited by Elizabeth Raymond, who with her husband John Craven was holding it in 1770. (fn. 15)