Pages 225-231
A History of the County of Buckingham: Volume 3. Originally published by Victoria County History, London, 1925.
This free content was digitised by double rekeying. All rights reserved.
FARNHAM ROYAL WITH SEER GREEN
The parish of Farnham Royal included in 1831 the hamlets of Hedgerley Dean, Seer Green and Salt Hill. (fn. 1) In 1847, however, Seer Green became an ecclesiastical parish, and both it and Hedgerley Dean were civil parishes in 1901. (fn. 2) Salt Hill in 1831 was partly in Upton and is now partly in this parish and partly in Stoke Poges.
Farnham Royal covers an area of 1,664 acres, of which 477 are arable land, 631 permanent grass and 91 woods and plantations. (fn. 3) The soil is gravel and loam with a subsoil of gravel, loam and sand, producing crops of wheat, barley and oats.
The land lies low in the south where the Great Western railway crosses the parish and rises from 70 ft. to 259 ft. in the north. The village of Farnham is scattered along three roads running north and consists principally of modern villa residences. The older part of the village clusters round the church, on the south of which is Farnham Court, of brick with tiled roofs, originally built in the latter part of the 17th century, but except for the north-west corner rebuilt in the two following centuries. It is the residence of Mr. Henry Cantrell. The old inn called the 'Duke's Head,' lying north-west of the church. is an early 17th-century house refaced in brick.
The old rectory, about half a mile north-east of the village, is of late 16th-century date. It was orignally a timber-framed gabled house, but has been considerably altered and partly refaced in brick. It is of two stories with attics having dormer windows. Though very much restored inside it retains a good many original features, including some panelling and three fireplaces. It is now occupied by Mr. Arthur Crosby Lockwood. The house and 100 acres of glebe were bought by Mr. Allhusen in 1893, and a new house was at the same time acquired for the rector.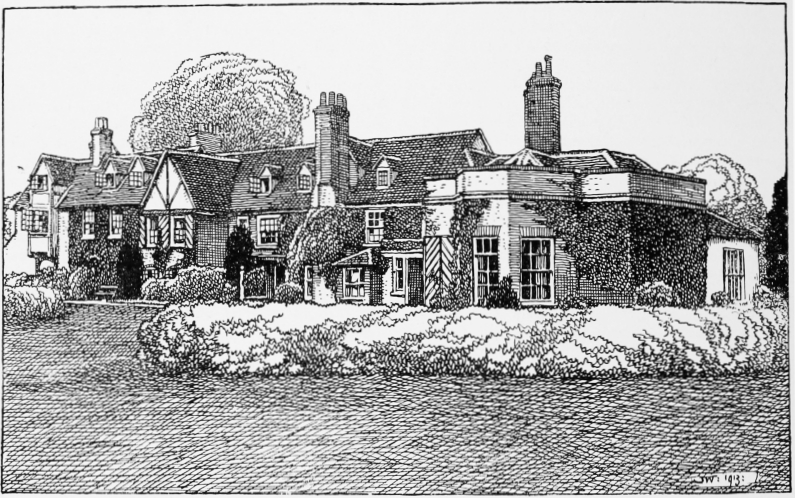 Farnham Common is a short distance north of the village, and has a Baptist chapel built in 1843 and a United Methodist chapel built in 1867.
The rising land to the west of the parish is covered by the beautiful woods of Burnham Beeches, and part of Brockhurst Wood in Fulmer parish extends into Farnham on the east.
About a mile to the south of Farnham Church is the hamlet of Salt Hill, to the west of Slough, of which it is partly a continuation. Here is the famous hill called 'Montem,' to which the Eton boys used annually to resort for a time-honoured custom of mulcting the passer-by of money. One of the boys, William Grimston, writhing on 4 July 1767 to Sir Michael Fleming, refers to 'our Montem which is just over. Mr. Brume was captain and cleared £174 only, which was the poorest montem that ever was in this century. Hulse and Topping were salt bearers.' (fn. 4)
The civil parish of Hedgerley Dean is a continuation of that of Farnham and covers an area of 551 acres. There are 164 acres of arable land, 160 of grass and 129 acres of woods and plantations. (fn. 5) The land in the south and north of the parish is over 300 ft. above ordnance datum, but it falls away to 200 ft. in the west.
The village, which lies on the eastern boundary and forms one with that of Hedgerley, contains several houses dating from the 16th and 17th centuries, but a good deal altered and restored. The timber and brick house, now three cottages, opposite Hedgerley rectory, is of the 16th century with a north-east wing of somewhat later date. Among the original features remaining are the projecting upper story, two doorways, some mullioned and transomed windows, a central chimney stack, and internally several doors and a room with early 17th-century panelling and fireplace.
Mount Pleasant Farm, about half a mile northwest of the village, dates from the latter part of the 17th century.
There are one or two outlying farms, among them Onepin Farm, near Holly Bush Corner, south of the hamlet, and to the north of the hamlet is Slade Farm, within a short distance of Wapsey's Cottages and Wood, property owned by the Drurys in the 17th century. (fn. 6)
The Lysons, writing at the beginning of the 19th century, speak of a large and deep entrenchment at Hedgerley Dean, from whence a ditch ran westward to East Burnham; ascribed, as they say, by tradition to the site of a battle between Danes and Saxons. (fn. 7)
The small parish of Seer Green lies north of Hedgerley Dean and has an area of 889 acres, of which 392 acres are arable land, 140 are grass, and 212 are woods and plantations. (fn. 8) The land rises from 246 ft. above ordnance datum in the south to 391 ft. in the north, where Pond Farm, the residence of Dr. Mitchell Bruce, Newbarn, Rawlings and Widmer Farms are situated. The rising ground behind is covered by the large Hodgemoor Wood, called Hoddesmore in the 16th century. (fn. 9)
The village is in the south and is compact in form. The church, built in 1846, stands on a triangular green, round which the cottages are closely packed. The Manor Farm is the chief building on the western side, and the Three Horseshoes Inn and Baptist chapel also front the green. On the south side, standing back from the green, is Hall Place, and half a mile south near the winding Long Bottom Lane is the vicarage.
Farnham Royal was inclosed in 1821, when more than half the parish was exonerated from tithes, over 327 acres, partly woodland, being allotted in compensation. Of these 105 acres have since been sold. (fn. 10)
The following place-names occur in documents relating to Farnham: Derespath (xiv, (fn. 11) xv (fn. 12) and xvi (fn. 13) cent.); Cuttythegge (fn. 14) (xv cent.); Marunden, Spragotts Wood, Cropsale and Chilwick (fn. 15) (xvi cent.). In the 16th and 17th centuries Gascons Grove, a messuage in Leer called Pewes (fn. 16); in the 17th closes called Leichboroughs, Philpots, Whaples, Silkenstreet, Tallowes and Purtons, a small coppice called Wocfield and a tenement called Chadwell House. (fn. 17) The Drurys in the 17th century held a close here called Pipers, 3 acres in extent. (fn. 18)
MANORS
In 1086 the 10-hide manor of Farnham, afterwards known as FARNHAM VERDON or FARNHAM ROYAL, was held by Bertram de Verdon, who possessed no other lands in Buckinghamshire. (fn. 19) It was held by the grand serjeanty of standing at the king's right hand at his coronation, supporting his right arm while he held the royal wand or sceptre, and bringing one glove for his [Verdon's] right hand. (fn. 20) When the Earl of Shrewsbury exchanged Farnham with Henry VIII for the site of the priory of Worksop in 1541, (fn. 21) the serjeanty was transferred to the manor of Worksop.
Bertram de Verdon was succeeded by Norman, (fn. 22) whose son Bertram founded Croxden Abbey, Staffordshire, and died in 1192 at Joppa. (fn. 23) His elder son Thomas died without issue in 1199, when the manor passed to the second son Nicholas. (fn. 24) Eustace, the widow of Thomas de Verdon, married as her second husband Richard de Kamvill, (fn. 25) with whom in 1204 she sued Nicholas de Verdon for the manor of Farnham, her dowry. (fn. 26) Nicholas joined the rebellious barons and was deprived of his lands, but recovered them on submitting to Henry III. (fn. 27) On his death in 1231 Farnham passed to his daughter and heir Roesia wife of Theobald Butler. (fn. 28) Their son John retained his mother's maiden name, and on her death in 1247 succeeded to the property as John de Verdon. (fn. 29) He received a grant of free warren in Farnham in 1258. (fn. 30) By his first wife Margaret daughter of Gilbert de Lacy (fn. 31) he had a son Nicholas, who was slain in Ireland in 1271, (fn. 32) and another son Theobald, who inherited the property in 1274. (fn. 33) His second wife Eleanor survived him and claimed one-third of Farnham in dower, but was allotted manors in Leicestershire. (fn. 34) In 1276 Theobald de Verdon claimed to have return of writs in Farnham, (fn. 35) and in 1284 mortgaged the manor to Thomas de Verdon and Henry de Praers. (fn. 36) Theobald was often absent in Ireland with his elder son John, whom in 1295 he enfeoffed of Farnham Manor without the king's licence and had some difficulty in obtaining pardon. (fn. 37) On John's death in 1297 the manor reverted to his father Theobald. (fn. 38) Theobald, the second son, returned from Ireland in 1298, when he was knighted by Edward I, (fn. 39) and was allowed to represent his father in the Parliament of 1300. (fn. 40) He inherited Farnham on his father's death in 1309, (fn. 41) and was made justice and lieutenant of Ireland in 1313. (fn. 42) He died shortly afterwards in 1316, (fn. 43) leaving by his first wife Maud daughter of Edmund Mortimer (fn. 44) three daughters all under age. By his second wife Elizabeth de Clare, widow of John de Burgh, he had a posthumous daughter Isabel, co-heiress with her step-sisters. (fn. 45) Farnham Manor was at first granted with the other Verdon estates to Roger Dammory during the minority of the heirs, (fn. 46) but was obtained in December 1316 by the widow Elizabeth de Burgh, (fn. 47) who by June 1317 was the wife of Roger Dammory. (fn. 48) In 1318 a division of the estate was made among the four daughters of Theobald de Verdon, (fn. 49) and the reversion of Farnham was allotted to Joan the eldest daughter, now of age and wife of Thomas Furnival, junior, (fn. 50) afterwards Lord Furnival. She died in 1334, (fn. 51) leaving a son Thomas, (fn. 52) who inherited the property on the death of Elizabeth de Burgh in 1359. (fn. 53) Thomas Furnival died about 1364 without issue, and was succeeded by his brother William, (fn. 54) who in 1379 settled the manor on his daughter Joan and her husband Thomas Nevill. (fn. 55) On his death in 1383 his widow Thomasina recovered one-third of the manor of Farnham in dower from Joan and Thomas Nevill. (fn. 56) Part of the manor was seized by the Crown and granted to Roger March in 1383 (fn. 57) on the pretext that Thomas Furnival had alienated it without licence, (fn. 58) but in 1390 Joan and Thomas Nevill were able to recover it. (fn. 59) Joan died before 1401, (fn. 60) leaving a daughter Maud, who on Thomas Nevill's death in 1407 inherited the manor. (fn. 61) She married John Talbot, first Earl of Shrewsbury, and dying before 1433 (fn. 62) left a son John, to whom the manor descended on his father's death in 1453. (fn. 63) The Earls of Shrewsbury continued to hold the manor, (fn. 64) and on the death of John third Earl of Shrewsbury in 1473 (fn. 65) it was granted in dower to Katherine his widow. (fn. 66) She died in 1476, (fn. 67) when the custody of the lands and of her son George fourth Earl of Shrewsbury was bestowed on William Lord Hastings. (fn. 68) Francis fifth Earl of Shrewsbury alienated Farnham Manor to Henry VIII in 1541 in exchange for the manor of Worksop and £485 8s. 6d. (fn. 69) In 1550 it was bestowed on Elizabeth, (fn. 70) afterwards Queen of England, and in 1603 it was assigned to Queen Anne. (fn. 71) Prince Charles obtained a grant of it in 1619, (fn. 72) and in 1628 it was sold to Edward Ditchfield and others, trustees for the city of London, (fn. 73) of whom it was bought in 1630 by Sir Edward Coke, the chief justice, (fn. 74) who had already lands here in 1608 valued at 36s. 8d. yearly. (fn. 75) He was Sheriff of Buckinghamshire in 1628, (fn. 76) and was succeeded in 1633 by his son Sir Robert Coke, (fn. 77) a Royalist, whose lands in Farnham were stated in 1647 to have been worth £105 10s. before the war. (fn. 78) Robert died childless in 1653, and the estate went to his brother John of Holkham, on whose death in 1661 it passed to his son John, (fn. 79) holding in 1663. (fn. 80) The latter was succeeded by his cousin and heir Robert, who died in 1679, leaving a son Edward, (fn. 81) on whose death in 1707 his son Thomas inherited the manor. Thomas Coke was created Earl of Leicester in 1744, (fn. 82) and in 1752 he and his son and heir Edward alienated their right in Farnham Royal to Francis Godolphin, (fn. 83) who in 1766 succeeded his cousin as second Lord Godolphin and died in 1785, (fn. 84) leaving the manor to Francis Godolphin Osborne, his great-grandson and second son of the fifth Duke of Leeds. (fn. 85) In 1832 Francis Godolphin Osborne was created Lord Godolphin of Farnham Royal, a title which passed with the property on his death in 1850 to his son George. (fn. 86) The latter in 1859 succeeded his cousin as eighth Duke of Leeds, (fn. 87) and the manorial rights are now vested in his grandson George Godolphin Osborne, tenth Duke of Leeds.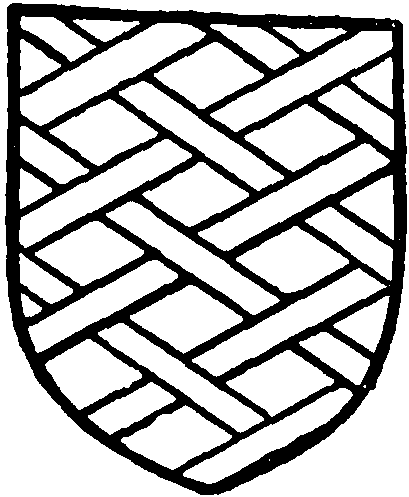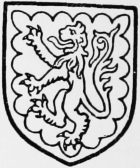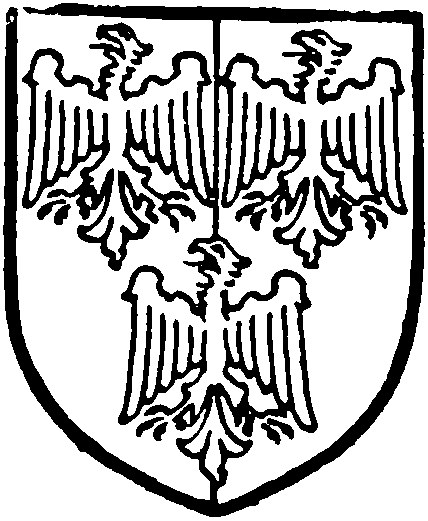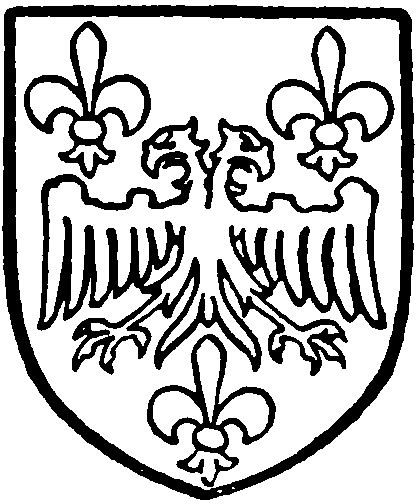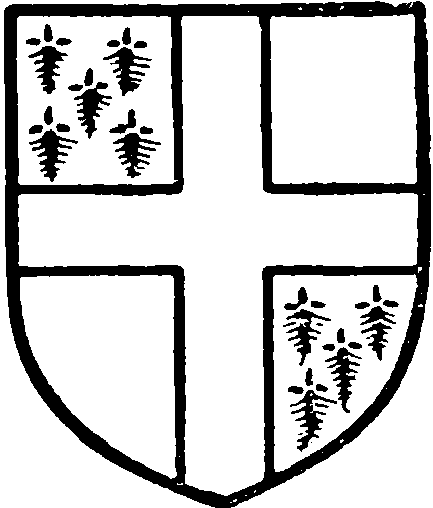 During the 16th and 17th centuries the site of Farnham Manor was farmed by the Crown to various tenants. (fn. 88)
The manor of SERE or LASERE was comprised in the 10-hide manor of Farnham in 1086, and as such was held by the Verdons, who had a capital messuage here as well as at Farnham. (fn. 89) Lands in la Sere are mentioned first in 1232, (fn. 90) and the estate in this part of Farnham parish was not called a manor before 1275. (fn. 91) After 1309 it appears as the hamlet of Sere, (fn. 92) and became absorbed in the principal manor of Farnham, being mentioned separately for the last time in 1361. (fn. 93)
At the survey of Farnham Manor made in 1608 the common or waste consisted of Sere Green (3 acres), Three Legged Cross land (4 acres), Farnham Heath (120 acres) and le Common Plot (1 acre). (fn. 94) In 1821 Francis Godolphin Osborne claimed to have a rabbit warren on the common. (fn. 95)
Towards the end of the 13th century Robert son of Baldwin had land in Farnham Lee, (fn. 96) but there is no further mention of any estate here until 1537, when John Baldwin, chief justice of the Bench, settled a capital messuage called Farnham Lee and its appurtenant property on trustees. (fn. 97) A further settlement was made, one of the trustees being John Borlase, who after John Baldwin's death alienated the estate to William Umfraville in 1561. (fn. 98) The latter owned property in Farnham in 1592, (fn. 99) but no later mention of Farnham Lee has been found. Missenden Abbey owned land in Farnham which included a wood called 'Sampsons,' (fn. 100) and which was granted in 1540 to Robert Drury. (fn. 101)
In 1536 Eton College was said to hold a small estate in Farnham and Hedgerley (Hedgerley Dean) of the Earl of Shrewsbury at a rent of 12d. for Farnham and 9s. 8d. for Hedgerley. (fn. 102) In 1555 the estate in Hedgerley is given in more detail, and consisted of four closes called Symesdeane and land in Meandeane with a house lately occupied by one Crisp. (fn. 103)
In 1086 there was a mill attached to Farnham Manor which had been placed there since the time of Edward the Confessor by Ralph Tallebosc. (fn. 104) It is mentioned first as a water-mill in 1309. (fn. 105) The Earl of Shrewsbury in 1539 leased it and le Oysle Browne Close to Nicholas Cowper alias Mousfraye for thirty years, (fn. 106) and in 1560 Anthony Reade obtained a twenty-one year's lease of the mill and Great and Little Bounds Closes. (fn. 107) The reversion of this lease was granted in 1569 to William Cox for twenty-one years. (fn. 108) In 1572 commissioners were sent down to Farnham to inquire into the damage done to the Crown property by the raising of the mill pond. (fn. 109) Anne Twiste, the royal laundress, and Thomas Twiste, groom of the stable, received a grant in 1587 of the water-mill and closes for twenty-one years from 1603, (fn. 110) and they appear to have transferred their interest to David Salter, who was in possession in 1608. (fn. 111) In 1609 a commission was appointed to inquire into the lands attached to the mill, (fn. 112) which was obtained in free socage that year by Sir Edward Coke, chief justice, (fn. 113) and was afterwards held with the manor by his descendants, passing to the Godolphin family, in whose possession it is last mentioned in 1741. (fn. 114)
CHURCHES
The church of ST. MARY consists of a chancel with organ chamber and vestry, nave with aisles, and western tower, and is built of flint rubble with stone quoins. The chancel dates from the 12th century, but the nave was rebuilt in 1821, and the present tower added in 1868.
The east window in the chancel is modern. On the north side an arch opening into the organ chamber and a doorway to the vestry are both modern. In the same wall are a small 12th-century window, with semicircular head and a 13th-century locker with a shouldered head. The eastern window in the south wall, dating from about the middle of the 14th century, is pointed and of two lights under a traceried head and has a sedile formed in the sill. The other window, of late 14th-century date, is also of two lights with a plain piercing in a pointed head. There is a blocked 14th-century south doorway and above it is a 12th-century window, also blocked, and near the east is a mid-13th-century piscina with a trefoiled head. The chancel arch is modern. The nave has modern arcades of three bays on each side, and the tower is of two stages.
On the east wall of the south aisle is the following broken brass inscription: 'Here lyeth buried Eustas Mascoll (Ge)nt sometime clarke of the workes of frisewide in oxford for Cardinall Woolsey and after chefe clarke of acom[pts] for xvii yeares for all the buildinges of kinge henry ye VIII his plasis wtin xx myles of Lond[on] and dep[ar]ted this life pistell reder in winsor Castell the xxxi day of january A°. MDLXVII.' On the west respond of the south arcade there is a tablet to Abigail wife of William Hickman and mother of Charles Hickman, rector, who died in 1699.
There is a ring of eight bells: the treble, second, fifth and sixth by Lester & Pack, 1752, and the third and fourth by Mears & Stainbank, 1876. Two were added in 1897 to commemorate the Diamond Jubilee of Queen Victoria.
The communion plate includes a cup and cover paten of 1569 and a 17th-century Dutch spoon.
The registers begin in 1635.
The church of ST. JOHN THE EVANGELIST, Farnham Common, was built of brick with stone dressings in 1908. It is served from the parish church.
The church of HOLY TRINITY, Seer Green, was built in 1846. It consists of chancel, nave and a western turret, and is built of flint and stone. The advowson is in the hands of the Provost and Fellows of Eton College.
ADVOWSON
The advowson of Farnham Church was appurtenant to the manor of Farnham, whose descent it follows until 1690. It was then bestowed by the Crown on the Provost and Fellows of Eton College, (fn. 115) who have continued to hold till the present day. (fn. 116)
The living, a rectory, is first mentioned in 1230 (fn. 117) and was assessed at £16 in 1291 (fn. 118) and at £13 6s. 8d. in 1535. (fn. 119) In the early years of Elizabeth a dispute arose between the incumbent, John Rithe, 'a very poore yong man,' and his predecessor John Dyer, deprived of the living for non-payment of tithes, who had carried away the glass of the 'Manysion House,' benches and stands to the value of £10. He had also dug out the head of the pond and taken away 'carpes, bremes' and other fish worth £5. (fn. 120) A later rector was William Clagett, D.D., who took a prominent part in the controversy between the Roman Catholics and Protestants in the reign of James II. (fn. 121)
In 1847 Seer Green hamlet was separated from Farnham Royal and constituted a vicarage. (fn. 122)
CHARITIES
Eleemosynary Charities.
In 1664 David Salter by will devised 17s. yearly out of a farm at Thredding Green, to be applied in the purchase of bread and watered herrings to be distributed to two poor men and four poor women, and a pair of kid gloves to the value of 2s. for the parson. The annuity was redeemed in 1874 by the transfer of £28 12s. 6d. consols to the official trustees. The dividends of 14s. 4d. a year are applied to the Sick and Needy Fund.
Thomas Perryman of London, who died in or about 1700, by his will devised an annuity of £2 12s. issuing out of land known as 'Home Close' in Dorney and Eton, to be distributed in bread.
In 1825 Thomas Perryman of Farnham Royal by his will bequeathed a legacy of £70 for the same purpose. The legacy, less duty, is now represented by £60 8s. 8d. consols, producing £1 10s. a year.
In 1776 Elizabeth Hetherington, by will proved 9 December, bequeathed a legacy for educational purposes and for the poor; the trust fund for the latter purpose is represented by £34 19s. 1d. 2½ per cent. annuities, the annual dividends of 17s. 4d. being applicable for the benefit of poor housekeepers.
Educational Charities.
Elizabeth Hetherington's Foundation, trust fund, £163 2½ per cent. annuities, set aside by order of the Charity Commissioners, 9 August 1904.
Jacob Bryant's Foundation, founded by will proved 28 November 1804, trust fund, £300 consols. The dividends on the two sums of stock amounting to £11 11s. 8d. are applied towards the salaries of the master and mistress of Farnham School. (fn. 123)
The Church Estate consists of the 'Duke's Head' public-house let at £65 a year, cottage and ground rents producing £4 a year, and a meadow let at £5 14s. a year; also £407 2s. 5d. consols and £1,031 2½ per cent. Midland Railway preference stock, arising from sales of land in 1889 and 1904 respectively, the annual dividends amounting together to £35 18s. 10d. The income is applied towards the general church expenses.
In 1901 Alfred Reade, by his will proved at London 23 December, bequeathed £500 for the purposes of the Farnham Royal Dispensary and Parish Nurses' Home, so long as the memorial stone and vault in the churchyard are kept in order. The legacy was invested in £506 6s. 7d. India 3 per cent. stock, producing £15 3s. 8d. yearly. There is also a sum of £50 on deposit at the bank. A sum of 10s. a year is paid to the sexton, and the residue is applied for the purposes of the Dispensary and Home.
The several sums of stock are held by the official trustees.
Hamlet of Hedgerley Dean.
The Slade charity, the gift of Miss Louisa Reid, was founded by declaration of trust, 24 March 1873, and is regulated by scheme of the Charity Commissioners, 16 January 1880. The trust fund consists of £893 5s. 2d. consols, with the official trustees, and the dividends, amounting to £22 6s. 5d. yearly, are applied for the benefit of the poor in pensions, winter gifts, coal, advancement in life, medical and other aid, and in gifts in cash.