Pages 196-205
A History of the County of Cambridge and the Isle of Ely: Volume 10, Cheveley, Flendish, Staine and Staploe Hundreds (North-Eastern Cambridgeshire). Originally published by Victoria County History, London, 2002.
This free content was digitised by double rekeying. All rights reserved.
MANORS AND OTHER ESTATES.
Before 1066 eight of the ten hides assessed upon Bottisham had belonged to Earl Harold, (fn. 1) probably including the estate at 'Bidicheseye', which c. 1044 Thurstan son of Wine had ordered in his will to be sold. (fn. 2) The other two hides, granted by Aethelric, bishop of Dorchester 1016-34, to Ramsey abbey, were entrusted by Abbot Athelstan (d. 1043) to a monk, Aelfric, who held them at farm until Walter Giffard, to whom Harold's part of the vill had been assigned after 1066, seized them. Ramsey never recovered them. (fn. 3) Giffard died c. 1084. His son and namesake, by 1100 created earl of Buckingham (d. 1102), (fn. 4) possessed Bottisham as a demesne manor in 1086, (fn. 5) as did his son Walter, the next earl, save for granting a small part for knight service before 1135, (fn. 6) until he died without issue in 1164. Henry II retained Bottisham with the rest of the Giffard honor until 1189. (fn. 7) In 1190 Richard I, dividing the honor among coheirs descended from the last earl's aunt Rohese, assigned Bottisham entirely to her great-greatgrandson, Richard de Clare (d. 1217), earl of Hertford. (fn. 8) Probably in the early 1210s (fn. 9) the earl divided his demesne there and the attached villein holdings into two almost equal halves between the newly re-organized Augustinian Anglesey priory, which stood in the parish and which owned its half by 1221 and perhaps by 1213, and his ancestral foundation, Tonbridge priory (Kent). Both held in free alms. (fn. 10) Earl Richard retained, however, besides the view of frankpledge over the whole vill, lordship not only over the existing knights' fees, but over c. 525 a. of other freehold land, including 12 ancient yardlands. (fn. 11) Those rights descended to the successive Clare earls of Gloucester for four generations, (fn. 12) being often held in dower; from 1262 to 1288 they were possessed by Maud, widow of Earl Richard (II), from 1296 to 1307 by his son Earl Gilbert's widow Joan. (fn. 13) After the Clare male line ended in 1314 their rights at Bottisham were divided in 1317 between two of the last earl's three sisters and coheirs. The view of frankpledge and freeholders' assize rents, with the advowson of Anglesey priory, went to Elizabeth, then wife of Roger d'Amory (ex. 1322), and the lordship over the knights' fees to Margaret, wife of Hugh de Audley. (fn. 14) Elizabeth, later de Burgh, retained her share as a widow until her death in 1360, (fn. 15) after which it passed through her granddaughter Elizabeth's marriage to Lionel, duke of Clarence, to the Mortimers, earls of March, and the dukes of York. It merged in the Crown in 1461. (fn. 16) In the early 16th century the Bottisham court leet was assigned to support queens consort. (fn. 17) Those rights remained Crown property until the 1650s. (fn. 18) Under Charles II the Crown still received quitrents from c. 280 a. of freehold arable and 90 a. of grassland there. (fn. 19)
Tonbridge priory's manor, granted after 1195 (fn. 20) and called TUNBRIDGE HALL by 1350, (fn. 21) which in 1279 had, like Anglesey's, nominally 200 a. of demesne arable, (fn. 22) remained with that priory into the early 16th century. (fn. 23) The priory was suppressed by papal authority in 1525 to endow Cardinal Wolsey's proposed Oxford college. (fn. 24) Following Wolsey's fall that manor came to the Crown, under which a Bottisham estate was apparently held on lease in 1530. (fn. 25) That manor had probably been sold by 1547. (fn. 26) By 1571 it belonged to Sir John Cutts of Childerley. He and his successors had by the early 17th century alienated over 200 a. of the demesne, represented at inclosure by c. 125 a. held on leases for 1,000-2,000 years. (fn. 27) In 1584 Cutts sold Tunbridge Hall manor to Thomas Cook (d. 1584) of Chrishall (Essex), whose son and heir William sold it in 1592 to Thomas Webb. (fn. 28)
In 1593 Webb settled it on his wife Susanna Smith, to whom he left half of it for her life at his death in 1604, the other half going to his eldest son Edward. (fn. 29) In 1608 Edward sold the whole manor to his brother-in-law Robert Clench, (fn. 30) who in 1613 sold it to trustees (fn. 31) for William Barrow of Westhorpe (Suff.). Barrow died later that year, having entailed that manor on his wife Elizabeth and their heirs male. (fn. 32) She and her son Maurice were still in possession in 1626 (fn. 33) and probably in 1634, (fn. 34) but by 1640 that manor belonged to Thomas Marsh (fn. 35) of Hackney (Middx.), lord of Pampisford. (fn. 36) Dying in 1657 he settled his estates on his deceased son Thomas's son Thomas, (fn. 37) supposedly later knighted, (fn. 38) who died in 1677. (fn. 39)
By 1681 the owner was Sir George Downing, Bt., (fn. 40) financier and diplomat, from whom that manor descended to his son Sir George (d. 1711) and grandson Sir George (d. s.p. leg. 1749). (fn. 41) When the last Sir George's cousin and devisee, Sir Jacob Garrard Downing, Bt., died without issue in 1764, Tunbridge Hall manor should have gone, under a devise of 1717, to found a Cambridge college, but Sir Jacob's widow and devisee Margaret, who married secondly George Bowyer, kept possession until her death in 1778. She left it to her nephew Jacob John Whittington, who remained its lord until 1799. Only in 1800 was that manor surrendered to the newly founded Downing College (Cambridge), for which courts were held from 1802. (fn. 42) The manor's farm had in 1757 comprised 422 a., including c. 250 a. of open-field arable. (fn. 43) At inclosure in 1808 the college emerged with 464 a., including 100 a. of old inclosures, partly exchanged, besides lordship over 144 a. of copyhold. (fn. 44) It retained Tunbridge Hall farm into the 20th century, selling portions for council housing in 1939 and 1949 and the remainder to Douglas Green in 1950. (fn. 45)
Tonbridge priory's chief house, recorded in 1279, (fn. 46) was called the priory hall c. 1525. (fn. 47) Its original site, to which a way ran through White field c. 1450, (fn. 48) has been identified as a moat, 100 by 140 ft., a little north-east of the village street. (fn. 49) Most of the old inclosures adjoining that moat were, however, only acquired by Downing College at inclosure. (fn. 50) The neighbouring area of open field was by 1370, as until 1800, called the Vineyard, (fn. 51) perhaps from a medieval one planted by the priory. By the 18th century the Tunbridge farmstead stood amid a 22-a. block of closes, all part of the farm until inclosure, (fn. 52) south of Tunbridge lane, so named by 1517. (fn. 53) It had probably 14 hearths in the 1660s. (fn. 54) After inclosure the farmhouse was rebuilt, probably c. 1830, in grey brick with a main range under two parallel roofs and a lower cross wing. (fn. 55)
Before 1236 M. Lawrence of St. Nicholas had given 30 a. in Bottisham to Anglesey priory, (fn. 56) which by 1279 had 1½ yardlands there, partly held in free alms, besides its former Giffard demesne, c. 200 a. (fn. 57) Between 1335 and 1353 it acquired, partly by exchange with William Sterne of Hasingfield, a further 60 a., mostly freehold of the Clare manor. (fn. 58) Just before its surrender in 1536 the priory's Bottisham estate probably included c. 400 a. of demesne arable, besides c. 40 a. of closes, all then on lease to Serjeant John Hinde. (fn. 59) In 1539 he obtained a Crown grant of its whole Bottisham estate, except the rectory, (fn. 60) to hold by knight service as 1/10 fee. When Hinde died as a judge in 1550, it descended to his son Francis, (fn. 61) kt. 1578 (d. 1596). In 1581 Sir Francis settled the ANGLESEY manor and farm on the marriage of his eldest son William, (fn. 62) thenceforth lord. (fn. 63) In 1596 William sold them to John Folkes, lessee of the demesne by 1581, and his eldest son Richard, (fn. 64) thereafter jointly lords. (fn. 65) In 1606 they gave 112 a. of the demesne to Richard's younger brother George, (fn. 66) whose descendants retained it into the late 1650s. (fn. 67) In 1612 John and Richard settled 240 a. of demesne, with 66 a. of closes, on Richard's marriage to Elizabeth, daughter of the Cambridge carrier Thomas Hobson. (fn. 68) John Folkes, who died early in 1617, had also by 1610 acquired from Thomas Webb's widow Susanna (d. 1621) the lease of Bottisham rectory. He devised that lease to his younger son John (d. 1617), since 1608 Susanna's second husband, who left it to Richard Folkes. (fn. 69) Left childless, (fn. 70) Richard sold the Anglesey estate in 1625, just before his death, to Hobson, (fn. 71) lord from 1626, (fn. 72) who in 1630 settled it upon his daughter Elizabeth and her second husband, the lawyer Thomas Parker, (fn. 73) probably resident at Anglesey Abbey by 1627. (fn. 74)
At his death in 1646 Parker, who had lately bought the rectory lease, directed Elizabeth to lease the Anglesey lands to his younger sons, (fn. 75) William (d. 1709), who also received that lease, and Simon (d. by 1679). In 1655 she assigned 113 a. to those brothers for their lives. (fn. 76) Elizabeth (d. 1679), styled lady of the manor until 1669, (fn. 77) and her eldest son Thomas retained only 120 a., besides the Abbey and its closes, (fn. 78) but by the 1670s had added 335 a. of newly inclosed fenland. (fn. 79) When Thomas Parker (II) died in 1695, (fn. 80) the lordship passed briefly to Elizabeth (d. 1713), widow of his younger son Alexander (d. v.p. 1678 × 1679) and her second husband, Alexander Burrell, clerk. Alexander Parker's son Alexander (fn. 81) came of age in 1701. (fn. 82) Just before he died in 1720, (fn. 83) Alexander sold the 113 a. inherited from his great-uncles with at least 250 a. of inclosed fen, besides the rectory lease, to St. Bartholomew's Hospital, London. (fn. 84) The hospital, which at inclosure claimed 110 a. of arable and c. 280 a. of several closes, (fn. 85) emerged in 1808, after exchanges, with c. 325 a. of land, which became Longmeadow farm. (fn. 86) It also retained the rectory lease until 1814. (fn. 87) The hospital sold the farm to its tenant in 1919. (fn. 88)
Alexander Parker left the remaining Anglesey estate, the lordship with the Abbey, c. 130 a. of closes, and 120 a. of fieldland, to his son, another Alexander, then under age, (fn. 89) who in 1734 ostensibly conveyed them to Sir George Downing (d. 1749). (fn. 90) In practice Sir George apparently obtained only the lordship, courts being held in his name from 1736. Having been acquired later than his devise for a college of 1717, it was lawfully retained by his cousin Sir Jacob Downing's widow Margaret, and by her nephew J. J. Whittington. (fn. 91) Whittington sold it in 1799, with his nominal title to the Anglesey lands, to the Revd. George Leonard Jenyns, (fn. 92) of Bottisham Hall, already lord of Alingtons and Vauxes manors. (fn. 93)
Alexander Parker had apparently retained, possibly under a very long lease, the Abbey and lands, which in 1739 were acquired by the rich Londoner Samuel Shepherd, (fn. 94) owner of Exning (Suff.), M.P. for Cambridge 1708-22 and for Cambridgeshire from 1724 to his death in 1748. (fn. 95) By 1743 he had assigned possession of the Abbey to his secretary John Pike, (fn. 96) who in the late 1750s was still letting it with 248 a. to a farmer. (fn. 97) Shepherd bequeathed his great wealth to his illegitimate daughter Frances, (fn. 98) married in 1758 to Charles Ingram, later 7th viscount Irwin (d. s.p.m. 1778). (fn. 99) About 1793 Lady Irwin and her daughters, entitled to inherit under her father's will, sold the Anglesey Abbey estate to Mrs. Elizabeth Jenyns of Bottisham Hall. (fn. 100) The Anglesey lordship and farm were thereafter incorporated in the Jenyns estate at Bottisham. (fn. 101) Mrs. Jenyns's successor, G. L. Jenyns, who reckoned the farm at c. 360 a. in 1801, (fn. 102) received for it at inclosure 277 a., besides 137 a. of closes. (fn. 103)
The other manors possessed by the Jenynses derived partly from fractions of the two half knights' fees, lordship over which had been assigned in 1317 to Margaret de Clare and her husband Hugh de Audley, (fn. 104) later earl of Gloucester (d. s.p.m. 1347). Through their daughter Margaret it passed to the Staffords, earls of Stafford and later dukes of Buckingham, (fn. 105) recorded as overlords until after 1400. (fn. 106)
Those fees, probably originally one, created before 1135, and perhaps held c. 1155 by Eustace of 'Bodingham', a Giffard vassal, (fn. 107) had been divided by 1166 between Gerard and Alan of 'Bodingham'. (fn. 108) Gerard was succeeded by his son William, who before 1180, with his son Martin's consent, gave 10 a. at Bottisham to Hinchingbroke nunnery (Hunts.), which alienated it in 1450. (fn. 109) William, Martin's son, recorded from 1210, who held ½ fee under the Clares c. 1235, (fn. 110) was succeeded by 1255 by his son William (d. by 1279). (fn. 111) In 1280 that William's daughter Semele granted her share in their chief messuage and lands to her sister Maud's husband, Henry son of Eudes of Burwell, tenant c. 1285. (fn. 112) By 1302 his Bottisham holding had come to William, son of William, of St. Ives (fl. 1322-3). (fn. 113)
Meanwhile the other half fee, once held by Alan of Bodingham, had descended successively to Alan of Deresley (fl. 1220-5), (fn. 114) to John of Deresley, tenant c. 1235 (fn. 115) (? d. 1246), (fn. 116) and to a namesake (fl. 1260). (fn. 117) A John of Deresley (fl. 1280) was probably tenant in 1303. (fn. 118)
In 1279 each half fee had included a demesne of one yardland and lordship over 30 a. of freehold. (fn. 119) The 'knights' fee' was by 1325 divided between five tenants, including Anglesey priory and Richard de Wateville who each had ¼ fee. (fn. 120) In 1346-7 it was shared by 5-8 parceners, including that priory, Thomas de Vaux, and Nicholas Tove. Their successors continued to hold by knight service of the Clare manor into the 15th century. (fn. 121) Nicholas Tove, of a family settled at Bottisham since the early 13th century, entailed a 60-a. holding there in 1337 and died 1360 × 1370. (fn. 122) His successor Maurice Tove was dead by 1396. (fn. 123) In 1400 his brother William Tove conveyed 160 a., partly in Bottisham, with his Burwell manor to William Vaux, whose ancestors had held land at Bottisham since the late 13th century. (fn. 124)
The holding later styled VAUXES manor (fn. 125) was created by the king's clerk, Ellis of Beckingham, a justice of the Common Pleas from 1285 to his death c. 1306. (fn. 126) In 1275 he bought with his brother-in-law John of St. Liz (d. 1281 × 1283) 48 a. (fn. 127) partly held as ¼ fee of the Deresley fee. (fn. 128) In 1283 Ellis settled 85 a. on the marriage of John's daughter Alice to his own ward Robert de Vaux, (fn. 129) of age by 1305. (fn. 130) Robert (d. by 1319) was succeeded by his son Sir John de Vaux, (fn. 131) imprisoned for murder 1319-26, who died 1327 × 1329. (fn. 132) The Vauxes' Bottisham lands passed successively to his younger brother Thomas, an absentee Yorkshire rector (fn. 133) (d. 1344), (fn. 134) and to Thomas de Vaux, probably John's son. (fn. 135) The younger Thomas (d. 1351) was succeeded by his brother Edmund (fn. 136) (d. 1362). (fn. 137) By 1371 the Vaux lands belonged to Joan Vaux, widow of William (? fl. 1366-7), and William Vaux (d. after 1381), probably that William's son. (fn. 138) The next William Vaux, probably son of the younger William, moved to Northamptonshire, dying there in 1405. (fn. 139) Chief Justice Sir William Thirning (d. 1413), who possessed the Vauxes' Bottisham land in 1412, perhaps as guardian: (fn. 140) Joan, probably Thirning's sister, and wife of William Vaux (IV) had occupied it in 1401. (fn. 141)
That William's son William Vaux (V), of age by 1428, (fn. 142) whose Bottisham manor included in the 1450s, besides 178 a. of arable, lordship over 33 freehold tenants with 22 messuages and almost 30 a., (fn. 143) died in 1460. (fn. 144) His son and heir Sir Willam Vaux, a Lancastrian partisan killed at Tewkesbury in 1471, had suffered forfeiture in 1461. (fn. 145) In 1462 Edward IV gave Bottisham with other Vaux lands to his chamberlain William Hastings's brother Ralph, kt. 1471. (fn. 146) Sir Ralph retained them until 1485, (fn. 147) when Sir William's son Nicholas Vaux, kt. 1487, was restored by Henry VII. (fn. 148) Prominent in royal service, (fn. 149) Sir Nicholas died in 1523, just after his creation as Lord Vaux of Harrowden. His son and heir, Thomas, Lord Vaux, (fn. 150) a minor poet, (fn. 151) still possessed Bottisham Vauxes in 1536, (fn. 152) but by 1540 had sold it, owing to financial troubles, to the Alingtons, (fn. 153) with whose Bottisham manor it descended thereafter. (fn. 154) About 1677 the supposed site of Vauxes manor house was an overgrown meadow close, empty of buildings for over a century. (fn. 155)
ALINGTONS manor was derived from the holding of William Wolf (fl. 1372), (fn. 156) who by 1387 had a share in the knights' fees held of the honor of Clare. (fn. 157) Dead by 1403 when his second wife Margaret occupied his house at Bottisham, (fn. 158) he was probably the William Wolf who had in 1394 settled over 200 a., partly also in Swaffham Bulbeck, on John Wolf of Frolesworth (Leics.), (fn. 159) perhaps the man then licensed to have a private chapel at Bottisham, (fn. 160) as was a namesake, perhaps John Wolf the younger (fl. in Cambs. 1405-12), in 1403. (fn. 161) In 1410 a John Wolf released over 300 a. at Bottisham and Swaffham to feoffees for William Alington (fn. 162) of Horseheath. (fn. 163)
Alington, Speaker 1429-30, died in 1446, and his son William, several times M.P. for Cambridgeshire 1432-40, (fn. 164) in 1459. He had assigned his Bottisham lands, probably by 1457, to his younger son William, (fn. 165) who by 1464 possessed there over 300 a. of arable. (fn. 166) A royal councillor in the 1470s and Speaker 1472-8 (fn. 167) he died without issue in 1479. (fn. 168) His widow Joan (née Ansty) may have retained his Bottisham manor until she died, having survived her second husband Sir John Huddleston the elder, in 1493. (fn. 169) The manor next passed to William's great-nephew Giles Alington, of age c. 1505, kt. 1509, (fn. 170) after whose death in 1522 his widow Mary, alive until c. 1540, had it for her jointure. (fn. 171)
Thereafter the freehold in the Alingtons' Bottisham estate descended to their son Sir Giles (d. 1586) and his great-grandson and namesake (d. 1638). (fn. 172) In practice it was regularly used to endow eldest sons and provide jointures for their widows. Having c. 1541 been settled with Vauxes manor on the marriage of the first Sir Giles Alington's eldest son Robert (d. 1552), it was retained by his widow Margaret, remarried before 1570 to Thomas Pledger, until she died in 1598. Following Pledger's death in 1599 those manors passed to Margaret Elrington (náe Spencer), relict of Robert's son Giles Alington (d. c. 1572). (fn. 173) She died in 1626. (fn. 174) William, eldest son of Sir Giles (III), probably possessed it when he buried two infant children in Bottisham church in 1638. (fn. 175) He received an Irish barony in 1642 and died in 1648, after which Bottisham passed initially to his widow Elizabeth (d. 1671). (fn. 176) His son and eventual heir William died in 1684 and the latter's only son Giles, lord Alington, without issue in 1691. After William's widow Diana, (fn. 177) whose jointure included Bottisham, died in 1701, (fn. 178) the Alingtons' Bottisham lands were sold, probably in 1702, to Sir Roger Jenyns. (fn. 179)
When Jenyns died in 1740, (fn. 180) that estate passed to his only son, the writer Soame Jenyns who sat in Parliament, mostly for Cambridge county or borough, 1747-80. (fn. 181) In 1757 he owned c. 405 a. in Bottisham. (fn. 182) He died childless, aged 83, in 1787, leaving that estate for life to his widow Elizabeth, with remainder to the Revd., later Canon, George Leonard Jenyns, greatgrandson of Sir Roger's brother John, (fn. 183) who succeeded to it when Elizabeth died in 1796. (fn. 184) At inclosure, when he claimed 874 a. for his inherited settled estate, supposedly including 383 a. of ancient closes in and around Bottisham park, (fn. 185) Canon Jenyns emerged in 1808 with 1,335 a. altogether, including 444 a. of closes (fn. 186) and land representing a recently purchased 308-a. farm. (fn. 187)
When the canon died in 1848 the Bottisham Hall estate descended to his son George, (fn. 188) who in 1859 sold much farmland, including Bottisham Lode farm (189 a.), Alington Hill farm (207 a.), (fn. 189) and probably Spring Hall farm (260 a.). (fn. 190) George Jenyns, who retained c. 610 a. in 1873, (fn. 191) died in 1878, after which his estate descended in successive generations to his eldest surviving son, the Revd. Charles Fitzgerald Jenyns (d. 1885), to Roger William Bulwer Jenyns, (fn. 192) who owned c. 485 a. of Bottisham in 1910, (fn. 193) (d. 1936), and to Roger Soame Jenyns, a noted connoisseur and collector of Chinese art, who died in 1976. (fn. 194) In 1991 the estate belonged to his son, Mr. Roger Gambier Jenyns, who still then lived at the Hall. (fn. 195)
That Hall is the successor to the Alingtons' manor house, which stood until the late 1790s within an approximately triangular 2-a. moat, partly still wet in the 20th century, slightly west of the modern Hall. (fn. 196) That manor house was probably built by William Alington (d. 1479). In 1475 he was licensed to found a chantry in his new chapel at Bottisham, (fn. 197) presumably the chapel preserved at the old hall in 1743, when it retained a stone altar and stained glass with figures of saints, while its first-floor gallery with Alington heraldry provided a raised closet for the lord. (fn. 198) In 1599 the Hall included a hall parlour and dining chamber. (fn. 199) In the 1660s it probably had 14 hearths. (fn. 200) Shortly after 1700 Sir Roger Jenyns remodelled it, refacing it in red brick, mostly with segmental window heads, and converted the moat into a 'canal'. (fn. 201) The main front, facing south-east, had in its centre a hall with tall windows and a nearly central porch, with dormers above; on the left that block was flanked by a probable service wing, on the right by a partly projecting two-storeyed residential apartment, also with dormers. (fn. 202) After 1740 Soame Jenyns fitted up a gallery for his large library. (fn. 203) The contents, including much wainscotting from the rooms and staircase, were sold in 1796. (fn. 204) The Hall was then demolished.
Some of its brickwork may have been used in the foundations of the offices of the new house called Bottisham Hall, which the Revd. G. L. Jenyns built c. 1800 c. 100 m. to the east. Of two storeys, in grey brick, it has an almost square plan, with sides of six and seven bays. (fn. 205) The south-west front of three wider bays has a curved projecting centre providing an oval entrance hall, which leads into a central hall where the staircase rises to an Ionic screen, between two large reception rooms. Behind on the right is a lower service wing built at the same time, (fn. 206) partly with segmental-headed windows, and a separate stable range. Much of the furniture acquired c. 1800 remained in the house in the 1990s.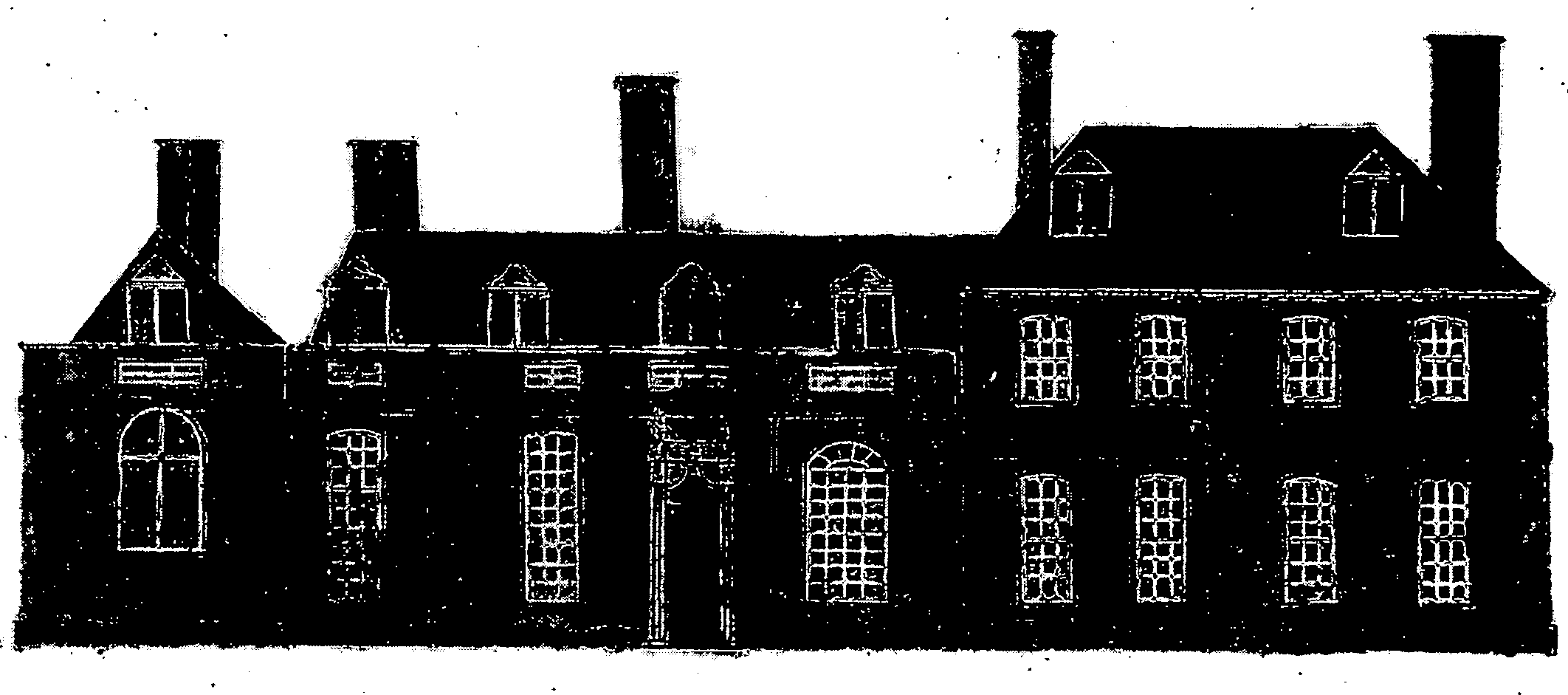 The park described as elegant in 1743, (fn. 207) which in 1757 covered c. 60 a. in the eastern part of the modern one, was then planted with avenues of trees: one ran from the present Swaffham road north-west to, and after 1770, past the old Hall, the other at right angles led from it towards the village. (fn. 208) In 1790 its privacy was improved by closing an old road connecting Longmeadow drove to Swaffham Bulbeck, which had passed close by that Hall's north-east side. (fn. 209) Between 1800 and 1820 the park, enlarged westward with over 60 a., (fn. 210) was re-arranged around the new Hall, which a new avenue linked to a lodge on Tunbridge Lane, and was surrounded with screening plantations of oak, beech, fir, and larch, including on the north the modern St. Ives and Rookery woods, the latter extending into Swaffham Bulbeck parish. (fn. 211) The Hall, not always occupied by its owners, (fn. 212) was in the 1880s let to outsiders, including c. 1890 a Conservative parliamentary candidate, (fn. 213) who played squire to the village. (fn. 214) The Jenyns family resumed residence in the early 1890s. (fn. 215)
In 1848 Canon Jenyns's executors had sold the Parkers' former seat at Anglesey Abbey with its 220-a. farm to John Hailstone, vicar of Bottisham since 1839, (fn. 216) who also bought Bottisham Lode farm in 1839. (fn. 217) Having restored his 'quaint old abbey' from 1849, (fn. 218) he occupied it from his resignation as vicar in 1861 to his death in 1871 when he left it to his widow Elizabeth with an estate covering 495 a. in Bottisham in 1877. (fn. 219) Though retaining Lode farm, (fn. 220) Elizabeth sold the Abbey and adjoining land (190 a.) in 1888 to the Revd. James George Clark (d. 1929), who dwelt there until 1912. (fn. 221) In 1926 that property, including 45 a. of grounds, (fn. 222) was bought from his wife Catherine for Urban Huttleston Broughton, son of Urban Broughton an Anglo-American railway and mining magnate, who was created Lord Fairhaven in 1929. (fn. 223) Fairhaven extended his Bottisham property, originally acquired as a sporting seat and owned until 1932 jointly with his brother and eventual heir, Major Henry Roger Broughton (d. 1973), (fn. 224) by purchases including in 1930 180 a. of the rectory estate from Trinity College, Cambridge, (fn. 225) and in 1938 Oily Hall farm (196 a. in the fen), attached by 1800 to the Stretham estate (I. Ely) once owned by Morgans and Willises. (fn. 226) By the 1940s Lord Fairhaven's Bottisham estate comprised at least 730 a. (fn. 227) He died in 1966, leaving the Abbey and its 100-a. grounds to the National Trust (fn. 228) as part of 1,108 a. of land nearby, of which 576 a. had been sold by 1992. About 1990 his nephew, the third Lord Fairhaven, still dwelt at the Abbey as the Trust's tenant for over half the year. (fn. 229)
The original buildings at Anglesey priory had been reconstructed following the reorganization c. 1200-20 of the original hospital there as a community of Austin canons: (fn. 230) some irregularities in its plan may derive from its earlier function. By 1236 its benefactor M. Lawrence of St. Nicholas had paid for building the church, cloister, refectory, dormitory, and prior's chamber. (fn. 231) In the 1430s the patron, Richard, duke of York, gave four great oaks to repair the belfry (campanile), (fn. 232) whose possible foundations were found north-west of the house c. 1860. The main building that survives from the early 13thcentury (fn. 233) is a north-south range, buttressed on the east and containing a three-bayed undercroft, sometimes identified as the monastic parlour; its ground floor has quadripartite vaulting rising from octagonal marble piers and, on the walls, renewed 13th-century capitals. To the north was probably a barrel-vaulted passage, while a rising line of 13th-century arches on the formerly external face of the west wall indicates the site of a staircase to the upper floor. A passage to the south separates that range from the main part of the early modern house, which incorporates 13th-century walling, while its east gable wall contains a blocked Gothic window. Probably always of two storeys, it may have been remodelled c. 1500 as the prior's lodging. Reset doorways of c. 1520, one in the modern south porch, the other removed from the first floor, retain in their carved spandrels the patronal arms of Clare and Burgh, and the initials of William Reach, prior c. 1515-25. (fn. 234) Those buildings probably stood on the east side of the cloister. Apparently to their north-west there survived until its demolition in 1861 another tall range, buttressed on the north, with 13thcentury windows and doorways, some of whose arches apparently rose from ground level; (fn. 235) it was possibly the refectory. Further west there survives, recased in stone, the northern part of a long range of timber-framed, formerly thatched, buildings, latterly used as barns. Its elaborate timber roof is probably 14th-century. The southern portion of that range was removed 1808 × 1848. (fn. 236)
The building still looked to passing travellers like a ruined abbey c. 1620. (fn. 237) By 1630, when it was called Anglesey Abbey, (fn. 238) the south range had been reconstructed as a gentleman's residence. The main south front, (fn. 239) of two storeys, had five bays, with mostly five-light transomed windows, and included a central projecting porch and a bay window to its east, both twostoreyed. The gabled dormers above, still in place c. 1800, but removed soon after by Canon Jenyns, (fn. 240) except on the north face, were reinstated by Lord Fairhaven after 1926. Several tall 17th-century chimneys with partly restored stacks survive on the east and west gable walls and elsewhere. The undercroft also received new uncusped 17th-century tracery in its eastern windows. In the 1660s the house had 10-11 hearths, (fn. 241) and, probably on distinct floors, a parlour, a chamber over it, and a gallery. (fn. 242) In the late 18th and early 19th centuries the Abbey was used as a farmhouse, the undercroft housing poultry. (fn. 243)
John Hailstone began to restore the house in 1849, when medieval stone coffins were found a little to its west, besides one under the south porch. (fn. 244) He probably did most of his work c. 1860. The buildings to the north-west then demolished furnished much masonry for an office wing built west of the north-south range and a separate range of stables further west. (fn. 245) After 1926 Lord Fairhaven undertook even more extensive alterations. (fn. 246) By 1930 he had built a stone newel stair at the west end of the main corridor, on whose exterior the Gothic porch and bay window dating from Hailstone's time were resited. In 1937 a new library, externally Elizabethan, to designs by Sidney Parvin was put up over enlarged offices to the west, and in 1938 a large staircase hall was added north of the undercroft. It is connected by a bridge to a two-storeyed picture gallery, designed by Albert Richardson, which was erected further north in 1953 to house the Altieri Claudes and Lord Fairhaven's large collection of pictures of Windsor Castle. Fairhaven also installed several fireplaces and ceilings in a Northern Renaissance taste and filled the house with his eclectic collection of furniture and other antiquities. (fn. 247)
The Abbey grounds contain extensive, probably medieval, earthworks. One or more lines of elongated fishponds, whose dry beds, some with signs of sluices, are visible within narrow channels between larger platforms in the lawns south of the house. They were once filled with water by ditches running from the south, and drained by others leading north past the Abbey towards the Quy water. The northernmost platform may have carried medieval buildings. (fn. 248) Lord Fairhaven greatly enlarged the Abbey gardens and park eastward and westward, and landscaped them to his own designs, incorporating mature trees planted by Hailstone. The house was flanked by hedged flower gardens and an arboretum to the south-east, while wide lawns to the west were traversed by avenues of horse chestnuts, the longest planted in 1937. (fn. 249) The grounds were liberally adorned with urns, busts, and statues, some 18th-century. One of two garden temples was created with Corinthian columns, installed in 1953, from the demolished Chesterfield House (London). (fn. 250)
Another estate was derived from that owned in the 14th century by the Bendish family. Thomas Bendish (fl. 1325-35), (fn. 251) who acquired 100 a. in 1329, (fn. 252) was succeeded by John Bendish (fl. 1335-50), (fn. 253) whose 120 a. were settled in 1351 on his son Edmund (fl. to 1390). (fn. 254) A junior branch of that family remained at Bottisham in the early 16th century. (fn. 255) About 1593 the Bendish estate came through his marriage to Susanna Smith to Thomas Webb, lord of Tunbridge Hall, who was living there at his death in 1604. (fn. 256) Probably through their daughter Joan's marriage to Robert Clench, Bendishes belonged to the Clenches for four generations until, following John Clench's death in 1729, Watson Powell, husband of Clench's daughter Mary (d. 1736), sold it c. 1743 to Peterhouse (Cambridge). (fn. 257) That college owned 230-60 a. until inclosure (fn. 258) and retained the 235 a. then assigned to it (fn. 259) until Bendish farm was sold, except for 55 a., in 1965. (fn. 260)
The old Bendish House, which stood in a moat south-west of the church, was a large, irregular redbrick building, probably 16thcentury, of 2½ storeys, whose south front had a large central bay window. (fn. 261) In 1604 it included a hall, parlour, and great and other chambers, (fn. 262) and, when let to Samuel Shepherd in the 1740s, had a chapel on the top floor. (fn. 263) No longer used as a gentleman's residence after its letting, 1775-95, to the Lushingtons, (fn. 264) it was replaced after inclosure with the surviving greybrick Bendish Farm a little to the north. (fn. 265)
From the 1540s until 1720 the lease of the impropriate rectory under Trinity College, Cambridge, was possessed, eventually on beneficial terms, by local gentry families, including the Ventrises c. 1545, (fn. 266) the Folkeses c. 1610-20, (fn. 267) and the Hasells c. 1625. (fn. 268) From the 1640s it belonged to the Parkers of Anglesey Abbey. (fn. 269) At inclosure Trinity College successfully insisted on obtaining a slightly larger proportion than usual of the titheable open-field and fen land. (fn. 270) With St. Bartholomew's Hospital, London, its beneficial lessee 1720-1820, (fn. 271) the college was allotted 453 a. for the great tithes, while its 25 a. of closes included fenland assigned for common rights in the 1670s. (fn. 272) Of Trinity's Parsonage farm, intact into the early 20th century, (fn. 273) 179 a, called Northfield farm, were sold in 1931, (fn. 274) the rest in the late 1940s to the Newmans, (fn. 275) who had worked it as tenant farmers since the early 18th century. (fn. 276)
St. Bartholomew's allowed the small, thatched farmhouse, which still stood on the medieval rectory close in 1758, to become derelict. (fn. 277) It built instead in 1725, on an adjoining close to the west which it owned, a new redbrick house, later leased to Trinity from 1814 until the college bought it in 1872. (fn. 278) That house with two rooms on each floor, had a central staircase, with gabled dormers to the south and chimney stacks at each end. At its rear a single-storeyed leanto, constructed of possibly reused timber framing, incorporates an earlier brick chimney. In 1877 Trinity added a greybrick range to the north. (fn. 279) It was sold by the Newmans c. 1965. (fn. 280)