Pages 507-529
A History of the County of Cambridge and the Isle of Ely: Volume 10, Cheveley, Flendish, Staine and Staploe Hundreds (North-Eastern Cambridgeshire). Originally published by Victoria County History, London, 2002.
This free content was digitised by double rekeying. All rights reserved.
ECONOMIC HISTORY.
Manors: demesnes and tenants.
By 1086 the eleven hides in Soham, all but 1½ part of the king's manor, were worked by twenty ploughteams, including only four demesne ones. The other sixteen possessed by villagers, which provided most of the thirteen which cultivated the royal estate, even though it had 4 servi, presumably belonged to its 16 villani. The yield of that manor had been changed since 1066: it still rendered its former £25 cash render, while former days' feorms of corn, malt, honey, and other food had been converted to 20 marks in cash. The income from the Ely manor had recovered since 1066, but that of Count Alan's had been halved since he received it. As later Soham had numerous smallholders, many presumably supported less by cultivation than by exploiting its fens through pasturage, fishing, and other uses of common rights there. There were 34 bordars in 1086 compared with only 26 villani. (fn. 1)
In 1279 the village contained few substantial peasants. Of some 70 tenants holding altogether c. 875 a. of arable, besides six fishermen at Soham and six more at Barway, three, effectively freeholders, had 50 a. each, while nine each held a full yardland and 25 had 15-20 a. But there were seven with only 8-10 a. and 25 with 6 a. or less, while c. 50 villagers occupied no more than their tofts. (fn. 2) Probably over a third of the arable was included in the manorial demesnes, principally that of the former Crown and later Duchy manor: half of it, given to Philip Basset in 1235, along with lordship over 8½ full and 11 half yardlands and 28 'tofters', then included 176 a. of land with 10 a. of meadow. (fn. 3) As a result of Basset's acquisitions, in the 1270s he and his heirs possessed altogether 413 a. of arable, including 360-76 a. from the former Crown demesne, with over 30 a. of meadow. (fn. 4) In 1308 a moiety of the combined Ely and Richmond fees had 95 a. of arable in demesne. (fn. 5) The part of the Crown manor recovered by Edward I in the 1270s apparently had no demesne, though including lordship over numerous tenants. Soham being an 'ancient demesne' manor, those tenants, some in 1279 styled free or villein sokemen, were subject only to relatively light labour services. All its tenants rendered ancient customary dues, including 'wardsilver' for using the commons, 'scheldsilver', and 'lytyngsilver'. But apart from three carrying services and haymaking, all, even the 'tofters', then apparently owed only 8½ works a year. Customary tenants on the other fees were hardly more heavily burdened, owing mainly harvest works, although on the St. Georges' manor nine with 2 a. each owed two works a week. (fn. 6) In the mid 14th century, when some labour services were commuted, the Crown, later Duchy, manor tenants were also required twice a year, in winter and spring, to cultivate the demesne with 60 ploughs, then with 17 harrows. Their lord could also summon up to 600 villagers for a day's hoeing. The 8½ works each were used to reap the lord's crops. Those tenants next provided c. 150 carts to carry those crops to his barn, while the cottagers furnished 160 men to pitch and stack them. All had also to cart from the fen c. 3,450 bundles of reeds used for roofing and fuel at the manor. (fn. 7) The numerous rents and dues owed on the Duchy manor were still c. 1400 being gathered by several sets, usually two in each, of collectors, including pairs for rents, amercements, 'fenrents', 'averages', and hens. (fn. 8)
Between the late 12th century and the late 14th the Crown manor demesne was normally cultivated directly, either by its lord, as in the 1190s, the 1230s, (fn. 9) and the 1310s, (fn. 10) or by a farmer leasing the whole manor, as possibly c. 1280, (fn. 11) and c. 1340-70, when the monks of Ely apparently had the lease. (fn. 12) Despite its size that demesne was usually worked by a relatively small waged staff. Only in the early 1350s, during the labour shortage following the Plague, were many workers hired temporarily for harvesting. Besides a reeve selected from the tenants, the staff included a carter, two or three pairs of ploughmen who worked teams drawn from the 15-20 oxen and 5-6 horses kept, a swineherd, a dairymaid, and a shepherd. The last had charge of a flock presumably gathered from the tenants' sheep; their duty to send beasts to the lord's fold was still at least formally enforced c. 1394. No demesne flock was recorded between the late 13th century and 1350, but thereafter one was again kept, comprising 90-120 ewes, yielding as many fleeces yearly. The non-resident lords or lessees expected profit primarily from selling large amounts of wheat and barley, often 80-100 qr. of each in the mid 14th century, along with up to 50 qr. of maslin. Such sales yielded about half the net demesne income of up to £120 yearly. Other crops, oats, legumes, and after 1300 dredge, were mainly consumed on the demesne. (fn. 13)
The area of the Crown manor demesne cropped annually was reduced from the 300-30 a. of the 1340s to only c. 150 a. by 1365: much demesne arable was already let then, along with the demesne meadows at Clipsall, and probably some of up to 17 customary holdings by then left in the lord's hands for lack of tenants. (fn. 14) In the early 1370s some tenants were performing their labour services slackly, or even failed entirely to come to do them. (fn. 15) By 1390, and probably soon after John of Gaunt took over the manor in 1374, the whole demesne was leased among the tenants. Their works were thereafter regularly commuted in full. Those payments, covering by 1390 only c. 290 harvest works compared with c. 790 due in the 1340s, were levied on only c. 30 customary holdings, two thirds in Soham. The others had perhaps been incorporated into the leased demesne. By 1600 it had nominally increased to comprise 701 a. (fn. 16) As arrears of both rents increased after 1400, the Duchy administration cut its losses by reducing rents, formally cutting the assize rents in 1416 from £28 to £18. From 1421 the labour services were leased to the tenants, initially for 10-year terms. The demesne rents, then reduced by £16 from their original £64, fell by another £6 by the 1450s. (fn. 17) In 1433 two former bailiffs took on a seven-year head-lease of the whole manor for £113, but apparently unprofitably, for management by rent-collecting bailiffs was resumed by the 1450s. (fn. 18)
On Netherhall Tyndalls the demesne was also on lease, the customary holdings being put at rent, by the 1490s, (fn. 19) as was Netherhall Wygorns manor by the 1510s to Edward Bestney. (fn. 20) Of a local family, (fn. 21) Bestney probably, being resident, himself farmed in the mid 16th century at least part of his Soham demesne, where he also kept a sheepflock. (fn. 22)
By the late 16th century all the Duchy manor lands, demesne and copyhold, were effectively controlled by the villagers, who occupied the demesne on 'grand leases'. (fn. 23) There was a brisk traffic among them both in the whole of such leases and in sub-leased fractions of that land. (fn. 24) All took advantage of lax Duchy management, Edward Barnes as steward exploiting his fellowtenants through his control of admissions to copyholds. (fn. 25) The main body of copyholders asserted in 1612 that they were entitled to lease their copyholds, to fell timber, and to let buildings decay. Upon descents or sales of copyhold, divisible by custom only among daughters, they owed no heriots and should only pay a fine of 8d. per acre and 12d. for a messuage. (fn. 26)
In 1610 James I's agents relet all but 50 a. of the demesne which was let yearly, to its 'grand lessees' for long terms: 173 a., of which all but one holding was in 20-30 a. lots, for 45-year periods, and 357 a., mostly in lots of 40-60 a., for 60 years. Another 107 a. was let for lives. (fn. 27) When Sir Robert Heath bought the manor in 1626, he hoped to relet the demesne, when those leases fell in, at new rents expected to be ten times the £60 reserved in 1610, (fn. 28) but the tenants claimed that they could not after so long distinguish on the ground their leased demesne strips from land held by other tenures. (fn. 29) Apparently Thomas Chicheley agreed, by c. 1660, effectively as part of his settlement with the villagers over the fen inclosure, to sell off his reversionary rights in the demesne. (fn. 30)
The Heaths and Chicheley did, however, establish that thenceforth Duchy copyholds were subject to entry fines at the lord's will, (fn. 31) a rule that also prevailed on the Netherhall, Barway, and Rectory manors. (fn. 32) That right was substantially profitable to the lords as fines, assessed on the Duchy manor in the 1760s at two years' rent, (fn. 33) regularly increased in proportion to land values from the 18th century. (fn. 34) The partition of the fens in the 1660s also greatly increased the amount of copyhold through allotments for common to most of the Duchy manor's 85 copyhold dwellings. In 1637 Duchy manor tenants supposedly had only 75 a. of copyhold arable in the fields, compared with 222 a. of freehold there; c. 170 a. of the arable held by both tenures then lay in the southern set of fields. (fn. 35) In the 19th century land held of that manor, perhaps including freehold, comprised 85 a. in the southern and 218 a. in the northern fields, but c. 1,440 a. in the former fens. (fn. 36) Another 190 a. of copyhold, including 152 a. of fenland, belonged to Netherhall Wygorns, (fn. 37) 67 a. to Tyndalls, (fn. 38) and 332 a. to the two Pembroke College manors. (fn. 39) Such copyhold was gradually enfranchised from the 1860s. (fn. 40)
Agriculture to the 1650s.
In the Middle Ages, as later until the 19th century, barely a tenth of Soham was devoted to arable farming under the open-field system. Probably by the mid 13th century there were two sets, each numbering three, of open fields, (fn. 41) one north and one south of the village: those two sets were still being distinguished in the 16th and 17th centuries. (fn. 42) Even in the 19th century only the larger landholdings had strips in both northern and southern sets. (fn. 43) About 1250 those fields had perhaps been recently organized out of blocks of arable such as those, whose names were seldom recorded later, within which lay the arable granted to Philip Basset c. 1235. (fn. 44) One set lay along the south-eastern edge of the parish, partly adjoining and overlapping similar fields in Fordham. (fn. 45) Easternmost lay East field, so called from the mid 13th century (fn. 46) to the late 16th, (fn. 47) which contained 245 a. in Soham parish in 1656 and 221 a. in 1814. Occasionally from the 1490s, (fn. 48) usually from the early 17th, it was renamed Clipsall field (fn. 49) after the adjoining Clipsall close partly in Fordham, recorded by 1270 when it contained meadow. (fn. 50) To the west Down field, so styled from the 13th century (fn. 51) to the 19th, covered 339 a. in 1656, 304 a. in 1814. Beyond it Newditch field, so named by the 1230s, (fn. 52) perhaps from a then new ditch (fn. 53) probably made against adjoining fenland, covered c. 270 a. in 1656, 256 a. in 1814. Its name, altered to Nowditch field by 1400, (fn. 54) was by the 17th century corrupted to Noditch field. (fn. 55) Horsecroft to its north, called a field from the 13th century to c. 1500 (fn. 56) and reckoned separately in crop rotations in the 1340s, (fn. 57) was from 1570 × 1630 considered a furlong, covering 20 a. in 1656, lying within Noditch field. (fn. 58) Some old inclosures, such as Callow closes, 23 a. in 1656, north of those fields may have been taken into severalty from them. Different parts of the fields were of different qualities: in 1281 only 196 a. of the Basset demesne arable was reckoned good, but 180 a. poor (debiles). (fn. 59)
Of the other set of fields spread fanwise north of the village, the largest was Mettleham field, so named by c. 1250 by contrast to 'Littleham', later a block of land within it. (fn. 60) It was usually called Metlam field by 1600 (fn. 61) and renamed North field from the early 18th century. (fn. 62) In 1656 it covered overall 342 a., but in 1814 was only reckoned as 274 a. Barcham field to its west, recorded by the late 13th century, (fn. 63) covered in all 138 a. in 1656. To the east Bancroft, already styled a field c. 1250, which contained altogether 92 a. in 1656, 42 a. in 1814, already included meadow c. 1250. (fn. 64) By the mid 15th century many strips in the three northern fields were laid down as meadow; (fn. 65) closes in Bancroft and Barcham were mentioned in 1559. (fn. 66) Perhaps then, as later, such closes were held in severalty, outside the open-field cropping: some in Metlam field were pasture in 1640. (fn. 67) Recent encroachments presented in 1584 included c. 80 a. in the northern fields and another 78 a., apparently meadow, in Greenway and 'Brady' meadows. (fn. 68) By 1654 c. 140 a. in Down and Clipsall fields and c. 205 a. of the fieldland north of the village were reported as inclosed for pasture: (fn. 69) the area there thus permanently inclosed included 109 a. of Metlam field, mostly in its north and east, 30 a. fringing Barcham, and 47½ a. at either end of Bancroft. In 1814 there were over 170 a. of closes within North, Barcham, and Bancroft fields. (fn. 70)
Between the two groups of open fields there lay, around and south of the village, extensive, potentially arable, ancient inclosures, covering altogether c. 500 a. in 1656, (fn. 71) in places in two layers. Some had probably been styled crofts in the 13th century. (fn. 72) Their layout with parallel elongated strips, separately owned, in each block of closes suggests that some of them derived from the taking into severalty of former furlongs. By 1656 the inner line of closes were mostly named after adjoining streets; others bore names with manorial associations; among them were the Bury, later Berry, crofts, recorded by 1410, (fn. 73) or the Netherhall closes, mentioned in 1503, (fn. 74) eventually, probably by 1800, corrupted to the 'Weatheralls'. (fn. 75) South of the village the Mote and Horsecroft closes, a 60-a. block owned by one man in 1656, may have derived from former manorial inclosures. To their east lay the large Windmill or Mill croft, so named by the 1230s, of 23 a. in 1814, whose northern part was also divided into numerous strips. Further southward was an area, mostly held in severalty by 1656 and covering over 200 a. in 1814, where arable and grass were intermingled: (fn. 76) it included 'fields', such as the 8 3/4-a. Foxlow, arable in 1500. (fn. 77) Two common meadows also lay there: to the west Broadway meadow, 46½ a., where several men had meadow c. 1250; (fn. 78) to the east Greenway meadow, so named by the 1630s, of c. 35 a. in 1656. (fn. 79) It touched Soham's part of the moor, covering 191 a. in 1656, to whose south-east Soham and Fordham then intercommoned on 432 a. (fn. 80)
Curving round those fields and closes lay the extensive fens belonging to Soham by the 13th century, when the vill was said to have a fen ten leagues long by two wide. (fn. 81) About 1625 Soham's own fen commons, perhaps then first surveyed, supposedly measured 8,398 a. (fn. 82) They stretched to meet those of Ely and Stuntney to the northwest and Isleham to the north-east: large flocks from those places sometimes trespassed onto Soham's commons c. 1400. (fn. 83) In the 1230s men from Thetford (I. Ely) had paid Littlemore nunnery 3s. yearly to enjoy common pasture in the nunnery's fens around Barway, (fn. 84) whose men probably from c. 1400 contested with those of Stuntney rights of common in part of the neighbouring Haveringmere, in the early 16th century seeking to feed 200-300 cattle there. (fn. 85)
South-west of the village (fn. 86) Horsecroft fen, so named c. 1395, covered 512 a. c. 1625. (fn. 87) It was in severalty from the 1660s; its northern portion was by the 1630s renamed the (H)angles, the part further south by the 19th century the Bracks. (fn. 88) East of the village lay the East fen, 502 a., mentioned by 1374, (fn. 89) and the Calf fen, 206 a., whose name, thus reported by the 1570s, (fn. 90) was often worn down to 'Qua fen' from the mid 15th century. (fn. 91)
The large expanse of fen, covering 2,087 a. in 1626, which surrounded the northern set of fields was then, as apparently in the 1460s, simply called the 'Borders', its northern part, perhaps by 1400, being styled the Frith. (fn. 92) To its east the Hasse or Harst, 606 a., (fn. 93) was partly used as turf fen by 1637. (fn. 94) Metlam fen, 2,730 a., its northern 2,344 a. distinguished as Great Metlam by 1626 and later often called into the 18th century simply the Great fen, (fn. 95) extended into the far north-east of the parish. The name of Fodder fen applied by c. 1700 (fn. 96) to its northernmost part suggests its traditional use. Other fens to the north-west totalling c. 1,220 a., partly belonged to Barway: their eastern 949 a., particularly known from the 17th century as Bar(ra)way or Barrow fen, surrounded the inclosed island of Henney; its lord was required in 1435 to maintain ditches between Soham's fen commons and Henney, and also against Barway's field, (fn. 97) presumably the land cultivated from that hamlet. In 1656 that fieldland, c. 70 a., all held in severalty, embraced Barway's own Little fen, 18¾ a., mentioned by the 1410s. (fn. 98) The area to the southwest later occupied by Fordey farm was probably already styled Fordey in the 1410s. (fn. 99) Further east the 133 a. of Sedge fen was reserved for mowing. (fn. 100) It was perhaps from there that the Crown manor tenants had brought cartloads of rushes in the 1340s. (fn. 101) From the 14th century villagers cut rushes (lesch') and sedge in the fens under bylaws, which fixed dates for starting the cutting, and for removing the reeds. Manorial courts also then tried to enforce rules forbidding the sale of fen products outside the parish, (fn. 102) but turfs and sedge were exported in thousands, sometimes for sale at Stourbridge fair at Cambridge. (fn. 103) Such sales, involving tens of thousands of turfs, continued in the early 17th century. (fn. 104) In 1465 the right to mow and cut turf in the fen was confined to householders, excluding 'single men'. (fn. 105) A line of closes stretching into the west of the fen, held in severalty by 1656, including Blacklands and Redlands perhaps named from their soils, had probably already been taken in from Soham's commons by the late 13th century: their 200 a. still owed tithe to the rectory in the 1810s. (fn. 106) By the mid 13th century they apparently already reached as far as Rolvesfield, the modern Rose field, at their northern end. (fn. 107)
On the Crown manor the main winter crops in the 1270s were wheat and rye, of which almost equal amounts were reaped in 1272, while barley dominated the spring sowings. (fn. 108) By the 1320s maslin had largely replaced rye; it occupied in the 1340s over a third of c. 125 a. under winter crops, while wheat occupied over half. By the 1340s, too, dredge comprised over a third of c. 135 a. of spring crops, oats barely a seventh. The triennial rotation in use in the 1340s involved for large holdings such as the Crown demesne both sets of fields. Every third year, in that decade as probably in the 1360s, winter crops were sown in Down field and 'Melnehil' (perhaps Mill croft), and spring crops in Nowditch and Mettleham fields, while East field and 'Berchehil', perhaps Barcham, were at least partly under pulses. (fn. 109) From the late 15th century to the early 17th barley was the crop most commonly bequeathed by villagers. (fn. 110) About 1595 the open-field crops were expected to yield tithes totalling 800 qr. of wheat, rye (still grown c. 1600), barley, and pulses, but the actual tithe came to only 500 qr. (fn. 111) By the 17th century hemp was grown, both in open fields (fn. 112) and probably in closes, called 'hemplands' in the 18th century, along the streets. (fn. 113) Into the 1760s watering or drying hemp on the commons was occasionally forbidden. (fn. 114) Carrots were also planted by the 18th century in old inclosures. (fn. 115)
By the late 1180s Soham's largely pastoral economy had been productive enough to bear a tallage of c. £30, compared with £10 levied twenty years earlier. (fn. 116) Few villagers, however, had much wealth in 1327, when only 18 were taxed on 2s. or more and 23 on 14-23d., but 47 on 13d. or less. (fn. 117) Soham was probably more prosperous by the early 16th century: in 1522, when the wealthier villagers supposedly owned £900 between them, there were ten worth £30-40 and as many with £20-26. (fn. 118)
Many of the poorer villagers depended for their living on the beasts fed on Soham's pastures in the fens and elsewhere. Rights of common on those fens remained legally unstinted in the early 17th century. (fn. 119) The right of sheepwalk for up to 300 sheep claimed for some holdings was perhaps exercised on the open fields. Some freeholders enjoyed liberties of fold from the 13th century. (fn. 120) The rectory had sheepwalk for 400 beasts c. 1595, (fn. 121) and similar rights, for up to 300 sheep, still belonged in the 17th century to holdings of only a few acres, one called in 1637 a foldacre. (fn. 122) In 1466, when horses and pigs were excluded from the Borders, cattle on the fen had to be kept in a common herd. (fn. 123) Rules for the seasonal commoning on the fens of cattle and sheep were still being enforced in the 1620s. Sheep were only allowed on Calf and East fens between Christmas and Ladyday and excluded from all the fens from April to October. (fn. 124)
By the 16th century most villagers grazed chiefly cattle. From the 1340s to the 1360s a small herd of 20-30 cows was kept on the Crown demesne. (fn. 125) In the late 14th and early 15th centuries a few villagers allegedly trespassed on the crops with up to 50-100 sheep, (fn. 126) but probably more, over 80 people in 1408, kept only cattle and pigs. (fn. 127) Of c. 30 villagers so trespassing in 1405, only eight had flocks, which ranged from 20-30 up to 100 or more sheep. (fn. 128) In 1552 only 22 villagers had sheep, yielding in tithe 142 lambs, besides 35 stones of wool. But c. 140 people then owned c. 480 milking cows with c. 375 calves and another 95 'fremilch', perhaps dry, cattle. Tithe was also paid on 32 colts, perhaps bred on the fen. Of the many villagers with cows, 86 people had one to three each, c. 165 altogether, and 37 others up to six each, but only twelve more than ten cows; Thomas Barnes had thirty. (fn. 129) Both Soham and Barway farmers often bequeathed 'milch kine' or 'bullocks', besides heifers, in the 16th century. (fn. 130) Three herds of milking cattle, each 700 strong, were supposedly kept c. 1610. Much of their produce was apparently sold, for Soham was then allegedly short of cheese and butter in winter. (fn. 131)
It was the village poor, whose pastoral way of life was endangered, who resisted most fiercely Sir Robert Heath's schemes of fen inclosure in the 1630s. (fn. 132) Following the temporary interruption of those plans after 1640, ownership of cattle, including some 630 milking cows and 910 calves, was still in 1648 widely spread among c. 150 villagers, including 13 occupying no fieldland at all. About 30 of the poorest cattleowners, most with two cows each, had 62 between them. Some 65 others with 3-5 cows each kept c. 300 cows and 170 calves, and 38 more with 6-8 each, altogether c. 245 cows and 330 calves. Only eight people, however, owned ten or more cows. Almost half the cattle belonged to villagers occupying under 10 a. The slightly larger farmers with over 20 a. each, who had c. 475 calves, perhaps also bred cattle. Far fewer people still owned sheep. Ten flocks had been kept c. 1625. Of five numbering c. 200 each in 1648, out of a total of c. 1,280 then pastured, all but one belonged to farmers occupying 50 a. or more, while only 160 sheep were kept by people working 20 a. or less. (fn. 133)
Some villagers were already using the commons for profit rather than subsistence: one pair c. 1567 jointly bought a flock of 260-300 sheep elsewhere, only to sell it within months. (fn. 134) In 1628-9 Heath alleged that numerous villagers, in violation of custom, were bringing in more cows, sometimes agisting them for nonresidents, to feed on the commons in summer than they could support in winter on their own holdings. The villagers asserted their entitlement to buy in cattle, sometimes in winter kept elsewhere or fed on purchased fodder, to fatten on the commons for sale for their 'advantage'. (fn. 135) One villager had also traded in the 1580s as a maltster, buying barley in 60-qr. lots. (fn. 136)
Few villagers in 1523-4 had much wealth, probably fewer than ten being worth £10 or more; the great majority were taxed on only £1-2, although very few were merely wageearners. (fn. 137) From the 15th century, however, a minority of families rose to a wealth enabling them by the 17th to assume the style of gentry, even though, within a parish with little arable, their actual landholdings were modest. The most successful family, apart from the Bestneys and their heirs of the Barnes family who achieved manorial standing, (fn. 138) was the Thorntons, who were descended from William Thornton, from the 1410s to the 1430s bailiff, warrener, and briefly lessee on the Duchy manor. (fn. 139) From the late 15th century they built up over six or seven generations (fn. 140) the largest non-manorial holding in the parish. John Thornton was still bailiff of Soham manor in the 1580s, (fn. 141) when he apparently had a substantial Soham house. (fn. 142) That family still acted as patrons of the villagers in the 1620s. (fn. 143) Samuel Thornton, who in 1646-7 compounded from Soham as a Royalist for land worth c. £3,330, (fn. 144) in 1656 owned 44 a. of closes and 212 a. of fieldland there, all but 2 a. in the southern fields, while a kinsman, Benjamin Thornton, had c. 78 a. in the closes south of the village. Of other nonmanorial landowners in 1656 two had respectively 218 a. and 201 a., two more 164 a. and 129 a. and four 60-65 a. each. Eight others, with 25-35 a. each, stood out among the smaller owners, of whom 35 more, few with over 10 a., shared c. 305 a. Seventeen had houses and closes but no arable, and c. 50 without Soham homes, merely 140 a. of fieldland. (fn. 145)
Leasing spread the actual occupation of the land held in severalty more evenly. In 1648 only eight men, with 90-120 a. each, farmed over 50 a., occupying altogether c. 800 a.; only two of them were working large amounts of their own property. Of the remaining 1,455 a. then cultivated, 36 others with 15-35 a. occupied another 830 a. and there were 120 small farmers, almost three quarters with under 5 a. each. Of c. £8,000 then taxed in Soham, almost four fifths were assessed on stock, of which over a fifth, c. £1,100, belonged to the wealthiest nine villagers, mostly with £80-140 each; the two leaseholders under Samuel Thornton and Pembroke College had £200 and £100. Another 23 people were assessed on £50-60, in all £1,250, and 35 on £30-40, but almost sixty were worth £20 or less. (fn. 146) From the wealthier villagers, who had been occupying well furnished dwellings from the mid 16th century, (fn. 147) were drawn the inhabitants of those houses, numbering 10-20 c. 1670, which had five or more hearths. There were then 35-55 others with only three or four each, and up to 260, the village poor, with only one or two hearths per dwelling. (fn. 148)
Such prosperous yeoman families as the Norfolks, owning by 1630 c. 60 a. of arable and 50 a. of pasture, (fn. 149) the Mordens, (fn. 150) and the Cropleys, eventually created baronets, (fn. 151) survived, often as resident landholders, in Soham from the 16th century to the 18th. Some, such as the Peacheys had so many branches that namesakes had to be distinguished c. 1600 by their residence. (fn. 152) Others, though owning little land, flourished as farmers, including the Wilkins, recorded from the early 15th century, (fn. 153) who occupied 116 a. in 1648. (fn. 154) Probably Soham's leading farmers in the early 18th century, they also built up an estate including over 150 a. of Duchy copyhold, inherited in the 1760s by the Merests. (fn. 155)
Soham mere and the fisheries.
The Mere west of the village, measured as 1,369½ a. c. 1800, (fn. 156) was until the 17th century most important for its fishing; it probably produced the 4,500 eels due to the king's manor in 1086, when seven fishermen rendered fish to him three times a year. (fn. 157) By 1066 Bury St. Edmunds abbey (Suff.) had acquired in Soham 6 a. with the right to fish in the Mere with one net. (fn. 158) In 1279, as until its dissolution, that abbey retained a right, on lease by the 1530s and apparently attached to a Soham house, to have a fishing boat and 'lake' on the Mere. (fn. 159) Ely priory had also obtained a right to fish there with boats by the 1140s. (fn. 160) In 1279, when the Ely monks had allegedly usurped from the Crown manor a fishery called Chitemere, their boat was one of those entitled to fish there along with that from Bury. Three other such boats belonged to the neighbouring manor of Wicken. (fn. 161) The occupants of Spinney priory in Wicken exercised another, sometimes disputed, right to fish into the 16th century. (fn. 162) Another belonged in 1279 to the united Ely and Richmond fees: in the 1390s Duchy manor officers challenged its enjoyment by John Tyndall. For Barway manor Littlemore priory could in 1279 keep four or six fishing boats on half of Haveringmere, perhaps to the north-west upon the Stuntney boundary. (fn. 163) In 1279 six fishermen at Barway, tenants to that priory, paid £2 and 4,000 eels to enjoy the Barway fishery, while six customary holdings on the Crown manor, of no more than 6 a. each, also kept fishing boats on the Mere. (fn. 164) In the late 13th and early 14th centuries people were occasionally drowned fishing in the Mere and the neighbouring fens, (fn. 165) gathering sedge there, or carrying goods by boat over them towards Ely. (fn. 166)
Authority, sometimes violently enforced in marginal areas, (fn. 167) over the Mere and over fisheries elsewhere in Soham rested with the Crown, later the Duchy, manor; its possessors in the late 13th century, (fn. 168) as regularly by the 1340s, received rent from villagers for the enjoyment of 'lakes', numbering 25 in 1342-3, and for the use of wall-nets ('wawnets'), still numbering 38 c. 1365. (fn. 169) Those 'lakes' of which some at the Delf north of the village were recorded from the mid 13th century, (fn. 170) were 'fishing places', occupied in severalty, along the edges both of the Mere itself and of other fens, mostly lying in the east of the parish. Usually attached to, and descending with holdings in Soham, (fn. 171) 'lakes' were reported c. 1350 on the 'moor fen', presumably by the later Moor south-east of the village, (fn. 172) and in the 1390s and later on East fen. (fn. 173) Others lay c. 1400 in parts of the fen adjoining open fields. (fn. 174) In the late 14th and early 15th centuries villagers often fished in parts of Soham's fens, such as Horsecroft fen, where they were not entitled to do so, (fn. 175) and sometimes used nets of sizes contrary to statute. (fn. 176) By the early 17th century some of 33 or more 'lakes' or 'stangs' then remaining had dried up and been brought under cultivation or had cottages built on them. (fn. 177)
By the 1360s the Crown manor rented out separately the fishing of Sealode, the 141 a. north of the main Mere (fn. 178) in which Philip Basset had bought out others' rights in the mid 13th century. (fn. 179) From 1394 its lord regularly leased out the fishing of the main Mere with 'draughtnets', initially for ten-year terms, commonly to one or two lessees, sometimes villagers, but sometimes dwelling at Ely. In the 1420s a consortium of twelve, nine from Soham, three from Wicken, took on the lease. The fowling (aucupatio) of the Mere was then let separately. (fn. 180) Over the 15th century the profit of the fishery may have declined: the amount of rent expected fell by a third from 20 marks between the 1420s and the 1450s and was only £6 by the 1490s. Then, as in the 1390s, the terms of leases carefully restricted the types of nets to be used. (fn. 181)
From 1615 the Mere and Sealode fisheries were let to Isaac Barrow of Spinney Abbey on a 31-year lease. The actual fishery was still sublet in the 1630s to local fishermen. (fn. 182) About 1653 seven people were renting fisheries along the Mere's edge. (fn. 183) By the 16th century those waters may also have been used for sport: in the 1530s Edward Bestney, Soham's leading resident, plied Thomas Cromwell with presents of fenland fish and fowl when seeking a licence to shoot game with gun and crossbow. (fn. 184)
By 1600 the Mere was suffering encroachment. Inquiries of 1595 and 1601-2 found that along 820 poles (probably c. 4,500 yds.) of its eastern edge, stretching northwards as far as Sealode and southwards from the dam ditch where Soham's 'river' ran into it, at least 25 a. of dried-up land, in places up to 6-8 poles wide, had since c. 1565 been taken into private possession and converted into grassland by six people. The main culprit, Edward Barnes, occupied over 16 a. (fn. 185) It was perhaps that land, later estimated as 60 a., along the edge called the Sholes, which even before the Mere was fully drained had been usually dry, except during exceptional floods, and was mowed or fed with cattle. (fn. 186) The inquiries c. 1600 apparently resulted from objections by the fishery lessees to possible loss of profit. Soon afterwards Sir Robert Heath took that area into his own hands: among the inclosures which he rented out in the 1630s and lost to popular protest in 1641 were 40 a. of 'holts' by the Mere, partly planted by 1640. (fn. 187) Those 16th- and 17th-century encroachments were represented in 1656 by a line of inclosed land west of the Mere bank, then mostly unoccupied and described as 'waste and holts'. (fn. 188) The villagers did not, however, challenge the Duchy manor lord's right to treat the main part of the Mere as part of his demesne; accordingly from the 1660s Thomas Chicheley and his successors could include it without opposition in their plans of inclosure and drainage. (fn. 189)
Inclosure of soham fens, 1625-85.
From the 1620s Soham's economy was transformed by the attempted inclosure and drainage of its fens. Sir Robert Heath, soon after acquiring the Duchy manor, sued in the Exchequer in 1627 to have set out in severalty the share to which he held himself entitled for his rights as lord in Soham's commons, which were then estimated to cover c. 9,400 a. besides c. 1,000 a. intercommonable with Fordham. The area to be left to the commoners, nominally enough to satisfy their legal claims, was well below what they had in practice enjoyed. Heath successfully asserted that newly erected cottages should not be allowed common rights, that divided dwellings could enjoy only one right, and that common of turbary might only be claimed for the ancient number of 'fire rooms' in each house. Having offered villagers owning commonable houses ½ a. for each acre of their fieldland and promised to assign land for the church and poor, he claimed support from some 'principal' inhabitants, but most villagers initially opposed him in court. Following an inquiry in 1627-8, they abandoned the case (fn. 190) and in 1628 the Exchequer decreed to Heath 2,000 a. of Soham fens, of which c. 1,525 a. were set out in the north of Great Metlam fen, the rest around Barway. (fn. 191)
When, however, in 1630 Heath's agents tried to take possession of those allotments, employing workmen to embank and fence them, the villagers, especially those from around Barway, resisted fiercely, putting their women to the fore. Armed with cudgels and pitchforks they threatened those setting out the inclosure boundaries and ignored prohibitions against commoning cattle there. Some threw down the banks by night. (fn. 192) The disorders continued in mid 1632; neither the neighbouring J.P.s. nor men from adjoining villages, called out to help make arrests, acted effectively against the 'beggarly cottagers'. When, however, a crowd of Soham's poor halted Queen Henrietta Maria's coach passing through Soham on its way from Newmarket to Ely, perhaps to present a surviving petition for a return to Duchy control, Charles I finally ordered the sheriff in September 1633 to suppress the supposed 'rebels'. (fn. 193) For a time Heath could occupy his inclosures in peace. The 2,000 a., though let from 1635 on a 21-year head-lease to William Barnes, were considered in 1633 to be poorly drained and apparently left as pasture. (fn. 194) Heath also planned to start draining the Mere. (fn. 195) Soon after, the Adventurers in the Bedford Level were formally allotted in 1637 c. 1,265 a. of Great and Little Metlam fens and the Hasse and c. 230 a. to the west in Fordey fen and Barway Middle fen, besides 420 a. of Heath's new severals in Great Metlam. In the 1650s their Soham lands, perhaps rearranged, included, apart from those 420 a., an estimated 1,800 a. in Metlam and Hasse fens. (fn. 196)
In May 1641 up to 160 villagers took advantage of the collapse of royal authority to throw down the fences around Heath's inclosures and put in their cattle, later mowing that area and in September felling the trees planted on the Mereside holts. (fn. 197) That fenland apparently remained again in use as common into the mid 1650s. It is uncertain whether the Adventurers' allotments, at least 1,200 a. of which by the 1680s belonged to the succeeding lord, Thomas Chicheley, (fn. 198) were also assailed in 1641, but their possession of part of that land was challenged in the early 1650s. (fn. 199) From 1652 Heath's son Edward tried to reclaim his father's remaining 1,580 a. in Soham fens, combining threats of legal action with offers to join with the commonright owners in dividing the remaining commons. (fn. 200) In a compromise discussed in 1654 the villagers insisted that 500 a. be assigned to help maintain the poor who had no common rights. (fn. 201) Nothing was concluded before Edward sold the manor to Chicheley, who, being suspect as a royalist, chose early in 1658 to agree with the commoners to renounce his remaining 1,080 a. in Great Metlam fen in return for unchallenged possession of 500 a. near Barway and of adjoining land beside the Ouse. Under that agreement, approved in 1658, he also recovered the northern part of the holts. (fn. 202)
When the Bedford Level Act of 1663 provided a means for the villagers themselves to divide the fen commons in their own interest, they hastened to use it. An award of December 1664, reached through the arbitration of Chicheley and the leading surveyor Sir Jonas Moore, assigned to each owner of commonable messuages, standing or not, 16 a. of the fens for each such right. Chicheley, though in 1658 he had renounced any claim to a share in the fen for the Duchy manorial demesne, insisted on having allotments for land that he held by other titles, particularly the purchased Thornton estate. Besides retaining 140 a. in Sealode and 37 a. of the holts, he emerged with c. 760 a. of fen northeast of Barway, including 505 a. in 'Great Eau fen', and 246 a. to its south, including Sedge and part of Fordey fens. The remaining 4,383 a. of fens was mostly divided, in lots averaging 16-17 a, among 247 commoners of Soham and 16 of Barway; the latter had their allotments set out near that hamlet. Eighteen lots, also of 16 a., went to owners of sheepwalk, ten, of 3 a., to those having commonable cottages, and 12 a., for cow commons, to Gerard Russell of Fordham Abbey. (fn. 203) The actual division of the fens was authorized in 1665-6 through orders of the Bedford Level Commissioners: each 16-a. lot was set out in two halves in different portions of the fens, but those owning more than one right had all their allotments in each portion laid out adjoining one another. The areas so allotted included over 270 a. in East and 100 a. in Calf fens, c. 240 a. in the Hasse, over 150 a. around the northern open fields, and further north c. 530 a. of Metlam fen and c. 270 a. in Eye Hill and Blockmoor, besides c. 165 a. in Horsecroft fen. At least 34 allotments were made to seven people each owning 4-7 commonable houses, while 77 went to eleven owners with three houses and 22 to those with two each; at least 75 people received allotments for single houses. (fn. 204) In addition 100 a. of fen in three blocks, later called Horse fens, were set out to be grazed by working horses owned by those with at least 6 a. in the common fields: for those working the southern set of fields 20 a. by Clipsall field and 50 a. in Horsecroft fen, for farmers in the northern set 30 a. between Metlam and Barcham fields. They were to be managed under rules laid down by a majority of landholders meeting yearly under the Duchy manor steward's presidency. (fn. 205)
The villagers did not neglect the interests of their poor 'undersettles' occupying cottages. The award of 1664 provided that certain areas be left to be commoned by poor cottagers, 200 a. for feeding beasts and 100 a. for cutting turf, under rules to be made at the Duchy court leet. For feeding cows there were assigned 50 a. each from East and Calf fens, 30 a. north of Horsecroft fen, later Angle common, and 70 a. west of Barcham field, later Shade common. For turf-digging the poor should have 100 a. in the Hasse, while 116 a. of the Moor were to benefit them through educational and charitable uses. (fn. 206) Since the Commissioners did not think themselves empowered to assign land save to individuals, the poor's share was allotted in 1668 to Moore and Chicheley, who promised to transfer it in trust for the village. Chicheley long delayed doing so, claiming that he had been promised ownership of those allotments in return for his great expense in having the fens first surveyed, then c. 1670 drained and embanked. He allowed the poor to graze and cut turf on the commons assigned for those uses, though moving the turf common westward from the Hasse to the Frith, but rented the other commons to his own tenants. The villagers eventually sued him in 1683, obtaining in 1686-7 an Exchequer decree that obliged him to surrender that communal property. (fn. 207) Chicheley and his successors retained other once common land south of the village, consisting of the 400-500 a. in Fordham Moor and the Hales previously intercommonable with Fordham, of which he had been promised half in 1658. He had all '400 a.' inclosed for himself c. 1670. A suit by the villagers in 1701 failed, and all 400 a. remained part of the manorial holding. (fn. 208)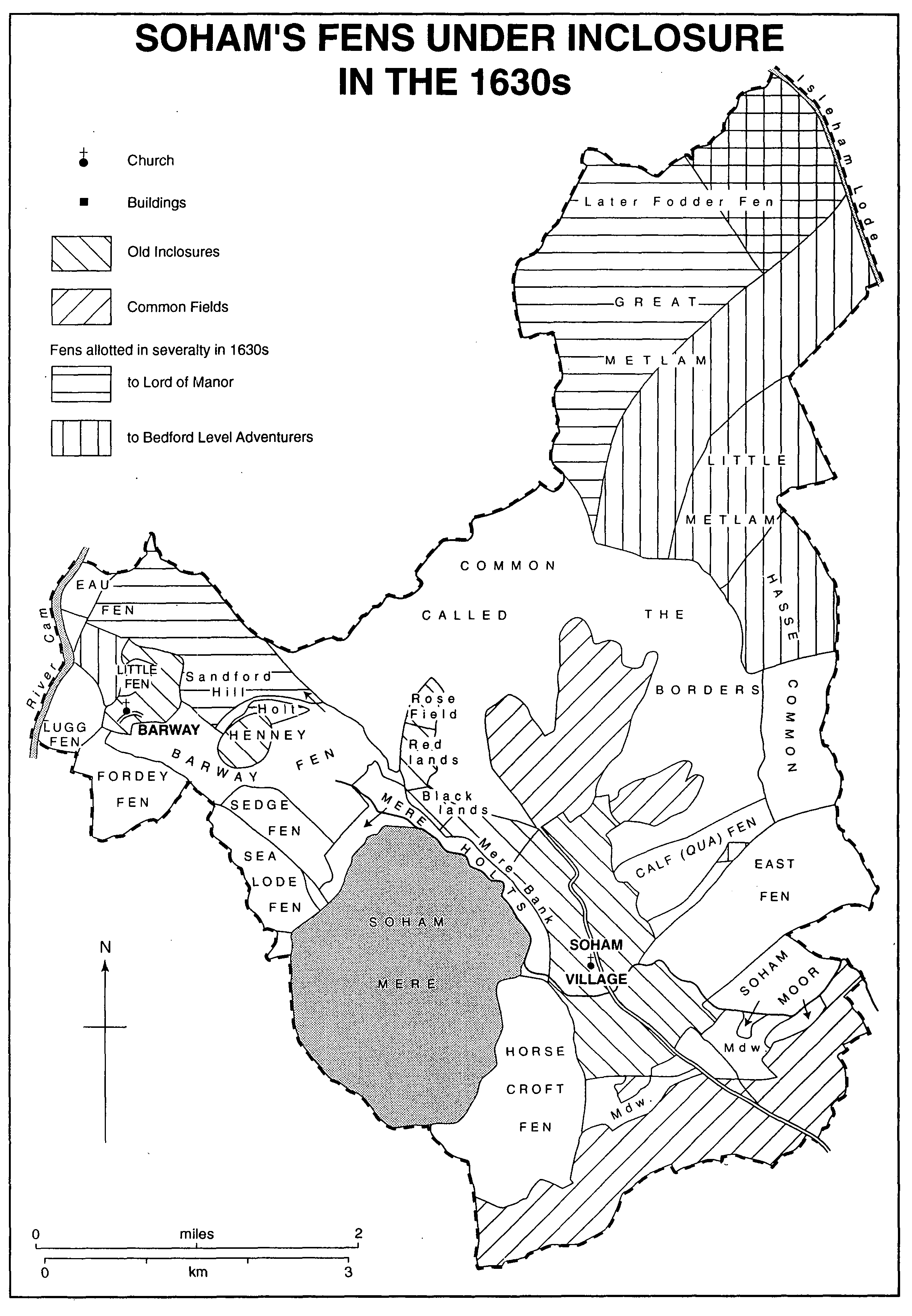 From the late 1660s Chicheley drained, divided, and leased out his portion of the fens, both the 765 a. around Barway, his part of the Adventurers' land, including all the 420 a. taken out of the 1,500 a. in Great Metlam and probably 820 a. of the adjoining land, and Soham Mere, including Sealode. His lessees included several prominent villagers. Some tenants, including aristocrats such as Lord Gorges, who c. 1680 took a quarter of the Mere, and other outsiders, took up holdings, scattered over Chicheley's share, of 250 a. or more each. Chicheley also had numerous smallholders occupying only one standard lot, averaging 20-30 a. in the north-west, though enlarged in Metlam fen to 100 a. By the mid 1670s he had let over 1,100 a. of his holdings, including old inclosures, in the north and north-west of the parish. But his project proved less profitable than he had hoped, despite repeated ploughing in the Mere and 'Great fen'. In the four 'quarters' into which the Mere was divided after being drained from 1667 with four 'engines', only c. 385 a. were let initially, including about half the 670 a. on the eastern side, but only 27 a. in the 700 a. of the two western quarters. (fn. 209) By the late 1670s parts of the Mere were already subject to renewed flooding. Of the land in it then sown rather than grazed, partly with sheep, c. 565 a. were under coleseed and less than 75 a. grew barley or oats. Little of it was being sown by 1680. (fn. 210) Parts of Soham's fens continued to be cropped with wheat, oats, and coleseed until after 1700, but the breakdown of the Bedford Level's outward drainage through silting, after Denver sluice ceased working in 1712, led to their again being mostly flooded and reverting to pasturage, until drainage was resumed in the late 1750s. (fn. 211)
Agriculture from the 1650s.
In the 1760s Soham was reckoned to contain c. 1,000 a. of open-field arable, besides c. 500 a. of inclosed pasture, while the closes and crofts around the village comprised 260-300 a. (fn. 212) In the 18th century the farming bylaws continued to include rules against the feeding of cattle upon openfield baulks, and about rights to mow them. (fn. 213) Keeping 'byherds' on those fields was apparently forbidden as late as 1760, when different common herdsmen were keeping the cattle feeding on Great, Calf, and Angle commons. (fn. 214) Despite the renunciation of common rights in the 1660s, a modified form of communal use of the open fields may therefore have continued in the 18th century. In 1780 one farm still had its open-field arable almost equally divided between the three southern fields. (fn. 215) By the 1790s, when there was no desire locally to reorganize the arable, the rotations in use involved a fouryear cycle of wheat, barley, beans, and fallow, or a fivefold one, including beans between two sowings of wheat. (fn. 216) Other arable, apparently in crofts, was styled in 1783 'every year land'. Soon after, some farmers were omitting fallows entirely and cropping their land continuously, sowing legumes after one or two corn crops. (fn. 217) By the late 1830s most 'highland' arable, both openfield and several, was under permanent cultivation, fallows being 'scarcely known', with alternate crops of wheat and beans, though few turnips were grown. (fn. 218) When in the 1870s the Dobede estate sought to enforce on a tenantfarmer the four-course rotation required in its leases, the customary course at Soham was said to be of three years, with two corn crops followed by beans, clover, roots, or a fallow. (fn. 219) One farmer was still folding sheep on his land in Clipsall field in 1850. (fn. 220) Ownership of open-field strips continued to be widely distributed in the 19th century, but adjacent selions were gradually combined: the number of separately held strips of under 2 a. declined from c. 1,040 in 1656 to c. 740 in 1845, those of 2 a. or more also falling over that period from c. 170 to 120. By 1910 there were barely 215 open-field blocks of under 2 a., compared with 162 larger ones, including 54 of over 5 a., a fivefold increase since 1845. (fn. 221) Leasing probably consolidated cultivation despite the dispersion of ownership, as farmers took on adjoining strips from different owners. (fn. 222) The number of farmers working land in the open fields, still c. 95 in 1950, had by 1990 been reduced to eight or nine. (fn. 223)
The traditional system of common grazing persisted even longer on the substantial areas designated in the 1660s for pasturing by poorer villagers. Such commoning continued to be regulated by standardized bylaws repeatedly reissued, with minor modifications, by the Duchy manor court from c. 1700 (fn. 224) and throughout the 19th century; (fn. 225) they were last recorded in 1900. (fn. 226) Control was exercised through four or five fenreeves, assisted by up to twelve pinders, all appointed by the Duchy court. (fn. 227) From the 1730s distinct pairs of fenreeves were formally named to manage the 'Horse Pastures' and the 'Poor's Commons'. (fn. 228) The former were to be enjoyed by those with land in the common fields who might feed there, after 1704 from Mayday to Candlemas, one horse for every 10 a. of fieldland held. (fn. 229) That system continued to be observed into the 1990s, except during the 1940s. After 1950 as earlier, the grazing season thereafter ending in November, the 105-10 a. of horse pastures were supervised by two fenreeves, who collected maintenance charges from those using them yearly in May. (fn. 230)
Under the bylaws for the Poor's Commons, (fn. 231) they were closed to sheep and unringed pigs all the year, and to all grazing from February to April. At other times commoners could graze there three cows or two horses (in 1831 × 1849 two cows and one horse). (fn. 232) The right was restricted to those with rented land and assets below a certain level, repeatedly readjusted, (fn. 233) and also to married householders: from 1700 'single men' were barred from keeping beasts or digging turf there. (fn. 234) Thenceforth too, commoners without any livestock might instead feed three geese on the commons and dig 3,000 turves on selected parts of the 'Hundred Acres' by the northern border. (fn. 235) The courts still enforced from the 1720s traditional restrictions on 'agisting' outsiders' cattle on Soham's commons: (fn. 236) in 1886 cottagers who hired cows from others were required to take for themselves all the profit from milking them. (fn. 237) From the 1750s the Hundred Acres were by custom competitively mown by commoners at Midsummer. (fn. 238) The surface having eventually been eroded by turfdigging, that area was converted from the 1870s to a charity. (fn. 239)
On the other commons the customary common grazing continued into the mid 20th century; (fn. 240) 125-35 cows, c. 60 horses, and c. 50 geese fed on them c. 1890. (fn. 241) Cattle unlawfully grazed there were still being impounded c. 1895-1905. (fn. 242) The number of cattle fed there rose sharply in both World Wars, reaching over 200 c. 1940 after having fallen since 1920. The number of horses put on the Horse Commons had stood at 50-100 until c. 1920 and 100 c. 1940. (fn. 243) In 1943 all the commons were requisitioned. Of the Shade, formerly Sheath, common, where 79 a. were then ploughed up, all but 5 a. were sold in 1951, the price going to charity. By popular demand the 154 a. of Angle, East fen, and Qua fen commons were returned in 1950 for continued use as common pasture: 143 cows and 7 horses fed there in 1951. Although relatively few villagers used the grazing rights c. 1965, cows and heavy horses were still grazing the commons in the late 1990s. The lady of the manor renounced her authority over them c. 1950, passing their management to the parish council, (fn. 244) which needed a pound for beasts grazed without right or outside the regular season. (fn. 245)
Unlike the fraction of fenland thus retained as common, the part divided in the 1660s into several allotments was gradually in the late 18th century brought under cultivation; by 1767 parts were being sown with coleseed. The fen, then estimated to cover 5,431 a., included c. 2,000 a. of slightly higher land styled 'skirtland', perhaps better drained, probably in addition to the 1,018 a. of 'Adventurers' land' further north, then part of the Townshend estate. (fn. 246) About 1740 Lord Townshend had again expensively attempted to have his Soham Mere property drained, only to be defeated by renewed flooding through heavy rains in 1745. (fn. 247) By the 1790s drainage mills had been built at the Mere's north-western corner. Its 1,370 a. was probably completely drained and converted to tillage, being profitably worked as the Soham Mere estate from farmsteads on its eastern edge, by 1807. (fn. 248) Elsewhere in the fens, despite occasional flooding, cultivation was also expanding by the 1790s, when c. 850 a. of the area tithed by the vicar was being cropped. Of 375-400 a. there sown with wheat, most was on the larger fen farms; on smaller holdings oats, over 125 a., and coleseed, c. 150 a., predominated. More of the fen, c. 1.315 a., was still mown, while c. 890 a. there were grazed by cattle. The total number of full-grown cows kept for milking c. 1797-1800 ranged from 470 up to 560. Cattle ownership was still widely spread: c. 55 villagers kept 1-4 cows each, c. 25 others 5-8, and 15 kept 10 or more. (fn. 249) Milk products were then important among Soham's produce and included a special kind of cheese resembling Stilton. By the 1840s, however, when the number of livestock was small in proportion to the size of the parish, buttermaking predominated. (fn. 250) In the late 1790s, as in the 1830s, few sheep were kept, the only sizeable flock being John Dobede's, of fifty c. 1800. Nathaniel Wedd, a substantial fen farmer, (fn. 251) had by c. 1810 introduced 60-100 Norfolk and West Country ewes. Another farmer also kept Norfolk sheep in 1816. (fn. 252)
About 1800 farms often combined small shares of arable in the open fields and southern several closes with blocks of pasture and fen in the fen allotments. (fn. 253) In the 1790s occupation of the long-established 8-a. blocks in the fens was still widely spread: 60 smallholders, with up to 24 a. each, occupied c. 1,440 a. there, and 42 others with 32-64 a. another 1,830 a. The 25 larger farmers with 100 a. or more of fenland each, occupying in all c. 2,500 a., were mainly on the manorial estate and Adventurers' land. (fn. 254) Those larger fenland farms included some concentrations on which innovations were easier: on St. John's farm, which from c. 1790 contained a ring-fenced 180-200 a. slightly north of the northern fields, potatoes and mangolds were grown by 1835. (fn. 255) Nathaniel Wedd, who in the 1790s had had a third of the 360 a. of fen occupied by his three tenant-farmers under wheat, (fn. 256) was experimenting c. 1800 on his fenland with varying rotations, including clover and trefoil. (fn. 257) He had a threshing machine by 1814. (fn. 258)
By the late 1830s, (fn. 259) of c. 12,000 a. reckoned to lie in the parish, the 'highlands' were believed to contain c. 1,086 a. of enclosed arable, of which c. 130 a., along with 370 a. of grass, lay within the old inclosures round the village. Among the 1,022 a. of open fields lay closes which comprised c. 40 a. each of arable and pasture in the southern fields, but respectively c. 110 a. and c. 135 a. within the northern ones. That pasture was presumably included in the 1,664 a. of inclosed pasture reported in 1837. Of an estimated 7,500 a. of fenland, excluding the Mere and commons, a third was then reckoned as arable, probably mostly the 'boundary land' where a 'deep staple' of soil yielded good crops of wheat, oats, and beans. Much of the rest, nominally pasture, was actually 'very poor peat fen'. Parts were occasionally pared and burnt for one or two corn crops after coleseed, then allowed to revert to their former state, while much was 'cut up' by turf-digging and only partially relevelled. South-west of the village the former Horsecroft common, c. 410 a., was almost all converted to arable by the 1840s. By then, too, the northern fens were gradually being brought under the plough: they included c. 1,315 a. reckoned as arable and c. 1,310 a. of permanent grassland. Of the land east and north-east of the village over 900 a. was still permanent pasture, compared to 390 a. of arable. Further west, south of the Crooked Drain, however, arable came to c. 550 a., and the surviving fen pasture interspersed with it to only 425 a., but in the far north-east barely 50 a. of Fodder Fen's 1,555 a. was arable. To the north-west, too, much fen survived around Barway: one 300-a. farm still had c. 170 a. of fen, while Fordey farm's 272 a. included only 64 a. of arable. Less than 90 a. of the 472 a. around Sedge fen, farmed under the Slacks as Henney farm, was under the plough, while virtually all the adjoining 1,520 a. leased to the Slacks in the Mere and Sealode was reckoned as fen.
About 1845, although c. 6,985 a. was included in only seven landholdings of c. 500 a. or more, mostly in the fen, there were still numerous smaller owners, many of whom had simply a few acres of common-field strips. Fourteen people with 50-100 a. each owned altogether c. 1,020 a., 33 others with 25-50 a. each had c. 985 a., and 64 owning 10-25 a. each another 1,000 a. (fn. 260) The persistence of smallholdings, even combined with a modified form of the traditional course of cultivation, did not, however, involve the survival of numerous owner-occupying 'yeoman farmers': even outside the larger estates much land was gathered into substantial, mostly leased, farms by the 1850s. Out of c. 70 smaller ones then covering 10-50 a. each, a mere seventeen had c. 350 a. of the total 1,770 a. which they worked owner-occupied. Of c. 30 others comprising 50-300 a. each, in all almost 4,500 a., only nine, which included c. 720 a. owned by their farmers, were not mostly rented, and the six farms of over 300 a. were all leasehold. (fn. 261) In 1870 similarly all but 850 a. of c. 5,250 a. in farms of up to 300 a. was rented. (fn. 262)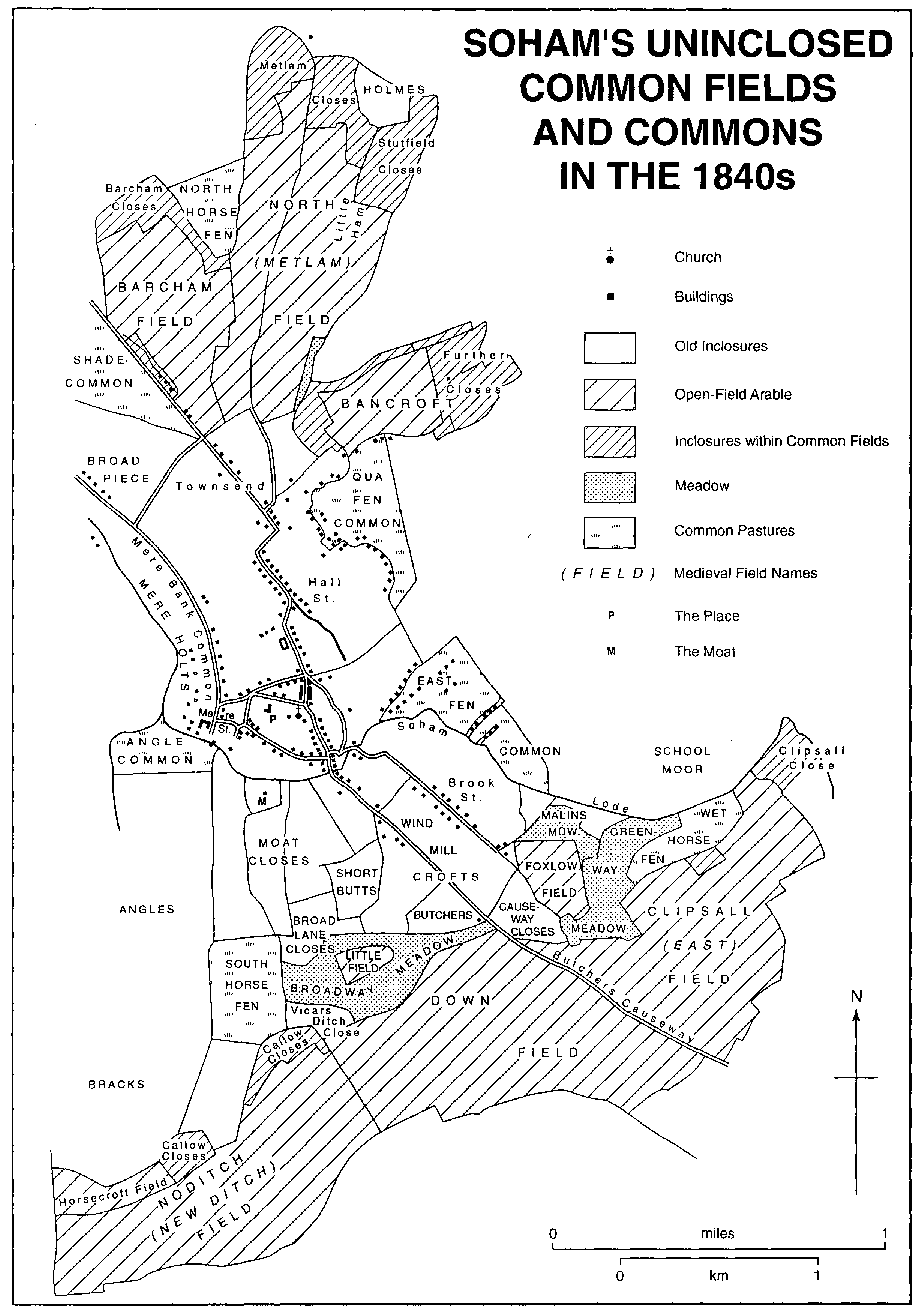 Until the early 19th century most of the parish was worked from farmsteads in, or close to, Soham village and the few long-established hamlets. From the 1840s, however, new farmsteads were built out in the former fen, where up to twenty stood, mostly by the droveways, in 1845. (fn. 263) On the seven substantial farms ranging from 100 to 380 a., into which John Dobede (III)'s fenland holdings, mostly north-east of the village and north of Barway, were by then divided, he had several farmsteads remodelled and improved in brick by the 1870s. (fn. 264) Other owners had done the same from the 1810s. (fn. 265)
From the 1850s (fn. 266) the fen, where there were only c. 25 small farmers, was dominated by 6-10 substantial holdings of 200 a. and over, amounting altogether to 3,000-3,500 a. Usually c. 5-8 of the fen farmers were established north-east of the village, 3-4 others in Fodder Fen, and another 3-4, often with 200 a. or more, in Block Moor and Eye Hill, north of Henney farm's c. 500 a. In the 20th century the land around Barway was still mostly cultivated from Henney, Fordey, and Half Acre farms. (fn. 267) Farms worked from the village, mostly by natives of Soham, numbered 35-45 in the 1850s and still c. 30 in the 1890s, and up to 20 more were farmed from the outlying settlements to its east and west. Several branches of such well established Soham families as the Maldens, Juggs, Manns, and Staples, continued to occupy many of those farms, though in diminishing numbers, into the late 19th century. The number of farmers with 50-200 a. who dwelt at the village declined from almost twenty in 1851 to only seven in 1881. Among them there were only three or four with over 200 a., including the Slacks and Juggs who had 450-650 a. each; their holdings were mainly, however, in the fen where their farmsteads were inhabited by bailiffs or labourers. Only one farmstead, off Down field, stood within the former common fields south of the village.
In the 1850s and 1860s the numerous smallholders based in and around the village worked their farms of up to 50 a. mainly with family labour. Only the larger farms offered much work to Soham's numerous labourers, of whom 80, out of 380 adults, lacked employment in winter in 1830, and 150 in all were unemployed in 1834. (fn. 268) The number of adult labourers rose steadily from over 350 in 1851 to c. 500 by 1871 before falling back to c. 450 by 1881: that reduction resulted largely from a fall in the number, which had previously risen by c. 50 to c. 145 between 1851 and 1871, of those drawn from the cottages off the eastern fen commons. The village centre housed only 100-120 labourers, while another 110-120 dwelt along the Mere edge and as many in farmsteads and cottages scattered over the northern fen. Even the larger farms of 100 a. and over seldom had regular work in the 1850s for more than 200-250 men and up to 60 boys. Many labourers remained dependent on casual employment or had to seek work outside the parish. Although a few 'merchants' dwelling in the fen dealt in turf, (fn. 269) very few men lived by digging the fen for it. In 1871 only eight were digging coprolites. From the 1850s to the 1870s 50-60 younger unmarried women also worked regularly on the farms.
The mid 19th century saw much tension between Soham's farmers and their potential workforce. The fires which in the mid 1840s repeatedly damaged or destroyed not only corn and straw stacks, (fn. 270) but whole farmsteads, (fn. 271) were usually ascribed to arson. There was severe unemployment among the labourers in 1851-2, when gangs of 20-30 workless and half-starved men paraded the village streets, while the farmers vociferously blamed Free Trade for their inability to hire workers. (fn. 272) From the late 1850s a few farmers maintained or revived traditional harvest celebrations. (fn. 273) In 1872 c. 300 labourers attended a meeting to promote the farm workers' 'Society'. (fn. 274) In 1905-6 c. 80 labourers might be out of work in winter, and 30-40 in summer. (fn. 275) Many poor workers occupying cottages on the fen edge still then scraped a meagre existence, keeping scrap-fed pigs and poultry; their women sometimes still gleaned, besides weeding root crops. (fn. 276)
In 1890 only 2,475 a. divided between over 120 people was owner-occupied, while another 8,890 a. was rented by over 150 tenant-farmers. (fn. 277) In 1910, apart from the 900-a. block of fen farms worked, and two thirds owned, by Cole Ambrose of Stuntney, there were only ten farms, almost all rented, of over 200 a., covering altogether c. 3,450 a.: the four largest were of 400-600 a. Another twelve farmers with 100- 200 a. each worked altogether c. 1,650 a. The former open fields still contained numerous, usually rented, smallholdings, mostly of under 50 a. in the southern fields, where 35 men occupied c. 1,025 a.; another 13 had c. 570 a. in the northern ones. The fens still contained few small farmers: the 32 with under 100 a. there occupied only 1,120 a. (fn. 278) By 1910 the county council had divided one 662-a. farm in the Mere, leased to it in 1909, into 24 smallholdings, mostly of 10-25 a. Its purchase in 1921 of the whole Mere and other fen farms made c. 1,950 a. available for such smallholders, although by the late 20th century much of its Soham land was let in larger tenancies. (fn. 279) Initially, however, the number of farmers reported as occupying 5-50 a. rose from 21 in 1910, half renting, to over 130 by the 1930s. The number of farms including 50-100 a. remained stable at 35-40 over that period. (fn. 280) In the 1980s some in the fen still covered 400 a. or more. (fn. 281)
After 1900 the number of farmers working from the village fell to 15-20. Some smallholders there and on the fen commons became market gardeners, although the number of farms out in the fen declined only slightly. (fn. 282) In 1950 there were almost 100 people working 10-50 a. each, and in 1970 still 71 who occupied 15-50 a., besides 80-90 with under 5 a. each, while the number of farms of 50-100 a. remained stable at c. 20. Those exceeding 100 a, numbered only twenty in 1970. Over that period the number of farmworkers permanently employed fell sharply. In 1930 and 1950 there had been 340-360, besides almost 150 parttimers, but by 1970 only 78 labourers worked whole-time on the farms, with c. 40 part-timers, mostly women. Of c. 160 working farmers two thirds were also part-time. (fn. 283) The third of Soham's workforce said in 1980 to be engaged in agriculturally related activities perhaps included those processing farm products: (fn. 284) in the 1980s only 15-25 adult men, out of c. 200 then in employment, actually worked on the farms. (fn. 285)
In the late 19th century dairying remained important at Soham: several large fen farms permanently employed dairymaids c. 1860. (fn. 286) The cattle plague of 1866-7 killed 700 beasts. (fn. 287) From 1870 to the 1930s 700-1, 100 grown cattle were kept. Of over 1,800, however, pastured in 1950 two thirds were not for milking, and there were under 550 altogether by 1970. Large sheepflocks, including up to 2,700 grown ewes, had been kept in 1870, probably partly to manure fields during the arable rotation, but there were barely 750 in 1890 and their number fell steadily to the 1930s, none being kept from 1950. Many pigs were bred in 1910 and 1930, and the number of poultry almost doubled from c. 29,700 in 1930 to 55,850 in 1950 before declining. (fn. 288)
By the 1870s even the fen farms had been mostly converted to arable, little of their land being kept as permanent pasture: on the Dobede estate's larger farms barely 130 a. out of c. 1,650 a. were then under grass. (fn. 289) In 1870 and 1890 Soham included less than 2,000 a. of permanent grass compared with 6,300 to 6,500 a. under the plough; over half of the 5,000 a. there under corn was then cropped with wheat, a proportion that continued into the 1950s. Another 1,000 a. of temporary grass was probably part of the arable rotations, along with extensive root crops. Soham usually housed 4-6 corn merchants in the late 19th century and still 2-3 in the 1920s. Although the area of permanent grass increased to over 2,600 a. by 1930 when a quarter of Henney farm was grass, it was halved by 1950 and reduced to c. 600 a. in 1970; by then, on the 4,500 a. cropped yearly with corn, barley slightly exceeded wheat. By the 1980s some farmers were again chiefly growing wheat. More specialized field-crops were introduced by 1930, when 328 a. of celery were grown and c. 2,275 a. of sugar beet, which still covered almost 1,800 a. in 1970. One farmer traded in celery and potatoes from The Grange in 1933. (fn. 290) Extensive orchards and market gardens were reported around the village in 1837, and in 1890 and 1910 there were c. 80 a. of orchards, mostly apples, but also including over 10 a. of pears, plums, and cherries, besides soft fruit, in 1930 mostly gooseberries. In 1925 there were two fruitgrowers, while 80 a. in 1890 and almost 150 a. in 1930 were worked by market-gardeners, who numbered ten c. 1905 and still six c. 1920. (fn. 291)
East Anglian Egg Packing, started in 1935 on Paddock Street, was by 1960 employing 45 people to pack weekly 1,500 cases, containing 360 eggs each, from local poultry. Output probably fell to 60,000 cases a year in 1965, when the business was taken over by a co-operative. With 50 employees at the new Brook Street works to which it moved c. 1975, that firm remained in business at Soham as Thames Valley Eggs until c. 1990. (fn. 292)
In the 1920s and 1930s there were usually two or three nurserymen, who also dealt in seeds and flowers. (fn. 293) A firm started c. 1950 by the Shropshire family was in the 1990s running, from a headquarters at Henney Farm, G's Growers and Marketing, which employed over 100 people. The 4,000 a. on which it grew vegetables and salads included extensive farmland in the former Metlam fen north-east of the village. With potatoes and sugar beet, that produce was partly processed at the firm's works near Barway and distributed from a large depot off the road through the Hasse. (fn. 294) About 1990 another Soham firm owned by Unigate, started in 1983, which marketed vegetables, had over 350 employees. (fn. 295)
Mills and their builders.
In 1086 the royal demesne manor included two mills, presumably water mills, (fn. 296) perhaps alienated later. Of the two mills belonging by 1270, as c. 1370, to Philip Basset's part of that manor, one was a windmill, perhaps already standing near the 'melnebrede' recorded c. 1342 close to East field; (Wind)mill croft south-east of the village bore that name by the 1230s. Basset acquired his two-thirds share in a water mill, (fn. 297) apparently once called Randolf's mill, which stood just within Fordham, by purchase from freeholders, some from Soham, in 1242 and later. (fn. 298) In the 1270s, as throughout the 14th century, the lords of the Crown, later Duchy, manor, incorporating Basset's, or their lessees, regularly repaired both those mills. In 1272 the lord took the multure in kind by way of farm, as later did his manorial lessees: c. 1343 they received up to 52 qr. from it, as until after 1353 when the water mill was ruinous. (fn. 299) By c. 1365 they had leased out both mills to a farmer who paid £6 or more rent until after 1400, but themselves remained responsible for maintaining the fabric of both the Soham windmill and the water mill in Fordham. The latter was expensively rebuilt in 1394-5 and probably again c. 1413. Both mills remained in use until well after 1400. (fn. 300) The windmill fell down between 1436 and the 1450s, but the Fordham water mill, let for 10-year terms by the 1420s, was still yielding rent in the 1460s, when it was again reconstructed. (fn. 301) By 1450 the Duchy had erected within Soham another water mill for corn, which was unprofitable until its millpond was enlarged in 1452 with 3 a. obtained by exchange for a 60-year term from the rectorial glebe. That mill, perhaps the predecessor of the main modern Soham water mill, was still working in 1462, when a water-powered fulling mill, established on that manor by 1450, was disused. (fn. 302) The mill built c. 1450 was perhaps the water mill granted in fee-farm before the Duchy manor was sold in 1626. (fn. 303) About 1601 there were at least two windmills south-east of the village. (fn. 304) In the 1670s Thomas Chicheley leased out to grind corn one or more watermills, once with 3 a., later, with 34 a. near the Mere, one which apparently stood in 'Mill holt'. (fn. 305)
From the 18th century to the early 20th Soham usually had for grinding its corn a water mill standing by 1700, perhaps in 1656, on the 'Soham river' east of the Mere, (fn. 306) and at least two or three windmills north and south of the village. In 1806 one miller killed another, fighting over their water rights. (fn. 307) In the 1850s up to ten villagers were working at the mills, as were at least 6-8 in the 1860s and 1870s. (fn. 308) Four or five master millers were usually in business at Soham in the late 19th century, as still in the 1910s, and as many as six in the 1890s. The number was reduced to only three in the 1930s. (fn. 309)
The oldest surviving windmill is that named after Down field, still standing in the 1990s off the Fordham road south-east of the village amidst a modern council estate. Originally built as a smock mill c. 1726, it was owned and sometimes worked, c. 1828-87, by the Staples family, which in 1846 lost another newly built fivestoreyed windmill off Hall Street to fire. Under later owners, including from 1896 an Isleham miller who bought it c. 1917, the Downfield mill ground corn until the 1930s. It subsequently ground animal feed, still by windpower, from the Second World War to 1958, when it broke down. The existing octagonal tower mill, whose four storeys on a brick base of 1857 were reconstructed after storm damage in 1887 entirely in brick by a local millwright, retained after 1946 only one pair of its sails. (fn. 310) A milling enthusiast, who acquired it for preservation in the early 1970s, had it repaired by 1975 and its surviving machinery put in order. In the 1990s it ground wholemeal flour on Sundays. (fn. 311)
One wooden post mill, on the Fordham road, perhaps the Markhams mill recorded near the Staples mill from 1861, burnt down in 1867, (fn. 312) may have been the predecessor of one of the two 'Hardfield' mills that later stood a little north of Downfield mill. The one surviving, derelict, in the 1930s was a smock mill erected in the late 19th century on an octagonal brick base. It was in poor condition in the 1970s, being then surrounded by a car scrapyard. (fn. 313) North of the village the Shade, formerly Northfield, mill, another smock mill, of two storeys on a hexagonal brick base, once a drainage mill, was brought from elsewhere in 1834 to grind corn. It was worked, latterly to make horsefeed, until 1937. Derelict from the late 1930s, but restored in the late 1980s, it retains its original sails and much of its 19th-century machinery. (fn. 314)
By the 1720s the Mereside water mill was again separated from the manorial estate. (fn. 315) John Dobede (I), a later owner, rebuilt it in brick in 1811. (fn. 316) Dobede also had a substantial business as a corn merchant, from c. 1780 regularly supplying large amounts of flour to Soham workhouse. (fn. 317) He also farmed c. 115 a. of Soham's fens by the 1790s (fn. 318) along with his son and namesake, who from 1813 leased the rectorial corn tithes and glebe. (fn. 319) The Dobedes also owned the Downfield windmill from c. 1800 to 1827. (fn. 320) Their corn dealing and milling (fn. 321) helped create the fortune which enabled them in the mid 19th century to build up Soham's largest locally owned estate and take the lead in village life. (fn. 322) Their water mill, still in hand in 1845 but apparently leased to professional millers by 1851 when one of them employed six millers, remained part of the Dobede estate until its sale in 1876, when it also used steam power. (fn. 323)
It was then bought, in partnership with his brother-in-law H. A. Butcher, by its tenant Alfred Clark. (fn. 324) Trained as a miller elsewhere in Cambridgeshire, Clark had moved in 1859 to Soham, where he worked a windmill singlehanded. In 1864 he took over the lease of the water mill, whose trade was declining: it could then only send flour to the London markets by barges along the Soham river and the Cam to the railway at Ely. After the railway reached Soham in 1879, Clark opened a London warehouse. In 1885 he installed at his Soham mill a roller mill of his own design, adding a wheat silo in 1890. From 1883 he also generated his own electricity. Clark & Butcher, a limited company by 1904, but effectively owned and managed after Alfred Clark's death in 1906 and into the 1990s by three generations of his male line, continued throughout the 20th century to mill corn, in which they also traded.
The firm survived the early 20th-century loss of business suffered by most village mills to cheaper imported flour by concentrating on milling English flour for biscuit-making: from the 1920s it enjoyed close links with Peek Frean's London biscuit factory and later also supplied McVities. On the light railway linking the mill with the main railway line, horse-drawn waggons were replaced c. 1930 by steampowered ones, only finally superseded c. 1945 by the lorries which had also been used since 1935. The mill, destroyed by fire in 1945, was rebuilt 1946-8. To a silo rebuilt in 1947 new ones were added in 1953 to assist bulk deliveries of flour by road. Grain-drying equipment was installed in 1961 to handle combine-harvested wheat. Two large new mills were added in 1966 and 1974 and remodelled in 1975, increasing by four fifths the capacity of the Lion Mills, so called by 1976. Then employing 70 people at the 15-a. site, the firm, processing 75,000 tons of local grain yearly into animal feed, was the only independent miller left in Cambridgeshire. (fn. 325) In the early 1980s, when it produced 2,000 tons of feed weekly, it diversified into agrochemicals and fertilizers, also producing its own brand of seed corn. (fn. 326) In the late 1990s Clark & Butcher were still working the mills, including four-storeyed buildings adjoining the original water mill, with offices nearby. It still made flour c. 1990, when it employed 81 people. By 1995 its main product was animal feed, made from grain stored in twelve tall metal-faced silos standing in two rows to the west. (fn. 327)
Besides corn mills, Soham required from the late 18th century numerous pumping mills to drain its fens; at least ten windmills stood in the north of those fens by 1820. Waterpower was also used on one farm c. 1790-1825. Windpower was succeeded over the 19th century by steam, although one windmill still helped drain the Mere as late as 1930. (fn. 328) Those mills were partly maintained by 1800 by local millwrights. (fn. 329) From the mid 19th century Soham's two main firms of millwrights were those founded by the Hunts and Fysons, both of whom thenceforth regularly took apprentices funded by Laney's charity. (fn. 330) Successive generations of the Hunts worked as millwrights for over 100 years from c. 1830, by 1845 from workshops opposite the main water mill on a lane called Hunts Corner by 1851. They employed up to six men there between the 1850s and the 1880s. From the 1870s as 'machinists' they also supplied and maintained farm implements. Even after the Waterside workshops were sold c. 1933, when they still employed 7-8 men, the last elderly Hunt worked on at a reduced scale until the 1940s. (fn. 331) Among their constructions was a large mill in the Mere put up in 1867 and demolished as dangerous 1946-8. (fn. 332) The Fysons, established as millwrights in 1848 on Paddock Street, where their growing business employed two men in 1861, six by 1871, and nine in 1881, (fn. 333) were also by 1870 'engineers', providing farm machinery. They remained in business into the late 20th century. From the 1920s Fysons also engaged in founding brass and iron. By the 1930s they were welding metal electrically. (fn. 334) In the fourth generation C. J. R. Fyson, who employed 35 people c. 1960, was making conveyor machinery for industrial use, as well as for loading grain, as in the 1970s. Fysons, which employed 91 people in 1988, closed in 1991. The Paddock Street works site was built over by 1994. (fn. 335)
Crafts, trades and industry.
In the 13th and 14th centuries Soham was furnished with those craftsmen needed in rural parishes, including smiths from the 1210s (fn. 336) and carpenters. (fn. 337) A mason dwelt there in 1378. (fn. 338) One or two bakers were regularly amerced from the late 14th century. (fn. 339) Tailors were recorded in 1407, (fn. 340) in 1462, (fn. 341) and, together with a butcher and a ploughwright, in the 1580s, when Soham also had at least two weavers and a glover. (fn. 342) About 1660 Soham craftsmen included not only a tailor and a cordwainer, but two ropemakers, and soon after a wheelwright. (fn. 343) There was a glazier in 1784. (fn. 344) Among the craftsmen occasionally recorded in the late 18th century and regularly in the early 19th were one or more blacksmiths, one in 1798 working a forge in use for a century, carpenters, wheelwrights, saddlers, butchers, bakers, tailors, shoemakers, bricklayers, thatchers, plumbers, and painters. (fn. 345) In 1811 Soham contained 124 households dependent on crafts and trades, compared with 422 supported by agriculture. After falling c. 1820, that proportion had by 1831 recovered to 186 compared with 492. (fn. 346)
In the mid and late 19th century, when most craftsmen dwelt in or close to the village, only a few carpenters, shoemakers, and tailors being scattered out in the fen, the same crafts and trades were practised at Soham with similar or increased numbers. (fn. 347) Some master craftsmen employed three to five wage-earners, (fn. 348) some even more. A shoemaker had seven in 1851, when one tailor and draper apparently gave out work, probably to the 16 journeymen among the 20 tailors then working in the parish. He still gave work to ten or more tailors in the 1860s. In 1881 there was said to be a 'clothes factory'. (fn. 349) There were also after 1850, besides a cooper until c. 1910 and a basketmaker c. 1910-30, two or more cabinet-makers until c. 1900 (fn. 350) and still one c. 1910, and from the 1850s into the 1930s two watchmakers, who also dealt in clocks. (fn. 351)
In the early 20th century some of the crafts furnishing more basic goods and services declined locally in number, as their production was replaced with shop purchases and imports. Soham's blacksmiths often numbered 4-5 until the 1910s, but only one forge was working in the 1930s, when the 3-4 wheelwrights had similarly been reduced to one. Whereas there were 2-3 tailors until the 1920s and still c. 10 shoemakers in the 1910s, only one and three people respectively, engaged in those crafts, were left by the 1930s. There were then still 3-5 bakers, while the number of butchers had since the 1870s been halved to c. 4-6. From the 1930s the butchers gradually converted their slaughterhouses to more mechanized, and by the late 1950s electrified, methods of slaughtering and preservation. One, open 1919-85, was by the 1930s buying fatstock not only locally, but at London cattle shows. (fn. 352) By the late 20th century few such businesses were still trading at Soham; in 1974 the last surviving smithy was re-opened for making, partly ornamental ironwork by a smith who soon moved to other premises off Red Lion Square. He still worked there in the late 1990s, (fn. 353) when the Soham Pottery, a craft potter started by 1988, (fn. 354) was still open on the high street.
In the 19th century a few businesses were established at Soham on a larger scale than the single craftsman's workshop. A brick-kiln was erected near the turnpike by 1787; that or another was for sale in 1793 with 200,000 bricks and tiles. (fn. 355) A kiln was worked in 1850, and c. 1860-1910 Soham usually had at least two brick-makers. About 1890 there were four brickworks, two off Mereside, including one that belonged between 1845 and 1877 to the Dobede estate; a third stood by 1860 on the Shade to the north-west, and a fourth to the south, east of the Bracks. (fn. 356) From that brick-making and other businesses started by wheelwrights, carpenters, and bricklayers, one with 13 employees in 1861, others later with 6 or 7, there developed in the late 19th century small builders' firms, then as into the 1930s numbering 4-5; one builder also c. 1900 traded as a mason and builders' merchant. (fn. 357) In the late 20th century Soham still had three local building firms, (fn. 358) one of which, Taylors, was c. 1980 helping develop new housing estates. (fn. 359) By 1870 Ebenezer Taylor started on Sand Street a coachbuilding workshop, in business until c. 1912. Having for a time worked as wheelwrights off Clay Street, Taylors made motor car bodies there from the 1930s to the late 1980s. (fn. 360)
Soham even had its own printer, William Playford, from the 1820s. By 1850 he was publishing from Churchgate Street illustrated catalogues for a Suffolk farm machinery maker. He also sold books, and in the late 1840s issued his own monthly magazine. (fn. 361) From the 1860s to the mid 1880s the village had three, thereafter until the 1930s, two printers, often also trading as stationers and booksellers. (fn. 362) The Albion printing works on Churchgate Street, opened c. 1904 by David Lowe, also an engraver and paper merchant, who initially made the stationery that he sold, remained in business, from c. 1920 under the Cook family, in the late 1930s. Soham was then still served by one of two rival weekly papers started c. 1908, both published on Fridays. The Soham and Newmarket Advertiser was managed from March (I. Ely) and from 1912 published locally by Lowe and his successors. The other, the Soham Gazette, controlled by the Cambridge Independent Press, closed c. 1920. (fn. 363) In the 1990s a long-established local printer was still using the Albion works. (fn. 364) There was a music seller in the 1850s. (fn. 365) Between 1869 and 1908 the Owers family made and tuned pianos and harmoniums at Soham. (fn. 366)
Soham's mid 19th-century industrial development also included the local production of gas. In 1848 Soham's Tories, including John Dobede (III), formed a company to supply gas for street lighting. Its works built off Mereside, close to the site of the later railway station and using iron cast at a Soham foundry, produced gas by January 1849. (fn. 367) Let from 1850 for a long term to an outside banker, (fn. 368) they were taken over in 1884 by a new, London-based, company. (fn. 369) The gas works, thereafter supplied by rail with coal, also sold by Soham's three or four coal merchants c. 1875-1935, continued in operation in the 1930s. (fn. 370) Their buildings, damaged in the 1944 explosion, still stood in 1960, but by then gas was being brought from Cambridge. (fn. 371) They were pulled down, the site being offered for sale, in 1974, (fn. 372) although the regional gas company still had offices nearby in 1997.
About 1960 a lack of light industry was blamed for the scarcity of local employment which obliged many inhabitants to seek work as far as Cambridge and Newmarket, to which many villagers drove to work c. 1990. (fn. 373) That lack was remedied after 1960 by the development of industrial estates beyond the village's margins, in addition to numerous workshops set up off its side streets. From the mid 1960s various businesses were established in workshops, some large, stretching north-westward from near the former station along the western, once floodable, side of the road at Mereside. In the 1990s that grouping, called the Mereside industrial estate, included 16-17 workshops and offices. (fn. 374) Southeast of the village the Regal industrial estate was developed from the early 1970s on c. 6 a. between the Fordham road and Brook Street's south end, designated for the purpose in 1963 and bought from 1969 by the rural district council. Older brick-built factories and workshops there lined the north side of the east-west Regal Lane and flanked a drive running north from it. Twelve units providing 110,000 sq. ft., which went up from 1971, were gradually occupied by firms often moving from elsewhere. Additions from the mid 1970s included several large new warehouses. Other, sometimes larger, factories, including two large metal-working ones, one installed in 1972 and employing 66 people by 1982, were mostly put up later south of the eastwest road. By 1988 c. 20 firms, and c. 1995 at least 14 had premises there. (fn. 375) On a smaller business park set up by 1988, when it housed at least eight firms, at Orchard Farm north of the village, 20-25 more industrial workshops and offices were operating by 1995. (fn. 376)
Most of those businesses were relatively small: in 1988 c. 55 of the firms then reported, half of them within the village, employed fewer than 20 people, as did c. 45 of them in 1995. Fifteen others had 20-50 workers in 1988. Only eight then and four c. 1995 had larger workforces. Among those larger businesses, besides the millers Clark & Butchers, was Griggs, a road haulage firm with a large depot near Town End, employing 242 people by 1989. About 1980 over half of Soham's working people were supposedly engaged in industry and barely an eighth in services. (fn. 377) A wide range of business was carried on in the parish c. 1990. Besides c. 10 firms engaged in growing and processing agricultural produce, there were 5-6 engaged in wood-working, including a joiners' installed on Mereside in 1966 and a pine furniture makers' started there in 1973, (fn. 378) or distributing timber. Up to ten were fabricating goods from steel and other metals. Five more manufactured paints and made other goods, mostly for industrial use, formed from plastic. Six or seven were involved in light engineering, including making farm machinery, and up to six in electronics, including computing and security systems. One on Mereside made glassware for laboratories. There were five printers and up to seven designers' studios. In the 1980s 50-60 male villagers were engaged in manufacturing of all types, besides over 20 women, another 30-50 on construction work, while the number of men employed in the service sector rose by a half to over 90 by 1991, when that sector also supported over 100 women. A majority of the economically active inhabitants, whose numbers increased from c. 3,150 in 1981 to almost 4,000 in 1991, when barely a sixth of them were self-employed, presumably worked outside the parish. (fn. 379)
Markets, fairs and shops.
Despite its size and royal connexions, there is no certain record of a market at Soham (fn. 380) before 1679, when Sir Thomas Chicheley, then lord of the main manors, obtained a charter to hold a weekly market on Thursdays and three fairs each year, on 28 April, the Monday after Midsummer, and 26 September. (fn. 381) He soon after received up to £25 profit from his market, including rent from shops, some newly built, and stalls there. (fn. 382) By 1800, however, even the oldest villagers only knew of the market from their parents' reports; it had probably ceased to be held c. 1700. Two of the fairs survived, the September one having probably lapsed by 1750: the April fair, supposedly held by prescription, had been transferred, presumably from 1753, to 9 May, on which day cattle and horses were sold, along with 'pedlary'; by 1750 the Midsummer fair had been appropriated as the start of the village's traditional feast. It survived as such, though without any trading activities, throughout the 19th century. (fn. 383) The fair on 9 May, which was continuously recorded from the 1840s to the late 1890s, had a small pleasure fair added to it by 1843, which attracted travelling showmen's stalls and also continued into the 1890s. By the mid 19th century cattle sales were frequently described as poor, with few dealers attending and little business done, and that often at low prices, (fn. 384) despite occasional improvements. (fn. 385) In 1898 Mrs. Taylor of Soham Place organized a foal show there, suggesting that horses at least were no longer sold at the fair. (fn. 386)
In 1811 an attempt was made to revive the market, whose traditional site was still known in the 1790s, on Fridays. (fn. 387) Another effort in 1839 by forty leading villagers, headed by John Dobede (III), had slightly better success. The market, held again on Fridays from that September with stalls selling meat, fish, poultry, and vegetables, (fn. 388) continued in 1851, though poorly attended. It probably ceased again soon after, although the lane east of the high street opposite the church was regularly called the market square or place between the 1850s and the 1880s. (fn. 389) In 1971 a Soham shopkeeper, supported by the rediscovery of the 1679 charter, again revived the market on Fridays, without official opposition. Five or six stalls were set up weekly on that lane (fn. 390) as they continued to be in the late 1990s, when they sold mainly food.
From the late 18th century Soham's size made it a local centre for more varied and specialized types of retail trade than were usual in most villages. The Trowells were already trading there as grocers in 1690 and woollen drapers by 1709. (fn. 391) A grocer and draper was 'in full trade' in 1778, (fn. 392) and a similar shop was dealing in china and glass, offering chimney-piece ornaments, by the 1790s, (fn. 393) when there was also a milliner's. (fn. 394) By 1813 one shopkeeper also practised as a hairdresser. (fn. 395) Another grocer and draper with a long-established trade died in 1815 (fn. 396) and there were at least three in the early 1840s, (fn. 397) as in 1851. Then, besides ten general shops Soham also had two milliners, an ironmonger, a druggist, a wine merchant, a confectioner, and a hairdresser. (fn. 398) The main shopping centre lay along High and Churchgate Streets, thickly lined by 1850 with shops and workshops. (fn. 399) Shops (fn. 400) selling food largely brought from elsewhere usually included, then and into the 1930s, one or more, in the 1880s up to four, fishmongers, besides from the 1870s greengrocers and occasionally fruiterers, three in 1933, also c. 1880 and c. 1905-15 one tea dealer. From the 1920s up to six women kept sweetshops. Between the 1850s and the 1930s there were usually more than ten grocers, half of them also 'drapers', at least two ladies' milliners, two chemists, up to three hairdressers, one ironmonger and by the 1920s two. A photographer in business c. 1860-75 also baked sugar. (fn. 401) Besides general shops, numbering six or more and after 1900 over ten, one shop c. 1875-1935 specialized in selling furniture, while another supplied china and glass from 1883. (fn. 402)
In the late 20th century (fn. 403) Soham remained a shopping centre, both for its own growing population and for surrounding villages, with its High Street and Churchgate Street still almost continuously lined with shops and offices, numbering c. 50 in 1970, from Red Lion Square northwards to Cross Green. The type of shops there altered between the 1960s and the 1990s, as traditional, often long-established, family shops, such as grocers, butchers, bakers, and tailors, closed. (fn. 404) From the 1970s their premises were taken over by shops selling various consumer products, such as carpets and electrical goods, (fn. 405) and such specialities as wines, pets and food for them, records, videos, greeting cards, flowers, jewellery, and antiques. Recently opened service businesses included interior decorators and estate and travel agents. In 1988 there were still seven shops selling food and four providing clothing. (fn. 406) Trade in the village suffered from the narrowness of its traffic-laden high street, where there was little space for parking. (fn. 407) Its more specialized shops also faced strong competition from similar ones, easily accessible by car, at Ely and Newmarket. Both in the 1970s (fn. 408) and in the late 1990s there were several vacant shops on Soham's high street. In 1987 an association of local traders was formed to promote its retail trade. (fn. 409) The shops still open in the 1990s included a branch of the Cooperative Society, established on Pratt Street as Soham Industrial Co-operative Society c. 1890 and moved in the 1920s to premises, eventually rebuilt, on a site south-west of the churchyard. (fn. 410)
Professions.
From the early 19th century Soham's relatively larger size made it a centre for professional services not only for its own inhabitants, but for neighbouring villages. One or more attorneys, later solicitors, often in partnership, were established there by 1800. (fn. 411) Most prominent initially was a branch of the local Wilkin family, serving as attorneys at Soham from the 1790s; (fn. 412) their probable founder William died in 1802. (fn. 413) They continued in business there at least until a namesake died in 1831. The Radical Thomas Wilkin may still have been practising in 1851. From the native William Bye, also then in practise at Soham, (fn. 414) derived a partnership taken over from 1898 by the Ennions, (fn. 415) still solicitors there in the late 1990s. Theirs was one of the three solicitors' usually established in the village from the 1850s to the 1910s, (fn. 416) including the Hustwaits c. 1840-80, (fn. 417) the Whitings for two generations c. 1850-90, (fn. 418) the Bendalls c. 1880-1940, the Livetts c. 1875-95, and the Aylwins c. 1910-30. In the 1990s three solicitors had offices on the village streets.
In the 1620s the village had already had a resident healer, John Ward, thought unsuitable to be licensed and remembered after he died very old in 1641 as a quack and conjuror. (fn. 419) Two generations of the local Trowell family served Soham as surgeons between 1720 and the 1750s, when there was another surgeon too. (fn. 420) One surgeon and man-midwife settled there in 1773. (fn. 421) A surgeon and apothecary died in 1792, (fn. 422) another surgeon in 1796, (fn. 423) and the village usually had two resident 'surgeons' from c. 1800 and three by the 1860s. (fn. 424) The two who in 1816 offered inoculation to villagers, gratis for the poor, included the Soham native William Addison. (fn. 425) In practise from 1813 to the 1860s, he long occupied the plastered brick, slated Addison House on Sand Street, with its fivebayed late 18th-century front and its rear extension of c. 1830. (fn. 426) Another surgeon, George Willis, practising c. 1855-85, who had a longserving assistant, (fn. 427) was succeeded until c. 1910 by a kinsman. There were still three or four doctors in the early 20th century. In 1971 a new Health Centre was opened on Pratt Street to accommodate the three doctors then practising at Soham. Also serving five other surrounding parishes, (fn. 428) it housed six doctors by 1989 and in 1989-90 had to be replaced by a larger one on Brewhouse Lane. (fn. 429)
An auctioneer was in business at Soham by 1813. (fn. 430) The village had one auctioneer and valuer from 1850, and from the 1860s usually at least two, sometimes also, as already in 1806, a land surveyor. (fn. 431) By the 1870s Soham had two banks. Harvey and Hudson's, opened by 1864 on the market place as a branch of a Norwich bank, was incorporated from 1875 into Gurneys', and from c. 1905 was part of Barclays Bank. Hammonds stood on High Street from 1875. Managed from Newmarket by the 1890s, it was attached to the Capital and Counties Bank 1905 × 1908, and was included in Lloyds Bank from c. 1922. Its offices were rebuilt in 1898. (fn. 432) In the 1930s both Barclays and Lloyds had branches on Soham's main street, open as earlier three days a week. (fn. 433) Both were still there in the late 1990s: in 1997 Barclays occupied a singlestoreyed classical building opposite the churchyard. In the mid 1990s at least three firms of accountants had offices in Soham, two on its high street. (fn. 434)