Pages 103-109
A History of the County of Cambridge and the Isle of Ely: Volume 4, City of Ely; Ely, N. and S. Witchford and Wisbech Hundreds. Originally published by Victoria County History, London, 2002.
This free content was digitised by double rekeying. All rights reserved.
CHATTERIS
Chatteris is a small town on the western border of the Isle, about 9 miles south of March and 12 miles northwest of Ely, and on the main road between them. The Ely road is known as Ireton's Way, having been constructed by the Parliamentary general in the Civil War to convey troops from Chatteris to Ely. (fn. 1) It was a private road, with toll gates, until taken over by the County Council in 1902. (fn. 2) Other roads connect the town with St. Ives, Huntingdon (via Warboys) and Wisbech (via Upwell). The Wisbech road runs east from Chatteris for about a mile. It then runs north-east along the Sixteen Foot Drain, which is the only important watercourse in Chatteris except the Forty Foot or Vermuyden's Drain crossing the north of the parish. There is a station on the March and St. Ives branch, Eastern Region British Railways, opened in 1848. (fn. 3) A Local Board, now replaced by an Urban District. Council of nine members, was formed in 1873. The market, apparently held by prescription, had been discontinued before 1808 owing to the bad state of the roads and the frequent floods in the district. In 1834 it was revived, on the petition of nearly 100 inhabitants, and was held on Fridays. (fn. 4) By 1851 it was well attended and the centre of a fair trade in corn. (fn. 5) It became obsolete early in the present century, but fairs are still held on the last Friday in April and the Friday before Michaelmas. (fn. 6) From 1778 until 1846 Chatteris alternated with March as one of the meeting-places of the Court of Requests for the Isle of Ely for the recovery of small debts in the Isle. (fn. 7)
In 1563 (fn. 8) there were 206 householders in Chatteris, a figure comparable with the undivided parish of Doddington (201) and Haddenham (188), and much below that for Whittlesey (355) and Ely with its hamlets (400). Chatteris must then have contained about 1,000 inhabitants. The assessment for ship money in 1639- 40 shows little change, Chatteris being rated at £50 2s. as compared with £75 15s. for Haddenham and £699s. 11d. for Doddington with its hamlets. Chatteris, however, ranks with the villages rather than the towns; it is much below Wisbech, Whittlesey, and Ely, and about in the middle of a group, assessed at between £40 and £60, which contains also Elm, Stretham with Thetford, Littleport, Downham, and Sutton. (fn. 9) Bishop Compton's 'census' of 1676 (fn. 10) is almost certainly inaccurate as regards Chatteris, where it shows only 271 persons of communicant age (including 43 Dissenters), perhaps representing a total of about 400; the comparable figures for Doddington and Haddenham are 1,762 (949 in March) and 700 respectively. At the opening of the 19th century Chatteris, with 2,393 population, had far outpaced Haddenham (1,090), but was by a slight margin the smallest town in the Isle, March having 2,514 inhabitants. (fn. 11) The subsequent trend has been the usual one in Fenland towns-a rapid increase up to 1851, as the surrounding countryside was converted from pasture to tillage, followed by a decrease of some 10 per cent. in the second half of the 19th century and subsequent return to about the 1851 level. At this date (1851) the town was said to be 'considerable', to be 'lighted with gas', and to contain 'some handsome houses and good shops'. (fn. 12) There were at that time 15 inns and 43 beerhouses to serve a population of about 5,000. (fn. 13) Chatteris suffered badly in the 1832 epidemic of cholera; the General Baptist congregation lost 3 out of about 50 members. (fn. 14) A serious fire which broke out on Mr. Billips's farm on 14 September 1864 caused the death of a 7-year-old girl and the destruction of upwards of 100 houses. The total damage was over £10,000, and a relief fund of £300 was subscribed for the sufferers. The fire was said to be the work of an incendiary. (fn. 15) An earlier fire (1706) caused £1,787 worth of damage. (fn. 16)
A halfpenny tradesman's token of 1670 is known. (fn. 17) The first record of a post office in Chatteris is in 1782. (fn. 18) In 1851 Mrs. Mahala Rowley, confectioner, of High Street, was postmistress. (fn. 19) The post office was opened in its present premises at No. 16 Park Street in 1924; (fn. 20) the building is of the late 18th century, with a pedimented doorway with fanlight and bow window above, and a Mansard roof. Telephone service was first provided by the National Telephone Company in 1910. The present exchange dates from 1924. (fn. 21)
There are some small engineering works in Chatteris, but agriculture is the chief industry and the town is of importance mainly as a local shopping centre. It has not the industrial interests of other Fenland towns like Wisbech, Whittlesey, and March, and though the population (5,153 in 1931, 5,528 in 1951) is large compared with some neighbouring centres (e.g. Huntingdon and St. Ives) it is spread over some 22 square miles at a density not much greater than that of some of the rural parishes in the north of the county. In 1921 just over half (50.6 per cent.) of the male workers were employed in agriculture, a proportion above that for the Isle as a whole. At that date, however, all the towns, including Wisbech, (fn. 22) returned more than 25 per cent. of their male workers as engaged in agriculture. In 1931 the Chatteris proportion had risen to 57.7 per cent., a figure unsurpassed among English urban areas except by Holbeach (Lincs.) and Ramsey (Hunts.). (fn. 23)
Inclosure was effected by Acts of Parliament in 1793 and 1809. (fn. 24) The employment of women and children in agricultural gangs was said to have come into existence in Chatteris soon after the latter Act. (fn. 25) The award under this Act was not made until 1819. The delay was no doubt due to the large amount of land inclosed (5,669 acres), and to the fact that with six separate manors in the parish, the 139 holders of common rights could hold them in seven different capacities, each of which might require a separate set of allotments. (fn. 26) William Dunn Gardiner was much the greatest beneficiary. He received 582 acres, 469 in his own right or that of his wife, 104 as lord of the Ramsey manor and 9 as lord of Bartles. Anne Waddington and Mary Chafy, who received 259 acres jointly, were also important proprietors. Charles Cholmondeley (the impropriator of the great tithes) and the vicar each received about 300 acres.
In 1851 there were two recently established libraries: the Literary Institution with 70 members and 1,100 volumes and the Mechanics' and Working Men's Book Society. Their subscriptions were 12s. 6d., and 1s. or 1s. 3d. respectively. (fn. 27)
Some pieces of domestic architecture are worth noting. Chatteris House (No. 17 High Street) is a fine early-19th-century building, with portico porch sheltering a good doorway and door, an iron balcony above, and a central pediment. Inside, the staircase is of stone with an iron balustrade, and there are some moulded plaster ceilings. No. 84 High Street has a pedimented doorway with a fanlight, and a bow window above. The Red Lion Inn (No. 2 London Road) is plastered and thatched; it has a carved wooden eaves cornice and dates probably from the late 17th century. No. 1 Market Hill, 18th century, has a hooded doorway with fanlight. Westwood (No. 9 Park Street) is a late-18thcentury building of some merit. No. 8 St. Martin's Road, also 18th century but with a chimney brick dated 1605, has stepped and Dutch gables, a roof partly stone-slated, and another good doorway. Ivy House (No. 19 Station Street) has similar features, except for the gables. The manor house also has a pedimented doorway; its stables and outbuildings are very extensive and have a picturesque cupola, but are very dilapidated; the date is late 18th century. There are several other houses of less distinction but pleasing design, especially in High Street. In Angood's, Skeels' and Cole's Yards at the north end of High Street there are several onestoried labourers' cottages of a type once extremely common in the Fenland but now passing away.
The nunnery (fn. 28) and the 17th-century mansion built on its site by the Gascoyne family have vanished except for a few walls. Some of the last remains were pulled down to make way for the Empress Cinema in 1935. (fn. 29)
MANORS
Part of Chatteris was given to Ramsey Abbey by Athelstan Mannessone, and confirmed by Edgar (974), Edward the Confessor and other kings. (fn. 30) In 1086 this portion was assessed at 3 hides less 1 virgate, with land for 4 ploughs, 1½ hide (1 plough-land) being in demesne. There was meadow for the 4 plough teams and wood for 100 pigs, also 3,000 eels from the fisheries and 27d. fish tribute. The recorded population was 10 villeins, 5 bordars, and 2 serfs. It had been worth 20s. when received, £4 T.R.E. and £6 in 1086. The Abbot of Ely, who also had an estate in Chatteris (see below), had the soke. (fn. 31)
This manor remained with Ramsey Abbey to the Dissolution. In 1254 it was valued at £20 and in 1291 at £68 14s. 2d. (fn. 32) In 1396-7 it had fallen to £3418s. 4d. (fn. 33) In 1535 the value had risen to £46 5s. 2d. and was £48 4s. 5d. five years later. (fn. 34)
During the abbacy of Robert of Reading (1202-7) Chatteris produced £12 a year in rents; (fn. 35) there is a full extent of the manor, undated but c. 1240. (fn. 36) The cultivable land amounted to 374 acres, of which 48 were in demesne. There were about 23 acres of high meadow in several scattered portions, and an unspecified amount of meadow in the fen. Some of the localities and bounds of these meadows survive in present-day place-names, as Wenny, Wyliethe (Willey Fen), Hollode (Holwoods Farm), and Hunneye (Honey Hill). (fn. 37) The fishery of 'Wlweyewere', half the fisheries of 'Redestecheswere' and 'Hachenwere', produced 30s. a year. There was a small wood of 2 acres, and an alder grove at Honey Hill. The marsh was held in common. No free tenants are recorded, but there was a customary tenant with as much as 50 acres, another with 16 and 32 tenants with 8 acres each. There were also 31 croftmen without land who in general performed half the services of the customaries. This manor seems to have approached a money economy more nearly than many monastic estates at this period. Customary tenants, who were actually performing their services, rendered 6s. 3d., but if they were not working in person as much as £7 3s. 5¼d. By 1396-7 the commutation process seems to have been complete. (fn. 38) In 1409, 2,306 works were commuted at 1d. and 64 at 3d.-a total of £10 18s. 2d. The total revenue of the manor (£58 7s. 2d.) also included £21 9s. 10d. from rents, £13 13s. 4d. from Hollode and £5 1s. from Crowlode, and £7 1s. 2d. from perquisites of court. There were also heavy arrears amounting to over £90. (fn. 39) In 1471, 36 tenants paid £5 1s. 11d. for 98 holdings. (fn. 40)
The general history of this manor whilst in monastic hands is uneventful. Up to the time of Bishop Geoffrey (1177-89) the bishop or the prior of Ely had the right to the services of Ramsey tenants in Chatteris for work on Aldreth causeway; (fn. 41) by 1240 this had been commuted for 2s. yearly. (fn. 42) The suit of court owed at Ely and at Witchford hundred was in 1294 fixed as threeweekly, to be performed by two tenants; in 1339 it was reduced to an annual suit, with homage of 2s. payable at the hundred court at Witchford. (fn. 43) In 1391, to settle long-standing disputes, the Abbot of Ramsey 'granted' his manor of Chatteris with all its appurtenances to the Bishop of Ely. Presumably this means that he recognized the bishop as his overlord in this, the only Ramsey manor wholly within the Isle. (fn. 44) The grant was inspected and confirmed six years later. (fn. 45) In 1229 an assize of novel disseisin was brought against the abbot and others by Katherine de Chatteris regarding a tenement in the vill. (fn. 46)
The manor remained with the Crown for some time after the Dissolution. When William Whiteakers was appointed its bailiff and collector in 1546-7 it brought in about £50 a year gross. (fn. 47) In 1558 it was sold, for £300, to Thomas Wendy the queen's physician, to be held in chief at 1/40 fee. The appurtenances included the marsh or pasture of 'Holliwood farme' held by the heirs of Sir Richard Cromwell, and 10s. rent from 'Honye pasture' which had been granted to William and John Sewster. (fn. 48) Thomas Wendy died in 1560, his heir being his brother John, aged 50; in his will he desired his nephew Thomas to marry one of his own daughters. (fn. 49) John survived until 1589. The manor itself was then valued at £18 12s. 6d. Non-manorial property included Holwood and rent from Honey Hill, bringing the Wendy estates in Chatteris up to £34. (fn. 50) The last of the male line in this family was Thomas Wendy (d. 1673), who with his wife Lettice (Willoughby) and other members of the family was dealing with the manor in 1655. (fn. 51) By this time Honey Hill was reckoned independently, the manor of HONNEY FEN or HONNEY PASTURES being recorded in the Sewster family, its original grantees, in the early 17th century. (fn. 52) The property of this family in Huntingdonshire passed by marriage to the Peytons of Doddington in the later 17th century, (fn. 53) and it is probable that this small 'manor', which was in the north-east of Chatteris parish towards Doddington, followed the descent of and became merged in the latter. In Cole's time the lessee (at £300 a year) of Honey Fen was Porter Thompson of Trumpington. (fn. 54)
The main Ramsey manor is next found in the Caryl family. (fn. 55) In 1682 Malbone Caryl settled it on his mother-in-law Sarah Hart (d. 1707), with remainder to other members of the family. (fn. 56) In the early 18th century the manor became divided between two coheiresses, Malbon Worsley being vouchee as to I moiety in 1730. (fn. 57) This half was still in the Worsley family in 1808. (fn. 58) The other half was being dealt with by John Lees and Deborah his wife in 1759. (fn. 59) Later it was further divided, a third part of a moiety being passed by John and Mary Grayson to Thomas Moore in 1802. (fn. 60) Six years later the joint lords were stated to be Thomas Caryl Worsley and William Dunn Gardiner, the latter having purchased his interest from the Terry family, descendants by marriage of the Caryls. (fn. 61) Subsequently the manor became reunited in the Gardiner family, John Dunn Gardiner being lord in 1851 and 1900. (fn. 62) Major-General C. E. Lawrie, C.B., D.S.O., was lord in 1933. (fn. 63)
In 1086 the church of Ely held 2 hides and half a virgate in Chatteris, with land for 3 ploughs. Half a virgate was in demesne. There were 6 villeins, 2 bordars, and 2 cottars, meadow for 3 plough teams, woodland for 20 pigs, and fisheries providing 1,500 eels. The estate had been worth 30s. when received, 50s. T.R.E. and 40s. in 1086. (fn. 64) Neither the bishop nor the convent of Ely are afterwards recorded as immediate owners of a manor in Chatteris, and this is probably the origin of the manor of CHATTERIS NUNNS, held by the Benedictine nunnery in the town which was given to Ely by Henry I. (fn. 65) The 15th-century cartulary of this nunnery (fn. 66) shows a very large number of small grants, usually amounting to not more than one or two messuages or up to an acre of land. The lands granted lay mostly in Chatteris, where the nuns' estates were worth £16 4s. 5d. in 1291, about a quarter of the value of those of Ramsey. (fn. 67) Licences to acquire in mortmain were granted at intervals in the 14th century, (fn. 68) but most of the property so obtained was of very little value; for example, a grant in 1387 by John Dreng of 15 messuages, a toft, 21a. 1½. of land and 2s. 2d. rent in Chatteris, Doddington, and Wimblington was in all worth only 10s. yearly. At the Dissolution, however, the value of the nuns' manor had risen to £28 11s. 8½d. Of this sum £20 11s. 4½d. was derived from the demesne, which included a windmill, and 4s. 10d. from 'autumn works'. (fn. 69)
The manor and rectory were granted in 1551 to Edward Lord Clinton and Saye at yearly rents of 29s. and 14s. 5d. respectively. (fn. 70) The site and demesnes of the nunnery, and the rectory, were then held by Walter Cromwell, and the windmill by John Townesend. All these were almost immediately regranted by Lord Clinton to Thomas Rowe, merchant tailor of London. (fn. 71) Rowe in his turn soon had licence for another alienation, which was made in 1554 to William Bettys. (fn. 72) His family, who gave the manor an alternative title of CHATTERIS BETTS, held it for about a century. (fn. 73) During the Commonwealth Scipio Cokayne, John Tripp, and Edward and John Hobart, with their wives, probably sisters of Thomas Betts the last in the male line, (fn. 74) were dealing with the manor. (fn. 75) George Gas coyne, one of the parties to the above transactions, converted what remained of the nunnery buildings into a country house, seen by Dugdale on his visit in 1657. (fn. 76) From Gascoyne the manor descended to Michael Holman, who with his wife Eleanor (Gascoyne) executed a settlement in 1661. (fn. 77) After this the manor changed hands frequently. (fn. 78) In the early 18th century it was in the Hake family. (fn. 79) From about 1757 to 1772 it belonged to Robert Fawcett of London. Fawcett bequeathed it to John Seymour, (fn. 80) from whom it descended to the Revd. T. C. W. Seymour, his grandson, who received 51 acres as lord of Nunns manor under the 1819 inclosure award. Some time before 1851 it was sold to John Ord Hall. (fn. 81) Thomas Jennings of Newmarket was lord of this manor in 1900; it has since remained in his family. (fn. 82)
In 1386 certain iniquitatis filii withheld 2s. 1d. rent, due to the church of Ely, from three tenements. Payment was ordered within 15 days on pain of excommunication. (fn. 83)
As late as 1809-10 the Bishop of Ely claimed to be lord paramount of the manors of Chatteris Ramsey, Nunns, and Benet College, all of which did suit and service at his palace and hundred courts. (fn. 84) Until the middle of the 19th century the bishop held courts leet on St. Matthew's Day at a house called the Guildhall. (fn. 85)
The manor of CHATTERIS LISLES is first mentioned in 1498, when it was worth £3 6s. 8d. and was held by John, Lord Scrope of Bolton, of the Bishop of Ely by fealty. (fn. 86) John's great-grandson, Ralph Scrope of the Vine (Hants.), sold it in 1564 to Symeon Stywarde and his son Robert. At Symeon's death in 1568 it was held of the queen in free socage. (fn. 87) The descent for the next three centuries is identical with that of Coveney (q.v.). Manorial rights had lapsed by 1900, possibly on the extinction of the Rokeby barony in 1883.
A manor of TYNDALLS is mentioned in 1498, when Sir William Tyndale died seised thereof. It was then worth 30s. and was held of the Bishop of Ely by unknown service. (fn. 88) By 1571 it had come to the Styward family (fn. 89) and subsequently descended with the manors of Coveney and of Chatteris Lisles (q.v.).
The manor of BARTLES or GARDINERS was devised by Thomas Gardiner (d. 1566) to his son Humphrey in tail male, with contingent remainders to his brothers and sisters and their heirs male. (fn. 90) Humphrey left a life interest to his wife Elizabeth and appointed her brother Whitehill Audley as a trustee in the event of her death, his son William having predeceased him and his grandson Humphrey being a minor. Humphrey II had livery of this manor in 1639. (fn. 91) The subsequent descent is obscure; William Needham and his wife Katherine were vouchees in 1705. (fn. 92) A century later this manor was inherited by John Gardiner (d. 1804) through his marriage with the heiress of a Marriott of Chatteris. (fn. 93) Its descent during the 19th century was identical with that of the Ramsey manor (q.v.). Mr. Alexander H. M. Wedderburn was lord in 1933. (fn. 94)
Another manor of ANDREWS was held in the early 14th century by the St. George family. In 1369 it was settled by Baldwin St. George on trustees, from one of whom, John Andrew of Eltisley, the manor acquired its name. It seems that the estate was intended by the original donor to be applied to charitable purposes. Further trustees were appointed in 1377. In 1395 the manor was made over to John Necton, master, and Thomas Kelsale and John Titleshale, fellows of Benet (now Corpus Christi) College, (fn. 95) whose successors have since held it. (fn. 96)
CHURCH
The church of Chatteris was granted to the nunnery by Bishop Niel (1133-69) and confirmed by Prior Roger (c. 1210- 29). (fn. 97) Its value was £4 in 1217, £13 6s. 8d. in 1254, and £16 13s. 4d. in 1291. (fn. 98) The church was styled ecclesia in 1291, so that a vicarage would not seem to have been ordained at that time. In 1535 the vicarage was valued at £10. The appropriated rectory was not entered separately, but included among the other spiritualities of the nunnery. (fn. 99)
The advowson descended with the manor of Chatteris Nunns or Betts to the end of the 18th century. Some time before 1803 John Seymour, then lord of this manor, sold it to Robert Chatfield of Croydon (Surrey), who presented in that year. (fn. 100) In 1851 Revd. M. A. Gathercole was patron and incumbent. (fn. 101) In 1909 the advowson was obtained by Caius College, in exchange with Revd. C. H. Brocklebank for that of Ashdon (Essex), and it has since remained with the college. (fn. 102)
The rectory also descended with Nunns manor until 1615, when Bestney Betts and his brother John sold the greater part, including Wylley Close, to Simon Bennett of Swineshead (Beds.) for £1,900, (fn. 103) and in 1624 the remainder, consisting solely of the great tithes, a barn and an acre of land, was conveyed by Bestney with his wife and other members of the family to Sir Thomas Hetley, serjeant-at-law, and his son Francis. (fn. 104) Shortly after this (c. 1632) it was stated that the Nunns manor and impropriate rectory had been held together for so long that the glebe was not distinguished from the demesne. The Hetleys had difficulty in collecting their tithes, obstacles being placed in their way by Betts, George Carter the vicar, and the Earl of Suffolk who held 400 acres, valued at £200 a year, in Honey Fen. (fn. 105) Francis died in 1638 and was succeeded by his brother William, then a minor, (fn. 106) who was dealing with the rectory in 1651. (fn. 107) Carrina Hetley, widow, was in possession in 1676-7, (fn. 108) and it continued with the Hetley family to the end of the century. (fn. 109) Charles Cholmondeley was returned as impropriator in 1819. (fn. 110)
In 1562 the Bishop of Ely was awarded a pension of 20s. from the vicarage. (fn. 111) The rectorial tithes were commuted in 1818 for £600, and there were 297 acres of glebe. In 1851 the glebe was the property of J. D. Gardiner, lord of two of the Chatteris manors. The vicarial tithes were commuted for £900, and 344½ acres of glebe, including 24½ in lieu of common rights. (fn. 112)
There were in 1389 guilds in Chatteris of the Holy Trinity, Blessed Virgin and All Saints (1334), and of Corpus Christi. (fn. 113) In 1549 a cottage called the Guildhall, let at 2s. 6d. yearly, with a yard, and 2 acres and 1 rood of land in tenure of the churchwardens, was granted to William Warde. (fn. 114) The Guildhall was regranted in 1571 to Richard Hill and Robert Don. (fn. 115)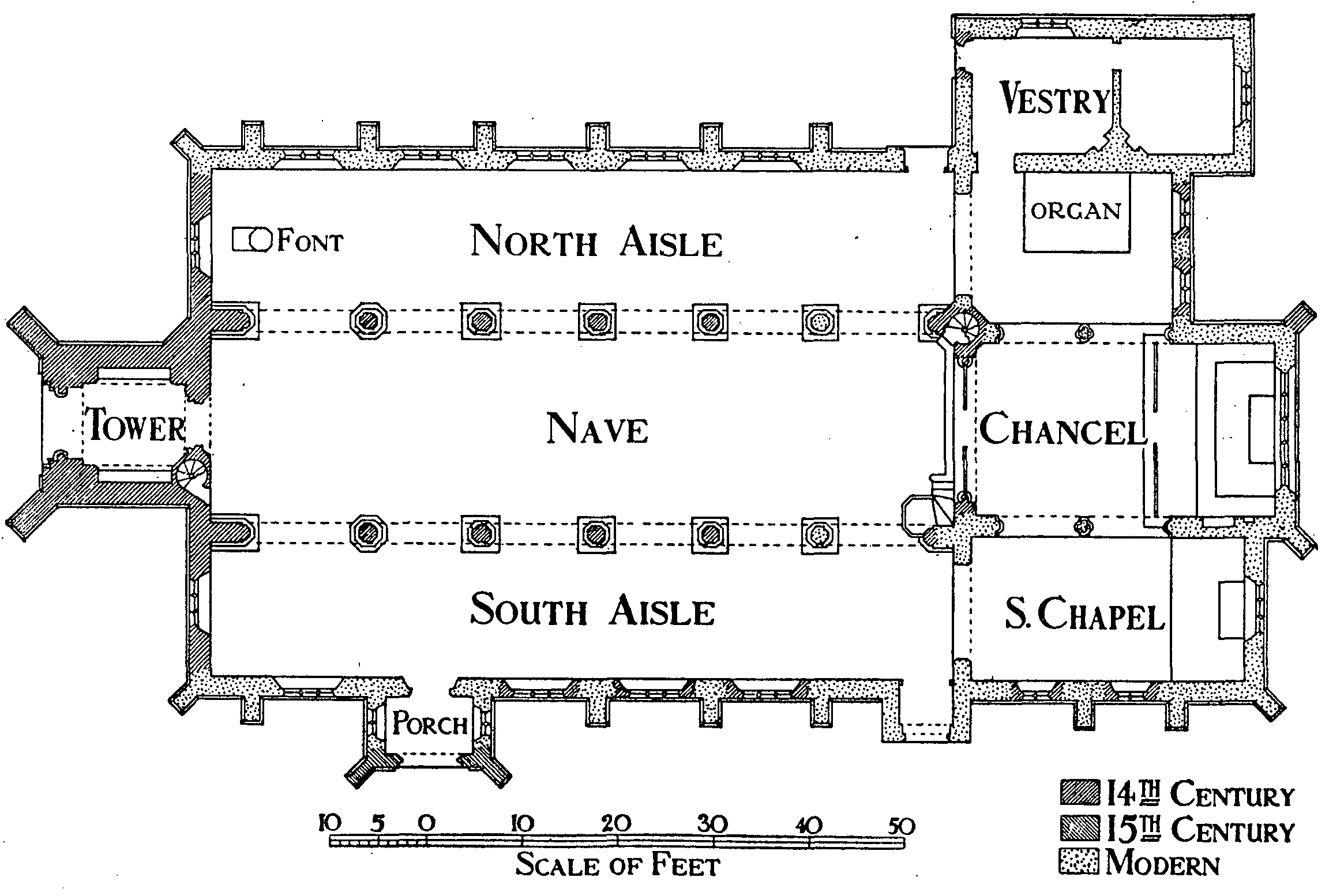 The church of ST. PETER AND ST. PAUL consists of chancel, north and south chapels, north vestry, clerestoried nave, aisles, two south porches, and west tower. The material is rubble with stone dressings. The roofs of the chancel, north chapel, and nave are tiled and the other roofs leaded. The church had originally a chancel, nave of five bays, aisles, and west tower. In 1910 it was in need of repair and a drastic reconstruction then began which involved the rebuilding of the whole fabric with the exception of the nave arcades, western south porch and tower. The nave was extended one bay to the east and the old chancel arch re-erected; the aisles were widened and this involved the destruction of part of the porch. Fortunately many of the old windows were reset in the new walls. (fn. 116) The sum of £5,000 for the restoration was bequeathed by Robert Wright, son of a former sexton. He emigrated to America, found work in the Presidency gardens at Washington, and later became proprietor of a laundry. He died at Walthamstow in 1903. (fn. 117) The old work is all of mid-14th-century date with the exception of the porch, which is of the 15th century, and the modern additions are in keeping.
The chancel has an east window of five lights with flowing tracery, and is entirely modern with the exception of part of the jambs. There are diagonal buttresses with one set-off, the northern of which is composed of old material. There are north and south arcades of two bays with two-centred arches, all modern and of 14thcentury character. The lofty chancel arch is twocentred and of two orders with hood-mould and rounded responds with embattled caps and moulded bases. On the north is the rood stair with upper and lower doorways, the former square-headed and quite plain and the lower with shouldered lintel, both much restored. The south chapel has an east window of three lights, entirely modern. There is a diagonal buttress with one set-off and another similar one on the south, both modern. There are two 14th-century two-light windows in the south wall, cinquefoil headed with quatrefoils above and hood-mould. The north chapel has two reset 14th-century windows of two trefoiled main lights with quatrefoil above, and hood, in the east wall, and two similar windows in the north wall above the vestry with trefoils in the head, the eastern of which has renewed tracery. The vestry is entirely modern with the exception of the outer doorway, which is of the 14th century, reset, with continuous mouldings and hood.
The nave has arcades of six bays with two-centred arches of two orders, slightly stilted, with hood-moulds terminating in heads; the columns are octagonal with moulded caps and bases. The easternmost arch and column are modern, but the eastern responds, which are semi-octagonal, have been re-used. The western responds are similar. There are six clerestory windows on each side, of two cinquefoiled heads with external hoodmoulds. The internal head consists of a shouldered lintel. All the tracery has been renewed and the easternmost pair of windows is entirely modern.
The modern south aisle has four lateral windows, all of similar design, of which the three easternmost are of the 14th century; they are of three cinquefoiled lights with hood-mould to the arch. The west window is of similar design; part of the west wall is original. The eastern porch is entirely modern, but the western is of the 15th century, though curtailed by the widening of the aisle. The outer arch has jamb shafts with moulded caps and bases. There are diagonal buttresses with one set-off, and a modern two-light window with square head in the east and west walls. The parapet with moulded coping and gabled end is modern. The north aisle is entirely modern except for part of the west wall and the west window, which is similar to those in the south aisle. All the buttresses of both aisles have one set-off and are of 14th-century character. The aisles open to the chapels by plain modern two-centred arches of two orders.
The tower is of three stages with diagonal buttresses with four set-offs. The newel stair is contained in the south-east buttress, which is enlarged for the purpose. In the interior of the base of the tower there is a large plain arch in each wall. Each of these arches is blind except that on the west which is fitted with doors and serves as the entrance; on the exterior the entrance has continuous mouldings and a hood terminating in heads. The tower communicates with the nave by a doorway set in the east arch with deep mouldings and jamb shafts with moulded caps and bases and a hood terminating in a male and female head. Above the doorway there is a niche. There is a large stoup recess to the south of the inner doorway. The second stage has a lancet on the west face. The belfry windows are of two trefoiled lights with a hood-mould terminating in heads. The tower is finished with stepped battlements much renewed. There is a small leaded spire.
All the roofs are modern.
The font has a plain octagonal bowl and shaft and is of 14th-century date. The other fittings are modern. In the vestry is a panel painting of the royal arms as borne between 1814 and 1837.
There are some good 18th-century headstones in the churchyard, of local type.
The plate includes a paten marked 'Ex Dono Sarah Carill 1708', a chalice and a flagon inscribed 'Ex dono Sarah Dilke to the Parish of Chatris 1728', a paten marked 'Chatteriss parish 1744', a chalice given in memory of H. K. Bagshaw by M. and C. Burnett, 1919, and a paten given by Hilda Francis in memory of Eliza Richardson, 1922.
The tower contains six bells: 1st to 4th by Joseph Eayre of St. Neots, 1735; 5th by Mears and Stainbank, 1886; 6th by Taylor of Loughborough, 1911. The peal was re-tuned and the 5th re-cast in 1911. The 1st is inscribed 'Utile dulcis vivitur ingenio, grata sit arguta resonans campanula voce', the 2nd has the last six words of the above inscription, and the 3rd 'labor ipse voluptas'. (fn. 118)
The registers begin in 1614 and are complete except for the years 1665 to 1671 inclusive which are missing.
There are Anglican mission-rooms at Horseway and Slade End, the latter established 1908.
NONCONFORMITY
Though there were some Baptists living in Chatteris in 1654 there was apparently no permanent Baptist church in the town until the late 18th century. (fn. 119) Chatteris people were baptized as members of the Fen Stanton Baptist congregation at various dates in the latter half of the 17th century. (fn. 120) In 1785 Joseph Scott and about 30 others were baptized at Wisbech and began meetings in a hired barn in Lyon's Yard, West Park Street. (fn. 121) In 1818, when this meeting had 21 members, it joined the New Connexion of General Baptists. Membership increased, reaching 58 in 1845 and 140 in 1851. (fn. 122) In 1835 a permanent building was erected in West Park Street at a cost of £800, on land bought from Theophilus Seymour for £110. (fn. 123) This church was enlarged in 1869 and renovated in 1885; schoolrooms were added in 1898. (fn. 124) There is a Particular Baptist church (Salem) at Hive End, Huntingdon Road, (fn. 125) founded in 1800 and endowed by the Clarett family with land. The endowment brought in £100 per annum in 1851. (fn. 126) Another such church (Zion) in Park Street was founded in 1819. In 1851 the congregation numbered 485. (fn. 122) These two churches are still in existence. A daughter chapel of the West Park Street church on the Forty Foot Bank was established in 1860, rebuilt in 1889 (fn. 127) and closed during the Second World War. (fn. 128) The Congregational church in East Park Street dates from 1838, and is a good example of early Nonconformist 'Gothic'. At the 1851 census it had just been taken over by the Wesleyan Methodist Reformers, (fn. 129), who had a congregation averaging 315. (fn. 122) The Wesleyan Methodist church, in New Road, was originally built in 1815 and was enlarged in 1855. (fn. 130) The Wesleyans, who first came to Chatteris in 1806, used the General Baptist meeting-room during the first years. (fn. 131) The congregation numbered 360 in 1851. (fn. 122) The Friends' Meeting, established in 1703, had in 1851 20 members: (fn. 132) it was dissolved between 1929 and 1933. The graveyard still exists behind the meeting-house in High Street. (fn. 133) A Salvation Army hall was built between 1900 and 1904.
SCHOOLS
A new school building seems to have been erected about 1738, according to a reference in the Churchwardens' Accounts of that year. This building is now a social club, and the former school, used as a storehouse during the re-roofing of the church in 1747, stood on the site of the present parish room, just south of the church. (fn. 134)
At the end of the 18th century there were four private schools in Chatteris, kept severally by Thomas Camps the parish clerk, Christopher Walters, a former exciseman, Joseph Scott the Baptist minister and Thomas Kid, a Baptist layman. None of these teachers was licensed. (fn. 135)
No further provision for primary education was made in Chatteris until 1819 when application was made to the National Society for a grant for a tworoomed school for 200 boys and 150 girls to be held weekdays and Sundays. It was stated that there were about 200 boys and 200 girls between 7 and 13 who required education, which was already supplied to 80 boys and 50 girls in Dissenters' schools. An evening school had recently been set up which functioned during the winter months. This was attended by 80 to 100 young people and was supported by voluntary subscriptions. The site chosen for the new school was by the churchyard, and was held copyhold of Corpus Christi College, Cambridge. The National Society granted £200 towards the school, for which £835 was subscribed locally, including £175 and a yearly endowment of 10 guineas from Dr. Robert Chatfield, vicar. The master's salary was fixed at £70 and house, and 'if the master were acquainted with land measuring, it is very probable that during the month of harvest, he might be able to increase his profits by that manner'. In 1821 112 boys and 128 girls were attending the school. The numbers increased in 1845 to 123 boys and 168 girls. In the latter year the National Society gave £40 towards the estimated cost of £250 of a school for 120 infants. (fn. 136)
The boys' National School was rebuilt in 1856 to accommodate 200 boys and remained open until 1927: it had long been more than half empty. The average attendance was 68 in 1907, and 37 in 1919. The boys were eventually transferred to the King Edward School (see below). (fn. 137)
Another infants' school was built by trustees at Slade Lode, near the old workhouse on the March Road, in 1858. The cost was £589 and 98 places were provided. On the death of the last trustee in 1887 this school was taken over by the School Board, which had been established in 1873. The Board enlarged it (1895) to take 146 infants-a figure reduced in 1910 to 129. This school is still (1950) in use. (fn. 138)
A British School was founded in Chatteris about 1820. (fn. 139) In 1830 it had 118 boys and 80 girls on the books, with average attendances of 70 and 50 respectively. (fn. 140) It still existed in 1851, (fn. 141) but failed to attract sufficient voluntary support and was taken over by the School Board (1873). The Board built in 1873 boys' and girls' schools in New Road and an infants' school at Hive End. The last named was rebuilt in 1888 at a cost of £325, for 138 children. It was enlarged in 1904 to accommodate 207 and scaled down at the 1910 reorganization to 192, and to 130 infants in 1939. From 1928 it accommodated the infants who had previously been taught at New Road. This school is still (1950) in use. (fn. 142)
The New Road Boys' Board School, which was built for 200, existed until 1902. It was then replaced by the King Edward School for 305 boys which was enlarged in 1912 by the addition of a woodworking centre and in 1928 by the provision of an extra classroom. Central heating was installed at a cost of £495 in 1934. The educational system in Chatteris has been re-cast in each generation since the establishment of the School Board. The culminating developments occurred in 1938-9, when the Cromwell Secondary Modern School (see below) was built, to give general education with a rural bias to 500 pupils in the 11-15 age-groups from Chatteris and the surrounding villages. The King Edward School was at the same time converted into a junior mixed school for 330 children, the older boys who had gone on to the Cromwell School being replaced by the 62 remaining girls from New Road school (see below) and 89 and 52 pupils of each sex from the older children at Hive End and Slade Lode schools respectively. (fn. 143)
Girls and infants were accommodated in a Board School in New Road, which provided 341 places and was enlarged early in the 20th century to take 287 girls and 198 infants. It was never more than about twothirds full (240 in 1899, 323 in 1919) and by the 1920's was considered to be dilapidated in appearance and inconvenient in arrangement. It was closed in two stages, the infants and some girls being transferred to Hive End in 1928 and the remaining girls to King Edward School in 1939. (fn. 144)
Proposals for a senior elementary school in Chatteris were put forward as far back as 1930, but were not taken up until 1934 owing to the economic crisis and the prior claims of March and other places. The site finally selected was of 6 acres, later increased to nearly 9 acres, at the corner of Wenny Road and Matting Close, with an additional frontage on Wood Street. The school, which has places for 320 boys and 320 girls, was opened in January 1939. The total cost was nearly £40,000. (fn. 145)
CHARITIES
In 1837 the charities consisted of (i) the 'Poor's Land', of 34¼ acres in Slade End and Nightlayer's Fen and 5¾ acres at Purrant's Pound, let for £82 per annum, (ii) the Acre Close, let for £3 3s., (iii) the 'Poor's Pieces', 7½ acres in Great Acre Fen, let for £12 5s., and (iv) a house and land left by John Dring in 1682 which produced £25 6s. yearly. There was also (v) the Town Meadow of 9 acres, and (vi) the Town Yard, on which 10 houses, worth £1,000, had recently been erected. There were no documents, however, to prove that the former belonged to the parish. The total available for charity after expenses had been met was £97 8s. which was given in sums of from 2s. 6d. to 12s. to about 300 persons, preferably non-paupers. The same persons could benefit two years in succession, and the trustees published a list of the intended beneficiaries.
Chatteris shared with Doddington and March an area of 235 acres which was used by the poor of these parishes indiscriminately for turf cutting. The Commissioners stated that this land had been so much dug up as to be almost useless for this purpose, but if properly cultivated could be very productive, and that its capital value as agricultural land was £8,000. (fn. 146)