Page 389
A History of the County of Hampshire: Volume 3. Originally published by Victoria County History, London, 1908.
This free content was digitised by double rekeying. All rights reserved.
THE HUNDRED OF MICHELDEVER
CONTAINING THE PARISHES OF
In 1831 the hundred included, locally speaking, only these four parishes, but quite recently its jurisdiction extended also over Cranborne, Slackstead in Farley Chamberlayne, and Abbots Worthy in Kings Worthy parish. (fn. 1) Of these Cranborne had been granted to the New Minster with Micheldever Hundred, (fn. 2) and both Cranborne and Worthy are separately mentioned in the Domesday Survey as being in Micheldever Hundred. Other lands also included in the hundred in 1086 were Drayton in Barton Stacey, West Stratton, and Popham, whilst Northington and East Stratton were evidently included in the abbey's lands there, though not expressly mentioned. (fn. 3) The jurisdiction of the hundred also extended over Swarraton, (fn. 4) for which the tithingman of Northington answered. (fn. 5) The hundred was assessed at 113 hides in the time of Edward the Confessor, but of these seven hides at Worthy paid no geld. The remaining 106 hides were reduced to 83 hides and half a virgate before 1086.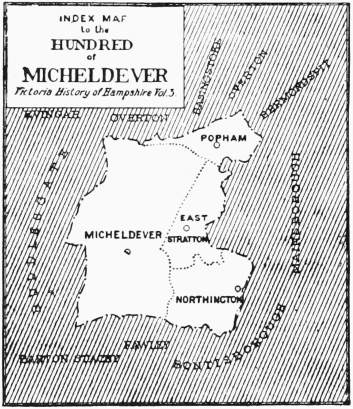 The hundred court was held at Micheldever, (fn. 6) probably in early days at the moot-house mentioned in the boundaries of Micheldever in 901. (fn. 7) The hundred was granted to the New Minster with the manor (q.v.) in the early years of the reign of Edward the Elder, (fn. 8) and its history has since been coincident with that of the manor. In 1282 the abbot complained that the mayor and bailiffs of Winchester, together with certain citizens, had entered the abbey's inclosures within the hundred with a great multitude and seized the attachments for certain trespasses there, a right which should have belonged to the abbey. (fn. 9) Assize of bread and ale was also claimed as appurtenant to the hundred, (fn. 10) and this with other privileges, such as return of writs, freedom from interference by the sheriff, and exemption from pleas, tallage, aids, geld and scot, was confirmed to Henry earl of Southampton in February, 1607–8, (fn. 11) shortly after the restoration of the hundred with his other lands. (fn. 12)