Page 197
A History of the County of Hampshire: Volume 4. Originally published by Victoria County History, London, 1911.
This free content was digitised by double rekeying. All rights reserved.
THE HUNDRED OF OVERTON
containing the parishes of; Ashe; Bradley; Deane; Laverstoke; Overton; Tadley; North Waltham
The above list represents the extent of the hundred of Overton at the time of the Population Returns of 1831. The parish of Steventon was transferred from Basingstoke Hundred before 1841, and at the same time the parishes of Bradley and North Waltham were moved to the hundreds of Bermondspit and Holdshot respectively. (fn. 1)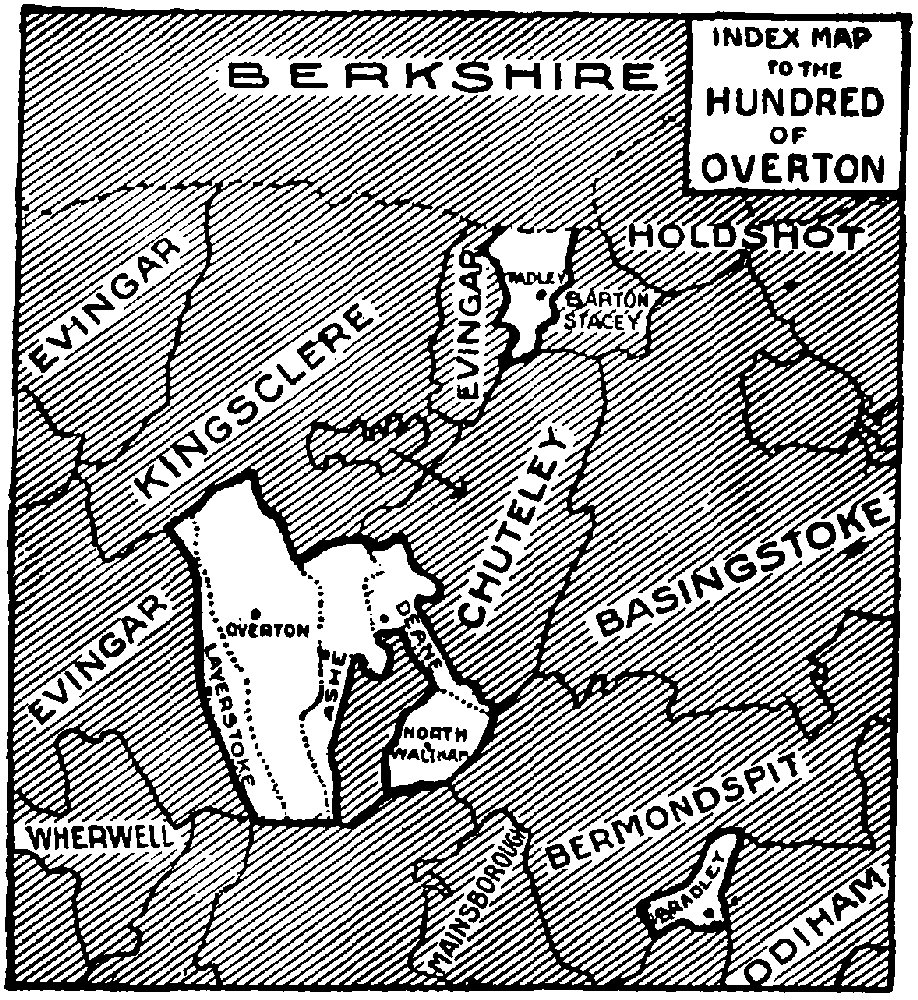 At the time of the Domesday Survey the hundred included Ashe, Bradley, Laverstoke, Tadley and North Waltham and the greater part of the parish of Overton. (fn. 2) Deane was then reckoned in Chuteley Hundred, (fn. 3) while Quidhampton, a tithing in the parish of Overton, appears as 'Polem' tune' under the heading of Droxford Hundred. (fn. 4) The land comprising the hundred was assessed in the time of Edward the Confessor at 62½ hides, and at the time of the Survey at about 53½ hides. By 1316 the hundred had practically assumed its modern proportions, (fn. 5) and from this time the hundred court was usually attended by tithingmen from the tithings of Ashe, Bradley, Deane, Laverstoke, Tadley, North Waltham, Overton, Polhampton, Quidhampton, Northington and Southington. (fn. 6) An inquiry was held at Whitchurch in 1598 to ascertain whether there was such a tithing as Hanyglode in the hundred of Overton—in inquiry which was rendered necessary by the custom of the collectors of ifteenths of demanding a sum of 17s. 4d. 'by the name of Haninglod' from William Cleer and Philip a Lee, inhabitants of the parish of Burghclere, and by the oaths of twenty-four jurors it was ascertained that there was no such ithing either in the hundred of Overton or elsewhere within the county. (fn. 7)
The hundred has followed the same descent as the manor of Overton (q.v.).