Pages 270-272
A History of the County of Hampshire: Volume 4. Originally published by Victoria County History, London, 1911.
This free content was digitised by double rekeying. All rights reserved.
WOLVERTON
Ulvretune (xi cent.); Ulfertona, Olferton (xii cent.); Wlfrinton, Wulfrestone, Wlfferton (xiii cent.); Wolferton (xiv cent.); Wolverston (xvii cent.).
Wolverton is a small parish with an area of 1,453 acres situated to the east of Kingsclere. The general rise of the ground is from north to south, a height of 624 ft. above the ordnance datum being attained a little to the north of the Port Way, the ancient road from Salisbury to Silchester, which intersects the south of the parish. The main road from Kingsclere to Newbury runs through Wolverton from west to east, being joined at the school by a road from Basingstoke. The parish church is situated to the east of Crabs Hill in the extreme west of the parish. Near it is Wolverton House, which has been rented from the Duke of Wellington by Mr. Wallace James Walker for over thirty years—a handsome stone mansion looking south-east and standing in a finelywooded park of 150 acres. To the north of the park are Wolverton Wood and Wolverton Common. The soil varies, and the subsoil is chalk and sand. The chief crops are wheat, oats and barley. According to the agricultural returns of 1905 about half the parish is arable land and rather less than half permanent grass, the remainder being woods and plantations. (fn. 1) The Inclosure Award for Wolverton is dated 31 August 1861. (fn. 2)
Among place-names preserved in extant records are Le Frith, La Breche (fn. 3) (xiii cent.), Nuvelesse (fn. 4) (xiii cent.), Hyetoune (fn. 5) (xv cent.), Smithborowe and Freborne Water (fn. 6) (xvi cent.).
Manors
WOLVERTON, which Elveva had held of Edward the Confessor, was held by Alvred the priest of the Conqueror at the time of the Domesday Survey. (fn. 7) In the 12th century the manor was farmed out for £10 a year, (fn. 8) exclusive of the park, which sometimes brought in an additional £1, (fn. 9) and also occasionally furnished venison for the royal table. (fn. 10) There was a royal residence at Wolverton, as appears from the Pipe Rolls, in which there is frequent mention of money spent in repairing the king's houses there, (fn. 11) and it seems probable that the early kings sometimes stayed in the parish. Thus in 1165 Queen Eleanor, the wife of Henry II, was at Wolverton during her husband's absence in Normandy, and her expenses during her stay amounted to £18. (fn. 12)
At length King John in 1215 granted the manor to Peter Fitz Herbert (fn. 13) —a gift which was, however, rendered void in 1217, in which year it was granted by Henry III to his mother, the dowager queen Isabel, as part of her dower. (fn. 14) Peter, however, subsequently regained possession of the manor, obtaining a grant of free warren in his lands in the hundred of Kingsclere from Henry III, (fn. 15) and it was probably after its restoration that he granted licence to the nuns of Godstow to inclose, plough and sow their essart which lay next to his park of Wolverton. (fn. 16) He died in 1235, and was succeeded by his son Herbert Fitz Peter, (fn. 17) who in the Testa de Nevill is returned as holding Wolverton and North Oakley of the old feoffment for two parts of a knight's fee. (fn. 18) Herbert left no issue, and was consequently succeeded by his brother Reginald Fitz Peter, (fn. 19) who proved his title to the manor in 1280. (fn. 20) He took the Abbess and convent of Godstow under his special protection, receiving common of pasture for himself and his men in the wood called 'The Frith' in exchange for his charter, (fn. 21) and died seised of the manor of Wolverton, including a park stocked with deer, in 1286, leaving a son John and a widow Joan, (fn. 22) who soon afterwards received the manor in dower. (fn. 23) Joan afterwards married John de Vivonia, and on her death in 1315 (fn. 24) the manor passed to her grandson, Herbert Fitz John, (fn. 25) in accordance with a settlement made by John Fitz Reginald in 1306. (fn. 26) Herbert died seised of the manor in 1321, his heir being his son Matthew, (fn. 27) who four years later settled it upon himself and his heirs by his wife Margaret. (fn. 28) He died without issue in 1356, his heirs being returned as his nieces Margaret and Elizabeth, daughters of his brother Reginald Fitz Herbert, aged fourteen and seven respectively, (fn. 29) but on the death of his wife Margaret six months later (fn. 30) the manor passed to Edward de St. John, (fn. 31) to whom the reversion had been granted in 1340. (fn. 32) Sir Edward de St. John, perhaps a son of the last named, died without issue in December 1384, (fn. 33) and the next year his widow Joan released her right in the manor to Hugh Craan, a citizen of Winchester, (fn. 34) who soon afterwards settled it upon Robert Dyneley and Margaret his wife and the heirs and assigns of Robert. (fn. 35) Robert died seised of the manor in 1395, leaving a son and heir Robert, aged eighteen, (fn. 36) who in 1428 was stated to be holding half a fee in Wolverton which had belonged to Matthew Fitz Herbert. (fn. 37) In his lifetime he seems to have settled the manor upon his eldest son William and his wife Margaret, a descendant of Reginald Fitz Herbert through his younger daughter Elizabeth. (fn. 38) William and Margaret were apparently seised of it in 1437, (fn. 39) and Robert Dyneley did not own any lands or tenements in Hampshire at his death in 1455. (fn. 40) In 1469 the manor was settled in tail-male upon William Dyneley and his second wife Anne Mompesson, (fn. 41) and they dealt with it by fine four years later. (fn. 42) From them it passed to William's grandson, Edward Dyneley, whose father Robert, William's son by his first wife, had apparently predeceased them. (fn. 43) Edward's widow Sanchea married as her second husband Peter Carvanell, (fn. 44) and died seised of the manor in 1494, her heir being her son, Thomas Dyneley, aged fifteen. (fn. 45) Thomas died eight years later, leaving a widow Philippa, to whom he left the manor for life, and an infant daughter Elizabeth. (fn. 46) Philippa next married John Barrett, lord of the manor of Belhouse in the parish of Aveley (co. Essex), (fn. 47) and held a court in conjunction with her husband at Wolverton in 1510, (fn. 48) but must have died before 1517, in which year Elizabeth, who had married George Barrett, son and heir of John, obtained livery of her inheritance. (fn. 49) Her husband, by whom she had three sons, Edward, Arthur and Robert, and one daughter, Elizabeth, (fn. 50) died in 1525, (fn. 51) and she next married Sir John Baker of Sissinghurst (co. Kent), (fn. 52) but apparently died before 1570, in which year Edward Barrett settled it in tail-male upon himself and his third wife Elizabeth, the widow of Thomas Little. (fn. 53) In 1576 Edward engaged in a dispute with John Paulet Marquess of Winchester, the lord of the manors of Kingsclere and Frobury, as to his right to a waste in Wolverton called Smythborough, (fn. 54) and died seised of the manor in 1586. He left no male issue by Elizabeth, and consequently Wolverton ultimately passed to Edward the son of his son Charles by his second wife Anne. (fn. 55) Edward, who was created Lord Newburgh of Fife on 17 October 1627, (fn. 56) remained seised of the manor until his death in 1644. (fn. 57) By his will he directed his executors to sell his manor of Wolverton and his other lands in Hampshire for the payment of his debts and legacies, paying the surplus, if any, to his half-brother, Richard Leveson. (fn. 58) The purchaser was George Browne of Spelmonden (co. Kent), who presented to the rectory in 1661, (fn. 59) and dealt with the manor by fine in 1669. (fn. 60) On his death it passed to his son, Sir George Browne of Wolverton, who married Jane daughter of Sir Henry Worsley of Appuldercomb, (fn. 61) and had an only daughter and heir Elizabeth, who married Sir Jemmett Raymond of Barton Court (co. Berks.), and died in 1688, aged seventeen, nine days after the birth of her only son Jemmett. (fn. 62) Jemmett succeeded to the manor on attaining to his majority, (fn. 63) presenting to the rectory in 1719 and 1759. (fn. 64) He had no children, and consequently in 1772 he settled the reversion of the manor in tail-male after the death of himself and his wife Elizabeth on his second cousin, Dame Elizabeth Worsley, (fn. 65) the granddaughter of Elizabeth, wife of Sir William Meux, bart., who was the sister of his grandfather, Sir George Browne. (fn. 66) She died in 1774, and the manor consequently passed to her son and heir, Edward Meux-Worsley of Gatcombe House, (fn. 67) who sold it in 1782 to Charles Van Notten, a successful London merchant and uncle to Sir Peter Pole of Ewhurst. (fn. 68) Charles by royal licence on 7 March 1789 took the name of Pole in conse quence of his marriage with Millicent, the eldest daughter and co-heir of Charles Pole of Holcroft (co. Lancs.), (fn. 69) and was created a baronet two years later. (fn. 70) He died on 18 June 1813, and was succeeded by his son and heir, Sir Peter Pole, bart., M.P. for Yarmouth (Isle of Wight) 1819–26, (fn. 71) who sold the manor in 1837 to Arthur Wellesley first Duke of Wellington. (fn. 72) The present owner is his grandson, Arthur Charles Wellesley the fourth Duke.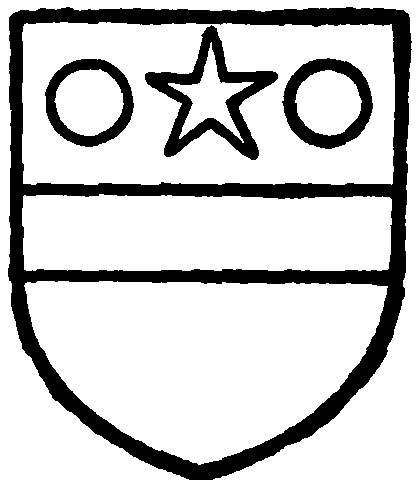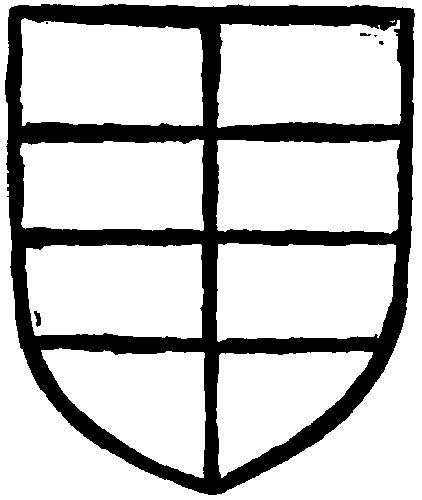 In 1280 Reginald Fitz Peter claimed the right to tumbril and the fines of the assize of bread and ale in Wolverton. (fn. 73)
Church
The church of ST. CATHERINE consists of a chancel 17 ft. 7 in. by 13 ft. 9 in., a nave 43 ft. 9 in. by 18 ft. 6 in., north and south transepts each 13 ft. 7 in. by 11 ft., a north vestry balancing a south porch, and a west tower 17 ft. 9 in. by 14 ft. 5 in. It is of red brick with dressings of stone and of darker glazed bricks, and is a rather attractive symmetrically designed 18th-century building, the west tower being large and somewhat out of scale with the rest. The nave roof, however, is a simple but most effective piece of 15th-century work preserved from an older building which may have been of wooden construction like Hartley Wespall Church. It is in four bays with a half bay at the east, and has large arched braces which spring from well below the plate, their feet being now cut away and clumsy wooden corbels inserted. They probably were continued as posts to the ground in the first instance. Over the braces are collars with small posts from which arched struts spring to the ridge; there are two purlins on each slope of the roof, with curved wind-braces between them. The chancel roof is a copy of that of the nave.
The windows are all segmental or round-headed and have modern brick jambs and round-headed lights in them. The interior of the church is in its way very effective with small recesses surmounted by pediments set across the eastern angles of the nave flanking the plain round-headed chancel arch, opening to the panelled 18th-century reading desk and pulpit. There are good wrought iron altar rails and remains of a screen of like material and date; the reredos and panelling in the chancel are also of good 18th-century design. The arches opening to the transepts continue the design of the chancel arch and its flanking recesses to which they adjoin; to the west of each transept arch is a second narrow arch corresponding to the recesses. The church was restored by the Rev. Richard Pole in 1871 when the west gallery was taken away and the pews lowered to the present height.
The keystones and square imposts of the arches are worked in hard plaster. The interior of the tower is of the same character, with narrow arcades flanking a wide central opening on the west, blank arcades on north and south, and squinches set across the angles. The east arch is round-headed and like the rest very plain.
The porch and vestry are quite plain and balance each other. Externally the church has tall brick parapets with pilasters and a cornice of darker bluish bricks, the gables of the transepts and chancel having stepped and curved outlines with projecting quoins. Over the transept windows are arched semicircular niches, and on the east parapets of the transepts are shallow brick pediments
The tower is also of brick, but has chamfered stone quoins alternating with the glazed bricks and stone dressed windows. It is of three high stages with a stone modillioned cornice and a plain brick parapet with stone pilasters.at the angles. The belfry windows are large and square-headed with moulded architraves and cornices. There are six bells by Thomas Lester and T. Pocock, London, 1752. The tenor and treble were recast and the bell frame strengthened by Mears & Stainbank in 1900. In the second stage are circular windows on the east and west, and on the ground stage three two-light windows, north, south and west, the latter being the largest and higher up, having below it a blocked round-headed doorway with projecting stone quoins. At the north-east is a stair with well-worked vaulted brick ceiling and steps.
The seating is of 18th-century date and of panelled oak, solid and good. The font is modern and octagonal. At the east of the nave hangs a pretty brass chandelier of 18th-century date, and the church has also modern brass hanging lamps and brass candlesticks fastened to the pews.
The plate consists of a pair of silver chalices of 1717 inscribed 'The gift of Jemmett Raymond Esq. 1717'; two silver patens of 1713 inscribed 'Ex dono Gab. Barnaby hujus ecclesiae Rectoris'; and a silver flagon of 1873, the gift of the Rev. Richard Pole.
The earliest book of the registers contains all entries from 1717, baptisms and burials running to 1812 and marriages to 1754. At the beginning is a note giving this book as 'volume the third,' but the earlier books have been lost. The second book contains marriages from 1761 to 1812.
Advowson
The first mention of a church in Wolverton is in 1286 in the inquisition taken on the death of Reginald Fitz Peter. (fn. 74) The advowson has throughout followed the descent of the manor. (fn. 75) By order in council (2 July 1880) Wolverton rectory was united with the rectory of Ewhurst. (fn. 76)
Charities
Sir George Browne by will dated 11 April 1685 devised four small houses and parcels of land in trust for the poor.
The trust estate now consists of cottages and land containing about 15 acres, producing yearly about £20.
In 1906 coals to the value of £4 12s. were distributed among the poor and £14 10s. in cash at Christmas.