Pages 38-41
A History of the County of Huntingdon: Volume 3. Originally published by Victoria County History, London, 1936.
This free content was digitised by double rekeying. All rights reserved.
COVINGTON
Covintune (xi cent.); Kuvintone (xiii cent.).
This small parish is 2½ miles west of Kimbolton Station, on the Kettering and Cambridge branch of the London Midland and Scottish Railway, which runs through the middle of it. The road from Higham Ferrers to Kimbolton forms the boundary between Covington (Hunts) and Dean (Beds), the Three Shire Stone being placed on this road where the county boundaries of Hunts, Beds and Northants meet half a mile west of the village of Covington. The parish covers 1,294 acres of light clay soil, with a subsoil of clay. It is about half arable and half pasture land. The ground is undulating, rising from the River Till in the south of the parish, where it is about 140 ft. above Ordnance datum, to about 260 ft. north of the village, where it falls again to the north.
The village lies a little to the north of the road to Kimbolton on a by-road to Keyston. At its western side is the church of St. Margaret. Covington Hall stands to the east of the village. It is a stone and brick building, with tiled roof. The central chimneystack bears the initials and date r 1659 b, which probably gives the date of the building. A wing was added on the west side in the 18th century. There are one or two timber-framed and thatched cottages, including the Post Office and Red Cow Inn. To the south of the church there is a moat, which probably marks the site of the Bayeux Manor in the 12th century, and another to the north of the village, where possibly the Bovetouns had their dwelling. The rectory lies to the north of the village; to the south is a spring.
About half a mile south-west of the church, near the Three Shire Stone, is Covington Lodge, and south of the village is Bottom Farm, with Covington Gorse to the east of it. In the extreme north of the parish is Cleavers Lodge Farm.
Place-names in 1614 include Bradgate Leyes, Hassells, Hunts Hills, Cotton Hills, Depslade, the Town Greene, Long Lane, Longeleyes, Farthings, the Great Grove (near the street), and the Severall. (fn. 1)
Manors
Before the Conquest 8½ hides in COVINGTON were held by Aschel, and in 1086 they were held by gift of the king by Roger de Ivri (Yvri), tenant of a vast fief in Oxfordshire. (fn. 2) This property had risen in value from £8 to £10. Covington afterwards passed to the St. Walerys. In 1210–12 Thomas, son of Bernard de St. Walery (Valery), held one and a half fee in Covington and died in 1219, leaving an only daughter Annora, wife of Robert de Dreux. (fn. 3) After the forfeiture by Robert de Dreux, Covington was granted to Richard, Earl of Cornwall (second son of King John), in 1231, (fn. 4) who changed its state so that it was no longer geldable. (fn. 5) Sheriff's aid and suit at the county court were withheld by him and by his son Edmund, Earl of Cornwall, (fn. 6) who held the whole of Covington as 1½ fee of the king as of the honour of St. Walery. After the death of Earl Edmund without issue in 1300, the Countess of Cornwall was returned in 1303 as holding a fee in Covington in dower. (fn. 7) From this date Covington is said to be held of the manor of Glatton (q.v.). (fn. 8)
Under Roger de Ivri two knights had 2 hides which were later held apparently by the Bayeux (Baiocis, Bayuse, Bahus) family in Covington. Fulk de Bayeux held the advowson in 1225, and in 1228 disseised his daughter, Cecily, of her free tenement in Covington, (fn. 9) and also had a suit against William, son of Wymond de Covington, as to lands here. (fn. 10) John de Bayeux was dealing with land in Covington in 1271–2. (fn. 11) Before 1279 he had apparently been succeeded by Robert de Bayeux, who with Nicholas de Bovetoun failed to render suit at the county court and neglected to pay 8s. from the vill of Covington for sheriff's aid. Robert was evidently a minor in the wardship of Walter de Heliun, who paid 40s. a year for the wardship. (fn. 12) Robert de Bayeux and Richard de Bayeux, parson of the church of Covington, charged their lands in the counties of Huntingdon and Bedford for payment of a debt, (fn. 13) and in 1301 Robert was holding a knight's fee in Covington and Pertenhall (Beds) of Margaret, widow of Edmund, Earl of Cornwall. (fn. 14) Robert was sheriff of Huntingdonshire in 1310, and in 1323 owed homage and service for lands in Covington and Pertenhall held of the Earldom of Cornwall, then in the hands of the Crown. (fn. 15) He was succeeded by his son, Sir Richard de Bayeux, who was sheriff in 1332, and held many other offices. Sir Richard married Katherine, widow of Walter de Molesworth, before 1319, and in 1331 the manor was settled by a fine between Richard de Bayeux and Katherine his wife and Alexander de Bayeux. (fn. 16) In 1354 Sir Richard granted an annuity of £40 from his manor of Covington to Richard de Essex, citizen and draper of London, (fn. 17) probably as security for a loan. Sir Richard had already in the previous year, with Robert de Bayeux, Thomas de Bayeux, rector of Covington, and Richard son of Sir Richard, made a charge of 12 marks on their lands in Arkesden (Essex) to Richard de Essex. (fn. 18) Sir William Burton apparently purchased the former annuity from Richard de Essex; at all events in 1360, and again in 1362, he allotted £10 out of it towards the maintenance of the wardens and chaplains of a chantry in the chapel of Tolethorpe, in Little Casterton (Rutl.), for prayers for the good estate of the king and himself. (fn. 19) In 1369 Sir Robert, son of Sir Richard de Bayeux, released his interest in the manor to Sir William Burton and Richard de Bayeux, (fn. 20) his brother. Eleanor, widow of the younger Richard, married Sir William before 1371, when he presented to the church as lord of Covington in right of his wife. Sir William died before 1377, when Eleanor, widow of Sir William Burton, presented. (fn. 21) Maud, daughter of Sir Robert and sister of Sir Richard de Bayeux, and her greatnephew Robert, son of Sir Robert de Bayeux, in 1373 quitclaimed the life interest of Katherine, widow of Sir Richard, in the manor, which they held, to Thomas Beauchamp, Earl of Warwick, and others, apparently trustees. (fn. 22) Robert de Bayeux, son of Sir Robert, granted a further annuity of £40 in 1382 to John de Newport, (fn. 23) who had married Eleanor, widow of Sir William Burton, her second husband. In the following year John de Newport and Eleanor, his wife, granted the two annuities to Nicholas de Burton, son of Sir William and Eleanor. (fn. 24) The younger Richard had a daughter Elizabeth, to whom the manor of Pertenhall (Beds) passed, (fn. 25) but Covington went to John de Bayeux, the son of the younger Robert, who died seised of the manor in 1397, leaving a son John. (fn. 26) In 1428 John Bayeux was assessed for feudal service as holding the fee in Covington, the overlordship of which the Countess of Cornwall had formerly held. (fn. 27) He presented to the church in 1417 and 1446, and Margaret his widow presented in 1450. (fn. 28) Margaret died in 1468 seised of the manor, her heir being her daughter Margaret, aged 22. (fn. 29) Margaret the daughter, with Robert Stanhope, presumably her husband, granted the manor and advowson to William Sapcote and Thomas Sapcote in 1479. (fn. 30) William Sapcote was the father of Sir Guy Sapcote, kt., who left two daughters, Elizabeth and Anne. (fn. 31) Anne alone appears to have survived, and she inherited her father's estates. She married John Broughton, of Toddington (Beds) and Chenies (Bucks), with whom she was dealing with the manor and advowson in 1516. (fn. 32) As Anne Broughton, widow, she presented in 1520, and married as her second husband Sir Richard Jerningham, kt., with whom she settled the manor in 1523. (fn. 33) As Anne Jerningham, widow, lady of Covington, she granted the presentation for that turn in 1526 to William Hugons. She married as her third husband John Russell, first Earl of Bedford of the second creation, who died in 1555, (fn. 34) and Francis, her son, with his son and heir Francis, settled the manor in 1574. (fn. 35) Edward, Earl of Bedford, son of the lastnamed Francis, married Lucy Harington, daughter of Sir John Harington, with whom he settled the manor, advowson, and free fishing in 1594, (fn. 36) 1608. (fn. 37) and 1613. (fn. 38) In 1614 the manor was sold by them, without the advowson, for £3,475, to Christopher Turner, of Clifford's Inn, and John Lootes, of Gray's Inn. (fn. 39) Christopher Turner was possibly the Christopher Turner of Milton Ernest (Beds) who died in 1619. His son Christopher was created third Baron of the Exchequer at the Restoration, and at his death in 1675 his son and grandson, both named Edmund, had predeceased him. (fn. 40) The advowson, however, was held in 1664 by Edward Turner, of Therfield (Herts). (fn. 41) From this date the history of the manor becomes obscure. It was evidently divided among co-heirs and their representatives. In 1655 a ninth was held by Edward, Earl of Manchester, and his wife Essex with the manor of Kimbolton, (fn. 42) with which it then continued to descend, (fn. 43) the Dukes of Manchester retaining the principal share in the manorial rights of Covington. Another ninth was in 1656 conveyed by Henry Briggs and Katherine, his wife, and Mary Briggs, widow, to Richard Baker. (fn. 44) In 1710 a third of a ninth and a fourth of a ninth of the manor were conveyed by Robert Browne and his wife Elizabeth, Bernard Allen and his wife Jane, Thomas Stevenson and his wife Mary, and Richard Harper and his wife Elizabeth, to John Sturges, clerk, and John Sherard. (fn. 45) Another conveyance of a ninth was made in 1719 by Robert Browne and his wife Elizabeth, this time with John Ule and his wife Elizabeth, and William Ashton and his wife Frances, to Richard Simpson and Thomas Ashton. (fn. 46)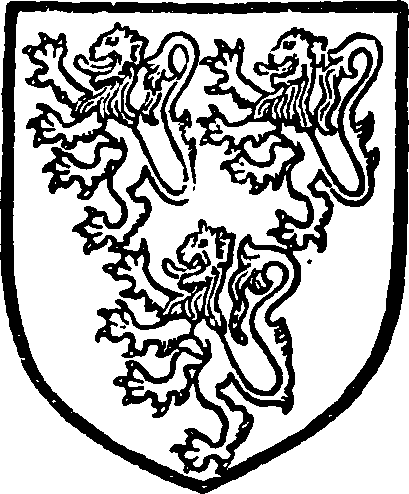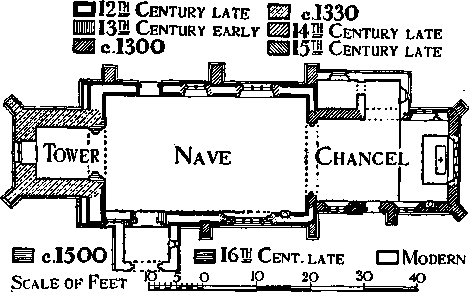 The manorial rights seem to have fallen into disuse and the lordship of the manor was forgotten. Any rights that survived appear to have continued in the Dukes of Manchester. In 1918 the Duke of Manchester apparently conveyed what rights he had to Mr. Benjamin Measures, J.P., who had already purchased some of the Fitzwilliam property in the parish. Mr. Measures died in 1924 and was succeeded by his son Mr. Charles Measures.
Tenements in Covington were held in 1631 by Edward Maria Wingfield, (fn. 47) and property was conveyed by Sir James Wingfield, kt., and his wife, Elizabeth, to Henry, Earl of Manchester, in 1633. (fn. 48)
Church
The church of ALL SAINTS (fn. 49) consists of a chancel 24½ ft. by 15 ft., organ chamber and vestry on the north 15¼ ft. by 5¼ ft., nave 37¼ ft. by 21¼ ft., west tower 9½ ft. by 9¼ ft., and south porch. The walls are of rubble with stone dressings, and the roofs are covered with tiles and lead.
The church is not mentioned in the Domesday Survey (1086), but by the end of the 12th century a stone church with an aisleless nave was standing on the present site, and of this church the nave remains. The chancel was rebuilt c. 1300, and a little later a chapel was built on the south side of the nave. The tower was probably first built c. 1330, but was considerably altered c. 1500. An ancient local tradition asserts that the tower once had a spire, and some spire stones were certainly found built into two of the nave buttresses in 1883; the spire may, however, have been pulled down c. 1500. The south chapel was pulled down at some unknown date, and one of its windows was inserted in the blocking of the arch to the nave. The church was much restored in 1882–3, when all the roofs were renewed, the south porch rebuilt and the organ chamber and vestry added. The south wall of the chancel was rebuilt in 1911.
The chancel, rebuilt c. 1300, has in the east wall a modern window of three graduated lancets under a continuous label; and two chamfered brackets. In the gable above is a modern quatrefoiled circular window. The north wall has an original two-light window with a two-centred head and a plain spandrel in which is a coat-of-arms in 14th-century glass—argent, on a bend between six crosslets fitchy gules, as many bezants—said to be the arms of Richard de Bayous. There is also in the north wall a rectangular recess much modernised, and a modern arch to the organ chamber. The south wall has two original two-light windows each with a quatrefoil in a circle under a two-centred head; a contemporary doorway with a semicircular head, (fn. 50) simple imposts and chamfered jambs; and an original piscina with a trefoiled head and a projecting circular basin. The chancel arch, of c. 1300, is two-centred and of two chamfered orders, the inner order resting on semicircular shafts with moulded capitals and bases. In the gable above is an opening with a pointed head opening into a wide recess in the middle of the wall which has two openings with modern pointed heads opening into the nave.
The modern organ chamber and vestry has a single-light window in the east wall, and a two-light window in the north, and is roofed by a continuation of the chancel roof.
The 12th-century nave has in the north wall a 14th-century square-headed three-light window with ogee-headed lights; a similar two-light window but the head appears to have been two-centred but cut off with a flat top just above the heads of the lights; a rather late 12th-century doorway with chamfered jambs, moulded imposts, a tympanum having a semicircular sunk panel carved with a wingless griffin and a lion facing each other, and a simple label. The door itself is modern, but has simple 13th (or perhaps 12th) century ironwork, much restored. The south wall has a blocked early 14th-century arch to a former chapel, with two-centred arch of two chamfered orders, the lower order resting on semicircular attached shafts with moulded capitals and bases, and reset in the blocking a late 15th-century three-light window with a depressed four-centred head. There is also in the south wall an early 16th-century threelight window with an almost elliptical head, fixed very high up in the wall; an early 13th-century doorway with a two-centred head of two moulded orders carried on plain jambs each with a detached circular shaft, one capital carved with foliage and the other with the water-leaf, moulded bases and moulded bands; a 14th-century piscina with a sexfoiled basin under a two-centred arch. High up in the eastern corner, outside, is a blocked square-headed doorway formerly opening on to the roof of the chapel.
The west tower, of c. 1330, has a two-centred tower arch of c. 1500, of three orders, two chamfered and one square, the former carried on semioctagonal attached shafts with moulded capitals; many of the stones are of earlier date re-used. The west window is of two lights with reticulated tracery in a two-centred head. In the stage above, two pointed lights open into the nave roof. The belfry windows, of c. 1500, are two-lights with plain spandrels in a four-centred head. The tower, which is rather low, has diagonal buttresses at the north-west and southwest angles which rise only to the sills of the belfry windows, and is covered with a modern pyramidal tiled roof with overhanging eaves.
The modern south porch has a two-centred arch of two continuous chamfered orders.
The 12th-century font has an octagonal bowl with a scalloped under-edge, standing on a circular base with a scalloped upper-edge, and with a modern double square plinth; possibly a short intervening stem has been lost.
There are three bells, inscribed: (1) Henry Penn fusore 1710. (2) Edwarde Newcome. (3) Thomas Mears founder London. Thomas Fairy churchwarden, 1841. There is a tradition that the two lost bells from Stow Longa were brought here, but the records are against it, for in 1695 the churchwardens were cited for two cracked bells; (fn. 51) and in 1709 there were three bells. (fn. 52) From 1829 to 1840 one bell was constantly reported as cracked; (fn. 53) and in 1899 the bells were reported as in need of rehanging. (fn. 54)
In the nave are some pews with 16th-century moulded rails and buttressed front and back panelling, but much modernised. In the vestry is a late 17th-century hutch-type chest.
An early 14th-century Purbeck marble tapered coffin-lid, with the marginal inscription completely obliterated, lies on the chancel floor.
Various old stones have been built into the walls, some of them of 12th-century date.
There are the following monuments: in the chancel, to Agnes wife of the Rev. A. F. Heaton, rector (no date). In the vestry, floor slabs to Sarah daughter of the Rev. C. A. Binns, rector, and of Margaret his wife, d. 1856; and the Rev. Cornelius Alphonsus Binns, rector [d. 1865]. In the nave, War Memorial, 1914–18.
The registers are as follows: (i) baptisms, marriages and burials 3 Aug. 1538 to – June 1651; (ii) ditto 19 November 1653 to 24 January 1813, marriages end 8 July 1753; (iii) the Official Marriage Book 19 Oct. 1756 to 14 September 1812.
The church plate consists of a small silver cup, inscribed 'the tovne of covington,' the 'v' and 'n' are engraved on the top of each other, no hall-mark, but c. 1570; a cover paten belonging to it with no date-letter; a pewter plate, alms-dish and flagon. (fn. 55)
Advowson
The advowson and manor were held together until the sale of the manor by Edward, Earl of Bedford, in 1614. Edward Turner of Therfield (Herts) presented in 1664, — Turner presented in 1674, Edward Payne in 1676, and Margaret Taylor, widow, in 1688 and 1698. (fn. 56) The advowson was in 1738 in the hands of the Earl of Malton, from whom it has descended to the Wentworth-Fitzwilliams, (fn. 57) and Mr. George Charles Wentworth-Fitzwilliam is the present patron.
Charity
Susanna Wylde, by will proved 4 Sept. 1802, gave a sum of £20, the interest to be laid out in bread and distributed to the poor of the parish. Since 1880 this charity has ceased to exist owing to the bankruptcy of Mr. S. Day, to whom the money was entrusted.