Pages 115-121
A History of the County of Lancaster: Volume 5. Originally published by Victoria County History, London, 1911.
This free content was digitised by double rekeying. All rights reserved.
CHADDERTON
Chaderthon, Chaderton, c. 1250; Chaterton, 1291; Chatherton, 1304; Chadderton, 1468.
This township measures about 3 miles from north to south, and less than 2 miles across; its area is 3,138 acres. (fn. 1) The surface is hilly, but the general slope is from east to west; the highest points, 500 ft., are in the extreme north-east. The Irk and some tributary brooks flow through the township. The growth of Oldham has given an urban character to the east and south-east borderland; and on the west a small town has grown up round Middleton Junction. The population in 1901 was 24,892.
The road from Manchester to Oldham passes near, and sometimes within the south-eastern boundary. Three roads from Middleton to Oldham go through the township from east to west, with numerous crossroads. (fn. 2) The Lancashire and Yorkshire Company's line from Manchester to Rochdale, opened in 1839, traverses the western half of it, going northwards, and has a station about the centre, called Middleton Junction, from which lines branch off west and east to Middleton and to Oldham. The same company's Manchester and Oldham line runs along the eastern boundary, and has a station at Hollinwood. The Rochdale Canal also passes through the township.
Chadderton Heights, Chadderton Fold, and Brichin Lee are hamlets in the northern part of the township; Foxdenton lies to the east of Middleton Junction; Black Lanc, Nimble Nook, Butler Green, and Coldshaw (fn. 3) on the south-east border; Hale Moss and White Moss on the south. (fn. 4) Here also was the district called Theale Moor. (fn. 5)
The boundaries of Chadderton have varied from time to time. Butterworth, writing in 1817, calls attention to the then ancient bounds, shown on his map, as contrasted with his verbal description; Hollinwood had in 1713 been taken into Oldham. (fn. 6) There was also a small detached portion, lying under Copster Hill on the southern border of Oldham, into which it has now been absorbed.
There is a tumulus close to Chadderton Hall. Remains of Roman roads are found.
The soil is sand, with subsoil of clay and gravel. The land is mostly pasture, the dairies being the chief agricultural industry. There are numerous cotton mills on the Oldham side; also collieries, iron works, chemical works, and brick works. The coal pits are mentioned frequently in the 17th century. (fn. 8) In 1833 hats were made.
A local board was formed in 1873; (fn. 9) this has become since 1894 an urban district council of eighteen members, chosen by three wards—North, Central, and South. The public library, built by Mr. Carnegie, was opened in 1904. The other public buildings include town hall, baths, and isolation hospital.
One of the Oldham cemeteries is at Springbrook, on the Middleton road.
There were 121 hearths liable to the tax in 1666. The largest houses were those of Edmund Ashton, thirteen hearths, and Alexander Potter, seven. (fn. 10)
Manor
From the earliest record of it, the survey of 1212, it appears that CHADDERTON was a member of the Montbegon or Tottington fee, (fn. 11) and so passed to the Lacys and the Crown. At the date mentioned, having been given to the 'ancestors' of Gilbert de Notton, lord of Barton in right of his wife, it was held by him as 12 oxgangs of land, by the service of the fourth part of a knight's fee. (fn. 12) It is supposed to have been held under him or his immediate successor by Geoffrey de Chetham, thus passing to the Traffords. (fn. 13) About 1255 Gilbert [de Barton] son of Sir William de Notton, released to Sir Edmund de Lacy the homage and service of Richard de Trafford for the manor of Chadderton and its appurtenances. (fn. 14) From this time, therefore, the Traffords held directly of the lords of Tottington and Clitheroe. (fn. 15)
Richard de Trafford made a partition of his estates, and thus Chadderton came into the possession of his younger son Geoffrey, who adopted the local surname. (fn. 16) It is difficult to decide as to the succession at this point; a Henry de Chadderton seems to have been in possession in 1292, (fn. 17) yet Geoffrey de Chadderton, either the same or his son, held the manor in 1 302. (fn. 18) William de Chadderton, son of Geoffrey, followed; he was living in 1332. (fn. 19) His son Geoffrey left a daughter and heir Margery, who in or before 1367 married John de Radcliffe, (fn. 20) illegitimate son of the rector of Bury. The husband died in 1407, having survived his wife and their son John, but continuing to hold Chadderton by the courtesy of England until his death. The tenure was described as of the king as Duke of Lan caster by the fourth part of a knight's fee, and by 3s. yearly (for sake fee) and 2s. for ward of Clitheroe Castle. (fn. 21)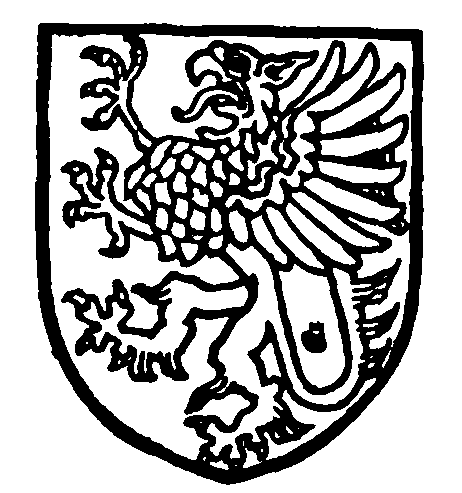 The heir, John, grandson of Margery, was only fourteen years of age in 1407. He proved his age in 1415, (fn. 22) was made a knight, and was living in 1431 when he made a settlement of his manor of Chadderton, his wife at that time being Elizabeth. (fn. 23) His heir, a son Richard, died in 1436, (fn. 24) leaving a son a little over a year old, (fn. 25) and three daughters, Joan, Margery, and Elizabeth, who succeeded their brother and divided the inheritance among them. Joan married Edmund Ashton, of the Ashton-underLyne family; their descendants, the Ashtons of Chadderton Hall, held the manor till the end of the 17th century. Margery married Ralph Standish of Standish, and a third of the manor long remained in the possession of this family. Elizabeth married Robert Radcliffe of the Ordsall family, and their descendants settled at Foxdenton.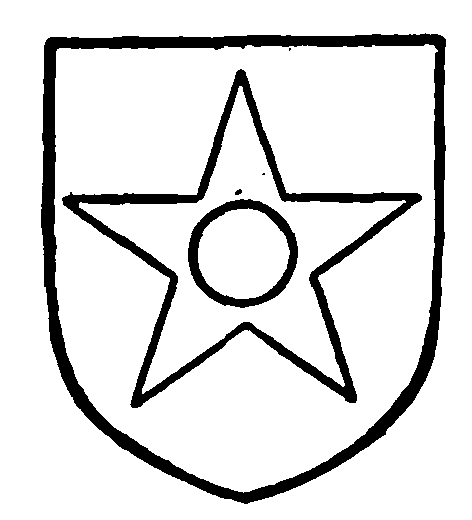 Joan Ashton died in August 1478; her husband Edmund continued in possession of her third part of the manor until his death in March 1489–90; their grandson Edmund son of John was then eleven years of age. The mesne lordship of the Traffords, ignored in some preceding inquisitions, was now exercised, Sir John Trafford taking the wardship of the heir. (fn. 26) Edmund Ashton married Janet, one of the daughters and co-heirs of Sir James Harrington, (fn. 27) and died on 5 March 1542–3, leaving a son and heir James, then forty-eight years of age. In addition to the third part of Chadderton, he held the manor of Shuttleworth, and lands in Chadderton, Shuttleworth, Oldham, and Rochdale. (fn. 28) James Ashton died 25 August 1549; his son Edmund, married in his grandfather's lifetime to Anne daughter of Ralph Prestwich, was over twenty-eight years of age. (fn. 29) This son Edmund left the family estate unaltered at his death in August 1584, and was succeeded by his son James, forty-nine years old. (fn. 30) A pedigree was recorded in 1567. (fn. 31)
James Ashton married Dorothy, one of the four daughters and co-heirs of Sir Robert Langley of Agecroft, and received with her the advowson of Prestwich and various lands; and although they died without issue, the Ashton family appear to have retained Dorothy's share of the Langley property. James Ashton was sheriff in 1590–1. (fn. 32) At his death in 1612, he was succeeded by his brother Richard's son Edmund, only eleven years of age. (fn. 33) He served as sheriff in 1627–8. (fn. 34) He fought on the king's side in the Civil War, being one of those who surrendered at Oxford in 1646, and afterwards compounded for his estate. (fn. 35) He died early in 1650, leaving a son James, (fn. 36) who had a family of nine children. The eldest son, Edmund, was stated to be seventeen years of age in 1664, when a pedigree was recorded. (fn. 37) The ultimate heir of the Chadderton estates was the youngest son, William, born about 1649, who was the rector of Carlton in Lindrick and of Prestwich till his death in 1731. He sold the family inheritance, but left a considerable fortune, divided between his daughters, Katherine, wife of John Blackburne of Orford, and Dorothy, wife of Sir Darcy Lever of Alkrington. (fn. 38)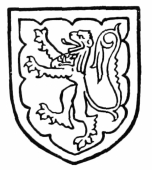 Chadderton Hall, with its third part of the manor, was purchased in 1684 by Joshua Horton of Sowerby, Yorkshire, who came to reside here. (fn. 39) His son Thomas, sometime Governor of the Isle of Man, was succeeded by his son William, high sheriff in 1764, (fn. 40) when he was made a baronet. He died ten years later, his son Sir Watts Horton succeeding. (fn. 41) On his death in 1811, Chadderton went to his brother, the Rev. Sir Thomas Horton, (fn. 42) and on his death without sons to Sir Watts's only daughter, Harriet Susanna Anne, who married Major Charles Rees of Kilmaenllwyd, Carmarthenshire, and died in 1827, leaving a son Horton and two daughter. Major Rees or Rhys retained Chadderton till his death in 1852. It was sold to the Lees of Clarksfield family in 1865, and the trustees of the late Colonel Edward Brown Lees are the present owners. No manor is now claimed. (fn. 43)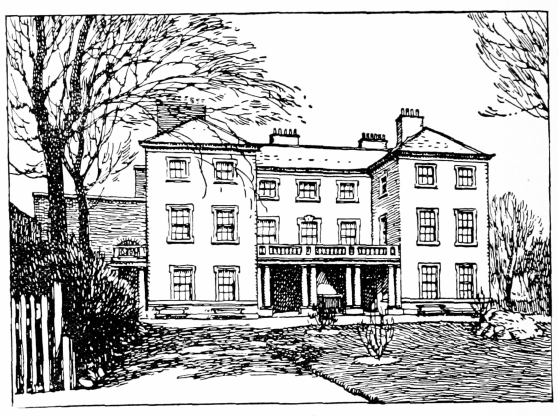 Chadderton Hall (fn. 44) is a brick-built 18th-century house with stone dressings, the principal front facing south with projecting end wings, connected on the ground story by a well-designed classic screen of coupled Tuscan columns carrying entablature and balustrade. The design is one of some merit, and together with the stables and other outbuildings which are built at right angles on either side, forms a good architectural whole. The roofs have flat hips and are covered with green slates, and the window bars and the sashes remain. The interior contains a good staircase with rich renaissance detail. Of the appearance of the former old hall nothing is known, but the house was probably rebuilt in its present form about the middle of the 18th century by Sir William Horton. (fn. 45) The grounds are now used as pleasure gardens.
Of the third part of the manor held by the Standishes of Standish little can be said. The family do not seem to have resided here, but the share is duly mentioned in inquisitions (fn. 46) and settlements down to 1660. (fn. 47) Two years later it was sold, with Royton, to Thomas Percival and his brother Richard, and descended with Royton for some time. (fn. 48)
In 1787 Thomas Butterworth Bayley of the Hope in Pendleton was one of the chief landowners. (fn. 49)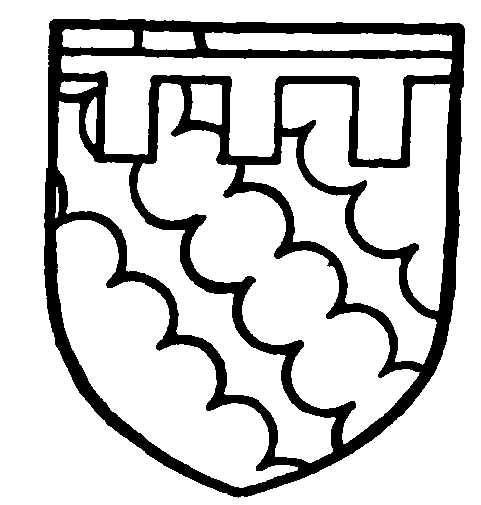 FOXDENTON, (fn. 50) the family seat, gives a name to the third of the manor which belonged to Elizabeth Radclyffe and descended to her son William, who died in 1507, leaving as heir his son Thomas, then six months old. In this case also the wardship was claimed by the Traffords in right of their mesne manor. (fn. 51) In 1567 Thomas Radcliffe made a settlement of his manor, and dying in the same year was succeeded by his son William, then forty years of age. (fn. 52) William, who forfeited the manor to his brother John in ten years, (fn. 53) died in 1590 without issue. John, dying in 1587, was succeeded by his daughter Margaret, (fn. 54) who at her death in 1590 was also the heir of her uncle William; she married Richard Radcliffe of Newcroft, a younger son of Sir William Radcliffe of Ordsall, and left as heir a son William, nine years of age in 1591. (fn. 55) He was living in 1642, when he made a settlement of his estates. (fn. 56) He left three sons, one of whom, Sir William, fought on the king's side in the Civil War, and was knighted. (fn. 57) He was with Lord Hopton's force when it capitulated at Truro in 1646. (fn. 58) He died soon afterwards, and was succeeded by his brother Alexander, (fn. 59) but the ultimate heirs were two daughters — Mary, who married John Byrom of Salford, and Susan, who married Alexander Potter of Manchester. (fn. 60) These ladies bequeathed Foxdenton to their distant cousin Alexander Radcliffe, great-great-great-grandson of the Sir William Radcliffe of Ordsall from whom they were descended. (fn. 61)
In this branch of the family—the spelling Radclyffe being used—Foxdenton has descended to the present time. (fn. 62) Alexander was duly succeeded by his son, grandson, and great-grandson, each named Robert. The last of them, dying in 1854, had a son and heir Charles James, who was in 1882 followed by his son Mr. Charles James Radclyffe, born in 1839, of Foxdenton and Hyde near Wareham. (fn. 63) Foxdenton ceased to be the family residence about a century ago. (fn. 64)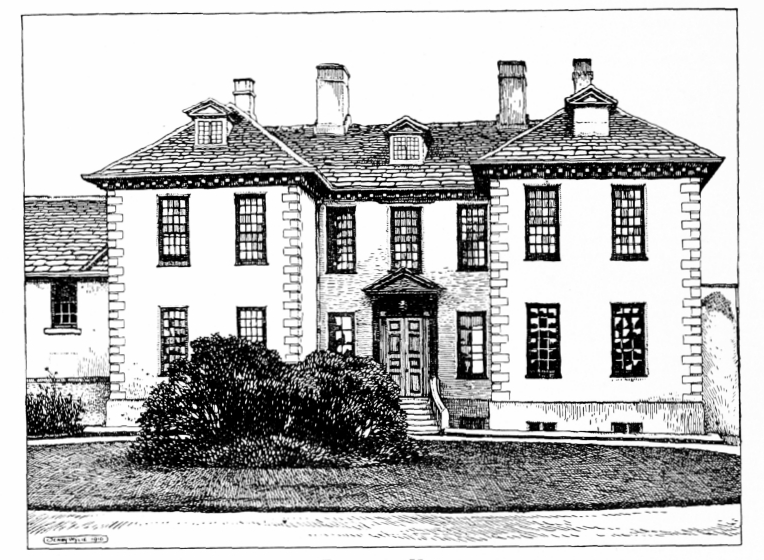 The hall is a plain classic building with projecting end wings and steep hipped roofs, erected probably about the beginning of the 18th century. The first hall was described as a 'noble and lofty edifice of the 16th century fronting northerly, with two wings, overlooking a beautiful lawn. (fn. 65) Of this house, however, nothing remains, and a stone under the steps of the present hall on the north side, which bears the date 1620, together with the initials w.r. and the Radcliffe coat of arms, seems to indicate a rebuilding of some portion of the house at the date mentioned. (fn. 66) The sash windows retain their wooden bars, and the elevation has a certain dignity now much impaired by neglect and change of surroundings. A gatehouse, named in the year 1651, has now disappeared. (fn. 67)
Manor courts were held in the 17th century by the three lords jointly, as it would appear. (fn. 68)
The church at Prestwich had land in Chadderton of the gift of Gilbert de Barton; a moiety of it was granted by Robert the rector to Richard son of Gilbert de Scolecroft. (fn. 69) The Hospitallers also had land in the township, (fn. 70) and grants to Stanlaw and Cockersand Abbey will be found recorded in the notes. (fn. 71)
Apart from the lords of the manor there were not any freeholders of note before the 17th century. (fn. 72) About that time the Scholes family came into notice; they held land in Okeden or Ogden of the lords of the manor. (fn. 73) The mills are mentioned in several ancient deeds. (fn. 74) Matthew Fold is mentioned in 1691. (fn. 75) John Ashton of Cowhill was one of the victims of the 'Peterloo Massacre' in 1819. (fn. 76)
There are several places of worship in Chadderton. (fn. 77) The earliest in connexion with the Established Church—St. Margaret's, Hollinwood—is now in Oldham. It was followed by St. Matthew's, 1848–57; the Crown and the Bishop of Manchester present alternately. (fn. 78) Then came Christ Church in 1870, the patronage being vested in five trustees; it has a chapel of ease called Emmanuel, and some mission rooms. (fn. 79) St. Luke's, to which the Bishop of Manchester collates, was built in 1888: the district was taken from St. Matthew's.
The Wesleyan Methodists have churches at Chadderton Fold and Middleton Junction, and a preaching room at Cowhill.
The Baptists have a chapel at Mills Hill, on the border of Tonge.