Pages 136-141
A History of the County of Lancaster: Volume 5. Originally published by Victoria County History, London, 1911.
This free content was digitised by double rekeying. All rights reserved.
HEAP
Hepe, 1278; Hewood, 1292.
The greater part of the township of Heap lies on the south bank of the Roch, and has a detached portion, called Whittle, between Pilsworth, Unsworth, and Middleton; but there is also a considerable area to the north of the stream, containing Little Bridge, Bridge Hall, and Broad Oak on the west, and part of Bamford with Jowkin and Meadowcroft on the east. There are several detached portions, due probably to a division of the wastes between Heap on the one side and Birtle on the other. The area of the whole is 2,938½ acres. (fn. 1) The population of the borough of Heywood in 1901 was 25,458.
The principal road is that eastward from Bury across the Roch at Heap Bridge, through Charlestown and Heady Hill, (fn. 2) and the town of Heywood,. where it divides, to Rochdale on the north-west and Middleton on the south. Another road from Bury to Rochdale keeps on the northern side of the Rochr and is joined by a cross road from Heywood through Hooley Bridge. (fn. 3)
At Heywood all branches of cotton spinning and manufacture are carried on, and there are iron and brass foundries, saw mills, boiler and wagon works; power looms are made. At Heap Bridge there are great paper mills, and woollen and cotton mills.
An urn containing a large number of Roman coins was found at Plumpton House near Hooley Bridge in 1856. (fn. 4)
There were 126 hearths liable to the tax in 1666. The largest dwellings were those of Robert Heywood (with nine hearths), Roger Holt (seven), and William Bamford (six). (fn. 5)
Heap has disappeared as a township; the borough of Heywood has taken the larger part within it, and other parts have been added to the neighbouring townships. (fn. 6)
Manors
The manorial history of Heap is involved with that of Bury, but there are some estates in the hamlet or township which appear to have been considered as manors. (fn. 7)
BRIDGE HALL, on the north bank of the Roch, (fn. 8) where the road from Bury to Heywood and Middleton crossed the stream, was long held by a branch of the Holt family, (fn. 9) who were succeeded by the Nuttalls; (fn. 10) after whom came the Grundys and the Wrigleys, now owners.
BAMFORD, also on the north bank of the stream, (fn. 11) gave its name to the family which owned it from the 13th to the 19th century. Adam de Bury granted all his lands in Bamford to Alexander de Bamford at a rent of 40d. (fn. 12) There is but little record of the family. (fn. 13) Henry son of Thomas de Bamford was outlawed for debt in 1389, and it was found that he had one messuage at Bamford, held of Sir Roger de Pilkington in socage by the rent of 3s. 6d., and another in Spotland, held of John de Wolstenholme by a rent of 14d. (fn. 14) Samuel Bamford, who died on 10 June 1629, held the manor of Bamford, with messuages in Bamford and Bury, of the Earl of Derby by a rent of 3s. 4d., and also the manor of Wolstenholme. The heir was his nephew William Bamford son of William, then about thirty years of age. (fn. 15) According to the pedigree recorded in 1664 this William died without issue, and the manor passed to a cousin of the same name, who left sons William and Samuel. (fn. 16) The former, by his will in 1673, made his brother Samuel his principal heir. (fn. 17) The estate descended to William Bamford, who died in 1761, (fn. 18) leaving three daughters who died without issue, the eldest, Anne, devising it in 1779 to a distant kinsman, William Bamford of Tarleton Bridge, sheriff of Lancashire in 1787. (fn. 19) He died in 1806, when Bamford and other estates became the property of Robert Hesketh in right of his wife,—Nicholson; (fn. 20) he changed his name to Bamford, but afterwards resumed his proper one. His son Robert married the heiress of Gwrych in Denbighshire. Bamford, however, was sold in 1816 to Joseph Fenton, whose son James in 1841 took down the hall built in the time of Queen Anne, and erected a new house. Bamford became the property of a younger son, and on the failure of Fenton's Bank was sold by the trustees. The hall, park, and part of the land were purchased in 1888 by Mr. E. Stocks Massey, J.P. (fn. 21)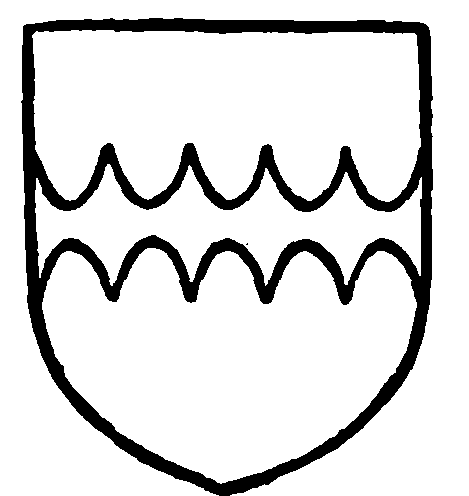 Moscrop House in Bamford was part of the Agecroft Estate. (fn. 22) The Holts of Gristlehurst and of Ashworth also held lands here. (fn. 23)
WHITTLE has no special history. (fn. 24) Ferdinando Stanley lived there in 1656. (fn. 25)
LOMAX was given by Adam de Bury to Monk Bretton Priory. (fn. 26) It gave a surname to a widelyspread family, (fn. 27) and was often named as a hamlet. (fn. 28)
The Smethurst family appear to have had lands in Heap. (fn. 29) Lands called Bymonds in Heap were the subject of dispute in 1575. (fn. 30)
In 1788 the principal landowners in Heap were William Bamford, James Starky, Mrs. Nuttall, the executors of John Lancashire, the executors of Samuel Howorth, and John Partington. (fn. 31)
HEYWOOD gave a surname to a widely-spread family. (fn. 32) Adam de Bury granted to Peter de Heywood certain lands at a rent of 2s.; should Adam's pigs enter the wood of Heywood in mast time, Peter was to be at liberty to drive them out. (fn. 33) The estate descended regularly to Robert Heywood, who died on 19 March 1543–4, holding Heywood of the Earl of Derby in socage by the ancient rent of 2s., payable at St. Oswald's feast-day. James his brother and heir was forty years of age. (fn. 34) The next notable possessor of the estate is Peter Heywood, who in the Civil War was at first a captain for the Parliament, but went over to the king's side, (fn. 35) his lands being sequestrated. (fn. 36) His son Robert recorded a short pedigree in 1664, (fn. 37) and was succeeded by his son Peter, and grandson Robert, a clergyman. The last-named Robert in 1717 sold Heywood to John Starky of Rochdale, (fn. 38) whose grandson James Starky died in 1846 without issue. (fn. 39)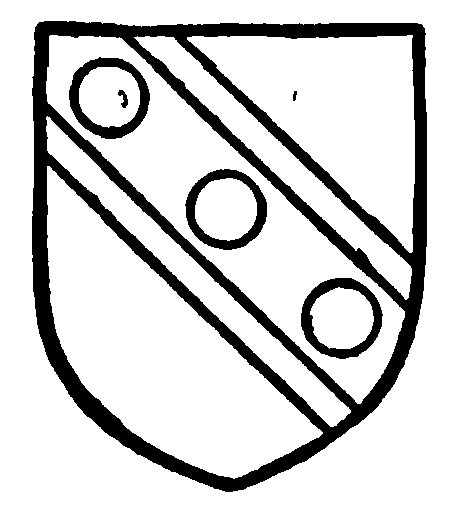 Richard Milnes was a freeholder in Heywood in 1600. (fn. 40)
A declaration by adherents to the Commonwealth in 1650–1 is extant. (fn. 41)
Borough
Towards the end of the 18 th century Heywood began to grow into a town. Several cotton mills were established about 1780, (fn. 42) and the manufacture has continued to advance, while other trades have been added. (fn. 43) A branch of the Rochdale and Manchester Canal was brought to the town in 1830. The station at Bluepits on the Lancashire and Yorkshire Company's line from Manchester to Rochdale was opened in 1839 for the convenience of Heywood people, who were conveyed to and from the town by a packet-boat on the canal. The railway was extended to Heywood itself in 1841. A gas-lighting Act was obtained in 1826, but the town was not lighted till 1851. A local board was established in 1864, (fn. 44) and in 1867 the district was extended and renamed Heywood. (fn. 45) In 1881 the borough was incorporated; (fn. 46) the area now includes parts of Heap, Hopwood, Pilsworth, Birtle-with-Bamford, and Castleton, (fn. 47) and in 1894 this area was made a civil parish, the old township limits being abolished. (fn. 48) The town is governed by a mayor and council of six aldermen and eighteen councillors, elected by three wards—North, South, and West. (fn. 49) The gasworks are now owned by the Corporation, and the water supply, formerly owned by it, is now the property of the Heywood and Middleton Joint Water Board, formed in 1898. The corporation also own the free library, opened in 1873; the Queen's Park, 1879, the land a gift from Queen Victoria; (fn. 50) an infectious diseases hospital in Birtle; and a cemetery in Castleton. There is a bench of magistrates for the borough. There are a weekly market (fn. 51) on Friday, and fairs in April, August, and October. (fn. 52) A Mechanics' Institute, formed in 1840, existed more than thirty years. There are two newspapers—the Advertiser and the News—issued on Friday. (fn. 53)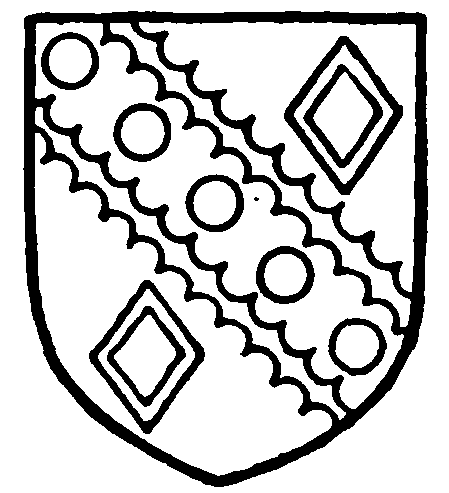 Church
A chapel existed at Heywood before the Reformation, but it appears to have had no 'ornaments' except a bell in 1552. (fn. 54) It is said to have been rebuilt by Robert Heywood about 1640, (fn. 55) and his descendant, a century later, in selling the estates proposed to sell also the site and advowson of the chapel. It appears, however, that the rector of Bury has always presented the curate. The chapel has probably been used regularly for public worship from the beginning of the 17th century, when it was 'maintained by the inhabitants.' (fn. 56) The Commonwealth Commissioners in 1650 found that there was no endowment beyond' the use of £5,' left by William Holme. (fn. 57) Later contributions raised the endowment to £8 10s. by 1718. (fn. 58) The registers begin in 1778. The church was rebuilt in 1860, (fn. 59) and a separate district was assigned to it in 1864. (fn. 60) The following have been curates and vicars:— (fn. 61)
1692
Thomas Taylor (fn. 62)
c. 1715
Thomas Ryder (fn. 63)
1717
C. Barret (fn. 64)
1719
Nathan Stock, (fn. 65) M.A. (Brasenose Coll. Oxf.)
1729
James Bankes
1742
James Barton, B.A. (St. John's Coll. Camb.)
1745
William Barton (fn. 66)
1774
Richard Longford (fn. 67)
1803
Richard Hood, LL.D. (fn. 68)
—
Thomas Hill (fn. 69)
1823
Joseph Bland Jameson, B.D. (fn. 70)
1835
Robert Minnitt, M.A. (fn. 71) (Trin. Coll., Dublin)
1850
Julius Shadwell, B.A. (fn. 72) (Balliol Coll.,Oxf.)
1865
Thomas Ramsbotham, M.A. (fn. 73) (Christ's Coll., Camb.)
1872
Thomas Julius Henderson, M.A. (fn. 74) (Wadham Coll., Oxf.)
1878
John Spittall, M.A. (fn. 75) (Trinity Hall, Camb.)
1885
Richard William Perry Circuitt (fn. 76)
1900
Edward Basil Armstrong Hughes, M.A. (fn. 77) (Wore. Coll., Oxf.)
1909
John Plumpton Wilson, M.A. (fn. 78) (Queen's Coll., Oxf.)
St. James's, built in 1836–8, and restored in 1875 and 1884, was the second church within the town ship of Heap devoted to the Established religion. The Bishop of Manchester is the patron. (fn. 79) It had a mission church, St. George's, at Heap Bridge, which in 1907 had a separate parish assigned to it; the rector of Bury is patron. St. Anne's mission church was built in 1908. St. Michael's, Bamford, was built in1885; the Bishop of Manchester is the patron.
The Wesleyan Methodists have a church in Market Street, built in 1805 and enlarged in 1828, and a mission-room. The United Methodist Church have two chapels, one of them built in 1836, and the Primitive Methodists one, opened in 1835. The New Connexion also had one in 1844.
The Baptists have a chapel in Rochdale Road, dating from 1831.
The Congregationalists began to hold services in Heywood as early as 1821, but a chapel was not built until 1836. The cause prospered, and the present church was erected in 1868–9. (fn. 80) The church at Bamford originated earlier; preaching began in 1800, and a small chapel was opened in the following year. (fn. 81)
The Swedenborgians had established themselves here early in the 19th century; New Jerusalem, in Church Street, was built in 1828, and enlarged ten years later.
The Unitarians have a chapel, built in 1860, and there is a Spiritualists' temple.
The Roman Catholic Church of St. Joseph was opened in 1856. (fn. 82)
A school at Heywood existed in 1696. (fn. 83)