Pages 113-115
A History of the County of Lancaster: Volume 7. Originally published by Victoria County History, London, 1912.
This free content was digitised by double rekeying. All rights reserved.
ELSTON
Etheliston, 1212; Echelyston, 1284; Echilston, 1285; Ethelston, 1297; Etheleston, 1301; Elston, Elleston xv cent.
This township has an area of 961½ acres, (fn. 1) and in 1901 there was a population of 59. The Ribble forms a large part of the boundary, and in a bend of it there is some low-lying level ground, but the surface in general is elevated, rising quickly till over 200 ft. above sea level is attained. There are woods overlooking the river at the eastern end, and the western boundary is formed by a small wooded clough.
The principal road runs south from the Preston and Longridge road, through the middle of the township, till it reaches the level tract mentioned; here is the hamlet of Elston.
The land is chiefly in pasture. The soil is clay, loam and alluvial, with subsoil various.
The pipe line of the Manchester water supply from Thirlmere passes through the township, and thence through the Ribble into Samlesbury.
Manor
The manor of ELSTON, assessed as one plough-land, appears to have been separated from Grimsargh after the Conquest and given to the lord of Penwortham. Warine Bussel gave it with Heaton in Lonsdale to Hamon le Boteler in free marriage, (fn. 2) and Hamon appears to have given it to the Knights of St. John of Jerusalem, a gift ratified by Albert Bussel. (fn. 3) The knights gave it to William son of Haroon, to be held free of suit to their court of Amounderness, but paying an annual rent of 8s. and an obit of 2 marks. (fn. 4) This free rent, representing the lordship of the Hospitallers, was in 1613 acquired by the Shireburnes of Stonyhurst. (fn. 5)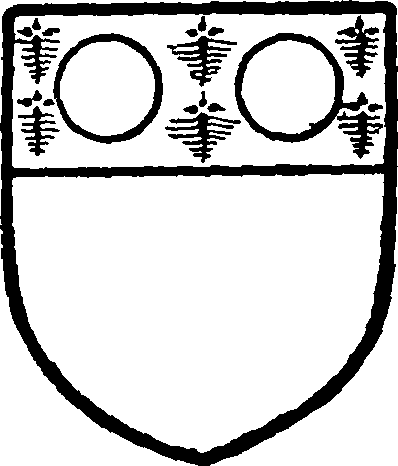 The estate of William son of Hamon in Golborne (fn. 6) descended to the Hoghton family, but Elston went in a different way, as the Hoghton holding there appears to have been acquired by purchase, (fn. 7) and was afterwards said to be held of the Crown in socage by a rent of 18d. (fn. 8) Several families, possibly younger branches, (fn. 9) assumed Elston as a surname, one of them of long continuance in the neighbouring township of Brockholes. The immediate lordship seems to have descended to one John de Elston, living in the time of Edward III. (fn. 10) About a century later, in 1446, Sir Thomas Harrington and others purchased it from Isabel and Joan, daughters and heirs of John Shaw. (fn. 11) On the partition of Sir James Harrington's lands in 1516 Elston fell to the share of his daughter Margaret, (fn. 12) who married Christopher Hulton, and so it descended to Asshaw (fn. 13) and Radcliffe of Ordsall. (fn. 14) In 1610–11 it was sold to Sir Thomas Walmesley, (fn. 15) and after changing hands again was acquired by Thomas Walmsley, (fn. 16) in whose family it remained till recently. The present lord of the manor, it is stated, is Mr. William Cross of Frensham, Surrey.
There are but few other details known regarding estates in this township. (fn. 17) Henry Gregson paid £10 in 1631, having declined knighthood. (fn. 18) Robert Hothersall (fn. 19) and Henry Walmesley (fn. 20) had their estates sequestered under the Commonwealth. Two or three 'Papists' registered small estates in 1717. (fn. 21)
Apart from Mr. Cross's land the principal holding is that of the Goosnargh Hospital, comprising the tenements called Marsh House (or Elston Hall), Salisbury and Moorfields, in all about 220 acres. (fn. 22)
John March's house in Elston was in 1672 licensed for a Presbyterian meeting. (fn. 23)