Pages 272-274
A History of the County of Middlesex: Volume 12, Chelsea. Originally published by Victoria County History, London, 2004.
This free content was digitised by double rekeying. All rights reserved.
FOREIGN CHURCHES
CHURCH OF SCOTLAND
Westward movement of many worshippers at the church in Crown Court, Covent Garden (Westm.), led the presbytery of London to seek a site for a new church in 1881, (fn. 1) at first without success, perhaps because of opposition from vicar of St Saviour's, Walton Street. (fn. 2) An extended site was leased from Henry Smith's charity and Cadogan estates, 1882. Building, at corner of Pont Street and Lennox Gardens, begun as St Andrew's Scottish National church 1883; renamed St Columba's, following objections from St Andrew's, Stepney, soon after opening 1884. (fn. 3) Sometimes inaccurately described as in Belgravia. Red-brick building with stone dressings in Early English style, (fn. 4) designed by J. Macvicar Anderson who contributed £1,000 to costs: seating 900, it had an aisled and clerestoried nave, tall NW. tower, and hall for 400 beneath. Many social clubs; connexion with London Scottish Rifle Volunteers from 1888. Seen by minister not as dissenters' or mission church but as extension of National Church for exiled Scots, 1902. Attendance 1903: 417 a.m., 175 evg. Bombed 1941, whereupon services moved to Jehangir hall of Imperial Institute, reg. as St Columba's church, no. 7 Lennox Gardens, 1942-50, (fn. 5) with some activities at St Saviour's, Walton Street, and then to larger Examination hall seating 800, reg. as St Columba's, no. 57 Cadogan Square, 1950-3. (fn. 6)
Foundation stone of new 'cathedral of Presbyterianism in London' laid by queen 1950; (fn. 7) adjoining houses in Lennox Gardens acquired 1951, (fn. 8) and semi-basement hall seating 800 dedicated 1953. Austere design with Georgian and Romanesque references by Sir Edward Maufe, said to derive 'its significance from its very special Scottish circumstances'. (fn. 9) Faced in Portland stone with green tiled roofs; tall entrance to offices and hall. Church above, dedicated 1955 and seating over 1,000, (fn. 10) has barrel-vaulted nave, passage aisles, and a shallow sanctuary, with rose window in form of St Andrew's cross, flanked by chapel of London Scottish regiment to N. and by chapel dedicated to servicemen generally to S.; 'Scandinavian modern' tower, (fn. 11) on site of former tower, with chapel.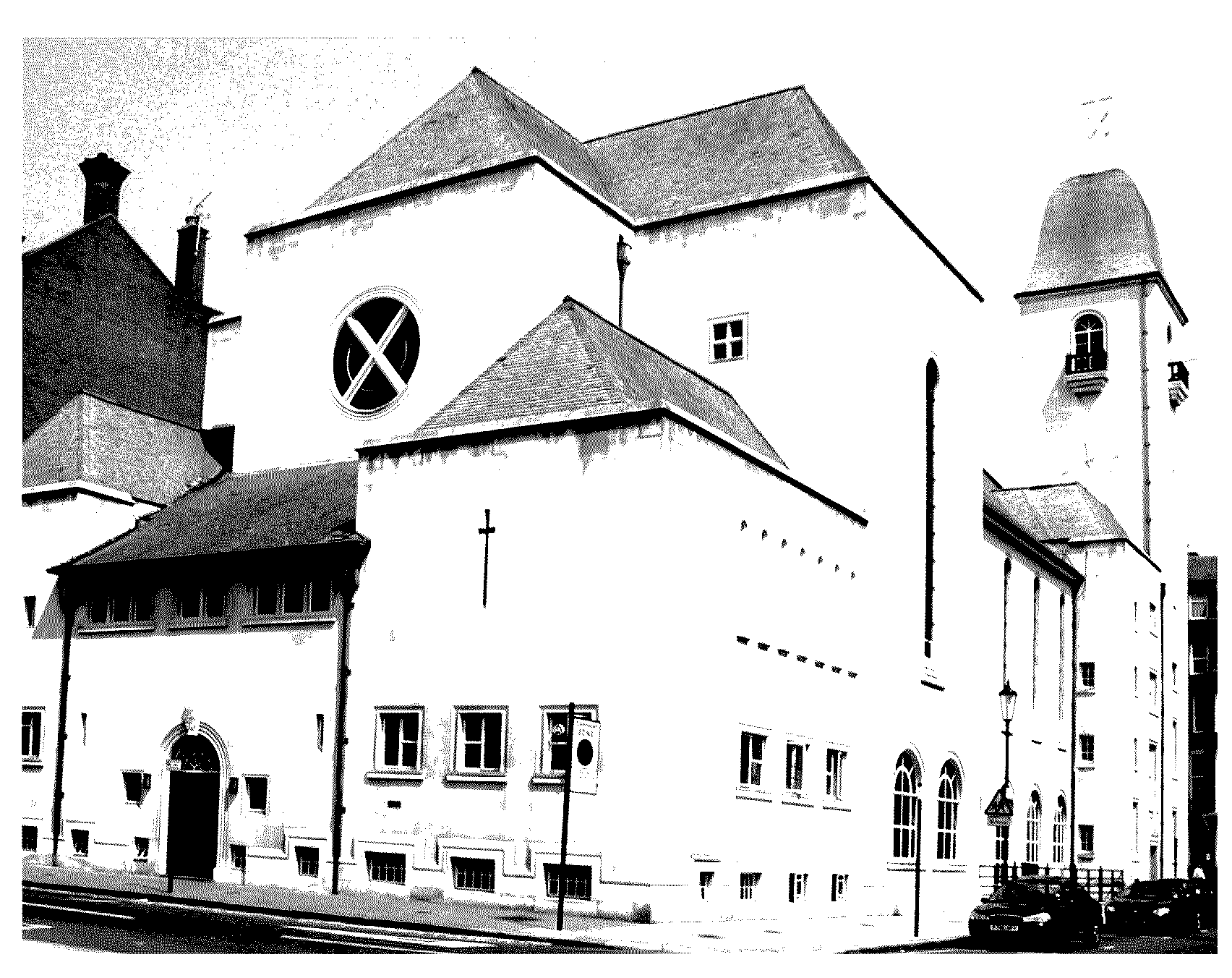 HUGUENOTS
A chapel may have existed by 1687, French gardeners having settled in Chelsea after Revocation of Edict of Nantes. Sons of minister and schoolmaster John Caizon baptised 1700 and 1702; son of another minister, L'Hirondelle, baptised 1704. Community was recommended by rector Dr King to his successor. Three Frenchmen ministered probably at 2 chapels in 1718, at Cook's Ground and on W. side of Chelsea Park at Little Chelsea. (fn. 12) John Narbonne was lessee 1724 of glebe on which Cook's Ground chapel built. (fn. 13) Neither congregation later recorded as active. Small Cook's Ground chapel passed to Independents; (fn. 14) Little Chelsea building, still marked as chapel 1745, once identified with Huguenots (fn. 15) but more probably Park Chapel. (fn. 16)
LATVIAN LUTHERAN CHURCH
The hall and first floor of no. 55 Hans Road were registered by the 'Latvian Lutheran Church (Independent)' from 1952 to 1970. (fn. 17) The premises, sometimes described as Latvian Church House, were still listed in 1966 but not in 1968. (fn. 18)
MORAVIANS
Moravians, (fn. 19) originating in Bohemia under John Hus, opened a chapel in Fetter Lane (London) 1742. Count Nikolaus Ludwig von Zinzendorf (d. 1760) bought Lindsey House as residence and international headquarters 1750, intended partly as resting place before colonists and missionaries moved on overseas. Settlement planned on leased land to north formerly attached to Beaufort House, where chapel or hall built on site of Beaufort House stables, with burial ground, also serving Fetter Lane, laid out on stable yard, first used in 1751. Hymn book printed 1752 and English synod held at Chelsea 1754, but settlement not built and numbers declined after founder's departure 1755. Much of the ground sold in building plots after 1770 and Lindsey House sold 1774, but chapel and burial ground were retained.
Moravians, 'greatly diminished' by 1778, (fn. 20) held weekday services from 1766, apparently discontinued before 1795 (fn. 21) but resumed after 1797 until mid 1820s and again in early 20th century. Chapel used by other denominations by 1829, and also served as Clock House school. (fn. 22) Moravian attendance 1903: 34 evg. Property leased for 50 years from 1914 to sculptors Ernest and Mary Gillick, (fn. 23) who lived in minister's house, converted chapel into studios, and built additional studio; (fn. 24) Moravians worshipped in small burial chapel added in 19th century. Superseded Kingsgate Baptist Chapel, Eagle Street (Holborn) as new home of bombed-out Fetter Lane congregation 1959. City of London's Moravian church, Fetter Lane, registered Chelsea premises 1973. (fn. 25) Resident minister 1966-81, part-time thereafter; worshippers largely West Indian and not local.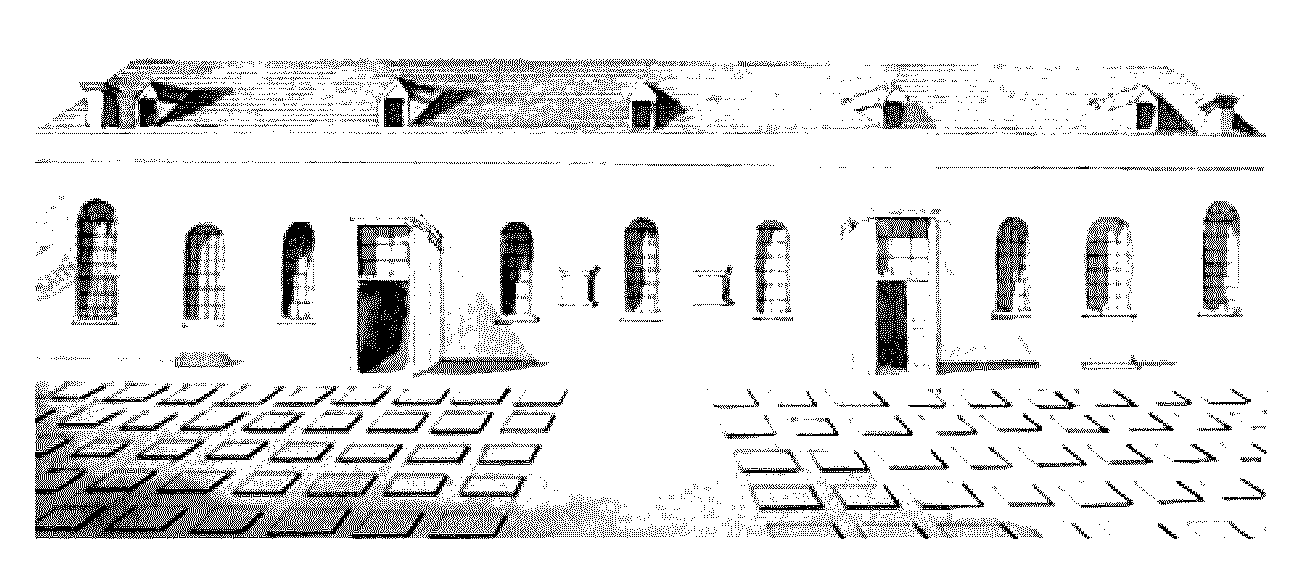 In 1999 'Moravian Close', behind high brick wall with gateway at no. 381 King's Road, contained former chapel between 'Small Hall' (burial chapel) to E. and early 19th-century minister's house to W., all facing S. across burial ground of nearly one acre. Former chapel a low brick building with 3 tall segmental-headed windows beneath deep roof, (fn. 26) by Zinzendorf's architect Sigismund von Gersdorf; (fn. 27) divided into 3 studios, of which first had been opened as Moravian Information and Exhibition Centre 1990, other 2 remaining let. (fn. 28) Worshippers met in 'Small Hall', seating c.50. (fn. 29) Tudor brickwork at back of chapel, plastered, and in walls E and S of burial ground. (fn. 30)
Ground, divided into 4 for married and unmarried of both sexes, exempt from closure under Act of 1855, burials being few and deep. Closed for interments 1888 (fn. 31) but still used for ashes 1999 and so claimed as sole intra-mural burial ground in London. (fn. 32) Graves, marked only by small tablets, include those of divines John Cennick (d. 1755) and James Hutton (d. 1795). (fn. 33)
SERBIAN ORTHODOX CHURCH
London's Serbian community (fn. 34) worshipped at a Russian Orthodox church in Buckingham Palace Road (Westm.) until Prince Vsevolod, a cousin of King Peter of Yugoslavia, provided a chapel on the first floor of no. 12 Lennox Gardens. A room with a standing capacity for at least 50 was consecrated in 1942 and registered as the Serbian Orthodox church of St Sava from 1943 to 1948. (fn. 35) The premises were not retained after the purchase of the larger no. 12 Egerton Gardens (Kens.) by the Yugoslav royal family, (fn. 36) where a chapel consecrated in 1947 was used until worshippers moved to Lancaster Road (Kens.), where the church was reregistered in 1982. (fn. 37)