Pages 1-5
A History of the County of Oxford: Volume 13, Bampton Hundred (Part One). Originally published by Victoria County History, London, 1996.
This free content was digitised by double rekeying. All rights reserved.
BAMPTON HUNDRED
UNTIL 1844 Bampton hundred, on the west side of the county, covered c. 48,500 a., divided among 16 ancient parishes; its population in 1841 was 15,628. (fn. 1) The hundred formed a compact block of land, bounded on part of the north and much of the east by the river Windrush, on the south by the river Thames, and on part of the south-west by the river Leach. From an early date, however, three parishes within those bounds belonged wholly or partly to other counties, and two to another Oxfordshire hundred. (fn. 2) In the south and south-east the hundred lay chiefly on alluvium and on the oolitic gravels of the Upper Thames, in parts of the east on Oxford Clay, and in the north and the west on Cornbrash, Forest Marble, and oolitic White Limestone. The land is gently undulating with few prominent hills, rising from c. 65 m. by the Thames in the extreme south-east to c. 150 m. along parts of the western boundary towards the Cotswolds. (fn. 3)
Though not named in Domesday book, the hundred may be identified with two hundreds attached in 1086 to the large royal manor of Bampton. In the 12th century it was still occasionally called a double hundred, but the two parts may never have been separately administered and by the 13th century had been combined. (fn. 4) Their composition in 1086 was probably little different from that in the 13th century, when the combined hundred already contained the 16 parishes (with their constituent hamlets) included later: (fn. 5) the Domesday assessment of those places was c. 201 hides, (fn. 6) and in the carucage of 1220 the hundred, excluding the exempt ecclesiastical manors of Bampton Deanery, Shifford, Hardwick and Brighthampton, and Witney, paid on 207 ploughs. (fn. 7) The composition of the separate Domesday hundreds may have been reflected in the later hundred's division into east and west parts, each of which accounted for c. 100 Domesday hides. (fn. 8) Among places later excluded from the hundred, Langford and, probably, Little Faringdon and Shilton were held in 1086 by Aelfsige of Faringdon with the manor of Great Faringdon (then Berks.); by the 13th century all three formed part of the Berkshire hundred of Faringdon, though Langford's hamlets of Grafton and Radcot remained in Oxfordshire and in Bampton hundred. Widford, owned by St. Oswald's priory in Gloucester, belonged in 1086 to the Gloucestershire hundred of Barrington and later to Slaughter hundred, and Northmoor, as an outlier of Taynton manor, belonged probably to the three hundreds attached to Shipton under Wychwood, later Chadlington hundred. Tenurial connexions probably also explain Minster Lovell's and Little Minster's inclusion in Chadlington hundred by 1220. (fn. 9)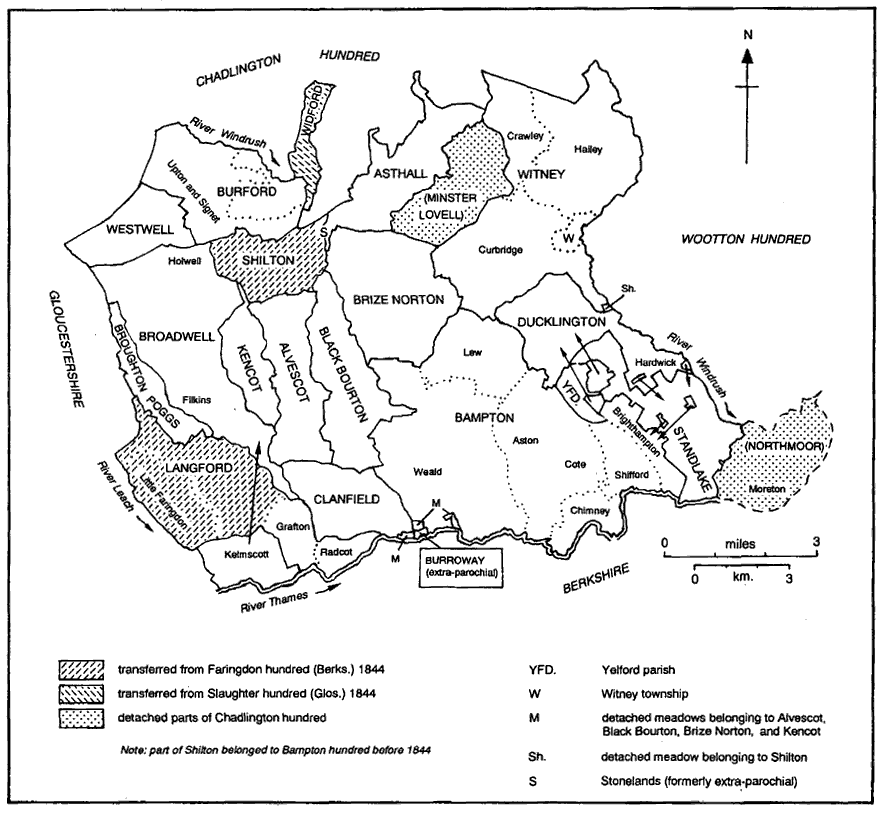 In the later 13th century Bampton hundred contained c. 45 separate settlements, (fn. 10) among them the later lost or shrunken settlements of Benney and Puttes in Clanfield, Alwoldsbury in Clanfield or Alvescot, (fn. 11) Putlesley, Eggesley, and East Weald (later Claywell) in Ducklington, and Caswell in Witney. Denleghe (later Delly End) in Witney's hamlet of Hailey was separately listed in 1316. (fn. 12) Thirty-five places were mentioned in 1642, and 30 townships, some including more than one settlement, were included in 1841. (fn. 13) In 1844 Langford, Little Faringdon, and Shilton were transferred to the hundred from Berkshire, and Widford from Gloucestershire, and a detached farm of 244 a. belonging to Broughton Poggs parish was transferred to Gloucestershire. The extra-parochial Stonelands (c. 20 poles) and Burroway (31 a.) were counted as part of the hundred by 1841 and 1881 respectively, and in 1881 the total area was 54,022 a. (21,871 ha.). (fn. 14)
In the later 12th century and earlier 13th the hundred was evidently granted at pleasure with Bampton manor, with which it passed in 1248 to Henry III's half-brother William de Valence. (fn. 15) It descended with the manor to the Talbots, later earls of Shrewsbury, and was divided with it in 1660. Lords of the two, unequal moieties remained joint lords of the hundred thereafter: courts were held in both names and the profits were divided. (fn. 16) In 1382 the hundred was leased with the manor for 7 years to Sir Robert Tresilian, (fn. 17) and in the later 16th century the right to hold the court was sometimes let with the demesne to the earl's steward. (fn. 18)
The bailiff of Bampton was mentioned in 1248, and the bailiff of the liberty of Bampton in 1320. (fn. 19) In the later 13th century the lord claimed return of writs, pleas of withernam, gallows, pillory and tumbrel, assize of bread and ale, and probably (as in the 17th century) waifs, strays, and felons' goods, though in 1285 the Crown denied that return of writs and withernam could be held without special warrant. (fn. 20) Hundred courts were held every three weeks and the view or court leet twice a year, in 1362 at Hock day and Michaelmas, and in the 1670s in April and in September or October. (fn. 21) Perquisites were valued at 20s. in 1296, and income from the two views at 100s. in 1362; (fn. 22) in 1652 certainty money, payable at Michaelmas, totalled 13s. 4d. a year, and profits of the courts leet and three-weekly courts £6. (fn. 23)
Numerous franchises were claimed within the hundred by the later 13th century, (fn. 24) though not all survived in the 17th century and later. Before 1248 Richard, earl of Cornwall (d. 1272) transferred to his court of North Osney the suit of his tenants at Brize Norton, Astrop, Clanfield, Puttes, Asthall, and Black Bourton, for which he established separate views and claimed assize of bread and ale. (fn. 25) Bishops of Winchester claimed extensive franchises in their borough of Witney and its hamlets, including view of frankpledge, quittance of suit from the hundred and shire courts, and return of wrists, (fn. 26) and in Burford the earl of Gloucester or his mesne tenant claimed return of writs, assize of bread and ale, and 'other liberties'. (fn. 27) At Westwell the lord claimed view of frankpledge and the right of excluding royal bailiffs, at Hardwick and Standlake lords claimed, among other franchises, gallows and tumbrel, at Radcot the lord claimed infangthief and outfangthief, and at Bampton and Aston Exeter cathedral claimed waifs and strays and other royalties. Views were claimed in the manors of Broadwell, Hardwick and Brighthampton, Alvescot, Ducklington, and Bampton Deanery, though in the last three the earl's bailiff held the view for a fixed annual payment. (fn. 28) Several lords owing suit to the hundred court had by 1279 transferred the obligation to a tenant as part of their services. (fn. 29)
In the 16th and 17th centuries the Bampton view elected tithingmen and sometimes other officers for Bampton, Weald, Lew, Aston, Lower Haddon, Shifford, Kencot, Black Bourton, Clanfield, Alwoldsbury, and Kelmscott, and retained varying jurisdiction over all those places. (fn. 30) Separate annual lawdays were held reportedly until the 19th century for Black Bourton and Broughton Poggs, for Broadwell and its hamlets, for Alvescot, and for Ducklington and Standlake. (fn. 31) By 1789 there was only one annual court at Bampton, which presumably still exercised hundredal jurisdiction; (fn. 32) it continued in the early 19th century but had lapsed by 1848. (fn. 33) Hundredal rights were sold with the two portions of Bampton manor in the later 19th century (fn. 34) but were not mentioned later.
For purposes of county administration the hundred was divided into east and west divisions before the mid 17th century, and a chief constable for each was appointed at the sessions. (fn. 35)
This volume treats the south-eastern part of Bampton hundred, and the adjoining parish of Northmoor, a detached part of Chadlington hundred. The land is low lying, and in the south especially is cut by numerous small streams flowing into the Thames, a landscape which has prompted comparison with the Dutch polderlands. (fn. 36) There was intensive prehistoric, Iron-Age, and Romano-British settlement of the riverside gravels, (fn. 37) and evidence of early Anglo-Saxon activity includes a prominent barrow at Lew. Bampton was an important royal centre possibly by the 8th century, and estates and presumably settlements existed at Aston, Lew, Ducklington, Brighthampton, Chimney, and Shifford by the early 11th century; the landscape was by then highly organized and included some open fields, apportioned moorland, woodland interspersed with clearings, and, at Ducklington, a park or game enclosure (haga). (fn. 38) By the 13th century the area was chiefly one of nucleated villages surrounded by open fields, but there were several small hamlets and groups of farmsteads, many of them later shrunk or deserted. Some, notably in Ducklington, resulted probably from woodland assarting, and others, such as Lower Haddon in Bampton or Ramsey in Northmoor, may indicate late colonization of marginal land, but hamlets such as Hardwick and Cokethorpe were evidently more ancient. Parochial development was impeded by the establishment of a late Anglo-Saxon royal minster at Bampton: most of the area here treated formed part of Bampton's early parochia, and boundaries hardened relatively late, in some parishes remaining unusually complex until 19th-century rationalization.
Most parishes here treated were agricultural communities supported from mixed farming; they looked to markets at Oxford, Witney, and Great Faringdon (formerly Berks.), and earlier to Bampton, which had a market by 1086 but which by the later Middle Ages was itself predominantly agricultural. Standlake had a small market in the Middle Ages. There was some early inclosure at Lower Haddon, Chimney, and Shifford (all in Bampton), and at Northmoor, but elsewhere parliamentary inclosure was delayed until the early or mid 19th century. Fastflowing rivers prompted early building of mills both for corn-grinding and for fulling, and until the late 17th century there was textile and leather working notably at Standlake and Bampton. Fishing rights in the rivers and numerous streams were noted frequently.
The villages are built chiefly of local limestone rubble with thatched or stone-slated roofs, but several late-medieval timber-framed houses survive, including some of high status at Standlake and Yelford. Other high-status medieval buildings were of stone, from Taynton and elsewhere. Later houses of note, all stone-built, include Cokethorpe House, Cote House, and, in Bampton, Weald Manor and Bampton Manor House. Brick was introduced on a small scale in the 19th century, some of it locally manufactured at Aston in Bampton parish, and during the 20th century several villages were enlarged in a variety of building materials, chiefly to accommodate newcomers working in Witney or Oxford. A concentration of moated sites at Standlake, Yelford, and Northmoor presumably reflected drainage rather than defensive requirements.