Pages 17-21
A History of the County of Oxford: Volume 13, Bampton Hundred (Part One). Originally published by Victoria County History, London, 1996.
This free content was digitised by double rekeying. All rights reserved.
A cruck-framed cottage north of the churchyard was mentioned in 1440, (fn. 2) and the discovery of encased timber frames in some surviving houses suggests that timber construction was common in medieval Bampton. Bell Cottage on Bell Lane, (fn. 3) formerly fronting the market place, Thatched Cottage on Church Street, (fn. 4) and Knapps Farm on Bridge Street, described below, (fn. 5) all began as small, timber-framed, three-bayed houses with open halls: Bell Cottage, the most archaic, retains a cruck truss, and Thatched Cottage and Knapps Farm are of similar, cruck-derived construction. All were later encased in rubble, Thatched Cottage possibly c. 1700 when 'a great deal' of building was noted there. (fn. 6) Cromwell House and the Old Forge at Cheapside, in origin a substantial late 16th-century house with a later wing aligned along Church Street at the northern, probably service, end, retain a principal post suggesting that they, too, were timber-framed, though the house was encased in stone before the 18th century. A mutilated, four-centred fireplace survives in the large central room, but 19th-century subdivision has obscured the earlier arrangement. The house was let from 1683 to Richard Coxeter's relict Jane, who may have lived there, and was held with 1½ yardland in the 18th century. (fn. 7)
Most surviving houses are 17th-century or later, of local limestone rubble with stone-slated or, less commonly, thatched roofs. (fn. 8) Much stone for 17th- and 18th-century rebuilding came presumably from Bampton castle, demolished about that time: (fn. 9) several rubble-built cottages incorporate blocks of dressed stone in quoining or door-surrounds, and the Elms on Broad Street includes a re-used arrow slit low down in its north side-wall. Stone for such high-status medieval buildings as the church, Deanery, and castle (fn. 10) came perhaps from the Burford or Taynton quarries, (fn. 11) and in the 19th century Brize Norton and, for higher quality work, Milton stone was used for bridge repairs and presumably other purposes. (fn. 12) Brick seems not to have been used until the 1880s following the opening of Bampton station, and then only rarely. (fn. 13) Fires necessitated occasional rebuilding: one in 1467 damaged or destroyed houses on Exeter cathedral's manor, (fn. 14) and an evidently more widespread one in 1607 prompted a relief fund. (fn. 15) Cromwell House and the Old Forge were called Burnt House in 1789 and apparently in the 17th century. (fn. 16) In the 1960s fire destroyed the thatched roof of the Elephant and Castle public house on Bridge Street. (fn. 17)
Several houses of 17th- or early 18th-century origin, most of them former farmsteads, (fn. 18) line the principal streets. Manor Cottage, on the corner of Broad Street and Landells Lane, was built shortly before 1654, (fn. 19) and Leighton Cottage, on Church View, was 'much altered' between 1686 and 1789. (fn. 20) Wood House (formerly Southside) north of the church, built in the later 17th century reportedly for the Wood family, (fn. 21) has a symmetrical, five-bayed front of semi-dressed stone, and retains an original staircase and other fittings; it was occupied from c. 1798 to 1810 by a minister of Cote Baptist chapel, (fn. 22) and was reroofed (fn. 23) and extended in the 19th century. Nos. 1-3 Church View, in origin a single, probably 17th-century house with a later staircase wing at the rear and a single-storeyed addition on the north, was held in 1686 by another of the Coxeter family. (fn. 24) Grayshott House, on the south side of High Street near the market place, was built c. 1700 probably by the wealthy maltster and farmer Jethro Bunce (d. 1726), (fn. 25) originally with a symmetrical front of 5 bays and with a hipped, stone-slated roof. A sixth bay was added on the east soon after, and in the early 19th century a scullery was added beyond and a short rear wing was built on the original house's central axis, perhaps when the lower part of the staircase was replaced. Another notable 17th-century building is the former grammar school on Church View, built on the site of an earlier cottage. (fn. 26)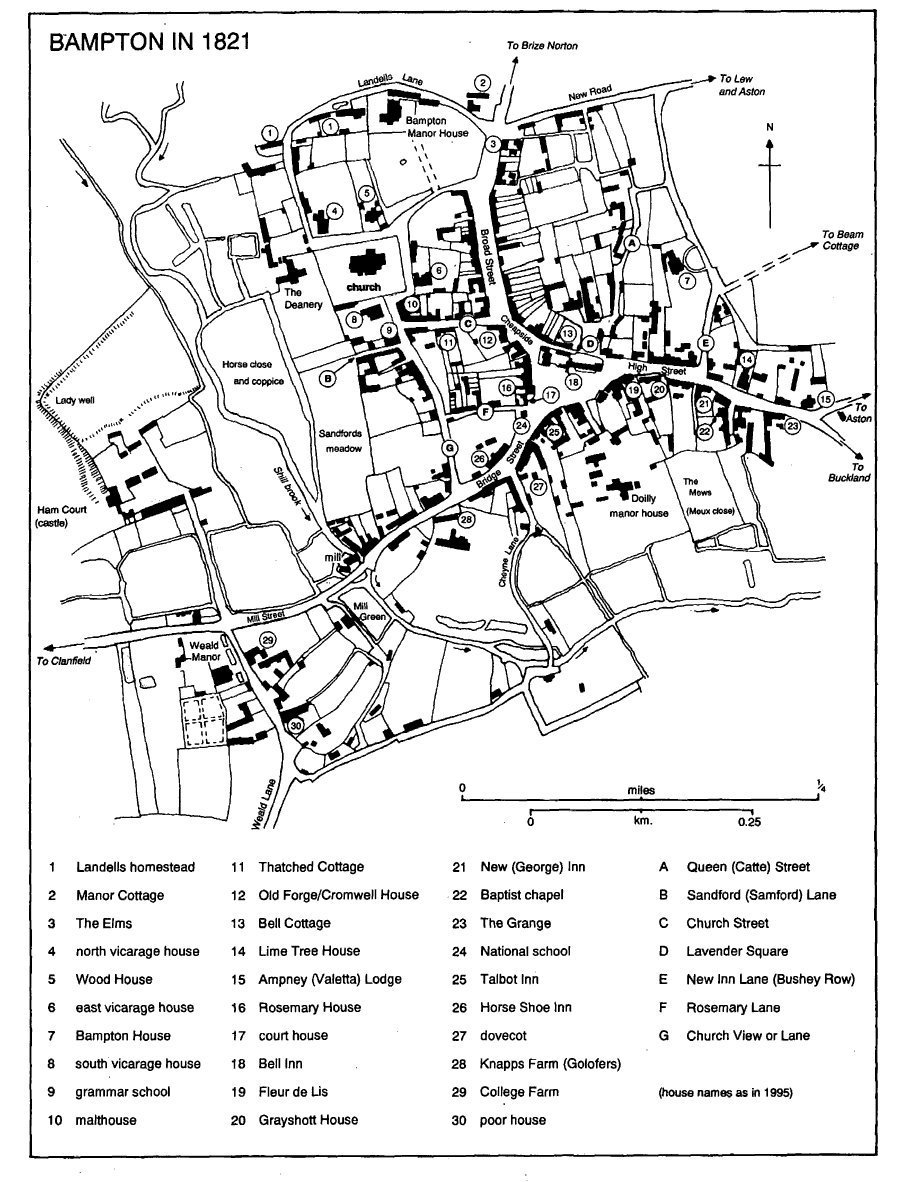 Weald Manor, (fn. 27) at the north end of Weald Lane, originated as the farmhouse for 3 copyhold yardlands on Bampton Earls manor. (fn. 28) From the late 16th century to the early 19th it was let to local gentry, including, probably, members of the Snoddenham family from the 1560s, in 1609 Bartholomew Peisley, (fn. 29) and from c. 1675 or earlier members of the Coxeter family. (fn. 30) It was drastically remodelled allegedly in 1742, when the lease was held by Thomas Coxeter (d. 1755) in trust for his mother, with reversion to his wife Elizabeth; (fn. 31) she lived elsewhere by 1765, (fn. 32) and in 1774 the lease passed apparently through marriage to Robert Kirke (d. 1800) of Clements Inn. (fn. 33) The house, called a mansion house in 1738 and the Manor House from the earlier 19th century when it housed a private school, (fn. 34) was sold with manorial rights in 1870, perhaps through a misconception resulting from the name. (fn. 35)
The house as remodelled, of coursed limestone with ashlar dressings, is quadrangular, of 2 storeys with an attic, and with a hipped, stoneslated roof. The east front, remodelled to appear symmetrical and with earlier dormers concealed behind an 18th-century parapet, seems formerly to have been a hall range flanked by short cross wings, a plan which suggests a date before the mid 17th century; in 1662 the earlier house was taxed possibly on 8 hearths. (fn. 36) Presumably in 1742 it was refaced and refenestrated: the central, pedimented porch and eastern gateway with rusticated piers were built, then or soon after the central hall and rooms to its south were refitted, and the hall was extended westwards to accommodate a staircase, the work necessitating reroofing of the main range. Presumably at the same time the cross wings were extended westwards to form a central courtyard: the north front, of six bays, retains a building line with quoins between the fourth and fifth bays. The south-east bedroom on the first floor retains 17th-century wooden panelling, and 18th-century interior decoration includes a fireplace and cornice in the first-floor drawing room on the south. (fn. 37)
In the earlier 19th century the house was 'dilapidated', (fn. 38) and repairs were carried out c. 1859 and c. 1880. (fn. 39) The west range appears to have been remodelled during the 19th century, and in the early 20th extensive alterations were carried out for Ernest Blackburne, (fn. 40) who in 1903 added a small studio at the south-west corner. Perhaps at the same time the central courtyard was roofed over, a canted bay window of 2 storeys was added to the library at the south end of the east range, the dining room was enlarged, and some interior decoration was refurbished and some fenestration renewed. The drawing room was panelled with beading on bare walls in the late 1920s or 1930s. (fn. 41)
The grounds were landscaped presumably c. 1742, and in 1789 included fishponds, an 'avenue', and, south-west of the house, a formal pleasure garden incorporating a sundial which survives. Plantations of elms added 'to the ornament of the place'. (fn. 42) Fishponds east of the house were filled in between 1821 and 1876, and in the early 20th century the grounds were relandscaped presumably by Blackburne, who introduced various stone garden ornaments. A fishpond west of the house was extended into a large artificial lake, and a new main driveway, with its own lodge, was made to Clanfield road on the north. A stable block, later Stable Cottage, was built east of the lodge before 1876. (fn. 43) A reset medieval cross base within a circle of yews south-west of the house seems to have been in that position by 1789. (fn. 44)
Bampton House off Bushey Row, in its own grounds, is a substantial square house of the earlier 18th century, the date of surviving staircases, and was remodelled c. 1800 for the lawyer John Mander (d. 1809). (fn. 45) A canted bay window was added on the south, most other windows were renewed, and much of the interior was refitted. The house was later let to members of the Whitaker family, and passed before 1851 to the Southbys, who lived there until the early 20th century. (fn. 46) Lime Tree House on High Street, owned with other houses in 1821 by Revd. William Joseph Walker, son of the surgeon Joseph Walker (d. 1803), (fn. 47) is also of the earlier 18th century. Its symmetrical front includes a central doorway with pilasters and an elaborate shell hood, and the interior retains a staircase of similar date. (fn. 48) The Elms, at the north end of Broad Street, incorporates part of a 17th-century house on the north, but the principal range fronting the street is of the mid 18th century with a symmetrical ashlar front of three bays, Venetian windows to both floors, and a central pedimented doorway. (fn. 49) A large first-floor room has an enriched plaster cornice and plaster panelling, and similar decoration survives on the staircase. Possibly it was the house on Broad Street occupied until c. 1772 by Mrs. (probably Sara) Mander (d. 1786), (fn. 50) and in 1821 it was owned with other houses by the surgeon Joseph Andrews (d. 1828). (fn. 51) In the early 1840s it was occupied by the wealthy farmer Jonathan Arnatt (d. 1844), formerly of Lew House, (fn. 52) for whom, perhaps, the ground floor rooms were refitted and a back wing and stair turret added behind the main stair. An extension on the south, later South Elms, was added presumably while the house was being used as a boarding school, (fn. 53) and in 1895 the 17th-century wing was remodelled and probably extended by F. and M. StaplesBrowne, who seem, however, to have resided only after 1899. The house was remodelled in the 20th century, and in the 1980s several features were introduced from other buildings. (fn. 54)
Prospect House to the north and Waterloo House (formerly St. Oswald) to the south were built in the earlier 19th century on the site of earlier cottages. (fn. 55) Prospect House, a tall, narrow building set well back from the street, was a private school in the 1850s, and in 1881 was occupied by a clergyman's widow; Waterloo House was occupied by the 1880s by the organist and music teacher F. W. Taunt. (fn. 56) Haytor House in Lavender Square, a detached L-shaped building with a symmetrical front of 3 bays and a porticoed porch, was built between 1821 and 1841 by the solicitor James Rose (d. 1864), who lived there until his death. (fn. 57) Oathurst, a substantial three-storeyed house west of Lime Tree House, was built after 1821 on the site of former outbuildings, and from the 1860s until c. 1909 was occupied by general practitioners who ran a surgery there. In 1939 it housed a language school for foreign students and c. 1976 it became an old people's home; (fn. 58) a local tradition that it was a railway hotel lacks evidence.
Several lesser houses, notably around the market place, were rebuilt during the 18th century, reflecting continued modest wealth from trade and agriculture. The Talbot Inn was rebuilt shortly after 1700, (fn. 59) and adjoining houses on the east, owned in 1821 by a maltster, a grocer, and a butcher, (fn. 60) were rebuilt later in the century. A long, low range on the market place's west side bears the inscription TP 1795, probably for Thomas Peck (d. 1814), who held it of Bampton Earls manor. (fn. 61) Wheelgate House, south-east of the market place, owned by the maltster Richard Haskins (d. 1770) (fn. 62) and of 18th-century origin, was remodelled in the early 19th century when a third storey was added. A large, ashlar-fronted house to its west, occupied successively by a butcher and farmer, by the mercer and haberdasher Thomas Bryan, and from c. 1794 by the owner of Bampton Doilly manor, was 'newly fitted up' before 1800, when it was sold to the corndealer Thomas Collins (d. 1842); (fn. 63) a canted bay shop-window was added later, and an extension was built over the cart entry. (fn. 64) Nos. 9-11 High Street, east of Grayshott House, were rebuilt c. 1735 on the site of two earlier houses, possibly by the milliner Laurence Bishop (d. 1739), and were divided, as later, into three. (fn. 65) They were again remodelled or rebuilt in the later 18th century and early 19th, and shortly after 1821 no. 8 was built onto the west side of the later Morris Clown to form a continuous line of buildings, occupied by tradesmen in the 19th century. (fn. 66)
During the earlier 19th century some houses were refronted in modest imitation of grander buildings. Lesta House on High Street was remodelled perhaps after it was acquired by the mason and builder Robert Oakey in 1837, (fn. 67) and includes a notable stone doorcase similar to that of Waterloo House. A shop adjoining the Talbot Inn south of the market place, owned by the maltster John Bateman (d. 1849), (fn. 68) acquired an ashlar colonnade of Doric columns, while Rosemary House on the west side, remodelled perhaps by the tailor Levi Robins (d. 1852), (fn. 69) has a central doorway with a semicircular fanlight and an open-pedimented stone hood on scroll brackets. Box House on the corner of Bridge Street and Rosemary Lane, a symmetrical two-storeyed house of three bays with a semicircular hood over the doorway, was built perhaps by the mason and publican Charles Lord; he owned the site with the Horse Shoe public house and had yards adjoining, and may have built nearby Sherborne Villas and Fernlea. (fn. 70)
There were cottages at the north end of Buckland road by 1821, and during the 19th century small artisans' dwellings were built as far as Fisher's bridge. The Swan, built south of the bridge before 1842, marked the limit of expansion. (fn. 71) From the 1830s and 1840s there were a few outlying farmhouses and cottages, (fn. 72) and some existing farmhouses were rebuilt, among them Weald Manor Farm in 1884. (fn. 73) Within the town there was much rebuilding of artisans' and labourers' dwellings, mostly by local builders. New cottages at Mill Green and possibly on the east side of Queen Street were built by the mason Samuel Spencer (d. 1841) in the 1820s or 1830s, (fn. 74) and from the 1850s several houses on the earl of Shrewsbury's manor were rebuilt by the carpenter and builder Robert Plaster (d. 1877), who acquired beneficial leases. They included Westbrook House on Bridge Street, built on Plaster's own holding, and on Broad Street the stone terrace later called Matthew House, no. 5, and Clovelly, which replaced earlier houses and yards and was occupied by tradesmen in 1881. (fn. 75) Other new houses included Windsor Cottages (1887) and Victoria Cottages (1893) on Broad Street, both brick-fronted terraces replacing stone and thatched cottages, (fn. 76) Oban (c. 1835) and Albion Place (1875) on Bridge Street, Belgrave Cottages (1903) and Bourton Cottages (1906) on Church Street, Eton Villas (1907) on the corner of Church and Broad Streets, and Folly View (1906) and Fleur de Lis Villas (c. 1910) south of the market place. (fn. 77) Areas of crowded and probably insanitary labourers' accommodation north of Rosemary Lane and south of the market place in Kerwood's Yard, called Jericho in 1841, were cleared apparently in the early 20th century. (fn. 78)
A Baptist meeting house was built south of High Street c. 1778. Institutional buildings of the 19th century included the National school, later demolished, at the top of Bridge Street, and its successor on Church View, the Particular Baptist chapel on Buckland road, and the Methodist chapel on Bridge Street, built on the site of earlier cottages. (fn. 79) The town hall in the centre of the market place, built by subscription in 1838 to designs by George Wilkinson, is a rectangular Italianate building of two storeys, whose ground floor originally formed an open arcade for use as a market house. (fn. 80) Some or all of the arches were blocked presumably by the 1870s, when the ground floor included a lockable fire-engine house. (fn. 81) A small, single-storeyed extension on the east was added in 1906 at the expense of Philip Southby; (fn. 82) a clock built on the roof perhaps at that time was moved in 1971 to the motor repair garage to the north. (fn. 83) Following the opening of a purposebuilt fire station on New Road c. 1971 (fn. 84) the large engine-doors were blocked, and in 1992, when the upper floor housed the Bampton Arts Centre, most of the arches were glazed.
The most notable building of the late 19th century and the 20th is the Grange, (fn. 85) so called by 1891, on the south side of High Street, an extensive house which reached its present size as a result of successive enlargement and remodelling, much of it by W. G. Lindup (d. c. 1930). (fn. 86) At the north-east corner it incorporates part of a late 17th- or early 18th-century house owned in the 18th century by the Dewe family, and later by the Hawkinses and Townsends; (fn. 87) extensions to the south and west, in a variety of styles, may incorporate some walls of earlier buildings. Reused on the first floor are a number of later 18th-century wooden doorcases of high quality, similar in style to Robert Adam's work and perhaps brought from Eynsham Hall following its demolition in 1903, (fn. 88) though confirmation is lacking.
Council houses were being built by the 1930s, but Bampton's slow population growth during the earlier 20th century meant that new building was chiefly confined to small estates north of New Road and between Bushey Row and Beam Cottage. (fn. 89) A planning report in 1966 concluded that large scale expansion was impractical and undesirable, and recommended that future building should remain confined to those areas, with no further building on Weald Lane. (fn. 90) A new primary school was built north of New Road in 1961, (fn. 91) old people's flats between Queen Street and Bushey Row were opened in 1969, and a few houses were built at the lower end of Bridge Street in the early 1980s and north of New Road in 1994. (fn. 92)