Pages 100-103
A History of the County of Oxford: Volume 14, Bampton Hundred (Part Two). Originally published by Victoria County History, London, 2004.
This free content was digitised by double rekeying. All rights reserved.
ECONOMIC DEVELOPMENT SINCE 1945
By the late 1940s the urban district council acknowledged the need to improve infrastructure and attract new industries if Witney was not to become largely a dormitory town, a recurrent theme in the second half of the 20th century. (fn. 1) The arrival in 1950 of the engineering firm Smiths' of England, attracting both local employees and large numbers of incomers, began a fundamental and long-term shift in the town's social and economic structure. Such changes were subsequently accelerated, and often led, by planning decisions to promote large-scale housing development, partly to reduce growing pressure on Oxford; that in turn created an increased need for local employment, particularly during the national recession of the 1970s and 1980s, which affected Witney seriously, slowing but not reversing its industrial and commercial development. (fn. 2) The break with the town's pre-War economy was completed by the rapid decline, from the 1970s, of the blanket industry, already employing fewer people after technical innovations in the 1950s and 1960s, (fn. 3) and by the end of the 20th century Witney had been transformed into a substantial and still expanding town of over 20,000 people, with a diverse range of light industrial and retail firms located, for the most part, in industrial estates established since the 1960s.
The Decline of the Blanket Industry
Technological development in the industry after the Second World War brought considerable success, and despite a major crisis in the 1950s all four manufacturing firms continued in the late 1960s, when Early's alone still employed nearly 600 workers. (fn. 4) From the 1970s, however, collapsing markets for traditional blankets, combined with national recession, led to rapid decline and to closure of all except Early's, which following a short-lived recovery in the 1990s was finally closed in 2002. (fn. 5)
New plant was installed at Smith and Philips' and at Walkers' factories at their reopening after the Second World War, when Early's, too, embarked on a muchneeded modernization: in particular peroxide-bleaching replaced older methods from the late 1940s, and outdoor tentering was finally abandoned. In 1948 Marriott's became a public limited company, followed by Early's soon after, (fn. 6) and in the early 1950s all four Witney firms together accounted for a quarter of the country's woollen blanket production. (fn. 7)
A post-war boom, fuelled by widespread demand following wartime austerity, was followed in 1952 by a catastrophic collapse, caused chiefly by soaring woolprices: Early's was nearly bankrupted, and alone of the Witney manufacturers was forced onto short time. (fn. 8) Recovery, made possible only by private funds and by goodwill both within the trade and amongst employees, took several years, and was accompanied by further modernization, undertaken partly with the help of industrial consultants and with the cooperation of the Transport and General Workers' Union. New buildings allowed installation of new machinery and greater integration, and a new dyehouse and research laboratory was completed in 1957, the firm pioneering screenprinting of blankets. Cellular blankets were produced in bulk from the mid 1950s, and electric blankets (made at Early's West End factory) from 1957. Refitting at Marriott's Mount Mills followed a serious fire in 1953. (fn. 9)
The merger in 1960 of Early's and Marriott's, forming the combined company of Charles Early and Marriott (Witney) Ltd, was followed by further technical innovation, dubbed a 'second industrial revolution' in the mid 1960s. Fiberweaving, invented in the United States in 1959, was introduced at Mount Mills under licence from 1965, three Fiberweaving machines replacing 100 conventional looms and increasing output by 50 per cent. A fifth Fiberweaver was introduced in 1974, when the last of Early's traditional shuttle power-looms and spinning mules were replaced by modern equipment. German-developed machinery, producing 'knitted' blankets in man-made fibres at four times the rate of conventional looms, was introduced in 1966 following a partnership with Courtaulds Ltd. Before 1967 the outlying sites at New Mill, Worsham, and West End were sold to allow further integration at Witney Mills, where large new offices and warehouses were erected; (fn. 10) the Newland warehouse was sold in 1973, and demolished after a fire in 1975. (fn. 11)
The new techniques, though commercially successful, led to redundancies, Early and Marriott's workforce falling from around 700 in 1960 to 600 by 1965. Increased production allowed a partial reversal thereafter, but in 1974 the firm still employed under 600, falling to 450 four years later. (fn. 12) The other firms remained smaller, Smith and Philips' employing around 350 people in the early 1970s, and Walkers' around 120. (fn. 13) New practices prompted a strike at Smith and Philips's in 1970, when women workers claimed loss of earnings caused by introduction of soft yarns which broke more frequently, slowing production. (fn. 14)
From the early 1970s there was falling demand for traditional blankets at home and abroad, combined with national recession. Smith and Philips' Bridge Street and Crawley mills were closed in 1975, having been taken over first by a Halifax-based blanket firm and later by an international furnishing group, which converted part of the premises for furniture-making. (fn. 15) The Witney Blanket Company, also taken over by a larger company and faced with mounting postal costs, closed its mail-order business in 1976 and its bedding factory at the Leys the following year, (fn. 16) while James Walker and Sons' Crofts Mill, on short time in 1980, closed soon after. (fn. 17) Early's and Marriott's, which although producing Fiberwoven floor-coverings had decided against manufacturing duvets, was similarly in difficulty by 1980, and vacated Mount Mills in 1985, leaving only its Witney Mill premises. (fn. 18) Despite further small-scale diversification (fn. 19) annual sales fell from £15 million in 1969 to only £9 million in 1988, when the company, though still commanding 70 per cent of the shrinking domestic blanket market, made a loss; attempts to capitalize on its valuable town-centre land backfired when a company of property speculators which had acquired an interest in the firm went bankrupt, putting Early's into receivership. Following a management buy-out in 1991 the firm continued with a staff of 160, and from 1993 enjoyed a partial recovery based partly on American markets; traditional Witney horse-rugs and point-blankets were still sold, together with other types of bedding. (fn. 20) The American company Quiltex, one of the firm's chief customers, took it over in 1999, producing around 5,000 blankets a week compared with 30,000 in the 1960s; sales fell, however, and in 2002 Early's was put into voluntary liquidation. The Witney factory was closed in July and production was moved to Derbyshire, Quiltex having failed to find affordable alternative premises in Witney; the 72 remaining workers were offered relocation, though few if any were expected to accept. (fn. 21)
New Industries
Smiths' of England, attracted in part by easy access to car factories at Oxford, Coventry, and Birmingham, opened a motor accessory plant at the former De Havilland factory west of the town in 1950, manufacturing mostly car and lorry heaters. Though at first importing machinery and skilled labour, by the mid 1960s it employed 1,500 people from the Witney area, including several hundred women engaged in both clerical and production work. Many employees were accommodated on a purpose-built housing estate nearby, and there were plans to double the workforce. (fn. 22) A hydraulics department, superseding a smaller local firm, opened on the site in 1957, and a precision-fan department in 1967. By 1980 the firm was the largest single employer in the area apart from British Leyland in Oxford. (fn. 23)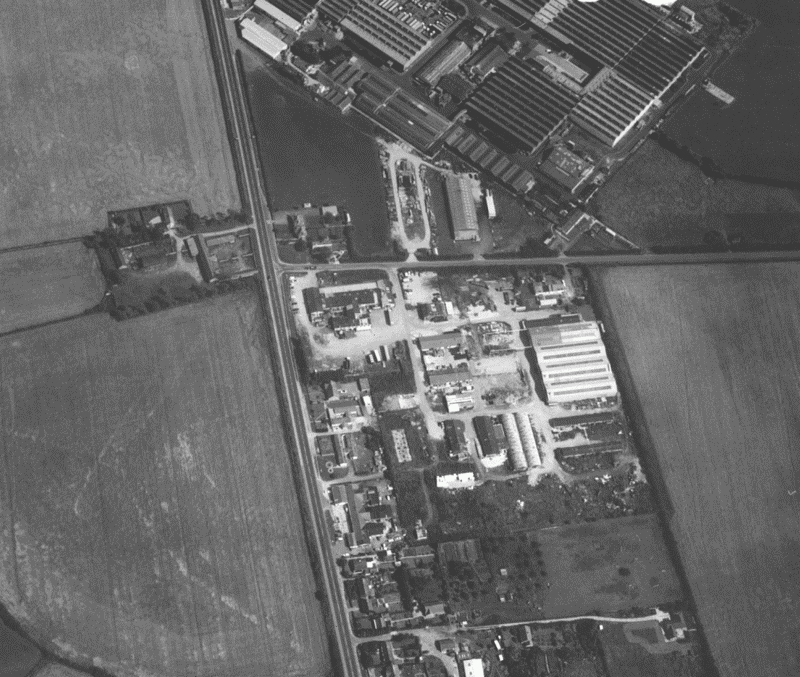 Some established firms continued as significant employers until the 1970s or later. In the mid 1960s Crawford Collets employed 250 people at expanded premises, Compton and Webb's uniform factory 150, and Brazil's sausage and pie factory 350; Looker's glove factory employed 30 cutters and 100 women outworkers, and the West London Optical and Tool Company employed twenty-five. Many of the principal firms exported abroad. (fn. 24) Wesley Barrell expanded its furniture manufacture from the early 1960s, acquiring a national reputation for hand-crafted beds and other items; by the 1980s it had 150 employees in Witney, Charlbury, and elsewhere, and showrooms in several towns and cities. (fn. 25) Successful smaller companies included specialist engineering firms, and traditional companies such as Bartletts' builders, refounded in 1960 as Bartlett Brothers Ltd and Bartlett's Joinery Ltd. (fn. 26) Only Clinch's Eagle Brewery, too small to compete with the large commercial breweries emerging in the 1950s, suffered serious difficulties following a short post-war boom. In 1962 it was taken over by Courage Ltd and ceased brewing the following year, serving as a depot until 1978 when much of it was demolished. (fn. 27) Other closures in the mid 20th century included most of the town's remaining blacksmiths, saddlers, and wheelwrights. (fn. 28)
Attempts to attract further new industry followed Smiths' initial success. An 8-acre site near the station was scheduled for industrial development in the 1950s, along with proposed commercial and shopping development east of High Street. By 1964, however, that was deemed inadequate for the anticipated population-increase, (fn. 29) and although the town's economy, reflecting national trends, remained buoyant during the 1960s, (fn. 30) no new industries arose to rival either Smiths' or the blanket companies. In the mid 1970s the blanket industry, despite recent closures and job losses, remained marginally the largest single employer, with just over 3,000 workers compared with around 4,000 in other manufacturing jobs; the burgeoning service industries employed 6,500, including shop- and officeworkers, lorry drivers, and welfare-workers. The proportion of inhabitants employed outside the town, principally in Oxford, rose during the 1960s from 10 to 22 per cent, and continued to grow thereafter. (fn. 31)
National recession during the 1970s and early 1980s increased the difficulty of attracting and retaining new industries to serve the growing population. Closure of most of the blanket firms damaged related local businesses, while Smiths' Engineering and other companies reduced their workforces, leaving Witney (along with Carterton and other places in West Oxfordshire) with far heavier unemployment than the county average. Firms looking for provincial locations preferred sites closer to London and to major communication routes, and Witney also suffered because Oxfordshire, not considered an unemployment 'black-spot', was not a priority for central-government aid. Small firms in particular struggled to find affordable accommodation in Witney, though by 1978 planning initiatives were leading to improvement. (fn. 32) In 1982 Smiths' car-heater section was taken over by a rival company, which further reduced the workforce and closed all but the hydraulics section in 1988; the same year the Witney Foods Factory (formerly Brazil's) closed after takeovers by national companies, causing the loss of several hundred jobs. (fn. 33)
Witney nevertheless attracted some new industry, which was essential to provide for its sharply rising population during the 1980s and 1990s. In the 1980s West Oxfordshire District Council, in conjunction with private developers, promoted large industrial estates on the town's western edge, complementing privately developed estates around the former station and, from the early 1990s, on the Mount Mills site, which was vacated by Early's in 1985. (fn. 34) Vacant industrial buildings such as Smith's Bridge Street mills were also converted, mostly by private developers, into industrial units leased to a variety of small firms, (fn. 35) while part of the former Clinch's Brewery site was acquired in 1994 by Wychwood Brewery, a small local firm established (as the Glenny Brewery) in 1983. Through its subsidiary Hobgoblinns the firm then owned 33 public houses nationally, and by 1999 was one of only three independent breweries in Oxfordshire. (fn. 36) In all more than 80 firms moved into the Witney area between 1979 and 1984, and by the mid 1980s unemployment was falling, many of the job losses from Smiths' and the Food Factory having been absorbed. (fn. 37) Many incoming companies were small and local, but others were 'high-tech' firms of national significance, employing large numbers. (fn. 38) The brief national recession of the early 1990s caused difficulty in leasing commercial premises, but by 2000 Witney had a shortage of skilled labour, and one of the lowest unemployment rates in the country. Nevertheless the balance between local jobs, rising population, and availability of skilled labour remained delicate, with further housing development planned, while West Oxfordshire remained disadvantaged by lack of good motorway or rail links. (fn. 39)
Retailing expanded to meet local needs. By the mid 1970s increasing numbers were using Witney as a shopping and commercial centre, and from the mid 1980s shopping, leisure, and commercial facilities east of High street, long delayed by planning disputes, were finally provided, creating further employment. (fn. 40) A biennial Witney trade fair on Church Green, hosted by the Witney chamber of trade and commerce, was successfully reinstated in 1972 after a ten-year lapse: in 1990 the fair was the largest recorded, attracting exhibits from as far afield as Manchester, Bristol, and Liverpool, and over a hundred stands in all. (fn. 41)