Pages 145-154
A History of the County of Oxford: Volume 14, Bampton Hundred (Part Two). Originally published by Victoria County History, London, 2004.
This free content was digitised by double rekeying. All rights reserved.
PROTESTANT NONCONFORMITY
The strength of Protestant Dissent in Witney, a dominant feature of the town from the late 17th century, reflected the experience of many small cloth towns, (fn. 1) and may have had its origins in an earlier tradition of local Lollardy: in the 1520s Witney people were among a close-knit group of west Oxfordshire families accused of disseminating the scriptures in English and of questioning Catholic doctrine. Several of the group seem to have been associated with the cloth industry and to have had London trade links, those from Witney including a weaver, a town bailiff, and members of the prominent Gunn family. (fn. 2)
By the early 17th century there was a marked Puritan element within the town, reflected both in the popularity of Puritan church lecturers from Oxford, and in subsequent complaints against the alleged 'popery' of an intruded rector. (fn. 3) Probably that tendency, too, was focused on prominent clothiers and other tradesmen; inhabitants accused of aiding Parliamentary prisoners in Witney in the 1640s seem to have included a Witney clothier, (fn. 4) while the Presbyterian preacher William Martin (d. 1686) came from a local family of clothiers and fullers. (fn. 5) The prevalence of such attitudes within the town as a whole is difficult to gauge: in the 16th century there were signs of religious conservatism among some of the population, while in the Civil War, despite the presence of Puritan lecturers and of some Parliamentary sympathisers, Witney appears to have been neither exclusively Puritan nor anti-Royalist. (fn. 6) The presence after the Restoration of several notable Independents and Presbyterians, several of them ejected ministers from further afield, nevertheless suggests that the town was perceived as a congenial refuge and fruitful area of activity, and by the 1670s Witney possessed Independent and Quaker meetings each with their own meeting houses. (fn. 7) By 1676 the number of Dissenters must certainly have exceeded the fifteen reported, (fn. 8) though not all early adherents necessarily lived within the town or parish.
For much of the 18th century Dissent, though strong, never seriously threatened the Established Church in Witney. In 1738 the rector reported around 70 Nonconformist families, mostly Presbyterians, Independents and Quakers representing perhaps a fifth of the population, and by the 1770s their number had allegedly fallen to only 28 families. Baptists, whose activities in west Oxfordshire were concentrated elsewhere, (fn. 9) never featured strongly, their presence in Witney being largely through association with the Independents or Congregationalists. (fn. 10) From the 1760s, however, the apparent decline in old Dissent was dramatically reversed by the rapid growth of Wesleyan Methodism. Wesley preached regularly in Witney until his death in 1791, declaring himself deeply impressed by the 'plainness and artlessness' of the congregation, and by a prevailing 'spirit of seriousness' which made the Witney meeting 'a pattern to all England'. (fn. 11)
In 1850 a modest Methodist meeting house on High Street was superseded by a large and prominent neo-Gothic chapel, which, with a nearby Independent or Congregationalist chapel built in 1828, symbolised the growing centrality of Nonconformity to the town's social and civic as well as religious life (Figs. 54–6). An incoming rector in the 1830s feared that attendance at Nonconformist chapels was four times that at the parish church, and in 1851, although average attendance at the Wesleyan chapel (up to 600) was rather less than at the two Anglican churches together, overall attendance at the town's five Nonconformist meeting houses remained higher, exceeding 900. The Independents or Congregationalists, with evening attendance of nearly 200 at their High Street chapel, remained the second largest sect, closely followed by the Quakers, who retained their 17th-century meeting house at Woodgreen, and by a Primitive Methodist group established on Corn Street in the 1820s. (fn. 12) Both the Quakers and the Congregationalists enjoyed mixed fortunes thereafter, but Methodism remained a dominant force in the town for much of the 20th century. The 19th-century Methodist chapel, enlarged in the 1990s, continued in the early 21st century, when there was also a resited and enlarged Congregationalist chapel, and a few smaller, more recent religious groups. (fn. 13)
The impact of Dissent on the town was increased by the status of its adherents, who from the late 17th or early 18th century included prosperous clothiers, master weavers, blanket-makers, fullers, maltsters, and other leading tradesmen. (fn. 14) From the 19th century Dissenters also included many of the town's chief employers, among them members of the Early, Smith, and Marriott families, together with leading grocers, drapers, ironmongers, and other retailers, many of whom were respected figures in town government and civic life. (fn. 15) Perhaps partly for that reason, relations between the town's Dissenting and Anglican communities seem generally to have been characterized by mutual tolerance and sometimes by active cooperation. As early as the 1680s the town and Church authorities seem to have been reluctant to prosecute local Dissenters despite pressure from the bishop, (fn. 16) while in the 18th century local Quakers, although withholding Easter offerings, generally paid their tithes, and were said to be 'inoffensive' in their behaviour to the clergy. (fn. 17) Many Dissenters (including, in the 1730s, a Presbyterian minister) attended church at least occasionally, (fn. 18) and in the early 19th century they seem to have routinely participated in vestry government, a Quaker overseer in 1802 being allowed to make an affirmation rather than to swear an oath when presenting his accounts. (fn. 19) A few years later two Quakers served as town bailiffs. (fn. 20)
The spirit of cooperation was evident in early 19th-century proposals for a National school, which, 'considering the peculiar circumstances of the . . . town', was to be open to 'poor children of all sects and denominations'. (fn. 21) Thenceforth Dissenters routinely cooperated with Anglicans over a range of social and religious initiatives, among them restoration of the parish church, (fn. 22) promotion of the Temperance movement, and creation of the new municipal cemetery, where Nonconformists were allocated a separate mortuary chapel and burial plots. (fn. 23) The leading Methodists' spirit of sober but ecumenical liberalism was typified by many of the Early family, among them Richard (d. 1856), who, though 'sincerely attached to Wesleyan Methodism . . . evinced no sectarian dislike to other bodies of Christians', retaining 'a deferential respect for the Established Church in which he was originally brought up'. The mill-owner Charles Early (d. 1912), a 'convinced Nonconformist' and a man of 'stern rectitude', was similarly remembered as a 'lover of . . . religious freedom'. (fn. 24) The same cooperative spirit generally characterized relations between the various Nonconformist sects, (fn. 25) though not always extending to Roman Catholicism. (fn. 26)
There were, nevertheless, occasional disputes, during some of which feelings ran high. In 1669 the Witney schoolmaster Francis Gregory, an ardent Royalist, angrily confronted local Dissenters at neighbouring Cogges and evicted them from the church. (fn. 27) In the 1750s the rector of Witney became embroiled in a dispute over Dissenters' rights to be buried in the parish church, and complained of being unfairly maligned by the Congregationalist minister. (fn. 28) Access to charitable schools, and the religious obligations enforced within them, caused controversy in the early 18th century and again in the mid 19th, (fn. 29) when there was also sporadic disagreement over church rates and, in the 1850s, over Dissenters' plans to install a bell at the new Nonconformist mortuary chapel. (fn. 30) Particularly during the 19th century relations varied according to the temperament and religious tendencies of individual rectors, some of whom fostered close links, while others remained hostile or alienated local opinion through what was seen as High-Church posturing. (fn. 31) W. F. Norris (1879–1904) strongly disapproved of the Salvation Army's 'style of song and procession' and their 'parade and noise and general licence', which he claimed threatened morality and 'led to profaneness', while even the Wesleyans complained in 1883 of interruptions caused by Salvation Army and Primitive Methodist processions. Conversely, the Low-Church Francis Cunningham (rector 1864–79) inadvertently caused friction by appearing to compete with Dissenters, holding open-air services for cottage dwellers in Lowell Place, and in 1877 provoking the Wesleyans into setting up a rival Band of Hope. (fn. 32) Most such disputes were nevertheless solved amicably, and Dissenters and Anglicans seem rarely to have formed entrenched or hostile communities.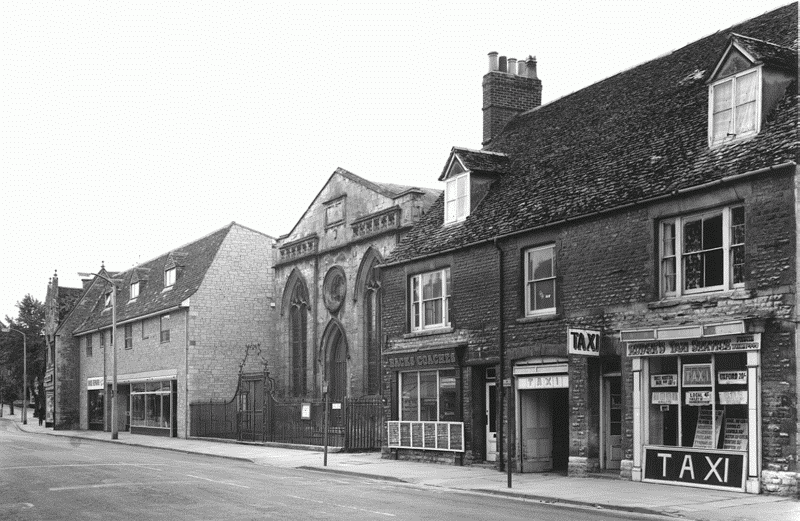 Independents, Presbyterians, and Congregationalists
Following suppression of the Puritan lectureship in Witney church in 1662, and the ejection of the lecturer William Gilbert, several prominent Independent, Presbyterian, and Anabaptist preachers remained active in the area, presumably drawing on local support. (fn. 33) In the late 1660s the adjacent village of Cogges, where the benefice was vacant and the local lord apparently sympathetic, became a focus for Dissent, with up to 200 people, some presumably from Witney and the surrounding area, attending meetings in the church or manor house. (fn. 34) Among regular preachers, the ejected ministers William Conway, John Dod, and Francis Hubbard (d. 1679) all settled in Witney, where Hubbard's house was licensed for Presbyterian worship in 1672. (fn. 35)
Whether a more permanent Witney meeting house was obtained during the 17th century is unknown: presumably there was none in 1703, when the house of the Presbyterian minister Samuel Mather was licensed. (fn. 36) A plain, rubble meeting house on Marlborough (formerly Meeting House) Lane was built about 1712 on Mather's initiative, reportedly with financial help from his wife's family the Townsends, owners of the Staple Hall Inn, (fn. 37) and the following year William Castle, a Witney gentleman, left a £3 rent-charge to Mather and his successors. (fn. 38) In 1715, when Mather also received £6 a year from the Presbyterian fund, the congregation was claimed to be 400–500, presumably including members from outside Witney; of those, 30 were said to be 'gentlemen' and the rest tradesmen, farmers and labourers. (fn. 39) In the 1730s and 1740s chapel trustees included several prominent Witney clothiers, blanket-makers, drapers, and other tradesmen, at least one of whom (the blanket-maker John Baughan) served as town bailiff, (fn. 40) while later adherents included members of the prosperous Witts, Collier, and Marriott families, (fn. 41) some of whom were buried in the meeting house. (fn. 42)
Mather was succeeded in the 1730s by John Ward, son of a Whig draper from Coleshill (Warws.). (fn. 43) In 1738 the meeting was still reckoned to include some 40 families from within the parish, but thereafter numbers fell steadily, in part because of the rise of Methodism: several leading Independent families, among them the Boltons and Shorters, were among early Methodist converts, and in 1771 only 17 families of Presbyterians and Independents were noted, served by a minister whose income had fallen from £50 to only £15 a year. (fn. 44) Shortly before that the meeting formalized its long-standing association with the few Baptists in Witney, and although in 1772 the congregations were thought 'likely to be broke up again unless an agreeable minister could be found', they remained combined until the early 19th century, being frequently served by Baptist ministers. The licensing of outbuildings near the Blanket Hall on High Street for Independents in the 1760s perhaps represented an attempt to maintain some separate identity. From the early 19th century the combined meeting belonged to the newly formed Oxford Baptist Association, and in 1807 it joined the Association of Baptist Congregational Churches, having agreed the previous year to accept doctrinal differences over baptism and to 'live together in Church fellowship under the name of the Protestant Dissenting Church at Witney'. (fn. 45)
Despite thus combining forces, the meeting for a time remained in an 'unsettled state', with numbers falling, the ministry sometimes supplied by students, and the meeting house 'occasionally shut up'. (fn. 46) A partial recovery began under the Baptist minister Thomas Taylor, associated with Witney from 1800 and pastor from 1806 to 1812; the increase seems, however, to have been largely at the expense of the Baptists, who by the 1820s were again outnumbered, and thereafter all the Witney ministers were Independent or Congregationalist. (fn. 47) In the mid 1820s the revival attracted the interest of William Townsend, a wealthy London haberdasher from a prominent Witney family, who in 1825 helped to increase the minister's salary and in 1826 offered to build a larger chapel. (fn. 48) The new building (Fig. 54), on a prominent site in High Street, was opened in 1828, with 172 free sittings and 230 others. (fn. 49) An existing house to the rear was refitted as a manse, and the Marlborough Lane meeting-house was converted for the Congregationalist Sunday school, which had been founded about 1825 and had 160 children. (fn. 50) Friendly relations with other sects were reflected at the chapel's opening, attended by prominent local Anglicans, Methodists, and Baptists, with an address by the Baptist minister of Cote (near Bampton). (fn. 51)
Thereafter the Congregationalists remained, after the Methodists, the largest Nonconformist group in Witney, though their progress was sometimes undermined by internal divisions, 'indifference', or Methodist competition. (fn. 52) Henry Perfect (minister 1852–8) had serious disagreements with his deacons over running of mission stations, prompting the church's formal dissolution in 1857 'to afford an opportunity for [its] reconstruction', while later ministers complained of a 'lack of cooperation' and 'unhappy differences'. (fn. 53) In 1858–9 the church had 61 Witney members, average attendance of 50, and Sunday-school attendance of 24, a substantial decrease since 1851, and in 1864 an incoming minister found affairs in a 'sad condition', with small congregations and low attendance at prayer meetings. (fn. 54) Few 19th-century ministers stayed long, with the notable exceptions of Robert Tozer (1834–52) and John Brantom (1870–4 and 1886–97). Tozer, energetic and devout, did much to establish or revive mission stations at Crawley, Brize Norton, Minster Lovell, and Leafield, though none became firmly rooted; evidently he expected high standards, once suspending a member for attending the theatre. Brantom attempted to revive some of the mission stations, repaired the Marlborough Lane meeting house for Sunday-school use, and repaired and refitted the chapel in 1871, besides promoting occasional musical services which later became normal practice. (fn. 55)
From 1908 to 1913 and on a few later occasions the church was served by students from Mansfield College, Oxford, but there were also some settled and successful ministries, among them that of Arthur Lewis (1922–7) and G. S. Auty (1938–53). Church membership varied greatly, falling from 47 to 28 in the 1910s, exceeding 60 by the 1930s, but falling to around 40 in the early 1950s, when numbers were temporarily boosted by Americans from Brize Norton airbase. Women deacons were nominated by the 1940s, and in 1969 a female pastor was appointed; ecumenical events with Methodists, Anglicans and others continued throughout. (fn. 56)
The Marlborough Lane meeting house, long leased to other organizations, was sold to the Scouts Association in 1961, easing long-running deficits caused mostly by repair costs, low membership, and the need to supplement the minister's inadequate salary. (fn. 57) The need for new, cheaper premises was recognized by the early 1960s, and in 1970 both chapel and manse were sold to developers and demolished, burials under the chapel floor being re-interred in Witney cemetery. A plan to unite with the Methodists at their Davenport Road chapel proved unpopular, and for a time services were held in a house at Church Green, bought privately by the pastor as a joint manse and meeting-room and registered as a place of worship in 1971. (fn. 58) A scheme to convert the Staple Hall Inn into a chapel was overruled on planning grounds, (fn. 59) and the church subsequently moved to Field House on the corner of High Street and Welch Way, where new buildings at the rear, fronting Welch Way, were opened in 1994. In 2002 the church remained part of the Congregationalist Federation, having declined to join the United Reformed Church at its formation in 1972. (fn. 60)
Baptists
Anabaptists were among Dissenters regularly preaching at Cogges in the late 1660s, (fn. 61) and in 1672 a house at Witney was licensed for Baptist worship. (fn. 62) The meeting remained small, and was closely associated with the more numerous Independents, whose chapel on Meeting House or Marlborough Lane the Baptists later attended. (fn. 63) John Carpenter, licensed as a Baptist preacher in 1672, was succeeded by Thomas Barfoot between 1707 and 1715, but by 1738 the rector thought the Witney Baptists hardly distinguishable from the Independents and Presbyterians, and they seem no longer to have had their own minister. (fn. 64) In 1759 there were said to have formerly been four or five Baptist families, but several had converted to Anglicanism or to Quakerism, and, though a Witney Baptist meeting still existed in 1765, in 1771 only a single family was reported. (fn. 65)
During the later 1760s the remaining Baptists formally united with the Independents, by then also in difficulty, and during the late 18th and early 19th century the combined group was often served by Baptist ministers, becoming strongly affiliated with the Baptists both locally and nationally. How far that reflected a general shift among the congregation is not clear, and from the 1820s, as the Independents revived, Independent or Congregationalist ministers were again appointed, though the minister in 1851 remained in the Baptist Association. Some Witney Baptists presumably continued to attend the Congregationalist church, others apparently becoming associated with the Baptist chapel at Cote near Bampton. (fn. 66)
In the 1990s Baptist services were held in Burwell Hall on the Thorney Leys housing estate, west of the town. (fn. 67)
Quakers (Friends)
Quakerism seems not to have become established in Witney until about 1659, following visits by prominent supporters from Oxford and elsewhere. (fn. 68) Among them were Thomas Loe, later associated with the conversion of William Penn, and the Warborough mercer Thomas Gilpin, noted as a proselytizer. (fn. 69) From 1676 Witney was the centre of a monthly meeting eventually covering Burford, Leafield, Milton-under-Wychwood, Charlbury, Chipping Norton, and Alvescot, (fn. 70) and it remained a focus of Quakerism in west Oxfordshire: around 30 Quaker families were reported in the parish in 1738, compared with 18 in Chipping Norton and only a dozen people in Burford. (fn. 71) Early meetings are said to have been held in the house of Kester Hart, possibly Christopher Hart (d. 1667), gentleman; (fn. 72) a meeting house at Woodgreen, possibly adjoining Hart's house, (fn. 73) was built reportedly in 1676, partly at the expense of the Burford mercer Thomas Minchin, who in 1688, with John Harris and the Oxford Quaker Silas Norton, conveyed it to local trustees. (fn. 74) Burials were allowed there by 1679, when the monthly meeting ordered a 'carriage' for carrying corpses 'to the burying ground'. (fn. 75) A house belonging to the meeting in 1682, rebuilt in 1695–6, was perhaps that rented to a Quaker schoolmaster in the 1720s, lying 'near' the meeting house. (fn. 76)
Despite the meeting's strength Witney Quakers seem not to have suffered quite the level of harassment and persecution common elsewhere. (fn. 77) A neighbouring meeting at Cogges was broken up in 1666 and several of its members sent to the Witney bridewell, (fn. 78) and some Witney members were in prison in the 1690s, (fn. 79) while the meeting's concern in 1686 'to still the rude people' suggests local ridicule or disruption of meetings. (fn. 80) Witney Quakers were not reported to the bishop in 1669, however, and in 1675 the town authorities, 'being more moderate' than their fellows in neighbouring parishes, declined to distrain Witney Quakers who had attended a meeting at Alvescot which was broken up by the justices. In 1682, after the churchwardens again reported nothing amiss, the bishop pressed for more information on the meeting house. (fn. 81) Such relative tolerance may reflect the prevalence of Dissent within the town generally, implying some connivance by leading townsmen, while the attitude and social background of Witney Quakers, who in the 18th century seem generally to have avoided confrontation, (fn. 82) may also have contributed. Early adherents included small craftsmen, tradesmen, and manufacturers, among them broadweavers, fullers, and in 1694 a maltster, and by the early 18th century there were also some substantial blanketmakers and clothiers. John Wiggins (d. 1719) was a prosperous manufacturer with London connections whose son became warden of the Blanket Company, and several members of the Early family were Quakers in the early and mid 18th century. Other members were skilled craftsmen such as the clockmakers Edward and John May, or wealthy farmers from outside the town, notably members of the Briscoe family of Alvescot and Lew. Separate men's and women's meetings were held throughout. (fn. 83)
During the earlier 18th century the Witney group remained the largest within the monthly meeting and was evidently assumed to be the wealthiest, prompting members to complain in 1756 of their disproportionate responsibility for relieving the poor of other meetings. (fn. 84) Forty Quaker families were reported in the parish in 1759, joined at weekly Sunday meetings by Friends from surrounding villages, and a school established in the 1690s continued until the 1780s. (fn. 85) 'Ministers' included both men and women, among them Hannah Smith (d. 1817), active at Witney from the 1780s, and women overseers were mentioned in the 1790s. (fn. 86)
From the mid 18th century there was nevertheless a sharp fall in numbers. Only fourteen Quaker families were reported in the parish in 1768 and ten in 1771, (fn. 87) in part reflecting growing competition from Wesleyan Methodism, which certainly attracted some former Quaker families. (fn. 88) Other losses were to Anglicanism, or reflected apparent impatience with the sect's rigid exclusivity: Anglican baptisms of Quakers were mentioned intermittently from the 1740s, and from the 1760s there were frequent complaints against members who married in the parish church, most of whom were disowned. (fn. 89) In 1769 the Witney meeting complained of lax or 'disorderly' members, and in 1773 nearly 30 were expelled after local enquiries, while in 1829 a workhouse inmate was expelled for idleness. (fn. 90) The Witney meeting retained some prominent inhabitants, among them Elijah Waring (d. 1815), who left large benefactions to the town, (fn. 91) but by 1840 the preparative meeting was so small that Quakers from other meetings were deputed to attend, and the following year it was united with the Burford meeting. (fn. 92) In 1851 only 13 people attended Witney meeting house on the morning of Census Sunday, (fn. 93) and in 1873, following further decline through death and removal, weekly meetings at Witney were discontinued. (fn. 94) In 1885–6 interdenominational meetings held on the initiative of a Wesleyan preacher were attended by 20–30 people, but the gatherings lasted only eighteen months and in 1891, after the last but one resident Quaker member left Witney, the meeting house was closed. (fn. 95)
In 1893 the Witney meeting was revived as an allowed meeting after the Friends' Home Mission Committee supplied a resident worker, and the meeting house was restored and extended. The initiative proved successful: by 1897 both mission and meeting were 'full of life', with an adult school attended by over sixty, a children's school outgrowing its accommodation, and a Christian Union of 26 members promoting cottage meetings at Hailey Fields and elsewhere. A mission in 1905 made 130 converts, many of them children or young people, and some of them drawn from other sects, though many new members lacked education and needed 'much help and teaching'. Local organizers included the chemist Richard Neave, the farmer Charles Buckingham, and the bone-setter John Oyston and his wife. (fn. 96)
By 1913 Witney was thought able to manage without the mission, and in 1926 the meeting house was renovated, (fn. 97) but over the next forty years membership gradually declined. Up to 38 people, some probably from Burford, attended in the 1940s, but in 1946 a member joined the Congregationalists explicitly because they attracted more young people, and following further losses the meeting was discontinued; a few Friends gathered in Witney around once a month as part of the Oxford meeting. A library of books and pamphlets, mentioned from the 1720s, was dispersed about 1928. An attempt to resurrect an 'allowed meeting' in 1959 was abandoned in 1965, and in the 1970s there was a single worshipper. By then the meeting house and adjoining cottage were in serious disrepair, and about 1978 both were sold and converted into houses. (fn. 98)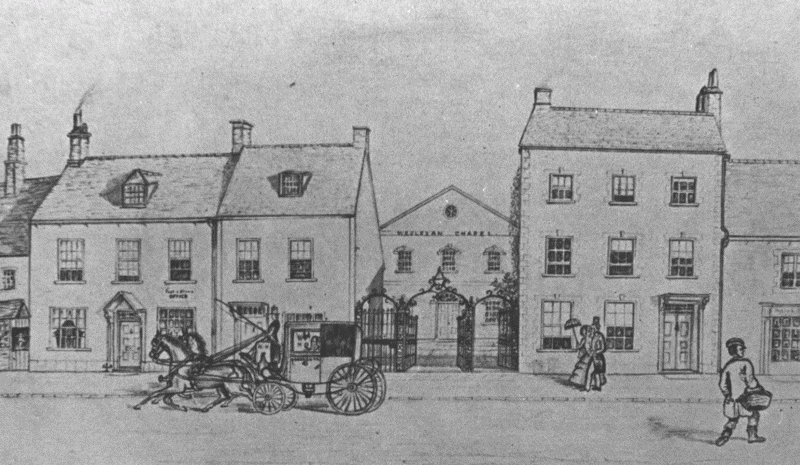 Wesleyan Methodists
During the mid 18th century Methodists quickly became the dominant Nonconformist sect. Possibly there were some adherents as early as 1747, when Witney and Burford Quakers distributed pamphlets 'among the Methodists'. (fn. 99) Certainly Wesleyan itinerant preachers visiting Witney in 1762 and 1763 met with some success, (fn. 100) and when Wesley first preached there in 1764 he found a congregation 'both large and deeply attentive'. Wesley retained his admiration for the Witney congregation, which he visited regularly, often preaching in the open air at Woodgreen or in the market place. (fn. 101)
Crucial to the group's success were the efforts of Ann and Edward Bolton, children of a Witney baker and Independent, (fn. 102) whose conversion at a young age, despite parental opposition, suggests a dynamic appeal to the younger generation. Ann became a lifelong correspondent and confidante of Wesley, and she and Edward, a Finstock farmer and a respected local preacher, were instrumental in securing the first Witney meeting house in 1769, concerning whose fitting up Wesley gave detailed advice. (fn. 103) Recruitment, which may have slowed during the 1770s, (fn. 104) was accelerated by an exceptionally violent storm in 1783, which convinced many that 'the Day of Judgement was come', and prompted unprecedented attendance both at the parish church and in the meeting house: when Wesley preached to 'a multitude' a few days later over thirty new members requested admission, and a year later he noted with satisfaction that 'the impression . . . made on [the children] by the storm ... is not yet worn out'. (fn. 105) About the same time Ann Bolton rejoiced at the fervour and understanding shown by 'young illiterate men' at her prayer meetings, (fn. 106) though adherents by the 1790s also included many of the town's leading manufacturers and tradesmen, among them the master blanket-weavers Jeremiah Biggers, Thomas Early, and James Marriott, the grocer Richard Harbud, and the shoemaker Joseph Dutton. The pattern continued throughout the 19th century, chapel trustees including successive members of the Early and Marriott families, the glove-manufacturer William Pritchett, the ironmonger Samuel Lea, and the grocer W. H. Tarrant, together with other prominent retailers and tradesmen. (fn. 107)
At first Witney belonged to the large Oxford circuit, and from 1795 to the Newbury circuit, but from 1803 it formed the centre of a Witney circuit comprising over twenty villages and hamlets; thereafter there were usually two officiating ministers, each of whom stayed up to two years. (fn. 108) The meeting house of 1769 (Fig. 55), built apparently on the site of the modern chapel in the rear courtyard of houses fronting High Street, was enlarged in 1796 and possibly again in 1831; (fn. 109) flanking houses, part of an endowment acquired from the Boltons in the 1790s, were occupied by the ministers, and houses nearby were rented out. (fn. 110) A Sunday school, established by the early 19th century in 'an old thatched building' to its north, was moved to a new building in the 1820s with help from the blanket-manufacturer John Early (d. 1862). (fn. 111) A Corn Street weaving shop licensed for worship in 1817 may have been for Wesleyan use, (fn. 112) and a chapel at Newland was opened about 1827. (fn. 113) Numbers continued to rise: in 1817 the Methodists were said to have 'increased a considerable amount', (fn. 114) and by 1839 membership, probably less than half the total number attending, was over 200, though thereafter it fell slightly until the early 1840s. (fn. 115) How far working-class recruitment was influenced by Wesleyan employers is unclear, but certainly the Earlys took a keen interest in the conduct and moral wellbeing of their workers, and encouraged and rewarded teetotalism. (fn. 116)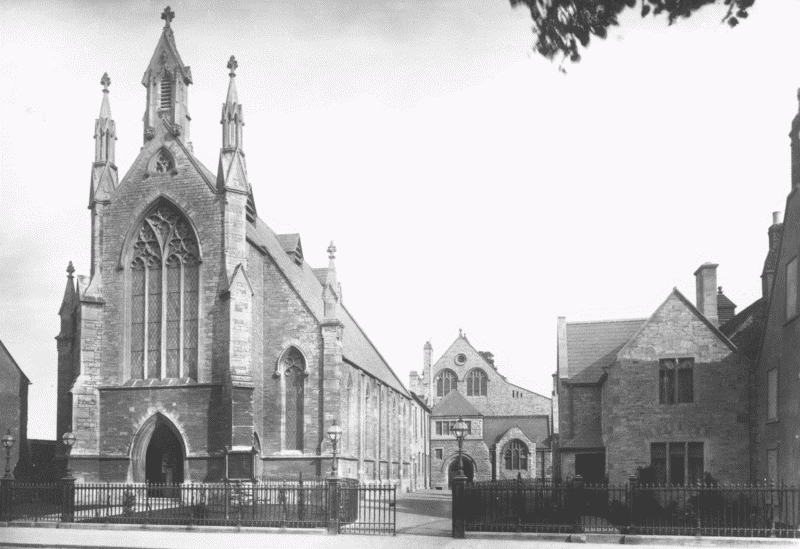 In the later 1840s, during the ministries of Charles Westlake, J. D. Julian, and John Dowty, the town experienced 'a gracious revival'; sermons were given by visiting ministers, and house visits by one class leader reportedly made him a 'great favourite, especially among the poor'. A tea meeting held in John Early's Newland warehouse in 1849 to discuss the need for a larger chapel raised over £700, and after further subscriptions a new building with 754 sittings, around half of them free, was opened early in 1850 (Fig. 56). (fn. 117) A new Wesleyan day school was opened in the refitted former chapel behind in 1851. (fn. 118) Evening attendance at the new chapel in 1851 was 600, with over 200 at the Sunday school, (fn. 119) and though membership fell slightly in the 1860s and 1870s, prompting the rector to allege in 1866 that the Wesleyans were 'not so [strong] as they have been', by the end of the century it was higher than ever. (fn. 120) Improvements to the chapel were carried out in the 1870s and 1880s, new school premises were built in 1884, and in 1892–3 the minister's and chapel-keeper's houses flanking the chapel were demolished and replaced with a new keeper's lodge, after Charles Early offered a site on High Street for building a new minister's house. (fn. 121) A Wesleyan branch of the YMCA was formed in 1850 and a Band of Hope in 1877, (fn. 122) and in 1882 a cottage at Lowell Place, an area of cramped workingclass housing off Corn Street, was rented for prayer meetings and mothers' meetings. A Sunday school was opened there in 1885, and a small mission hall was built in 1897. (fn. 123) In part the Witney group's success reflected its freedom from the factional conflicts which damaged some other circuits in the mid 19th century, perhaps because the Earlys and other prominent Wesleyans unanimously supported the conservative, hierarchical tendency represented by the Revd Jabez Bunting and by Conference. (fn. 124) Nevertheless, there were some short-lived local disputes. The future blanket-manufacturer William Smith alienated some members by brewing and selling beer in the 1850s, and there was ill feeling after a member absconded to America owing large debts. (fn. 125)
In 1907–8 Revd Arthur Martin extended the circuit by building new chapels or renovating existing ones, but over the following decades membership at Witney fell slowly from nearly 350 in 1912 to around 240 in 1933. Methodism nevertheless remained a prominent feature of the town, supported by many of its leading figures including the Earlys. (fn. 126) In 1924 the quarterly meeting narrowly voted against the proposed Methodist union, but during the later 1920s a series of prominent ministers addressed occasional joint meetings with Primitive Methodists at the High Street chapel, and by 1928 the union was supported by a large majority. (fn. 127) The two circuits were combined in 1932, the Primitive Methodists' Corn Street chapel and Daileys Hill mission hall being retained alongside the former Wesleyan chapels at High Street, Lowell Place, and Newland. Houses were provided for two resident ministers, one of them a Primitive Methodist; a new manse for the second minister, on Tower Hill, was bought in 1939. (fn. 128)
Membership of the combined circuits initially numbered 870, of whom over three quarters were Wesleyans; combined membership at Witney was around 240, falling to 197 by 1942. (fn. 129) The chapel at Lowell Place was leased from around 1950 and sold in 1953, (fn. 130) and the Corn Street chapel was sold to the neighbouring Swan Laundry in 1957, to be replaced by a new chapel on Davenport Road with an attached hall and assembly room, which served new housing estates west of the town. (fn. 131) The High Street chapel was extended in 1994–5, with new meeting rooms on the south to accommodate the numerous church, youth and community groups which had previously used the adjacent school buildings; it remained open in 2003, together with the chapels at Newland and Davenport Road. (fn. 132) Relations with other Christian groups remained close: joint services with the Anglicans were held regularly from the 1970s at the chapel or parish church, and in the early 21st century the Methodists belonged to a close ecumenical grouping of churches in the Witney area. (fn. 133) The Witney circuit was combined with the Faringdon circuit in 1963. (fn. 134)
Primitive Methodists
Primitive Methodist preachers from the Leicester circuit are said to have evangelized around Witney in 1824, (fn. 135) and before 1826 a Witney circuit was formed comprising the town and eleven villages; of 95 members, 20 were from Witney. (fn. 136) A house near the west end of Corn Street, possibly that registered for worship in 1826, was rented from a coal dealer for use as a chapel, (fn. 137) though as usual with Primitive Methodists cottage and open-air camp meetings, held regularly at West End and Woodgreen, were equally important, and were often addressed by travelling preachers. A preacher's house was also rented. (fn. 138) That the group was based on Corn Street, a predominantly working-class area of mill workers, labourers, and small craftsmen, (fn. 139) is probably not coincidental: in the 1860s the rector commented that the Primitives were doing 'good among the lower classes', though by the mid 19th century leading members also included small tradesmen and shopkeepers, among them grocers and butchers, a seedsman and florist, a fellmonger, and a wheelwright. (fn. 140)
Membership at Witney and Woodgreen seems not to have risen significantly during the 1830s and 1840s, but in 1845 a new purpose-built chapel with over 200 sittings was opened further up Corn Street near Meeting House Lane, on land bought the previous year. The building caused crippling debts to which Conference and the rest of the circuit had to contribute; further improvements, including a new stove, were nevertheless authorized in 1851, together with rebuilding at the minister's house, which stood in front of the chapel by the street. Attendance at the afternoon and evening services on Census Sunday that year was a hundred or more, and regular open-air preaching or prayermeetings continued at Lowell Place, Woodgreen, and in the market place. In 1863–4 the chapel was enlarged, its reopening marked by a tea-meeting for 200 held in the Congregationalists' old meeting house on Meeting House Lane. (fn. 141)
In 1869 a new chapel with 300 sittings was built in front of its predecessor on the site of the minister's house, the old buildings being converted into a school room and vestry. (fn. 142) Subscribers included the leading Wesleyans Charles Early and Samuel Lea. (fn. 143) Though the rebuilding was claimed to be 'a stern necessity', circuit membership was then falling slightly through the effects of agricultural depression and unemployment; nevertheless the group continued to thrive, with camp meetings, a Sunday school of over 70, and public preaching and processions attended by 'some hundreds'. (fn. 144) A new mission station at Daileys Hill, between Burford Road and Dark Lane, was opened about 1887, and in 1902 members contemplated extending the school. (fn. 145)
During the early 20th century circuit membership fell, (fn. 146) though a prominent member of the Corn Street church later recalled a vibrant religious life, marked by devoted ministers, capable lay preachers, a fine choir, and a strong Sunday school. Camp meetings in fields near Corn Street and at Woodgreen at first continued, accompanied by music from the schoolroom organ, which was hoisted onto a farm waggon; by the 1950s open-air meetings had long ceased, however, leaving Methodism, in one member's opinion, 'much the poorer'. (fn. 147) From the mid 1920s 'inspiring' joint meetings were held in the Wesleyan church on High Street in preparation for the proposed Methodist Union, which was 'heartily' welcomed by Witney Methodists; (fn. 148) thereafter the Corn Street chapel continued until 1957, when it was superseded by the new chapel at Davenport Road and converted to other uses. (fn. 149)
An Abrahamite Primitive Methodist chapel on Corn Street was mentioned in 1851, when it was said to have been built in 1824; it had no attenders and only six sittings, and was presumably a converted cottage or outbuilding. Its connection with the main Primitive Methodist meeting is unclear, and it was not mentioned later; possibly it was the former 'Ranter's' chapel on Corn Street mentioned in 1864. (fn. 150)
Brethren (Plymouth Brethren)
Brethren were established in Witney perhaps by the 1850s and certainly by 1866, (fn. 151) but seem to have remained a small group. In 1884 they sought permission to use the Quaker meeting house at Woodgreen, (fn. 152) and from the 1890s held services at the Corn Exchange. (fn. 153) From the early 20th century they occupied various premises on High Street, including (briefly) the Blanket Hall, and in 1950 they leased the Methodist chapel at Lowell Place. (fn. 154) The group had apparently ceased to meet by 1958. (fn. 155)
Salvation Army
The Salvation Army began a mission in Witney in 1882, combining evangelical meetings and processions with pastoral and Temperance work. The hostile HighChurch rector objected to their 'parade and noise', but conceded that 'here and there they ... win a drunkard to temporary (or permanent?) sobriety'. (fn. 156) By 1883 they had a barracks at West End, moved in 1897 to the yard of the Marlborough Arms; (fn. 157) regular Sunday and weekday services were held there, alongside open-air meetings in the market square or at Church Green. The group was not mentioned after the early 20th century. (fn. 158)
Other Sects
During the 20th century several other Christian groups became established in Witney. Christian Scientists rented rooms in the town hall by 1933, moving the following year to Field House (No. 33 High Street), where they maintained a reading room until the building was taken over by Congregationalists in the 1970s. (fn. 159) The Exclusive Brethren movement had a meeting house on High Street from the mid 1920s to 1955; the Welcome Evangelical church took over the building two years later and subsequently enlarged it, still meeting there in 2002 when there were 65–70 members and Sunday congregations of over a hundred. (fn. 160) In 1976 the Elim Pentecostal Church took over the former Roman Catholic church at West End, which it had outgrown by 1996 when Sunday services were held in the Batt school, though the West End building was retained. (fn. 161) The former Methodist chapel in Lowell Place, used for a time by Jehovah's Witnesses, was occupied in 2002 by a Spiritualist church, and another Spiritualist church opened about 1987. (fn. 162)