Pages 155-164
A History of the County of Oxford: Volume 14, Bampton Hundred (Part Two). Originally published by Victoria County History, London, 2004.
This free content was digitised by double rekeying. All rights reserved.
EDUCATION
Provision To 1660
A school run presumably by local clergy existed in the early or mid 14th century, when Roger of Standlake, one of a prominent Witney burgess family, learnt to read there. (fn. 1) John Scolemaster of Witney was mentioned about 1375, though his surname was probably hereditary. (fn. 2) In the early 16th century a chantry priest evidently taught some pupils, but by 1548 he did 'little service' and the growing town was recognized to be in need of a schoolmaster. (fn. 3)
A schoolhouse was mentioned intermittently from 1560, when the wealthy clothier Walter Jones left £10 for its 'repair and amending' so that 'children may there be taught', implying that it was then out of use. (fn. 4) About 1571 the churchwardens glazed its windows, (fn. 5) and small bequests for its upkeep were made in the early 17th century. (fn. 6) Teachers, at least one of them a graduate, were licensed in the late 16th and early 17th century, and in 1649 John Nixon, founder (in 1658) of a school in Oxford, gave a Latin thesaurus to the 'public school' of Witney. The school appears to have been unendowed, however, and the subsequent establishment of a grammar school implies that education in Witney was still thought to be unsatisfactory. (fn. 7)
Provision 1660 To C. 1900
In the late 17th and early 18th century education in Witney was dominated by the grammar school, founded in 1660 by the grocer Henry Box (d. 1662), and grounded in a classical curriculum aimed at preparing the sons of wealthier merchants, manufacturers and minor gentry for university. Despite early success, which attracted boarders from the town and elsewhere, the school failed to cater for a prosperous commercial and trading community with a strong Nonconformist element, and was increasingly eclipsed by private, endowed, and Nonconformist schools better suited to the town's needs. John Holloway's Bluecoat school at West End, endowed in 1724, catered expressly for sons of journeymen weavers and avoided exclusive Anglican links, while a growing number of private and endowed elementary or Nonconformist schools, among them a Quaker school established in the 1690s and elementary schools endowed by the Blake family of Cogges, provided minimal instruction in literacy and numeracy. (fn. 8) In the 1740s children in the parish workhouse were expected to be taught to read, though whether that was ever done is not known. (fn. 9) By 1808 ten private schools taught over 300 pupils, with another 65 taught for fees in the Bluecoat school alongside the foundation scholars; (fn. 10) nevertheless, many children before the early 19th century presumably had no formal education. As in many small towns, from the 18th century several private boarding academies provided for children of wealthier inhabitants and local gentry, often to the detriment of the ailing grammar school. (fn. 11)
From the late 18th century private elementary schools were supplemented by Anglican and Nonconformist Sunday schools, which also taught reading. (fn. 12) A nondenominational National school was established in 1813 on Bridge Street, prompting a sharp fall in the number of private elementary schools, and an Anglican infant school was established in 1836, younger children having previously been 'left to run around neglected in the streets'. (fn. 13) A Wesleyan day-school was opened in 1851. (fn. 14) The National school was at first ill-disciplined and 'not so well taught', but the rector Charles Jerram (1834–53) reported gradual improvement and instituted attendance checks through District Visitors; the school acquired new premises on Church Green in 1856, and a second National school at Woodgreen opened in the 1860s. (fn. 15) In the late 1830s the blanket-maker John Early claimed that the town's moral tone had been transformed not only by the Temperance movement but by the attention given to education, particularly by the principal manufacturers: weavers were reported to be 'anxious for the education of their children', over a thousand of whom learned reading at various Sunday schools, while writing was taught in associated Saturday evening classes. (fn. 16) The experiences of the future blanketmanufacturer William Smith (d. 1874), born in 1815 to a relatively humble family of blanket-workers, may have been typical. Having learned writing at Saturday evening classes run by a wheelwright, and rudimentary reading at a small dame school and at the Wesleyan Sunday school, he moved at the age of six to a private class run by the master of the Bluecoat school, until a decline in family fortunes forced him to make do with the 'humble fare' of the National school. Soon afterwards he began work as a quiller, completing his 'imperfect' education, which had included no grammar, history or geography, at a night school run by a former prize-fighter. (fn. 17)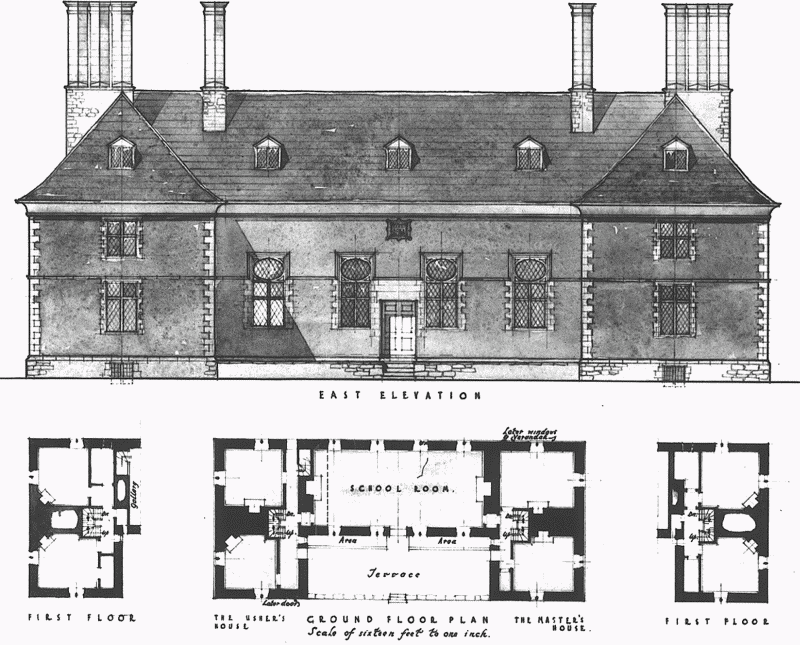 With the grammar school providing for very few local pupils, secondary education remained largely unavailable until 1877 when the grammar school was reorganized. Even then it failed to respond to the growing demand for scientific and technical education, which in the 1890s was met by the development of a technical school under the auspices of the Wesleyan school on High Street, whose headmaster became its first principal. The benefits of combining the grammar and technical schools, with the former providing the preparatory and literary curriculum and the latter the scientific, were soon recognized, and in 1901–2 the two were reconstituted as Witney Grammar and Technical School, the Bluecoat school being disbanded at the same time and its endowments taken over; thereafter the combined school provided for both girls and boys. Technical adult education was continued by the Witney School of Science and Art, still closely connected with the Wesleyan school. (fn. 18) By then Witney had become, and remained, an educational centre for the surrounding area, 220 out of 700–800 pupils who attended its schools in 1897 coming from the outlying district. Nevertheless it was claimed to be the only civil parish in the poor-law union where school fees were still charged, despite large government grants and assistance from the county council. (fn. 19)
Witney Grammar School (fn. 20)
Witney grammar school was founded by Henry Box (d. 1662), one of a prominent family of farmers and fullers associated with the town since the mid 15th century, who made his fortune in London as a member of the Grocers' Company. In 1660, at his own expense, he built the surviving schoolhouse (Fig. 57) on a specially purchased site adjoining the rectory house at Church Green, and by his will endowed it with £50 a year charged on land at Longworth (then Berks.). His widow Mary secured an Act in 1663 governing its regulation, by which the site, buildings and income were vested in the Wardens of the Grocers' Company as Governors; the Provost and four senior Fellows of Oriel College, Oxford, which Box had attended, became Visitors. Mary Box retained control until her death in 1679, adding £13 to the annual rent charge. Like many similar schools of the period, Witney school was geared to preparing the sons of wealthier merchants, manufacturers, and minor gentry for university by teaching Latin, Greek, and (in theory) Hebrew; no pupils who could not already read fluently were to be admitted. The staff was to comprise a master and an usher, with a writing master (to teach writing and 'casting accounts') paid for out of the additional £13 endowment, an unusually early date for such a post. Pupils, many of whom were clearly expected to be boarders, comprised unlimited numbers of fee-payers, and up to thirty foundationers; the latter were educated largely free of charge, with preference given to descendants of the Box family and to children of the 'poorest inhabitants', although, given the admission requirements, few poor were likely to qualify. (fn. 21)
Until the early 18th century the school flourished under a series of distinguished masters, among them Francis Gregory (1664–71), formerly of Westminster and Woodstock schools, and Edward Hinton (1671–84), both of them appointed by Mary Box. Both 'out-town boarders' and large numbers of local boys were educated there 'to the great satisfaction of their parents', probably implying subsequent university admission. Thereafter, mismanagement accentuated the school's increasing failure to meet the town's changing needs, and alienated leading townsmen. John Goole (master 1709–48), evidently a High-Church sympathiser, prompted fierce public criticism from the Nonconformist blanket-maker Robert Collier for enforcing Anglican worship and education beyond the requirements of the statutes, compounding his difficulties by eccentric severity, neglect of his duties, and, in the 1730s, by a public scandal concerning an alleged marriage contract. An inspection in 1722 found not a single pupil in the school, which for much of Goole's tenure remained 'virtually suspended', the gap filled by new institutions such as John Holloway's Bluecoat school. Improvement under Goole's successor Benjamin Gutteridge (1748–67) attracted up to 80 boarders, and like several other masters Gutteridge made important additions to the school's impressive library, the core of which had been bequeathed by Box. Nevertheless his achievement was undermined by a long-running dispute with the writing master, whose alleged incompetence fuelled conceptions that while the school provided adequate training for university, it failed 'those that are intended for trade', causing existing and prospective pupils to be sent elsewhere or educated at home. A petition in 1768, signed by several influential blanketmakers, failed to remove the writing master, who continued until 1790. (fn. 22)
The late 18th and early 19th centuries saw further decline typical of many 17th-century grammar schools, which mediocre masters were unable to reverse. A nadir was reached under Thomas Cripps (1805–34), whose unpopularity was increased by an acrimonious legal dispute over the school's poor-law assessment, culminating in distraint of his goods amid mutual insults. In 1805 only five boys, sons of a local attorney and of a brewer, shoemaker, and journeyman weaver, were educated free of charge; an amendment to the statutes the same year, allowing an increase in fees and limiting those receiving free classical education to founder's kin and to ten of the poorest children, (fn. 23) failed to increase overall attendance to above twenty, with numbers more usually only nine or ten. Goodwill reportedly continued among 'tradespeople, manufacturers, and inhabitants' who would have preferred to educate their children locally, at the school in which they themselves 'were bred up'; quite apart from Cripps's unpopularity it was, however, pointed out that similar education could now be obtained more cheaply in Witney's private schools. (fn. 24) A brief revival from the late 1840s was effected by the usher and writing master Charles Collier (appointed 1846), a vigorous teacher who provided the sound elementary education, with some history and geography, required by farmers and tradesmen: numbers rose steadily from twelve in 1847 to 36 (including 17 boarders) in 1864, with some marked success in external examinations, though even in the 1860s only a small proportion of pupils were actually from Witney. In 1867 Collier resigned over his unwillingness, as a convert to Nonconformity, to teach the Anglican catechism, and subsequently set up a private school to which he took most of his former pupils. In other respects the long mastership of Henry Gregory (1834–76) saw little improvement, the school's problems compounded by high fees and by Gregory's initial unwillingness to take boarders. (fn. 25)
By the 1870s it was widely recognized that structural change was essential, and in 1877 a Charity Commission Scheme reorganized the school as a 'Second Grade' secondary school, aimed at middle-class boarders and day-boys likely to stay until the age of 16, but not go to university. The Grocers' Company acceeded, contributing £1,200 to repair the buildings. Numbers rose to over 50 (including 31 boarders) by 1878, many of them from a private school previously run by the new headmaster; staff included two resident assistant masters, a visiting drill master, and a resident female music teacher, the school aiming in the 1880s to 'assist the professional men, tradesmen, and farmers' of the area by offering English, French and Latin, arithmetic, and natural science, together with drawing, singing, and bookkeeping. Numbers in the 1880s and 1890s nevertheless fell to between 11 and 28, the school's continuing difficulties reflecting both high fees and competition from rival institutions: in particular the thriving Wesleyan school attracted pupils from the large and influential Dissenting population, and, unlike the grammar school, increasingly embraced the growing demand for scientific education. In the 1890s the Grocers' Company contributed £150 towards new science buildings at the Wesleyan school on condition that grammar-school pupils could use the facilities, and after a technical secondary school was established there in 1898 both the Grocers and the county council recognized the benefits of the grammar school combining with it. Under Schemes of the Charity Commission in 1901 and of the Board of Education in 1902 the schools were accordingly united as the co-educational Witney Grammar and Technical School, and the Act of 1663 was abrogated. The endowments of the Bluecoat school, abolished by the same Schemes, were combined with those of the new school. (fn. 26)
William Blake's Schools (fn. 27)
Elementary schools at Witney, Newland, and Cogges were established probably about 1690 (fn. 28) by the wool- and cloth-merchant William Blake (d. 1695), resident lord of the adjacent Cogges manor, who built schoolhouses there with gardens and rent-free accommodation. Under his will, the schoolmistresses each received a salary of £6 a year charged on land in Alvescot, with a further 10s. each for building repair; another £5 supported a writing master, who was to give priority to Cogges and Newland. The Witney school, on the west side of High Street, (fn. 29) taught elementary reading to up to 30 Protestant boys or girls; the latter also learned knitting and sewing, and, in default of applicants from Cogges or Newland, boys were sometimes sent to the writing master, who from the mid 18th century was usually the master of the Bluecoat school. (fn. 30) The Newland school, just outside the borough in Cogges parish, was similarly organized for 24 boys or girls. Before 1823 it was decided to limit the number of pupils at Witney to 25 but allow them to stay beyond the age of nine, an arrangement thought to be more beneficial to the poor.
About 1857 the Blake trustees sold the Witney school in order to improve the school at Newland. That continued as a fee-paying elementary school until about 1880, when it, too, was sold, the expansion of elementary provision in the town having rendered it largely redundant. The proceeds went to enlarging a new Blake school in Cogges village. (fn. 31)
Holloway's Bluecoat School
A school to teach twelve sons of journeyman weavers reading, writing, and accounting, with a view to them being apprenticed, was established under the will of John Holloway (d. 1724), a Witney clothier who had moved to London, and who also endowed almshouses for blanket-weavers' widows. (fn. 32) Holloway's newly built house at the bottom of Woodgreen Hill was given as a schoolhouse, part to be occupied by the master, and part used as a schoolroom; the school was endowed with some 90 a. of land at Stonesfield and Hailey. The Hailey rents were used to clothe the boys after the manner of Christ's Hospital in London, prompting the unofficial name of Bluecoat school; the master received a £10 annual salary, but was to keep the building in repair at his own cost, any surplus being used at the trustees' discretion to buy stationery, to increase the number of pupils, and to apprentice as many as possible. The master was allowed to teach up to eight boys beyond those nominated by the trustees, provided the room was not overcrowded or his attention diverted from the free pupils, and from the 1760s he acted as writing master for the Blake schools for £5 a year. Trustees under Holloway's will included the rector of Witney, but the master himself was not to be a clergyman. (fn. 33)
In 1823 there were 15 boys in the school aged between 8 and 14, ten from Witney and five from Hailey, and all of them sons of journeymen weavers. The master's salary was then £20, from which he paid for books and stationery; all the boys were fully clothed from the endowment, and were apprenticed on leaving. Despite loss of funds through a rector's insolvency in 1789 there remained a balance of over £280, and it was proposed to open the charity to sons of journeymen fullers if there were insufficient weavers' sons to fill the vacancies. (fn. 34) By 1833 the master taught 45 fee-paying pupils (37 boys and 8 girls) as well as the 15 Bluecoat and five Blake boys, (fn. 35) and in 1867 the school had 30 boys, all weavers' sons, of whom six also learned book-keeping. The £5 writing master's salary was lost in 1860 when the Blake school at Witney was closed, but the same year John Wright, a native of Witney then living in Philadelphia (USA), gave the school £4,800, increasing gross annual income to over £300. (fn. 36) In the 1870s difficulties between the trustees and a new master caused some decline, with blanket-weavers ceasing to apply and places going to others. A successor tried to reinstate compulsory church-attendance on Sundays, prompting acrimonious disputes with the Wesleyan Methodists who asserted that the school was non-sectarian and that the trustees were exceeding their authority; after intervention by the Charity Commissioners the trustees compromised, encouraging but not enforcing church attendance, while nevertheless giving preference to boys from St Mary's National school. (fn. 37)
In 1901, as part of the reorganization of Witney grammar school, the Holloway school was closed and the Holloway and Wright endowments were transferred to the new Witney Grammar and Technical School: £150 a year was to benefit blanket-workers' children in the form of scholarships, apprenticeships, or outfits on starting work. The school buildings were let and later sold. (fn. 38)
Quaker Schools
Witney Quakers built a schoolhouse at or adjoining their meeting house at Woodgreen in 1698–9. (fn. 39) Quaker schoolmasters were mentioned from 1707 to 1711, but thereafter there were recurrent difficulties in attracting masters. Terms offered in 1717 included six boarders at £10 a year, twelve weekly boys at 5s. a quarter, and girls or 'young women that may be willing to improve their learning'; the 'very good' schoolhouse, with tables, seats, and desks, was offered rent-free, and local Friends agreed to accommodate boarders if the incoming master was unwilling to board them himself. (fn. 40) Day pupils presumably included children of Quaker tradesmen and manufacturers from the town, particularly since the only other formal education was at the grammar school with its Anglican connections. The curriculum in the 1720s included writing, accounts, and Latin, with needlework if the master had a suitably qualified wife; it thus met the needs of Witney's trading classes while going beyond elementary education. (fn. 41)
The master appointed in 1717 left 'abruptly' in 1720, returning after the meeting agreed to pay his rent. Terms offered in 1725 still included the rent-free schoolhouse and, for a moderate rent, a 'good dwelling house' nearby with accommodation for 20 boarders; the salary was still £10 a year for boarders and £5 for day boys. A schoolmaster from York took the post after a London candidate was rejected, but doubted it would meet his expectations. (fn. 42) The school seems to have continued, though perhaps with further intermittent closures, until 1788, when the master was dismissed for 'scandalous and reproachful actions' with a female pupil. (fn. 43) By then membership of the Witney meeting was declining and the school may have been thought no longer viable, particularly since a respected Friend appears to have been running a Quaker school at Burford. (fn. 44) From the late 18th century and for much of the 19th the meeting paid subscriptions to Quaker boarding schools elsewhere, including that at Sibford Ferris, and a few Witney children attended them. (fn. 45)
A Quaker adult school and children's school established in the 1890s, following the successful revival of the Witney meeting, were presumably evening or Sunday schools. In 1897 the children's school was outgrowing its accommodation, while the adult school had 60–65 members; both closed presumably in the mid 20th century, as membership of the meeting again declined. (fn. 46)
Wesleyan Methodist Schools
By the early 19th century several Nonconformist Sunday schools taught reading, (fn. 47) among them a Wesleyan school held in a thatched building near the High Street meeting house. By the early 1820s the school had doubled in size to twelve classes, the girls being taught in an adjoining cottage; attendance continued to grow, and, following a programme of weekly subscriptions from teachers, superintendents, and pupils, a new building with a ground-floor room for boys and an upper one for girls was erected in the later 1820s, largely through the support of the blanket-manufacturer John Early of Newland (d. 1862). (fn. 48) In 1835 some 220 boys and 240 girls attended on Sundays, of whom 76 also attended a Saturday evening writing-class; fees in 1838 were 1s. a week, though teetotal parents received a reduction of 1s. a quarter. Like the Congregationalist Sunday school, which also had a writing class, it possessed a lending library. (fn. 49)
After the building of a new Wesleyan chapel a co-educational day school, under consideration by 1849, was opened in 1851 in the former Sunday school and chapel premises behind; the school had two classrooms with an open playground, and was organized under the Glasgow Training System. Government inspection was applied for, and in 1853 there were 130 pupils, taught by two pupil-teachers and a master who had passed the Government examination with a certificate of merit. (fn. 50) In the 1860s the master had difficulty teaching over a hundred pupils aged between 3 and 14 with (by then) only one pupil-teacher, complaining that the children were unkempt and unwashed, and that parents allowed them to roam the streets instead of doing homework. In 1864 some of the ablest boys were allegedly 'enticed away' to the National schools by 'bribes of clothing, coal, and bread', suggesting that religious considerations were not paramount among parents, and between July 1865 and December 1866 there were six changes of headmaster.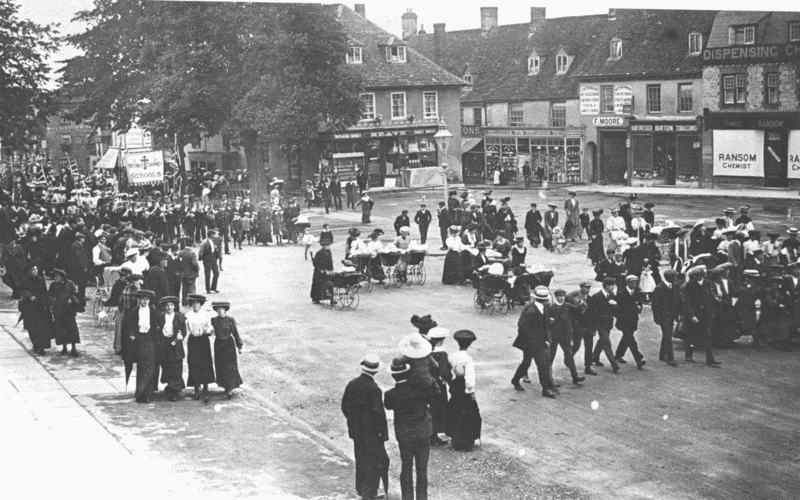 Thereafter, despite complaints of 'meddling' by the rector and his 'ladies' and the loss of some infants to West End National school, there was improvement. By 1870 numbers had recovered from barely 50 to over 180, and the following year a galleried infant room was added. In 1883 the inspector ranked 'this important school' among 'the few considered excellent', hoping to encourage much needed building work: new premises on the same site were built in 1884 and opened in 1885 (Fig. 56), and by 1886 there were 304 children on the register, taught by five teachers and two pupil-teachers. (fn. 51) The school's success was continued by the headmaster J. C. Sims, who in the 1890s, in contrast to the master of the ailing grammar school, vigorously promoted scientific and technical education, prompting the founding of adult education classes and a technical school. (fn. 52)
National and Infant Schools
A National school was established in 1813 in premises on Bridge Street, converted from a malt house and several cottages. Though the initiative came reportedly from the curate John Hyde it was agreed, in view of the town's large Dissenting population, that the school should be open to 'poor children of all sects and denominations'; it doubled as a Sunday school, with children expected to attend either the parish church or an authorized Dissenting chapel. Besides reading, writing, and arithmetic, the girls (as was usual) learned needlework, knitting, and 'habits of useful industry', the products of which were sold to help fund the school. (fn. 53) By 1815 there were 85 boys and 70 girls supported from voluntary subscriptions, and by 1835 around 180 children attended the day school and 120 the Sunday school. (fn. 54) In the 1830s both were said to be ill-taught and undisciplined, but thereafter there was improvement under the dynamic rector Charles Jerram, who introduced regular inspections, half-yearly examinations, and a system of rewards. (fn. 55) The school received a Treasury building-grant in 1837 and annual grants from the 1850s, when it came under government inspection. (fn. 56) A separate infant school, housed at first in a building near the rectory house and later in the Wenman chapel in the parish church, was established by Jerram in 1836 at his own cost. (fn. 57)
Fundraising for a purpose-built school was underway by 1855, and the following year new premises were opened on the east side of Church Green on glebe given by the rector, the Bridge Street building being sold and later demolished. The infant school was merged, the new combined school being thenceforth known as St Mary's. (fn. 58) In the early 1860s it received a government grant of nearly £70, with £97 from subscriptions, pence, and two small endowments; average attendance a few years later was 170, and around 20 people attended a night school there which received a small government grant. (fn. 59) A second infant school, opened in 1864 by the rector Francis Cunningham in a former 'ranter's chapel' on Corn Street, closed in 1879. (fn. 60)
A second National school, in rented premises on Narrow Hill, was set up by the curate of Holy Trinity chapel at Woodgreen about 1868, and immediately attracted pupils from the Wesleyan school. (fn. 61) By 1880 the combined National schools had accommodation for over 370 and an average attendance of around 250, and it was decided to enlarge St Mary's and rebuild the Trinity school on a different site. (fn. 62) The new Holy Trinity school was opened in 1882 in a purpose-built schoolhouse at West End, with accommodation for 100 children in one large and one small room; only 41 'very backward' infants attended on the first day, but within a few months it was established as a mixed elementary and infant school, which received complimentary reports the following year. A new classroom was added in 1884, increasing accommodation to 132. Older girls were transferred to St Mary's in 1886, and from 1897 Holy Trinity became an infant school only, reports throughout the 1890s continuing to be excellent. (fn. 63) A new infant classroom at St Mary's was added about 1894, when there were 414 pupils including 130 infants. (fn. 64)
Private Schools
By the mid 18th century Witney was well supplied with the ladies' and gentlemen's boarding schools common to many small towns, some of them, like a boarding school opened in the 1760s by the master of the Bluecoat school John Biggers, run by local clergy or by teachers at Witney's endowed institutions. (fn. 65) Five private 'academies' listed in 1823 evidently catered both for outsiders and for local children, such as the blanket-manufacturer John Early (1801–77) who attended John Burrel's Church Green academy. (fn. 66)
Some private day schools provided elementary education in the 18th century. In 1711 the rector Robert Freind started a school for twelve boys whom he clothed and taught to read and write at his own expense, apprenticing several of them in the hope that the parish might join the enterprise; he received little support, and abandoned the initiative after only six years, fearing to set a precedent for his successors. (fn. 67) A Roman Catholic schoolmistress mentioned in 1767 may have run a local school, (fn. 68) and by the early 19th century nearly 200 children were taught in eight private day schools, with another 64 listed as day pupils in two private boarding schools. (fn. 69) After the opening of the National school in 1813 the number of private schools appears to have declined: four taught a total of just over 100 children in 1835, with another 15 pupils noted in a fee-paying infant school and 38 in a private day- and boarding school, compared with nearly 200 at the National school. (fn. 70) Four day schools and three boarding schools were noted in 1847, but only two of each in 1863. (fn. 71) In 1851 a school in a private house at Church Green had eight boarders aged between 6 and 18, mostly from neighbouring villages. (fn. 72)
Long-lived private schools in the 19th century included one established by a Mrs Wells before 1800, when boarding fees were £14 a year; it continued on High Street in the 1850s, when the mistress was Harriet Wells. Another of the family ran a school on Corn Street in the 1830s. (fn. 73) John Heel, master of a boarding school in the 1860s and 1870s, was presumably related to the Richard Heel who had a school at the Mount House in the 1840s; in 1877 he became head of the grammar school, where he took most of his former pupils. (fn. 74) A boarding school at West End, run by a clergyman in the 1890s, prepared pupils for 'business and the professions'. (fn. 75)
Technical and Science Schools
From the late 1860s it was suggested that adult technical classes should be set up in Witney under the auspices of the recently established School of Science and Art at South Kensington; (fn. 76) nothing seems to have been done until 1890, however, when evening classes in science, agriculture, and drawing were started in the Wesleyan schools through the enthusiasm of the headmaster, J. C. Sims. Numbers of science students rose from 15 in 1890–1 to 50 by 1896, when associated classes in the grammar school had another 20 art and 20 science students. (fn. 77) From 1892 the classes received financial support from the recently formed Oxfordshire County Council, and from them developed a short-lived science or technical secondary school, opened in 1898 in the recently built science block behind the Wesleyan schools, with Sims as its first principal. Sims, still head of the Wesleyan school, resigned from the technical school in 1900 to allow its unification with the grammar school, which was reconstituted the following year. (fn. 78)
Technical adult education continued through the Witney Science and Art School, still overseen by Sims and based at the Wesleyan school site. In the 1910s it offered science, arts, and vocational subjects; its students included male and female workers from Witney and Bridge Street Mills and local apprentices, encouraged and often paid for by their firms or masters. Evening classes continued there in the 1930s, when the school received financial support from the county council and the board of education. (fn. 79)
Twentieth-Century Education
In the earlier 20th century Witney's secondary and primary provision was consolidated and extended, coming increasingly under local authority control. The reconstituted Grammar and Technical School, which gradually extended its accommodation at Church Green, was taken over by Oxfordshire County Council in 1939, and in 1938 a new county council primary school was built on Hailey road. The Batt Church of England Central Secondary school was opened in 1930 in a house near Market Square given by the Batt family, descendants of a line of Witney doctors.
In 1953, following rapid urban growth since the Second World War, the town's schools were further expanded and reorganized: a large Secondary Modern school was built at Woodgreen, and the Methodist school, which had lost its junior classes to reorganization in 1938, was closed, while the Batt school was refounded as a junior school. The Secondary Modern was reorganized as Woodgreen Comprehensive School in the late 1960s, the former Grammar and Technical School becoming Henry Box Comprehensive School. Further urban expansion led to the building between 1963 and 1991 of three new primary schools, and a Roman Catholic primary school opened in 1959. Adult education and vocational training was provided by West Oxfordshire Technical College, founded in 1950. (fn. 80)
Secondary Education
As reconstituted in 1901–2 Witney Grammar and Technical School became a fee-paying, co-educational secondary school taking pupils between the ages of 8 and 17, with boarders still admissible. (fn. 81) A new governing body included local businessmen and churchmen, among them members of the Early, Smith, and Morrell families, the vicar of Cogges, and the principal of the Wesleyan school, together with a representative of the Grocers' Company. The school's recovery was pronounced. Numbers rose from 16 in 1900–1 to 95 by 1911, half of them girls, and reached 138 by 1939. Academically it achieved good results, with university entrance again becoming common and other pupils progressing into a broad range of occupations. A new block containing a science laboratory and additional classrooms was built about 1908 with financial help from the county council, (fn. 82) and in 1924 adjoining rectory land, long rented as a school playing field, was bought outright. By the 1930s the need for further buildings was acute, and in 1939, chiefly to secure the necessary resources, the governors allowed the school to be formally taken over by the county council. Fees were subsequently abolished under the 1944 Education Act. After the Second World War the school was again judged unsatisfactory, its buildings 'filthy' and its grammarschool curriculum unsuited to most of its pupils. (fn. 83) The problems were apparently overcome, and by 1959 the roll was 344. New buildings to the north were opened in 1956.
Until 1953 the only other education for children over 11 was at the existing Wesleyan Methodist school and at the newly established Batt Church of England Central School. The former, redesignated a higher elementary school under the local education authority following the 1902 Education Act, had 285 children (excluding infants) by 1919, and in 1932 was renamed Witney Methodist School following the Methodist union. The three senior classes suffered from 'severe creaming' of children over 11 to other schools, leaving a high proportion of slow learners; nevertheless the senior classes were retained in 1938 when the juniors were transferred to the new Hailey Road school or to St Mary's, leaving 115 pupils in what became Witney Methodist Senior School. (fn. 84)
The Batt Central School, for 200 children of both sexes, was opened in 1930 in Batt House (formerly The Hill) at Market Square, given to the rector and churchwardens for use as a school by the family of Dr Charles Dorrington Batt (d. 1926). The property was conveyed to the Church Commissioners, from whom the county council took a long lease, converting the house with a loan from the Diocesan Education Committee. In 1938 an appeal was launched to fund new buildings on land behind Batt House, the local education authority meeting three quarters of the cost, and by 1945 there were seven classrooms, with an average of 226 children attending from several surrounding villages. Aided status was applied for in 1951. (fn. 85)
Both the Methodist and the Batt school were superseded in 1953 by the new Witney County Secondary Modern School on Woodstock Road, set up to provide the growing population with a less academic education than the grammar school; at its opening it had 450 pupils, taken (like the Batt school's pupils) from the town and from surrounding villages. It included a science laboratory, craft and domestic-science rooms, and a gymnasium, together with a hall and twelve classrooms. With the introduction of comprehensive education in 1968 it was reorganized as Woodgreen Comprehensive School, and by 1989 had over 1,000 pupils including a sixth form of 130; it then occupied a 'pleasant set of buildings', which had recently been improved, though there was some overcrowding and some of the science accommodation was 'barely adequate'. (fn. 86) The Grammar and Technical School was reorganized in 1969 as Henry Box Comprehensive School, with a roll of 485, and by 1989 it was similar in size to Woodgreen, with 963 pupils including a sixth form of 102. (fn. 87) New buildings included the former rectory house to the south, bought by the county council in 1969 and converted into an administrative centre, staff common room, and living accommodation. (fn. 88) Both comprehensive schools remained open in 2003.
A secondary technical school, opened in 1950 as part of the new West Oxfordshire Technical College, closed in 1961. (fn. 89) The King's school, a private preparatory and secondary school opened in 1983, took over the former Wesleyan school buildings as an extension in 1997. (fn. 90)
Primary and Infant Education
Until 1938 primary education was provided by the existing Anglican and Wesleyan Methodist schools. (fn. 91) St Mary's National school on Church Green, renamed St Mary's Church of England school in 1906, continued as a mixed junior and infant school, the number of junior places, in line with new accommodation requirements, being reduced in 1910 from 441 to 358 (including 199 girls), and infant places from 141 to 123. By the late 1920s the buildings were dilapidated, and it was evident that denominational education was in difficulty; renovation was carried out about 1926, and in 1934 two new classrooms were added to cater for attendance of around 250. Juniors taking the Holloway scholarship examination for the Grammar and Technical School were said to be educationally a year behind those from the Methodist school, though St Mary's infant school was 'highly efficient'. (fn. 92) The Anglican infant school at West End, renamed Holy Trinity Church of England school in 1906, retained accommodation for 115 in 1910, but was closed in 1929 following a steady fall in numbers, remaining pupils being transferred to St Mary's or to the Wesleyan Methodist school. (fn. 93) The Wesleyan school, though reorganized in 1902, retained its junior and infant classes, and about 1901 the infant school was rebuilt to bring it to the standard of the main school. Numbers rose steadily from 196 elementary and 92 infant children in 1910 to nearly 360 (including 73 infants) by 1919, despite earlier criticism of insufficient staffing and inadequate supervision of young teachers. (fn. 94)
Continued suburban growth prompted the opening by the county council in 1938 of Witney Council school on Hailey Road, in an area taken into the urban district a few years earlier; at its opening it had 196 juniors and infants. Numbers fell slightly by 1945, but rose to 368 by 1954 and to over 400 by 1962, by which time the school had been renamed Witney County Primary school. (fn. 95) The Methodist school's junior classes were closed in 1938 as part of the same reorganization. (fn. 96) The Batt Church of England Junior school was opened in the former Batt Central school premises on High Street in 1953, the buildings being extended and modernized ten years later to accommodate 240 children; St Mary's Church of England school was reorganized for infants only, with a roll in 1954 of around 130, and accepted controlled status in 1958. (fn. 97) The Roman Catholic school of Our Lady of Lourdes opened on Curbridge Road in 1959 with accommodation for 150 infants and juniors, and was enlarged in 1961 and again in 1993. (fn. 98)
Tower Hill Primary school in Moor Lane, the open-plan Queen's Dyke County Primary School on the Burwell Farm housing estate, and West Witney County Primary School on Edington Road were opened by the county council in 1963, 1970, and 1991 respectively, as the town expanded; in 1994 their rolls were 185, 321, and 247, and a new extension was being built at West Witney school. Witney County Primary school then had 290 juniors or infants and 52 under-fives, the Batt school had a roll of 219, and St Mary's infant school had 63, while the Roman Catholic school had 176, with 42 under-fives. (fn. 99) All seven schools remained open in 2003, alongside a few private nursery schools.
Adult Education
During the earlier 20th century adult evening classes, primarily in technical and scientific subjects, were provided by the Witney Science and Art School, which continued in the 1930s in buildings behind the Wesleyan Methodist school. (fn. 100) The foundation in 1948, as a private initiative, of a Witney Day Continuation School, which provided day-release courses in conjunction with the Evening Institute, prompted the foundation by the local education authority in 1950 of West Oxfordshire Technical College, to expand vocational training and further education; at its opening it also included a secondary technical school, which continued until 1961. At first the college was accommodated in huts, a converted warehouse, and Batt House (formerly The Hill) at Market Square; new premises on Holloway Road were opened in 1966, and extensive additions in 1974 included a purpose-built library and engineering block. (fn. 101)
From 1963 the college included departments for engineering and construction, agriculture, business studies, and general studies, and by the late 1960s it had over 2,500 students and nearly 50 teaching staff. By the 1970s it offered a broad range of education to all over the age of 16, encompassing both academic and vocational courses; staff from Earlys' blanket-making company attended a course there organized by the Wool Industries Training Board, and during the recession of the late 1970s the college set up work-experience courses with local employers to help combat high unemployment among school leavers. (fn. 102) In 1989 it had 386 full-time and over 5,000 part-time students of all ages, and ran agricultural and horse-management courses from sites at Hailey and Horton-cum-Studley. In 2001 it merged with Abingdon College to become the Abingdon and Witney College, with courses split between the Abingdon and Witney campuses. (fn. 103)