Pages 177-186
A History of the County of Oxford: Volume 14, Bampton Hundred (Part Two). Originally published by Victoria County History, London, 2004.
This free content was digitised by double rekeying. All rights reserved.
ECONOMIC HISTORY
Agriculture
Open Fields and Meadows
By 1086 there was probably already arable north of the river Windrush in what became Crawley and Hailey townships, since as many as 24 ploughlands and 25 ploughteams were noted on Witney manor: of the 30 ploughlands on the manor in the early 13th century only 19 lay south of the river in Curbridge or Caswell. The overall increase in ploughlands, combined with a substantial rise in the recorded number of tenants, implies expansion of cultivation by the 13th century, some of it presumably in Crawley, which by the 1230s contained around 4 ploughlands (16 yardlands) excluding assarts. (fn. 1)
Crawley's independent open fields (see Fig. 63) may have dated from the foundation of Witney borough in the late 12th or early 13th century, when fields throughout the manor were presumably reorganized. (fn. 2) Crawley field was mentioned from the 14th century, when, as later, it adjoined the Chase woods on the north, (fn. 3) and in 1609 there were two open fields comprising 355 acres. (fn. 4) By the later 18th century the arable lay in four fields across the township's central and eastern part: Hayward Hill or Town Hill field (94 a.) north-east of the village, Further or Lampett Hill quarter (73 a.) adjoining Whiteoak green in the north-east, Home or Breach quarter (73 a.) north-west of the village, and Barley Hill quarter (87 a.), also known as Breach quarter, adjoining woodland to its north. (fn. 5) The number of recorded yardlands in the 13th century (fn. 6) suggests that each may have contained 20–25 statute acres of open-field arable, though yardlands in Crawley in the 16th century and later contained 30–45 field acres, more than in Witney's other townships. (fn. 7)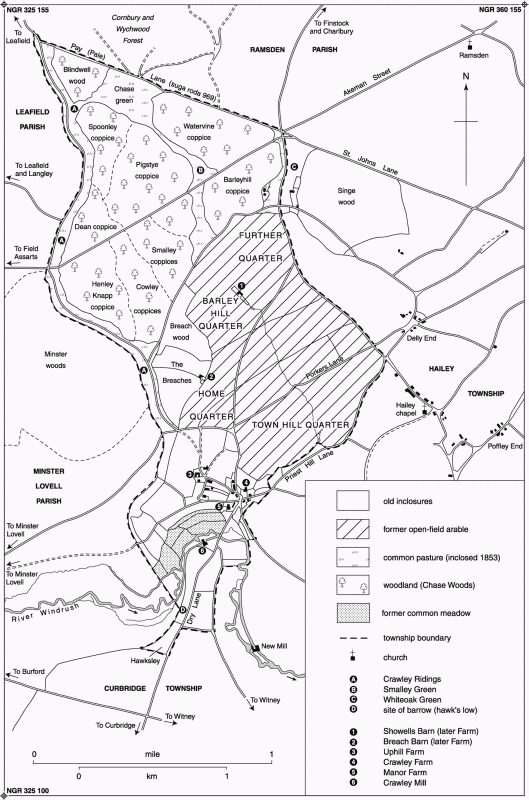 Small common meadows, presumably part of 100 a. recorded on Witney manor in 1086, (fn. 8) lay by the river Windrush south-west of the village; in 1609 and later they totalled 26 a., held as 24 lots. The lots may have been fixed by the later 18th century, when they were held with the chief farms roughly in proportion to the amount of open-field land. (fn. 9)
Woodland, Pasture, and Assarting
In 1086 Witney manor contained woodland three leagues by two, the largest single holding of woodland in Oxfordshire outside the royal demesne. (fn. 10) All or most of it seems to have lain in Crawley's and Hailey's northern parts, the 10th-century names spon weg ('woodchipping' way) and hunter's way reflecting the woodland's early importance both for timber and game. (fn. 11) Crawley's woodland was reduced to its early 19th-century size by probably the mid 14th century; (fn. 12) in 1609 and later it comprised 10 or 11 separate coppices totalling some 400 a. (over a third of the township), collectively called the Chase woods. (fn. 13)
Pasture clearings between the coppices existed probably by the 10th century, when Henley (hean leage) and Spoonley (spon leage) were mentioned, together with several woodland tracks. (fn. 14) In the 17th century and still in the early 19th the clearings covered around 100 a. in all, comprising Crawley Ridings (56 a.) along the woodland's and township's western edge, Chase green (27 a.) adjoining the northern boundary, Smalley green (14 a.) between Smalley and Barleyhill coppices, and part of Whiteoak (formerly Whitewyke or Witty) green between Barleyhill coppice and Singe wood, shared between Crawley and Hailey. (fn. 15) In the early 19th century all those pastures were jointly stocked with unlimited numbers of cattle, horses, and sheep by Crawley and Hailey inhabitants, though cottagers and smallholders with less than an acre of land were excluded. (fn. 16) Grazing in the coppices was strictly regulated in the 16th century and presumably earlier: animals were to be tethered and excluded from coppices of fewer than seven years' growth, (fn. 17) while in the 1840s grazing was permitted only during the last two years of a 12-year cycle, two coppices being open for pasture in any given year. (fn. 18) The only other common rights were roadside herbage (totalling around 14 a. in 1814) and grazing in the fields after harvest; (fn. 19) neither Witney nor its hamlets had grazing rights in Wychwood at its disafforestation in 1857, and 'forest rights' attached to a Crawley farm in 1833 were presumably in the Chase woods rather than in Wychwood itself. (fn. 20) In the earlier 19th century disputes arose after the lord of Leafield attempted to annexe 5 or 6 a. of Crawley's waste and to introduce intercommoning, resulting in impounding of cattle and sheep. (fn. 21)
Thirteenth- and 14th-century assarting seems to have been on a smaller scale than in Hailey. Copyhold assarts mostly of an acre or less, some of them in the open fields, were recorded from the early 13th century, (fn. 22) but some of the 52 a. of assart occupied by Crawley tenants in 1279 (fn. 23) may have been outside the township; the only large assart recorded later was 32 a. let in the 15th century with Manor Farm, probably the old inclosure called the Breaches immediately south of Breach wood. (fn. 24) In the late 16th century assarts in Crawley were estimated at only 23 a., perhaps omitting that holding. (fn. 25) A few small encroachments or purprestures, some of them subsequently built on, were noted from the 14th century, (fn. 26) and in the early 19th century encroachments on the edge of the woodland commons included around 50 'cottage gardens', mostly of less than ¼ a. each. (fn. 27) Most other private closes, totalling by the 17th century around 100 a., lay chiefly around the village and near the river, and seem not to have been assarts; (fn. 28) the largest group (around 40 a.), held with Manor Farm, was part of a small leasehold estate perhaps formerly held with the mill, and inclosed before the late 15th century. (fn. 29)
Medieval Tenants and Farming
Some of the 36 villani and 11 bordars on Witney manor in 1086 probably lived or held land in Crawley. (fn. 30) By the early 13th century there were around 21 unfree peasant households: eight villeins each held a yardland (perhaps 25 a.), eight more held half-yardlands, and two other tenants held small parcels also in villeinage, while three cottagers held a total of four cotlands. The only freeholders were the miller, with half a yardland, and William of Crawley, tenant of half a hide held for service of keeping the bishop's wood and of providing iron for ploughs, which later developed into a reputed manor. (fn. 31) Two of the villein yardlands were divided before 1279, presumably reflecting rising population, though by then small-scale assarting had augmented a few other holdings: four yardlanders each held up to 11 a. of assart at 6d. an acre, while the miller held an additional 16 a. and two freeholders held houses with 6 a. and 11½ a. respectively. The Crawley family's freehold had been increased to a ploughland, some of it possibly outside the township. (fn. 32)
In the early 14th century the Crawleys were by far the wealthiest inhabitants. James of Crawley paid in 1306 on movables worth £6 15s., though by 1327 an otherwise unrecorded tenant was slightly wealthier, and a few others, perhaps freeholders, paid comparable amounts. Most taxpayers in 1306 paid on movables worth between 25s. and 55s., assessed wealth not consistently relating to size of holdings in 1279. Overall, the assessments suggest that Crawley was among the poorer rural settlements in the area, taxable wealth totalling £33 (an average of around 51s. a head) in 1306, £22 8s. in 1316, and £38 1s. 8d. (40s. a head) in 1327. (fn. 33)
As elsewhere on Witney manor yardlanders in the 13th and early 14th century each owed nominal rent of 5s., from which 1s. 3d. was commuted for labour on the lord's demesne (chiefly in Curbridge) between 24 June and 29 September. In 1249 those services typically comprised 22 days' mowing and stacking, 10 days' weeding, 16 days' reaping (including 12 days' boon work), 5 days' carrying and dung-collecting, and 8 days' carrying and stacking at the grange. Food was provided from 24 June to 1 August. Boon works, nominally valued at 10s. 10d. in 1279, included winter and summer ploughing and reaping services, partly at the lord's cost. Half-yardlanders owed proportionate rents and services, and most cottagers 1s. rent and poultry, with miscellaneous services including reaping, mowing, sheepwashing, and (if they possessed a plough) ploughing. The miller, though a freeholder, owed ploughing, reaping, and carrying services for his half-yardland, though two other freeholders owed rent only. Week work continued until the Black Death and later, though boon works, fully exploited in the mid 13th century, declined during the earlier 14th with the contraction of the demesne. Entry fines for yardlands ranged usually from 13s. 4d. to 26s. 8d. in the 13th century, and from 20s. to 40s. in the early 14th. (fn. 34)
Like their successors, medieval tenants presumably pursued arable-based mixed farming. (fn. 35) The plentiful woodland provided additional resources, sometimes illicit: in the 1270s cottagers and other tenants of Witney manor were said to be constantly carrying off an 'infinite amount' of firewood and branches from Wychwood Forest (probably meaning the Chase woods), some of them by the cartload. (fn. 36) Pannage payments suggest that pigs, not necessarily owned by Crawley inhabitants, were pastured in the Chase woods from the 13th century, (fn. 37) and the name Stye quarter, for a coppice (later Pigstye copse) near Smalley green, was recorded in the 1470s. (fn. 38) Sheep were kept in the township from an early date, though at first perhaps chiefly by lessees of Manor farm. A sheep-house probably there was repaired in 1309, (fn. 39) and in the 15th century lessees of the farm rented part of the demesne flock, (fn. 40) perhaps pastured elsewhere.
Until the Black Death holdings in all three townships remained relatively stable, both fragmentation and amalgamation being discouraged: in 1346 holding two yardlands together was said to be forbidden by manorial custom. (fn. 41) As elsewhere on the manor, however, heavy plague mortalities in the mid 14th century had longterm consequences. Six half-yardlanders in Crawley, one third of the unfree tenantry, died during 1348–9, and though at least three of their holdings seem to have been reoccupied by 1351–2, further mortality in 1361 led to concentration of holdings in fewer hands. (fn. 42) In all up to 7 yardlands, 6 half-yardlands, and 2–3 cotlands in Crawley were vacated through plague or subsequent depopulation, and in 1469–70 five tenants there held a total of 10 yardlands formerly occupied by 16 people. (fn. 43) Labour services were commuted throughout the manor in 1362 'on account of the poverty and scarcity of the homage'; the rate was 6s. 8d. a yardland excluding reeve-service, sheep-washing and shearing, and pannage, and during the 15th century many holdings were temporarily leased, paying no fines and nothing for commuted services. (fn. 44) In Crawley four cotlands still owed commuted works in the 1440s, but other customary holdings were held usually for 6s. a yardland; some tenancies seem to have been individually negotiated, a yardland in 1469–70 being held for 6s. 8d. 'as demised this year'. (fn. 45) Entry fines were reinstated throughout the manor during the 16th century, and in 1528 a new rental combined customary and demesne rents and sale of works in a new assized rent. (fn. 46)
Tenants and Farming c. 1500–1795
In the earlier 16th century the township appears to have been dominated by a few prominent inhabitants occupying consolidated holdings, many of whom had connections with Witney's wool industry. Out of six inhabitants from three families taxed in 1544 (fn. 47) the wealthiest, taxed on goods worth £16, was the tucker Richard Box (d. 1547), a tenant of Crawley Mill associated with such leading clothiers as Cuthbert Temple of Standlake. (fn. 48) William Broke (d. 1557), assessed on £15, was lessee of Manor farm, and a prominent sheep farmer. (fn. 49) Inhabitants taxed in the later 16th century (fn. 50) were Simon Guy (d. 1598), a copyhold tenant of at least 2 yardlands, (fn. 51) George Box (d. 1596), (fn. 52) and one of the Darby family, prominent yeomen in Crawley throughout the 17th century and early 18th, with property also in Witney. (fn. 53) A few smaller holdings were occupied by outsiders from Witney or Hailey in the later 16th century and early 17th, (fn. 54) and Manor Farm's land may have been sublet in the earlier 17th century when the house was occupied by the Hampshires. (fn. 55)
Further consolidation of holdings followed: by the 1640s the Darbys held over 3 yardlands in Crawley together with some 30 a. of assart in Hailey, (fn. 56) and from the 1730s or 1740s most of Crawley's farmland seems to have been divided among Uphill, Manor, and Crawley farms, which in the 1770s were respectively 84 a., 162 a., and 247 a., including varying amounts of old inclosure. (fn. 57) Long-term tenants included the Selmans, copyholders at Uphill farm from the later 17th century to the mid 18th, (fn. 58) and the Castles, at Manor farm from the 1750s to 1820s. (fn. 59) Only a few smaller tenants, many of them probably non-resident, paid land tax in the later 18th century, (fn. 60) most other inhabitants being presumably labourers on the large commercial farms. In 1790 several Crawley labourers were prosecuted for attacking the prominent farmer William Howell of Crawley farm. (fn. 61)
The only leaseholds were the mill and Manor farm, successor to the Crawley family's medieval freehold and to the reputed 'manor' of Crawley. (fn. 62) In the mid 16th century Manor farm was still held on long leases at 13s. 4d. a year, (fn. 63) but by the early 18th it was let at commercial rents for usually 7 or 12 years. (fn. 64) Other farms remained copyhold, (fn. 65) though by the later 18th century copyhold tenure throughout the manor had developed into copyhold of inheritance or 'customary freehold', under which copyholders and their heirs held not at the lord's will but in perpetuity. Small fixed fines, no longer clearly related to size of holdings, remained payable on admission or surrender, together with small quitrents and, on some lands, fixed heriots, but though ownership could be transferred only in the lord's court the tenure was otherwise effectively freehold, with copyholders free to sell, lease, or devise by will, and to fell timber. (fn. 66) The transition seems to have occurred gradually during the 17th and 18th centuries, reinforced by manorial inheritance customs: in 1647 primogeniture in copyholds was confirmed, and though fines remained payable for licenses to sublet, subletting was nevertheless legal even if the lord refused permission. (fn. 67) Both Uphill and Crawley farms were sold as customary freeholds during the 18th century, and were sometimes effectively owner-occupied; at other times they were sublet to tenant farmers at commercial rents. (fn. 68)
Arable-based mixed farming, typical of the region, predominated from the 16th century and presumably earlier, the chief crops being wheat and barley with some peas, beans, and oats. (fn. 69) A hemp plot at Crawley was mentioned about 1598. (fn. 70) New crops were introduced in closes attached to Manor farm before 1754, when the tenant was to plant clover and to maintain sainfoin already sown, (fn. 71) and there was also some malting: Joseph Selman of Uphill Farm was called maltster in 1780. (fn. 72) Sheep farming continued, with several prominent Crawley farmers owning large flocks: William Broke (d. 1557) and his son William were taxed in 1549 on a total of 280 sheep, (fn. 73) and during the 17th and early 18th century several members of the Darby and Birdseye families left flocks of 80–100. (fn. 74) Pigs, cattle, and poultry were also kept, and there was some dairying and cheese-making, while in 1638 one of the Brice family kept pheasants, presumably in the woodland. Poorer inhabitants practised similar husbandry, many possessing a few sheep or other livestock, and some keeping bees. (fn. 75) Mixed farming continued until inclosure, (fn. 76) although during the 17th and 18th centuries most old inclosures seem to have been converted from pasture: in 1794 87 per cent of closes were arable, compared with only 12 per cent in 1609. (fn. 77)
Woodland Management
The Chase woods, within the royal Forest of Wychwood, were freed from the Forester's regard in 1284, but remained within the purlieus of the Forest until the mid 19th century. (fn. 78) There was then uncertainty as to what rights the Crown might still be able to claim, (fn. 79) and from the Middle Ages the woods were treated essentially as the lord of Witney's private property. Rights granted or confirmed to the lord in 1284 included that to appoint woodwards and foresters, and during the 13th and 14th centuries the office passed with the reputed 'manor' of Crawley. (fn. 80) Thereafter foresters or woodwards were apparently appointed directly: a woodward was mentioned in the 1520s, (fn. 81) and in the 1550s Sir John Williams received a 40s. life annuity as ranger. (fn. 82)
During the Middle Ages the woods were usually kept in demesne, though underwood and thorns were often 'sold' (i.e. leased) by the acre, in 1381–2 for between 10s. and 15s. 6d. (fn. 83) Payments for new hedging around coppices were recorded frequently from the 13th century, (fn. 84) and standards were also grown: 18 oaks from the Chase were used for repair of mills around 1460, in the 1470s eighty oaks from Spoonley copse were used for building work at Magdalen College, Oxford, (fn. 85) and in the 1590s two tenants were allowed 24 timber trees for house repairs. (fn. 86) Pigstye coppice (le Stye quarter) was leased in 1479–80 for 79s., presumably for the year. (fn. 87) The woods probably retained some game: hunting, sometimes with dogs and falcons, was mentioned in the later 13th century, (fn. 88) while in the early 14th Witney park (in Curbridge) was used for 'beasts of the chase' (feris bestiis). (fn. 89)
From the 16th century the woods were leased, at first with Witney manor house and demesne (fn. 90) and from the 1590s with Witney manor, though without the right to great timber trees. (fn. 91) The Brices, demesne tenants, had the woods in hand in 1609, (fn. 92) but by the 18th century the woods were often sublet at commercial rents for between 22 and 24 years, chiefly to outsiders. (fn. 93) Each of the ten coppices was cut on a 10-year cycle, with one coppice cut each year; (fn. 94) Breach wood (24 a.), at first leased separately, was added to the cycle in the 1760s, and in the 1840s Singe wood in Hailey, let with the rest of the woods from the 16th century, was cut over two consecutive years. (fn. 95) In 1762 the coppices had been much improved by new fencing and were worth some £200 a year, (fn. 96) their value rising to £300 by the 1790s when the woods were again briefly in hand. (fn. 97) The right to pasture deer, still claimed over the purlieus of Wychwood Forest by the Crown or its lessees, (fn. 98) seems to have been exercised: several Crawley inhabitants in the late 18th century and early 19th were prosecuted for taking deer, some perhaps in the Forest but others explicitly at Crawley Ridings and Singe wood. (fn. 99) Eighteenth-century leases of the coppices reserved game and deer, together with hunting, hawking, and fowling, (fn. 100) and gamekeepers, many living at Whiteoak green, were mentioned frequently from the 17th century to the 19th. (fn. 101) In the mid 19th century most of the woodland was inclosed by stone walls. (fn. 102)
Inclosure and Disafforestation
Crawley's common fields and meadows were inclosed by private agreement about 1795, the copyhold farms being formally regranted in new allotments six years later. (fn. 103) Common pasture between the Chase woods coppices and at Whiteoak green, around 110 a. in all, was not inclosed until 1853, when it was allotted with Hailey common under a general Act of 1849; allotments in Crawley, awarded to six recipients, included some 30 a. to the bishop of Winchester and his lessee the duke of Marlborough for manorial rights and Manor farm, 14½ a. for commons belonging to Crawley farm, and 6 a. for those of Uphill farm. Awards were supplemented by rent charges imposed on newly laid-out poor allotments, and a further 38 a. in Crawley was sold to cover expenses. (fn. 104) Pasture rights within the Chase coppices continued until Wychwood Forest's inclosure and disafforestation about 1857. (fn. 105)
In 1858 the woods, still some 410 a., comprised only poor underwood let with shooting rights at £100 a year. (fn. 106) They were undiminished in 1863–4 when the duke of Marlborough again had them in hand, and underwood was sold from Barleyhill coppice and oaks at Crawley Ridings. (fn. 107) By 1874 nearly all had been cleared, leaving only Blindwell wood (21 a.) in the north-west and Singe wood in Hailey. (fn. 108)
The 19th and 20th Centuries
Uphill (100 a.), Manor (220 a.), and Crawley farms (290 a.) remained the chief farms in 1861, employing between them 23 men, women, and boys. (fn. 109) The only significant addition was the creation before 1874 of Chasewood farm, mostly comprising cleared woodland and run from a newly built model farmhouse and homestead in the north of the township; (fn. 110) in 1879 it was over 400 a., and was held with Blindwell wood. (fn. 111) Showell and Breach farms, each around 130 a., were usually held with Manor or Crawley farms in the late 19th century and early 20th. (fn. 112) All the farms were leased except for Uphill farm, which was briefly owner-occupied until its sale in 1880 to the duke of Marlborough; (fn. 113) the duke had already bought Crawley farm in 1872, (fn. 114) and thenceforth owned all the chief farms in Crawley until the early 20th century. (fn. 115) Labour relations were presumably strained by strikes in 1872, when soldiers helped to gather the harvest on Manor farm, (fn. 116) and some tenancy changes in the 1880s and 1890s (fn. 117) may have resulted from agricultural depression, though the Cooks, tenants at Crawley farm since the 1840s, continued until the 1910s. (fn. 118)
Mixed farming with an emphasis on arable continued until the earlier 20th century: in 1877 the township was 86 per cent arable, and in 1914 around 67 per cent, the proportion on individual farms in 1921 varying from 66 to 98 per cent. (fn. 119) Former common pasture between the Chase coppices, worth only a few shillings an acre as sheep pasture in 1853, was drained and converted to arable soon after inclosure, (fn. 120) and former woodland on Chasewood farm was mostly arable by 1886, though land-quality varied and water supply was sometimes short in dry summers. (fn. 121) The chief crops in 1914 were barley (21 per cent), wheat (18 per cent), and oats (11 per cent), with swedes and turnips (9 per cent) and a few mangolds and potatoes; livestock included cattle, pigs, and sheep, all kept in relatively high numbers, though sheep-farming was less intensive than further west and, as elsewhere, was declining. (fn. 122) In 1921, when all the duke's farms were in hand, the land was said to be in a high state of cultivation, with careful attention to rotation and skilled manuring. (fn. 123)
During the 1920s and 1930s there was a shift towards pastoral farming: in 1941–2 all farms were over 45 per cent grass, and Chasewood farm was entirely pastoral, though part was ploughed for the war effort soon afterwards, and Breach farm was converting to arable following labour difficulties. The chief crops remained wheat, oats, and barley, with some turnips and kale for cattle feed. There was extensive dairy, sheep, pig, and poultry farming, livestock on Chasewood farm comprising 353 sheep and 2,300 poultry, with 97 cattle and 19 pigs. In all there were then five farms of between 95 a. and 337 a., Chasewood (170 a.) having lost 200 a. for a military landing strip. The largest, Crawley farm, was held with land in Minster Lovell. (fn. 124)
Trade and Industry
Rural Trades
The surname Smith was recorded in Crawley in 1327. (fn. 125) Tailors were noted in 1632 and 1703, (fn. 126) a carpenter in 1702, (fn. 127) a mason in 1805, (fn. 128) and bakers, a thatcher, and a house painter in the 1850s and 1860s. (fn. 129) A blacksmith's shop was mentioned in 1799 and 1881, (fn. 130) and in 1861 there was a mason and quarryman employing four people, (fn. 131) while a lime kiln south of Foxburrow Lane was noted in 1876. (fn. 132) The village remained predominantly agricultural, however: in 1861 over half the heads of households were agricultural labourers (42 per cent), shepherds, or farmers, and as elsewhere many women and children worked in the fields or as dressmakers, seamstresses, and (less often) glovers. (fn. 133) No traditional crafts were noted after 1900.
A village shop continued until after 1915, and there were grocery businesses at the Lamb Inn in the 1920s and at Chasewood Farm in 1942. (fn. 134)
Clothworkers
From the 16th century an increasing proportion of inhabitants was connected with the Witney cloth industry. A former London haberdasher lived at Crawley in the 1570s and 1580s (fn. 135) and a silk weaver in the 1680s, (fn. 136) and from the early 18th century there were significant numbers of tuckers and fullers, most of them presumably employed at Crawley Mill. (fn. 137) A clothier and blanket-maker died in 1727, and a blanket-weaver, evidently moderately wealthy, in 1731. (fn. 138)
In 1861 some 19 per cent of households were headed by textile workers including spinners, fullers, and tuckers, while several other inhabitants worked at the mill as piecers or feeders. (fn. 139) In 1910 Crawley was claimed to be less impoverished than Hailey because many inhabitants received 20s. a week as mill workers compared with 12–15s. for seasonal agricultural work, though there was disagreement as to how many such workers actually lived at Crawley. (fn. 140) The mill continued to provide local employment until the 1970s and, following its conversion into a small industrial estate, in the 1990s. (fn. 141)
Crawley Mill
A corn mill probably on the site of the modern Crawley Mill was recorded from the 1220s, when it may have been of fairly recent origin. (fn. 142) In the 13th century it was held of Witney manor with half a yardland for 40s. rent and labour services; (fn. 143) in the 1370s it was briefly let to an owner of the reputed manor of Crawley, and was possibly the water mill restored to the bishop of Winchester with the rest of the freehold in 1392, (fn. 144) though in the meantime the bishop appears to have leased it as before, in 1379 for an entry fine of 26s. 8d. (fn. 145) The rent was increased to 53s. 4d. from about 1390, perhaps following incorporation of a fishery, (fn. 146) and to 60s. from about 1470, a further 12d. being paid by the 1440s for an attached house. (fn. 147) The names Rokesmill and Rokesplace, the latter for the house, derived from the medieval Rok or Roke family of Witney, tenants of the mill in the late 13th and 14th century. (fn. 148) Other medieval lessees included, in the earlier 13th century, successive members of the Crawley family, and in the later 15th century the Wady family, tenants also of Woodford or Witney Mills. (fn. 149) Leases from the 1420s to 1480s included the right to a proportion of corn milled (multure) and, apparently, a toll on carriage of corn and malt from Corn Street in Witney; the reason is unclear, unless the privilege reflected some special obligation on tenants in Corn Street (which lay mostly outside the medieval borough) to use Crawley Mill. (fn. 150)
A fulling mill was added probably in or before the 1520s when the lease passed to Richard Box (d. 1547), a resident fuller related to a prominent family of Witney fullers; as such it was one of several new fulling mills built to meet the requirements of the expanding Witney cloth industry. (fn. 151) Before 1560 Box was succeeded by members of the Jones family, leading Witney clothiers, (fn. 152) and in the 1590s the site included both a corn and a 'new built' fulling mill. (fn. 153) By 1715 the mill was exclusively a fulling and gig mill; (fn. 154) annual rent, still 61s. in 1646, (fn. 155) was by then £25, raised to £60 in the 1730s but lowered to £40–£50 from the 1750s. (fn. 156) Lessees included local fullers, (fn. 157) in the later 18th century a group of Witney and Cogges blanket-makers, (fn. 158) and from the early 19th century members of the Collier family, long established as blanket-makers in Witney. (fn. 159) Robert Collier seems to have continued at Crawley despite bankruptcy in 1833, when he had oak racks, looms, and other machinery, (fn. 160) and in 1852 the mill was part of Horatio Collier's 'thriving' blanket-making business. (fn. 161) Presumably during that period the mill was adapted for spinning: Crawley inhabitants in 1841 included spinners and a wool carder as well as fullers, (fn. 162) and James and Albert Collier's machinery in 1873 included a 50-spindle jenny, scribblers and carders, a wool willey, and a gig mill. Bleaching and hand-raising were also carried out, though weaving was undertaken at the Colliers' Corn Street factory in Witney. (fn. 163)
In 1880 the lease passed to the Witney blanketmanufacturers William and Harry Smith, who had taken over the Colliers' business the previous year and whose successors, operating as William Smith & Co. (later W. Smith & Co. and J. & N. Philips (Witney) Ltd), retained it as a blanket mill until the mid 1970s. The firm, which already owned adjacent land, bought the freehold from the duke of Marlborough in 1960. (fn. 164) After several years' vacancy the site was converted in the 1980s to a small industrial complex, occupied by a variety of small businesses. (fn. 165)
Mill Buildings
The surviving mill building (Fig. 64), (fn. 166) of coursed limestone rubble with stone-slate and Welsh slate roofs, is two-storeyed throughout, and comprises a long north-south range straddling the mill stream, with an abutting range projecting eastwards from its southern end. That range appears to have been built as a house in the mid 17th century, abutting a predecessor of the existing main range, which was rebuilt probably in the mid 18th century. By the early 19th century a range projecting eastwards north of the mill stream seems to have superseded the 17th-century range as the mill house; (fn. 167) it was demolished between 1839 and 1874, (fn. 168) and in 1892 the main range's north end, then used as a stockroom, was extended. (fn. 169) An enclosed wooden undershot wheel with curved iron paddles, which served spinning machines in an upstairs room and other machines below, survived in the 1960s, (fn. 170) though water power was no longer used by 1917. (fn. 171) From the 1880s extensive outbuildings of stone, brick, and wood were erected chiefly to the south-east on land owned by the Smiths, among them drying and bleaching sheds, a square brick chimney stack immediately west of the mill, and, before 1917, a powerful suction gas plant. (fn. 172) Most, including wooden former bleaching sheds and a taller circular chimney stack to the south-east, survived in 1999.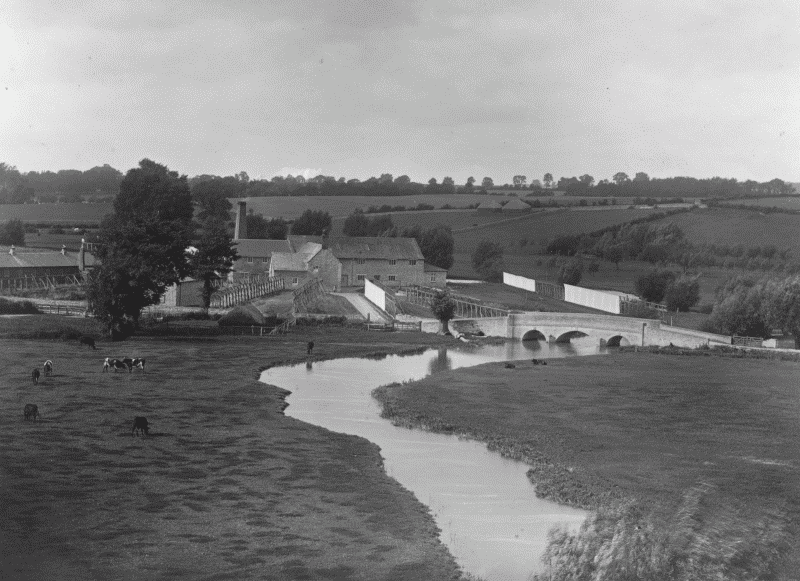 Adjacent meadows were used for fullers' racks by the 17th century and still in the mid 20th, when the practice was superseded by new techniques. (fn. 173)