Pages 249-254
A History of the County of Oxford: Volume 14, Bampton Hundred (Part Two). Originally published by Victoria County History, London, 2004.
This free content was digitised by double rekeying. All rights reserved.
CHURCH
Origins and Status
From the Middle Ages to the mid 18th century Hailey inhabitants attended Witney church, an arrangement credibly claimed in 1761 to be 'incommodious and sometimes almost impracticable'. (fn. 1) The same year a chapel serving both Hailey and Crawley was built in Hailey village, on copyhold land given by the duke of Marlborough and his tenant; it was served by a perpetual curate appointed by the rector of Witney, and had rights of baptism and burial but not of marriage. (fn. 2) A dependent chapel was built at Crawley in 1837, (fn. 3) and in 1854 the two townships (excluding Woodgreen and West End) became an independent parish named Hailey-cumCrawley, served by a perpetual curate who was later styled vicar. The advowson was vested in the bishop of Oxford, the Crown nominating by lapse in 1937 and the archbishop of Canterbury in 1957. (fn. 4) Holy Trinity church at Woodgreen, built within Hailey chapelry in 1848–9 but served from Witney, was transferred to Witney parish in 1854, and is treated above; (fn. 5) the original chapel at Hailey was replaced in 1869 by a larger building on a nearby site. (fn. 6)
In 1953 Hailey-cum-Crawley's eastern part, including New Yatt, was transferred to North Leigh, (fn. 7) and from 1982 the rest was reunited with Witney and was served by a team ministry. Hailey chapel retained baptismal and burial rights, together with the right granted in 1854 to publish banns and solemnize marriages. (fn. 8) The chapel at Crawley was closed in 1984. (fn. 9) Endowment
The original endowment comprised only the chapelyard, but about 1763 some 52 a. at Chipping Norton was bought using a benefaction from the rector of Witney and augmentations from Queen Anne's Bounty, supplemented by the duke of Marlborough. (fn. 10) Five further Bounty augmentations totalling £2,000, some by lot and others to meet benefactions, followed between 1772 and 1842. (fn. 11) Part was used before 1814 to acquire 4 a. in Hailey, for which 8 a. was awarded at inclosure in 1824, (fn. 12) and the Hailey land was increased to 40 a. using Bounty money about 1832. (fn. 13) A payment of £3 9s. and an annual rent-charge of 4s. 3d. were awarded at the commons' inclosure in 1853, and tithe-rents from Crawley were added at the creation of the new ecclesiastical parish in 1854, those from Hailey remaining with the rector of Witney. (fn. 14) In 1893 net income was £214 including tithe-rents (£160), glebe-rents (£134), and £24 from stock held by the Ecclesiastical Commissioners, presumably representing Bounty augmentations; (fn. 15) in 1935, when some of the Chipping Norton land had been sold, net income was £342. (fn. 16) Despite the various augmentations the endowment remained inadequate, however, and in 1937 the bishop was unable to find an incumbent willing to serve two churches on so small a revenue. (fn. 17)
Vicarage House
Clergy serving the new chapel lived in Witney until about 1842 (fn. 18) when a large two-storeyed house of stone and slate, designed by the then incumbent's brotherin-law William Wilkinson, was built on glebe immediately south-west of the original chapel, apparently at the incumbent's own cost. Alterations and additions, also by Wilkinson, were funded by mortgage in 1854. (fn. 19) In 1957 the house was subdivided and a part was let; (fn. 20) it was sold in 1981, and a house in Witney was allocated to the vicar of the new team ministry the following year. (fn. 21) In 2000 the team vicar serving Hailey and Crawley lived in a vicarage house acquired in 1987 in the Thorney Leys estate in west Witney, where he also ministered. (fn. 22)
Pastoral Care and Religious Life
George Seele (incumbent 1762–c. 1810) and John Hyde (1810–38) (fn. 23) served the chapel usually with help from non-resident curates, holding a single Sunday service with sermon, additional services on Good Friday and at Christmas, and prayers at the main festivals; a Sunday school existed from the 1760s, and children were catechized. In 1834 there were a midweek evening lecture and prayers 'to accommodate the labouring population'. The sacrament was administered three times a year in the later 18th century and four times by 1811, an extra Sunday service being held on those days by 1817. There were no refusers in 1771, though the 'lowest sort' did not attend 'as constantly as they ought'; afternoon congregations in 1834 allegedly averaged 250–300, the chapel's full capacity following enlargement, though by then Nonconformity was increasing. Many West End inhabitants apparently attended Witney church, which was nearer. (fn. 24) Hyde's local influence was increased by his role as a particularly active JP, and he regularly attended Witney vestry meetings. (fn. 25)
George Crabb Rolfe (incumbent 1838–1893), a former curate of Witney much respected by the bishop, resided constantly from 1842, serving also as chaplain to Witney poor-law union, and building both the vicarage house and the new church. For much of his incumbency he served the cure alone, holding alternate morning and afternoon services at Hailey and Crawley, with full Friday and Wednesday services in Lent. During the 1870s, when assisted by a curate, he held four Sunday services at Hailey and a weekly communion, increased from eight communions a year in 1854. The number of communicants, formerly under 20, reached 65 in 1878. Congregations, averaging 280 in 1854 and 220 in 1866, were reckoned 'fair' and rose slightly following the opening of the new church in 1869, though Rolfe lamented the lure of the public house, and estimated in 1875 that perhaps a third of the population were habitually absent. A slight fall in attendance in the late 1880s was attributed to agricultural distress, Nonconformity, and a 'wave of democracy'. The design of the new church suggests High Church sympathies, though Rolfe, while characterising local Wesleyans as 'aloof', nevertheless visited their sick. Tracts and religious books were circulated in the 1870s through the village library, and Rolfe catechized both in the school and after services. (fn. 26) A Temperance Society established in 1880, with Rolfe as chairman, seems to have foundered after initial enthusiasm. (fn. 27)
Rolfe's successor Herbert Wilson continued to serve the cure alone, (fn. 28) and all 20th-century incumbents resided, several serving for long periods. (fn. 29) A choir mentioned in 1866 continued in the later 20th century. (fn. 30) Following the reunification with Witney in 1982, Hailey was served at first on an ad hoc basis by members of the team ministry, being grouped until 1993 with Holy Trinity, Woodgreen. Thereafter it was served by a team vicar combining ministry in Hailey and Crawley with responsibility for new housing estates in west Witney. (fn. 31)
Church Architecture
The 18th-century chapel of St John the Evangelist, so called from its foundation, (fn. 32) stood south of Hailey's main street. (fn. 33) The building (Fig. 75), of stone rubble and slate, had a small chancel or apse, a nave, and a polygonal west tower surmounted by an open bellcote in the form of a cupola; (fn. 34) it was repaired and enlarged about 1830 when an aisle or transept was added, the cost met by subscription and by the Incorporated Society. (fn. 35) In the earlier 19th century the nave north wall had two pointed windows with intersecting tracery, flanking a blocked round-headed doorway; a west doorway with a fanlight led into the tower, which had a clock on its north side. Fittings included a surviving stone font with a gadrooned bowl on a baluster stem, later transferred to the new church, (fn. 36) and a bell may have been given or recast in 1812. (fn. 37) The alterations of 1830 reportedly increased accommodation by 180, (fn. 38) though estimates of the chapel's capacity both before and after enlargement varied greatly and in 1866 only 208 sittings (183 of them unfree) were reported, excluding those in a gallery. (fn. 39) The building was said then to be 'ugly, ill-pewed and very dilapidated'. (fn. 40) An extension to the chapelyard was acquired in 1810 and consecrated in 1827. (fn. 41)
In 1866 it was decided to build a new church on a close to the south-east, given reportedly by the incumbent George Crabb Rolfe. (fn. 42) The building-cost was met chiefly by the Diocesan Church Building Society and from subscriptions, to which some non-resident landowners refused to contribute. The architect was the incumbent's son Clapton Crabb Rolfe, whose plans, dubbed 'needlessly eccentric' by the diocesan architect, were modified at his insistence. Work began in 1868 and the church was consecrated in 1869. (fn. 43) The old building was demolished except for a small part of the south and west walls, which, with surrounding gravestones, remained within the former churchyard in 1999. Responsibility for the site was transferred to the parish council in 1958. (fn. 44)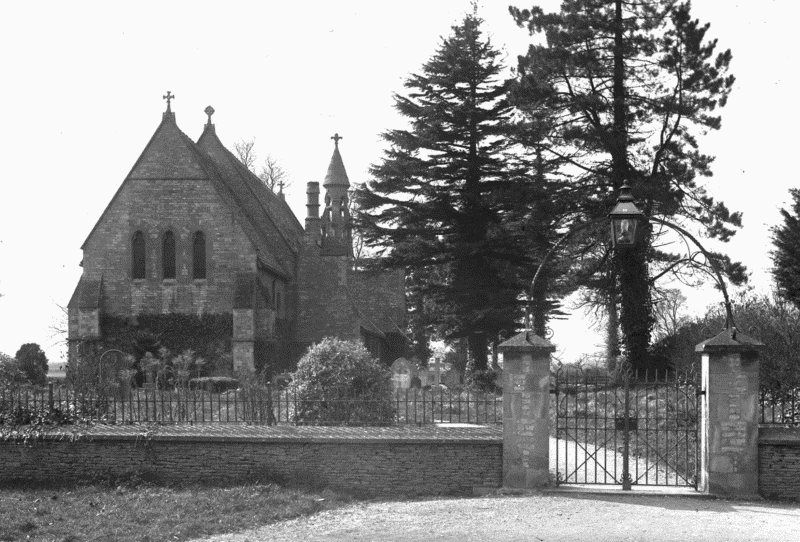 The church, (fn. 45) of squared limestone with ashlar quoins and dressings and originally with stone-slated roofs, is an idiosyncratic version of the French Gothic style, with prominent buttresses (Fig. 76). It has a chancel, nave, and narrow north aisle under one roof covering, north and south porches, and a Poitevin-style north-west bell turret. The nave has trefoiled north lancets and three-light south windows, and the chancel sexfoiled circular windows north and south. The chancel east and south windows were enlarged from the original plans on the diocesan architect's orders, though the chancel remains 'mysteriously dark'. (fn. 46) The interior, including fittings, is characterized by banded masonry; the polychromy is richest in the chancel, which has red stone nook-shafts with large foliate capitals to the east window, similar grey wall-shafts on bulbous corbels, and a roll-moulded chancel arch on banded grey stone shafts. The north arcade has red stone columns with white shaft-rings, waterholding bases, and moulded capitals. Fittings, also by Rolfe, include a trefoiled reredos with painted tympana and roundels, a large pulpit carved with figures of the Evangelists, a font of quatrefoil section, and gasoliers with ornate ironwork. Pews gradually replaced chairs between the 1880s and 1912, and the earlier font was moved into the church from the vicarage garden in 1907. (fn. 47) A single-manual organ was installed before 1904. (fn. 48) Glass in the chancel north and south windows, depicting symbols of the Evangelists, may be of 1868; memorial glass includes a west window light to George Crabb Rolfe by Clayton and Bell, installed in 1895, a three-light east window to John Hyde apparently also by Clayton and Bell, and north aisle windows by John Powell and Sons of London and others, installed between 1903 and 1952. Heating was renewed in 1939 and 1960 and the church was electrified in 1944 and re-roofed in 1980, reusing or replacing Stonesfield slates. The churchyard was extended in 1927 (fn. 49) and a new burial ground adjoining the original chapel-site to the north-west was consecrated in 1998, when the churchyard was nearly full. (fn. 50)
The single bell, hung for chiming, dates possibly from 1868. (fn. 51) The plate includes a mid 18th-century silver paten and chalice given by Simon Wisdom in 1772, and a silver paten of 1708 given by John Hyde in 1826. (fn. 52) Separate registers begin in 1797. (fn. 53)
NONCONFORMITY
Roman Catholicism
The wife and possibly a daughter of John Hampshire of Crawley were fined for recusancy in the 1620s, when they were twice said to be 'of Hailey', (fn. 54) and in the 1640s and 1650s one of the recusant More family of Lower Haddon (in Bampton parish) also lived in Hailey. (fn. 55) During the alleged Popish Plot of 1679 John White (d. 1701) of Swanhall Farm was removed from the Commission of the Peace for being 'too malapert', but there is no evidence that he was a Roman Catholic, (fn. 56) and no papists were reported in the parish in 1676. (fn. 57) A Woodstock Roman Catholic owned land at Hailey in 1759, (fn. 58) but no other Roman Catholicism in the township is recorded.
Protestant Nonconformity
Friends (Quakers)
A Friends' meeting house at Woodgreen, built by Witney Quakers about 1676, is discussed above. (fn. 59) Several Hailey people, chiefly textile-workers and tradesmen, were noted as members from the 1690s to the early 18th century, (fn. 60) but no resident Dissenters were reported in Hailey during the later 18th century (fn. 61) and there seems to have been little further Quaker activity in the township until the 1890s, when cottage meetings were established at Hailey Fields. (fn. 62) A few Hailey members in the earlier 20th century included Charles Buckingham of Middlefield Farm, a stalwart of the Witney meeting. (fn. 63)
Wesleyan Methodists
Four houses licensed for meetings between 1806 and 1815 belonged probably to Wesleyan Methodists, by then the dominant Nonconformist group in Witney: a few Methodists were reported in Hailey from 1811, and in 1823, when they attended Witney chapel, the curate admitted that their number was increasing. (fn. 64) A Wesleyan meeting house licensed in 1824 was served in 1851 from Witney, and on Census Sunday had morning and evening congregations of 30 and 50, with Sunday school attendance of 33. (fn. 65) Its site, possibly near Breach Farm, is not known, and though used exclusively as a chapel and said to have been newly built in 1825, it may have been only a former cottage or outbuilding fitted up at that date. (fn. 66) In 1853 it was replaced by a plain stone-built chapel (later Pennygreen Cottage) at Poffley End, with pointed side windows, a pointed doorway in the east gable end, and possibly a gallery, (fn. 67) giving a capacity in 1854 of around 60. (fn. 68) The impetus came chiefly from Witney Methodists and from the vigorous Witney minister Peter Horton, who 'greatly improved the cause' at Hailey during his time on the circuit. (fn. 69)
Membership, usually around 9–11 during the 1840s and 10–15 during the 1850s, reached over 40 in 1860, but thereafter fell to under 10 by the late 1870s, perhaps in response to George Crabb Rolfe's conscientious Anglican presence in the new parish of Hailey-cumCrawley. (fn. 70) In 1866 Rolfe estimated that around 80 parishioners attended the Wesleyan or Primitive Methodist chapels exclusively, with some poorer inhabitants attending both church and chapel, and in 1878 about 30 families were acknowledged to be Dissenters. (fn. 71) From the 1890s Wesleyan membership at Hailey again exceeded 20, (fn. 72) and in 1908 a new chapel and Sunday school were built at the southern end of Middletown as part of a general expansion of the circuit, on the initiative of the Witney pastor Arthur Martin. The new building, designed by W. J. Fyfield of Witney in 'very mixed styles', is of stone, with a squat, square tower capped by a shingled broach-spire over the porch, a large, arched west window with intersecting tracery, and a south window with stone mullions and transom. (fn. 73) The old chapel was converted to cottages. (fn. 74) In 1922 attendance at Hailey chapel was 'very poor', (fn. 75) though membership remained above 20 both then and following the Methodist union of 1932. There were 19 members in 1964, shortly after the Witney and Faringdon circuits merged, but about 1970 the chapel closed and became a private house. (fn. 76)
Primitive Methodists
Primitive Methodists established a group at New Yatt about 1826, attached to the recently formed Witney circuit. (fn. 77) An agricultural labourer's house there was licensed in 1827, (fn. 78) and in 1827–8 membership rose from 10 to 25, (fn. 79) probably mostly labourers. A chapel with 64 free sittings was built in 1843; afternoon attendance on Census Sunday in 1851 was 22, the return being signed by another agricultural labourer. (fn. 80) By 1863 the chapel was too small, and the following year a new stone-built chapel was built on former common land at New Yatt immediately south of the main road, a Sunday school being established at the same time. (fn. 81) In 1900 the chapel had 100 sittings and average attendance was 80, although there were only 19 members. (fn. 82) A new stone chapel with 120 sittings was built immediately to the east in 1912, the older building being used thenceforth for the Sunday school and for meetings. (fn. 83) Attendance fell from 100 to around 30 by 1932, (fn. 84) when the society became part of the United Methodist Church; by the 1950s membership was only three, and about 1970 the chapel closed and became a house. The adjoining schoolroom was demolished before 1975. (fn. 85)