Pages 185-189
A History of the County of Oxford: Volume 16. Originally published by Boydell & Brewer for the Institute of Historical Research, Woodbridge, Suffolk, 2011.
This free content was digitised by double rekeying and sponsored by Victoria County History Oxfordshire. All rights reserved.
OUTLYING ESTATES AND COUNTRY HOUSES
In the 1840s the single largest estate in the parish was the combined Henley and Fillets manor (treated above), which comprised c. 680 a. Other sizeable estates belonged to the Stapletons of Greys Court in Rotherfield Greys (c. 230 a.), E. F. Maitland of Park Place in Remenham (Bucks.) (180 a.), and Frederick Hodges (162 a.), owner of Bolney Court in Harpsden; all, however, were relatively recent piecemeal accumulations. (fn. 1) Considerably smaller by then, but historically more important, were the Badgemore and Henley Park estates, while Friar Park was created west of the town in the later 19th century.
The Badgemore Estate
The medieval estate
Land at Badgemore was severed from the large royal manor of Bensington before the Norman Conquest, presumably by royal grant. In 1086 it was assessed at 5 hides, the typical holding of an Anglo-Saxon thegn. (fn. 2) The estate lay west of the later town around the modern Badgemore park, extending northwards to the Wallingford road or Fair Mile. In the 14th century it also included houses (or perhaps only their gardens) at the extreme western edge of the market place, presumably in the Gravel Hill area. (fn. 3) The overlordship was granted before 1086 to Henry de Ferrers (or Ferrières), whose family, later earls of Derby, retained it until their fall in 1266. Thereafter overlordship descended with the honor of Derby to the earls (and later dukes) of Lancaster, presumably lapsing on Duke Henry's accession to the throne in 1399. (fn. 4)
The tenant in 1086 was one Ralph, (fn. 5) whose successors adopted the surname 'of Badgemore', and presumably lived there. By the early 13th century the family may have been in difficulty, however, and in 1208 William of Badgemore sold a knight's fee (possibly 4 hides) to John de Grey (d. 1214), bishop of Norwich. (fn. 6) The purchase money of 227½ marks (£151 13s. 4d.) was paid to a group of free tenants named in earlier transactions with William, which perhaps involved mortgage arrangements. (fn. 7) Two hides were returned to William to be held of Grey and his heirs, and were not to be alienated; included with them were half the lordship or demesne (medietatem dominici) and the 'ancient court', probably a manor house rather than a manorial court. (fn. 8)
The Badgemore family's holding was not mentioned later, and the knight's fee remained with the Greys, passing apparently in parcels to the bishop's sister Hawise (fl. 1227 x 40) and her son Robert, to Robert's brother Walter (d. 1255), archbishop of York, and to Robert's son Sir Walter de Grey (d. 1268), who in 1246 confirmed Hawise's share to the archbishop for life. (fn. 9) Thereafter the reunited knight's fee descended with the family's Rotherfield Greys manor until the early 15th century, and was often described as a half part of Rotherfield manor. (fn. 10) It may have become separated from Rotherfield Greys soon after, when descriptions of the manor ceased to mention Badgemore by name. (fn. 11)
The estate from 1710
Nothing further is known until c. 1710, when Richard Jennings, Wren's master carpenter at St Paul's cathedral, bought an estate at Badgemore from William Corderoy, yeoman, and others. Jennings reputedly built the later Badgemore Court or House, where he was living at his death in 1719. (fn. 12) The estate passed apparently to George Brownlow Doughty, and by the 1730s to the distiller and dealer John Raine, high sheriff of Oxfordshire in 1746–7; Raine was bankrupted before 1751, however, when his assignees sold the estate (c. 105 a.) to Humphrey Adams of Cookham. (fn. 13) Adams briefly lived at Badgemore, but in 1753 leased the house and land to John Stevens (d. 1777), a wealthy captain and trader with the East India Company. (fn. 14) The estate passed around 1785 to Adams's relative through marriage Joseph Grote (d. 1814), one of a family of London merchants and bankers of Dutch origin. Grote moved to Badgemore, serving as high sheriff and as a commissioner for Henley bridge, (fn. 15) although much of the land, by then comprising some 220 a. around Badgemore House, was leased to local farmers. (fn. 16) His half-brother George (d. 1830), also a banker, lived there regularly from 1814, but following his death the estate was sold, most of it to E. F. Maitland of Park Place. Maitland kept much of the land, but in 1833 sold the house and c. 45 a. to Charles Lane, a barrister and JP. (fn. 17)
Lane died in 1878, (fn. 18) and in 1883 the house and land were bought by Richard Ovey (1856–1902), one of a long-established Henley family. Ovey greatly extended the house, and in 1890 acquired Hernes (in Rotherfield Greys), to which the family moved around 1902; they retained ownership of Badgemore until 1916, however, when the house and residual estate were sold to Augustas Vlasto (d. 1946). (fn. 19) Vlasto built a new house, and before 1950 was succeeded by W. H. McAlpine, chairman of the McAlpine civil engineering firm. The McAlpines retained land at Badgemore until shortly before 1971 when, with 120 a. of surrounding wood and parkland, it was converted into a golf course. (fn. 20)
Badgemore House and Park
Though the medieval Badgemore estate may have had a chief house or 'court', no site has been identified. Possibly it stood near the modern Badgemore House, just west of Henley: the 13th-century estate certainly included that area. (fn. 21)
No later references to a house are known before the early 18th century, when Richard Jennings replaced an existing farmhouse with the later mansion, reputedly re-using bricks employed in the construction of St Paul's cathedral and brought to Henley by river. (fn. 22) Photographs of 1886 (Fig. 48) show a nine-bay, three-storey, brick façade, the central three bays breaking forward beneath a pediment. An internal two-storeyed hall overlooked by a gallery may also have been early 18th-century. (fn. 23) Joseph Grote added reception rooms, a library, and a dining room, which possibly included a two-storeyed wing running back from the main house, fronted by a single-storeyed Ionic loggia which opened onto the garden. He also re-landscaped the grounds, which in 1788 included irregular woodland walks and an outlying Grecian temple or summer house. More formal features, adjoining an orangery, were perhaps remains of earlier landscaping. (fn. 24) A separate farmhouse still stood near the mansion in 1753, but was probably demolished soon after. (fn. 25)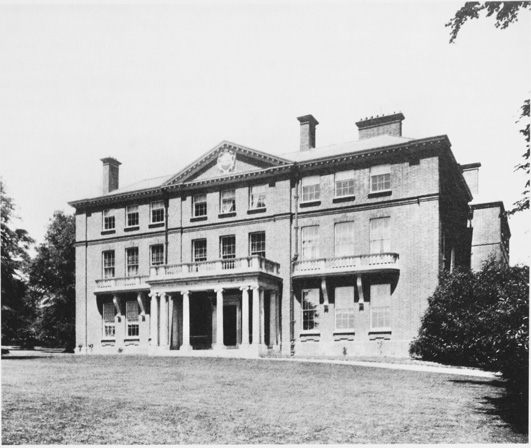 In 1884–5 Richard Ovey 'practically rebuilt' the house to designs by John Norton. (fn. 26) Internally it was entirely redecorated, while externally, the porte cochère and first-floor stone balconies to the main façade were probably Norton's work. (fn. 27) A few internal fittings (including overmantels and book cupboards) were possibly moved to Hernes after 1902 while the Oveys were leasing Badgemore. (fn. 28) Vlasto found the house too big, and in 1939–41 built a new house immediately to the north, designed by C. B. Willcocks of Reading. The house is of brick, in a Georgian style, and incorporates some doors and fittings from the earlier house. During the Second World War both houses were requisitioned, and in 1946 the old one was demolished, together with a horse-powered well house. (fn. 29) Badgemore Park Golf Club was established in the surrounding wood and parkland in 1971, landscaped by the golf architect Robert Sandow. (fn. 30) A former stable block built by Richard Ovey was converted into a clubhouse, while Vlasto's house became offices; the orangery was demolished. (fn. 31)
Henley Park
Henley park was created before 1269 probably by Richard, earl of Cornwall, and by the 1290s was attached to Henley manor. (fn. 32) Like its modern successor it occupied high ground north-west of the town: pasture between Henley park and Assendon common was mentioned c. 1421, (fn. 33) and in 1499 the park lay west of woods and other demesne lands belonging to Phyllis Court. (fn. 34) Its medieval extent is unknown, although in the early 14th century it included 60 a. of arable in addition to pasture and woodland. (fn. 35)
The park was separated from Henley manor in 1590, when John Alford of Fawley excepted it from his sale to the earl of Huntingdon. (fn. 36) Alford's son Henry sold it c. 1616 to Sir Robert Meller, lessee of Fillets or Phyllis Court, whose son Sir John sold it to Sir Bulstrode Whitelocke with Fillets in 1637–8. (fn. 37) Thereafter it remained part of the reunited Henley and Fillets manors until the 20th century. In 1621 it comprised 'woods, coppices, and woody grounds' held with Hales wood and other neighbouring woodland, which had earlier belonged to Phyllis Court. The combined area made up a single large inclosure reckoned at c. 400 acres. (fn. 38)
In 1672 Whitelocke's son William, without his father's knowledge, leased the combined woodland and park to John Taylor and John Cawley, rector of Henley, with permission to clear the woods. (fn. 39) Cawley renewed his lease in 1678, and built a farmhouse before 1681; thereafter the house became a gentleman's residence, its land apparently sublet to local farmers or graziers. (fn. 40) The Cawleys continued as tenants until 1776, (fn. 41) to be succeeded in the 1780s and 1790s by Sambrooke Freeman's widow Sarah (d. 1806). (fn. 42) Later occupants included members of the Freeman and Strickland families, the historian Henry Hallam (in 1840–1), and, from the 1840s, J. W. Newell Birch, followed by a succession of resident gentry. (fn. 43)
Birch 'much improved' the house, which by the 1850s was a 'modern neat mansion' of three storeys with a stuccoed front, portico entrance, and 'delightful views'. (fn. 44) By c. 1900 there was again an adjoining deer park, south-east of the house near No Man's Hill; (fn. 45) the integrity of the original park had been lost by the 19th century, however, when Birch had only 20 a. in hand, and the surrounding agricultural land was let to local farmers. (fn. 46) An imitation barrow was erected as a folly a kilometre or so south of the house in 1731, by John Freeman of Fawley Court, but was destroyed in 1974. (fn. 47)
Friar Park Estate
The Friar Park estate, for which the present house was built c. 1889, was created during the 19th century. In 1842 the site was in various ownerships, and included no buildings; speculative development there began in 1866, when a part was laid out in plots for detached villas. (fn. 48) Two houses were built before 1878, one (called Friar Park) on the site of the present house, and a smaller one (called Friar's Field) to the south-east, with a lodge on the Badgemore road. (fn. 49) The names derived from one of the closes, called Friars field by 1842. (fn. 50)
In 1889 the wealthy London solicitor Frank (later Sir Frank) Crisp bought Friar Park from Revd John Collard, who had run a small school there. Crisp substantially rebuilt the house on a similar ground plan, and began landscaping the grounds, taking in the site of the demolished Friar's Field. (fn. 51) By 1897 the inclosed park (c. 32 a.) had assumed its later form, with additional lodges fronting the Badgemore road at its south-west and south-east edges. (fn. 52) Following Crisp's death in 1919 both house and land were sold to the financier and Chinese art connoisseur Percival (later Sir Percival) David (d. 1964), who moved away following his divorce in 1953. His former wife stayed on at Upper Lodge, which was remodelled (as Friar Park End) with the coach house and stable courtyard; (fn. 53) the main house, however, was acquired by a Catholic teaching order, the Salesian Sisters of St John Bosco, which ran a school there and remained until c. 1970. (fn. 54) In 1971 it became the home of the former Beatle George Harrison (d. 2001), whose widow Olivia lived there in 2010. (fn. 55)
The house itself (Fig. 49) is a colourful and eccentric mélange of French Flamboyant Gothic in brick, stone and terracotta, incorporating towers, pinnacles, and large traceried windows. (fn. 56) The architect was Robert Clarke Edwards, (fn. 57) working probably from Crisp's designs, and the builder was Charles Clements of Henley. (fn. 58) The grounds, landscaped over 20 years, were equally eclectic, featuring a variety of gardens based on exotic, historical, or literary models, including an Alpine rock garden complete with miniature Swiss mountains, caves, and underground lakes. (fn. 59) Like the house, they include punning references to friars in terracotta figures and other decorative motifs. Parts of the early garden design were probably by Henry Ernest Milner (d. 1906), working perhaps with Crisp's gardener Philip Knowles. (fn. 60) From the 1970s, the Harrisons undertook large-scale restorations of both the house and gardens.