Pages 1-18
A History of the County of Oxford: Volume 17. Originally published by Boydell & Brewer for the Institute of Historical Research, Woodbridge, Suffolk, 2012.
This free content was digitised by double rekeying and sponsored by Victoria County History Oxfordshire. All rights reserved.
BROADWELL, LANGFORD AND KELMSCOTT: COTSWOLDS TO THAMES
The Rural Parishes covered in this volume lie in west Oxfordshire between the market towns of Burford, Great Faringdon, and Lechlade. (fn. 1) Southwards they border on the river Thames, formerly the boundary between Oxfordshire and Berkshire; northwards they extend to the foothills of the Cotswolds, and westwards to the border with Gloucestershire. The area is predominantly one of small nucleated villages set, until the 18th or 19th centuries, within large open fields and commons. Most were inclosed by Acts of Parliament between 1776 and 1846, although there was some earlier piecemeal inclosure probably for sheep farming, some of it involving small-scale displacement of tenants. (fn. 2)
By far the best known of the villages and hamlets is Kelmscott, a small riverside settlement whose fame rests on its association with the writer, artist, and socialist William Morris (d. 1896). Ironically part of Morris's legacy was to deprive the hamlet of the rural seclusion and anonymity which initially attracted him, and which most neighbouring places still enjoy. (fn. 3) The only other settlement to acquire a fleeting wider significance was the tiny hamlet of Radcot, which, guarding an important crossing of the Thames at Radcot Bridge, became the scene of skirmishes during the civil wars of the 12th, 14th and 17th centuries. A small Norman castle was built there in the early 12th century, but was demolished in the late 13th. The Labour politician Sir Stafford Cripps (1889–1952) lived from 1920 at Filkins, where he instigated community building projects, while the early 19th-century mansion house at Bradwell Grove is now more widely known as the focus of the popular Cotswold Wildlife Park, opened in 1970. (fn. 4)
The landscape is mostly flat or gently undulating, rising from around 68 m. by the Thames to more than 150 m. on the downlands around Holwell in the north-west (Fig. 3 and Plate 1). The river Leach and several streams, including Langford brook and Broadwell brook, flow roughly south-eastwards from the higher ground into the Thames, and during heavy rain (as in 2007) are liable to flood. Most of the villages developed close to one of these watercourses, which were powerful enough to drive corn and (occasionally) fulling mills, and in many places formed stretches of ancient parish boundary. (fn. 5) The pattern is reflected in several stream-related place names, including Broadwell (broad stream), Broughton Poggs (tūn by a brook or bourne), and Langford (long ford). (fn. 6) The flat, featureless areas near the Thames have not always been universally admired: Morris's friend, the painter and poet Dante Gabriel Rossetti, complained that the landscape there was 'so flat that to see anything is not easy, and when you do see it, it isn't worth seeing'. (fn. 7) Others, however, delighted in 'this featureless plain', where 'groups of farm buildings, dovecots, barns, melt into the vivid greens of a watery land'. (fn. 8) Visitors' perceptions may vary, but for those who lived and worked there the chief significance of the area's fields and farms was as the means of a sometimes precarious living.
The area was (and remains) predominantly agricultural, benefiting from a varied landscape which supported the arable-based mixed farming and sheepcorn husbandry typical of the area. Crops (chiefly wheat and barley) were grown on a variety of soils, predominantly good-quality stonebrash in the north with some slightly heavier clays further south. (fn. 9) This in turn reflected the underlying geology, which cuts across the area in bands. The flatter southern areas lie chiefly on river gravels which extend as far north as Broughton Poggs village, interspersed with patches of underlying Oxford Clay and (around Broadwell) Kellaways Sand and Clay. Further north, a band of cornbrash crosses Broadwell, Filkins, and Broughton Poggs, while the higher ground around Holwell lies on Forest Marble and White Limestone. (fn. 10) Alluvium along the river valleys and larger streams provided most settlements with abundant meadow, (fn. 11) which in riverside parishes such as Kelmscott and Radcot seems to have attracted investment from outsiders from an early date; so, too, did the extensive commons of places such as Grafton or Langford, where some prominent sheep farmers invested in land from the 13th or 14th century. Woodland remained rare except around Bradwell Grove in the north, and in several parishes firewood and certainly timber must have been brought in from outside. The place name Grafton may recall an early specialization in supply of coppice wood for fuel, but if so any such function seems to have ended by the 13th century, and in later periods the township had no more wood than its neighbours.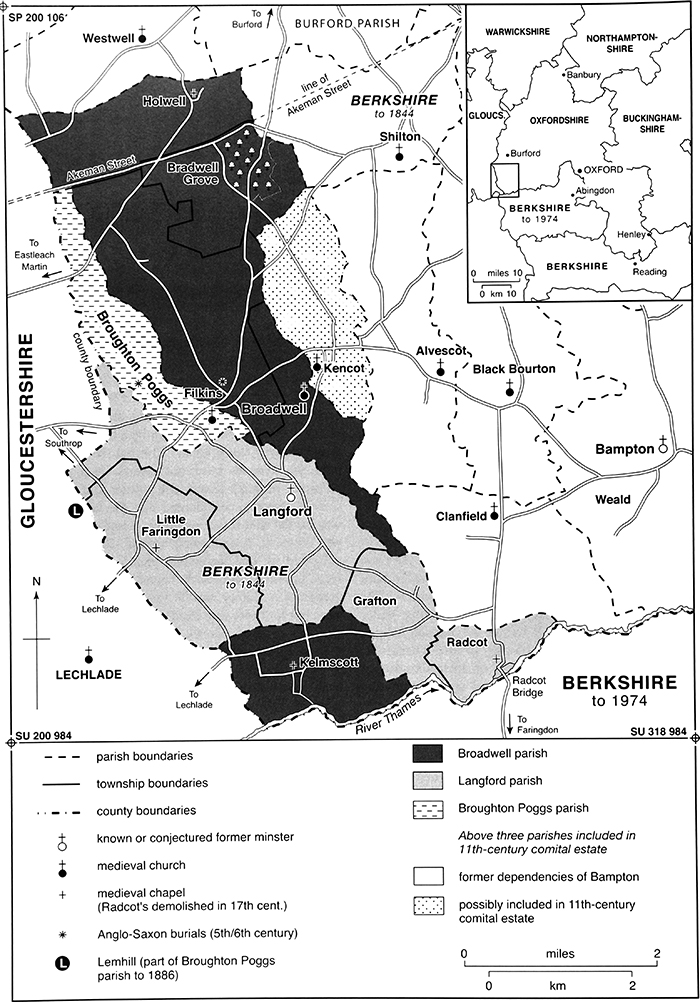 The local limestone provided plentiful building materials, giving the villages much of their distinctive character. A small-scale but significant quarrying industry developed particularly around Filkins, and stone was dug in smaller quantities elsewhere. The vast majority of the area's buildings are farmhouses, cottages, and outbuildings built in a Cotswolds vernacular style; architect-designed gentry houses are few, the most prominent example being the Gothic-style Bradwell Grove (built in 1804). (fn. 12)
In the late Anglo-Saxon period the whole area almost certainly belonged to a single large estate, which was apparently allocated to prominent earls. (fn. 13) The estate's gradual break-up, both before and after the Norman Conquest, gave rise to a distinctive and interlocking parish structure which persisted into the 19th century (Fig. 1). Langford, which may have been the site of a small pre-Conquest minster, retained a sizeable parish which included the separate townships (and villages) of Little Faringdon, Grafton, and Radcot. Broadwell, Filkins, Holwell, and the detached riverside settlement of Kelmscott formed an independent estate by 1066, and similarly remained a single large parish, focused on a mother church at Broadwell. Only Broughton Poggs (separated from Langford before 1066) became a small independent parish, focused on a single village with its own parish church. (fn. 14)
In 1086 all those places were included in Bampton hundred, whose origins and institutional history are discussed elsewhere. (fn. 15) From the 13th century to 1844, however, Langford and Little Faringdon were included in the Berkshire hundred of Faringdon, reflecting early tenurial connections with the Berkshire manor of Great Faringdon. (fn. 16) A 245-a. farm at Lemhill, incorporating the site of a medieval watermill, formed a detached part of Broughton Poggs until 1886, when it was transferred to the surrounding Gloucestershire parish of Lechlade. (fn. 17)
Communications
Several important long-distance routes crossed the area by the Middle Ages (Fig. 2). (fn. 18) Among the most significant was that from Burford to Great Faringdon (formerly Berks.), which crossed the Thames at Radcot. Its southern part, across the wide floodplain, seems to have been causewayed in the 11th century, possibly by the prominent local landholder Aelfsige of Faringdon, who owned estates on both sides of the river. A bridge was probably established at the same time, and until the building of Newbridge c. 1400 this remained the first major Thames crossing upstream from Oxford, its importance reflected in periodic skirmishes during times of national conflict. Possibly it was preceded by an earlier crossing further east, close to the important Anglo-Saxon royal estate centre at Bampton; if so, that was eclipsed by the Radcot route by the 11th or 12th centuries, and was not mentioned later. (fn. 19) A second major route ran south-westwards from Burford to Lechlade and Cirencester (Glos.), passing through (or past) the villages of Filkins, Broughton Poggs, and Little Faringdon. Near Lechlade it linked with a higher Thames crossing at St John's bridge, built before 1228; Lechlade itself had no bridge until the 18th century, although the place name (incorporating the element gelād) implies an early crossing-point. (fn. 20) Both routes remained important, and were turnpiked in 1771 and 1792 respectively. (fn. 21) The Lechlade road (diverted around Filkins in the 1960s) survives as a modern trunk road, (fn. 22) but that to Faringdon was severed by the extension of Brize Norton airfield in 1951, and is now relatively minor, still crossing the river by the narrow 14th-century bridge. (fn. 23)
West-east routes included Akeman Street, which formed Holwell township's southern boundary and survived as a moderately significant hedged lane across much of this area in the late 18th century. (fn. 24) A parallel road running north-east from Filkins through Kencot connected with a lane called Street Way in the 16th century, which possibly formed part of a minor Roman and later route to Witney and to an early crossing of the river Windrush. (fn. 25) The road from Little Faringdon to Langford (mentioned in 1307) seems also to have formed part of a through route to Clanfield and Bampton, intersecting with the road southwards to Radcot Bridge. The Clanfield-Bampton stretch was turnpiked in 1771 as part of a route to Witney, although by then the Langford-Clanfield part (crossing Broadwell brook at Broadwell mill) seems to have comprised only a minor field track. (fn. 26) On the area's northern fringe, the main north-south routes met the ancient east-west ridgeway past Burford, which by the Middle Ages connected London and Oxford with Gloucester and beyond. Burford itself was the site of an early crossing of the river Windrush, which was replaced by a stone bridge possibly around 1100, and certainly before 1323. (fn. 27)
By the Middle Ages a network of lesser roads linked the main villages and hamlets, of which several grew up at major junctions or along the roads themselves. The road from Little Faringdon and Langford through Broadwell and Kencot was mentioned in 1320, along with connecting roads northwards through Bradwell Grove to Burford, and roads southwards to Kelmscott, Grafton, and Radcot. (fn. 28) Some surviving lanes and tracks were clearly once more important: the now minor road from Eastleach Martin (Glos.) to Burford was called Port Way in the 16th century, while much of the hamlet of Holwell lies along what was formerly a through route to Signet and Burford, but which is now a bridleway called Job's Lane. Lost roads include a route from Langford to Kelmscott's meadows, which in 1320 seems to have run along or near the boundary between Kelmscott and Grafton, passing close to Radcot's gallows. (fn. 29)
The Thames itself was not only a barrier to be crossed but an important transport corridor, certainly in the earlier Middle Ages and again from the 17th and 18th centuries. In the early 13th century 'ships' (naves) seem to have regularly carried grain and other merchandize downstream from Kyndelwere (just beyond Radcot and Great Faringdon), possibly as far as London and the coast. Evidence has been found of an artificial canal running south of the Thames, from the Radcot causeway just north of Great Faringdon as far as Rushey weir near Bampton. Possibly it was engineered by the Cistercian monks of Beaulieu abbey, who had a grange at Great Faringdon, and who in 1205 were granted free passage for their ships from there to the sea. Lords and inhabitants of Radcot participated in this trade, which stimulated the building of a wharf on the Radcot bank and the foundation of a short-lived market and annual fair, through which some produce from the surrounding area was presumably sold. (fn. 30) During the later Middle Ages large-scale commercial navigation so far upstream probably lapsed, as the river below Oxford became impeded. (fn. 31) If so it revived with the reopening of the river from the 1630s, and in the 17th and 18th centuries a variety of goods were trans-shipped through Radcot, among them stone, malt, and (following the opening of the Thames and Severn Canal to Lechlade) coal. (fn. 32)
During the 19th century river transport was superseded by the railway, which came within local reach in successive stages. A station at Challow (Berks.), five miles south of Great Faringdon, was opened in 1840 on the Great Western line, but was probably too distant to have much impact. Witney station was opened in 1861 and Great Faringdon station in 1864, and in 1873 the East Gloucestershire line from Witney to Fairford (Glos.) was built across the southern part of the area covered here, crossing the parishes or townships of Broadwell, Langford, and Little Faringdon. The nearest stations were at Lechlade to the west and Alvescot to the east; a smaller stop was opened in 1907 midway between Langford and Kelmscott, but remained of little use to farmers until goods facilities were added in 1928. Even so the railway proved invaluable to those with easy access, allowing the Hobbses of Kelmscott to export milk directly to London via Lechlade. The East Gloucestershire line became part of the GWR in 1890 and was closed in 1962, to be dismantled soon after. (fn. 33)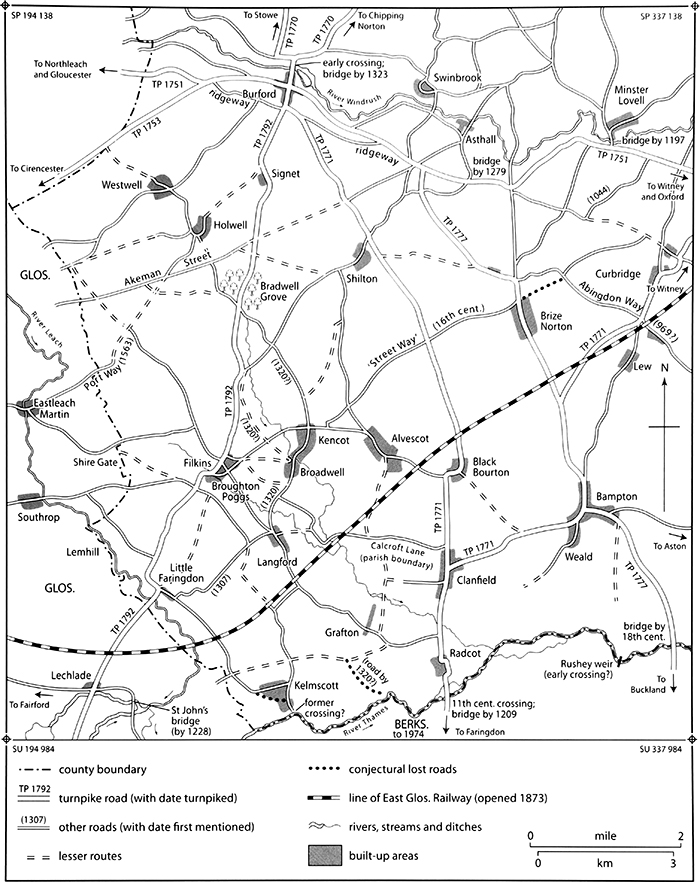 Settlement, Estates, and Boundaries
Roman and Earlier Settlement
The upper Thames valley was intensively settled from an early date. (fn. 34) Neolithic, Bronze-Age, and Iron-Age activity has been identified across the area, mainly from cropmarks defining fields, enclosures, houses, and trackways. Causewayed enclosures along Broadwell brook and Langford brook may have provided communal foci for dispersed Neolithic populations moving seasonally between the Cotswold uplands and the Thames gravels. More permanent settlement probably developed during the Bronze Age, when evidence for a domestic and agricultural landscape becomes clearer, while groups of Iron-Age roundhouses have been found at Langford, Radcot, and possibly Little Faringdon.
Akeman Street crossed the area from the mid 1st century, and the parallel road now running through Filkins may also be of Roman or pre-Roman origin. (fn. 35) Possibly it intersected with a north-south route connecting the Cotswolds with the Thames. Roman settlement in the upper Thames valley featured relatively few villas, and only one (at Lemhill) is known from the area covered here. Probably it was occupied from the 2nd to the 4th century. Elsewhere in the area Romano-British occupation took the form of interconnected clusters of sites within irregular networks of fields and trackways, as at Langford and Radcot. (fn. 36)
Anglo-Saxon and Early Medieval Organization
Early Anglo-Saxon activity (late 5th to 6th century) is attested by small inhumation cemeteries excavated at Broughton Poggs and Filkins, which contained grave goods including weapons, beads, and brooches. (fn. 37) The place name Filkins may incorporate the otherwise unrecorded Anglo-Saxon personal name *Filica, perhaps a local lord or chieftain active at an unknown date. If so, Filkins may have formed a territory associated with him. (fn. 38) Otherwise, nothing is currently known of the early social or political organization of the area, or of the form or duration of early settlement.
By the 10th and early 11th century the whole of the area covered in this volume belonged to an important royal estate which was apparently set aside for prominent earls, and which was perhaps held ex officio. (fn. 39) Aethelmaer (d. 982), ealdorman of Hampshire, held land at Cottesmore near Broadwell, and by the mid 11th century, when the estate was becoming fragmented, Earl Harold (d. 1066) held Langford with Radcot and (probably) Little Faringdon. (fn. 40) Broadwell (including Holwell, Filkins, and Kelmscott) was probably held by Aelfgar (d. 1062), earl of Mercia. Both estates were still exceptionally large and wealthy: Langford (rated at 15 hides) was valued at £18 in 1066, while Broadwell (24¼ hides) was valued at £25, rising to £31 twenty years later. (fn. 41) On topographical grounds, the whole complex almost certainly began as a single, roughly 50-hide block of land, stretching from Holwell in the north down to Kelmscott, Grafton, and Radcot by the river Thames, and from Broughton Poggs and the Gloucestershire border across to Kencot (Fig. 1). (fn. 42) The early connection between Kelmscott and Broadwell survived the estate's fragmentation, with Kelmscott remaining a detached outlier of Broadwell parish until the 19th century. (fn. 43) East of Kencot and Langford lay a separate block of parishes associated with the royal estate centre at Bampton, and subject to Bampton minster. (fn. 44)
Harold's Langford estate was acquired after the Conquest by the prominent English survivor Aelfsige of Faringdon, a collaborator who accumulated extensive properties in the area, and who probably rebuilt Langford church. Besides Langford and its dependencies, his scattered estates included land at Great Faringdon and Littleworth (both then in Berkshire), Great Barrington and Windrush in Gloucestershire, Inglesham in Wiltshire, and Shipton-under-Wychwood in Oxfordshire. (fn. 45) Many of those places seem to have had long-standing connections, (fn. 46) and possibly some of Aelfsige's accumulations reflected pre-Conquest territorial links which cut across county boundaries. Little Faringdon was almost certainly named from Great Faringdon, suggesting early associations, and Earl Harold certainly held Great Faringdon with Langford in 1066. Possibly the two had long formed twin parts of a larger estate straddling the Thames, although the name Little Faringdon is not recorded before the mid 12th century and could equally reflect post-Conquest reorganization, perhaps by Aelfsige. (fn. 47) The formal transfer of Little Faringdon and Langford to the Berkshire hundred of Faringdon took place even later, following King John's endowment of Beaulieu abbey with the manors of Great Faringdon, Little Faringdon, and part of Langford, which the abbey subsequently administered together. (fn. 48)
Whatever the case, parish boundaries elsewhere in the area suggest some early cross-border connections. Links between Broughton Poggs and Eastleach Martin (in Gloucestershire) are suggested by indentations in the shire and parish boundary there, which imply that when the shire boundary was first established in the early 11th century it cut through an existing and presumably shared open-field system. (fn. 49) The association between Broughton Poggs and Lemhill (giving Broughton Poggs access to Lemhill mill and additional meadowland) possibly also pre-dated the Conquest, while Radcot's ownership of a meadow on the Berkshire side of the Thames may similarly reflect early links, such cross-border connections perhaps being encouraged by the navigability of the upper Thames in this period. (fn. 50) Certainly it cannot be assumed that the neat divisions implied in Domesday Book necessarily existed earlier.
By the early 13th century most of the former comital estate had been divided into small local manors on the usual Midland pattern, held by a mixture of lay and ecclesiastical lords of whom some lived locally. The later pattern of parish and township derived from this structure, with Little Faringdon possibly one of the last areas to be defined as an independent unit during the mid 12th century. By then most manors and estates were held by standard feudal tenure, although the survival of a couple of serjeanties probably reflects pre-Conquest land grants in return for royal service, similar to the 'ministerial' grants found elsewhere in Bampton hundred. Broughton Poggs (an independent estate by 1066) was held by serjeanty of mewing the king's goshawk (i.e. confining it during moulting), while a 'semi-free' estate at Langford owed the annual service of guarding the king's treasure on its passage to the sea, probably along the Thames from Radcot. (fn. 51)
An early focus within the pre-Conquest estate may have been Langford itself, which possibly emerged in the 9th or 10th century as a significant royal or comital vill. Evidence for a small minster or other pre-Conquest church there is persuasive but largely circumstantial, based on the size and importance of the Domesday estate and of the later parish, on the church's exceptional endowment (worth £60 in 1291), and on the fact that the Langford-Broadwell complex lay outside the neighbouring minster parochia centred on the royal vill at Bampton. Additional evidence comes from the church itself, built in the later 11th century with an exceptionally fine central tower, and incorporating high-quality late Anglo-Saxon figure sculpture. This has been reset (in one case incorrectly), but may nonetheless have come from an earlier church on the same site. If so it suggests a high-status patron, possibly one of the estate's comital lords. (fn. 52) Broadwell's importance within the combined estate is unclear, though with the estate's division in the earlier 11th century it presumably became an important estate focus for its dependencies of Holwell, Filkins, and Kelmscott, reinforced by the establishment of a mother church by the 12th century and possibly earlier. (fn. 53) Long before then nucleated settlements were developing elsewhere within the area, and in several instances acquired their own chapels.
The Development of Villages
As across much of central England, the area's nucleated villages probably replaced an earlier, more dispersed, and more shifting settlement pattern between the 9th and 11th centuries. (fn. 54) Evidence for the earlier pattern here is currently very limited, although Tillingtons (on the Langford and Little Faringdon boundary) may be a rare example of a late Anglo-Saxon farmstead which survived into modern times. The name means the farm of Tilli's people, and an old-inclosed pasture farm continued there in the 16th century and beyond. Another survival may be the old-inclosed farm at Lemhill (now Glos.), which remained an outlier of Broughton Poggs from the Middle Ages to the 19th century, although in this case there is no supporting evidence. (fn. 55) The gradual shift towards more stable nucleated villages was part of a wider process which can be traced a little further east around Alvescot, where the abandonment and shrinkage of small dispersed settlements outside the main village core continued into the later Middle Ages. (fn. 56)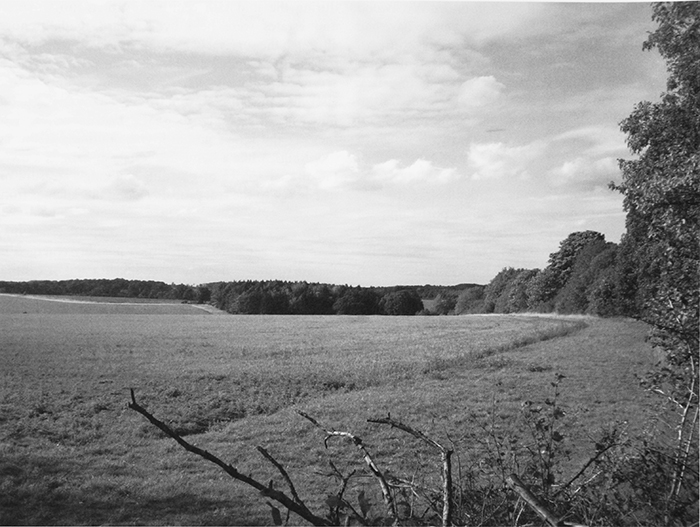 The creation of nucleated villages and their associated open fields almost certainly reflected the needs and internal organization of the Langford and (later) Broadwell estates, with specialized satellite settlements developing away from the main estate centres. Holwell lies on the traditional summer pastures of the downs, and may at first have been only seasonally occupied; it may also have had some early religious significance, since the hamlet apparently developed around a holy well close to the later chapel. Kelmscott occupies an area of rich and extensive meadows bordering the Thames, the reason, presumably, why it was retained as part of the newly created Broadwell estate before 1066. The streamside tūn at Broughton was also well placed for access to water and meadow, and by 1066 had become the focus for a small independent estate and proto-parish. Grafton and Radcot were characterized in the 13th century by a preponderance of low-status tenants, possibly the successors of Anglo-Saxon estate workers: Grafton (graef- or grove tūn) may originally have specialized in the supply and transport of coppice wood for fuel, while at Radcot archaeology has revealed the creation of a planned nucleated settlement in the 11th century, associated with a newly constructed causeway and important river crossing which linked the Langford and Great Faringdon estates. (fn. 57) The frequency of cot place names both here and further east towards Bampton suggests that the deliberate foundation of subsidiary settlements was common, although not all such names necessarily imply late settlement or low status. (fn. 58)
Table 1. Population 1086–1901
Place
Tenants 1086 (including servi) (fn. 63)
Tenant households 1279 (fn. 64)
Poll Tax payers 1377 (fn. 65)
Adult males recorded 1642 (fn. 66)
Houses assessed 1662 (fn. 67)
'Conformists' (probably adult inhabitants) 1676 (fn. 68)
Broadwell
74 (incl. townships)
35
46
121 (incl. Filkins and Holwell)
22
300 (incl.Filkins and Holwell)
Filkins
included with Broadwell
36 c.
57
included with Broadwell
31
included with Broadwell
Holwell
included with Broadwell
24 c.
17
included with Broadwell
7
included with Broadwell
Kelmscott
included with Broadwell
28
41
30 (fn. 71)
16
65
Broughton Poggs
31 (incl. Lemhill?)
31 (incl. 2 at Lemhill)
30
38
15
59
Langford
37 (incl. Little Faringdon?)
not known
86 (fn. 70)
not known
46
not known
Little Faringdon
included in Langford?
not known
42 (fn. 70)
not known
19
not known
Grafton
12
18
44
19 (fn. 72)
14
not known
Radcot
0
35
24
6
3
not known
Table 1. Population 1086–1901 (continued)
Place
Population 1801 (no. of houses in brackets) (fn. 69)
Population 1851 (fn. 69)
Population 1901 (fn. 69)
Broadwell
210 [39]
221 (+ 5.2%)
202 (- 8.6%)
Filkins
454 [91]
606 (+ 33.4%)
393 (- 35.1%)
Holwell
70 [14]
131 (+ 87.1%)
106 (- 19.0%)
Kelmscott
132 [27]
149 (+ 12.9%)
164 (+ 10.1%)
Broughton Poggs
103 [20]
122 (+ 18.4%)
91 (- 25.4%)
Langford
356 [80]
453 (+ 27.2%)
297 (- 34.4%)
Little Faringdon
131 [24]
185 (+ 41.2%)
126 (- 31.9%)
Grafton
66 [15]
77 (+ 16.7%)
70 (- 9.1%)
Radcot
31 [7]
36 (+ 16.1%)
29 (- 19.4%)
The associated creation of open fields seems to have been underway by the early 11th century, since the indentations on Broughton Poggs's western boundary suggest the existence of open-field furlongs before the shire and estate boundary was established. (fn. 59) The same evidence, however, implies that their organization was still fluid, with boundaries and allocation to particular settlements still to be fully determined. By the 13th and 14th centuries, when evidence becomes fuller, virtually every township and village in the area had its own field system, and developed its own institutions for communal agrarian organization and local government. (fn. 60)
The topography of individual settlements in the area varies considerably, though many lie close to streams, (fn. 61) and the majority lie along important early roads, often close to significant junctions. (fn. 62) Several are focused at least in part around greens or former greens: examples include Langford, Broughton Poggs, Filkins, and possibly Kelmscott, while Grafton lies along the edge of a large common. Some show conspicuous evidence of medieval planning or replanning: at Radcot the regular 11th-century settlement was adapted after the building of the early 12th-century castle, while at Grafton, the laying out of a regular linear settlement alongside Grafton common was possibly undertaken by the lord in the late 12th or early 13th century, as part of a wider reorganization which saw the introduction of a significant number of free tenants. At Broughton Poggs, medieval planning may have resulted in the separation of tenant housing from the manorial centre at the south-east end of the green. Little Faringdon and Broadwell remained simple roadside settlements, though elsewhere the presence of churches, greens, and manor houses often resulted in more complex, polyfocal layouts. At Filkins two ends (known as Nether and Over Filkins) developed around separate road junctions linked by a large central green, while at Langford 19th-century shrinkage reinforced the separation of the main village core, with its probable former green, from an early nucleus around the late 11th-century church. (fn. 73)
Outlying settlement in the area is almost entirely post-medieval, with the exception of Tillingtons and of a few early mill sites. Common Farm in Little Faringdon existed by the 16th century, and a gentry house at Bradwell Grove by the 1660s, but most other outlying farmhouses were built only after parliamentary inclosure in the 18th or early 19th centuries. Late medieval depopulation was reflected in the shrinkage of several villages and hamlets, most dramatically at Radcot, which by the 1540s had only three taxpayers and probably no more than half a dozen houses. No settlements became entirely deserted, however, and although the size and form of the area's villages changed over time, the broad outlines of the settlement pattern established by the 13th century probably remained substantially unchanged in the 19th. (fn. 74)
Modern development has generally been very limited, circumscribed both by planning regulations and by wider conservation concerns. Around Kelmscott, an awareness of the village's associations with William Morris played a significant role in protecting the area, (fn. 75) while at Filkins Sir Stafford Cripps ensured that his community building projects there were undertaken on an appropriate scale and in local vernacular styles. (fn. 76) Most new building in the area took the form of infill, and only at Bradwell Grove in the north was there significant 20th-century development. There, a Second World War field hospital and army camp were followed in the 1990s by a new housing complex named Bradwell Village, close to the 160-a. Cotswold Wildlife Park focused on Bradwell Grove House. (fn. 77) In the early 21st century, despite some expansion and infilling, the area continued to be characterized by small rural villages and a few outlying farms, although most places had been transformed by an influx of prosperous commuters unconnected with farming.
Society and Economy
Medieval Society
From the Middle Ages to the 20th century all the settlements covered in this volume were small agricultural communities typical of the area. Their individual characters and social structure varied considerably, however, influenced by differing patterns of lordship, landownership and estate management which, in the post-medieval period, produced villages with contrasting 'open' and 'closed' features.
Social distinctions emerged early on, almost certainly reflecting the differing roles of individual settlements within the large 11th-century estates. (fn. 78) The preponderance of low-status smallholders at Grafton and Radcot in the 11th and 13th centuries has already been mentioned, and in 1086 Broughton Poggs, too, retained an unusually large proportion of low-status bordars and slaves alongside its better-off villani. (fn. 79) The picture was, however, more varied and less fixed than that might imply. The introduction of significant numbers of freeholders into Grafton manor in the late 12th or early 13th century, presumably on the lord's initiative, must have substantially changed its social character and possibly the village's layout, while free tenures were also created on an ongoing basis at Broughton Poggs. Radcot's position at a major river crossing and by a busy wharf lent it a highly individual character, and almost certainly many of its smallholders were involved in non-agricultural activities, and had relatively wide connections. Broadwell and Langford were more heavily manorialized, with a preponderance of unfree yardlanders and half-yardlanders owing labour services on the large demesnes. Both villages were divided among several manors, however, which may have weakened manorial authority, and which seems to have contributed to occasional conflict and violence within the villages. (fn. 80) Filkins, by contrast, was characterized by an exceptionally large proportion of freeholders, the reasons for which are not clear: certainly neither Kelmscott nor Holwell displayed a comparable social structure, despite lying similarly distant from the manorial centres at Broadwell. (fn. 81) Fourteenth-century taxation lists for the area, based on valuations of moveable goods, reveal considerable disparities in the wealth of individual tenants in all the villages, which did not always correspond with their legal status as freemen or villeins, or with the recorded size of their holdings.
As elsewhere, population decline in the century and a half after the Black Death altered social relations and created new opportunities. Depopulation was most marked at Radcot, but all the settlements experienced some long-term loss of tenants, and in some (but not all) parishes old-established families gradually disappeared. (fn. 82) Most lords responded in the usual way, attempting to enforce repair of disused buildings while simultaneously offering long leases or reduced rents, although at Grafton and possibly Radcot population decline was reinforced by small-scale inclosure for sheep farming, involving displacement of tenants. The presence of wealthy incomers and outsiders investing in valuable pasture or meadow was a feature of the area both before and after the Black Death. Prominent Langford examples include Michael Meldon (fl. 1300) and the woolman Henry Ricards (d. 1467), who contributed to a major remodelling of Langford church.
Few medieval lords in the area were permanently resident. The local Besyles family maintained a high-status (and semi-fortified) manor house at Radcot, where they lived at least occasionally, and in the 14th century some members of the d'Oddingseles family occupied a manorial complex by Broadwell church. Whether resident or not, most lords in the 13th and early 14th centuries (including the large ecclesiastical owners) (fn. 83) ran local demesne farms through resident officers, and enforced their authority through regular manor courts. By the later Middle Ages most resident lords had moved away and the demesnes were leased, often to prosperous local farmers or minor gentry who became leading figures within the village. An example is Thomas Limerick (fl. 1540) of Broughton Poggs, a demesne farmer who occupied the moated medieval manor house and who was the parish's largest taxpayer. Lincoln cathedral's two large prebendal farms in Langford may have been leased to similar people for much of the Middle Ages. (fn. 84)
Village Communities from 1550
Thereafter all the settlements saw the gradual emergence of a prosperous class of yeoman farmers typical of the area, although the character of individual villages continued to be affected by changing patterns of lordship as medieval manors were sold or broken up. At Kelmscott, Grafton, and (to a lesser extent) Langford the break-up of earlier estates contributed to the emergence of independent freeholders. In Grafton this followed the creation in the 17th century of twelve sizeable 'farmerships', half of which were subsequently separated from the manor, while in Langford and Kelmscott lands formerly belonging to Beaulieu and Cirencester abbeys or to the d'Oddingseles family became fragmented into a number of freeholds. Filkins, too, remained dominated by prosperous yeoman freeholders, despite the creation of a substantial gentry estate by the Edwards and Colston families, who in some respects assumed the role of squire. By contrast Broadwell, Holwell, Broughton Poggs, and Little Faringdon remained dominated by single manors, owned by lords who were resident at least intermittently. (fn. 85) The creation from 1804 of the 2,000-a. Bradwell Grove estate reinforced the distinction, with Holwell in particular emerging as an estate village closely tied to the requirements of Bradwell Grove House. The relationship continued well into the 20th century.
The prosperity of the better-off farmers was balanced by acute poverty in many villages, which in most cases seems to have been exacerbated by inclosure. At Broughton Poggs two large new inclosed farms created in 1711 were subsequently leased to incomers, driving out some long-established families and reducing others to the status of landless wage earners. Rural poverty there remained acute in the late 19th century. Partial inclosure of Filkins common in 1750 (some 25 years before parliamentary inclosure) led to conflict with commoners, who pulled down the newly built walls, while later innovations such as William Hervey's introduction of steam threshing probably also reduced employment. (fn. 86) Such experiences were not unusual in the area, and in the early 19th century the cost of poor relief was fairly average for Bampton hundred, though with some strong and sometimes unexpected variations between places (Table 2). Costs at Filkins, with its labour surplus and long-standing freehold tenures, were predictably high, averaging over 27s. per head of population in 1803. Neighbouring Langford, however, despite sharing some 'open' characteristics, apparently saw no major influx of poor families, since per capita costs there remained relatively low. The highest costs of all (far above the local average) were at Broughton Poggs, perhaps in part reflecting its close association with adjoining Filkins. The parish's population rose by over 53 per cent between 1801 and 1831, more sharply than that of any other village, though in the 1840s–50s it fell back markedly while Filkins continued to grow (Table 1). (fn. 87) Long before then, agriculture in all the parishes was dominated by large commercial farms of up to 600 acres, whose occupiers (both tenants and freeholders) generally played a prominent role in village life and parish government. (fn. 88)
The social life of the various communities is poorly recorded before the 19th century. Grafton, Radcot, Holwell, and Little Faringdon were generally too small to have their own facilities, and most lacked even pubs, (fn. 89) although both Little Faringdon and Holwell acquired village schools supported by the respective lords of the manor. At Holwell, William Hervey's presence as squire was reinforced by his mid 19th-century rebuilding of the chapel, which he fitted with an elaborate double-decker pew for himself and his family. The paternalistic influence of other local landowners was similarly expressed in support for schools and churches, and in occasional events for the villagers, such as the celebrations held at Broughton Hall to mark Queen Victoria's coronation or the end of the Crimean War. Filkins, by contrast, with its numerous pubs and alehouses, developed a strong and vibrant working-class culture, described in evocative detail by the local stone mason George Swinford (1887–1987). (fn. 90) Friendly societies were established there as in several other villages, and communal activities included morris dancing, rabbit coursing, and the annual Filkins feast. Even so social deference remained the norm, and in the late 19th and early 20th century Squire Fox of Bradwell Grove still sought to influence his employees' voting in parliamentary elections. (fn. 91)
Table 2. Comparative Poor Relief Costs, 1783–1814
Place
Poor relief costs 1783–5 (average £s)
Cost per head of population 1783–5 (shillings) (approx., based 1801 population)
Poor relief costs 1803 £s
Cost per head of population 1803 (shillings)
Shilling rate 1803
Poor relief costs 1814 £s
Cost per head of population 1814 (shillings) (based on 1811 population)
Broadwell
38.3
3.6
138
13.1
3s.
190
16.2
Filkins
101.8
4.5
625
27.5
9s. 5d.
533
24.1
Holwell
9.3
2.7
68
19.4
2s. 9d.
39
11.5
Kelmscott
41.8
6.3
104
15.7
2s.
147
23.3
Broughton Poggs
74.8
14.5
220
42.7
7s. 3d.
232
43.0
Langford
95.1
5.3
181
10.1
2s. 3d.
228
11.3
Little Faringdon
33.9
5.2
127
19.4
2s. 3d.
103
13.9
Grafton
25.9
7.8
47
14.2
2s. 9½d.
101
29.3
Radcot
15.3
9.9
19
12.2
10½d.
21
16.8
Bampton Hundred
2,919.5
4.5
10,358
16.1
6s. 1d. (average)
13,611
20.8
Note: sums given are those specifically spent on the poor rather than total sums raised.
Fox himself, as the son of a Yorkshire steel and umbrella manufacturer, was one of several outsiders who, from the 18th century, became established as local landowners, having made their fortunes in commerce or the law. (fn. 92) Rather different was William Morris, who from 1871 rented Kelmscott Manor as a summer holiday home 'for the wife and kids', in what he rather naively regarded as a timeless rural idyll and 'a heaven on earth'. His influence on the life of the village was extremely limited, though from the earlier 20th century the continuing presence of his widow and daughter brought Kelmscott increasingly within the Cotswolds Arts-and-Crafts orbit, spreading the village's fame and attracting artists and intellectuals to the area. (fn. 93) Morris's ideals were to some extent shared by the Christian socialist Sir Stafford Cripps, who settled at nearby Filkins in 1920, and in the early 1930s embarked on a series of building programmes to benefit the community, working with local craftsmen. (fn. 94)
Other prosperous outsiders moved into the area during the later 20th century as farming declined and became less labour-intensive, restoring and gentrifying the villages' farmhouses and cottages, and fundamentally altering their social tone. As a result, most of the villages have been transformed into secluded residential communities for middle-class commuters, retired people, and second-home owners. In 2001 over 63 per cent of the adult population worked in relatively high-level managerial or professional jobs, some of them a considerable distance away, and over 11 per cent of inhabitants were retired. (fn. 95) Famous incomers included the Queen's dresser Sir Hardy Amies (d. 2003), who lived at Langford from 1972, and the fashion model Kate Moss (b. 1974), who bought Church Farm at Little Faringdon in 2004. (fn. 96) This was, however, only part of the picture. Agriculture and forestry still employed 9 per cent of the population in 2001, an unusually high proportion for West Oxfordshire, while over a fifth of residents were in semi-skilled, unskilled, or otherwise low-grade employment. Over 12 per cent of housing was rented from the local authority or from Housing Associations, with another 26 per cent owned by private or other landlords. Even so, around 60 per cent of houses were owner-occupied. (fn. 97)
Farming
Agriculture was mostly characterized by the arablebased mixed farming typical of the region, (fn. 98) though from the 15th century Radcot's vulnerability to flooding encouraged its almost total conversion to grazing. A weekly market and annual fair were established there in 1272, but failed to prosper, and most local produce was probably sold at the nearby towns of Faringdon, Lechlade, and Burford. In the earlier Middle Ages some produce may have also been shipped down the Thames to Oxford or even London, especially from manors belonging to Beaulieu abbey, which maintained ships on the river at Faringdon. (fn. 99) Sheep were important from the Middle Ages: at Langford a specialized sheep farm may have been created in the early 14th century, and after the Black Death (when arable farming generally declined) many of the extensive pastures of Holwell, Radcot, and elsewhere were acquired by outside graziers, including wool merchants and clothiers from Burford and Witney. (fn. 100)
The area's chief cereal crops were barley and wheat, which were rotated with a variety of pulses. Dairying was widespread, and increased in importance from the 17th century. Nevertheless, traditional sheep-and-corn husbandry remained paramount until the agricultural depression of the late 19th century, when stockbreeding and milk production assumed greater prominence. At Kelmscott, R. W. Hobbs built up a substantial business dealing in cattle and sheep and selling milk (transported by train) for the London market, and similar enterprises were established at Langford, Radcot, and Broughton Poggs. The quality of farming inevitably varied, though several farmers in the area won the approbation of leading agriculturalists. In 1916 the Hobbses' operation was flagged by John Orr as a model of successful modern farming despite 'unequal and inferior' soils, while a century earlier Arthur Young praised the innovations of (among others) John Edmonds at Kelmscott and John Pinnell at Westwell and Holwell. Both were typical mixed farmers who invested in new farm buildings and practised careful rotations and manuring; Edmonds also praised inclosure and the flexibility which it brought, asserting that were it 'not for sainfoin, paring and burning, and turnips, the Cotswold farmers of Gloucestershire and the stonebrash ones of Oxfordshire could not pay one third of their present rents'. (fn. 101)
Post-inclosure farms in the area were mostly large commercial operations, managed generally by tenants. A few remained under 100 a., but by the mid-to-late 19th century many exceeded 400 a., and a few (including Hobbs's and Broughton Manor farm) were over 600 acres. Ongoing consolidation (as at Broadwell and Langford) increased their size still further, and few small owner-occupiers survived the agricultural depression of the 1870s–1910s. Mixed arable and livestock farming, with an emphasis on wheat, barley, cattle, and sheep, revived after the Second World War and continued in the 21st century; in addition there was some diversification into crops such as oil-seed rape and, at Bradwell Grove, commercial exploitation of woodland.
Rural Trade and Industry
In the Middle Ages the area's rivers and streams powered at least ten corn mills, of which four (in Broadwell, Filkins, and Little Faringdon) continued to produce flour until the 20th century. A fulling mill was established at Little Faringdon in the 13th century, though evidence of involvement in the medieval cloth industry is otherwise slight. (fn. 102) Employment in the villages remained predominantly agricultural, and only at Radcot and possibly Grafton did a significant proportion of the medieval population (mostly smallholders) probably engage in other occupations, including fishing and activities associated with the road and river trade. Elsewhere a few occupational surnames suggest the presence of the usual rural trades and crafts: smiths, bakers, carpenters, coopers, chapmen, and others involved in the preparation and sale of food and clothes. The surname Crocker (potter) was recorded at Holwell in 1279. (fn. 103)
Commercial malting was developed at Holwell, Broadwell, and Filkins from the 17th century, as part of a general expansion of the industry in the area after the reopening of the Thames to Oxford and beyond. (fn. 104) Much of the malt was presumably transported downstream from Radcot. Though never large-scale the industry was clearly successful, and continued into the 19th century. The same three villages were involved in quarrying, slating, and stone masonry, which were almost certainly carried out from the Middle Ages. The quarries near Filkins produced both good-quality building stone and stone slate, used for roofing and for the stone-plank fencing characteristic of the area (Fig. 5). By 1861 quarrying and masonry employed more men in Filkins than any other non-agricultural activity, and though the industry declined after the Second World War, high-quality building stone and stone slate were still being dug there in the early 21st century. (fn. 105)
In other respects, too, Filkins developed from the 17th century into a local centre for goods, trades, and services, generating a diversity of occupations. The process was probably accelerated by the turnpiking of the main Lechlade-Burford road through the village in 1792, and by the mid 19th century there were publicans, a baker, grocers, drapers, shoemakers, metal workers, a farrier-cum-vet, a land agent, and (in 1881) a coach builder. Several other villages, particularly Langford, also supported a variety of shopkeepers, services, and craftsmen, and in the 19th century even the relatively small and remote settlements of Holwell, Grafton, Kelmscott, and Little Faringdon had their own grocer's shops, at least for a few decades. Late 19th-century inhabitants of Broadwell and Holwell included a few servants and estate workers employed by the Bradwell Grove estate. (fn. 106)
Improved river transport and the arrival of the railway brought coal dealers to several villages by the 19th century, but no major transformation of the area's economy occurred as a result of technological change. As agricultural employment declined in the 20th century many local businesses closed, and by 1939 only Filkins and Langford retained more than the most limited range of shops and services. In the later 20th century a few light industrial and craft workshops were established, notably at Filkins, while at Little Faringdon former gravel pits were turned into a trout farm and fishery. (fn. 107) From around 1900 the Swan inn at Radcot was marketed as a centre for recreational use of the Thames, and from the 1960s the Society of Antiquaries opened Kelmscott Manor to the public, with access carefully managed to limit the impact on the village. Much larger in scope was the Cotswold Wildlife Park at Bradwell Grove (opened in 1970), which in 2008 received over 300,000 visitors, while the Cotswold Woollen Weavers at Filkins, opened in 1982 in a converted barn, marketed traditionally made goods produced in its working woollen mill, which was aimed at visitors to the Cotswolds. In 2011 the village also retained a small museum of local life, originally opened in 1931. Those attractions apart, the area's villages and hamlets remain largely off the tourist trail, with few public buildings or amenities other than a dwindling number of pubs.
Religious Life
In the late Anglo-Saxon period the area may have been dependent on a small minster or other early church at Langford, where the existing building incorporates reset Anglo-Saxon figure sculpture (Fig. 4) and an exceptionally fine Anglo-Norman tower built in the late 11th century. (fn. 108) Both Langford and Broadwell retained large multi-township parishes until the 1850s–60s, though by the late 12th century subservient chapels had been built in all the dependent hamlets except Filkins and Grafton, and Broughton Poggs was developing into an independent parish. (fn. 109) Broadwell and Langford churches were both wealthy (Langford's exceptionally so), but the vicarages ordained in them during the 13th century were of only average value. None of the chapels had an independent endowment, and Broughton Poggs was the poorest church in the deanery; consequently the area attracted few high-status churchmen or pluralists during the Middle Ages. There is, however, no explicit evidence of neglect except in the early 16th century: improvements to church fabric and furnishings continued to be made by patrons or wealthier parishioners, as at Langford and Radcot, and endowments were left for chantries and lights. Whether the chapels had their own resident priests is unclear, despite detailed stipulations laid down by 13th-century bishops. (fn. 110)
During the Reformation there seems to have been little enthusiasm for religious change, particularly at Broadwell, where Roman Catholicism was perpetuated by recusant lords (the Thompsons) into the early 17th century. How far they influenced their tenants and neighbours is unclear, although a few prominent families there seem to have shared their views. Another family of recusant gentry, the Trinders, moved to Holwell in the 1620s, where they and their household may occasionally have used the chapel for clandestine Catholic worship. The Holwell estate passed to non-resident Catholic heirs in 1719, and though a few Catholic families were intermittently recorded in the area later on, recusancy never again acquired a significant presence.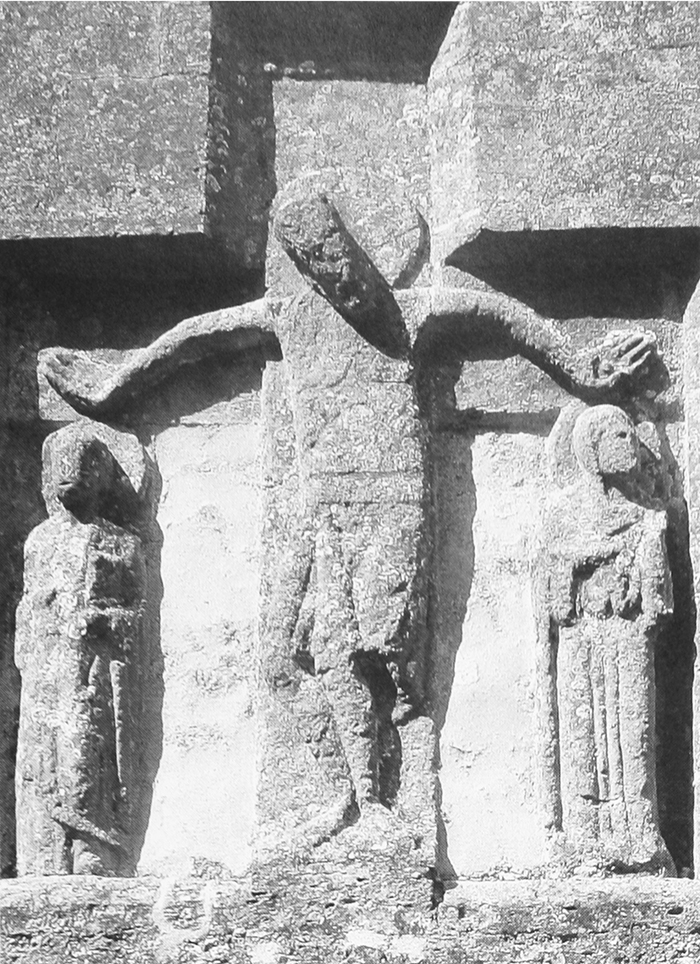 From the late 16th to early 19th century the Anglican parish churches were relatively well served, mostly by resident incumbents. During the 18th century two of them attracted dynasties of gentlemen clergy with strong local links: the Whitfields and Colstons at Broadwell, and the Goodenoughs at Broughton Poggs. By contemporary standards most of them were moderately conscientious, although few demonstrated any great zeal, and provision in the dependent chapelries was almost certainly less satisfactory than in the parish churches themselves. Fortnightly services were held at Holwell and Kelmscott in the 18th century, but Radcot's chapel was destroyed during the Civil War, and at Little Faringdon the financial demands of the mother church at Langford led to considerable antipathy between the two communities.
Despite such shortcomings, the area saw little Protestant Dissent before the 19th century. Small groups of Quakers (associated with Burford or Alvescot) were active at Filkins and Langford in the late 17th and early 18th century, and Dissenters were mentioned sporadically in a few other villages. The first to become firmly established, however, were Baptist and Primitive Methodist groups active in Filkins from (respectively) the late 18th and early 19th centuries, the former associated with the long-standing Baptist chapel at Cote (near Bampton), and the latter (with a group at Little Faringdon) among the very earliest Primitive Methodist missions in Oxfordshire. (fn. 111) Filkins, with its large labouring population and independent traditions, remained a focus of Nonconformity into the 20th century, and from the 1830s–40s Primitive Methodism became established to varying degrees in several neighbouring villages, forming a distinctive cluster in the south-west of the ancient county. (fn. 112) Another important group were the Congregationalists established in Langford in the 1840s, who attracted the support of two of the township's leading farmers. A chapel (with attached manse) was built in 1850 and rebuilt in 1884, and in 1887 the group took over the Baptist chapel in Filkins. By contrast Kelmscott, Radcot, and Broughton Poggs experienced very little Nonconformity, probably reflecting, at least in part, the Anglicanism of the dominant farmers and landowners. (fn. 113)
Some Anglican clergy in the area took a sanguine view of religious Dissent, claiming that many adherents attended church as well, and displaying greater concern at the widespread apathy of some leading parishioners. (fn. 114) Nevertheless the challenge posed by rising Nonconformity was one of the factors behind the building of a new Anglican church at Filkins in 1855–7, and the creation of Holwell, Filkins, and Little Faringdon as separate ecclesiastical parishes in the 1850s–60s. Prominent Anglican landowners such as William Hervey and (at Little Faringdon) William Vizard were instrumental in the process, supported by the energetic mid 19th-century vicars of Broadwell and Langford, T. W. Goodlake and Francis Lémann. Both clergymen were conscientious reformers, and increased the number of church services. Kelmscott chapel remained dependent on Broadwell, although there, too, provision was improved following the separation from the parish of Filkins and Holwell. Nonconformity, and particularly Primitive Methodism, fell off in several places during the later 19th century, perhaps partly as a result of these changes; an exception was Grafton, where there was no Anglican place of worship and where the Primitive Methodists built a new purpose-built chapel in 1870. Radcot, too, lacked any permanent Anglican focus, its inhabitants attending Langford or Clanfield churches. (fn. 115)
The Grafton Primitive Methodist chapel continued into the mid 20th century, by which time attendance at church and chapel was declining everywhere. The Church of England responded by creating ever larger benefices and team ministries, which avoided the closure of any individual churches; by contrast, the only Nonconformist place of worship to remain open in 2011 was the United (formerly Primitive) Methodist chapel at Filkins. (fn. 116) Even so, some four fifths of inhabitants defined themselves as Christians in 2001, with only 13 per cent expressly declaring themselves to be of no religion. Adherents of other faiths comprised only a few individuals. (fn. 117)
The Built Character
With few exceptions the villages' older domestic buildings are vernacular farmhouses and cottages in traditional Cotswold style, constructed of limestone rubble and stone slate from local quarries. Most date from the 16th or 17th centuries and later, and most surviving farm buildings (principally barns) are in broadly similar style. (fn. 118) Weathered to various shades of grey and gold, the buildings form an attractive and largely homogenous backdrop to village streets. Thatch was formerly more common despite the widespread availability of stone slates, and in the 19th century other materials (including corrugated iron) were used on some farm buildings, much to the consternation of William Morris at Kelmscott. By then brick was used occasionally for dressings, and at Grafton some early 20th-century labourers' cottages were entirely brick-built. In Holwell, a short-lived brick and tile works serving the needs of the Bradwell Grove estate was built near Akeman Street before 1883. (fn. 119)
Yet despite this broad homogeneity, individual villages display marked differences in style. Most houses at Broadwell, Grafton, and Holwell are relatively plain and unremarkable, while the southern end of Little Faringdon is characterized by a row of unexceptional labourers' cottages (Fig. 61). By contrast, Filkins and Langford contain several grander 17th- and 18th-century farmhouses featuring designed symmetrical fronts, dressed stone quoins, keystoned windows, or classically-derived door hoods, reflecting the presence and aspirations of prosperous yeoman farmers. Examples include Filkins Farm and Little Peacocks in Filkins (the latter remodelled by one of the Bassett family in 1759), or Lockey House and Ansells Farm in Langford. (fn. 120) For its size Kelmscott, too, is remarkable for a concentration of high-quality 17th- and 18th-century farmhouses built by prominent freeholders, among them Home Farm, with its symmetrical front and Venetian windows, or Manor Farm, with its hipped roof, ashlar banding, and adjacent dovecot. Kelmscott Manor itself began as an ordinary working farmhouse, before being extended in the 1660s by the prosperous Turner family of yeomen soon after they attained gentry status. Another vernacular building of note is Radcot House, built with a tall three-gabled front probably in the 1660s, and incorporating part of an earlier structure. The building bears a strong resemblance to the contemporary Finstock Manor a few miles to the north-east. (fn. 121)
Architect-designed gentry houses are few. Broughton Hall (in Broughton Poggs), in origin another 16th- or 17th-century vernacular farmhouse, acquired a seven-bayed, stuccoed south range in the mid 18th century, when the house was enlarged and the gardens landscaped for the resident Burnaby family. The architect is unknown, though a slightly later gazebo has been attributed to the builder Richard Pace of Lechlade, who undertook much work in the area. Pace was certainly responsible for the remodelling of Broughton Rectory in 1808, for the stable block of 1810 at Filkins Hall (the main part of which burned down in 1876), and for Broadwell Manor Farm near Broadwell church, built in 1804 on a square three-bay plan with a hipped roof. By far the grandest surviving gentry house is Bradwell Grove House, designed in Gothic style for William Hervey in 1804 by William Atkinson, and again built by Pace. Gothic and Jacobean detailing and crenellations feature also at Little Faringdon House, which was substantially extended during the 19th century by resident lords of the manor. Otherwise the area's grandest domestic buildings are generally its former vicarage houses, of which the five-bayed Green Dragon House in Filkins, adopted as a vicarage in 1864, was remodelled and gentrified in the mid 18th and early 19th century. Gentry houses apart, new 19th-century building in the villages was limited, comprising mostly new institutional buildings such as schools and Nonconformist chapels, and a very few additional cottages. In general, population increase during the earlier 19th century seems to have been accommodated by subdivision rather than by extensive new building, and was partially reversed as population fell from the 1860s and 1870s. (fn. 122)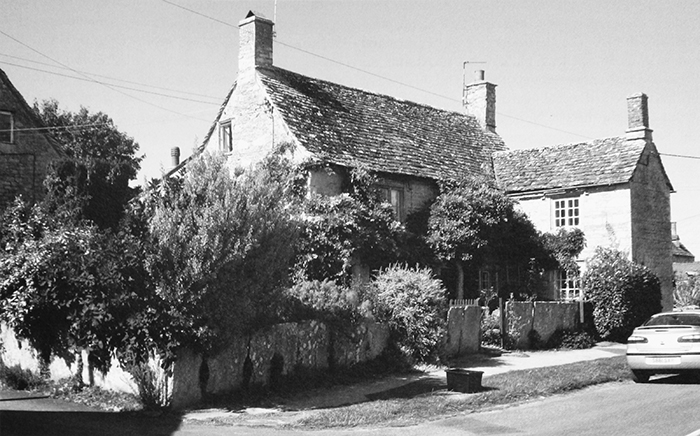 During the early 20th century Kelmscott in particular came under the influence of the Arts and Crafts and Vernacular Revival movements, thanks to the continuing presence there of William Morris's widow Jane (d. 1914) and daughter May (d. 1938). The Morris Memorial Cottages were built in 1902 and the Morris Memorial Hall in 1934, designed respectively by Philip Webb and Ernest Gimson; Gimson designed a second pair of cottages in 1914, and was possibly also responsible for a nearby fence of limestone slabs along the village street. (fn. 123) Stafford Cripps's building projects at Filkins in the 1920s–30s, providing new community facilities, were informed by similar principles. Cripps worked closely with the local stonemason George Swinford, using local materials, and arranged for new council housing built in the 1920s and 1930s (to designs by P. R. Morley Horder and Stanley Roth) to be in traditional stone-built Cotswold style rather than red brick (Plate 4). Roth also designed the similar council houses at Kelmscott, built in 1950. (fn. 124) New council and private housing in other villages (including a sizeable 1940s council development in Langford) was generally also in stone, in an attempt to fit in with older buildings.
Conservation areas were created in many of the villages in the 1980s–90s, (fn. 125) and as elsewhere in the area late 20th-century housing was mostly confined to small-scale infill and conversions of non-domestic buildings, including barns, disused Nonconformist chapels, and former schools. Only at Langford was there significant growth, the housing stock there rising from 107 in 1961 to 138 forty years later; by contrast, the number of houses in most villages fell. (fn. 126) Bradwell Village, built in the 1990s near woodland at Bradwell Grove, combined traditional styles and materials with modern energy-efficiency, and included a purpose-built village hall. The developers (Prowting Homes) sought in their publicity to draw parallels with the planned village of Poundbury in Dorset. (fn. 127)
The area's lost buildings include some of note, among them the massive Norman keep built at Radcot, and the medieval tower house which succeeded it. Goodfellows at Filkins, burned down in 1947, belonged to a reputed medieval manor, and though largely rebuilt c. 1600 may have included fragments of a medieval moated house. The medieval manor house at Broadwell was apparently rebuilt in the 17th century, but was also destroyed by fire, leaving only a pair of 17th-century gate piers by the road. Gate piers similarly survive from the 18th-century Filkins Hall, which was replaced by a house in Jacobean style several decades after the fire of 1876. (fn. 128) Most intriguing of all is a building near Langford church demolished in the 19th century, which from descriptions appears to have been a high-quality (and possibly public) structure of medieval origin. Though it reportedly included a stone gothic window, one account described it as thatched and timber-built; if so it is the only documented timber-framed building in any of the villages, although the extensive use of timber-framing at nearby Burford suggests that this may not have been unusual in the medieval period. (fn. 129)
Of the villages' churches (fn. 130) that at Langford is the most notable, primarily for its late Anglo-Saxon sculptures and late 11th-century Anglo-Norman tower. It also contains some high-quality later medieval work, and until the 17th century a freestanding medieval chapel stood in the churchyard. (fn. 131) Broadwell church, predominantly 12th- and 13th-century, has a west tower with a tall octangonal spire similar to that at nearby Bampton, (fn. 132) and is also relatively large, with north and south transepts. Broughton Poggs church and the former chapels at Kelmscott and Little Faringdon are smaller, but all contain good-quality detailing suggesting patronage by manorial lords, prosperous parishioners, or corporate rectors. The dimensions of the nave at Kelmscott have prompted suggestions that it may be of 11th-century origin, while Broughton Poggs church retains its early 12th-century tower-nave-chancel plan. Two other churches are Victorian. That at Filkins (built in 1855–7) was designed in French Gothic style by the diocesan architect G. E. Street, with an apsidal chancel; it has been described as 'a design of great lightness and elegance', its tall windows and steeply pitched roof giving it a strong vertical emphasis. (fn. 133) The small church at Holwell, replacing medieval and mid 19th-century predecessors, was built in 1895 to designs by W. E. Mills of Banbury, in an Arts-and-Crafts-inspired late Perpendicular style with an octagonal west turret. The pulpit incorporates three reused 17th-century Flemish panels.