Pages 174-181
A History of the County of Oxford: Volume 6. Originally published by Victoria County History, London, 1959.
This free content was digitised by double rekeying. All rights reserved.
HETHE
The ancient parish covered 1,102 acres of which 4 were a detached part lying in Hardwick and 196 were part of the intermixed lands (634 a.) shared with Cottisford, which were also detached and lay to the north of Cottisford. (fn. 1) In 1888 523 acres including Willaston hamlet were transferred to Hethe from Mixbury parish, but Hethe lost the 4 detached acres to Hardwick. (fn. 2) In 1932 all the intermixed lands were given to Cottisford, (fn. 3) so that the present (1955) area of the parish is 1,425 acres. (fn. 4) It lies about five miles north of Bicester and just west of the Bicester— Buckingham road, with which it is indirectly connected by two minor roads. In 1738 it was said that the parish's 'greatest length is not above a tolerable mile, the greatest breadth not half a mile, in some parts not a quarter'. (fn. 5) Geologically it lies partly on the Great Oolite and partly on the Cornbrash, both covered except in the south-east by drift gravel. (fn. 6) A small stream, which is crossed by a bridge in the village, crosses the parish and joins a tributary of the Ouse which forms its southern boundary. The ground rises sharply from the bridge on the west and less steeply on the east to a plateau a little under 400 feet above sea-level.
The position of the village, (fn. 7) somewhat on the eastern side of the parish, is determined by the stream which divides it into two distinct parts, and a well, St. George's well, which very possibly gave its name to the 13th-century family of ad Fontem, (fn. 8) and was still noted in 1718. The name Hethe means 'uncultivated ground' (OE hæp) (fn. 9) and the earliest settlement may have been on the eastern side of the stream, where there are still a small number of houses. When, however, the first church was erected in the 12th century, (fn. 10) it was placed a good distance back on the upland ridge, to the west of the stream. The names of 13th-century inhabitants, (fn. 11) Henry Ate Streme, Geoffrey Bywundedbrok, Roger Ate Brugge, attest that there were houses by the stream side and the bridge, although there was at least one villager, Roger Ate Hulle, who was living by the church. Gradually the church became linked up with the original settlement by a chain of dwellings which today (1955) form a continuous street almost to the old bridge of two arches. (fn. 12) The returns for the hearth tax of 1662 listed 25 houses, but few were of any size. In 1665 only one house returned four hearths and the rest only two or one. (fn. 13) In 1738 there were said to be about 49 houses, occupied by small farmers, day labourers, and craftsmen. (fn. 14) Eighteenthand early 19th-century building increased the number of houses to 67 in 1811 and 94 in 1851. In 1901 there were only 84 inhabited houses. (fn. 15) Since then rebuilding, particularly after the Second World War, has brought the number of houses up to well over a hundred. (fn. 16)
Most of the buildings are two-storied cottages, built of rubble, with thatch or Welsh slate roofs. The so-called Round House, the newer part of which dates from 1752, is unusual, but the only houses of any note are the Old Rectory and Hethe House. The former is first mentioned in 1679 as 'one mansion house together with the yard, garden and one pightle or little close thereunto annexed'. (fn. 17) In 1813 the churchwardens reported that the house was under repair. (fn. 18) It stands just west of the church and is built of coursed rubble; it was burnt out in 1928 and restored and refitted internally. Hethe House, the former dower house of Shelswell, also built of rubble, with a Welsh slate roof, was built in the 18th century. Part of its premises are today used for village meetings. The fact that Hethe was owned by the lords of Shelswell in the 18th century also accounts for the fact that part of Shelswell Park and Shelswell Plantation lies in the parish. Beyond the Old Rectory stands the 'Whitmore Arms', named after Thomas Whitmore, a member of a Shropshire family, who resided at Hethe House from 1808 to 1811. Before that it was called the 'Maltster's Arms'. (fn. 19) The chief 19th-century additions were the village school, the stone-built Roman Catholic church, with its presbytery and school, and the Methodist chapel. (fn. 20)
The village is surrounded by a cluster of farms: Nestleton (or Wesselden in c. 1575), (fn. 21) Mansfield, and Hospital Farm. The last is named from the hide of land in Hethe owned by St. Bartholomew's Hospital since the 12th century. (fn. 22) It was described in 1617 as a building measuring 40 by 18 feet. It had a hall, 'a chamber therein', a buttery, and a garret above, divided into three rooms and reached by a pair of stairs. Its barn measured 40 by 20 feet and its stable 60 by 12 feet. (fn. 23) Glebe Farm lies away from the village near the western boundary, and Willaston Farm, now on the eastern boundary, marks the site of a lost hamlet which was once in Mixbury parish. (fn. 24)
Perhaps the chief interest of the parish's history has been its long connexion with St. Bartholomew's Hospital in London, (fn. 25) and with a distinguished medieval scholar, Master Adam de Senestan. (fn. 26)
Manor.
At the time of the Conquest and for some years afterwards HETHE was held by the thegn Wulfward the White, who also held Finmere. By 1086, however, when it was assessed at 8 hides, it was in the possession of Geoffrey, Bishop of Coutances. (fn. 27) On the death of Geoffrey in 1093 his estates passed to his nephew Robert de Mowbray, Earl of Northumberland, who was deprived of his possessions in 1095. Hethe may have been subsequently granted either by William II to Robert FitzHamon or by Henry I to his natural son Robert, Earl of Gloucester (d. 1147), for in the 13th century the manor was part of the honor of Gloucester. (fn. 28) From Gilbert de Clare, Earl of Gloucester (d. 1314), the overlordship of Hethe passed to his sister and coheiress Margaret and her second husband Hugh Audley, later Earl of Gloucester. (fn. 29) Hugh died in 1347; his daughter and heiress Margaret married Ralph Stafford, and the overlordship of Hethe then followed the descent of the Earldom of Stafford and Dukedom of Buckingham, (fn. 30) until the attainder and forfeiture of Edward, Duke of Buckingham, in 1521, when it reverted to the Crown. In 1576 the manor was said to be held of Queen Elizabeth as of her Duchy of Buckingham. (fn. 31)
In 1086 Geoffrey of Coutances's tenant of Hethe was a certain Roger. (fn. 32) Early in the 12th century the manor appears to have been the property of the wife of Geoffrey de Clinton of Glympton, Henry I's chamberlain. She gave the whole village as a marriage portion to her daughter Lesceline, wife of Norman de Verdun. (fn. 33) Norman, the son of Bertram de Verdun the Domesday tenant of Farnham Royal (Bucks.), (fn. 34) who probably came from Verdun in Vessey (Manche), (fn. 35) died about the beginning of Henry II's reign (fn. 36) and was survived by Lesceline, who gave a hide of land in Hethe to St. Bartholomew's Hospital, London. (fn. 37) Norman de Verdun's son and heir Bertram died on the Third Crusade in 1192 and was succeeded by his son Thomas, who confirmed Lesceline's gift to St. Bartholomew's. (fn. 38) On Thomas's death in 1199 his estates passed to his brother Nicholas, from whom Thomas's widow Eustachia and her second husband Richard de Camville claimed dower in 1200. (fn. 39) In 1204 Nicholas conceded Hethe to Eustachia as part of her dower. (fn. 40) Eustachia was dead by 1216, and the manor reverted to Nicholas, (fn. 41) who was succeeded in 1231 by his only daughter Rose, (fn. 42) widow of Theobald Butler and foundress of Grace Dieu Abbey (Leics.). Rose died in 1247, (fn. 43) and her son and heir John took De Verdun as his surname. John was granted free warren at Hethe in 1258 (fn. 44) and was succeeded in 1274 by his son Theobald, (fn. 45) who forfeited his estates for treason in 1291, but recovered them for a fine of 500 marks. (fn. 46) Theobald died in 1309 (fn. 47) and his son Theobald in 1316. (fn. 48) During the minority of the latter's heirs his lands were placed in the custody of Roger Damory, who in 1317 married his widow, Elizabeth, a sister and coheiress of Gilbert de Clare, Earl of Gloucester (d. 1314). (fn. 49)
By his first wife, Maud Mortimer (d. 1312), the younger Theobald de Verdun left three daughters, Joan, Elizabeth and Margery, and in 1327 Hethe was put in the keeping of Bartholomew Burghersh, husband of Elizabeth. (fn. 50) A partition of the Verdun estates in 1328 awarded Hethe to Margery and her husband William Blount, (fn. 51) but in 1331 a fourth daughter Isabel, Theobald's posthumous child by his second wife, came of age and claimed her portion of the inheritance. By a new partition in 1332 Hethe fell to Isabel and her husband Henry, Lord Ferrers of Groby (d. 1343). (fn. 52) At Isabel's death in 1349, her son William was still a minor, (fn. 53) but he was granted Hethe with other manors for his maintenance. (fn. 54) William died in 1371, (fn. 55) and his son and successor Henry in 1388. A third part of Hethe was then held in dower by Henry's widow Joan until her death in 1394. (fn. 56) Henry's son William came of age in that year, and in 1442, three years before his death, he settled Hethe upon his younger son Thomas, and his heirs male. (fn. 57) Hethe then descended in the family of Ferrers of Tamworth, (fn. 58) passing from Thomas (d. 1459) (fn. 59) to his son Sir Thomas (d. 1498), who was succeeded by his grandson Sir John (d. 1512). (fn. 60) Sir John's grandson John Ferrers, son of Sir Humphrey Ferrers, held Hethe at his death in 1576. (fn. 61) In 1578 Humphrey may have mortgaged the manor to William Colmore, (fn. 62) and in 1595 there was a similar transaction by fine between Ferrers and John Chamberlayne and Rowland Lytton of Knebworth (Herts.). (fn. 63) This time the manor permanently left Ferrers' possession, and by 1606 had been acquired by Sir Rowland's brother-in-law, Sir Anthony Cope of Hanwell (d. 1615). (fn. 64) Sir Anthony's son, Sir William, held Hethe at his death in 1637, (fn. 65) but it is uncertain how long the Copes retained the manor, which by 1652 was in the hands of a London family, the Blakes, (fn. 66) who do not appear to have resided on their estate. (fn. 67) William Blake was lord of the manor in 1682, and in 1692 a Daniel Blake conveyed it to Joseph Biscoe, a London apothecary. (fn. 68) About 1719 Biscoe conveyed Hethe to Samuel Trotman of Bucknell, (fn. 69) from whom it appears to have passed to his brother Edward and to have subsequently followed the descent of Shelswell. (fn. 70) The present (1956) lord of the manor is John Francis Dewar-Harrison, Esq., of Willaston. (fn. 71)
Lesser Estate.
At some date after 1167 (fn. 72) Lesceline de Clinton granted in frankalmoign to St. Bartholomew's Hospital, Smithfield, a hide of land in Hethe. Her mother had bought it from a certain Baldric, who held by free tenure, and had given it to Lesceline as her marriage portion. (fn. 73) Thomas de Verdun (d. 1199), Lesceline's grandson, confirmed the grant to the hospital, reserving the homestead, as in the original grant, to the donor's use. (fn. 74) Henry III's charter of 1254 confirming the possession of its property to the hospital (fn. 75) does not mention Hethe or any other estates, but in 1279 it was recorded that a freeman, William de la Hyde, (fn. 76) held the St. Bartholomew's hide for 20s. and payment of scutage. The Master of the Hospital held of Theobald de Verdun in free alms. A few of the 14th-century leases made by the hospital have been preserved: in 1366, for instance, the master leased William 'atte Hide's' land to Rewley Abbey for 50 years at a rent of 20s. a year. (fn. 77) In 1397 John Baker 'of Oxfordshire' obtained a lease, (fn. 78) and later acquired other land in Hethe belonging to the Skynners. (fn. 79) Finally in 1439 John Derye became lessee at a rent of 10s. a year. (fn. 80)
St. Bartholomew's Hospital was dissolved in 1537 and all its property, including Hethe, seized by the Crown. In January 1547 the king returned all these lands to the hospital, which had been refounded. (fn. 81) It is probable that the tenancy of the hospital's property in Hethe was undisturbed by the Dissolution. Andrew Smith had obtained a lease of 31 years in 1520, (fn. 82) and he heads the subsidy list of 1525 for which he was one of the two sub-collectors. (fn. 83) His relations probably succeeded him: in 1551 Thomas Smythe was the tenant, and in 1561 Alice Smythe. (fn. 84) Alice was followed in 1563 by Henry Sprawson of Hethe, who remained the tenant until 1583. (fn. 85) Since 1439 the annual rent named was 10s., but there is no evidence for the size of the fine paid on entry.
In 1583 when Richard Rivers, servant to Sir John Rivers, took on the lease, the rent was raised to 40s., without a fine. (fn. 86) Rivers's successor, Oliver Pangbourne, yeoman, paid 40s. annual rent and a fine of £10 in 1603; in 1604 Robert Goodson, a husbandman, became the tenant, but two years later the lease was taken over by Sir Anthony Cope, (fn. 87) who about this time also acquired the manor. Goodson may have remained as Cope's tenant, however, for he was occupying the farm in 1617. (fn. 88) Cope died in 1615 before the expiry of his lease and his son, Sir William Cope, succeeded to it. (fn. 89)
In 1631 John Beaumond, husbandman, became the tenant, and paid an increased fine of £30. (fn. 90) Later tenants are listed by Blomfield. After 1720 the lords of the manor, first the Trotmans, then the Harrisons, were tenants. Before inclosure the estate consisted of about 59 acres. In 1648 the rent was raised to £4 and continued at this sum until the inclosure in 1773. Entry fines varied from £20 in 1648 to £60 in 1665, £105 in 1732 and £160 in 1754. After inclosure fines were abolished, but the rent was raised to £14 in 1773, £28 in the 1790's, £92 in 1810 as a result of the Napoleonic War, and £70 in 1831. In 1842 Richard Jones became tenant and was followed by William Bonner in 1872 and David Dagley in 1884. They paid rents of £100 in 1842, £70 in 1852, £90 in 1862, £110 in 1872, and £75 in 1884. (fn. 91)
Economic History.
In 1086 there was land for 8 ploughs, although there were only 3 at work. Two were in demesne with one serf, and the other belonged to 8 villeins (villani) and 5 bordars. (fn. 92) There were 20 acres of pasture and the value of the estate was £8, as it had been in 1066.
In 1279 there were 2 carucates in demesne with adjacent meadow and pasture. There were 26 or 27 villein virgaters (servi), each of whom paid 9s. rent and owed work and tallage at will. (fn. 93) There were also two cottars, each holding a cotland for 12d. rent a year and work at will. The only two free tenants were William de la Hyde, who held of the Master of St. Bartholomew's Hospital, (fn. 94) and the Prior of Kenilworth, who held 1 virgate. (fn. 95) This may not have been a complete return of all the landholders in the parish, for in 1316 29 people were assessed for taxation. By that time Hethe, which paid £2 18s. 6d., was one of the more prosperous parishes in the hundred. (fn. 96) Its assessment for taxation after 1334 was still well above the average. (fn. 97)
In 1274 the manor was estimated to be worth £24 a year in all, (fn. 98) but extents made in 1327 and 1331 gave totals of £19 1s. and £18 13s. 3½d. respectively. (fn. 99) Early 14th-century estimates of the demesne lands varied from 80 to 140 acres of arable and 3 to 12 acres of meadow, besides pasture. Arable was worth 4d. an acre, and meadow 3s. an acre in 1331 compared with 2d. and 1s. in 1309. The capital messuage with its dovecote and garden was worth 10s. in 1331. (fn. 100) In 1327 there were still 27 villeins, each holding a messuage and a virgate and paying a total of £12 13s. rent, and £1 2s. 6d. for labour services, evidently commuted since 1279. Seven cottagers paid 7s. 4d. rent and 5s. 10d. for works, and two free tenants owed only suit of court and the labour of eight men for one day at corn harvest, commuted for 8d. The principal works of the villeins had been reaping corn, and of the cottagers weeding and reaping corn, and lifting and tedding hay. (fn. 101)
The increase in population which had taken place since 1279 was sharply checked by the Black Death. In September 1349 it was reported that of 27 villeins 21 were dead and their lands lying untilled. (fn. 102) In 1371 the manor was said to be worth only £8 a year. The dower assigned to Margaret, widow of William de Ferrers, in that year included £2 0s. 8d. in rents from four free tenants paying from 4s. 10d. to 16s. 6d. each, and £2 5s. 8d. from three villeins. (fn. 103) There is no evidence of how many tenants there were whose rents were not assigned to Margaret, but it may be deduced that free tenants had replaced some of the dead villeins, that the number of tenants was lower than before 1349, and that holdings were probably larger. The value of the manor remained £8 a year into the first half of the 15th century, (fn. 104) but was only £5 in 1459. (fn. 105) In the 16th century it rose again to £9 10s. in 1513 and was over £10 by 1576. (fn. 106) The capital messuage is mentioned in 1349, but not in 1371, when only a toft is recorded, (fn. 107) and it is probable that the manor-house was abandoned by the lord after the death of Isabel Ferrers in 1349. In the 16th century the manor was held by lessees of the Ferrers family, (fn. 108) and in 1524 with thirteen people assessed for taxation Hethe was one of the villages with the lowest number of contributors, and the third smallest in taxable value in Ploughley hundred. (fn. 109)
In the 13th century the parish had two fields, the 'Home Field' and 'the field on the north of Hethe and Cottisford'. The last appears to be an early reference to the 'intermixed lands' shared by the two villages—an arrangement which one would expect to have originated at an early date. (fn. 110)
In the 14th century Hethe evidently still had two open fields, for in 1349 it was said that half the demesne arable was worth 3d. an acre when sown, while the other half which lay fallow was used as common pasture and was worth nothing to the lord. (fn. 111) About the beginning of the 17th century there were three fields called Berry Field, 'the second field', and 'the third field', of which the last appears to have been much larger than the others. (fn. 112) A change seems to have been made before the survey made of the St. Bartholomew's Hospital estate in 1617, which shows that there were then four fields, 'the field on the west parte of the house', Hardwick Field (north-west of the village), Brede Field, (fn. 113) and 'Nast feilde'. The hospital had 10, 20, 9, and 9 acres of arable in the four fields, besides 11 acres of pasture and ¼ acre of meadow. (fn. 114) A terrier of 1679 shows that Brede Field comprised most of the first or Berry Field of the earlier terrier, that Hardwick Field represented the 'second field', and that the 'third field' had been divided into Nasthill Field and Leete Field, the latter being no doubt the field 'on the west part' of the hospital's farm-house. Part of the first field had retained the name Berry Field, so that there were five fields mentioned in 1679: Berry Field may, however, have been comparatively small. (fn. 115)
Part of the arable lands were detached and intermixed with Cottisford land lying to the north of Cottisford. In 1606 Sir Henry Savile complained that Sir Anthony Cope's Hethe tenants had encroached on land which formerly belonged to his Cottisford tenants—Hethe men had recently been going 'when and where they will in Cotsforde field to mark ground at their pleasure'. They had also taken advantage of this intermingling of land to pasture their sheep in Cottisford field 'contrary to all right'. (fn. 116) In the 18th century, however, Hethe people had right of common in a piece of land in Cottisford called 'Conigree' (60 a.) belonging to Eton College, perhaps the site of the post-inclosure Coneygre farm in Cottisford. (fn. 117)
In the late 16th century there was a large warren attached to some property called the Flats (360 a.), which adjoined Cottisford and belonged to Hethe manor. In a lease of 1594 Hethe tenants were allowed to 'hunt and hay' in their corn fields and to kill rabbits on the 'near' (probably the south) side of the brook in order to protect their corn, while the tenant of the warren undertook not to allow the rabbits to multiply to the excessive damage of the corn field, and to kill those that bred near the corn fields. (fn. 118) By the time of inclosure in the 18th century the warren had been divided. It was reported in 1682 that more than 40 years before Sir William Cope had taken 80 acres 'from the town of Heath' and turned it into a warren, on which he allowed the hospital's tenant to keep 80 sheep. (fn. 119) At the time of parliamentary inclosure in 1773 Hethe Warren, belonging to Fiennes Trotman, still consisted of 80 acres, and there was another piece of inclosed heath, nearly equal in size (75 a.), belonging to William Fermor and called Courtfield or Cottisfield, on which the landholders of Hethe had rights of common (extinguished at inclosure) and the poor had the right to cut fuel. (fn. 120) There was, however, comparatively little inclosure before the act of 1772, when there remained about 804 acres (39¼ yardlands) of open field and pasture. The preparation of the inclosure award was complicated by the rectors of Cottisford and Hardwick as well as the rector of Hethe having glebe lands and tithes in the parish. Under the award made in 1773 the largest allotment, 262 acres, went to Fiennes Trotman, the lord of the manor. The Rector of Hethe received 172 acres in all, but surrendered 4 acres which were sold for £80 towards the cost of his fences. St. Bartholomew's received 45 acres of which 3 acres were in lieu of its sheep commons on the Warren. The rectors of Cottisford and Hardwick got 3 and 5 acres; and of the ten other allotments there were three over 60 acres and three less than 5 acres. (fn. 121)
In 1760 the highest assessments for land tax had been of a Mr. Harden's land (£8) and the rector's (£5 16s.). Of 23 other occupiers of land nine were assessed at over £1. Thomas Trotman's assessment was only £1 16s., but in 1786 the then lord of the manor, Gilbert Harrison, was assessed at £8 15s., second only to the former Harden estate (£10). (fn. 122) In the county election of 1754 seventeen freeholders of Hethe, eleven of them resident, had voted. (fn. 123) In 1796 out of 20 occupiers assessed at under £1 seventeen owned their land. At that time the Harrison estate was by far the largest, assessed at £15 10s., and there were six estates assessed at between £1 10s. and £6. In the early 19th century the Harrison estate continued to grow, and the number of small owner-occupiers slowly decreased, falling to fourteen in the 1820's and to nine in 1832. (fn. 124) In 1939 Kelly listed five farms of which only one was over 150 acres. In 1956 there were seven farms and out of 1,142 acres of agricultural land 558 acres were grassland and 584 arable. (fn. 125)
Agriculture has always been the predominant occupation of the villagers. In 1738 it was reported that there were a few farmers and smallholders, 'the rest day labourers, and some handicrafts'. (fn. 126) In the 1630's there was a smith's forge belonging to the Webb family; (fn. 127) there was still one in the late 19th century. (fn. 128) In the late 16th century there was a mill belonging to the manor, but no later record of a mill has been found. (fn. 129) The early 19th-century parish registers record an innkeeper, a schoolmaster, a post boy, and the usual village craftsmen. (fn. 130) One female straw-hat-maker appears in 1852. (fn. 131) Throughout the century there were a number of small shopkeepers, (fn. 132) but by 1935 there were only four. (fn. 133) The parish registers show that many surnames which occur regularly during the 18th century persist well into the 19th century; others which appear in the 19th century were still found in the village in 1955. But some, such as Mansfield, Heydon, Laurence, and Dagley, have been known in the parish for more than two centuries.
The population must have been comparatively large in the late 17th century if the figure of 203 adults recorded in the Compton Census of 1676 is accurate. The hearth tax returns of 1662 and 1665 show that the village was in comparison with the rest of the hundred so outstandingly poor that it seems as if it may have suffered from some recent disaster. The constables returned 21 persons in 1662 as 'poor people of whom no distress may be had'. Twenty-five others paid the tax, but of fifteen householders listed in 1665, six were exempted on grounds of poverty. There were less than 50 houses in 1738 and at the first official census in 1801 the population was 262. Numbers increased, and a peak figure of 442 was reached in 1861. A steady decline then set in and by 1901 there were 311 inhabitants. The population in 1921 was 283, but after the Second World War it increased and in 1954 was estimated to be 338. (fn. 134)
Church.
The church of Hethe was in existence during the lifetime of Norman de Verdun (d. c. 1154), if not earlier, and was given by his widow Lesceline to the priory (afterwards abbey) of Augustinian canons at Kenilworth, which had been founded by her father, Geoffrey de Clinton, in 1122. (fn. 135) This grant was confirmed by Lesceline's son Bertram de Verdun. (fn. 136) In 1206 Eustachia de Camville, who held Hethe manor in dower, and her second husband, Richard de Camville, tried unsuccessfully to recover the advowson, but had to admit it belonged to Kenilworth, (fn. 137) which presented throughout the Middle Ages. The abbey was dissolved in 1538, when the advowson came in to the hands of Henry VIII. It has remained in the possession of the Crown ever since, but since the living was valued at under £20 in the King's Book, the Lord Chancellor had the right of presentation. (fn. 138) In 1924 the living was united to that of Fringford, also in the gift of the Lord Chancellor. (fn. 139)
The value of the church was £4 in 1254 and £6 13s. 4d. in 1291, while in 1535 its net value was £7 9s. 4½d. (fn. 140) When it was valued in 1716 it was worth £54. (fn. 141) When the parish was inclosed in 1773 the rector was awarded £120 for the tithes of Hethe Warren and about 172 acres of land, of which 121 acres were for the tithes, 4½ acres for the tithes on ancient inclosures, 25 acres for the tithes on William Fermor's land in Hethe and his 12 yardlands in Cottisford and an acre of glebe in Cottisford, and 22 acres for the rector's Hethe glebe. (fn. 142) At the same time the rector was freed from the obliga tion of keeping a bull and a boar for the use of the inhabitants. (fn. 143) From that time the income of the living came from the land awarded at the inclosure, which was called Glebe farm. When it was surveyed in 1857 it was valued at £175. (fn. 144)
In the 14th century the glebe was valued at 6s. 8d.; (fn. 145) in the earliest terrier of 1601 it consisted of about 30 strips of land, scattered over the three open fields; in a later terrier of 1679, when there were four fields, the number of strips had slightly risen, and the rector had land in Cottisford. (fn. 146) At the time of the inclosure the glebe was reckoned as a yardland. (fn. 147)
There was a close connexion between Hethe, Cottisford, and Hardwick. The Rector of Hethe had two 'lands' or an acre of glebe in Cottisford, and there were twelve yardlands in Cottisford, belonging to William Fermor, which paid tithes to Hethe. (fn. 148) The Rector of Cottisford had two acres of glebe in Hethe, and was entitled to receive tithes from about eighteen 'lands' in Hethe, (fn. 149) the land of Eton College. There were also eight 'lands' in Hardwick which paid tithes to Cottisford, (fn. 150) while the Rector of Hardwick had three 'lands' of glebe in the field 'that joins to Hethe field', which may be the Hardwick Field in Hethe. (fn. 151) The confusion which might arise is illustrated by a dispute of about 1600 between Robert Petty of Tetsworth, who was farming the Hethe tithes, and the Rector of Cottisford. (fn. 152) At the inclosure some of these anomalies were straightened out, but the Rector of Hardwick later had trouble over his Hethe glebe. (fn. 153)
There was a priest at Hethe in the first half of the 12th century. His name is not known, but he had a son named Ralph who lived in the parish. Later in the century William the clerk of Hethe also had a son, who with his father witnessed a charter of Lesceline de Clinton. (fn. 154) The most distinguished medieval rector was Master Adam de Senestan (1233–68), who was probably studying in Paris when he was presented to Hethe. (fn. 155) Said to be a good theologian and a man of great knowledge and abstinence, he was a benefactor of Oseney Abbey, to which he left his books and where he was buried. (fn. 156) No other medieval rector held the living for such a long period; indeed in the 15th century changes were very frequent. It is worth noting that Master John Sharp (1484–92) was a regular canon and possibly from Kenilworth Abbey. (fn. 157)
Of the post-Reformation clergy, mention must be made of Richard Evans (1646–99). Although he is said to have had royalist sympathies, he seems to have remained undisturbed throughout the Commonwealth period, for Anthony Wood saw him in Hethe in 1659. (fn. 158) His long incumbency of 52 years was distinguished for his constant residence. (fn. 159) The next five rectors followed Evans's good example, but with the appointment in 1732 of James Edgecumbe, Rector of Exeter College, Oxford, from 1737 to 1750, a considerable period of non-residence opened. Fortunately for Hethe, however, John Warren, Edgecumbe's predecessor (1725–32), continued to reside in Hethe for another twenty years as curate to the absent rectors. (fn. 160) He was allowed the use of the parsonage house and received £20 a year salary. Warren was followed by a succession of curates-in-charge, but in 1769, with the institution of George Lamb, who remained rector until his death in 1801, Hethe again enjoyed a resident rector. (fn. 161) The rectors from 1801 to 1850 were again non-resident, with curates-in-charge: the curate in 1820 received £100. (fn. 162) After that until 1927, when the living was united to that of Fringford, residence once more prevailed.
In 1738 (fn. 163) two services were held every Sunday, and the rector complained that there were 'very few holidays which will produce a congregation'. Holy Communion was celebrated four times a year for about twenty communicants. Lent catechizing was 'tolerably well' attended by the children. The few people (other than the handful of dissenters) who did not attend church were thought to absent themselves from 'poorness of dress and laziness'. In 1771 (fn. 164) there was only one Sunday service; as the living was so small, Lamb said that he must serve two parishes, and for long he acted as curate of Cottisford. Holy Communion was still celebrated four times a year, with twenty to thirty communicants each time: in 1808 (fn. 165) the number had fallen to fifteen. By 1820 (fn. 166) matters had somewhat improved: two services were held every Sunday and the number of communicants had more than doubled. By 1854 (fn. 167) there was a monthly celebration.
The small church of ST. EDMUND AND ST. GEORGE comprises a nave, north and south aisles, chancel, a western open belfry of wood surmounted by a spire, and a south porch. The church is in origin a 12th-century structure. Of this Romanesque church there survive the west wall of the nave and the south wall of the chancel, with a window and priest's doorway. The original chancel probably terminated in an apse, but early in the 13th century this was replaced by the existing square east end, with pilaster buttresses. A south aisle was added in the 14th century, and a new window with Decorated tracery was inserted in the east wall of the chancel. In 1859 this window was removed to the newly erected north aisle. The clerestory is an addition of the 15th century.
In 1634 the churchwardens reported the church to be in bad condition, but there is no record of structural repairs. (fn. 168) When Rawlinson visited the church in 1718 he noted the names of John Dagley and Alexander Peny (i.e. Petty), churchwardens, and the date 1708 painted on the west wall: this inscription (no longer in existence) suggests that the church was repaired then, since Rawlinson found it in good condition. (fn. 169) In 1757 the churchwardens reported that substantial repairs were contemplated. (fn. 170) But by 1810 the fabric was reported to be in 'a ruinous and dilapidated' condition and over £300 were spent on it. (fn. 171) Shortly afterwards a licence was obtained to reseat the church with pews for the richer families and open seats for the poor. (fn. 172) A drawing by J. Buckler shows the church as it was at this date, with a square bellcote surmounted by a raised roof with stone ball finial and vane. (fn. 173)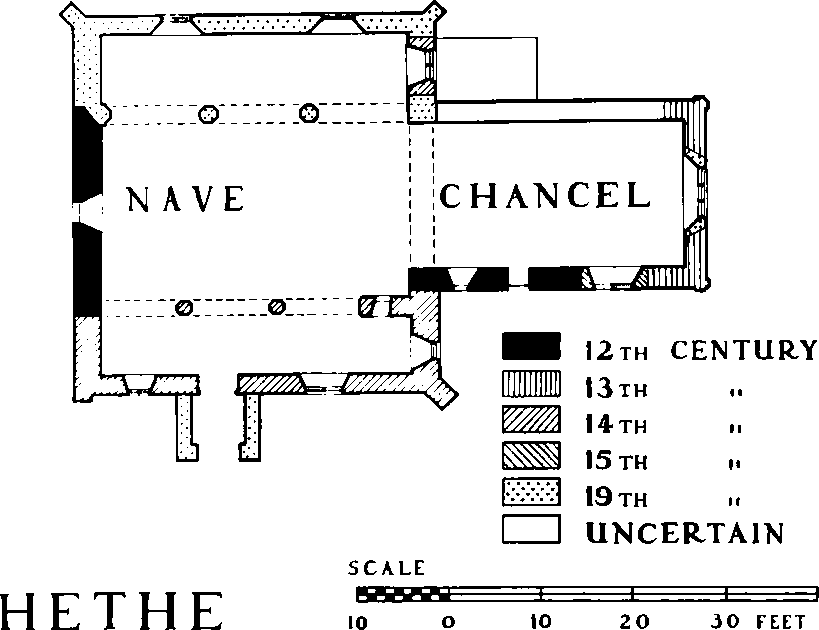 In 1833 the church was again under repair, (fn. 174) yet in 1854 Bishop Wilberforce could say that the church was 'in most miserable order' and 'utterly too small for the population'. (fn. 175) In 1859 the Revd. Frederick Salter undertook a thorough restoration. (fn. 176) At a cost of £800, and to the plans of G. E. Street, a new roof was placed over the nave and chancel; a north aisle (said in 1848 by the rural dean to be needed for the poor) was added; new windows were put in; the whole church was reseated and new furniture provided. Salter made a further bequest (1881) of a painted glass window for the east end. (fn. 177)
The plain font was perhaps part of an earlier church. Rawlinson noted a fragment of armorial glass, which has now disappeared. (fn. 178) At one time the church owned a statue of one of its patron saints, for in 1659 Wood noted that the 'effigies of St. George killing the dragon cut in stone' had been found in the churchyard. (fn. 179)
Inscriptions to Richard Evans, rector (d. 1698/9), and members of the Petty family (c. 1700) (fn. 180) are now illegible. There are inscriptions to members of the Lamb family (18th cent.) and to John Westcar (d. 1784), George Lamb, rector (d. 1801), Richard Dutton (d. 1802), Henry Westcar of Southwark (d. 1805), William Mansfield of Bainton (d. 1846), Frederick Salter, rector (d. 1881), and four benefactors: (fn. 181) John Mansfield (d. 1869), Thomas Mansfield (d. 1874), Mary Waddington (d. 1876), and George Mansfield (d. 1946).
The church goods inventoried in 1552, including a chalice, were of little value. (fn. 182) The present plate includes an early 17th-century chalice, inscribed '… Heath … 1716', and another silver chalice and paten, both 18th century, but given to the church in the 19th century. (fn. 183) At the Reformation there were two bells as well as two handbells and a 'sakeringe bell'. Today there is only one bell of 1886. A former bell, dated 1755, hangs in the school. (fn. 184) The registers date from 1678. Rawlinson noted that the earlier ones had been lost. (fn. 185) The Vestry Book begins in 1738 and the Churchwardens' Accounts in 1803.
Roman Catholicism.
The first notice of recusants at Hethe appears to be in the Compton Census of 1676, when ten Roman Catholics were returned. (fn. 186) In 1682 the rector reported that there were nine or ten Catholics, four of whom were excommunicated: they were all labouring people who were or had been employed by the Fermors of Tusmore. (fn. 187) Throughout the 18th century there was a small Catholic population. In a return of 1706 six were listed, including two carpenters and two poor widows. (fn. 188) In 1738 there were five, one man and four women, and a handful of children. (fn. 189) In three cases, as might be expected, there was a connexion with the Fermor estate. A Roman Catholic priest sometimes visited this small flock.
Late 18th and early 19th-century visitation returns report between two and eight Catholics, who first went to services in the Fermor chapel at Tusmore, and later to Hardwick. (fn. 190) The closing of the chapel at Hardwick in 1830 (fn. 191) produced a difficult situation for the Roman Catholic population of the neighbourhood, said to number 350. Mass was said in different houses, until the priest from Hardwick, Alfred McGuire, bought a piece of land and built the present chapel (see below), opened in 1832. (fn. 192) It has been served by secular priests, and the congregation in 1948 numbered about sixty. In the 1950's it was serving the R.A.F. station at Bicester. (fn. 193)
The church of the HOLY TRINITY is a small stone building in the Gothic style. It cost £800. Some of its lancet windows have stained glass in memory of the Collingridge family. (fn. 194) A visitor in 1838 considered it of 'tolerable Gothic, though much too wide for its length', and suggested that the 'horrible' altar should be replaced by one designed by Pugin. (fn. 195) The registers date from 1832. (fn. 196)
Protestant Nonconformity.
The visitation return of 1738 reported four Presbyterians (two shoemakers and their wives). (fn. 197) In 1794 the house of a shoemaker named Heydon was licensed for worship. (fn. 198) The members, who also attended church, called themselves Arminian or Wesleyan Methodists and had various teachers. (fn. 199) Two other houses were licensed in 1810 and 1816, (fn. 200) of which the second was described by the rector as a small hovel. An occasional teacher came over from Brackley. (fn. 201) Another licence was issued in 1829, (fn. 202) and by 1854 a Wesleyan Methodist chapel had been built. (fn. 203) In the 1860's and 1870's there were between 30 and 40 Wesleyans. (fn. 204) In 1876 the present chapel was built; (fn. 205) in 1955 it had eight members. (fn. 206)
Schools.
In 1808 20 children were being taught in two dame schools. (fn. 207) These had closed by 1815 (fn. 208) and in 1819 the only education was provided by a Sunday school, which was attended by children from Cottisford as well as Hethe. (fn. 209) By 1833, however, there were two day schools, one with an average attendance of 26 boys, and the other with 9 boys and 31 girls. (fn. 210) In 1854 a dame school was preparing children for the National school. (fn. 211)
A National school, projected in 1815, (fn. 212) was eventually built in 1852 (fn. 213) and enlarged in 1874, (fn. 214) as the average attendance had risen from 40 in 1854 (fn. 215) to 50 in 1871. (fn. 216) There was only one teacher in the 19th century. (fn. 217) The average attendance was 58 in 1906 (fn. 218) and 29 in 1937. This Church of England school was reorganized in 1924, when senior pupils were sent to Fringford, and in 1948 was again reorganized as an infants' school. Juniors aged eight and over were then transferred to Fringford. The school was controlled in 1951, and was temporarily closed in 1952. In 1954 there were 19 pupils. (fn. 219)
Land for St. Philip's Roman Catholic school was purchased in 1831, and a building was then begun. (fn. 220) It was not completed until 1870, when the school opened (fn. 221) with accommodation for 50 children. It had an average attendance of 8 in 1889, (fn. 222) and 29 in 1906. (fn. 223) By 1920 it appears to have taken infants only, (fn. 224) and it was closed in 1924. (fn. 225)
Charities.
By his will proved in 1664 John Hart left £10 to the parish of Hethe, (fn. 226) but like his other benefactions it does not appear to have been paid. In the 19th century the parish officers of Hethe received £4 a year charged on a farm of the Fermors in Hardwick, said to be in lieu of a right to cut fuel on part of Hardwick Heath. (fn. 227) The payment dated from the inclosure of Hethe in 1773, when the right of the poor to cut furze on a heath of William Fermor's called Courtfield or Cottisfield (75 acres) was extinguished. (fn. 228) The £4 was distributed to the poor each year about Christmas either in fuel or in money. (fn. 229) In 1954 it was still being used to provide fuel.
In 1869 John Mansfield of Fringford bequeathed £100 in stock, the interest, then £3 4s. 4d., to be distributed annually to six of the eldest and deserving poor of Hethe. (fn. 230) Thomas Mansfield left £150 in 1874, providing for distributions to eight poor people, and in 1876 Mary Waddington, formerly housekeeper at Shelswell, left £532 6s., the interest to be divided among 30 of the poor each January. (fn. 231)