Pages 71-80
A History of the County of Oxford: Volume 6. Originally published by Victoria County History, London, 1959.
This free content was digitised by double rekeying. All rights reserved.
BUCKNELL
This parish, roughly rectangular in shape, lies 2½ miles north-west of the market-town of Bicester. The ancient parish covered 1,894 acres, but it was enlarged in 1932 to 2,152 acres, when land from Bicester Market End was added. (fn. 1) The Gagle Brook, as it flows southwards to join the Ray, forms the parish's western boundary and a part of its southern one. The brook has two fords in the parish, one of them near Trow Pool. (fn. 2) Bucknell lies mostly on the Cornbrash, but is bounded on the west by the Forest Marble and the Great Oolite; (fn. 3) it lies between the 300-foot and 350-foot contour lines and its soil is chiefly stonebrash. Several small plantations and copses but no woodland were marked on Davis's map of 1797. Domesday Book recorded a wood of 1 by ½ furlong. (fn. 4) The park of the medieval lords of the manor was believed in the mid-18th century to have been south-west of the village near Bucknell Lodge. (fn. 5)
The main Banbury to Bicester road, an important highway since medieval times, runs along part of the parish's eastern boundary (the Bucknell section was made a turnpike in 1791); (fn. 6) a road from Middleton Stoney to Bicester skirts the southern boundary and roads radiate from the village to Ardley, the Banbury road, Bicester itself, and Middleton. Farm tracks and foot-paths still mark the line of the road by Trow Pool towards Somerton, which was one of the principal roads in the parish in 1797. (fn. 7)
A number of new roads were 'set forth' after the inclosure of 1780, including a road over Bucknell Cow Pasture to Caversfield. This pasture was well known as one of the courses for the Bicester horse races in the 18th century. (fn. 8) It was much improved by Joseph Bullock of Caversfield, who removed many hawthorn bushes in 1764 and planted trees both then and in 1780. (fn. 9)
The Aynho and Ashendon section of the former G.W.R.'s main line from London to Birmingham crosses the centre of the parish, but the nearest station is the former L.M.S. station at Bicester.
Bucknell village lies in the northern part of the parish at the source of a small stream, a feeder of the Gagle Brook, which flows eastwards and south of the village street. The village is named 'Bucca's hill' after some early settler. (fn. 10) The medieval village appears to have been larger than it was in later centuries. (fn. 11) In the 16th century there were 26 messuages in the manor and these, with the manorhouse and Rectory, probably made up almost the entire village, for there were few, if any, freeholders. (fn. 12) At the time of the hearth tax of 1665, apart from the Trotmans' large manor-house and a comfortable Rectory, the village had only fourteen other dwellings listed for the tax. Of these thirteen were humble with only one hearth. (fn. 13) In the 18th century there were said to be about 30 houses: (fn. 14) these were mainly spread out on either side of the road running east from the village green past the church and the manor-house. A small group of cottages lay south of the triangular green, which lay at the cross-roads. (fn. 15) Some twenty years later Dunkin described the village as consisting of 'one crooked street, thinly studded with cottages, and some two or three farm houses'. (fn. 16) These farms were Rectory Farm opposite the church, Manor and Lower Farms at the eastern end of the street, and Home Farm. The smithy and the pound were by the green. (fn. 17) Increasing population in the 19th century led to a growth in the size of the village. By 1851 there were 58 houses. (fn. 18) A group of 19thcentury cottages, built of stone and brick, still stand opposite the church, but the school, built in 1861, is now derelict.
Much of the old village has been rebuilt since 1945 and modern council houses have replaced the old two-storied cottages of rubble with thatched roofs. Post-war building, which is all at the west end near Home Farm, brought the number of houses up to 60 by 1951 compared with 53 in 1901. (fn. 19)
The present manor-house stands behind the church on the site of a medieval house, once the home of the Damory family (fn. 20) and perhaps built by Richard Damory, who was often an honoured guest at Bicester Priory. (fn. 21) Traces remain of the moat by which it was formerly surrounded. The 17th-century manor-house was a large one for which nineteen hearths were returned for the tax of 1665. (fn. 22) The present building of two stories with attics is built of ashlar and coursed rubble and although it has been completely modernized appears to date largely from about 1700. Lenthall Trotman, lord of the manor from 1685 to 1710, is said to have been the builder and the date 1702 was once over the south doorway. (fn. 23) One of the bedrooms, however, contains a plaster ceiling of late 16th-century design with seven roundels, on each of which is the head of some mythical or Biblical character—such as Julius Caesar, Fama, Proserpine, Bellona, and Joshua. (fn. 24) The last of the Trotmans to reside died in 1775. (fn. 25) In the 1820's, when Thomas Tyrwhitt-Drake was leasing the house and park, the house had a low wall and railing in front of it. It still preserved its original H-shaped plan. (fn. 26) In about 1830 Tyrwhitt-Drake added a southern wing and further additions and alterations were made later in the century by Lt.Col. F.D. Hibbert. (fn. 27) In 1949 it was bought for use as an Old People's Home by the Oxfordshire County Council from the B.B.C., who had occupied it during the Second World War. (fn. 28)
The Old Rectory stands to the north-east of the churchyard and probably dates from about 1600. A description of the house and farm buildings in 1614 speaks of 'two courts'. (fn. 29) A detailed description of 1634 gives the hall two bays, the parlour three bays, and mentions a gallery and a little chamber, and other rooms totalling eleven bays. (fn. 30) With its outhouses, the whole property comprised 48 bays of building. In 1665 the rector returned six hearths for the tax; (fn. 31) today the house is an L-shaped building of coursed rubble with a roof of stone slates. It consists of two stories with attic dormers. Its 18th-century windows were put in perhaps when the house was divided into two, half being let to the glebe farmer and half reserved for visiting rectors. (fn. 32) Early in the 19th century part of the house was pulled down and the rest partly rebuilt and modernized. (fn. 33)
The new Rectory, which was built in 1833 and enlarged in 1878, stands on the opposite side of the road next to a row of four ancient thatched cottages and a house. (fn. 34) All are built of the local rubble stone. Manor Farm is a two-storied 17th-century house, but has been modernized. The Trigger Pond Inn at the other and of the village is a stone L-shaped building with casement windows and thatched roof, and has become a public house comparatively recently. Blomfield, writing in 1894, says there was no inn in his day. The Trotmans would not allow one as they feared it would lead to drunkenness. (fn. 35)
The water-supply and sewerage system, installed in the village by Capt. P. Hunloke before 1918, were still in use in 1951. The water tower, near Trow Pool, was built of local stone. (fn. 36)
The site of the lost hamlet of Saxenton has not yet been discovered. According to Dunkin it was to be identified with the numerous foundations of houses visible in the 1820's in a copse at a short distance from Bucknell church, (fn. 37) but there seems no reason to suppose that these were not once part of Bucknell itself. A more probable site would be near the boundary of the parish on the Gagle Brook, particularly as the Gagle may probably be identified with the Sexig Broc of a charter of 995. (fn. 38) This brook, like the Gagle now, was said to divide Ardley from Bucknell, and it has been suggested that its name is an early back-formation from the name Saxenton or 'Seaxa's farm'. (fn. 39) At least one house remained in the 15th century, (fn. 40) and White Kennett writing in 1695 says that there were foundations visible on ground called Ball-yards, (fn. 41) but this place cannot now be traced. It is possible that the hamlet lay near the site of Bucknell Lodge, a 17th-century farm-house which lies on high ground on the road running just above Trow Pool and the Gagle.
Bucknell was a centre of fox-hunting at an early date: Samuel Trotman, squire from 1751 to 1775, kept a pack and in the first half of the 19th century the village was closely associated with the Bicester Hunt. Sir Henry Peyton, a well-known hunting man, was followed at the manor-house by T. TyrwhittDrake, master of the Bicester Hunt in 1830, who brought the kennels to Bucknell. (fn. 42)
Bucknell is also distinguished for its vigorous Morris Dancing tradition and a number of wellknown dances such as the 'Princess Royal' and the 'Blue-Eyed Stranger' and the jigs 'Bonnets so Blue' and 'Shepherd's Hey' were collected there at the beginning of the 20th century. The last traditional pipe and tabor player in England, Joseph Powell, lived in the village from about 1846 to 1937. (fn. 43)
Manor.
BUCKNELL was one of the many manors which were granted by William I to Robert d'Oilly, and it is possible that before the Conquest it had formed part of the possessions of Wigod of Wallingford. (fn. 44) Robert d'Oilly's manors were eventually divided into three groups, one of which, the honor of D'Oilly or of Hook Norton, remained in the hands of the D'Oilly family. Bucknell belonged to this honor, and its overlordship therefore descended in the D'Oilly family until the death of Henry (II) in 1232. (fn. 45) The honor then passed to Henry's nephew Thomas de Newburgh, Earl of Warwick, and on his death in 1242 to his sister Margaret and her husband John de Plescy, styled Earl of Warwick. (fn. 46) John had no children by Margaret, and after his death in 1263 the overlordship of Bucknell should have followed the descent of the earldom of Warwick. But John had succeeded in settling Hook Norton on his son by his first wife, Hugh de Plescy, and he and his descendants were overlords of Bucknell until the end of the 14th century. (fn. 47) Hugh's great-grandson John died in 1354, and was succeeded by his nephew John Lenveysy, who took the name of Plescy. (fn. 48) After his death in 1379 or 1380 Hook Norton passed to his widow Elizabeth, and to her second husband Philip de la Vache, who survived her and who gave the manor to Thomas Chaucer. Thomas's daughter Alice married the Earl of Suffolk; Hook Norton was formally granted to her by the Crown in 1438, and the overlordship of Bucknell thereafter followed the descent of the earldom and dukedom of Suffolk. (fn. 49)
At the time of the Domesday survey Robert d'Oilly's lands in Bucknell assessed at 7 hides were held of him by a certain Gilbert, (fn. 50) probably the ancestor of the Damory or de Damori family. (fn. 51) He may have come from Amars or Amory near Caen, and was perhaps identical with the Gilbert de Almereio who gave a house near Oxford to Eynsham Abbey (fn. 52) and, it should be noted, held other manors— Bletchingdon and Weston-on-the-Green for instance —which also descended to the Damorys. (fn. 53) Gilbert was probably succeeded by Robert Damory, (fn. 54) who was followed by his son Roger, a frequent witness to the charters of Oxfordshire religious houses between 1130 and 1145, (fn. 55) and who like his father was a benefactor of Godstow. Roger's son Ralph had three sons, Robert, Richard, and Ralph, by his wife Hawise, (fn. 56) and was succeeded by his eldest son by about 1187. (fn. 57) It is uncertain when this Robert died: he and his son, also named Robert, are frequently mentioned between 1180 and 1205; and it appears probable that he died in or soon after the latter year. (fn. 58) The younger Robert was under-sheriff of Oxfordshire in 1207, served frequently as a justice in the county in the early years of Henry III's reign, and was one of the collectors of the 15th in 1225 shortly before his death in 1236 he was appointed Sheriff of Oxfordshire and Constable of Oxford castle. (fn. 59) Robert was succeeded by his eldest son Roger, who was recorded as holding Bucknell of the honor of D'Oilly in 1243. (fn. 60) Roger later mortgaged the manor to Oseney Abbey, but in 1271 he paid off his debt and recovered 'scripturas obligatorias et feoff amenta de manerio de Bukenhull'. (fn. 61) He died in or soon after 1281, and Bucknell passed in quick succession to his son Robert, who died about 1285, and his grandson Richard. (fn. 62)
In both local and national affairs Richard took an active part, and on the whole he enjoyed the favour of Edward II, who granted him free warren in his demesnes at Bucknell in 1312 and again in 1317. (fn. 63) He was Sheriff of Oxfordshire from 1308 to 1310, Constable of Oxford castle from 1311 to 1321, (fn. 64) and the holder of other important posts. He died in 1330. (fn. 65) His son and heir Richard was a minor, and his mother Margaret was granted his wardship and the custody of his lands. After he came of age in 1337 (fn. 66) Margaret continued to hold Bucknell in dower until her death in 1354. (fn. 67) Her son Richard had meanwhile become burdened with heavy debts largely because of the expenses he had incurred in the king's service in France; he sold most of his property, (fn. 68) and in 1354, shortly after Margaret's death, he surrendered Bucknell and other manors to Edward III and received them back for his life at an annual rent of £10. (fn. 69) In 1366 the king granted the reversion of Bucknell after Richard's death to his squire John Beverley and his wife Amice and in 1373 granted them free warren at Bucknell. (fn. 70) Richard had complicated matters by granting parts of the manor to tenants for life, but it was eventually arranged to the king's satisfaction that the parts should be reunited and that John and Amice should receive the whole manor. (fn. 71) John presumably obtained possession on Richard's death in 1375, and in 1378 he obtained a quitclaim of the Cranford family's right to £2 a year rent for lands in Bucknell and Saxenton which had belonged to their fee. (fn. 72) Amice held jointly with John, and continued to hold the manor after his death in 1380. (fn. 73) She married as her second husband Sir Robert Bardolf of Mapledurham, another squire of Edward III and a friend of John Beverley. (fn. 74) Sir Robert died in 1395, and Amice in 1416, when her heirs were found to be her grandchildren Robert Langford and Walter Dauntesy, the sons of Anne and Elizabeth, her daughters by John Beverley. (fn. 75) Although Bucknell manor was divided into two portions, both seem to have passed almost immediately to Walter Dauntesy, who granted them to Sir William Hankeford and a number of other feoffees. (fn. 76) Sir William Hankeford died in 1423 and his share of both moieties of the manor passed to his grandson Richard. (fn. 77) The other feoffees dropped out of the picture, since it had been provided that the whole manor should revert to Sir William's heirs. (fn. 78) Richard Hankeford enfeoffed trustees who eventually arranged the conveyance of the manor to John Langston of Caversfield and his wife Elizabeth. (fn. 79) Bucknell was to remain in the Langston family until 1558. John Langston died in 1435, (fn. 80) leaving a son and heir John who later married Amice, daughter of John Danvers, one of the trustees. John seems to have come of age in 1449 when the manor was settled on himself and his wife, (fn. 81) and he lived until 1506. (fn. 82) His son and heir Richard, who succeeded at the age of 40, died in 1526, (fn. 83) and Richard's son John died in 1558 leaving Bucknell to his wife Jane for life; after her death it was to pass to John's nephew and heir Thomas Moyle. (fn. 84)
Although John Langston had left Bucknell manor to Thomas Moyle, the latter's right was challenged by the Denton family, who claimed that by another will John had left Bucknell to Thomas Denton and his heirs. (fn. 85) The will on which Moyle's opponents principally relied was of doubtful validity and he continued to hold the manor, (fn. 86) but he did not reside and by 1574 had let the manor to Thomas Ashe. (fn. 87) When Thomas Moyle died in 1594 his estates passed to his grandson Thomas, son of Ralph Moyle of Moleash (Kent). (fn. 88) Shortly before his death in 1622 Thomas the younger settled Bucknell as well as Caversfield upon his second son Thomas, (fn. 89) and it was he and not his elder brother John who received the manor and sold it soon afterwards to Edward Ewer.
By his marriage to Margaret, daughter of Francis Poure of Bletchingdon, Edward became involved in the suits concerning that manor and Oddington. (fn. 90) When he died in 1638 he left his son Francis an estate burdened with debts taken over from the Moyles. Francis Ewer in spite of all manner of attempts to pay off the debts got steadily into greater difficulties. He leased Bucknell manor-house to Capt. William Rawlinson; mortgaged both Bucknell and Oddington to Samuel Trotman, his father's 'loving friend'; (fn. 91) and in 1647 borrowed £1,550 from John Penrice on the security of the manor. Francis failed, however, to pay his debt to Samuel Trotman, who took possession of Bucknell in 1652. There followed a series of lawsuits between Francis, Samuel Trotman, John Penrice, and the heirs of William Rawlinson, which lasted until 1675. (fn. 92) While the course of these suits is difficult to follow it is clear that they completed the utter ruin of the Ewer family. There is a tradition that Francis's descendants were 'reduced to the situation of drovers or cattle dealers', which may well have been true, for when the antiquary Rawlinson visited Bucknell in 1718 he noticed that there was 'a son of Ewers now kept by the parish of Stoke Lyne'. (fn. 93) Samuel Trotman retained Bucknell and the heirs of John Penrice finally abandoned their claims in 1687. (fn. 94) Samuel Trotman may well have favoured the parliamentary side in the Civil War, for his second wife was the niece of Speaker Lenthall and one of his sons was named after him. (fn. 95) The case for Francis Ewer having done so is not strong. Blomfield wrote that he 'joined the side of the opposition' and there is evidence that he incurred the king's displeasure in 1639, but some of the Ewers were recusants. (fn. 96) In 1685 Samuel was succeeded by his third son Lenthall Trotman (d. 1710), whose son Samuel settled Bucknell on his younger brother Thomas. (fn. 97) Samuel, who was M.P. for Woodstock from 1724 to 1730, died in 1749. Two years later, when Thomas died, Bucknell passed to his son Samuel, who was Sheriff of Oxfordshire in 1760, and who died in 1775. (fn. 98) His cousin and successor Fiennes, son of Edward Trotman of Shelswell and lord of Shelswell manor, did not marry, and settled Bucknell on a nephew, Fiennes, who succeeded him in 1782, and who died in 1823. With the death of his son, a third Fiennes, in 1835 the male line of the Trotman family came to an end. (fn. 99) Bucknell then passed to Hester Louisa, the second daughter of the last lord, and her husband Lt.-Col. F. D. Hibbert. Lt.-Colonel Hibbert died in 1897 and his son and heir Robert Fiennes Hibbert sold Bucknell to Anthony Babington, whose widow was lady of the manor in 1939. (fn. 100)
Lesser Estates.
Besides Robert d'Oilly's lands in Bucknell there were two smaller estates in the lost hamlet of SAXENTON in 1086. (fn. 101) Odo, Bishop of Bayeux, was lord of both of them, and his tenants Adam and Alfred held 2 hides and 1½ hide respectively. (fn. 102) Nothing is known of the subsequent history of these estates until the 13th century, when they reappear in the possession of the Boffin and De Ivaus families. The Boffins' Oxfordshire lands were not extensive and were assessed at only ¼ knight's fee in the 13th century. (fn. 103) William was probably succeeded after 1233 (fn. 104) by Thomas Boffin, of whom William de Blakevill held 1/8 knight's fee in Saxenton in 1243. (fn. 105) In 1279 John of Saxenton held a hide in the hamlet 'of the fee of Boffin' and paid 12s. a year to the Prior of Chetwode (Bucks.). (fn. 106) By 1257 Thomas Boffin had endowed the priory, founded twelve years earlier, (fn. 107) with all his land in Nethercot, in Steeple Aston parish, (fn. 108) and it is likely that he gave the priory his Saxenton lands about the same time. Chetwode Priory was annexed to Notley Abbey (Bucks.) in 1460, (fn. 109) and the rent of 12s. a year, which the abbey held in Bucknell at the Dissolution, (fn. 110) must represent the former Boffin estate in Saxenton. Its subsequent history is unknown.
In the mid-13th century the second SAXENTON estate was held by Ralph de Ivaus, the lord of two fees in South Newington. (fn. 111) In 1259, however, Ralph granted his Saxenton estate to Nicholas de Cranford, on the condition that he and his wife Agnes should hold it of Nicholas, and that it should revert to Nicholas if they died without issue. (fn. 112) Ralph was still living in 1264, (fn. 113) but he had evidently died childless by 1279, when Roger Damory held the ½ knight's fee in Bucknell of Robert de Cranford, presumably Nicholas's heir, of the fee of 'Inwes', i.e. Ivwes or Ivaus. (fn. 114) Robert was said to hold of the Abbot of Abingdon, but in fact held of the De Ivaus family. Robert de Cranford had also succeeded to South Newington, (fn. 115) and the overlordship of the ½ fee of Ivaus in Saxenton followed the descent of that manor. In 1307 Richard, brother of Ralph de Ivaus, released his rights in Saxenton to Robert, son of Robert de Cranford. (fn. 116) The Damorys and their successor John Beverley (see above) continued to hold as tenants of the Cranfords, and the Ivaus land was virtually merged in Bucknell manor. In 1316, for instance, Richard Damory was said to hold Bucknell 'cum membro de Sexinton'. (fn. 117) The union was completed in 1378 when Richard de Cranford of South Newington quitclaimed to John Beverley the 40s. rent which was his inheritance in 'Bucknell or Saxinton'. (fn. 118)
Economic History.
Domesday records two settlements in Bucknell: Bucknell itself and the smaller one of Saxenton. The main manor at Bucknell had probably suffered from the Conquest, for its value had declined from £10 to £7. (fn. 119) Although there was land for 10 ploughs, there were in fact only 7 ploughs, 2 of them in demesne with 3 serfs, while outside 6 villeins (villani) and 3 bordars shared 5 ploughs. In one of the two small estates at Saxenton there was land for 3 plough-teams, which were shared between 6 villeins. This estate's value had risen from 40s. to 60s. On the other estate, valued as formerly at 30s., there was said to be land for 1½ plough-team although in fact 3½ were in use: the lord had 1½, while his 3 villeins and 4 bordars had 2 ploughs. (fn. 120) Thus there was a recorded working population of 25.
The account in the Hundred Rolls of 1279 reveals a number of changes. (fn. 121) On the large Damory manor of Bucknell there were 4 cottars paying rents varying from 1s. 6d. to 3s., and 13 villeins holding a virgate each for which each paid a rent of 5s. They worked, were tallaged at the lord's will, and had to pay fines if their sons left the manor. At Saxenton there were 9 villein virgaters, once tenants of the De Ivaus fee, but now tenants of the Damorys.
The extensive demesne consisted of 8 virgates in Bucknell and 4 in Saxenton. The most significant change is the appearance of four freeholders: John of Saxenton with 4 virgates, who paid 12s. rent to Chetwode Priory (Bucks.) and did suit at the hundred court; another holding a ½ virgate; Walter the Smith, who held 1 virgate of the fee of Hardwick, and Thomas of the Church holding 2 virgates of Richard Damory.
The survey accounts for only about 40 virgates— say 1,000 field acres out of the 1,894 statute acres of the 19th-century parish. One explanation may be that as the Damorys lived at Bucknell and had free warren there much of the parish may have been uncultivated and preserved for hunting. (fn. 122)
Later evidence for the medieval history of Bucknell is scant. From a grant of land made in the 1370's it appears that the virgate was still the average holding. (fn. 123) Fourteenth-century tax lists also suggest that there had been little accumulation of property, 26 people being assessed in 1316 of whom only Richard Damory and his bailiff had goods worth more than 4s. (fn. 124) Saxenton never appears to have been taxed separately and the 92 adults in Bucknell listed for the poll tax of 1377 almost certainly include Saxenton. (fn. 125) The hamlet seems to have declined early. In 1379 its lands were described as in 'Bucknell or Saxenton' (fn. 126) and except for a mid-15th-century reference to a house in Saxenton, there is no later record of the place. (fn. 127)
The fact that all the land in the parish except the glebe and Notley Abbey's holding belonged to the manor assisted early inclosure. The movement may have been well under way by the late 16th century, when there was said to be 220 acres of meadow and 700 of pasture, (fn. 128) and certainly by the mid 17th century, when there was a 'great inclosed ground' of about 300 acres called Bicester Ground. (fn. 129) By the time of the parliamentary inclosure in 1780, slightly more than half the parish was already inclosed. (fn. 130) By the award the rector received 336 acres of the 870 acres of land involved, and the rest went to the Trotmans. The arable strips, so far as is known, still lay in the three fields recorded in 1700—North, West, and South Fields. (fn. 131)
The general effect of inclosure in the neighbourhood was to increase the amount of arable and to treble at least the rent of land. (fn. 132) At Bucknell the wheat-growing land increased by 40 acres in the first 30 years after inclosure, (fn. 133) and the pattern of landholding was altered. A few comparatively large farms were created and so continued throughout the 19th century. (fn. 134) In 1888, when the manor lands were sold, besides the glebe or Rectory farm there were four farms of over 200 acres: Home farm, Lower farm, Manor farm, and Bucknell Lodge farm. (fn. 135) At this date the parish was still a 'closed' one, all the land belonging to the manor except for the glebe. (fn. 136) Another consequence of inclosure was the building of outlying farm-houses: Davis's map of 1797 shows only Bucknell Lodge, but in the 19th century there were four more. (fn. 137)
In the early 20th century, through the initiative of William Barrett (d. 1943) of Lower farm, selfbinding machines were sent to the Bucknell district from the United States by an American, Walter Woods. Demonstrations were given in Bucknell, particularly on Bucknell Lodge farm, with the result that the parish took the lead in the introduction of the machine. In the 1950's Bucknell's nine farms were in the hands of owner-occupiers, of whom four farmed between 225 and 300 acres each. Mixed farming was the rule. Wheat, barley, and oats were the main crops grown; the cultivation of sugar-beet was discontinued after the Second World War. There were several pedigree stocks of pigs (Large White and others), Guernsey cows, and Hampshire sheep. (fn. 138)
Post-Reformation figures suggest that Bucknell had a relatively poor population: for the subsidy of 1524, for example, only twelve people were assessed, one of the lowest numbers in the hundred; (fn. 139) in the late 17th century there is mention of day-labourers (fn. 140) and the hearth-tax returns of the 1660's, with a relatively small number of hearths listed, indicate an absence of prosperity. (fn. 141) By 1801 the population had risen to 218 and continued to rise steadily to 343 in 1851. Thereafter a decline set in. It was noted in the 1890's that on account of the agricultural depression many were leaving the village. (fn. 142) During the 20th century numbers have risen from 205 in 1901 to 259 in 1951. (fn. 143)
Until recent years the villagers have nearly all been occupied in agriculture. A miller presumably existed in the late 13th century, when a mill was recorded, but there is no later reference to either. (fn. 144) In the mid-19th century there were a butcher, baker, carpenter, and blacksmith, and a large establishment of nineteen servants at the manor-house. (fn. 145) Every cottager, however, was also a gardener. A 19thcentury account of the village states that each of the 46 cottages had its garden, that most farms allowed their labourers potato ground, and that the rector let off part of the glebe as allotments. (fn. 146)
Church.
The earliest evidence yet found for the existence of a church at Bucknell dates from 1074, when a grant of the tithes was made (see below). From the first recorded presentation to the rectory in 1243–4 (fn. 147) the advowson descended with the manor until 1348, when Sir Richard Damory, no doubt because of his financial difficulties, sold it to the rector William Peek (probably acting as agent for Oseney Abbey) for £66 6s. 8d. (fn. 148) In 1350 Peek conveyed it to Oseney, who immediately attempted but failed to exchange the advowson and that of Swerford for Mixbury advowson. (fn. 149) A similar attempt was made in 1396 to exchange Bucknell and Cornwell advowsons for that of Mixbury, which was said to be much more convenient to them, being near their manor Fulwell. (fn. 150)
Oseney held the advowson until its dissolution in 1539; it at least twice sold the right of presentation and once was guilty of simony. (fn. 151) In 1547 the advowson was granted to Thomas, Lord Seymour; (fn. 152) in 1551 to Walter Mildmay, a prominent civil servant, (fn. 153) but by 1552 it was in the hands of a Richard Weston. (fn. 154) In 1574 Jeremiah Weston of Essex sold it to Mrs. Alice Ball of Lichfield, who gave it in 1578 to her son Robert, a Fellow of New College. He gave it to his college in 1611, on condition that it always presented a scholar of the college, and preferably one of his own relatives. (fn. 155) New College is still patron.
In the Middle Ages the rectory was of medium value. In 1254 it was worth £6 13s. 4d. (fn. 156) and in 1291 £10, plus the pension of 10s. to Oseney (see below). (fn. 157) In 1535 it was valued at £13 16s. net. (fn. 158) Around 1600 it was said to be worth £60, (fn. 159) and in the early 18thcentury £120. (fn. 160) By the mid-19th century its value had risen to £350. (fn. 161)
In addition to the tithes, there was glebe consisting of 4 yardlands with common for three. (fn. 162) At the inclosure in 1780 the glebe was exchanged for 82 acres and the tithes were commuted for 254 acres, about a seventh of the land in the parish. (fn. 163) In 1956 only 5 acres of glebe remained. (fn. 164) Tithe was paid on 6 acres near the Middleton Stoney border until 1850, when it was commuted for £1 16s. (fn. 165)
In 1074 Robert d'Oilly granted two-thirds of the demesne tithes of Bucknell, along with those of some 70 other manors, to the church of St. George in Oxford castle. (fn. 166) In 1149 the church and all its possessions were given to Oseney Abbey. (fn. 167) In the 13th century Oseney was receiving 10s. a year for these tithes (fn. 168) and in the 15th century it used to lease them to the rector for 13s. 4d. In 1502 the abbot successfully sued the rector Edmund Croston for eight years' arrears of this sum. (fn. 169) The sum continued to be paid until Oseney's dissolution. (fn. 170)
A tithe case of 1615 shows that it had been customary for 50 years past for every landowner to pay each year a bushel of malt, or its equivalent in money, on every yardland to repair the church or supply necessaries for it. Sometimes the malt was used for the Whitsun Ales, from which £4 or £3 10s. were afterwards received for the church.
Some of the medieval rectors were distinguished men. Such a one was Master John de Cheam (rector 1243–64), who was also papal chaplain and Archdeacon of Bath. In 1259 he became Bishop of Glasgow, but continued to hold Bucknell, perhaps because he was unable to get recognition in his Scottish diocese. (fn. 171) According to the Lanercost chronicler, he always preached piety but never practised it. (fn. 172) Another rector, Roger (1264–92), was a member of the local Damory family and may have been responsible for the beautiful 13th-century chancel. A later one, Ichel de Kerwent (1291–1335), perhaps a Welshman, Ithel from Caerwent, for several years disrupted the church life of the parish. In his first year there, the tax assessment on his church was raised from £6 13s. 1d. to £10, and he refused to pay the clerical subsidy. The church was accordingly put under an interdict; he was summoned before the Exchequer, and his living put into the hands of trustees. (fn. 173) When in 1298 he finally made submission and the interdict was revoked, the trustees refused to give the church back. The rector appealed to the bishop, who excommunicated the intruders and forbade the ministers of surrounding churches to admit them to their services. The rector was reinstated (fn. 174) and remained in office until his death in 1335. (fn. 175)
The frequent exchanges at the end of the 14th and in the 15th century show that by this time the church was regarded by its rectors principally as a source of additional income. Several are known to have had other occupations: Master Alexander Sparwe alias Herbard (1415–19), an illegitimate son, was Archdeacon of Salisbury; (fn. 176) Master William Symonds (?–1431) was Official of the Archdeacon of Oxford; (fn. 177) Thomas Darcy (c. 1437–69), who had papal dispensation to hold another church, was allowed to rent his benefices for seven years, even to laymen, while studying at a university. (fn. 178)
Two early-16th-century rectors were outstanding men: Edmund Croston (1498–1503), (fn. 179) later Principal of Brasenose Hall in Oxford, and Bryan Higden (1505–24), Principal of Broadgates Hall, who in 1516 became Dean of York. (fn. 180) At the visitation of about 1520 it was noted that he was non-resident and that the chancel windows were broken. (fn. 181)
Throughout the second half of the 16th century (1552–92) the living was held by Richard Bennett, a graduate of Christ Church; he survived all the religious changes of this period, and the inscription on his brass, once in the church, said that he had lived in the parish for 40 years. (fn. 182)
After New College got the advowson, the living was held until the 19th century by successive fellows. They lived in comfort: their house, called a manorhouse, was the second largest in the parish in the 17th century, and had a dovecote, pigsties, stables, and other outhouses attached to it. (fn. 183)
The religious life of the parish was disrupted by the Civil War. John Gardner, rector from 1643, was ejected in 1654; replaced by Giles Woolley, the brother of a prominent Worcestershire nonconformist, and restored in broken health in 1660. (fn. 184) His successor, William Morehead, (fn. 185) a nephew of General Monck, caused great dissatisfaction in 1678 by living at his other cure at Whitfield (Northants), and leaving Bucknell in the charge of young nonresident curates. The parishioners, headed by the churchwardens, protested to the bishop that their rich and ancient parish, worth £100 a year, had always supported a resident minister, 'who hath not only performed the duty of his ministry, but also afforded great relief to the poor, by good hospitality and by setting them on work'. The deficiencies of the young curates from Oxford, who neither did these things, nor visited the sick, nor punished vagrants nor sent them out of the parish, were listed; they only rode over on Sundays, neglected to catechize and to read prayers on holidays, and held services at dinner-time. The parishioners' plea for a resident minister of at least 24 years old was evidently not granted, for Morehead seems to have continued to live mostly at Whitfield. (fn. 186) In 1687 he was the only Oxfordshire minister who subscribed to the address thanking James II for his declaration about liberty of conscience; (fn. 187) and in 1688, when he read the king's declaration on this question in Bucknell church, was one of the few ministers in the county to do so. (fn. 188) He died at Bucknell in 1692. (fn. 189)
Morehead's successor, John Coxed (1692–1709), was resident with his family and was clearly a conscientious pastor. He improved the parsonage; gave communion on four instead of the more customary two great festivals; kept lists of his communicants, (fn. 190) of whom there were usually between 20 and 30, and a record of the alms given. (fn. 191) Rectors resided throughout the 18th century, but after the inclosure award, when the new Rectory estate with the Rectory house, by now described as 'very indifferent', (fn. 192) was granted to a farmer, non-residence became customary. (fn. 193) James Yelden (1801–22), for example, whose brother-in-law bequeathed the Gauntlett charity, (fn. 194) was Vicar of Weston-on-the-Green, where he lived. He gave the absence of a house and his gout as reasons for not residing at or serving Bucknell, which was once again left to a curate. (fn. 195) With William Master (1833–78), a supporter of the Oxford Movement, there was a change for the better. He built the present Rectory on a new site, (fn. 196) he restored the church building and had a school built. He had been Dean of Civil Law in the University and his interest in education led him in 1840 to start with others a middle-class school in Bicester, where he occasionally taught. (fn. 197) This and his refusal to follow Bishop Wilberforce's suggestion that he should preach twice on Sundays account for the bishop's comment: 'Master no preacher but shines in schoolroom.' (fn. 198)
Edward Miller, his successor, was another outstanding parish priest. Although a distinguished Biblical scholar, his 'heart to had always been in parish work'. He came to Bucknell from Butler's Marston (Warws.), and found his new parish comparatively backward in education and church matters, but not in general civilization. (fn. 199) With some difficulty, he started a village library and readingroom; he catechized the children in church on one day a week, and visited the school every other morning. He alleviated poverty by letting out the glebe in ¼-acre allotments.
The church dedicated to ST. PETER is a stone building comprising a chancel, clerestoried nave, south porch, and central tower. The church is a fine example of 13th-century architecture, but the massive tower, placed between chancel and nave, is 12thcentury and belongs to an earlier church; another story with windows and battlements was added in the 15th century. The tower stands on plain Romanesque arches; the north and south ones have filled-in arches with small 12th-century windows under them, but the eastern arch was rebuilt in the 14th century. On the north side of the tower there is a 12th-century stair turret, and on the south side a door leading into the Victorian vestry.
The chancel, which is exceptionally long (35 ft. by 19 ft.), is a fine specimen of early-13th-century work. (fn. 200) At the east end there are three lancet windows with elegant shafts and deeply cut arch mouldings. On the north and south sides are lancet windows and two low windows, lancet outside and square-headed inside. In the north wall of the chancel is a blocked doorway and (externally) the piscina of a vanished vestry; the barrel roof of wood was formerly (1846) concealed by plaster.
The 13th-century nave has a lancet window at the west end, with shafts and moulded rear-arch. The striking south door is carved with unusual mouldings, and supported by clustered shafts; the northern door is also of early-13th-century workmanship. On the south side of the nave there is a 13th-century holy-water stoup, and there are the remains of a piscina and altar at the north-east corner of the nave. The absence of aisles is singular, and it is possible that the blocked arches on the north and south sides of the nave were intended to open into the transepts. The nave roof and a clerestory with square-headed two-light windows were added in the 15th century. The flat plastered ceiling which concealed the roof in the 19th century has been removed.
The church, described by Rawlinson in 1718 as beautiful and in good repair, a has preserved its distinctive medieval character, in spite of later alterations. (fn. 201) It was ordered to be painted in 1633; was beautified in 1706; was again ordered to be repaired in 1757; and in 1829 the old seats were replaced by high deal pews and a western gallery was built, both of which have since been removed. (fn. 202) In 1855 the parish spent £50 on repairing the inside of the church, (fn. 203) and in the following year the rector spent £220 on repairing and partially rebuilding the chancel walls. More thorough restoration was undertaken in 1893 (architect A. Mardon Mowbray). The nave was refloored and a new oak roof was inserted; the top story of the tower was rebuilt; a new arch put in the south porch; new choir seats were installed in the chancel and a vestry and a heating system were added, at a total cost of £740. (fn. 204) In 1955 the church retained its 19th-century oil lamps.
There is a plain octagonal font on an octagonal base of two tiers, (fn. 205) and a fine pulpit of carved oak, probably of Jacobean date. The organ is early 19th-century. An oak altar table was given in 1872. (fn. 206)
In the chancel there is a brass tablet to Edward Ewer (d. 1638) and Margaret Poure his wife, daughter of Francis Poure of Bletchingdon, and another to their eldest son Francis Ewer. There are also a number of memorial slabs on the chancel floor, now mostly indecipherable or partially concealed under pews. Rawlinson mentions memorials to William Rawlinson (d. 1643); Richard Bennett, rector (d. 1591/2); John Gardner, rector (d. 1670); John Coxed, rector (d. 1709) and others to his family. (fn. 207) In the nave there are a number of well-carved marble monuments to the Trotman family; (fn. 208) to Samuel Trotman (d. 1684/5) and Mary his wife (d. 1667); to Lenthall Trotman (d. 1709/10); to Samuel Trotman (d. 1719/20); to another Samuel Trotman (d. 1748/9); to Thomas Trotman (d. 1751) and his son Samuel (d. 1775); (fn. 209) and a modern brass to Lt.Col. Frederick Drummond Hibbert (d. 1897) and his wife (née Trotman).
The armorial glass in the chancel mentioned by Wood has disappeared, as have also the windows containing figures and inscriptions to the Larwoldes, the Freemans, and to Robert and Thomas Clement and their wives. (fn. 210)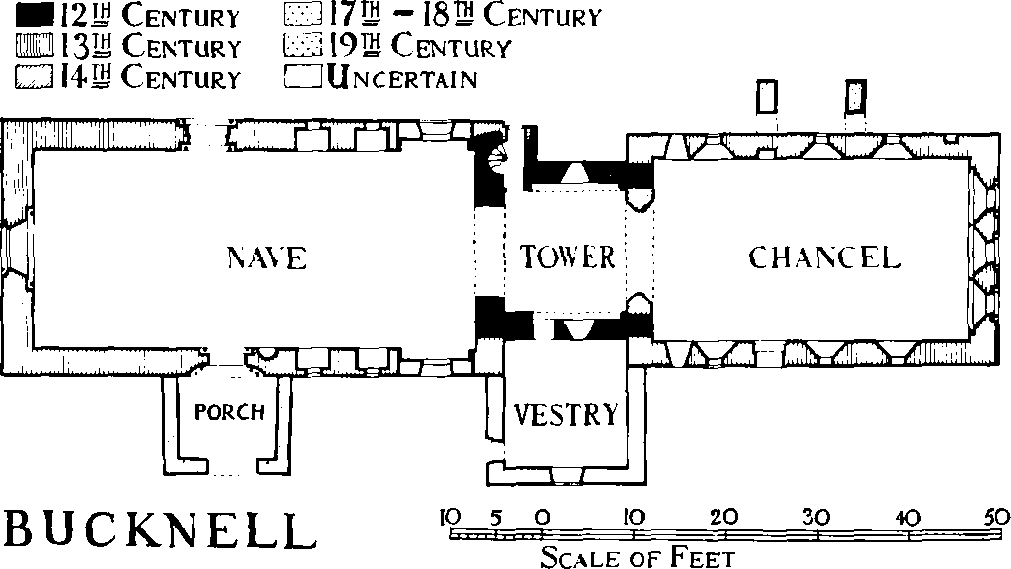 In 1552 it was recorded that the church was furnished with one silver chalice, four pairs of vestments, a pall of blue damask and four copes. It had three great bells and a sanctus bell. (fn. 211) The church's post-Reformation plate was acquired in the 18th century during the incumbency of John Woodford (1710–45) and includes a silver chalice and flagon (1723) and a paten, all inscribed 'Bucknell'. (fn. 212) In 1955 the earliest of the three bells dated from 1597, but the bell frame was medieval. (fn. 213)
The registers date from 1653.
The ancient base of a cross, restored in the 19th century, is in the churchyard.
Nonconformity.
A few Roman Catholics are recorded in the late 16th and early 17th centuries. (fn. 214) Among the gentry, Thomas Ashe, the lessee of the manor, was noted in 1592. (fn. 215) In the 1620's Margaret Ewer, the daughter of Francis Poure and wife of Edward Ewer, two more Ewers, and two other persons were fined. (fn. 216) By 1643 there seems to have been only one Roman Catholic, (fn. 217) and in 1706 there was still only one, a shepherd. (fn. 218)
There was apparently no Protestant dissent in the parish except for an early-19th-century Quaker schoolmistress. (fn. 219)
Schools.
'Goody Poel the school dame' is mentioned in 1708, (fn. 220) and by 1738 most of the village children were being taught reading, writing, and the catechism by a 'poor woman' paid by the lord of the manor. (fn. 221) The latter's successors continued to support a dame school. In 1808 the dame was a Quaker, and the children were taught reading and knitting. There were then 12 pupils, 20 in 1854, and 12 in 1869—the last record of this school. (fn. 222)
A Sunday school, opened in 1802, was supported by the parishioners and was conducted partly on National Society lines. In 1808, 35 children were learning to read and write, (fn. 223) and 46 in 1833.
By 1833 there was also a day school attended by 30 children of whom 20 were paid for by Mrs. T. Tyrwhitt-Drake, wife of the tenant of the manorhouse, and 10 by their parents. (fn. 224) There were 40 pupils in 1854. (fn. 225)
Bucknell Church of England school, which replaced Mrs. Tyrwhitt-Drake's school, was built in 1861 on land given by Lt.-Col. F. D. Hibbert, at a cost of £450 paid by the Revd. William Master, whose nephew Master White designed the plans. (fn. 226) The school first received a National Society grant in 1865, and about 1867 evening classes in the winter were started for adults and the older boys. (fn. 227) There were 41 pupils in 1871 and 26 in 1906, (fn. 228) and the school never had more than one teacher. It was reorganized as a junior school in 1926, when senior pupils were sent to Bicester. In 1937 there were 14 children on the books, and in 1948 the school was closed, the pupils being transferred to Bicester Church of England primary school. (fn. 229)
Charities.
Samuel Trotman by will dated 1684 left £20, Lenthall Trotman by will dated 1691 left £10, and Mary Trotman by will dated 1710 left £10, forming a poor's stock of £40 which in the 18th and early 19th centuries was held by the lord of the manor, who paid £2 10s. a year interest. In 1824 this income was used in buying meat distributed to the poor at Christmas. (fn. 230) Later in the century the £2 10s. appears as a rent-charge on the manorial estate. (fn. 231) This income, which remains unchanged, was expended in coal and clothing in 1887, in meat and clothing in 1939, (fn. 232) and in money distributed to eight poor people in 1954. (fn. 233)
By his will dated 1820, with a codicil dated 1822, the Revd. Samuel Gauntlett, Warden of New College, left £300 in stock, the income from which was to be applied to the purchase in December of eight woollen cloaks or gowns for wives of labourers with one or more legitimate children, or of eight pairs of stout shoes for the men, in alternate years. The cloaks and shoes were to be marked with the initials 'D. G.' in honour of Dr. Gauntlett's late wife, Deborah. The charity was first distributed at Christmas, 1823. (fn. 234) The annual income of £7 10s. was distributed in money to eight poor people not receiving the Trotman Charity in 1954. (fn. 235)