Pages 213-221
A History of the County of Rutland: Volume 2. Originally published by Victoria County History, London, 1935.
This free content was digitised by double rekeying. All rights reserved.
SEATON
Segentone, Seieton (xi cent.); Saeton (xii cent.); Seton (xiii cent.); Seyton (xiii-xvi cent.).
The parish of Seaton is separated from Northamptonshire by the river Welland, which forms the southern boundary. The ground falls towards the Welland, the height being not much above 180 ft. at Thorpe-by-Water in the south of the parish; but it rises towards the east, reaching the highest point, 500 ft., at Prestley Hill on the western border. The Barrows, just south-west of Seaton, are not so high as the ridge behind the village, but stand up conspicuously out of the lower ground. The valley is crossed by a viaduct, carrying the Kettering to Manton branch of the London Midland and Scottish Railway, opened in 1878. Seaton station is about half a mile from the village and two and a half miles east-south-east from Uppingham on a different line of the same railway.
The somewhat straggling village stands on the north side of the road from Uppingham, sheltered from the north by the ridge which runs across the parish from west to east. The cottages are mostly of stone with thatched roofs, some of them being in a dilapidated condition. The church is near the eastern end of the village, with the Manor House, formerly known as Up Hall, close to it. Seaton Grange is about half a mile west. The hamlet of Thorpe-by-Water contains a few good 17th-century stone houses, one of which, with mullioned windows and thatched roof, has a panel inscribed 'im, 1654.' Another larger gabled house, with stone-slated roofs, wind-break chimneys and mullioned windows, is inscribed 'E H M 1691.'
The soil is good, the subsoil being chiefly Upper Lias with some Lower Oolite. The land is mostly under grass. The parish, with the hamlet of Thorpe-byWater, contains about 2,135 acres.
Among place-names contained in local records are the following: Prestesleye; (fn. 1) the Westfield beyond Uppingham road, abutting on Sandhowes; Bottinghowes, abutting on Glaston brook (xiii cent.); (fn. 2) Spurres Close, (fn. 3) Ivehall or Ivyehall, Milne Holme, the Lownd Close, the Berryges, Bohill leyes (xvi cent.). (fn. 4)
Manors
Robert de Toeni held one hide and one bovate in Seaton with one virgate in Barrowden in 1086; it was worth 20s., and had been worth twice as much in the time of Edward the Confessor. (fn. 5) From the reference in Domesday Book to a priest on this manor, it seems that Robert's holding may be identified with the manor of UP HALL (xiv cent.), afterwards called BELFAGE or BEWFOIS (xvi–xvii cent.) from the family which held it. Ralf, the son of Ralf de Beaufoy (Bellafago), is said to have had an estate in Seaton in the time of Henry I; (fn. 6) but it was afterwards in the possession of Hubert de Rye, who married Agnes the daughter of Ralf. Hubert granted 'the land of Seaton where the church stands, with the advowson and all that belongs to it,' to Thomas, the son of the younger Ralf de Beaufoy, who died in 1184. (fn. 7) He left a widow Alice, the daughter of Waleran de Oiri, then aged twenty, and a son and heir Ralf, who was two and a half. This Ralf had no sooner come of age than he was involved in lawsuits concerning his inheritance, (fn. 8) which he held of the Barony of Rye. (fn. 9) Gilbert of Norfolk, who had married Emma, daughter and heir of Henry, son of Ralf de Beaufoy, claimed his lands in Norfolk, Rutland and Lincoln in 1204, (fn. 10) but afterwards quitclaimed all the right that he might have in Seaton and Aslakeby to John Marshal and Aline his wife, the daughter and heir of Fulk de Rye. (fn. 11) Geoffrey de Chichester (Cestre) and Isabel his wife, who is said to have been a sister of Aline, were plaintiffs with the Marshals in the plea concerning a quarter of a fee in Seaton, which came to an end by the death of Geoffrey. (fn. 12) A final agreement about land and rent in Seaton was made between Aline Marshal and Ralf de Beaufoy in 1243; (fn. 13) but this seems to refer to the Beaufoys' freehold (see below), as the manor of Up Hall was supposed in 1349 to be held of William de Ros of Hamlake, (fn. 14) whose great-grandmother, Isabel de Albini, was said to be the great-great-granddaughter of Robert de Toeni. (fn. 15)
Ralf de Beaufoy died before 11 July 1248, when the king took the homage of his son and heir Ralf for all his lands and tenements. (fn. 16) In 1251 the younger Ralf was heavily in debt to the Jews, (fn. 17) and in 1277 he was superseded in the office of a coroner for Rutland and verderer for the forest of Rutland, (fn. 18) the latter office being afterwards held by Geoffrey de Beaufoy, his heir. (fn. 19) Geoffrey died in 1292, leaving a widow Amice; (fn. 20) he was succeeded by John de Beaufoy, who held a quarter of a fee in Seaton in 1305 (fn. 21) and in 1309 granted South Creke (co. Norf.) to Peter de Croft and his wife Amice (widow of Geoffrey) for their lives. (fn. 22) In the same year he received protection for three years as he was going beyond seas, and had letters nominating Richard de Beaufoy and Richard de Walesden his attorneys. (fn. 23) He had returned in 1313, when he settled a messuage and lands in Seaton on himself, Elizabeth his wife, and his heirs. (fn. 24) He was knight of the shire in 1328 (fn. 25) and died about 1343, (fn. 26) leaving a son William, against whom John of Evesham and Alice his wife, widow of John, claimed one-third of the manor of Seaton, as dower of Alice, in 1346. William, however, claimed that two-thirds of the manor had been settled on him and his wife Alice, and that the remaining third was held by Roger de Beaufoy. (fn. 27) Judgment is not recorded, but no doubt William had strong reasons to resist the diminution of his estate; for shortly afterwards he was pardoned the levy of 40s. for an archer, on account of his 'urgent necessity.' (fn. 28)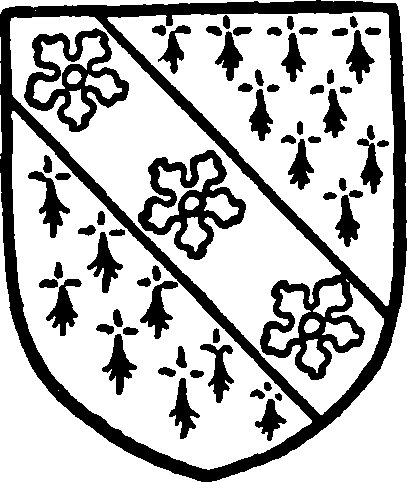 William Beaufoy died in 1349, leaving as his heir his son John aged fifteen and more. (fn. 29) His property at Seaton was then described as 'a capital messuage, 40 acres of arable, 7 acres of meadow often flooded by the Welland, a tenement for which a bondman used to pay 16s. yearly, and no one will farm since his death because of the [Black] Death, and a windmill.' The wardship and marriage of John was granted to Sir Roland Daneys in 1350. (fn. 30) William's wife Alice, daughter of John de Boyville, also died in 1349; (fn. 31) and Alice the widow of John Beaufoy (d. 1343) died in 1356, leaving her grandson John, son of William Beaufoy, her heir of full age. (fn. 32) According to the evidence for his proof of age he was born at Stokefaston (Stockerston, co. Leic.) and baptised in the church there on St. Andrew's Day 1336. (fn. 33) In 1358 he obtained seisin of his lands as the king had taken his homage. (fn. 34) In the same year John Beaufoy enfeoffed William Beaufoy of two-thirds of the manor of Up Hall, granting him also the reversion of the third which Roger Beaufoy still held. (fn. 35) The conveyance was not completed until 1363. (fn. 36)
The relationship of William to John is not stated. William cannot be identified with the William de Beaufoy who succeeded to a manor in South Creek (co. Norf.), and was only 27 years of age at the time of the death of John his brother in 1424. (fn. 37) A William Beaufoy was knight of the shire for Rutland in 1363, 1365 and 1369. (fn. 38) Possibly he was a brother of John who conveyed Up Hall to him. (fn. 39) In 1364 William Beaufoy was superseded in the office of verderer of the Forest of Rutland 'for reasonable causes.' (fn. 40)
William married Agnes, daughter and co-heir of Robert de Northwode of North Creke. (fn. 41) He was still living in 1373; (fn. 42) but the descent of the manor after this date becomes obscure.
John Beaufoy of Seaton, who was pardoned in 1416 for the murder of Robert Nycoll and Richard Edmond in 1415, (fn. 43) may have been a son of William. Possibly William Beaufoy who held a quarter of a fee in Seaton in 1428 was his son. Presumably the quarter fee represented the manor of Up Hall, though it is said to have been held formerly by Simon Warde, (fn. 44) to whom no other reference has been found in local records. William Beaufoy was knight of the shire for Rutland in the parliaments of 1433 and 1434, and was one of those who received a commission to issue a warrant to the sheriff for proclamation in the next county court that several persons, including William Sheffield of Seaton (see below), should take an oath not to maintain peacebreakers. (fn. 45) He was also a justice of the peace from 1446 to 1459. (fn. 46) In July 1448 John Chesilden received a licence to grant the stewardship of the forest of Rutland to William Beaufoy and others. (fn. 47) The remaining references to William indicate that he was a Lancastrian. In 1457 he was a commissioner for array for Rutland, and in December 1459 he was further commissioned to resist the rebellion of Richard, Duke of York. (fn. 48)
He was probably succeeded by an heir of the same name. 'Phelip, late wife of William Beaufo,' who complained of oppression by William Sheffield and William Stevens about 1493 was apparently the widow of the younger William. She declared that her husband, 'in the time of King Edward IV,' had been obliged to sell the manor of South Creke, which had been settled as her jointure; but in place thereof he gave her 'for term of her life by his last Will the manor of Seton in the county of Rutland, not above the value of £12.' (fn. 49) She had occupied the manor fifteen years after the death of her husband; but William Stevens, having married Eleanor, one of the daughters of William Beaufoy, before Christmas last, came in riotous wise with might and power and took £4 4s. 0d. of the issues, contrary to all right. This was done with the assent of William Sheffield, one of the feoffees for the trust, who further threatened to put Philippa out. (fn. 50)
The other daughter, or daughters, of William Beaufoy are not mentioned by name; but the whole manor of Up Hall was not long afterwards acquired, either by purchase or inheritance, by the Bassetts of North Luffenham. Edward, the son and heir of Thomas Bassett, died seised of it in 1534, leaving as his heir his brother John, then aged twenty-four. (fn. 51) John married Anne Rouse of Rouse Lench (co. Worc.), (fn. 52) and died in 1575. In 1585 his widow joined her son John Bassett in making a conveyance of tenements, land and rent in Luffenham, Morcott and Seaton to Edmund Rouse. (fn. 53) The manor of Up Hall had already been acquired from Anne and her husband by George Sheffield in 1568, (fn. 54) and Robert Sheffield his son died seised of it in 1602, leaving as his heir his son John. (fn. 55) It afterwards followed the descent of the manor of Down Hall (q.v.), and in 1928 was in the possession of Mr. George Edward Monckton.
A manor in Seaton, later known as DOWN HALL, containing land for 8 ploughs and 10 acres of meadow, was held of the Countess Judith by William in 1086, and had been held with sac and soc by Edward in the time of the Confessor. (fn. 56) To this manor belonged certain socmen in Thorpe and Luffenham. (fn. 57) The overlordship seems to have followed the descent of the Honour of Huntingdon. (fn. 58)
The William who held of Countess Judith was perhaps William brother of Simon de St. Liz, Earl of Huntingdon in right of his wife Maud, daughter and heir of the Countess Judith. The property seems to have passed to Simon de St. Liz, fifth Earl of Huntingdon (d. 1153), (fn. 59) and from him to Simon, eighth Earl, who married Alice de Gant. He died in 1184 (fn. 60) without surviving issue, his son, another Simon, having died in his father's lifetime. (fn. 61) The manor then appears to have gone to Simon, brother of Simon, the eighth Earl of Huntingdon. This Simon, described as brother of Earl Simon, granted land in Conington (co. Hunts), probably before 1184, to St. Mary de Pré, Northampton, for the souls of himself and his ancestors and his nephew (nepos) Simon (son of the eighth Earl), Alice de Gant being a witness to the charter. (fn. 62) Simon de St. Liz, who claimed half a knight's fee in Conington against David, Earl of Huntingdon, in 1214, was probably a son of Simon, the brother of Simon, eighth Earl. (fn. 63) Evidently he opposed King John, as the sheriff of Cambridge was notified that he had returned to his fealty in 1217. (fn. 64) In 1223, at the instance of Isabel, widow of Richard the Crossbowman of Seaton manor (see below), he obtained the wardship and marriage of the heir. (fn. 65) This grant was renewed in 1227 to 'Simon de Seint Liz, steward of Ralph de Neville, Bishop of Chichester,' (fn. 66) who had licence to marry her without disparagement. The heir was Amy or Anne, whom he afterwards married. This Simon may perhaps be identified with Simon de St. Liz, eldest son of Simon, to whom Henry III in 1231 granted quittance of service on juries, etc. (fn. 67)
In 1235 King Henry granted to Simon de St. Liz (Seyntliz) and Amy or Anne his wife relief from forest burdens in the wood of Seaton, which was of Amy's inheritance. (fn. 68) In the same year Amy claimed common rights in Seaton Wood against the Bishop of Lincoln. (fn. 69) Both she and her husband were living in 1244; (fn. 70) and in 1252 Simon gave the king 8 bezants of gold for leave to course with his hounds the hare, the fox, and the cat. (fn. 71) It was apparently he who in 1248 unsuccessfully claimed the third penny of the county of Huntingdon and the Honour of Huntingdon. (fn. 72) Simon died in 1259, when his widow claimed her dower third in Great Stukeley against Ralf de St. Liz, (fn. 73) presumably his brother. He was succeeded in Westbury (co. Buck.) by his son Simon, (fn. 74) and his heir in Seaton seems to have been his son John. (fn. 75) In the same year John de St. Liz received protection while accompanying the king to France. (fn. 76) He is said to have died without issue and to have been succeeded in Seaton by his brother Richard, who had already succeeded to Morcott. (fn. 77) In 1275 the jurors of Wrandike Hundred declared that he gave 40s. to Anketin de Martival to avoid knighthood. (fn. 78) William de St. Liz, the son of Richard, presented to the church of Morcott in 1287 and 1295, (fn. 79) he was holding by knight service in the Hundred of Wrandike in 1302, (fn. 80) and in 1304 he manumitted two of his tenants in Seaton. (fn. 81) He held Down Hall in 1316, when he was appointed one of the commissioners of array in Rutland for the expedition against the Scots. (fn. 82) He was knight of the shire in 1312 (fn. 83) and died before Trinity term 1321, when his younger son Richard de St. Liz made a settlement of 2 messuages and lands in Seaton, on himself, his wife, Joan Gernoun, and their issue, with contingent remainder to his own right heirs. (fn. 84) Richard de St. Liz was knight of the shire in 1328, 1330, 1335 and 1336. (fn. 85) He and Joan are said to have had four sons, William, Thomas, Simon and John; and two daughters, Elizabeth and Margaret. All these except Margaret died without issue. Margaret married Robert Poynton and had a son Robert Poynton and a grandson William, who also died without issue. (fn. 86) In 1398 the sheriff of Rutland was ordered to give Roland de St. Liz, kinsman and heir of Richard de St. Liz, seisin of a third part of a cottage and 3 acres in Morcott, the lands of an outlaw. (fn. 87) This Roland was the son of Roland the brother of Richard de St. Liz and Agnes de Empingham. (fn. 88) Roland the son married Alice Pinchbeck and had two daughters Isabel and Margaret. (fn. 89) Isabel married William Sheffield, and Margaret married first Henry Durant of Cottesmore and secondly John Burgh; and in 1429 they divided the inheritance between them, each sister settling her portion on herself, her husband and their issue, with contingent remainder to her sister, her brother-in-law, and her sister's heirs. (fn. 90)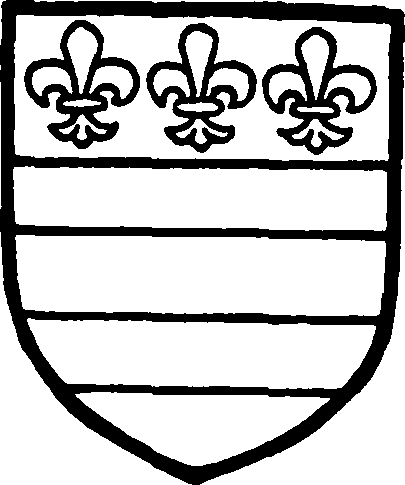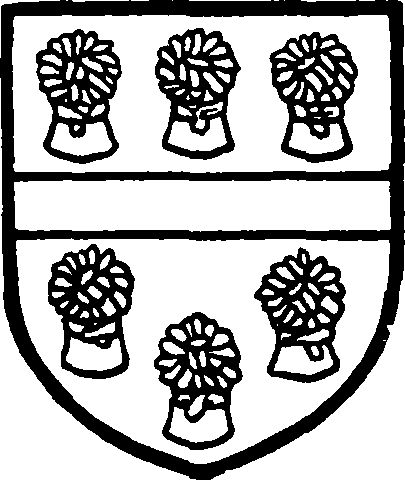 Isabel inherited the manor of Seaton and the manor and advowson of Morcott. Although Margaret left heirs by her first husband, she apparently had none by her second on whom the settlement was made, and the whole manor of Down Hall with the manor and advowson of Morcott passed to the Sheffields. William Sheffield and Isabel left a son and heir John. His son William had a son John who with his son Edward sold Morcott in 1528. John was holding Down Hall in 1533 (fn. 91) in which year he died, leaving Edward his heir. (fn. 92) George Sheffield, the son of Edward, settled the manor in 1556; (fn. 93) and Robert, his son, died seised of it in 1602. (fn. 94) His wife Dorothy survived him with two children, John and Dorothy, both of whom died young; (fn. 95) on John's death in 1607, at the age of eight, his uncle Sampson Sheffield was found to be his heir. (fn. 96) Sampson Sheffield and his wife Elizabeth (Woodruffe) made a settlement of the manor in 1610; (fn. 97) and Sampson died seised of it in 1619, leaving as his heir his son Sampson then aged thirteen. (fn. 98) The manor at this time was given the name of St. Lucy's or 'Saincte Luce,' evidently a corruption of St. Liz, and was said to be held in soccage (fn. 99) of the Bishop of Chichester. (fn. 100)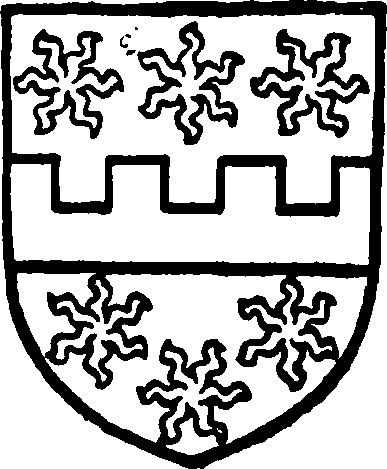 In 1634 Sampson Sheffield and Jane his wife sold this manor, with the manors of Up Hall and Seaton, to Sir John Hanbury, Robert Tanfield and Edward Palmer; (fn. 101) and twelve years later all three were bought from Edward Hanbury, Geoffrey Palmer, William Montague and Edward Lord Montague by Peter Tryon (fn. 102) of Bulwick (co. Northants) who died in 1660. (fn. 103) Peter was succeeded by his son James who was holding the manor in 1684, (fn. 104) and he by Charles Tryon, who died in 1705, leaving a son Charles. (fn. 105) The manor was sold by Charles Tryon about 1771 to Lord Galway for his son, the Hon. John Monckton. (fn. 106) Sir George Pigott, bart., and Dame Mary Anne his wife, Monckton's daughter and co-heir, were parties to a settlement in 1830. (fn. 107) The present owner is Mr. George Edward Monckton, descendant of the Hon. Edward Monckton, and Sophia, daughter of Sir George Pigott, bart.
The King's manor of Barrowden had three outlying members, at Seaton, Thorpe, and Bisbrooke with Glaston. (fn. 108) The whole was worth £3 in King Edward's time, and in 1086 was valued at £7. As the later manor of SEATON had appurtenances in Thorpe, Bisbrooke and Glaston, it may perhaps be conjectured that all these members of Barrowden were afterwards held as one manor by serjeanty probably by Ernisius the Crossbowman who paid danegelt in Rutland in 1130 (fn. 109) and by Richard the Crossbowman whose land in Seaton was valued at 100s. at the time of his death in 1198. (fn. 110) Richard left a son and heir Ernisius, who married Bridget, daughter of William Mauduit, (fn. 111) and in 1204 claimed the church at Morcott against Isabel Mauduit and her son Robert, but withdrew his plea. (fn. 112) He seems to have died about 1223, when Isabel the widow of Richard his father persuaded Simon de St. Liz to buy the wardship and marriage of the heirs from the king. (fn. 113) On 14 April 1232 Henry III granted in frankalmoin to Ralf de Nevill, Bishop of Chichester, and his successors, the homage and service of Richard the Crossbowman and his heirs, 'who held of the king in chief in Morcote and Seaton (co. Rutl.), by serjeanty as crossbowmen: to hold quit of all suits of counties and hundreds.' (fn. 114) Notwithstanding this grant, the manor was said in the 17th century to be held 'as of the Hundred of Wrandike by suit at court and a pair of gold spurs,' but this was clearly a mistake; the manor of Down Hall being supposed, at the same time, to be held of the Bishop of Chichester. (fn. 115) Ernisius was succeeded by his son Richard, usually called Richard de Seyton, (fn. 116) the serjeanty having been altered into military service. In 1253 the king granted him exemption for life from being put on juries, etc., (fn. 117) and in 1265 he had a safe-conduct to go to the king. (fn. 118) Presumably he had been one of Montfort's supporters, though his kinsman, Master Roger de Seyton, afterwards Chief Justice, appears to have been a royalist and received protection from 13 April 1264 until Ascensiontide following. (fn. 119) In 1268 an inquiry was ordered as to those who came to Kettering churchyard and there took Richard de Seyton and kept him in prison until they had extorted from him £200 for his ransom; and who burned his manors of Seaton (co. Rutl.) and Maidwell (co. Northants) and his mills at Seaton and maltreated his miller there; and plundered his goods in divers places to the value of 500 marks. (fn. 120) The date of Richard's death is uncertain; he seems to have been succeeded by another Richard, probably his son, (fn. 121) who with his wife Alice received seisin of lands in Oxfordshire in 1275. (fn. 122) He was afterwards knighted, (fn. 123) and died about 1282, leaving as his heir his son John, a minor, whose wardship was granted to Anthony Bek, in respect of his lands in Buckinghamshire. (fn. 124)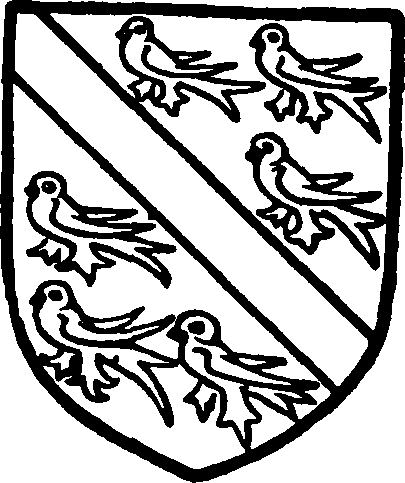 In May 1303 John de Seyton, being in Scotland in the king's service, had letters of respite for debts due to the king in Northamptonshire and Buckinghamshire; (fn. 125) and in 1314 his heir, Nicholas de Seyton, being also in Scotland on the king's service, received letters of protection. (fn. 126) In 1316 Nicholas was still said to be holding the manor of Maidwell; (fn. 127) probably he died about that time, since his son and heir John, a minor, was returned as holding in Seaton and Thorpe. (fn. 128) John de Seyton was knight of the shire for Rutland in 1337; (fn. 129) he was succeeded by another John, who was knighted and served as knight of the shire for Northampton in 1378. (fn. 130) In 1383 he settled his land preparatory to going abroad. (fn. 131) In 1393 Sir John Seyton, kt., by virtue of the king's commission, arrested certain men for rebellions. (fn. 132) He and his wife Joan were living in 1395. (fn. 133) He died in Jerusalem in 1396 and was succeeded by his son John. Thomas, son of John, was succeeded by John, whose son Thomas Seyton (fn. 134) disposed of his lands in Hallaton (co. Leic.) in 1464. (fn. 135) He was succeeded by his son Everard, who died in 1476, leaving as his heirs his daughters—Anne, aged four, and Joan, aged three. (fn. 136)
Joan Seyton married Francis Metcalfe, and in 1517 they conveyed their moieties of Maidwell, Seaton and Barford St. Michael to James Metcalfe and others and the heirs of James Metcalfe, and gave warranty against the heirs of Joan. (fn. 137) In 1526 James Metcalfe sold the property to Edward Catesby, (fn. 138) son of Euseby Catesby and Anne Seyton. (fn. 139)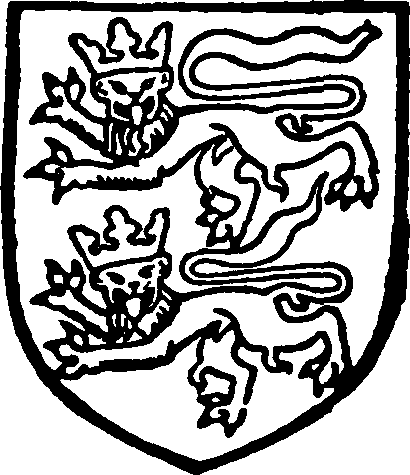 Michael Catesby, the son of Edward, dealt with the manor in 1577. (fn. 140) He seems to have been succeeded here by his son Erasmus, who conveyed it in 1589 to his brother Kenelm for the purpose of a settlement on himself and his heirs, discharged from all incumbrances. (fn. 141) In 1597 he sold it to Robert Sheffield, and it afterwards followed the descent of Down Hall (q.v.) and Up Hall. (fn. 142)
A reputed manor of THORPE BY THE WATER was probably parcel of the manor of Down Hall (q.v.), as the St. Liz dealt with lands and the mill of Thorpe. It is first mentioned in 1615, when it was conveyed to John Osborne by Edmund Clipsham and Dorothy his wife, who warranted against the heirs of Edmund and Michael Clipsham, the father of Edmund. (fn. 143) From this it appears possible that the 'manor' was the freehold belonging in the 16th century to Richard Marler and leased in 1588 by Robert Clerke and Thomas Allen and their wives, the sisters and coheirs of George Marler, to William Clipsham for 21 years for 20 marks yearly. (fn. 144) Clerke seems afterwards to have quitclaimed his interest to Clipsham; and he subsequently complained that though William Clipsham and Anthony (his adopted son) knew that Clerke and his wife could only grant a moiety, and that Anne, wife of Edward Andrewes and widow of Richard Marler, had a life interest, and that the children of Anne Newport, another sister of George Marler, claimed a third part, yet Anthony Clipsham caused a lease to be drawn containing a covenant that the lessee should enjoy the premises discharged of incumbrances. (fn. 145)
The descent of the so-called manor is obscure. John Osborne conveyed it in 1626 to Philip Holman and his heirs. (fn. 146) In 1690 it was conveyed to Richard Peach by William Scarlett and Mary his wife, Samuel Archer and Theodosia his wife, William Cole and Mary his wife and Nathaniel Scarlett; (fn. 147) and later in the same year by John Symonds and Dorothy his wife. (fn. 148) Warranties were granted against the heirs of Mary and Nathaniel Scarlett, Theodosia Archer, and Mary Cole: possibly the heirs of Philip Holman. In 1701 Mary Scarlett widow, Thomas Martyn and Theodosia, Lionel Denton and Mary, John Symonds and Dorothy, Vincent Simpson and Elizabeth, and James Ostler and Margaret quitclaimed their interest in the manor to William Clewe and Hugh Ashton and the heirs of William, with warranty against the heirs of both Marys, Theodosia, Dorothy, Elizabeth and Margaret. (fn. 149) Nine years later Richard Shuttleworth and his wife Emma quitclaimed their interest to William Potterall and Henry Oliver and the heirs of William. (fn. 150) Dorothy Roberts, spinster, in 1772 settled it on herself and her heirs and assigns for ever. (fn. 151)
In 1243 Aline Marshal acknowledged the right of Ralf de Beaufoy (represented by his son Ralf) to 9 oxgangs of land and 13s. rent in Seaton which had previously been held by Thomas de Beaufoy, Ralf's father, of her father Fulk de Rye. (fn. 152) This freehold, which (though assessed as a whole knight's fee) never seems to have been regarded as a manor, was evidently settled upon the younger Ralf. The overlordship remained with the Marshals until Hawise, sister and heir of the last John Marshal, brought it to the family of Morley by her marriage to Robert de Morley: it subsequently followed the descent of his barony. (fn. 153)
In 1295 complaint was made by Ralf de Beaufoy that John de Seyton and Richard his brother, with others, had pulled down his houses at Seaton and cut down and carried away his trees, and when Ralf appealed them of robbery they accused him of the death of Stephen Stute, so that he might be imprisoned and prevented from his prosecution. (fn. 154) Ralf was succeeded by another Ralf de Beaufoy, probably his son, who was collector in Huntingdonshire of the subsidy in 1306 and 1307, and knight of the shire for Rutland in 1310. (fn. 155) This Ralf died before 8 July 1326, leaving a widow named Sara, (fn. 156) and a son Ralph, who had been indicted with others in the summer of 1321 for assaulting John Hakluyt, keeper of the forest of Rutland. (fn. 157) Ralph married Isabel de Shipton before 12 November 1338, and died before 18 March 1360, when his lands were held by Richard de Beaufoy, who was still in possession ten years later. (fn. 158) The descent of the freehold after this date becomes obscure. According to the pedigree given in the Visitation of Rutland in 1618, the last-mentioned Ralph Beaufoy died without issue, and was succeeded either by his brother or his nephew William. (fn. 159) If his heir may be identified with the William Beaufoy who was enfeoffed by John Beaufoy in Up Hall, it is possible that the freehold followed the descent of that manor until the death of the last John Beaufoy in 1427. The Visitation pedigree of 1618 shows that this John had a brother Ralph who succeeded to the freehold, and left as his heir a son and namesake, whose daughter and heir Jane married Ralph Wymarke of North Luffenham. (fn. 160) Jane Wymarke died seised in 1533, leaving as her heir her son John, then over thirty-six. (fn. 161) Edward, the grandson of John Wymarke, died in 1634, leaving as his heir his sister Frances the wife of John Greene (fn. 162) of Market Overton.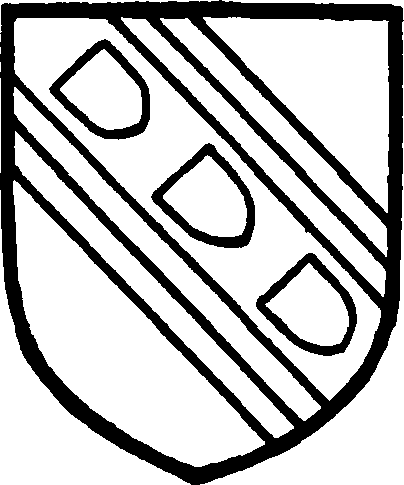 A mill is first mentioned as an appurtenance of the manor of Up Hall in 1349. (fn. 163) This was a windmill; it followed throughout the descent of the manor, and presumably stood on the same site as the windmill still in use in 1928. A watermill rendering 36d. yearly was an appurtenance of the king's manor of Barrowden in 1086: this was situated in Seaton, (fn. 164) and was afterwards attached to Seaton manor. (fn. 165) Possibly it stood on the site of the watermill still in use in 1928; but two more watermills were attached to the united manors during the 17th and 18th centuries and remained in use as late as 1830. (fn. 166)
Church
The church of ALL HALLOWS consists of chancel 41 ft. 2 in. by 18 ft. 6 in., with organ-chamber (former vestry) on the north side, clearstoried nave of three bays 51 ft. 8 in. by 17 ft. 10 in., north and south aisles 8 ft. 3 in. wide, south porch and west tower 11 ft. by 12 ft., all these measurements being internal. The tower is surmounted by a spire. The width across nave and aisles is 39 ft. 6 in.
The building is of rubble, with straight parapets and slated roofs, except that of the porch, which is leaded. The walls are plastered internally. There was an extensive restoration of the fabric in 1874–5, (fn. 167) when many of the windows were wholly renewed, new roofs erected, and the present small circular clearstory windows inserted. (fn. 168) The oldest parts of the building are the responds of the chancel arch and the south doorway, which date from the first half of the 12th century, and formed part of a church consisting of an aisleless nave which covered the space occupied by the two eastern bays of the present nave, (fn. 169) and a short chancel. To this early building a north aisle was added c. 1180–90, the wall being pierced by an arcade of two bays, and early in the 13th century a south aisle of three bays was thrown out, increasing the nave to its present length, and the north arcade and aisle were extended a bay westward, the old respond being re-used and a new pillar and arch similar to those on the south side erected. The old south doorway was at the same time moved outward to its present position. Later in the 13th century the chancel was rebuilt on its present plan, and about 1280–1300 the tower and spire were added. The east window of the south aisle is also of this latter period, and other windows, afterwards altered, appear then to have been inserted in the aisles. The porch was probably first built late in the 14th century. Evidence is wanting of the existence of a clearstory before the 17th century, but sometime after 1660 the roof of the nave was removed and one of lower pitch substituted, the aisle walls heightened, and a clearstory made. (fn. 170) The tracery is said to have been removed at this time from most of the aisle windows, converting them to plain square-headed openings. (fn. 171)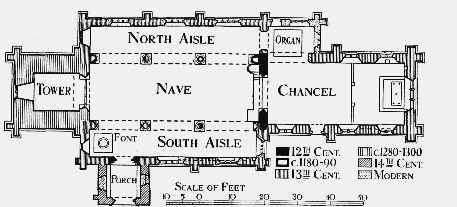 The lofty chancel arch is of a depressed semicircular form, and is probably contemporary with the older part of the north arcade. It is of two moulded orders, with large half-round soffit moulding, and has a hood-mould on the side towards the nave only. The 12th-century responds have been much restored and some of the carving is new or wholly recut, (fn. 172) but they still retain a great deal of very beautiful original work. The inner order of the arch rests on halfround columns, and the outer order on the angle shafts, facing east and west, all with richly carved capitals and moulded bases on high square chamfered plinths. The enriched abaci are carried through to the adjoining walls on the nave side and for a short distance facing the chancel, the carving consisting chiefly of scrolls and hatching. The capitals have early volutes and a variety of sculptured ornament.
The south doorway has a segmental arch with billet hood-mould and two outer orders with edgerolls, on jambshafts with carved capitals and moulded bases; the plain chamfered inner order is continued to the ground. The capitals have small volutes and abaci enriched with studs, scrolls and fret ornament.
The chancel is very much restored, but preserves all its 13th-century features. It is divided externally into two bays by buttresses, and there are pairs of buttresses at the angles, all of two stages with triangular head at each slope. Externally there is a keelshaped string at sill level, the corresponding string inside being moulded. In the south wall is a plain chamfered doorway with moulded imposts and hood with head-stops. The windows are of one type, consisting of grouped lancet lights with wide chamfered mullions under a single pointed arch, but they differ slightly in detail. The east window is of three graded lights, and its hollow-chamfered containing arch springs from twice-banded jambshafts with foliated capitals and moulded bases. The east wall is faced with alternate courses of ironstone and freestone. The lateral windows, two in the east bay on each side, and one in the west bay on the south side, (fn. 173) are of two lights, under an arch with double chamfered jambs, the spandrels being left plain, except in the easternmost window on the south side, which has a sunk quatrefoil. The hoods of the east and south-west windows have head-stops, but on the south side the others are continued along the wall. Internally all the chancel windows have shafted jambs and mullions and hood-moulds with head-stops. Except in the east window, where the capitals are foliated, the shafts have moulded capitals and bases. The piscina and triple sedilia form a single architectural composition consisting of four moulded trefoil arches, springing from detached shafts and shafted jambs with moulded bases and moulded and foliated capitals. (fn. 174) The sedilia are stepped, and the stops of the hood-moulds are carved with heads and foliage; the piscina occupies the easternmost recess and has an octofoil fluted bowl. At the east end of the north wall is a pointed aumbry, and there are two trefoiled aumbries in the east wall, north and south of the altar. (fn. 175) At its west end the north wall is open to the organ-chamber by a modern arch. A tall roundheaded opening over the chancel arch was formerly square-headed and had an oak lintel. (fn. 176) An alabaster reredos was erected in 1889. (fn. 177)
The nave arcades have semicircular arches of two orders, on cylindrical pillars and half-round responds. The two late 12th-century arches of the north arcade are moulded, with hoods on the side towards the nave, and the soffits have a hollow between two round mouldings; towards the aisle the outer order is chamfered. The pillar and responds (fn. 178) have circular moulded bases, with octagonal lower member, on square plinths and the capitals have inverted volutes and divided abaci. In the south arcade both orders of the arches have edge-rolls, (fn. 179) and there are hoods on the nave side; the pillars and west respond have circular moulded capitals and bases, the former enriched with nail-head and the latter on square plinths. The contemporary west arch and pillar of the north arcade are of the same character. At the east end of the south arcade the arch springs from a chamfered impost and square respond (fn. 180) in which is a round-headed rebated recess or aumbry, and in the aisle adjoining, below the east window, is a tall square-headed recess without rebate. The window is of three tall trefoiled lights with cusped intersecting tracery, and in the usual position in the south wall is an original round-headed piscina with plain circular bowl. About 2 ft. further west there is a later moulded piscina with square trough and elaborate ogee cinquefoiled head, the canopy of which has been cut away, probably inserted late in the 14th century, when the chapel may have been remodelled. The west window of the south aisle is a trefoil-headed lancet with wide internal splay and hood with notch-stops, but the corresponding window in the north aisle is a pointed opening of two uncusped lights with quatrefoil in the head. The jambs of a former north doorway are visible below the present north-west window of the aisle. The square-headed lateral windows of both aisles are modern, of three and four lights, with tracery copied from that of the east window of the south aisle. The porch has a coped gable, pointed continuous moulded outer doorway and small flanking panelled buttresses; the side windows are blocked.
In the south wall of the south aisle are two wide pointed tomb recesses, with arches of three chamfered orders and hood-moulds, in the easternmost of which a mutilated 13th-century effigy was placed at the restoration. (fn. 181)
The tower is of three stages, marked by strings, and has a moulded plinth and pairs of buttresses at the angles reaching to the top of the second stage, above which they are continued as flat buttresses about two-thirds of the height of the bell-chamber. There is no vice. The pointed west window is of two uncusped lights with a quatrefoiled circle in the head, and in the middle stage, north and south, are small circular windows from which the cusping has been removed. The pointed bell-chamber windows are of two lights with circle in the head, but they differ somewhat in design, those north and south having jamb and mid-shafts with foliated capitals and moulded bases, the lights being trefoiled on the south side and plain lancets on the north. On the west side the windows have hollow chamfered jambs, the outer hollow being continued to form the inclosing arch, and the circle in the head is blocked; the east window is of similar type, but restored, and with a quatrefoil in the head. Internally the tower opens into the nave by a pointed arch (fn. 182) of three hollow chamfered orders, (fn. 183) the two outer continuous, the innermost on triple clustered shafts with moulded capitals and bases; the hood-mould has head-stops, one of which is that of a king. The spire rises directly from the tower by a series of weatherings, above which it becomes octagonal, with short broaches. There are three tiers of gabled spire-lights in the cardinal faces, each of two openings.
The font and pulpit are modern. The old font had an octagonal bowl, each face carved with a plain cross, but it was discarded and sawn up at the restoration, and its eight sides, stem, and four legs now form the back and supports of a stone seat at the west end of the south aisle.
Wright in 1684 mentions an ancient monument without any epitaph in an arch in the south wall of the body of the church on which were 'two coats of arms cut in the stone uncoloured.' (fn. 184) Of this monument only the two shields remain, built into the wall of the south aisle near the doorway. (fn. 185) In the chancel is a tablet to the Hon. John Monckton of Fineshade Abbey (d. 1830) and other members of the Monckton family, (fn. 186) and in the north aisle a memorial to seven men of the parish killed in the war of 1914–19.
There are said to have been numerous remains of wall paintings before the restoration, but they were 'too dilapidated to be preserved.' (fn. 187) There was a St. Christopher on the north wall opposite the entrance. In the porch is an old iron-bound oak chest.
There are five bells in the tower: the first by Henry Bagley of Chacombe, 1684, the second and fourth dated 1597, the third by Richard Benetlye of Leicester (c. 1585), and the tenor by Tobie Norris (II) of Stamford, 1669. (fn. 188) The bells were rehung in a metal frame in 1914.
The silver plate consists of a cup and cover paten of 1570–71. There are also a pewter flagon dated 1670 and a pewter plate. (fn. 189)
The registers before 1812 are as follows: (i) all entries 1538–53, 1561–1678; (ii) burials 1678–1724; (iii) baptisms 1680–1757, marriages 1683–1747; (iv) burials 1725–1812; (v) marriages 1748–76; (vi) baptisms 1758–1806; (vii) marriages 1777–1812; (viii) baptisms 1807–1812.
Built into the wall of the organ-chamber are portions of three coffin lids and another mediæval fragment.
Advowson
A priest is mentioned as living on Robert de Toeni's manor in 1086. (fn. 190) The advowson was afterwards granted by Hubert de Rye to Thomas de Beaufoy, and was claimed in 1204 by John Marshal and Aline and Geoffrey de Chichester and Isabel against the Prior of Selford and Thomas de Hotot. Thomas claimed it as dower of his wife Alice, evidently the widow of Thomas de Beaufoy; and the prior apparently claimed it of the gift of Thomas de Beaufoy, for he called Ralf son and heir of the said Thomas to warrant. (fn. 191) The suit was stopped by the death of Geoffrey de Chichester. (fn. 192) Apparently the parties afterwards arrived at an agreement, for in 1239 Roger de Chichester and Ralf de Beaufoy presented to the church; (fn. 193) but later the advowson remained entirely with the Beaufoys, John Beaufoy presenting William Beaufoy to the church 'vacant by the removal of Thomas Beaufoy infected with leprosy' in 1298. (fn. 194)
In 1349 and 1350 Sir John de Boyvill, the elder, father of Alice, widow of William de Beaufoy, presented to the church, probably as trustee. (fn. 195) In 1361 Sir Rowland Daneys, guardian of John son of William Beaufoy, enfeoffed certain trustees of the Glebe acre in Seaton with the advowson of the church on trust to reconvey them to him, or in the event of his death to the Prince, to be appropriated to a chapel which Sir Rowland had begun to found in honour of the Trinity in Tickencote churchyard. (fn. 196) The trustees seem to have presented to the church, but the grant presumably did not take effect, as the advowson appears to have remained in the possession of the lords of Up Hall manor, the descent of which it followed until 1816; (fn. 197) though John Dryden presented for one turn in 1627, Lord Montague in 1674, and Edward Cony in 1682. (fn. 198) In the early part of the 19th century the advowson was acquired by Philip, fifth Earl of Harborough, who married Eleanor, daughter and co-heir of Col. the Hon. John Monckton, and presented in 1842 and 1849. Thomas Heycock presented in 1866, and the Heycock family in 1894 presented Rev. Charles William Cartwright, who purchased the advowson shortly afterwards. The living is a rectory, net yearly value £682, including 45 acres of glebe, and is now in the gift of the Rev. Charles Johnson Cartwright.
Charities
Tryon's Charity, comprised in indentures of lease and release, the release dated 28 October 1707, whereby in consideration of a legacy bequeathed by Charles Tryon for the use and benefit of Seaton and the poor thereof, and also of a sum of money paid by Wellesbourn Sill and others and belonging to the poor of Seaton, certain lands situate in Blaston (co. Leic.) were conveyed upon trust for the use of the poor. The lands, containing about 6 acres, are let at an annual rent of £8, and the income is paid by the rector and churchwardens to widows and poor in the parish.
Poor's Land.—The origin of this charity is not known, but it is understood in the parish that the land was left by a lady for the benefit of the poor of Seaton and Thorpe in the proportions of two-thirds and one-third, and it appears from an entry in an ancient parish account book under date 18 January 1689, which records the receipt of two years' rent, that one-third was considered at that time to belong to the poor of Thorpe. The land has since been sold, and the endowment is represented by a sum of £76 16s. 6d. 2½ per cent. Consols with the Official Trustees, producing £1 18s. 4d. yearly in dividends, which sum is paid by the churchwardens and one trustee appointed by the vestry to the poor of Seaton and Thorpe.
Poor's Land.—The origin of this charity is not known, but for many years the rent of about 1 rood of land was applied for the poor of Thorpe.
Manton's Charity is supposed to have been given many years ago by a person named Manton, but no will or other document relating to it can be found. The land, containing about a rood in Thorpe Meadow, was let, and the rent applied among poor widows of Thorpe.
For many years the rents of these charities were received and added to the rents of the Poor's Land at Seaton, and it is believed that they are now represented in the stock held for that charity.
Charity for benefit of Parish Clerk of Seaton.— No particulars of appropriation are known in the parish, nor are there any writings to be found respecting it, but for many years six small pieces of land in the open field of Seaton, containing about 1½ acres, have been enjoyed by the parish clerk of Seaton for the time being, and are considered as attached to the office of clerk.