Pages 166-175
A History of the County of Somerset: Volume 3. Originally published by Victoria County History, London, 1974.
This free content was digitised by double rekeying. All rights reserved.
YEOVILTON
In 1901 the parish of Yeovilton, including the hamlets of Bridgehampton and Speckington, measured 1,787 a. (fn. 1) It lies 1 mile east of Ilchester on the north bank of the Yeo, and is over 3 miles from east to west and well over 1 mile from north to south. Its southern boundary is formed by the Yeo, by mill streams encircling the parish's meadows, Olam and Bineham, and by Hornsey brook. The short western boundary from Hainbury northwards is the Foss Way; the northern boundary, with Podimore and West Camel, bisects the Puddi moor and then follows two roads. The remainder of the boundary with West Camel interlocks in a complicated fashion, implying a more recent division than the natural or more rational bounds of the rest of the parish. This may be where an estate was added to the original manor in the 11th century. (fn. 2)
The parish lies partly on the alluvium of the Yeo and Cam valleys and partly on clay loam on the Lower Lias. The landscape is flat, lying mostly between the 50 ft. and 75 ft. contours, a natural site for the airfield which now dominates the area. An exception is Puddi moor in the north-west, a roughly circular area of marsh below 50 ft., divided by drainage channels into the narrow strips in which it was tenanted jointly with the farmers of Podimore.
Tenurial rather than topographical reasons account for the settlement pattern of the parish. Bridgehampton and Speckington, though evidently Saxon in origin, were the centres of two estates which combined in the late 13th century, but were totally independent of the other half of the parish. (fn. 3) Bridgehampton lies very near the eastern boundary, only 500 yd. from Urgashay in West Camel. Yeovilton, also evidently a Saxon settlement, lies on the southern boundary, with the church at its northeastern end. Smaller settlements in the parish are at Hainbury, at the extreme western edge, where a mill occurs at the end of the 14th century; (fn. 4) at Rag or Wrag, where labourers' cottages were built by 1838; (fn. 5) and at Stockwitch. (fn. 6) The buildings of the Royal Naval Air Station, H.M.S. Heron, begun in 1940, cover a complex of several acres both north and south of the London road. (fn. 7)
The road pattern, like the tenurial, reflects a clear division between the eastern and western parts of the parish, a division which the airfield further emphasized. Roads from Speckington and Bridgehampton run north, east, and south, and only one route, partly a lane called Box Hedge Lane through inclosed pastures, partly a track across Yeovilton's East or Great field, connected them with Yeovilton until the mid 19th century. (fn. 8) Thereafter a footpath formed the link until the airfield was constructed. Yeovilton village lay on a loop from the London road, part of which, Pyle Lane, formed the boundary between the two manors. Until 1952 the only links with Limington across the Yeo were by footpaths through the meadows and footbridges at Squire's gate or Woodbridge. (fn. 9) In that year a road was built linking Weir Lane with Limington. (fn. 10)
The London road, perhaps Roman in origin, (fn. 11) does not seem to have been much used until the early 19th century, and has not affected the settlement pattern. (fn. 12) The main route through the parish in the Middle Ages and later was at or near Bridgehampton, the name implying a crossing place of the Cam in Saxon times. One of the assets of Speckington manor in the early 14th century was a toll bar, (fn. 13) and as late as the 17th century the road was the main link between the markets of Sherborne (Dors.) and Somerton. (fn. 14)
There seem to have been three open fields belonging to Speckington manor in the Middle Ages. West or Western field occurs in 1448 and 1548, and lay probably between the London road, the Bridgehampton road, and Speckington Lane. (fn. 15) South field occurs in 1451, and East field, between the roads to Chilton Cantelo and Marston Magna, in the early 18th century. (fn. 16) By 1722 both West field and Bridgehampton field, further north, had been reduced to small closes. (fn. 17) In contrast Yeovilton retained open fields under strip cultivation until the mid 19th century. (fn. 18) Three fields were in use in 1613 and a fourth was named in 1665. (fn. 19) West field, bestriding the London road, was divided into Bramble or Brimble Hill, Sun Rush or Sandrush, and Bineham fields by the mid 18th century; Middle field became Harput and Pond fields; East or Great field was undivided until after 1863. (fn. 20) The main areas of meadow were Olam, Bineham, Puddi moor, and North mead, the last retaining the boundary stones marking strips until after 1886. (fn. 21)
Yeovilton, though not the largest settlement, retains the earliest buildings, mainly lias rubble and thatch cottages of the 17th and 18th centuries. More substantial are Manor and West Farms, both of lias with Ham stone dressings. Manor Farm has stone-mullioned windows with cavetto mouldings and a continuous string course, indicating early-18thcentury origin. Among its buildings is a brick barn.
In 1548 there were 141 communicants in the parish. (fn. 22) By 1801 the population was 200. As in most of the neighbouring parishes there was a rise, to a peak of 342 in 1861, and then a rapid decline to 164 in 1901 and 132 by 1921. The increase to 1,285 by 1951 and to 1,319 by 1961 reflects the advent of the air station, though living quarters are largely confined, in the parish, to the station itself, and the ancient settlements have not greatly increased in size. (fn. 23)
Manors and Other Estates.
An estate in Yeovilton was granted by King Edward to an unnamed thegn between 899 and 925. (fn. 24) King Edwy gave a holding of five hides there to Brihtric between 955 and 959. (fn. 25) T.R.E. most of Yeovilton formed part of the extensive holding of the king's thegn Aelfstan of Boscombe (Wilts.) and, like his other lands, passed to William, count of Eu, by 1086. (fn. 26) The counts probably retained the overlordship until the beginning of the 13th century, when it passed to the Earl Marshal. (fn. 27) The marshal was still overlord of part of the estate in 1284–5, and the wardship in respect of property there was certainly disputed in 1318–19 between Aymer de Valence and Thomas de Brotherton, each owner of half the Marshall properties. (fn. 28) There is no further trace of the claims of either party, though by 1411 the manor of Yeovilton was said to be held of John Rogers, as of his manor of Barwick, and in 1602 of Henry Lyte, as of the same manor. (fn. 29)
Ralph Bluet was tenant under the count of Eu in 1086; (fn. 30) the Bluets held land in Hampshire under the counts. (fn. 31) William Bluet held a knight's fee in Yeovilton in 1284–5 as mesne tenant, and by 1303 was succeeded by John Bluet. (fn. 32) After John's death c. 1317 the family's mesne tenancy seems to have disappeared.
The occupiers of the later manor of YEOVILTON begin with Hugh son of Richard, who held a fee there from 1179 at least until 1183. (fn. 33) He may have been the ancestor of the Yeovilton family, a Hugh of Yeovilton having granted some meadow there to the canons of Bruton, probably early in the 13th century. (fn. 34) Hugh's grandson William held the property by 1251. (fn. 35) William died c. 1280 and was succeeded by his son, also William. (fn. 36) In 1284–5 the holding at Yeovilton was assessed at 2 fees, of which William of Yeovilton held three parts; by 1303 the assessment was only 1 fee, of which William of Yeovilton held three quarters. (fn. 37)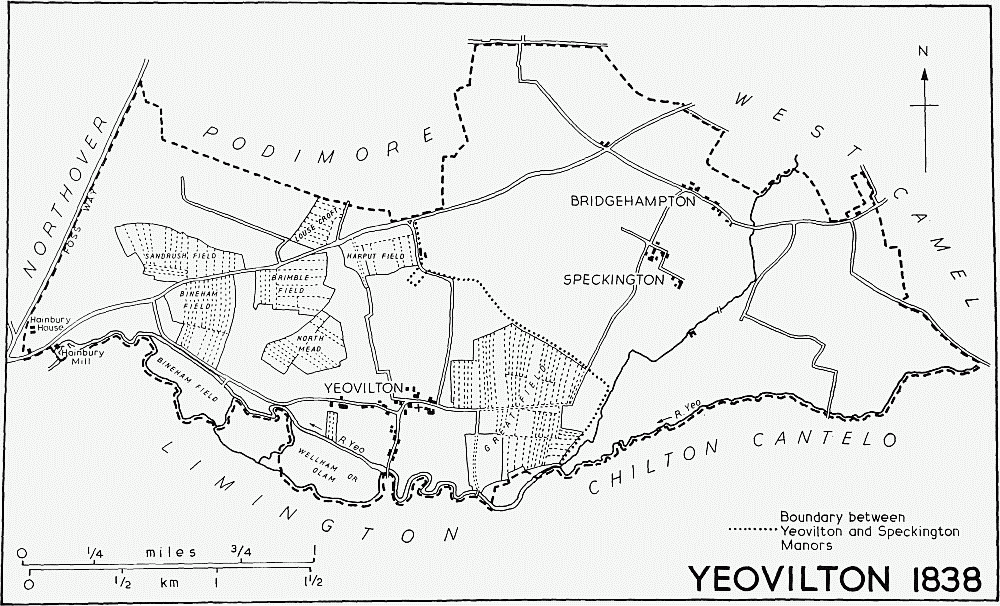 The estate was further divided during the 14th century. By 1316 the holder seems to have been Robert Martin of Athelhampton (Dors.), to whom it may have passed by marriage; (fn. 38) Robert Martin and Ralph of Yeovilton shared one fee there in 1346. (fn. 39) Martin's estate had by 1377 passed to John Cobham of Blackborough (Devon) (d. 1389) and to his wife Catherine, daughter of Sir William Bonville, and in that year was settled on Cobham's heir's, with remainder to Bonville and his son. (fn. 40) John Wyke of Nynehead (d. 1410), Catherine's second husband, held the property in her right at his death, and in 1412 her third husband Humphrey Stafford was returned as owner. (fn. 41) On Catherine's death in 1417 the property reverted to William Bonville, grandson of Sir William and Catherine's nephew. (fn. 42) Bonville (cr. Lord Bonville 1449) settled Yeovilton on William Tailboys (d. 1464) on his marriage with Bonville's daughter Elizabeth. (fn. 43) Elizabeth died in 1491, and her son Sir Robert Tailboys in 1495. (fn. 44) Sir Robert's son George died in 1538, outliving his own son Gilbert (cr. Lord Tailboys 1529). (fn. 45) Gilbert's son George died in 1540 and his eventual heir was his sister Elizabeth (d. c. 1563), Baroness Tailboys, wife successively of Thomas Wymbish (d. 1552–3) and Ambrose Dudley. (fn. 46) George, Lord Tailboys, had held Yeovilton jointly with his wife Margaret; she lost it temporarily through the implication of her second husband Sir Peter Carew of Luppitt (Devon) in Wyatt's rebellion, but it was restored after his pardon in 1556, subject to the reversionary interest of Elizabeth, Lady Tailboys, then wife of Ambrose Dudley. (fn. 47)
Elizabeth and her husband sold their interest to the Carews in 1557, shortly before the manor was purchased by Thomas Southcott of Shillingford (Devon). (fn. 48) Just over two years later, early in 1560, Southcott sold it to Thomas Cary of Cockington (Devon). (fn. 49) The Carys remained owners until debt forced them to sell early in the 18th century. Thomas Cary sold the property to his brother Robert (d. 1586), of Clovelly (Devon), in 1560–61. (fn. 50) Robert was succeeded by his son George (d. 1601), and by his grandson William (d. 1652). (fn. 51) William was followed by his sons Sir Robert (d. 1675) and George, dean of Exeter (d. 1680), and then by George's eldest son Sir George (d. 1685). (fn. 52) William Cary, Sir George's brother, under Act of Parliament of 1704, was allowed to break settlement of the estate to pay his late brother's debts, (fn. 53) and the land was sold in 1715 to William Cleveland of Tapeley in Westleigh (Devon). (fn. 54) Cleveland still held it in 1721, (fn. 55) but it seems to have come into the possession of Sir William Dodwell of Sevenhampton (Glos.) (d. 1727), whose trustees sold it in 1762 to Thomas Lockyer of Ilchester. (fn. 56)
On Lockyer's death in 1785 Yeovilton passed to his daughter Elizabeth, wife of Edward Phelips the younger (d. 1792). (fn. 57) She disposed of the estate to Samuel Rodbard of Evercreech in 1794–5, (fn. 58) and he retained it until 1822–3 when it passed to Mrs. Mary Brettingham. (fn. 59) She still held it in 1838. (fn. 60) The property was then no longer described as a manor, but it comprised virtually the whole of the tithing of Yeovilton. The holding was purchased by G. D. W. Digby of Sherborne Castle (Dors.) in 1857, and remained with the Digby family until 1919. (fn. 61) It was then sold to the tenants of the constituent farms. (fn. 62)
Part of the holding of William of Yeovilton in the early 14th century passed by 1346 to Ralph of Yeovilton. (fn. 63) Ralph married the heiress of the Somerton family, and their son Peter in 1386 settled a considerable estate in Yeovilton, Speckington, Bridgehampton, and elsewhere on Margery, wife of Thomas Payn, probably his daughter. (fn. 64) Catherine, daughter of Margery and Thomas, married successively John Stourton of Preston Plucknett (d. 1439), John Beynton, and William Carent (d. 1476), and died in 1473 leaving as her heir Giles Daubeney, grandson of John Stourton. (fn. 65) Land in Speckington was settled by Henry, Lord Daubeney (d. 1548), on his wife Catherine in 1532, but its subsequent history as a separate estate has not been traced. (fn. 66)
The fourth part of a fee in Yeovilton was held in 1284–5 by Elizabeth of Clevedon and Baudry of Nonnington. (fn. 67) Matthew (II) of Clevedon had succeeded by 1303, and John (III) of Clevedon by 1332. (fn. 68) The second died c. 1373, (fn. 69) and was succeeded by his grand-daughter Margaret (d. 1412), wife successively of Sir John St. Lo (d. 1375) and Sir Peter Courtenay (d. 1405). Her heir was her grandson William, Lord Botreaux (d. 1462). (fn. 70) In 1458 Botreaux gave his estate, described as a manor, in Yeovilton to Bath priory. (fn. 71) By 1545 the property, described as a messuage and lands in Bridgehampton, five messuages in Yeovilton, and a quarter of Hainbury mill, was granted by the Crown to two agents. (fn. 72)
It may have been this small estate which, described as a quarter of the manor of Yeovilton, was sold by Thomas Cogan of Montacute to John Brome of Wigborough in 1553. (fn. 73) Brome (d. 1558) devised his property jointly to his daughter Elizabeth, wife of James Compton, and to Brome Johnson (d. 1586), his grandson by his daughter Joan. (fn. 74) Half the property, therefore, descended from Elizabeth (d. 1579) to her son Henry, and then to her grand-daughter Alice. (fn. 75) Brome Johnson's half descended to his son Emorb (d. 1615), on whose marriage to his cousin Alice Compton in 1610 the two halves were reunited. (fn. 76) Emorb's heirs were his daughters Penelope, Elizabeth, and Frances. The last did not survive to majority, and the estate descended jointly to Penelope, wife of Sir Thomas Hele (d. 1630), and Elizabeth (d. 1631), wife of John Harris, both of whom died shortly after childbirth. (fn. 77) The descent of the properties has not been further traced.
An estate, sometimes described as a manor, at Bridgehampton, was held as ½ fee of William Bluet as of the Earl Marshal in 1284–5, and probably therefore had originally been part of the holding of Aelfstan of Boscombe. (fn. 78) In 1303 it was said to be held in chief, but in 1315 to be held of William of Yeovilton for ¼ fee. (fn. 79) In 1354 and again at the end of the 15th century it was said to be held of the Crown. (fn. 80)
By 1281 the tenant was Sir Robert FitzPayn, who in that year was succeeded by his son Robert, Lord FitzPayn (d. 1315). (fn. 81) The younger Robert by his death in 1315 added to his holding the adjoining estate of Speckington and the combined holding was normally known as the manor of SPECKINGTON AND BRIDGEHAMPTON. (fn. 82) Previously, in 1284– 5, Speckington had been held by a different tenant of a different honor from the rest of the parish: it was held of the earl of Gloucester, the actual tenant, Robert de Mere, holding ½ fee of Walter de Tornhull, (fn. 83) Walter of John Mautravers, and John of the earl. (fn. 84) By 1315 Robert, Lord FitzPayn, held an estate of 80 a. in Speckington of John Mautravers in socage, and the manor of Bridgehampton for ¼ fee of William of Yeovilton. Speckington was held of the heir of John Mautravers in 1446, and of the king in 1484. (fn. 85)
Under a settlement made in 1324 Robert, Lord FitzPayn (d. 1354) and his wife Ela were to retain this and other properties for their lives, with remainder to Robert Grey of Codnor, their nephew, (fn. 86) subject to the life interest of John de Vere, earl of Oxford, through his wife, the widow of Robert FitzPayn's heir. (fn. 87) Grey, who took the name FitzPayn, acquired the estate from Vere in 1359. (fn. 88) FitzPayn died in 1393, leaving as his heir his daughter Isabel, wife of Richard, Lord Poynings; her death a year later left her son Robert Poynings, a minor, to succeed. (fn. 89) Robert, who was said in 1431 to hold the manors of Bridgehampton and Speckington for a tenth of a fee, (fn. 90) died in 1446, when his heir was his grand-daughter Eleanor, wife of Sir Henry Percy, later earl of Northumberland (d 1461). (fn. 91) The countess died in 1484, (fn. 92) and the property seems to have reverted to the Crown, being granted in that year to trustees for the payment of the duke of Buckingham's debts, and then in 1485 to John Howard, duke of Norfolk. (fn. 93)
Henry, earl of Northumberland (d. 1527), recovered the property in 1501, (fn. 94) but his son sold it in 1535 to Henry Pole, Lord Montague, and two others, probably acting as feoffees for Henry Courtenay, marquess of Exeter. (fn. 95) Courtenay certainly acquired the land, though a fine in 1536 gave the holding, with the rest of the Northumberland estates, to the Crown. (fn. 96) The Crown certainly held it from Courtenay's attainder and execution in 1539 until 1545. (fn. 97) In that year the 'manor and lordship of Bridgehampton cum Speckington' was sold to William Hodges of Middle Chinnock and to his second son, also William, of London. (fn. 98)
Shortly before his death in 1565 William Hodges the elder settled the property on a younger son William with contingent remainders, though half of the capital messuage of Speckington was in the hands of John Hodges. (fn. 99) On the death of William the elder the manor passed to Bartholomew his grandson who in 1570 sold it to William Hodges of Speckington. (fn. 100) William died in 1580, leaving as his heirs his brother John and his nephews William and Thomas. (fn. 101) In 1597 John Hodges of Lufton, perhaps the brother, sold his interest to William Hodges of Speckington. (fn. 102) In 1618 William sold it to John Hunt (d. 1660). (fn. 103)
The property was held by the Hunt family of Speckington and Compton Pauncefoot until the 19th century. John Hunt was succeeded by his son Robert (d. 1679), sheriff and M.P. for Ilchester and the county, (fn. 104) and it passed from father to eldest son in succession, through John Hunt (d. 1721), John (d. 1740), and John (d. 1807) to John Hubert, who in 1827 sold the estate, then comprising over 615 a. to G. H. Law, bishop of Bath and Wells, when it became part of the property of the See. (fn. 105) The estate was transferred to the Ecclesiastical Commissioners in 1866–7, and large parts of it were taken over by the Royal Naval Air Station in 1940. (fn. 106)
In its present form Speckington Manor is probably early 19th century, but it incorporates many features of a substantial 17th-century house, some of which appear to be in situ, and there are traces of a moat.
An endowment of 62 a. of arable, meadow, and pasture in Bridgehampton and Speckington was given in 1315 by Robert, Lord FitzPayn, to the 'parson' of the chapel of Speckington, to celebrate daily for the grantor, his ancestors, and his heirs. (fn. 107) In 1548, when the chapel was dissolved, the estate amounted to 55 a. and various tithes. (fn. 108) The chapel, except the lead, bells, and advowson, was sold in 1549 to Edward Bury of Eastwood (Essex). (fn. 109) Giles Hodges held it before 1565, and William his son succeeded in 1592. (fn. 110) Hodges sold the chapel, together with its estate of just over 53 a., in 1606 to the trustees of Ilminster school. (fn. 111) The Church Commissioners bought the land from the school in 1948. (fn. 112)
Economic History.
The Domesday estate of Ralph Bluet in Yeovilton, together with the additional holding of the five thegns, paid geld for 10 hides. The 4-hide demesne farm at Yeovilton was cultivated by 4 serfs with 3 ploughs, and the other 4 hides by 6 villeins and 6 bordars with 5 ploughs. There are no details for the additional 2 hides. There were 90 a. of meadow and 40 a. of pasture with 4 horses, 12 beasts (animalia), 16 pigs, and 100 sheep. (fn. 113) The predominance of arable continued until the 14th century and probably throughout the Middle Ages. There was three times as much arable as meadow and pasture on the demesne at Speckington in 1315, (fn. 114) and the rector received no tithes of wool in 1334 and very few in 1535. (fn. 115) Yet between 1448 and 1456 there were three flocks each of 200 sheep at Speckington, (fn. 116) and some inclosure had taken place there by the mid 14th century. (fn. 117)
Agricultural works had been commuted on Speckington manor by 1315 for a payment of 19s., and the manor included a freehold worth 12s. and a cottar holding worth 52s. 11d. (fn. 118) By 1538 the demesne was farmed for £8 and freeholders and tenants at will together paid fixed rents totalling £8 15s. 3d. (fn. 119) This was a decrease from the income a century earlier; in 1439 the new rental amounted to £10 2s. 8d., but by 1451 at least three sixty-acre holdings, complete with farmsteads, were let at reduced rents 'until better tenants should come'. (fn. 120)
By the early 17th century Yeovilton manor measured 530 a., of which 254 a. were arable, mostly in open-field cultivation. Pasture amounted to 185 a., and there were some 60 a. in the common meadows as well as the unspecified area of Bineham mead. Ten acres in 1619 were described as arable, recently inclosed for pasture, and by 1665 other small areas, formerly arable and pasture, were completely converted to pasture. (fn. 121) A small amount of the rectory estate was similarly inclosed from an open arable field, together with a piece of common meadow. (fn. 122)
In 1619 most of Yeovilton manor was divided among 16 tenants, 7 holding farms of between 52 a. and 64 a.; by 1665 two holdings had been combined, making a total of 79 a. These 16 tenants in 1619 held either for lives or by copyhold, and all were subject to heriots of the best goods. In addition there were 6 small freeholds, a close in Puddi moor held by suit of court only, and land in Bridgehampton held for the payment of a red rose on the farm door once a year. By 1665 a distinction was made between 13 holdings, almost unchanged from the largest of those of 1619 and half still held by the same families, and 6 holdings, one copyhold and the rest held on leases for lives, amounting to some 170 a., which had evidently been added to the manor since 1619. The total acreage of the manor was thus just over 700 a., of which about 315 a. were arable and 260 a. pasture.
Two of the large meadows in the manor, Bineham and Olam, were subject to complicated common rights. Rights in Bineham were reckoned in terms of beasts allowed to graze there. Seven of the 16 main tenants of 1619 were permitted to run 118 sheep and a variable number of cows, four tenants between them having 18 cow leazes each year, and three being allowed 4½ leazes normally and 5 leazes every second or third year. Olam was usually reckoned in units of acres, and tenants acquired extra parcels every second, third, or fourth year. The land added to the manor by 1665 had 12¼ leazes in Bineham but no rights in Olam. Bineham was therefore subject to 44¼ leazes for cattle in 1665, to be compared with the 45½ claimed in the 19th century. (fn. 123) North mead was also subject to common rights and the rector, at any rate, could not pasture his sheep on common arable after the breach, but only 6 oxen and 2 horses.
There is no direct evidence of the prosperity of the parish in the 17th century, though the rental of the manor in 1619 of £24 7s. 4d. may be compared with the valuation of nearly £377 for the same properties in 1665, and £538 for the whole estate. (fn. 124) The general economic improvement is reflected in the rebuilding of three farm-houses by 1619 and a further two by 1665. (fn. 125)
Details of stock and produce in the 17th century are confined largely to the indirect evidence of grazing rights for sheep, oxen, horses, and cows. (fn. 126) In the early 18th century two farmers working the inclosed pasture lands of Speckington and Bridgehampton specialized in stock raising. 'Colonel' Hunt in 1719 paid tithe for 28 young beasts, 3 heifers, and 15 oxen for the whole year, and for 80 sheep for five months and 40 more for seven weeks. 'Farmer' Hunt in the same year paid on 30 milking cows, 14 oxen, and 40 ewes. In 1725 the latter's herd was only 26, but his flock increased to 50 ewes and 30 wethers. (fn. 127) Arable still remained of greater importance in Yeovilton manor, where the three-year rotation of wheat, Lent crop, and clover, potatoes, or fallow was strictly adhered to. (fn. 128) Apples were also grown in considerable quantities and provided an important source of income for the rector. (fn. 129)
The development of consolidated farming units came early to the inclosed lands of Speckington and Bridgehampton. Speckington was already a 'farm place' by 1580, (fn. 130) and in 1700 there was a substantial holding there of 236 a. (fn. 131) The property in the 18th century was divided between 'Hodges' farm', the slightly smaller 'Great House Estate', and a third farm held by one Pitman. (fn. 132) By 1825 the division was between 'Upper farm' (315 a.), 'Lower farm' (162 a.), and other lands totalling in all 615 a. (fn. 133) 'Upper farm' soon became known as Speckington farm. By 1845 it measured nearly 500 a. and was let for £835 a year. (fn. 134) 'Lower farm' buildings were shortly afterwards disused, the acreage of the farm having been radically reduced, and evidently later merged with the larger farm. (fn. 135) By 1867 Speckington farm was just over 599 a. (fn. 136) By the same date 244 a. were attached to Courtry House, Bridgehampton, and there was another small holding, making a total of c. 275 a. (fn. 137) Stockwitch farm increased from 26 a. in 1838 to over 61 a. by 1885. (fn. 138) Manor farm, Bridgehampton, emerged from a regrouping of holdings about 1890, (fn. 139) and Hills and Springfield farms were created by 1923 and 1939 respectively. (fn. 140)
In the other half of the parish the largest unit was Manor farm, with over 300 a. (fn. 141) By 1867 regrouping of the Digby estate left most of the manor, some 642 a., in the hands of one farmer, who held a further 86 a. of other owners, including most of the rectory estate. (fn. 142) By 1885 his holding had increased to over 708 a. The main farm was divided in 1897 to form West and Manor farms.
In 1838 there were 1,067 a. of meadow and pasture in the parish compared with 604 a. of arable. (fn. 143) By 1905 grass had increased to 1,251 a. (fn. 144) Dairying and stock raising were of importance in Bridgehampton and Speckington and one farmer there was well-known as a breeder of shire horses. (fn. 145) Arable played a more significant part in the mixed farming of the western half of the parish until inclosure in the mid 19th century. East or Great field in 1838 amounted to 94 a. in 70 strips; Bineham and Sandrush fields, each only a third of the area, had 20 and 22 strips, and Brimble, Louse Croft, Harput, and Hills were similarly fragmented. (fn. 146) Exactly when these strips were consolidated is not clear. There were still traces of East field and Sunrush in 1863, (fn. 147) and inclosure probably began after 1857 when the Digbys acquired the estate. Later improvements in farming conditions included sixteen new cottages on the Digby estate and seven erected by the Ecclesiastical Commissioners in 1885. (fn. 148)
The pattern of farming remained stable until 1940 when large areas were sold to the Admiralty for the airfield. The Church Commissioners sold some 210 a. in Speckington in that year and a further 42 a. in 1950. Sales in Yeovilton included most of West farm and some 29 a. of glebe. (fn. 149)
There were two mills in 1086, together paying 30s., one sixth of the value of the whole estate. (fn. 150) One belonged to the manor of Bridgehampton in 1315 and was worth 30s. (fn. 151) This was known as Baymylle or Raylemylle in 1448, (fn. 152) and probably stood on the Cam in a field later known as Mill Ham, between Bridgehampton and Urgashay. (fn. 153) Hainbury mill stood on the Yeo at the western end of the parish. As Hayneberghmyll it occurs in 1392 (fn. 154) and in 1545 one quarter of it, formerly part of the manor of Yeovilton and later belonging to Bath priory, was granted by the Crown to two agents. (fn. 155) Three quarters descended with the rest of Yeovilton manor to the Carys, and John Hodges held it of them in 1619. (fn. 156) It was evidently still part of the manor during the 18th century. (fn. 157) By 1826 it was known as Hainbury Factory, and it continued in use until c. 1920. (fn. 158) The mill-house was occupied in 1970 but the mill was a roofless shell.
In 1254 William of Yeovilton was granted an annual fair at Yeovilton, to be held on the eve, feast, and morrow of St. Bartholomew (24 Aug.). (fn. 159) No further trace of the fair has been found.
Local Government.
Court rolls for the manor of Speckington and Bridgehampton survive for the periods 1447–52, 1455–9, and 1480–1, (fn. 160) but for Yeovilton only for 1674. (fn. 161) At least from 1710 until 1874 successive rectors held courts, described as manor courts and courts baron, in respect of their glebe. (fn. 162) The Speckington manor court met twice a year, at Michaelmas and Hockday. A reeve was chosen annually at Michaelmas from one or more nominees of the homage; a hayward was evidently appointed by the lord. Yeovilton manor court employed a hayward, the office probably shared between nine tenants each holding a 'hayward's leaze' in Bineham mead. (fn. 163)
The two tithings of Bridgehampton or Speckington and Yeovilton probably followed the manorial divisions of the parish. Each tithing was separately assessed for poor rate by the beginning of the 19th century but the overseers, one each year until 1844 and then two, acted for both tithings together. Their accounts were submitted annually to the vestry. The vestry appointed a paid constable from 1842 and a paid assistant overseer from 1866. (fn. 164)
The overseers were renting a poorhouse by 1822. (fn. 165) Thereafter they not only provided relief in cash but regularly paid rents, bought coal, and in 1829 sent a man and his family to Weymouth for a holiday after illness. (fn. 166) The poorhouse was given up in 1835 (fn. 167) and in 1970 was a private house known as Manor Cottage. The parish became part of the Yeovil poor-law union in 1836. (fn. 168) The church supported a clothing club, a boot club, and a sick and aged poor fund as late as 1912. (fn. 169)
Church.
Architectural evidence places the foundation of the church in Norman times but documentary evidence dates only from the end of the 13th century: the advowson of the rectory was granted by Sir William of Yeovilton to Montacute priory at some date between 1272 and 1282, probably in 1275. (fn. 170) Before August 1291 the monks sold it to Robert Burnell, bishop of Bath and Wells, (fn. 171) who apparently intended to give it to the chapter of Wells. The Burnell family retained it at least until 1294, (fn. 172) and the chapter still had hopes of acquiring it as late as 1307. (fn. 173) The then bishop, however, secured it from the Burnell family, and the patronage has since that time remained with the diocesan, except in the case of vacancies, (fn. 174) the result of lapse, (fn. 175) and when the episcopal estates and other properties were out of the bishop's hands. (fn. 176) The presentation in 1616 was made by Jasper and John Bourne by grant of the bishop, (fn. 177) and that in 1656 by the Lord Protector. (fn. 178) The Crown presented in 1897. (fn. 179) The rectory was sequestrated in 1952 and became a curacy-in-charge held since c. 1965 with Kingsdon, Podimore, and Babcary. (fn. 180)
The benefice was assessed at £23 6s. 8d. in 1291 (fn. 181) and at £26 9s. 1½d. net in 1535. (fn. 182) About 1549 it was said to be worth £32 (fn. 183) and about 1668 £100. (fn. 184) The average net income by 1831 was £445 (fn. 185) and tithes, glebe, and fees together were worth £542 in 1851. (fn. 186) The serious fall in the value of the tithe rent-charge in the later 19th century brought the net value of the benefice down to £278 in 1902. (fn. 187)
Tithe corn was worth 20s. in 1334 and oblations and small tithes £4 8s. 8d. (fn. 188) By 1535 predial tithes were worth £16, tithe wool and lambs £2, and oblations and personal tithes £5. (fn. 189) By the 18th century much of the tithe hay had been exchanged for holdings of meadow in the parish, but corn, wool, lambs, and Easter dues, principally apples, were still payable. (fn. 190) An early modus gave the rector 3d. a year for every milking cow. By the mid 18th century compositions were in force covering what were known as vicarial tithes, some of them negotiated by George Swayne when he was both lessee of the rectory and curate of the parish between 1662 and 1671. The final composition abolishing tithes in kind was made in 1762. (fn. 191) The rector had, from the 16th century, received only half the tithes due from certain fields formerly attached to Speckington chapel. (fn. 192) A rent-charge of £462 was awarded in 1838 in lieu of compositions. (fn. 193)
By 1334 the glebe comprised 80 a. of arable and 14 a. of meadow, worth together 103s. 6d., assessed rents of 24s., and pasturage worth 15s. (fn. 194) The rector's demesne was said to be worth only £4 in 1535. (fn. 195) By 1613 there were over 83 a. in hand and four separate holdings, one in Bridgehampton and three in Yeovilton, amounting to over 69 a., let to tenants. (fn. 196) By 1838 the estate had been reduced to 65 a., (fn. 197) and in 1862, after several exchanges, it was just over 66 a. (fn. 198) Some 40 a. were sold between 1919 and 1923, (fn. 199) and all but 4 a., with a house and gardens, were sold to the Admiralty for the airfield in 1940. (fn. 200)
The former Rectory was in origin small and rectangular but was extended to form an H-shaped building in the late 16th century. Thereafter there was a hall, parlour, three butteries with chambers over, a study, a kitchen with an adjoining buntinghouse, a dairy with two chambers over, and various outbuildings. (fn. 201) Substantial reconstruction took place between 1640 and 1716, presumably in 1713. In 1716 the house comprised a hall 'within which' was a buttery and cellar, a kitchen, and a parlour on the ground floor; four chambers and a closet 'in the middle floor'; and two garrets and a study above. The 'table board' in the hall in the 17th century was converted into a 'lodging room'. The house was extensively repaired in 1867 and extended in 1874. (fn. 202)
The house, derelict in 1969, is built of lias with Ham stone dressings and a slate roof. It has a symmetrical five-bay front of two storeys and attics, with shallow projecting wings. The central squareheaded doorway has bolection-mouldings with an ornate semi-circular pediment bearing the date 1713 and the arms of the then rector, George Sandys. The rear of the house is irregular and includes a drawing room added in 1874. The only surviving outbuildings are a coach-house and stable; the tithe barn was demolished c. 1868. (fn. 203)
Among the rectors who were evidently absentees were Walter (or William) de Harpham (rector 1320–25) who was licensed to travel abroad in 1320 and 1324; (fn. 204) Nicholas Trivet, appointed before receiving even minor orders, who was given leave for study in 1331 and who two years later was allowed to farm his church to the rector of Ditcheat; (fn. 205) Richard Swan (rector 1458 until 1486 or 1487), a member of Bishop Bekynton's household and provost of Wells; (fn. 206) and Richard Addams (rector 1619–34) who was reported absent in 1629. (fn. 207) Thomas Day, chaplain and clerk of the kitchen to Bishop Clerk, was deprived in 1554 for being married. (fn. 208) He was restored in 1559 and lived to be a 'very aged and impotent man'. (fn. 209) Richard Sterne, chaplain to Laud and master of Jesus College, Cambridge, was rector from 1634. He was imprisoned on a ship at Wapping as a royalist but was allowed to attend Laud in the Tower in 1645. (fn. 210) His benefice was sequestrated but he was not apparently replaced until 1647. (fn. 211) His successor, John Evans, was ejected in 1656. (fn. 212) Sterne reclaimed the benefice in 1660. (fn. 213) Gilbert Ironside, bishop of Bristol, was rector by 1661 until 1671 and leased the rectory to his curate, George Swayne. (fn. 214) Edwin Sandys (rector 1671– 1705) was accused of taking little care of his parishioners and, as a Jacobite sympathiser, refused to recognize the authority of Bishop Kidder. (fn. 215) He was succeeded by his son George (d. 1716).
Robert Woodforde (rector 1716–62) became a residentiary canon of Wells in 1732. (fn. 216) His successor, Daniel Dumaresq, D.D. (rector 1762–1806), went to St. Petersburg shortly after his appointment to advise the Empress Catherine on education. He held the rectory of Limington in plurality from 1790 until 1802. (fn. 217) Henry Law (rector 1830–34), son of the bishop of Bath and Wells, was at the same time rector of West Camel and archdeacon of Wells. (fn. 218)
In consequence of such constant absenteeism additional clergy were regularly appointed both in the Middle Ages and later, (fn. 219) most continuously in the later 18th and early 19th centuries. (fn. 220) The resident rector in 1815 also served the curacy of Limington and took services at Yeovilton alternately morning and evening, with a second service on alternate Sundays in summer. (fn. 221) By 1827 he was doing duty at Ilchester but was holding two services at Yeovilton regularly. (fn. 222) By 1843 Holy Communion was celebrated eight times a year. (fn. 223) The average congregation in 1851 amounted to 50 adults and 35 Sunday-school children in the morning and 85 adults and 35 children in the afternoon. (fn. 224)
By 1619 the parishioners were leasing a church house from the manor. (fn. 225) The house still stood in 1674. (fn. 226)
There was a chapel at Speckington by 1315 when the parson was given land by the lord of the manor to endow a chantry. (fn. 227) The incumbents, known variously as rectors of the parish church of Speckington, chaplains of the perpetual chantry, and wardens or masters of the free chapel, were normally appointed by the lords of the manor until the Dissolution in 1548. (fn. 228) The chapel, except lead, bells, and the advowson, was sold in 1549. (fn. 229) Its site may have been in a field called Chappel Hay opposite the former mission church in Bridgehampton; the residence of the priest may have been further east, at or near the present Chantry House. (fn. 230)
The small brick mission church of ST. LUKE, Bridgehampton, was opened in 1889. (fn. 231) It accommodated 70 people and in 1891 services were held there every Sunday evening, with Holy Communion once a month and a service every Friday evening in winter. (fn. 232) It was used until c. 1930 and again from 1936 until 1965. (fn. 233) It was sold in 1971.
The parish church of ST. BARTHOLOMEW consists of a chancel, nave with north porch and south vestry, and west tower. The vestry, added in 1872, incorporates some fragments of decorative Norman work apparently damaged by fire. Most of the architectural details of the building are Perpendicular, but the rear-arches of windows in both nave and chancel date from the late 13th or early 14th centuries, as do the double lancet and the sexfoil openings in the porch and probably the grotesque outside the south door of the chancel. The ogee-headed piscina over a crude corbel of a human figure is also of the 14th century. Other details include, in the chancel, carved heads on each side of the sanctuary to hold the Lenten veil, a possible wafer oven incorporated in the south doorway, and a Perpendicular font removed from the west end of the nave. Details in the nave include a piscina on the south side of the chancel arch and a carved bracket with a grotesque supporting it, the bracket pierced at the top probably to secure a statue. The lights in the windows of the whole church were renewed in the Perpendicular style, probably by rector Richard Swan, whose initials and motto remain in the east window. (fn. 234) The west window contains medieval fragments including the arms of Bishop Thomas Bekynton (d. 1465) and the sun in splendour. (fn. 235) The tower, described as new in 1486, (fn. 236) but not necessarily then finished, has small bell openings of Somerset tracery, diagonal buttresses, and a stair turret on the south side. The west doorway has carved spandrels, and there is a statue niche on the north side of the tower wall. Restoration in 1871–2 removed all but the bosses of the nave roof and all the Jacobean furniture. (fn. 237)
The church has five bells: (i) 1628, Richard or Roger Purdue; (ii) 1820, John Kingston of Bridgwater; (iii) 15th century, Exeter; (iv) 1591, Robert Wiseman of Montacute; (v) 1872. (fn. 238) The plate includes a cup and cover by Lawrence Stratford of Dorchester, dated 1574, and a shallow dish or paten of 1700. (fn. 239) The registers begin in 1710 and the series is complete. (fn. 240)
Nonconformity.
The house of Charlotte Hatkins, shopkeeper, was licensed for worship in 1826, but the denomination was unspecified. (fn. 241)
Education.
There were two schools in the parish by 1802, one in Yeovilton and one in Bridgehampton, both supported by the rector and probably administered by the curate. (fn. 242) In 1818 there were two schools, a Sunday school with c. 40 pupils, and a day-school with six. The rector thought the day-school was adequate for teaching poor children to read but complained that 'their parents neglect to send them to Sunday school'. (fn. 243) By 1825–6 the Sunday school had 16 boys and 30 girls (fn. 244) and by 1833 25 boys and 33 girls. A day-school for infants, opened two years earlier, then had 10 boys and 18 girls. Both schools were almost entirely supported by the rector. (fn. 245) Both continued, under the same salaried mistress, though total numbers had fallen by 1846–7. (fn. 246)
In 1868 a schoolroom was built on the site of the tithe barn between the Rectory and the church. It was conveyed to the archdeacon of Wells to be run in union with the National Society, under the sole management and control of the rector. (fn. 247) The building at first comprised one classroom; a further room was added in 1893 when there were 40 children on the books. (fn. 248) In 1903, when the school came under the County Education Committee, it was described as 'a capital little school doing very careful and accurate work'. (fn. 249) Attendance remained just below 30 until 1932, when senior pupils were transferred elsewhere. (fn. 250) The number of pupils rose, however, from 13 in 1934–5 to 26 ten years later and to 58 in 1964–5. The school was closed in 1969 and the pupils were transferred to Northover. (fn. 251)
Charities for the Poor.
By will dated 1817 Samuel Brown of Bridgehampton (d. 1819), at the request of his daughter Flora, bequeathed the sum of £200 in trust. The interest, to be known as Flora Brown's Charity, was to provide bread twice a year for the poor of Yeovilton, Bridgehampton, and Speckington. It was said in 1824 that 'too narrow a construction' had been put on the terms of the trust; there were few paupers in the parish and the rector had given one loaf to deserving parents and half a loaf to each child. (fn. 252) In 1831 43 men, 44 women, and 96 children were each given a loaf at the first distribution, 41 men, 46 women, and 104 children at the second, at a total cost of £8 6s. 8d. (fn. 253) The capital was increased slightly in 1895 (fn. 254) and by that time it had become the custom to distribute loaves on the two Sundays immediately before and after Christmas. In 1893 253 loaves were given. (fn. 255) From 1953 the income was divided equally between Bridgehampton and Yeovilton. (fn. 256) About the same time grocery vouchers rather than bread were distributed, but c. 1967 the principal was withdrawn and divided between deserving cases. (fn. 257) The charity has thus ceased to exist.