Pages 37-41
A History of the County of Somerset: Volume 6, Andersfield, Cannington, and North Petherton Hundreds (Bridgwater and Neighbouring Parishes). Originally published by Victoria County History, London, 1992.
This free content was digitised by double rekeying. All rights reserved.
MANORS AND OTHER ESTATES.
Algar held ENMORE in 1066 and Geoffrey was the tenant under Roger de Courcelles in 1086. (fn. 1) Like Kilve it was held of Compton Dundon manor until 1541 or later. (fn. 2) The terre tenant was Baldwin Malet in 1166, (fn. 3) and William Malet by 1200. (fn. 4) William (d. c. 1223) (fn. 5) was succeeded by a second William Malet (d. c. 1252-3) (fn. 6) and by William's son, also William, who may have died c. 1260-1. (fn. 7) Baldwin Malet was succeeded as lord in 1279 by John Malet (d. c. 1288), (fn. 8) who left an infant son Baldwin (d. 1343). (fn. 9) Baldwin was followed by his son John (d. c. 1349) and John by Baldwin Malet, a minor. (fn. 10) In 1405 the manor was settled on the same or another Baldwin Malet (d. 1416) and his third wife, Avice or Amice, Baldwin's son John having predeceased him. (fn. 11) Avice held the manor until 1431 or later but by 1452 she had been succeeded by Baldwin's granddaughter Eleanor, daughter of John Malet and wife of Sir John Hull. (fn. 12) In 1455 following the death of her son, Sir Edward Hull, Enmore was settled on Eleanor for life with remainder to Hugh Malet, son of Baldwin and Avice. (fn. 13) Eleanor died c. 1461 and Hugh in 1465. (fn. 14) Hugh's widow Joan held the manor until her death in 1496 when she was succeeded by her son Thomas Malet. (fn. 15) Thomas (d. 1501) (fn. 16) was followed by William Malet (d. 1510), who settled Enmore on his wife Alice (d. 1524). (fn. 17) Their son Hugh (d. 1540) was succeeded in turn by his sons Thomas (d. 1540) (fn. 18) and Richard (d. 1551), and by Richard's wife Elizabeth. (fn. 19) Elizabeth was dead by 1586 when her grandson (Sir) John Malet, son of Thomas (d. 1580), was under age. (fn. 20) Sir John died in 1615 (fn. 21) and was succeeded by his son John (d. 1644). John, son of the last, died in 1656 leaving a daughter Elizabeth who in 1665 married John Wilmot, earl of Rochester (d. 1680). Elizabeth died in 1682 leaving three daughters Anne, Elizabeth, and Mallett. (fn. 22)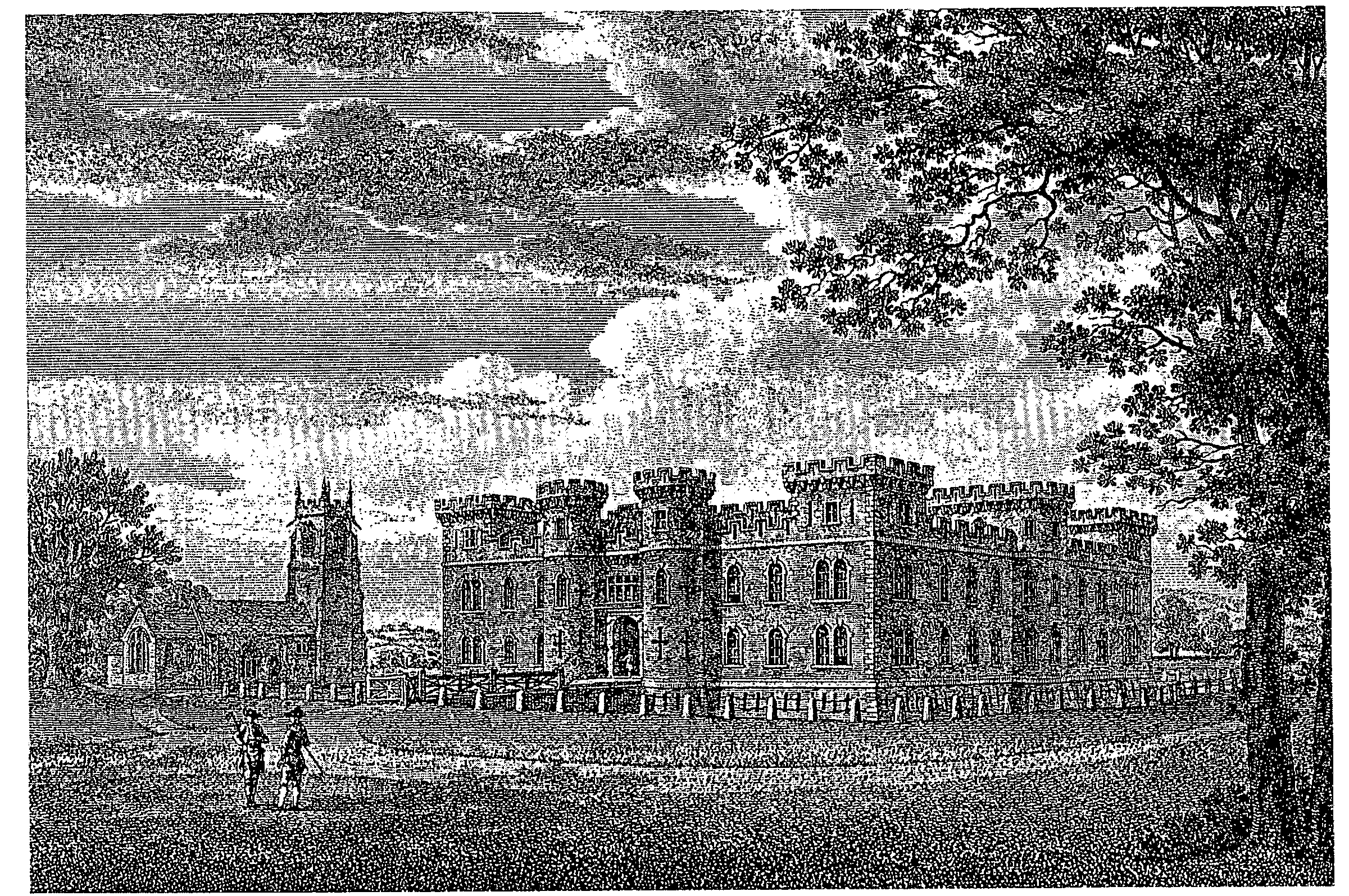 The manor, vested in trustees until 1691 or later, (fn. 23) passed to Lady Anne Wilmot, wife successively of Henry Baynton and Francis Greville. (fn. 24) She was dead by 1708 when her son John Baynton was under age. (fn. 25) John died in 1717 without issue and his heir was his sister Anne, wife successively of Edward Rolt (d. 1722) and of James Somerville, Baron Somerville (d. 1765). (fn. 26) Anne (d. 1734) was succeeded by her son Edward Bayntun Rolt (otherwise Edward Baynton, cr. Bt. 1762, d. 1800), (fn. 27) who broke up the estate. (fn. 28) In 1751 the manor was owned by John Perceval, earl of Egmont (d. 1770), although for the next three years he allowed Edward Baynton the right to add lives to certain leaseholds and to take reversionary leases on some of his former lands. (fn. 29) The earl, an Irish peer created Lord Lovel of Holland and Enmore in the peerage of Great Britain in 1762, was succeeded by his son John James (d. 1822), the 3rd earl who, like his father, bought back many of the former manor lands. (fn. 30) John James was succeeded by his son John Perceval, the 4th earl. In 1833 and 1834 the estate, including the castle and its contents, were put up for sale to pay debts. (fn. 31) Castle and demesne were purchased by Nicholas Broadmead of Milverton. (fn. 32) He appears to have been succeeded in 1850 by his brothers Philip (d. 1866) and James (d. 1892). (fn. 33) Philip's son Thomas Palfrey Broadmead occupied the estate after his father's death in part as tenant to his uncle. (fn. 34) James had no children and on his death Thomas (d. 1898) became the sole owner. He was succeeded in turn by his sons William Bucknell Broadmead (d. 1919) and the Revd. Philip Palfrey Broadmead (d. 1922), whose son Harold died in 1954, (fn. 35) when the estate was broken up and sold. The lordship had been purchased, probably in 1834, by Sir Charles Kemeys-Tynte and descended with Halswell, but was not recorded after 1899. (fn. 36)
Baldwin Malet's hall was recorded in 1396, (fn. 37) an oratory or chapel in 1404, 1415, and 1500. (fn. 38) In 1664 the house had 20 hearths, (fn. 39) and was called the Great House in 1727. (fn. 40)
Enmore Castle was built in the 1750s by John Perceval, earl of Egmont, to his own design and may have incorporated an earlier gatehouse. (fn. 41) Its plan was a hollow square with embattled square towers at the corners and semicircular turrets flanking the entrance and in the centres of the other sides. The building was surrounded by a dry moat 40 ft. wide whose flat floor was level with the castle basement. The moat gave access to the stables and store rooms in its outer walls and was entered by a tunnel from the park. (fn. 42) The inner court was 86 ft. by 78 ft. and had circular stair turrets at each corner. The principal rooms were on the first floor and were approached by staircases leading from either side of the twostoreyed hall. There were nearly 70 rooms on three floors including an armoury, music and picture galleries, a library, and a state dining room. (fn. 43) Furnishings included tapestries later hung at Combe Sydenham and after 1950 in Bridgwater council chamber. (fn. 44) A garden and bowling green were recorded in 1770. (fn. 45) In 1834 the new owner, Nicholas Broadmead, demolished the Castle, described by a neighbour as 'very ugly ill built', (fn. 46) except for one side. He converted what remained into a three-storeyed house with an eight-bayed east front with two tiers of Doric columns and a main entrance under a portico to the north. The interior included a large first-floor library. (fn. 47) The house was further reduced in size and remodelled inside and out before 1936 by Harold Broadmead, (fn. 48) who retained part of the western side of the building with the principal rooms. The insertion of extra walls and floors removed most of the original interiors but a few mid 18th-century fittings, of conventional character, survive. The 18th-century basement service area with part of the dry moat on the west of the house also survives. The house was divided into two in the 1950s.
There were three estates at Lexworthy in the 11th century. Two, held by Ordgar and Athelstan in 1066 and by Geoffrey of Roger de Courcelles in 1086, (fn. 49) descended in the Malet family with Enmore in which after 1451 they were absorbed. In the late 13th century part was held by a younger son, Richard Malet. (fn. 50) The third estate, known as LEXWORTHY or SOUTH LEXWORTHY, (fn. 51) was held in 1066 by Alweard, who was tenant in 1086 under Eustace, count of Boulogne. (fn. 52) Until the early 13th century the manor, described as a knight's fee, continued to be part of the honor of Boulogne. (fn. 53) In 1565 the manor was said to be held of Enmore. (fn. 54)
A mesne tenancy was created in the late 12th century and was held by Gervase of Sparkford. He was succeeded by Robert of Ewyas or Rivaus, who died in 1198 leaving a daughter Sibyl (d. 1231), wife of Robert de Tregoz. Robert (d. 1213-14) was succeeded by his son Robert II Tregoz (d. 1265) and by his grandson John Tregoz (d. 1300). Lexworthy was held of John's manor of Burnham in 1306. (fn. 55) A further mesne tenancy had been created by 1284-5 when John Tregoz held of John de Cogan. (fn. 56) No further trace of Cogan's interest has been found.
The terre tenancy has not been traced between 1086 and 1285 when William of Lexworthy held the manor, probably in succession to John of Lexworthy (alive 1256) and possibly also following members of the Furnell or Fulwell family. (fn. 57) A William of Lexworthy held the manor in 1306; his son John, tenant in 1332, (fn. 58) was still alive in 1355 and had a son, also John. By 1412, however, the manor had passed to William Godwin the younger, who was succeeded after 1428 (fn. 59) by his daughter Alice, wife of Robert Mompesson. Her son John Mompesson (d. 1500) was succeeded by his grandson, also John Mompesson, who died in 1511. Edmund, son of the last, died c. 1553 when his heirs were his sisters Anne, Mary, Elizabeth, and Susan. (fn. 60) In 1554 three of the sisters and probably the son of the fourth conveyed the manor to Edmund's uncle Richard Mompesson. (fn. 61) Richard sold it in 1555 to Sir Thomas Dyer and John Ewens who sold it a few days later to Nicholas Halswell. (fn. 62) The manor then descended with Halswell in Goathurst. (fn. 63) Lordship was last recorded in 1800. (fn. 64) There is no record of a capital messuage and much of the land was in Goathurst parish.
Two estates known in the 17th century as GREAT and LITTLE BARFORD (fn. 65) may derive from a virgate of land there given to Philip Sydenham in 1247. (fn. 66) Richard Barford also owned land to which his son Richard had succeeded by 1253. (fn. 67) Maud Barford, possibly Richard's widow, granted land there to Guy of Taunton before 1280 when her son Richard and Guy's son William disputed ownership. (fn. 68) William Barford held the estate in 1284, and he or a namesake in 1317. In 1331 a William Barford, retaining a life interest, settled the remainder on his brother John and on Walter of Taunton. (fn. 69)
Possibly some of the same land was held in the later 14th century by William Power, whose daughter Joan was married first to Nicholas Paris and by 1403 to John Ellis. (fn. 70) Richard Grobham quitclaimed an estate in Barford to Baldwin Malet in 1395 but it was held by William Hastings in 1405. In 1455 Barford was held of Enmore manor by Thomas Hill, and by 1475 had passed to Thomas Plush. (fn. 71) Margaret Plush, possibly daughter of the last, died in 1499 and her husband William Harding in 1500. Their three daughters, Joan, Agnes, and another Joan, were then all under age. (fn. 72)
The descent of Barford is uncertain thereafter until 1696 when Great and Little Barford were held by Edward Jenkins, who lived in the parish in 1698. (fn. 73) They were later sold, probably before 1748, by Edward Bayntun Rolt, owner of Enmore manor, to James Jeanes (d. 1759). (fn. 74) Jeanes was followed in turn by his widow Margaret St. Albyn (d. 1769) and his nephew Andrew Guy (d. 1810). (fn. 75) Andrew's daughter and heir Anne (d. 1820) married John Evered. Their son Robert Guy Evered (d. 1887) devised Barford to his second son John (d. 1931), whose younger children Robert and Gertrude Everard (fn. 76) died in possession and unmarried in the 1950s. In 1958 Barford was bought by Mr. and Mrs. M. Stancomb, the owners in 1987. (fn. 77)
There was a house at Barford in 1253. (fn. 78) A stone house was substantially rebuilt in brick with stone dressings early in the 18th century, providing a central block of five bays and originally of two storeys with attics. A little later in the century the main front was raised by one storey and single-storey wings forming quadrants were added with swept-up parapets over pediments. A walled kitchen garden to the north is probably 18th-century and Victorian pleasure grounds include an archery glade. (fn. 79)
In 1422 William Payne, whose ancestors had held a freehold in 1276, settled a holding called WATERLAND on his son John for life. (fn. 80) In 1467 William Payne, later described as son of John, was in possession of Paynesplace and Waterplace. (fn. 81) John Payne, possibly his son, was alive in 1497, (fn. 82) but the descent is thereafter uncertain. Part of the holding seems to have passed by 1596 to Arthur Towill or Towills. (fn. 83) He owned Waterlands in 1623 and 1640, and may have been succeeded by his younger son William c. 1664. (fn. 84) William's nephew Arthur held it in 1682, and added the leasehold farm of Tirelands, held of Enmore manor. (fn. 85) Arthur (d. by 1753) was succeeded by his son, also Arthur. (fn. 86) The combined holding, known as Tirelands by 1767, had been acquired before 1782 by Andrew Guy, and thereafter descended with Barford. (fn. 87)
Tirelands Farm has a 16th-century main eastwest range of cross-passage plan and retains part of its original jointed upper-cruck roof. Some of the internal walls are timber framed with large square panels. Behind the east end there is a short wing with a jointed base-cruck roof. The ground-floor room has an elaborately moulded coffered ceiling and a fireplace with a five-centred moulded arch. In the angle between the ranges a small turret housed a newel stair and a garderobe.
The estate later known as CHARERS at Lexworthy was probably held by Nicholas le Charer in 1327. (fn. 88) Walter Charer was in possession in 1364 and in 1399 he or a namesake released his estate in South Lexworthy to Baldwin Malet. (fn. 89) Charers place was recorded in 1405 when it was exempted from a settlement of Enmore manor. (fn. 90) In 1461 it belonged to the Hody family of Gothelney in Charlinch (fn. 91) and in 1540-1 was administered with Gothelney, with which it descended until 1571 when it was sold to Nicholas Chute. (fn. 92) His son Robert sold Charers to Nicholas Halswell in 1594 and it descended in the Halswell family with their manor of West Bower in Bridgwater. (fn. 93)
A separate holding called STONE HALL was held by the Malets in 1455. (fn. 94) It may have been sold by John Malet to Robert Farthing in 1601 and was held by the Farthing family until 1664 or later. (fn. 95) By 1696 it had been let to the Burland family and by 1752 had been sold to Anne Sweeting, probably by Edward Bayntun Rolt. (fn. 96) Between 1782 and 1841 it belonged to the North family. (fn. 97)
The name Stone Hall, occurring in 1455, (fn. 98) suggests a significant house. The present farmhouse is of the late 16th or earlier 17th century and has a central room with a moulded and coffered ceiling. It was extended in the 19th century and remodelled and refenestrated in the early 20th century.