Pages 146-160
A History of the County of Somerset: Volume 8, the Poldens and the Levels. Originally published by Victoria County History, London, 2004.
This free content was digitised by double rekeying. All rights reserved.
TOPOGRAPHY
PURITON
The ancient parish of Puriton lies on the gentle northern slope of the Polden ridge at its western end. The arable fields occupied the top of the slope, its grassland mostly on Puriton Level to the north and north-east and beside the river Parrett to the south-west. The parish includes the large but compact village of Puriton, 5 km. north-east of Bridgwater, the former borough of Downend 1 km. to the west-south-west, and the former industrial hamlet and wharf at Dunball 1.5 km. to the south-west. (fn. 1)
The parish is roughly rectangular in shape, 2.5 km. from east to west by 2 km. from north to south, its south-western corner extending across the former Dunball common to reach the river Parrett. The parish is divided from Withy in the north, beyond Puriton Level, by an ancient watercourse called the Black Ditch; from Pawlett in the north-west by a similar watercourse called Walpole Rhyne; from Bridgwater and Bawdrip in the south by, respectively, a short length of the King's Sedgemoor Drain and by a remarkably direct route to Cossington and Shapwick below the Polden ridge. The eastern boundary with Woolavington follows a straight hedge, the southern part of which runs through a former common arable field, Martland, whose name was shared with Woolavington, and through a possible ditched bowl barrow. (fn. 2) The area of the parish in 1842 was 1,545 a. (fn. 3) A part of Chilton Trinity parish east of the Parrett and south of Dunball was added in 1933 (fn. 4) and that part of Pawlett lying to the east of the railway in the north-west of the parish was transferred to Puriton in 1981. (fn. 5) In 1991 the area was 668 ha. (1,651 a.). (fn. 6)
Puriton parish occupies the area where the Poldens narrow and fall from just over the 61-m. contour on the boundary with Woolavington, to 50 m. immediately south of Puriton village, to an acute point on the 15-m. contour at Downend. The southern side of the ridge, mostly in Bawdrip parish, is steep, composed of limestone of the Penarth group, shale, and marl, and was the site of brick and tile manufacture, cement works, and coal boring. The top of the ridge and the gentler northern slope is of clay and blue lias. Puriton Level to the north falls to 5m. near the northern boundary and both there and at Dunball to the south-west beside the Parrett is alluvium. (fn. 7)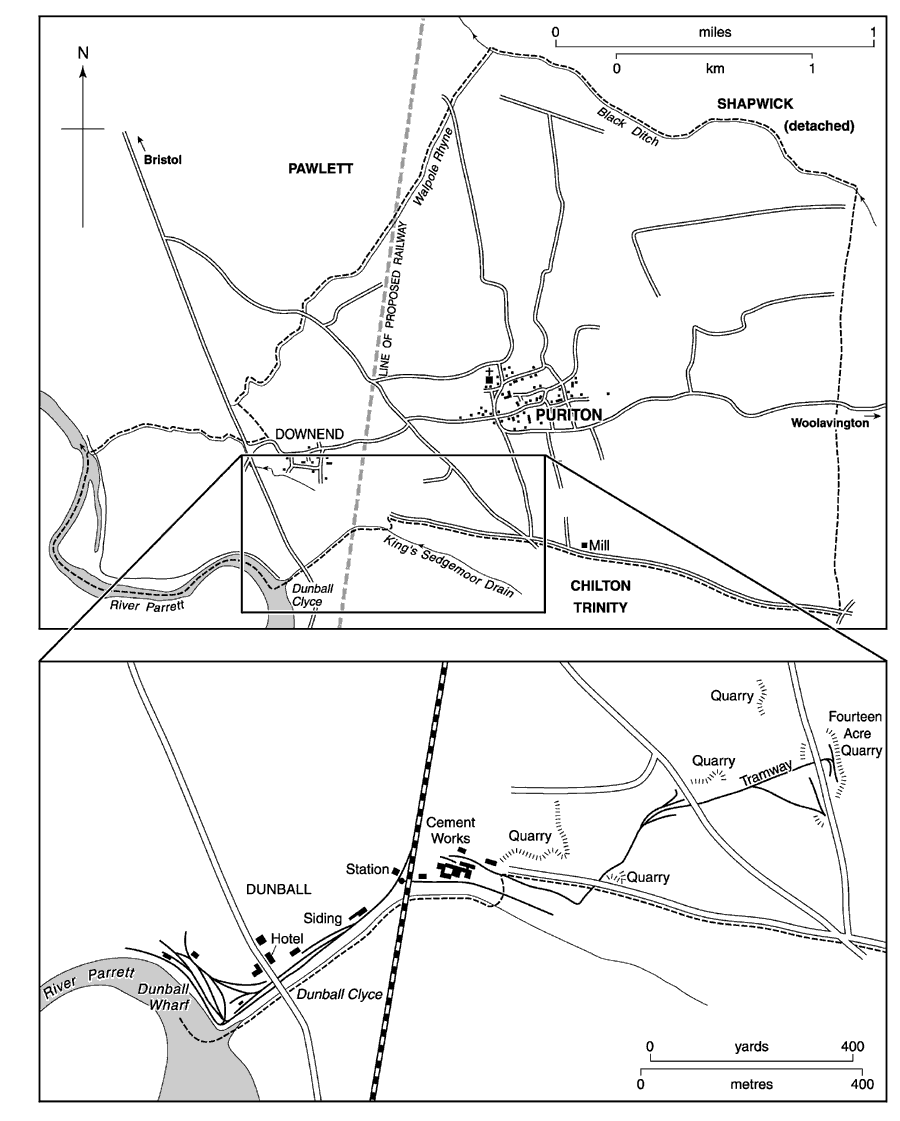 COMMUNICATIONS
The probable Roman road along the Poldens from Ilchester left the ridge south of Woolavington for the port near Crandon Bridge. (fn. 8) A route westwards, probably contemporary, led north-west up Puriton Hill to Pawlett and thence either westward to the Parrett crossing at Combwich or northward towards Huntspill, Highbridge, and Bristol. Part was known as the way to Pawlett in 1406; at the top of Puriton Hill a crossroads, called le Forcheys 1505, gave access to Puriton village on one side and Downend on the other. (fn. 9) That route was still regarded as a route to Bristol in the 1840s. (fn. 10) It was turnpiked as far as the turning into Puriton village in 1730 and to Pawlett and beyond in 1759. (fn. 11) Puriton village had a direct link east to Woolavington on the edge of Puriton Level, which was continued along the edge of the moor to Shapwick. In 1829–30 a direct road from Bridgwater to Bristol was built avoiding Crandon Bridge and thus improving the prospects of commercial life at Dunball. (fn. 12) Both the railway in 1841 and the M5 motorway in 1971–3, taking parallel north–south routes, radically changed the topography by requiring deep cuttings, and the motorway also an interchange, between Puriton village and Downend. A small railway station was opened at Dunball siding in 1873 and was closed with the siding in 1964. (fn. 13)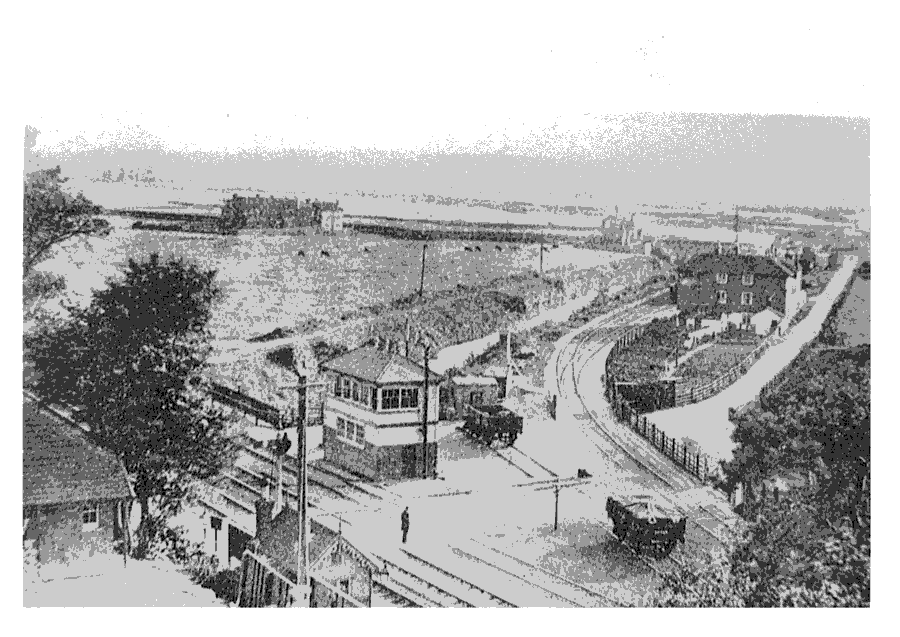 POPULATION
There were said to be 32 households in the parish in the 17th century. (fn. 14) In 1801 the population was 332. It increased rapidly in the 1820s, fell in the 1830s, but again increased, reaching a peak in 1881 with 753 people. Thereafter it declined, particularly in the 1890s, and by 1911 had reached 612. In the 1920s growth began and was increased temporarily in the early 1940s when a hostel for workers at the Puriton ordnance factory was opened at Dunball in 1942. The total of 1,036 recorded in 1951 and 991 in 1961 may similarly have been accounted for by employees at the ordnance factory. By 1981, after considerable building in the village in the 1960s, the population had risen to 1,802. In 1991 there were 1,986 residents. (fn. 15)
SETTLEMENT AND BUILDINGS
Iron-age and Romano-British settlements are indicated west of Puriton village and there are traces of linear banks and ditches of field systems on Puriton Level to the north. (fn. 16) Puriton village is on the gentle northern slope of the Poldens and appears to have developed from two roughly parallel streets with the church and a small green known as Rye at its western end. Farmhouses were all within the village. Several of the survivors are of the 17th century or earlier, of stone with through-passage plans. They include Batch Farm, Cann's Farm, (fn. 17) Court Farm, Home Farm, and, best preserved, Manor Farm, which has an original shouldered doorway with an ovolo-moulded window over, and beams in the room to the left of the through passage. About 1785 the settlement was described as 'straggling round the church', the houses of rough stone and thatch, of two storeys, some whitewashed. (fn. 18)
Increased employment at Dunball in the later 19th century gave rise to small units of terraced housing by 1881, both there and in Puriton village (Waterloo Terrace and Hillside) and variously described as buildings or villas, (fn. 19) which gave a more urban character. Local authority housing was introduced in 1927, the last added in 1965; over thirty dwellings were built between 1931 and 1947. Detached villas appeared in the 1930s, perhaps marking the beginning of the village as a dormitory for Bridgwater. (fn. 20) From the 1960s a Coventry-based developer built several streets of standard housing both within and to the south of the village. (fn. 21)
Nineteenth-century houses forming Downend Buildings (fn. 22) occupy a site whose road pattern indicates the late 12th- or early 13th-century planned borough. (fn. 23)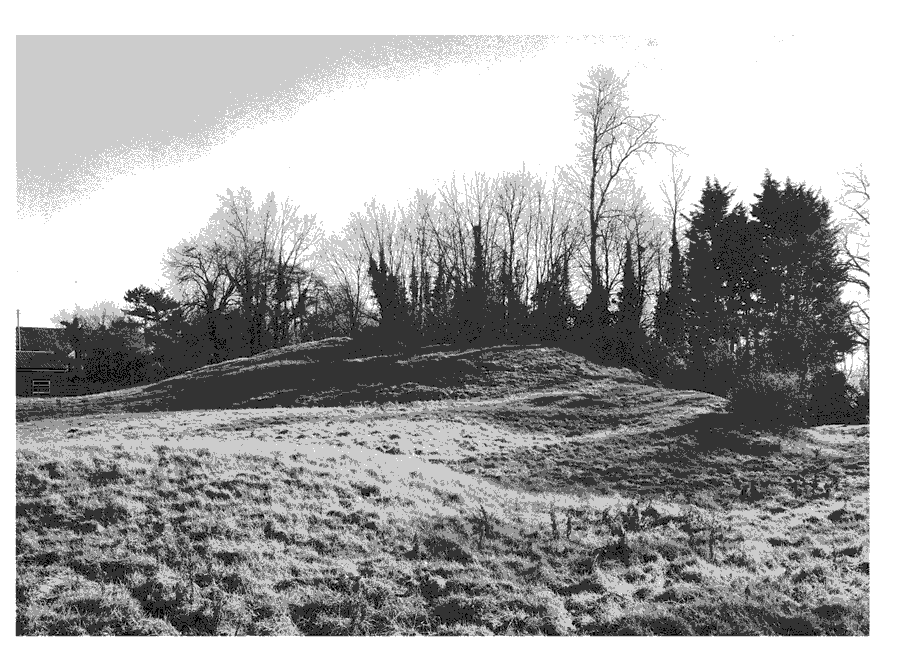 The four open arable fields, later subdivided and renamed, lay around Puriton village on the slopes to the south and east, sometimes referred to as the Down, and to the west. (fn. 24) Some strips remained until after 1842 on the southern edge of the parish. (fn. 25) Grassland on Puriton Level was gradually drained and inclosed between the mid 16th century and the early 18th when common grazing was regulated along its three broad access routes, North Mead, Selmead, and Broad droves and to Dunball and Rye commons. (fn. 26) Inclosure was completed between 1798 and 1842. (fn. 27)
CASTLE AND BOROUGH
The name Caput Montis, (fn. 28) later Chefdelmunt (fn. 29) or Chisley Mount, (fn. 30) was given in the later 12th century (fn. 31) to the prominent western end of the Polden ridge where a castle has been identified and a borough was established. The form la Donend, later Downend, occurs in 1281. (fn. 32)
A mound, thought to be a motte, was excavated in 1908 and produced early Norman pottery, although earlier finds from the site were thought to have been Roman. (fn. 33) No traces of stone building were found and no medieval written record of a castle has been discovered. (fn. 34) However, references to a piece of land called the castle bailey occur between 1562 and 1640, (fn. 35) a ditch ran beside le Baly in 1505, (fn. 36) and a plot at the site was called Bally in 1842 (fn. 37) and the Bally field in 1908. (fn. 38)
The adjoining settlement was called a vill in the early 13th century and a hamlet in 1280, (fn. 39) but in 1225 and later in the century it was a borough. (fn. 40) Eight burgesses there belonged to Puriton manor in 1306 (fn. 41) but at least one burgage had earlier belonged to Thomas Trivet in respect of his estate at Puriton and Crandon. (fn. 42) A rent there was assigned to the infirmary at Athelney abbey, (fn. 43) and John Burney, vicar of Puriton, devised a burgage there c. 1426. (fn. 44) Henry Courtenay (d. 1469) held 15 burgages. (fn. 45) Holders of 3 burgages were mentioned in 1505, (fn. 46) 1554, (fn. 47) and 1604, (fn. 48) and individual burgages, otherwise described as tenements or dwelling houses, were recorded between 1572 (fn. 49) and 1787. (fn. 50)
SOCIAL LIFE
There were three victuallers in the parish in 1620 (fn. 51) and Richard Meaker, in business in 1674, had been succeeded by Elizabeth Meaker by 1687. (fn. 52) By 1861 there were two inns, the Puriton inn, at the top of Puriton Hill, near the crossroads between the village and Downend, and the Exchange at Downend. (fn. 53) Both remained in business in 1997. By 1872 the Greenhill Arms had opened at Dunball (fn. 54) and was described by 1903 as an hotel. (fn. 55) It was subsequently rebuilt and renamed the Henry Fielding, a name retained until 1998 when it was known as The Admiral's Table. (fn. 56)
A cricket club was founded in 1880 and a football club by 1908. A flower show was first held in 1925 and a gymkhana was revived in 1979. The village hall was opened in 1937 and was extended in 1958 and 1975. A playing field opened in 1975. (fn. 57) A theatre was opened at Dunball, principally for occupants of the hostel for munitions factory workers during the second World War. (fn. 58)
MANORS AND OTHER ESTATES
PURITON AND DOWNEND
Three hides of land at Pirition, assumed to be Puriton, formed part of Gastonbury abbey's estate by 854. (fn. 59) In 1066 six hides at Puriton were held by Queen Edith. By 1086 possession had passed to the church of St. Peter in Rome. (fn. 60) By 1186–7 Maud de Chandos, widow of Philip de Columbers (I) (d. c. 1185) and a descendant of Alfred d'Epaignes, the Domesday owner of Nether Stowey, held the land, which by 1212 was part of the barony of Stowey. (fn. 61) Maud was followed, as at Nether Stowey, by her son Philip de Columbers (II) (d. c. 1216), her grandson Philip (III) (d. 1257), and her great-grandson Philip (IV) (d. 1262). The last was followed successively by his sons Philip (V) (d. 1277) and John (d. 1306). John's heir was his son Philip (VI) who died childless in 1342. Philip's widow Eleanor, who had held the estate jointly with him, died in 1343 when her heir was her nephew James Audley, Baron Audley. James died in 1386 and was followed by his son Nicholas, who died childless in 1391. (fn. 62) On Nicholas' death a claim to the estate was made by Thomas Stawell as descendant of a sister of the last Philip de Columbers, (fn. 63) but ownership was retained by the Audleys in the person of Elizabeth, widow of Nicholas. On her death in 1400 the heirs were declared to be John Tuchet, grandson of Joan, one of Nicholas's sisters, and Margaret, wife of Roger Hillary, the other sister. (fn. 64) John Tuchet died in 1408 and Margaret childless in 1411, both leaving John's young son James as their heir. (fn. 65) The two halves of the manor remained separate during James's minority (fn. 66) but had been reunited by 1428. (fn. 67) James Tuchet, Baron Audley, died in 1459 and was succeeded by his son John (d. 1490) and by John's son James. (fn. 68) James was attainted and executed in 1497 for rebellion against the king and in 1510 the manor was granted for his life to Sir William Sandys (cr. Baron Sandys 1523, d. 1540). (fn. 69)
Puriton and Downend manors were restored to John Tuchet, James's heir, in 1512, (fn. 70) but in 1538 Sandys sold his life interest to Edward Elrington, who already had covenanted to assure the reversion to Tuchet. (fn. 71)
By 1540 the manor had passed to Edward Seymour, duke of Somerset, (fn. 72) and on his execution in 1552 to his third son Edward, later earl of Hertford (d. 1621). (fn. 73) In 1612 the reversion of the estate, then described as Puriton manor with Downend, was settled on the earl's grandson Francis (cr. 1641 Baron Seymour of Trowbridge), (fn. 74) and was held by him until his death in 1664 when it passed to his son Charles (d. 1665) (fn. 75) and then successively to Charles's sons Francis (d. 1678) and Charles (d. 1748), dukes of Somerset. (fn. 76) Algernon seymour, earl of Hertford, was said in 1733 to be owner during the lifetime of this father Charles, the 6th duke. (fn. 77) In 1750, on the death of Algernon, the 7th duke, the estate passed to his nephew Charles Wyndham, earl of Egremont (d. 1763), and from him to his aunt Charlotte, wife of Heneage Finch, earl of Aylesford. She sold it c. 1785 to John Brown. (fn. 78)
In 1789 Brown, of Edgarley in Glastonbury, devised the estate, described as Puriton and Downend manor, in turst for his wife and for their son Charles, then a minor. (fn. 79) In 1791 (fn. 80) it was presumably bought by William Moore and on his death in 1794 it passed to his niece Betty, née Dory, and to her husband Benjamin Greenhill. (fn. 81) Benjamin outlived his only son and heir, William Moore Greenhill (d. 1808), and on his own death in 1817 was succeeded by his grandson Benjamin Cuff Greenhill, then a minor. Benjamin Cuff Dover Greenhill, eldest son of the last, succeeded in 1881 and died childless in 1884 and the manor seems to have passed to his brother Christophe William Moore Greenhill. (fn. 82) Christophe Greenhill died in 1928 and was followed by his son Christopher Benjamin, who was described as lord of Puriton manor in 1939. (fn. 83)
The manor house appears to be a three-roomed and cross-passage building of the 17th century which was extended in the 18th century and extensively altered after 1842. The alterations included a facade to the south front with a ribbed cornice and two-storeyed bays with drip moulds to the first-floor windows. A contemporary arched front entrance from the village was matched by stables with a central tower entrance in the rear. Materials for the tower are said to have come from the demolished windmill in the early 20th century. (fn. 84) The whole is in multiple occupation.
PURITON AND CRANDON
In 1243 Thomas Trivet held land in Puriton. (fn. 85) He or a namesake died in 1281 holding 1/8 fee of John de Columbers there and land at Downend as well as an estate at Crandon in Bawdrip. (fn. 86) He was succeeded by his son (Sir) William who died in 1314 when his heir was his grandson Thomas. (fn. 87) Thomas died in 1316 and was succeeded by his posthumous son (Sir) John, who was still alive in 1371. (fn. 88) John's son Sir Thomas died in 1388 holding an estate called Puriton and Crandon manor of Nicholas Audley as of Puriton manor. It was held jointly with his wife and his heirs were his two young daughters. (fn. 89) The daughters evidently died before their mother and she granted her life interest in 1422 to her husband's distant cousin and eventual heir Thomas Trivet. At her death in 1433 she was said to hold half Puriton manor and land at Crandon. (fn. 90)
The estate then seems to have descended with Crandon manor in Bawdrip (fn. 91) through the Stafford and Willoughby families, and by the later 16th century, when it was held by the Blakes. (fn. 92) It was later known as Puriton cum Crandon. (fn. 93)
Robert Blake (d. 1657), the admiral, inherited the manor from his father Humphrey (d. 1625). He was succeeded by his brother Humphrey, of Twickenham (Mdx.), who in 1669 conveyed it to his brother Benjamin. Benjamin in 1674 sold to George Powell of Wilton, Taunton, and Powell in 1682 to John Doble. (fn. 94) Doble, of Calverleigh (Devon), was still in possession in 1693 but by 1712 the estate, then described as Crandon with Puriton, had probably come into the possession of Harry Brydges and was then settled on his younger brother George Rodney Brydges (d. 1714), of Avington (Hants), and on George's son George Brydges. (fn. 95) Harry died in 1728 when his heir was his nephew George, and George died in 1751 leaving most of his property including the Puriton estate to his cousin Henry Brydges, 2nd duke of Chandos (d. 1771). (fn. 96) James, the 3rd duke (d. 1789), left an only daughter Anna. She married Richard Grenville, marquess of Buckingham, who was created duke of Buckingham and Chandos in 1822 and died in 1839. His son, also Richard, succeeded as the 2nd duke but was subsequently obliged to sell his estates to pay debts. (fn. 97) The manor was last recorded in 1843 when in the hands of family trustees. (fn. 98)
PURITON
In 1412 Peter Courtenay was returned as holder of another manor of Puriton, (fn. 99) perhaps that half of the Trivet holding not held by Elizabeth Trivet at her death in 1433. (fn. 100) In 1428 Humphrey Courtenay was holding ¼ fee formerly held by the heirs of William Trivet, and in 1431 the same Humphrey, by then knighted, was said to hold lands and tenements in Puriton for ½ fee. (fn. 101) Sir Humphrey died in 1455 and his widow Joan in 1462 and the estate, comprising Puriton manor and rents and reversions in Puriton, Downend, Crandon, and other places, passed to trustees for the use of Henry Courtenay, second son of Thomas Courtenay, earl of Devon (d. 1458). (fn. 102) Henry, who would have succeeded to the earldom but for the attainder of his brother Thomas in 1461, was himself executed for treason in 1469. (fn. 103)
In 1470 Puriton manor and burgages in Downend were granted to John Lambard as payment of Crown debt. (fn. 104) Lambard was still in possession in 1484 (fn. 105) but the manor was part of the endowment of Edward Courtenay when the earldom was restored to him in 1485, (fn. 106) and it descended to his grandson Henry (cr. The Poldens and the Levels Marquess of Exeter 1525) until his forfeiture in 1538. (fn. 107) By 1541 the estate had become part of the jointure of Queen Catherine Howard (d. 1542) and in 1544 was granted to William Goodyng. (fn. 108) By the following year it had passed to Sir Thomas Moyle. (fn. 109)
Sir Thomas Moyle (d. 1560) bequeathed the manor to his elder daughter Catherine, wife of Sir Thomas Finch, but in the following year she sold it to John Keynes. (fn. 110) In 1575 Keynes, then of Compton Pauncefoot, sold it to William Lottisham of the Inner Temple, who died a year later leaving a son, also William, a minor. (fn. 111) Hugh, brother of the last, evidently succeeded but he died childless in 1598 and was followed in succession by his cousin Oliver (d. 1616), of Fiddington, and by Oliver's son William (d. 1635). According to William's will Puriton manor was to be sold to pay debts, (fn. 112) but sale was evidently avoided and it passed to William's son Oliver, of Durleigh, who died in 1651. (fn. 113) The manor was already held in trust for Oliver's wife, but by 1656, after the death of Oliver's brother John, (fn. 114) it had passed to his sister Elizabeth and her husband, Edward Clarke (d. 1679). (fn. 115) It was settled on Edward's son, also Edward, on his marriage in 1675 with Mary Jepp (fn. 116) and passed on his death in 1710 to his eldest son Jepp (d. 1741). Jepp's son Edward died without issue c. 1790. (fn. 117) In 1800 the manor was sold by Thomas Sedgwick Whalley, clerk, husband of Edward's cousin and next heir, to John Nurton of Milverton. (fn. 118) After 1802 the estate cannot be traced as a separate holding.
In 1314 Sir William Trivet held a capital messuage at Puriton. (fn. 119) The site of the mansion house on the estate in 1554 was let with a substantial farm (fn. 120) and continued to be so let by the Clarkes until the later 18th century. (fn. 121)
RECTORY
Before 1200–01 the rectory had been acquired by Goldcliff priory (Mon., now Gwent). (fn. 122) It was in the hands of the Crown by 1338 (fn. 123) and so remained until 1387 or later. (fn. 124) Tewkesbury abbey was granted Goldcliff property in 1441 (fn. 125) and the issues were received on its behalf by the prior of St. James's, Bristol. (fn. 126) In 1475 the rectory passed to St. George's Chapel, Windsor, (fn. 127) and was let until the 1530s to the vicar either alone or with a partner. (fn. 128) In 1533 it was let to a man from New Windsor (Berks.) but subsequently sub-let to a resident. (fn. 129) From 1566 Puriton and Woolavington rectories were leased to Robert Dudley, earl of Leicester, and he in 1567 assigned his lease to George Sydenham. (fn. 130) About 1571 Sydenham assigned his lease to Christopher Rolle, but he later unsuccessfully attempted to cancel the assignment. He managed, however, to obtain a lease of the estate from the Crown which in 1591 was converted to a reversion after Rolle's surrender. (fn. 131) Successive members of the Sydenham family, not without challenge, (fn. 132) held the lease until 1716 when Sir Philip Sydenham was followed by John Whitfield and Henry Proctor. They were succeeded in 1719 by Thomas Rouse and William Giles. In 1740 Rouse and Giles were replaced by John Tucker (fn. 133) whose family held the lease until 1830. Benjamin Cuff Greenhill became lessee in 1830 and was followed by his widow in 1837 and by his son Benjamin Cuff Dover Greenhill, who in 1876 became owner on enfranchisement. (fn. 134) The land was sold in 1884. (fn. 135)
The capital messuage of the rectory was let by 1433– 4 and in 1551 was reported to be in decay. (fn. 136) By 1563 it was known as the priory house. (fn. 137) In 1650 it was described as old and comprised a hall, parlour, barn, stable, forecourt, and yards surrounded by 64 elm trees. (fn. 138) Its subsequent history is not known.
ECONOMIC HISTORY
AGRICULTURE
In 1086 Puriton was a single estate assessed at 6 hides but taxed on 5, which had arable land for 12 ploughteams. The demesne farm measured 3 hides and had 2 teams and 4 serfs. Tenants, described as 11 villeins and 4 bordars, had 6 teams. There were 300 a. of grassland, half meadow and half pasture, and the demesne supported 2 cows and 60 sheep. The whole was worth £12. (fn. 139) Pasture for small numbers of cows, oxen, and sheep was mentioned in two compositions in the 13th century, (fn. 140) and a holding there in 1316 included 40 a. of meadow. (fn. 141) The tax returns of 1327 indicate a number of substantial tenant farmers with holdings offering more than subsistence farming. (fn. 142) A small dower estate produced wheat, beans, and oats. (fn. 143)
The rectory was valued in 1343–4 at £9 19s. (fn. 144) Almost a century later assized rents on that holding were worth £5 12s. 8d. to which was added 12d. for rent of the capital messuage. At least five cows produced calves in the year and the tithe of 26 a. of meadow was sold. (fn. 145) The business of a Puriton drover pardoned for debt in 1435 (fn. 146) may be a reflection both of the cattle produced in the parish and its strategic position near a significant market.
Rents remained stable on the rectory estate in the 1460s but cash was lost on the farm of the grain tithe because the first farmer, Sir James Luttrell, was attainted. The tithes, with barn and granary, were subsequently let to the vicar for five years. (fn. 147) The rectory continued to be let at the same rate until after the mid 16th century. (fn. 148) The Audley estate was also let by 1484– 5, the rent of £28 19s. 4d. including the demesne lands and burgage rents from Downend, (fn. 149) and continued to be so let until 1508 or later. (fn. 150) It was valued under the Seymours at just over £27 c. 1569. (fn. 151)
The Pyms of Cannington and the Brents of Cossington both held land in Puriton and Downend by the early 16th century, (fn. 152) and John Brent followed by his son William were farming the rectory by 1511 and until 1529. (fn. 153) The Brents were still in occupation of their freehold in the earlier 17th century, (fn. 154) and the Haleses, successors to the Pyms, in the 18th century. (fn. 155) William Crouche was evidently a dominant figure in the parish in the mid 16th century as sub-lessee of the rectory and receiver of the Seymour manor. (fn. 156) Tenants on the estate held in the 1540s of Sir Thomas Moyle and later of the Lottisham family held arable in up to four of the five common fields. The largest tenant was Elizabeth Tucker, farmer of the remaining demesne, whose holding in the parish and at Withy in Shapwick amounted to over 84 a. and included 40 oxen leazes in the moor. Humphrey Pople occupied three holdings totalling just over 63 a. (fn. 157) Holdings on the rectory estate were rarely more than 20 a. but Christine Bowden held two copyholds totalling 34 a. and Alice Cobbe also had two amounting to 32 a. Edward Walker, occupier of the capital messuage, had 30 a. (fn. 158) Small-scale inclosure had begun by the mid 1560s. (fn. 159) Later in the 16th century some 66 a. of Puriton and Downend manor were unlet. (fn. 160) One small tenant in the parish in the mid 16th century grew oats, beans, and wheat; a more substantial neighbour left at least ten cattle and seven sheep. (fn. 161)
By the early 17th century, holdings on the Seymour manor, not all in Puriton parish, averaged c. 50 a. of which usually at least half was arable. The estate included c. 200 a. of common for sheep at Dunball, shared with tenants of Walpole manor, and 16 a. of common along Puriton Drove. There were several new cottages and two buildings for making woad ash, presumably for fertiliser. Some new inclosures were noted. (fn. 162) In 1632 two men from the parish were accused of ingrossing butter, cheese, and grain. (fn. 163) By the middle of the century drainage of the arable fields was a prominent concern and in 1649 the Puriton and Downend manor court issued orders to end folding on the barley field each spring and to control the free grazing of pigs, geese, and ducks. (fn. 164)
The rental of the estate in 1669 was virtually unchanged at £27 13s. since the late 15th century, but one tenant was £22 in arrear, a sum not quite covered by the sale of his grain, mostly wheat. (fn. 165) John Melliar of Edington in 1656 took the 40-a. Burchmarsh, a former copyhold, on a lease for 99 years on condition that it was not ploughed. His son James took the same on a similar lease in 1707 for a fine of £280. (fn. 166) From 1692 John Tucker occupied nearly 130 a. of the Clarke estate. (fn. 167) His family had been prominent tenants at least since the 1550s (fn. 168) and was to dominate local farming until the end of the 18th century. (fn. 169)
Presumably as a result of rack renting the Seymour estate had risen in value to over £93 by 1702 (fn. 170) and the Clarke estate in Puriton and Bawdrip in 1712 was worth nearly £122, although rents were substantially in arrear. (fn. 171) During the same period exchanges of small parcels both within the estate and with other land owners including George Brydges were designed to improve farms. (fn. 172) The regulation of common grazing was a major concern in 1717. (fn. 173) By the 1720s the duke of Somerset was the principal landowner within the parish with four substantial farms. (fn. 174) One of those farms in 1736 was described as formerly a customary holding and comprised 25 a. of meadow in six pieces, 4 a. of arable or pasture, and just over 18 a. of arable dispersed in small strips in Churchfield, Hedgefield, and Landshire or East field. (fn. 175) There were still 27 copyholders on the estate in 1755 and 2 leaseholders, including Burchmarsh, still held by a member of the Melliar family. Copyholders paying the highest rent were members of the Good and Tucker families. (fn. 176) About 1785 the estate comprised freeholds totalling over 281 a. of which the Good family held over 185 a.; and copyholds (29 a.) and leaseholds (261 a.) of which Widow Good held 65 a. Freehold rents were worth just over £213, rack rents £353 10s. (fn. 177)
In 1787 John Tucker held from the Clarke family a total of 123 a., evidently the result of much consolidation but which still included strips of arable in the open fields, a horse leaze in a drove, and common on Dunball. In that same year John Brown, the new owner of the former Seymour estate, was accused of introducing new methods of inclosure and fencing, thereby encroaching on Clarke property. (fn. 178) The small estate which was part of Woolavington Pym manor was equally fragmented in the 1770s, but most was sold to Benjamin Greenhill in 1796. (fn. 179)
John Brown's estate was favourably described in 1790. The soil was dry and healthy, the arable 'in a considerable state of improvement by inclosing and artificial grasses', the marshland rich and its dairy and grazing produce making high prices. Almost 100 a. was in hand, demesne land of 191 a. was let, and common on Dunball and Broad Drove amounted to 192 a. The whole measured c. 900 a. and rents were valued at over £950. (fn. 180) It was that estate which passed to the Greenhill family.
Dunball, Rye common, and Broad Drove, amounting to c. 200 a., were inclosed in 1798, (fn. 181) and sales and consolidation of holdings followed, (fn. 182) evidently including the inclosure of the moor in the north-eastern corner of the parish, achieved by private treaty. (fn. 183) Arable strips still survived, however, until after 1842 on the high ground along the southern edge of the parish. At that date there were 389 a. of arable, 1,075 a. of pasture, 56 a. of woodland, and 25 a. of orchards. Five farms, all on the Greenhill estate, measured more than 100 a. and there were six more holdings of over 40 a. (fn. 184) By 1851 there were six farms of over 100 a. and seven over 50 a. (fn. 185) The number of holdings remained constant but acquisitions brought Court farm to 260 a. by 1871. (fn. 186) By 1905 arable had contracted to 136 a. and grassland consequently increased. (fn. 187) Downend farm specialized in producing Caerphilly cheese in the 1920s and Parsonage farm in cheese and butter. (fn. 188) There were thirteen farms in 1923 when four were occupied by members of the House family, and fourteen in 1931 when three were occupied by the Carp family. (fn. 189) The records of Pool Farm in Middle Street survive. (fn. 190)
MILLS
There was a mill in 1433, (fn. 191) and by 1505 two, (fn. 192) one later named East Mill and both windmills. There were still two in 1563 (fn. 193) and 1675, (fn. 194) but by 1669 rent of that called Deacon's mill, on West Hill, was four years in arrear and in 1685 the mill was described as down. (fn. 195) It was evidently rebuilt, but in 1755 it was again described as fallen down. (fn. 196) The other mill, rebuilt c. 1677, (fn. 197) was held by members of the Neath family for much of the 18th century (fn. 198) and continued in use (fn. 199) probably until the 1870s. It was pulled down in the early 20th century. (fn. 200)
FISHERY
In 1870 the Board of Fisheries issued licences for 1,000 fish traps for catching salmon in the Parrett, evidently along the Puriton boundary. Most were let to the Reasons family. They were put up for sale by the Pawlett Estate in 1920 and remained unsold in 1922. (fn. 201)
DUNBALL WHARF
Land on the north side of the mouth of King's Sedgemoor Drain was apparently used by 1842–4 as a landing stage by John Browne, a Bridgwater coal merchant, to import Welsh coal. (fn. 202) Five coal heavers were employed in 1851. (fn. 203) A horse tramway was built to connect the site with the railway line. In 1869 the Bristol and Exeter Railway Co. bought the site from Benjamin Cuff Greenhill. (fn. 204) During the period May–Nov. 1885 harbour dues were levied on 23,000 tons in 461 vessels, and throughout the decade tonnage ranged between 15,220 and over 20,000 tons every six months. By the mid 1890s annual tonnage had fallen, but in the year to November 1895 amounted to over 23,000 tons. (fn. 205) By 1920 business had been much reduced. (fn. 206) Incoming goods were Welsh coal, Baltic timber, and general cargo; exports included tiles for which the works at Dunball had capacity for a quarter million.
In 1966 British Rail, then owner of the wharf, leased it to Duncircle Limited, which in turn leased the southern part to British Dredging Bristol Limited. For some years the northern part was used for general cargo including woodpulp from Scandinavia, timber, rock asphalt, animal feeding stuffs, and scrap metal. The southern part imported sand and gravel dredged from the Bristol Channel. In 1982 Duncircle acquired the freehold and the wharf continued in 2000 to be operated privately. Warehouses on the site, built from the 1960s, were designed for the storage of milk powder and grain and the manufacture of pet foods. In 2000 the wharf was a terminal for sea-dredged aggregates, stone, timber, and animal feed, brought by small, bulk-carrying ships. Passenger ships occasionally called there. (fn. 207) Following the construction of the motorway and the road link with the Bridgwater road, industrial and trading estates have been created at Dunball.
INDUSTRY
A brickmaker was living at Downend in 1841 (fn. 208) and three ten years later. (fn. 209) In 1871 a brickyard employed one brickmaker and four labourers. (fn. 210) B. C. D. Greenhill was making pottery and tiles by 1879 (fn. 211) and by the 1880s the yard was part of the Dunball Steam Pottery and Brick and Tiles Works, from 1886 owned by the firm of Colthurst Symons. (fn. 212) Its early products were tiles, as many as 20,000 produced each week. (fn. 213) The works, employing between 70 and 80 people in 1947, (fn. 214) were the last of the kind in the area when they closed in 1970. (fn. 215)
The stone quarried on the hillside at Downend was burnt for building, for manure, or for cement. By 1871 the cement works employed 24 Puriton men and a manure manufacturer was in business. (fn. 216) By 1875 the firms of Browne and Co. and J. Board and Co. produced cement and Spence Bros. were manure manufacturers. (fn. 217) By 1909 one of the quarries had been taken over by Barham Bros., (fn. 218) and by 1914 the manure manufacturer combined his business with slaughtering horses. (fn. 219) Cement making continued until the mid 20th century, employing up to 30 people in 1947. (fn. 220) Two lime kilns survived until 1973. (fn. 221) In 1947 a factory at Dunball producing plasterboard employed 150 people. (fn. 222) The process involved the import of gypsum from Rouen. The venture proved unsuccessful and the site was taken over by J. Bibby, manufacturers of animal feed, who built a small wharf. (fn. 223)
In the early years of the 20th century the Bridgwater Collieries Co. under the leadership of C. W. M. Greenhill began intermittently boring for coal and in 1909–10 reached a depth of 2,072 ft. Thereafter the search was abandoned in favour of salt extraction. The main boring was abandoned in 1914 and the rest of the undertaking was sold to the Salt Union, which continued in business there 'for a short time' but closed on account of the small size of the operation. (fn. 224)
The industrial site at Dunball in the early 1920s included a bonded storehouse owned by the Ministry of Munitions. (fn. 225) An explosives factory, later known as the Royal Ordnance Factory, was begun in 1939 and occupied a site north of Puriton village. During the Second World War it made 20,000 tonnes of Research Department Explosive (RDX) and in 1943, at the height of production, 2,816 people were employed. After the war hexamine and formaldehyde and precast concrete for building came from the site and from 1951 explosives and rocket propellant. In 1987 the factory was acquired by British Aerospace. The site covers 678 a. (fn. 226)
TRADES AND CRAFTS
Stone for roof tiles was quarried in the parish in the early 16th century, (fn. 227) and quarrying continued in the south of the parish until the 19th century. (fn. 228) A limekiln was in use by 1729, (fn. 229) another in 1791, (fn. 230) and the sites of at least two have been found. (fn. 231)
In 1841 the usual range of craftsmen were in business in both Puriton village and Downend, and among the private inhabitants were two solicitors. (fn. 232) There was an accountant in 1851 and, among the tradespeople, six dressmakers and a sempstress. (fn. 233) A veterinary surgeon was in practice by 1861. (fn. 234) By the 1870s a shop had been opened at Dunball, (fn. 235) by 1881 there were two shops in Puriton village, including a butcher's, (fn. 236) and by 1894 a post office and two grocers at Dunball and a fruiterer and haulier at Downend. (fn. 237) A steam bakery was opened in 1907, remaining until the 1960s, (fn. 238) and a filling station had been established by 1939. (fn. 239) In 1947 the parish had three shops and a bakery. (fn. 240) A grocer, a butcher, a post office, and a hairdresser are now in business.
LOCAL GOVERNMENT
In the 13th and 14th centuries Puriton was an independent or free manor, (fn. 241) but by 1569 was a tithing within Huntspill and Puriton hundred. (fn. 242)
In 1225 and later Downend answered at the assize with a jury for its own tithing, (fn. 243) and in the 1280s John de Columbers claimed the right to pillory and tumbrel there. (fn. 244) Two courts a year were held in the late 15th and the early 16th century, but no borough officers were mentioned. (fn. 245)
Court rolls for twice-yearly manor courts and views of frankpledge for Puriton with Downend manor survive for the years 1505–6, (fn. 246) 1559–62, 1572, 1576, 1640–1, 1651 (fn. 247) and copies, extracts, or presentments for 1640, 1688, 1704, 1713, 1717, 1723, 1726, and 1729. (fn. 248) In the later 16th century tithingman and hayward led the homage which was concerned with strays, overstocking the commons, changes of tenants, and pleas of trespass. Keepers of ditches reported failure to maintain drainage channels. In 1640 there were constables for Puriton and Downend, a tithingman, and a herdsman, and by 1651 the Puriton constable was also constable of the hundred. Repairs to buildings, gates, bridges, and waterways were the main concern in the mid 17th century and the absence of a cucking stool was reported in 1651. Drivers, who controlled grazing on Dunball common and Puriton Drove, were in office in the early 18th century.
Courts for Puriton and Downend manor were evidently held until the late 17th century or later and rolls or presentments survive for 1596, (fn. 249) 1662, (fn. 250) and 1694– 5. (fn. 251) Suit of court was required in 1698 and heriots were still recorded in 1718. (fn. 252) The lease of the manor house in 1692 required access for the lord and his steward twice a year to hold courts and sufficient food and lodging for no more than six people and their horses. (fn. 253) The court, described as a court baron, dealt with tenancy changes and repairs to buildings. In 1694 the tenant of the manor house and farm was sworn in as reeve.
The only surviving court rolls for Puriton and Crandon manor record the business at the court leet, view of frankpledge, and court baron in 1674–7 when the state of a ditch was reported and the only officer in Puriton was a hayward. (fn. 254)
Rolls for courts baron held for the rectory estate of St. George's Chapel, Windsor, in Puriton and Woolavington together survive for 1550–2, 1554, (fn. 255) and 1707– 12. (fn. 256) One court only was held in 1470–1. (fn. 257) Copies of court roll for the whole estate survive for the period 1738–1814. (fn. 258)
Parish government was in the hands of a constable, two wardens, and two overseers of the poor by 1670. (fn. 259) A parish meeting and a vestry were both named in the earlier 18th century and a 'legal vestry', evidently a select vestry, in 1817. (fn. 260) By the early 18th century the churchwardens, apart from maintaining the church fabric, spent money on strengthening the river bank, repairing field gates and the church house, and paying vermin bounties. (fn. 261) In the early 19th century they were administering the parish rents for the poor and the schoolmaster. (fn. 262) The vicar nominated a warden from 1747. The overseers paid cash to paupers, apprenticed poor children, provided turf for fuel, financed medical care, and in addition were concerned with farming regulation, repairing gates, cleansing watercourses, and paying to keep rooks from corn. (fn. 263) A poorhouse was sold at an unknown date. (fn. 264) There were two highway surveyors by 1755. (fn. 265)
The parish became part of Bridgwater poor-law union in 1836, of Bridgwater rural district in 1894, and of Sedgemoor district in 1974. (fn. 266)
CHURCH
There was a church by 1113 which was given by Robert de Chandos as part of the foundation grant to his priory at Goldcliff (Mon., now Gwent). (fn. 267) In 1318 Goldcliff was licensed to appropriate the rectory and a vicarage had been ordained by 1321. (fn. 268) The living remained a sole vicarage until 1730 when it was united with the vicarage of Woolavington. (fn. 269) In 1883 it was disunited and was a sole benefice until 1974 when it was held with Pawlett. (fn. 270)
PATRONAGE
Successive owners of the rectory presented to the living including the Crown on seven occasions when Goldcliff was in royal hands between 1338 and 1389. (fn. 271) Tewkesbury abbey succeeded Goldcliff in 1452 and presented four times between then and 1460. (fn. 272) From 1475 the dean and canons of Windsor were patrons, but the lessee of the rectory, Christopher Rolle or Rolles, presented in 1566 and 1575, (fn. 273) on the second occasion in duplication of a collation by the bishop, who also appointed in 1568 and 1581. (fn. 274) Sir William Courtenay presented in 1598 and thereafter until 1727 appointments were made by the Sydenham family or their grantees. The king presented in 1727 followed by the dean and canons of Windsor, who were also patrons of Woolavington. (fn. 275) From 1974 the Windsor chapter has presented to the combined living on the second and third turns. (fn. 276)
ENDOWMENT
In 1291 the vicarage was valued at £4 4s. (fn. 277) and in 1445 at £4 3s. 4d. (fn. 278) It was augmented in 1451 (fn. 279) and in 1535 was worth £6 15s. 8d. net. (fn. 280) In 1650 it was worth £29, (fn. 281) in the 1670s £30, (fn. 282) and in 1707 £24 1s. 5d. net. (fn. 283)
Under the augmentation of 1451 the vicar was to receive all personal tithes and all oblations, all tithes of mills, and most of the lesser tithes. Tithes were valued at £5 16s. 4d. in 1535 (fn. 284) and £20 in 1707. (fn. 285)
In 1451 the vicar received 6 a. of glebe, worth in 1535 7s. 4d. (fn. 286) In 1571 there were 7 a. of glebe, (fn. 287) in 1650 5 a. (fn. 288) In 1922 nearly 3 a. was added, (fn. 289) but most, incorporating the site of the former vicarage house, was sold in 1955. (fn. 290)
In 1451 the vicar was promised a 'suitable' dwelling opposite the south door of the church. (fn. 291) There was no house in 1571, (fn. 292) but by 1650 there was a dwelling with three low rooms, a garden, and an outhouse. (fn. 293) There was no house by 1815, but one was built soon after the disunion of the parish from Woolavington in 1883 when a capital sum was granted by the Ecclesiastical Commissioners for site purchase. Ewan Christian was associated with alterations in 1887. (fn. 294) It was replaced in 1954 by a new house adjoining the former school, designed by G. C. Beech. The former house was sold in 1955 and demolished, its site later occupied by part of Newlyn Crescent. (fn. 295)
CHURCH LIFE
John Grene, presented as vicar in 1456, was found to be 'too simple in knowledge to have cure of souls' and was ordered by the bishop to achieve 'at least a grammatical understanding of letters and the Scriptures' within a year. (fn. 296) His successor appointed in 1460 was a Cistercian monk from Grace Dieu (Mon.). (fn. 297) In the late 1530s the young men of the parish raised funds for the church (fn. 298) and in 1540 there were four altars. (fn. 299) In 1557 there was no stone altar and no tabernacle (fn. 300) and in the early 1570s the parish was served by a rapid succession of curates. (fn. 301) In 1600 the vicar was absent and parishioners had no sermons, homilies, nor perambulation, and communion only three times a year. (fn. 302) In 1629 the vicar was accused of not catechising and seldom had services on Wednesdays and Fridays. (fn. 303) Philip Goodman, instituted in 1642, had been replaced by 1650 but was restored to his living in 1660. (fn. 304)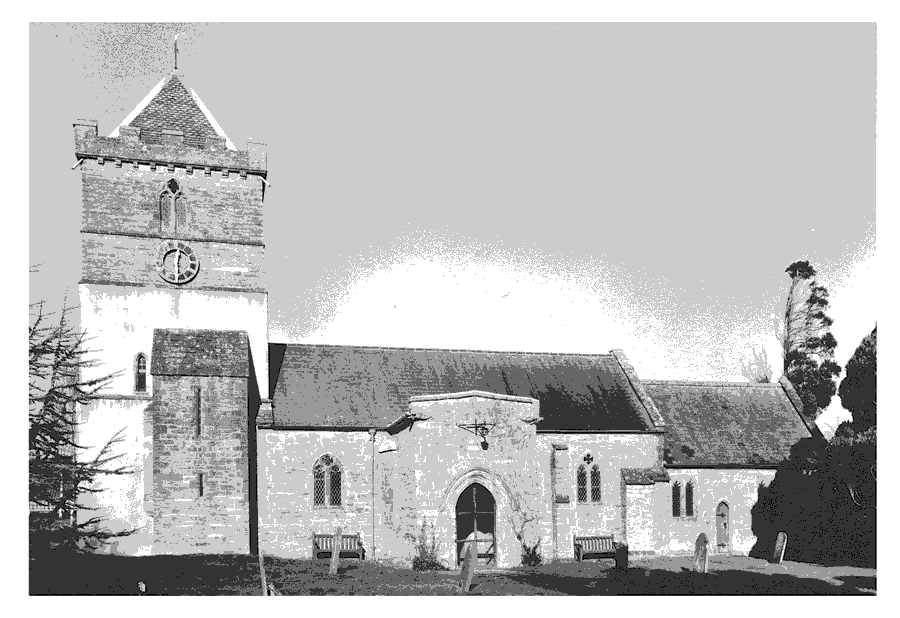 There were between 15 and 30 communicants in the 1780s. (fn. 305) By 1815, when the parish was held with Woolavington, where the vicar lived, there were services alternately morning and evening, by the 1820s with sermon. (fn. 306) By 1843 there was a resident assistant curate and communion had been increased from three to four celebrations a year. (fn. 307) There was no longer a resident assistant curate by 1873 but communion was held monthly. (fn. 308) The living was held between 1883 and 1934 by William Creek Rowland. (fn. 309)
There was a church house in 1634 (fn. 310) and it was still standing under that name in 1760 when part was used as a school. (fn. 311) It was probably the charity house, the sale of which was recorded in an undated account. (fn. 312) The remains probably survive in 1 Rye View.
CHURCH FABRIC
The church of St. Michael and All Angels, dedicated to St. Michael alone by 1460, (fn. 313) comprises a chancel with north vestry, a nave with north aisle and south porch, and a west tower with a pyramid roof. It occupies a slightly elevated position on the north side of a green. The lower stages of the tower are of the later 13th century. The chancel, its tiles repaired in 1461–2, was rebuilt in 1489 by John Drue. (fn. 314) The upper part of the tower, the nave, and aisle are also of the later 15th century. A contemporary rood screen, a panelled pulpit, and a carved sounding board of 1618 were removed after c. 1785. (fn. 315) The porch, originally twostoreyed, was altered in 1633 when its floor was removed and its outer arch was repaired. In 1830 a new gallery was built at the west end to house an organ and a private pew for the owner of the manor. The gallery was removed and a roof light closed as part of general interior restoration by Richard Winter in 1859. (fn. 316) Restoration in 1877 probably included the addition of the vestry. (fn. 317) There is a chest in the vestry dated 1639.
The bells include one from the medieval Bristol foundry and three of 1725 by Abraham Rudhall. (fn. 318) Among the plate is a tankard of 1713 by John Eastt, a saucer inscribed 1730 by 'T.H.', and a cup of 1752 by Fuller White. (fn. 319) The registers date from 1558 and appear to be complete. (fn. 320)
CHAPEL
There was a chapel at Downend in 1451. (fn. 321) It was dedicated to St. Augustine and between 1567 and 1570 the endowment for a light on the altar of St. Mary there was considered a concealment from the Crown, (fn. 322) but the grantees had their ownership confirmed in 1609. (fn. 323)
In 1822 a house was registered for worship but no denomination was specified. (fn. 324) In 1867 a building was in use by Primitive Methodists. (fn. 325) From 1836 the Independent minister at Knowle in Bawdrip conducted services, beginning on weekdays, in a private house.
A chapel was built in 1846, also served from Knowle. The chapel had to be rebuilt in 1862 and from 1872 had its own minister. Ebenezer Chapel had 13 members in 1980 and closed in 1984. (fn. 326) It is now a private dwelling named Congregation House.
EDUCATION
According to local tradition current in the early 19th century John Bishop by will dated 1617 gave some land in trust to the churchwardens to pay a schoolmaster, any surplus to be given to the poor. (fn. 327) A woman who taught children in 1630 (fn. 328) was probably not associated with that charity, but a school was in operation in 1728, evidently occupying part of the church house. (fn. 329) In 1732 the overseers paid for a pauper to go to school and had paid the salary for a master for six months. A majority of the vestry subsequently agreed to pay the master for a year from what was described as charity money. (fn. 330) It seems likely that the school did not continue, but by 1809 it had been revived, again supported from rents given for the poor, and was held intermittently until 1833. (fn. 331) There were 30 children in 1818 and 32 in 1833. (fn. 332)
There was a Sunday school in 1833 with 36 children supported by voluntary contributions. (fn. 333) A small day school for boys was being held in 1859 (fn. 334) and a schoolroom was said to have been built in 1860. (fn. 335)
In 1861 there were two schools, one described as the parochial or charity school, the other a day school, probably for infants only. (fn. 336) Finding a master proved difficult for the former although the endowment had been secured. (fn. 337) By 1872 the parochial school was said to be affiliated to the National Society. (fn. 338) It was inadequately funded although subscriptions and school pence were paid and it closed in 1873. (fn. 339) A school board was formed compulsorily in 1874 (fn. 340) but was suppported by the charity endowment and continued to be regarded as a National foundation. (fn. 341) The board leased the existing school building, and a schoolhouse was added on a separate plot c. 1880, (fn. 342) a year after infants were admitted. (fn. 343) In 1889 the average attendance was 152 (fn. 344) and average attendance remained at over 100 children until 1950 when only juniors were taken, seniors transferring to Westonzoyland secondary modern school. (fn. 345) Work on a new school in Rowland's Rise began in 1974 and was completed in 1986 when the original site and buildings were sold. In 2001 there were 198 children aged between 4 and 11 and further buildings were under construction. (fn. 346)
CHARITIES FOR THE POOR
By wills dated 1592, 1597, and 1600 Richard Poole, Humphrey Pople, and Joan Houlder left sums of £10, £2 10s., and 20s. respectively as a stock to the churchwardens, the interest to be distributed by the minister, constable, and wardens at Christmas and Easter. (fn. 347) No certain trace of the further existence of those charities has been found. John Bishop by will dated 1617 devised some land known by 1732 as Poors' Ground, which was let by auction each Easter Monday. (fn. 348) During the earlier 18th century the rent was used to support a school (fn. 349) but by 1786 the income, together with a sum invested in the Bridgwater turnpike and another sum lent to a parishioner, the last two perhaps representing the earlier charities, was being given to those in need but not receiving regular relief, known as the second poor. (fn. 350) From 1811 a large proportion of the income was distributed to the second poor, in that year in gifts of 4s. each to 233 people; (fn. 351) but regular payments were only possible when there was no schoolmaster. Only from 1834 was cash paid to the poor only, in 1838 2s. 6d. each to 154 people. (fn. 352) By the late 1850s the parochial school was receiving the money, and in the 1890s, under a Scheme of 1884, all children at the school were given tickets for clothes, boots, or books. (fn. 353) In 1949 £20 out of an income of over £37 was distributed in the form of 'cards' to deserving families. (fn. 354) In 1995 the School and Charity Land Charity provided prizes for the children of the village school. (fn. 355)
By will proved 1859 Robert Skinner left an income of £2 a year to the minister and churchwardens to be distributed on Christmas Eve in bread or cash. In 1894 22 people received gifts. Loaves were given to widows until the late 1960s and since then the income has helped pay for a party for those over 60 years and cash has been given to a deserving family. The annual income in 1993 was £6. (fn. 356)