Pages 229-237
A History of the County of Stafford: Volume 14, Lichfield. Originally published by Victoria County History, London, 1990.
This free content was digitised by double rekeying. All rights reserved.
CURBOROUGH AND ELMHURST
The civil parish of Curborough and Elmhurst, north of Lichfield, was formerly a township in St. Chad's parish, Lichfield. It included several detached portions which were transferred by boundary changes in 1879: a farmhouse at Ashmore Brook was added to Burntwood township; Pipehill Farm and the former tollhouse near by were amalgamated with Pipehill township; and 240 a. around Little Pipe were added to Farewell and Chorley civil parish. After the changes Curborough and Elmhurst covered 1,294 a. (fn. 1) The detached portions at Ashmore Brook and Pipehill are treated in the present volume respectively under Burntwood and Wall; the detached portion at Little Pipe is reserved for treatment in a later volume.
The northern, eastern, and southern boundaries of Curborough and Elmhurst run along Full, Curborough, and Circuit brooks; the western boundary runs partly along Bilson brook and partly along the Lichfield-Stafford road. The subsoil is Keuper Marl, with a band of Keuper Sandstone along the western boundary. There are stretches of alluvium along Full, Curborough, and Bilson brooks. (fn. 2) The soil around Elmhurst hamlet is fine loam over clay; further east it is a mixture of fine and coarse loam. (fn. 3) The land lies at its highest in the southwest where Red Brae Farm stands at 387 ft. (118 m.). It falls away steeply on the north to Bilson brook. On the east it slopes down more gently to 246 ft. (75 m.) on the northern boundary near New Farm and to 231 ft. (70 m.) on the eastern boundary.
Thirteen people were assessed for tax in 1327 and 50 in 1380. (fn. 4) In the earlier 1530s eight families were recorded at Curborough and ten at Elmhurst. (fn. 5) Twenty-six householders in the township were assessed for hearth tax in 1666 and another four were too poor to pay. (fn. 6) In 1801 the population, possibly including that of the detached portions, was 174. It had risen to 229 by 1811 and to 250 by 1821. (fn. 7) The population, excluding the detached portions, was 197 in 1841, 201 in 1851, 187 in 1861, 211 in 1871, and 203 in 1881. (fn. 8) It was 212 in 1891, falling to 170 by 1901. During the 20th century the population fluctuated. It was 196 in 1911, 214 in 1921, 174 in 1931, 219 in 1951, 211 in 1961, and 180 in 1971. In 1981 it was 188. (fn. 9)
Curborough derives its name from Old English words meaning 'mill stream' (cweorn burna), evidently referring to Curborough brook. (fn. 10) The principal settlement presumably lay near Curborough Hall Farm on the road from Stowe in Lichfield: the area around the farmhouse was known as Great Curborough in the early 14th century. Little Curborough centred on Curborough House in Streethay. (fn. 11) A bridge over Curborough brook carried a lane running between Curborough Hall Farm and Curborough House. Called Pipe bridge in 1386, it was ruinous in 1489, when both Streethay township and Curborough and Elmhurst township were ordered to repair it. (fn. 12) Curborough Hall Farm was built in 1871; an earlier house, Curborough Hall, built in the late 16th or early 17th century, stood to the north. Land to the east provided the endowment for Curborough prebend in Lichfield cathedral and there was a house there, north of the present Field House, by the earlier 16th century. (fn. 13) A site near Corporation Farm to the north-west may have been inhabited by the later 17th century. (fn. 14) By the late 18th century a farmhouse there was part of the Curborough Hall estate; the present farmhouse dates from the early 19th century. In 1877 the farmland was bought by Lichfield corporation for a sewage works. As Corporation farm, it was sold to the tenant in 1986. (fn. 15)
Elmhurst, whose name is derived from Old English words meaning 'elm wood', was an inhabited area in the early 13th century. (fn. 16) A hamlet developed along a road to King's Bromley which followed Fox Lane and part of Park Lane. (fn. 17) A green, mentioned c. 1300, probably lay at the southern end of Park Lane where the pinfold stood in the early 19th century, (fn. 18) and Elmhurst Hall stood to the north-west. There were several houses in the hamlet in the late 18th century, including King's Field House which presumably derived its name from land held there by the Crown in the 14th century. (fn. 19) In 1841 the hamlet's population was c. 40, consisting mainly of agricultural labourers and their families. By 1861 it had increased to 57 and included a wheelwright, a clock-case maker, a platelayer, two ropemakers, and a school mistress. The population in 1881 was 72, (fn. 20) and a school and a mission room were opened in 1882. In 1980 the school was converted into a village hall. (fn. 21)
South-east of Elmhurst hamlet lies an area known as Stychbrook in 1086. (fn. 22) The name, which presumably derived from the stream now called Circuit brook, is of uncertain derivation. The area was inhabited by the mid 13th century, and Stychbrook green was recorded in the 15th century. (fn. 23) The settlement probably lay along a road from Stowe which joined Fox Lane opposite King's Field House. (fn. 24) Lea Grange to the west was probably in existence by the 15th century. (fn. 25)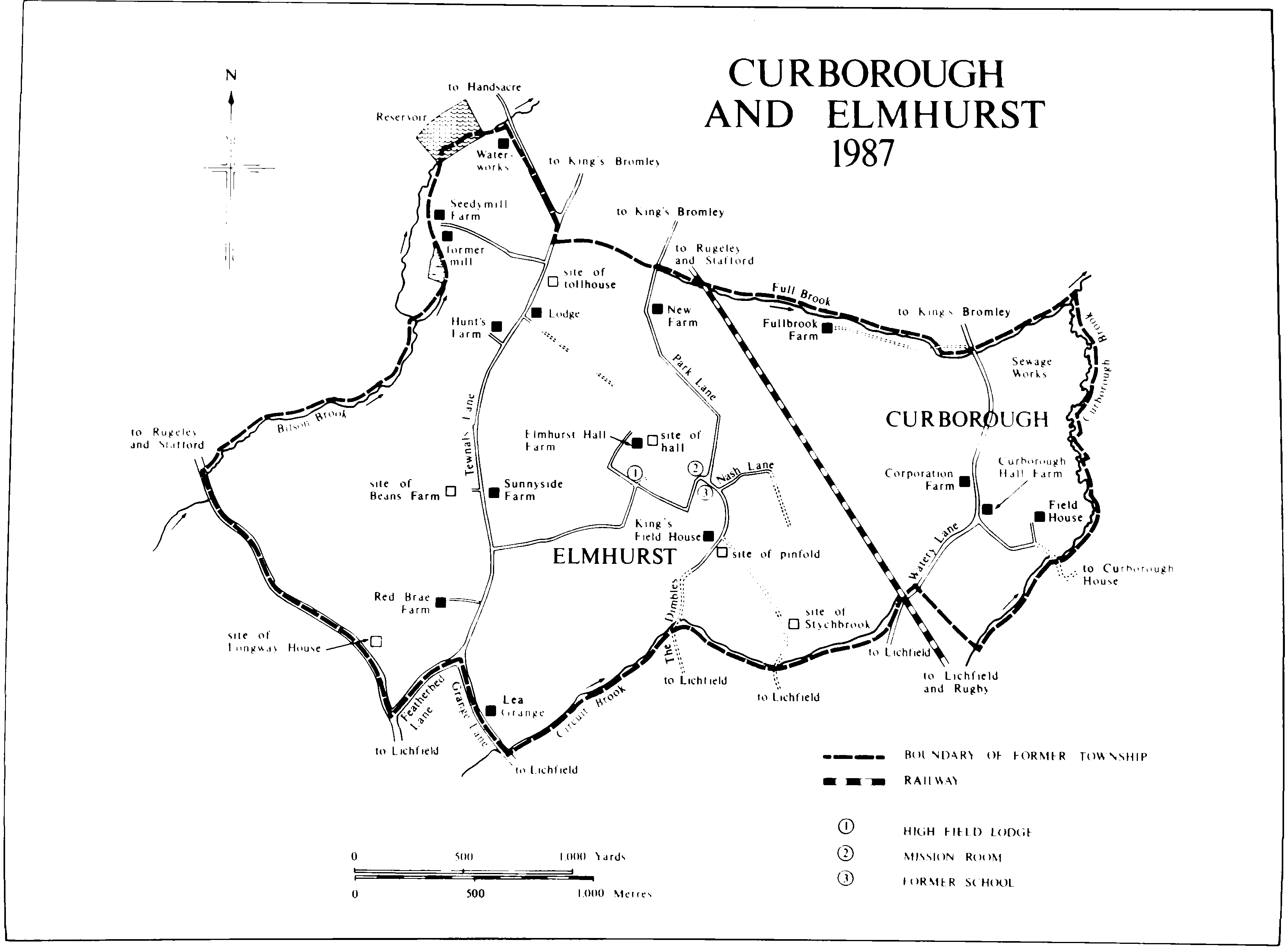 West of Elmhurst hamlet on the Stafford road stood Longway House, in existence probably by the mid 17th century and demolished in the 19th century. (fn. 26) Three early 19th-century farmhouses stand along Tewnals Lane (Tunalls Lane in 1711), (fn. 27) part of the road from Lichfield to Handsacre and King's Bromley: Red Brae Farm (formerly Binns Farm); (fn. 28) Sunnyside Farm to the north; (fn. 29) and Hunt's Farm further north, which replaced a farmhouse probably of mid 17th-century date. (fn. 30)
New Farm, north of Elmhurst hamlet, probably stands on the site of a cottage built between 1813 and 1818; the present farmhouse dates from the later 1870s. (fn. 31) Fullbrook Farm to the east was built c. 1835. (fn. 32) In the north-west corner of the parish Seedy mill on Bilson brook was in use by the mid 13th century. (fn. 33) A pumping station was opened to the north on the Handsacre road in 1938; it serves Hanch reservoir which straddles the boundary with Longdon. A waterworks was built nearby in 1949, (fn. 34) and eight houses to the south were built about the same time, presumably for workers there.
The road from Lichfield to Handsacre and King's Bromley was turnpiked in 1729. The route originally left the city along Grange Lane; by order of 1783 it was changed to follow Featherbed Lane. (fn. 35) An order was made in 1766 for a tollhouse and a gate at the junction of Tewnals Lane and Featherbed Lane; (fn. 36) another order was made in 1782 for a gate near the point where Tewnals Lane divided, one branch going to Handsacre and the other to King's Bromley. (fn. 37) By the early 1830s a tollhouse had been built near the latter gate. (fn. 38) The 1782 order was presumably connected with the change of route from the city in 1783, evidently leading to the abandonment of the Featherbed Lane gate; a bar was set up near Lea Grange in 1834. (fn. 39) The road was disturnpiked in 1870, the tollhouse surviving until the 1940s. (fn. 40)
Elmhurst was supplied with electricity by Lichfield corporation from 1932. (fn. 41)
ESTATES.
An estate centring on ELMHURST HALL may have been created by the later 12th century, when Thomas son of Robert held ¼ knight's fee of the bishop of Chester. The fee was almost certainly at Elmhurst, and Thomas may have been Thomas Noel of Ranton: in 1242–3 Richard Puer, whose family were tenants of the Noels, held ¼ knight's fee at Elmhurst. (fn. 42) Richard le Child held the fee in 1284–5, together with a fee in Whittington. (fn. 43) Richard's heir, whose name is not known, was the holder in 1298. By the early 14th century the heir had been succeeded or replaced by John of Polesworth. (fn. 44) Nothing more is known about the estate until 1501, when it was held by William Clerkson, who in that year was succeeded by his son John. John died in 1533, leaving a son Richard. (fn. 45) Richard was succeeded in 1552 by his daughter Anne, a minor in the custody of a relative John Otley. John died soon afterwards, and the custody evidently passed to his son Thomas. In 1565 Anne, as wife of Humphrey Everard, tried to recover her inheritance, alienated by the Otleys who claimed that her father had disinherited her. (fn. 46) She was unsuccessful, and by 1571 the estate had evidently passed to Simon Biddulph, who then held 4 messuages and 106 a. in Curborough and Elmhurst. (fn. 47)
Simon, a Lichfield mercer who was four times bailiff of the city, died in 1580. (fn. 48) His heir was his son, also called Simon (d. 1596). (fn. 49) His son and heir, another Simon (d. 1632), was also four times bailiff of Lichfield. (fn. 50) His son Michael received a coat of arms in 1635 and was M.P. for Lichfield in 1646 and 1648. Probably the first of his family to live at Elmhurst, he died in 1658 (fn. 51) and was succeeded by his son, another Michael (d. 1666). (fn. 52) Michael's heir was his brother Theophilus, a London mercer and silk merchant, who was M.P. for the city of London in 1656–8 and 1659 and for Lichfield in 1661. He was knighted in 1660 and created a baronet in 1664. (fn. 53) To gain possession of Elmhurst Hall and its estate, Theophilus bought out Michael Biddulph's servant, Elizabeth Ames. She had been left a life interest by Michael in what Bishop Hacket called his 'base and scandalous will'. (fn. 54) Theophilus was succeeded in 1683 by his son Sir Michael, several times M.P. for Lichfield, who was succeeded in 1718 by his son Theophilus (d. 1743). (fn. 55) Theophilus had no children, and the baronetcy passed to his uncle's grandson, another Theophilus Biddulph. Under an Act of 1754 Elmhurst Hall and 370 a., some of it in King's Bromley, were sold in 1765 to Samuel Swinfen of Swinfen in Weeford. (fn. 56) Samuel died unmarried in 1770 and was succeeded by his brother Thomas, who died in 1784 leaving as heir his son John. (fn. 57) From 1765 the hall was let to Maj. St. George Bowles, who moved to Lichfield in 1790. (fn. 58)
Francis Perceval Eliot, the writer, apparently attracted to Lichfield by the company of the city's literati, moved to Elmhurst Hall as tenant in 1790. (fn. 59) The same year he agreed to buy the estate from John Swinfen; it then comprised 352 a. (fn. 60) He also acquired the Stychbrook estate, the leasehold of Lea Grange, and the leasehold of land owned by the vicars choral of Lichfield cathedral. Altogether Eliot came to hold over 850 a. (fn. 61) He borrowed heavily to buy the estate, which in 1797 he unsuccessfully offered for sale. (fn. 62) He later sold Stychbrook to Granville Leveson-Gower, marquess of Stafford, and mortgaged the rest of his holding. (fn. 63) By 1800 he was living in Lichfield. (fn. 64) In 1808 the 696-a. estate still held by Eliot was put up for sale. John Smith of Fenton in Stoke upon Trent bought the largest part, amounting to 381 a. It included the site of Elmhurst Hall which Eliot had pulled down. (fn. 65)
John Smith, sheriff of Staffordshire in 1816, built a new hall at Elmhurst, and died there in 1840. (fn. 66) Later the same year his widow Elizabeth and their son Charles let the hall for five years to Isabella, widow of John Campbell, Baron Cawdor. (fn. 67) Charles Smith was living at Elmhurst in 1848. (fn. 68) In 1856 he sold the estate to Newton John Lane, then living at the hall. (fn. 69) Lane died in 1869, and in 1874 his trustees sold Elmhurst to George Fox, a retired Manchester businessman (d. 1894). (fn. 70) The hall and 640 a. were sold in 1895 to Henry Mitchell, a Smethwick brewer. Mitchell, who died in 1914, let the hall. (fn. 71) In 1918 his executors put the hall and the estate up for sale. (fn. 72) There was no buyer for the hall, which was demolished in 1921. (fn. 73) In 1922 the estate was sold to Joshua Rymond, possibly acting on behalf of a syndicate. The land was split up, and in 1923 Rymond sold the site of the hall, the surviving farm buildings, and 30 a. to William Snelson, who converted the stables into a farmhouse, Elmhurst Hall Farm. In 1932 he sold the farm to Patons & Baldwins, wool manufacturers of Halifax (Yorks. W.R.), who established an angora rabbit farm. The farm was closed in 1934, and the farmhouse and land were sold to a local farmer, William White. The property was subsequently sold to James Dawson in 1939 and Arthur Hollinshead in 1956. In 1962 Hollinshead sold the farm, which then covered 32 a., to Mr. Leonard Brookes, the owner in 1987. (fn. 74)
In 1658 the house apparently contained only a hall, parlour, dining room, and four or five chambers. (fn. 75) It was evidently rebuilt by the younger Michael Biddulph, the hall being assessed for tax on 12 hearths in 1666. (fn. 76) The new house, three storeys high with a parapeted roof, was seven bays wide, with the three central bays projecting. It stood on a platform backed by walls, and along the front there was a balustraded terrace with steps down to what was presumably a lawn or pasture ground. (fn. 77) In 1744 the ground floor consisted of a hall, three parlours, a drawing room, and a servants' hall. (fn. 78) The house was demolished probably in 1804; building materials were still being offered for sale in 1806. (fn. 79) John Smith's new house was of brick with stone dressings in an Elizabethan style with a gabled front of seven bays and an off-centre entrance porch. It was probably on the same alignment as the former house, facing north-east, and there was a haha in front of it. (fn. 80) In 1894 George Fox let the house to the duke and duchess of Sutherland so that they could entertain the prince of Wales there when he visited Lichfield for the centenary of the Staffordshire Yeomanry. (fn. 81) It was demolished in 1921.
A large walled garden on the south side of the house existed by the earlier 1740s, when it was planted with fruit trees. It was probably created for Sir Theophilus Biddulph (d. 1743), a cultivator of flowers, (fn. 82) and it apparently included a hot house and a greenhouse in 1808. (fn. 83) The walled area survives as an enclosure.
In the later 18th century the hall was approached from the west along a drive from Tewnals Lane. A small lodge on the road existed by 1832. (fn. 84) High Field Lodge south of the hall was built in the mid 1870s. (fn. 85)
An estate which formed the endowment of CURBOROUGH PREBEND in Lichfield cathedral was centred on a house north of the later Field House. The prebend may have been created in the mid 12th century, and in 1200 land in Curborough was held by Walter de Tilbury, a chamberlain of Bishop Muschamp and possibly prebendary of Curborough. (fn. 86) By 1415 the estate was known as Curborough Turvile, evidently after Philip de Turvill, prebendary of Curborough 1309–37; (fn. 87) by the early 17th century the name had been corrupted to Darvell or Darvile. (fn. 88) In 1571 the estate comprised a messuage and 50 a. of inclosed land, besides 25 a. of field land in Lichfield; in 1650 it amounted to 122 a. (fn. 89) Under the Cathedrals Act of 1840 the prebendal estate was transferred to the Ecclesiastical Commissioners, who in 1920 sold a house converted out of farm buildings and the land, then only 70 a., to the tenant William Woolley. (fn. 90) In 1987 the house, known as Field House, was owned by Mr. P. Owen and the land by Mr. G. Hollinshead of Curborough Hall Farm. (fn. 91)
A house existed by 1528 when the prebendary, Rowland Lee, later bishop of Coventry and Lichfield, let it to his sister Isabel. (fn. 92) It stood on a moated site. (fn. 93) There was evidently a chapel south-east of the house, where there was land called Chapel Yard in 1650. At the same date land called the Bowling Alley was recorded near the house. (fn. 94) The house was no longer standing in 1837, and by 1848 farm buildings to the south had been converted into four dwellings, evidently for labourers. (fn. 95) The dwellings were altered, probably in the early 20th century, to comprise a farmhouse, dairy, and cottage, themselves converted in the early 1980s into the present Field House. (fn. 96)
Dr. Zachary Babington, admitted as prebendary of Curborough in 1584 and later precentor of Lichfield cathedral and diocesan chancellor, created an estate centred on CURBOROUGH HALL FARM. (fn. 97) He had a house there known as Curborough Hall when he died in 1613. (fn. 98) He was succeeded by his son William (d. c. 1625), whose son Zachary, a lawyer, was living at Curborough in 1666 but later moved to Whittington. (fn. 99) In 1684 Zachary's son John was living at Curborough. (fn. 100) Zachary died in 1688 and John in 1706. (fn. 101) John was succeeded by his son Zachary (d. 1745), whose heirs were his three sisters, Catherine wife of Ralph Hawkes, Dorothy wife of Luke Robinson, a Lichfield mercer, and Mary wife of Theophilus Levett, a Lichfield lawyer. (fn. 102) A division of the Babington estates was made in 1780 and Curborough Hall went to John Levett, the son of Mary and Theophilus. (fn. 103) John died in 1799, and Curborough Hall descended in his family. (fn. 104) In 1906 the estate comprised 76 a. (fn. 105) In 1925 T. B. P. Levett sold it to William Boston of Brownsfields Farm in Streethay. (fn. 106) Boston sold it c. 1935 to Herbert Hollinshead, whose son Geoffrey was the owner in 1987. (fn. 107)
The present farmhouse was built in 1871. (fn. 108) To the north stood a house assessed for tax on 13 hearths in 1666 and probably built for Zachary Babington (d. 1613). (fn. 109) It had been demolished by 1848, when its site was known as Old Hall Close. (fn. 110) A tablet bearing the Babington coat of arms and the initials Z. B. and W. B., presumably for Zachary Babington (d. 1613) and his son William, was removed to farm buildings where Field House now stands and surmounted the entrance to the dairy; it has since been set on a wall inside Field House. (fn. 111) By 1780 another house, New Hall, had been built south of the present farmhouse. (fn. 112) It was described as ruinous in 1866 and was demolished presumably soon afterwards. (fn. 113) Surviving farm buildings date from the early 18th century.
By 1640 Lichfield corporation owned 15 a. of inclosed land called the Beenes, later part of an estate known as BEANS FARM. (fn. 114) In 1718 the tenant, Rowland Turner, who had already built a barn on the land, agreed to construct a farmhouse. (fn. 115) The farm, which covered nearly 26 a. in 1776, was sold in 1876 to George Fox of Elmhurst Hall. (fn. 116) The farmhouse still existed in 1848 (fn. 117) but no longer survives.
FULLBROOK FARM
FULLBROOK FARM in Elmhurst centres on an estate of 67 a. devised by Richard Walker (d. 1547) to Lichfield corporation to provide an income for the city's grammar school, of which Walker had been master. (fn. 118) By 1776 the corporation had added a further 35 a., of which 11 a. lay in King's Bromley. (fn. 119) In 1876 it sold the farm, then 94 a., to George Fox of Elmhurst Hall. (fn. 120) Enlarged by Fox to 185 a., it remained part of the Elmhurst Hall estate until the early 1920s. In 1962 it was bought by the tenant, Frank Baskerville (d. 1975), whose widow Mary remained the owner in 1987, when Fullbrook Farm was occupied by her son Edward. (fn. 121) The brick farmhouse was built c. 1835 and was later extended. (fn. 122)
In 1502 Sir Humphrey Stanley of Pipe Hall in Burntwood gave land in Elmhurst to Thomas Milley, archdeacon of Coventry. In 1504 Milley made it part of the endowment of an almshouse for poor women in Beacon Street, Lichfield, later known as Dr. Milley's hospital. (fn. 123) There was probably a farmhouse there in the mid 17th century. (fn. 124) In 1808–9 the farm consisted of a house and c. 68 a. (fn. 125) and by 1830 was known as HUNT'S FARM, probably from a member of the family of Thomas Hunt, who was living in the Tewnals Lane area in 1760. (fn. 126) In 1920 the almshouse sold the farm to W. Hollinshead. (fn. 127) In 1932 he sold it to George Sandways, who sold it in 1935 to the tenant William Baskerville. Mr. Baskerville and his family still owned the farm in 1987. (fn. 128) The present brick farmhouse dates from the early 19th century.
In 1259 the executors of Ralph of Lacock, subdean of Lichfield, gave land in Stychbrook and Elmhurst to St. John the Baptist's hospital in Lichfield for the maintenance of a chantry for Lacock. (fn. 129) The estate was known as Stychbrook Grange in the 15th century. (fn. 130) In the later 16th century it was 140 a. in extent, being held by Hugh Hill in 1555–6 and Richard Hill in 1575. (fn. 131) William Hill was living there in 1641, and in 1652 a lease was made to Zachary Hill and Thomas Whitby. (fn. 132) Zachary died in 1656, leaving a son Zachary. (fn. 133) In 1692 the lease of what was then called LEA GRANGE otherwise Stychbrook Grange was renewed for the same or another Zachary (d. 1714) and Thomas's widow Robinah. (fn. 134) In 1723 the house and 105 a. were occupied by a Mr. Whitby; a further 52 a. was held by Zachary's widow. (fn. 135) St. John's hospital sold the house and 68 a. in 1921 to the executors of the former tenant, John Scarrat. (fn. 136) The farm remained in the Scarrat family until 1965, when it was bought by Ernest Bradbury (d. 1973). His daughters Mrs. Lisa Teal and Mrs. Susan Toon were the owners in 1987. (fn. 137)
The name Stychbrook Grange in the 15th century suggests the existence of a house. In 1666 a house there was assessed for tax on 6 hearths, the two lessees (Zachary Hill's widow and Thomas Whitby) being answerable for 3 hearths each. (fn. 138) In 1723 the house comprised a square block with a long range to the east. (fn. 139) The main block was rebuilt in the early 19th century. (fn. 140) The house was originally of three storeys, but the upper storey was removed in the later 1960s when the house was extensively altered. (fn. 141) The long range was also rebuilt in the early 19th century as a low two-storeyed range incorporating much re-used material.
An estate centring on the former LONGWAY HOUSE was owned by Ralph Chetwynd of Rugeley (d. 1653). (fn. 142) His son Charles sold it to Ralph Coton of London, who in turn sold it to Thomas Bearcroft, rector of Walton upon Trent (Derb.). In 1680 Bearcroft left it to his nephew and namesake. It remained in the family until 1761, when it was sold to John Barker, a Lichfield banker (d. 1780). His widow Catherine died in 1803, and it was presumably her executors who in the same year put the estate up for sale as a 69–a. farm. (fn. 143) It was evidently bought by John Barker Scott, the continuator of Barker's bank. In 1811 Scott took a lease from the vicars choral of Lichfield cathedral of land called the Bynds, north of Longway House, and amalgamated it with his estate. (fn. 144) He was succeeded in 1819 by his daughter Ann, who married William Gresley, later curate of St. Chad's, Lichfield. (fn. 145) In 1851 the estate covered 86 a. (fn. 146) Gresley was succeeded in 1876 by his brother Maj. Francis Gresley (d. 1880), whose executors owned the farm in 1895. (fn. 147) In 1987 it was owned by Mr. J. Borland.
Longway House no longer exists, but a brick barn of the 18th century stands near its site. It was replaced as the farmhouse by Binns Farm (the present Red Brae Farm), built in the later 1810s on an elevated site to the north-east. (fn. 148)
A chantry established in Lichfield cathedral for Dean John Yotton (d. 1512) was endowed with land at Stychbrook. At least some of it was apparently administered by the college of chantry priests. (fn. 149) After the suppression of chantries in 1548 the land was divided, but John Dyott of Lichfield later re-united it, buying a cottage and a close from John Pilsworth in 1553 (fn. 150) and a messuage called STYCHBROOK and land from Hugh Ensdale in 1568. (fn. 151) In 1571 Dyott held the messuage and cottage, 50 a. of enclosed land, and 77 a. in the open fields. (fn. 152) He was succeeded in 1578 by his son Anthony (d. 1622), whose son Sir Richard Dyott gave the estate to his third son Matthew. (fn. 153) Matthew was succeeded in 1698 by his son John, (fn. 154) who died in 1742 leaving the estate in trust for his nephew Thomas Dyott, a Birmingham engraver. It was then 206 a. in area, of which 80 a. lay in Lichfield. In 1771 it passed to Thomas's son John, a resident of Lichfield. (fn. 155) In the 1790s it was bought by Francis Eliot of Elmhurst Hall, who in 1801 sold 168 a. at Stychbrook to the marquess of Stafford. (fn. 156) By 1848 the owner was the earl of Lichfield. (fn. 157) His great-grandson sold the 179-a. estate in 1920 to the tenant Evan Weston (d. 1959). (fn. 158) His family retained it until 1973, when the house and 14 a. were sold to Robin Taylor and the remaining 83 a. to Mr. G. Hollinshead of Curborough Hall Farm. (fn. 159) A farmhouse was built by John Dyott in the later 1730s. (fn. 160) It survived until the later 1970s when it was left uninhabited and allowed to fall down. (fn. 161)
The tithes of Curborough and Elmhurst were divided among several prebendaries in Lichfield cathedral. (fn. 162) The small tithes were assigned to the vicar of St. Mary's, Lichfield, by Bishop Lloyd in 1694. (fn. 163) When the tithes were commuted in 1848, no tithe was payable from 183 a. and prescriptive payments were made for other land. (fn. 164) The prebendal shares of the great tithes were then from 170 a. (Prees or Pipa Minor), 157 a. (Curborough), 136 a. (Hansacre), 71 a. (Bishopshull), and 57 a. (Gaia Minor); in addition, tithes from 596 a. were divided among the prebendaries of Freeford, Gaia Major, Hansacre, Stotfold, and Weeford. Tithes from 121 a. were paid to the curate of St. Chad's, Lichfield, to whom they had been granted by the dean in 1842. (fn. 165) The dean and chapter, to whom Stotfold prebend had been assigned in 1803, were awarded a rent charge of £19 16s. 1d. The vicar of St. Mary's was awarded a rent charge of £39 6s. 1d., and the other rent charges, totalling £222 0s. 3d., were payable to the Ecclesiastical Commissioners.
William of Leicester, a canon of Lichfield (d. by 1342), granted the vicars choral of Lichfield cathedral a messuage and land at Stychbrook. In the early 19th century they had 91 a. around Lea Grange, of which 65½ a. lay in Curborough and Elmhurst township and the rest in Lichfield. (fn. 166) In the later 1460s the vicars acquired a messuage and pasture called the Bynds, north of Longway House. In the early 19th century they had 23 a. there, which were later sold to the owner of the Longway House estate. (fn. 167)
Rents in Elmhurst and Stychbrook were included among the endowments of the chantry of Hugh de Sotby, a canon of Lichfield, established in the cathedral in the mid 13th century. (fn. 168) By 1414 the chantry's property in the township consisted of two messuages with a virgate each, three other messuages, and several pieces of land. (fn. 169) After the suppression of the chantry in 1548 the estate was acquired by the Paget family, lords of Longdon manor. In 1571 some of the messuages were held of that manor by Simon Biddulph, and they presumably became part of the Elmhurst Hall estate. (fn. 170)
ECONOMIC HISTORY.
Agriculture.
Selions in Curborough and in Elmhurst were recorded c. 1312. (fn. 171) Curborough field and Elmhurst field were mentioned in the earlier 1360s, as was Ley field which lay mostly in Lichfield south of Stychbrook. (fn. 172) Selions recorded in King's field in 1373 probably lay south of Elmhurst hamlet near King's Field House. (fn. 173) Selions near Seedy mill were recorded in the later 14th century. (fn. 174) The open fields were evidently enclosed piecemeal. In 1610 Anthony Dyott, the owner of Stychbrook, noted that his open-field land there could be easily inclosed with the consent of other freeholders 'who are very forward for that purpose'. (fn. 175)
Crops grown in Elmhurst in 1359 included oats, dredge, maslin, and peas, and the fields were then cropped in rotation. (fn. 176) Farming was evidently mixed in the later 17th century, (fn. 177) and there may have been an emphasis on pastoral farming, notably dairying; there was a dairy at Elmhurst Hall in 1765. (fn. 178) Livestock offered for sale by F. P. Eliot of Elmhurst Hall in 1797 included some 30 pedigree cows and heifers, as well as 80 ewes in lamb. At a sale later that year Eliot offered 32 head of cattle, including a cow bred by the experimental breeder John Princep of Croxall (Derb.), over 100 sheep, and several pedigree horses. (fn. 179) Equipment for cheese and butter making was among goods offered for sale by a farmer at Elmhurst in 1810 and by one at Curborough in 1811; each had herds of up to 30 cows. (fn. 180) George Fox of Elmhurst Hall kept pedigree Shorthorns from the later 1870s. The cattle were provided with purpose-built quarters at New Farm, known as New Building in 1881 and as Shorthorn Buildings in 1918. (fn. 181)
Crops were grown on about a third of the 831 ha. (2,053 a.) of farmland returned for Curborough and Elmhurst in 1984. Most of the cultivated land was devoted to wheat and barley, with 23.7 ha. of potatoes; 15.6 ha. at New farm was used for growing fruit, principally strawberries but also raspberries, gooseberries, and blackcurrants. New farm also specialized in pigs, of which it had over 5,000. There were nearly 1,400 head of cattle in the parish, over half of them kept for beef and the rest for milk. Five farms concentrated on dairy products. Sheep in the parish numbered 754. (fn. 182)
Mills.
The name Curborough implies a water mill in the Anglo-Saxon period. (fn. 183) Curborough mill was recorded in 1298 and 1430, and in 1561 a lane north of the later Field House was called Mill Lane. (fn. 184)
Seedy mill on Bilson brook south of Seedymill Farm was recorded in the mid 13th century as 'Synethimilne'. (fn. 185) It was probably the mill which William de Aston held in the area in the earlier 14th century. In 1571 Seedy mill was held of the lord of Longdon manor by Sir Walter Aston. (fn. 186) By 1628 the owner was Thomas Sprott of Ashmore Brook in Burntwood, and the mill descended with Ashmore Brook until 1812 when it was sold to the tenant John Shaw. (fn. 187) Shaw was dead by 1817, and in 1848 the mill was owned by John Smith of Elmhurst Hall. (fn. 188) New machinery was installed in 1852. (fn. 189) The mill went out of use in the 1930s but still stands. (fn. 190)
LOCAL GOVERNMENT.
By 1297 Curborough and Elmhurst formed a single township which made presentments at the great court of Longdon manor. In 1327 it was represented by two frankpledges, evidently one for Curborough and the other for Elmhurst. (fn. 191) Two frankpledges were still sent in 1604 but one only from 1605. (fn. 192) In the mid 18th century the township was known as Elmhurst and Curborough. A headborough was still appointed at the court in 1839. (fn. 193) A separate township called Curborough Turvile for the estate of Curborough prebend was represented in 1485 by a frankpledge at the Longdon great court. (fn. 194) No other instance of his attendance has been found. There was a constable for Curborough and Elmhurst in 1377. (fn. 195) The constable was still chosen at the Longdon court in 1839. (fn. 196)
A 'warden of the field of Elmhurst', mentioned in 1560, probably acted as pinner. (fn. 197) A pinner was chosen at the Longdon great court in 1637 and until 1763. (fn. 198) A pinfold recorded in 1798 may have been the one which in 1824 stood at the southern end of Park Lane. (fn. 199) About 1900 the pinfold stood in Fox Lane opposite King's Field House. (fn. 200)
Parochially Curborough and Elmhurst were part of St. Chad's, Lichfield. By 1740 the township, described as the country part of the parish, had its own churchwarden, presumably chosen by the inhabitants, who were appointing by 1755. From 1865 two sidesmen were appointed instead. (fn. 201) The township organized its own poor relief by 1748, and possibly by 1666. (fn. 202) It was placed in Lichfield poor-law union in 1836. (fn. 203) As part of Lichfield rural district it became part of the new Lichfield district in 1974.
Curborough and Elmhurst subscribed to the Whittington association for the prosecution of felons, in existence in 1780 and 1828. (fn. 204)
CHURCH.
A mission served from St. Chad's, Lichfield, had been established at Elmhurst by 1872. (fn. 205) Services were probably held in a cottage, also used as a schoolroom, east of Elmhurst Hall. A mission room was opened next to the cottage in 1882. It was provided by George Fox of Elmhurst Hall, who regularly preached to his servants there. (fn. 206) Students from Lichfield Theo logical College and other laymen helped to maintain services in the early 20th century, and in the 1930s and 1940s the services were taken by a lay reader. (fn. 207) The room was extended in 1920 by the addition of a chancel, paid for by Mrs. M. Hamer, the tenant at Elmhurst Hall. In 1921 John Mitchell gave the room and an adjoining cottage to St. Chad's parish in memory of his father Henry, formerly of Elmhurst Hall. (fn. 208) Fortnightly services were held in 1987. (fn. 209)
NONCONFORMITY.
The Presbyterian congregation established at Lichfield in the later 17th century was possibly supported by Michael Biddulph of Elmhurst, who was recorded in 1662–3 as being of that persuasion. (fn. 210) His brother and heir Sir Theophilus was evidently not a Presbyterian: according to Bishop Hacket it was without his knowledge that a conventicle was held in 1669 in the house of one of his tenants, a man called Hill. (fn. 211) The tenant was presumably Zachary Hill of Lea Grange. Three children of Zachary Hill (d. 1714) were baptized by the Presbyterian minister for the area between 1708 and 1714. (fn. 212)
Lawrence Spooner, a Curborough yeoman who died in 1661 leaving some of his clothes to poor Baptists, was presumably a Baptist himself. He directed that his body was to be buried in Harpers Croft, south of the later Corporation Farm; his house may have stood on or near the site of the farmhouse. (fn. 213) His son, also Lawrence, was a Baptist. A conventicle was held at his house in 1683, and he ministered to local Baptists, apparently including those in Lichfield. (fn. 214) In 1707 he was buried near his father. (fn. 215)
EDUCATION.
A school was held at Elmhurst in 1833, when it had 21 pupils taught by a mistress. It was supported partly by subscription and partly by parents who could afford to pay; the mistress received 3d. a week for each child. (fn. 216) The children were probably taught in a cottage next to the later mission room; a mistress was living in the cottage by 1874. (fn. 217)
A school board for Curborough and Elmhurst was established in 1881, with George Fox of Elmhurst Hall as chairman, and in 1883 a school was opened for 45 children. It was built on land given by Fox on the other side of the road from the mission room. Children paid from 2d. to 4d. a week according to age. (fn. 218) In 1891 fees were abolished for children aged up to 15 years. (fn. 219) The school had 17 boys and 25 girls in 1901, and in 1908 the county council added a classroom. (fn. 220) From 1931 children aged over 11 years attended schools in Lichfield, but the parents successfully resisted a proposal that the school should be closed because numbers were reduced. (fn. 221) In 1953 there were only 14 children on the roll. (fn. 222) The school was renamed the Elms county primary school in 1954, and in 1958 was reorganized as a junior mixed and infants' school with c. 20 pupils. (fn. 223) The school was closed in 1980, and pupils were transferred to Christ Church primary school in Lichfield. The former school building and playing field were bought by the Elmhurst and Curborough Community Association, formed that year, and the building was converted into a village hall. (fn. 224)
CHARITIES FOR THE POOR.
None known.