Pages 273-282
A History of the County of Stafford: Volume 14, Lichfield. Originally published by Victoria County History, London, 1990.
This free content was digitised by double rekeying. All rights reserved.
STREETHAY WITH FULFEN
Streethay, east of Lichfield, was formerly a township in St. Michael's parish, Lichfield, covering 850 a. in the mid 19th century. It was adjoined on the south-east by Fulfen, a township of 240 a., also in St. Michael's. (fn. 1) Both Streethay and Fulfen were civil parishes from the later 19th century. (fn. 2) Boundary changes in 1879 transferred a detached portion of Farewell and Chorley parish north and east of Curborough House to Streethay and cottages at Darnford from Streethay to Fulfen. As the result of the changes Streethay had an area of 978 a. and Fulfen one of 250 a. (fn. 3) Further boundary changes in 1934 established a new civil parish of Streethay of 1,341 a; it comprised 852 a. of the existing parish of Streethay (the other 126 a. being added to Lichfield), 239 a. of Fulfen (the remainder being added to Whittington), 4 a. from Lichfield, and 246 a. from Whittington. (fn. 4) In 1980 the parish lost 61 a. on the west side of Lichfield Eastern Bypass to Lichfield. (fn. 5) In 1983 Streethay was amalgamated with Alrewas to form Alrewas with Streethay civil parish. (fn. 6) This article deals with Streethay and Fulfen before the boundary changes of the 20th century.
Streethay's western boundary was marked by roads as far as Curborough brook, which it followed before turning east round Curborough House. The eastern boundary followed the line of the Roman Ryknild Street as far as Streethay hamlet, where it turned down Ash Tree Lane and then south to Fulfen brook. Part of Fulfen's boundary with Whittington followed Fulfen brook and Darnford brook. (fn. 7)
The subsoil is Keuper Sandstone, and there is an area of Keuper Marl north and north-east of Streethay hamlet. South-east of the hamlet, straddling Trent Valley Road, is a gravel terrace, and along Darnford brook is a stretch of alluvium. (fn. 8) The soil is loam. (fn. 9) In Streethay hamlet the ground lies between 230 ft. (70 m.) and 246 ft. (75 m.). It rises to 279 ft. (85 m.) in the north-west at Brownsfields Farm and lies at 246 ft. (75 m.) in the north at Curborough House; to the east along Ryknild Street it falls to 204 ft. (65 m.). Fulfen Farm at 250 ft. (76 m.) stands on a slight rise above low-lying ground. An unnamed stream rises near Streethay's western boundary and passes north of the hamlet to join Mare brook in Whittington.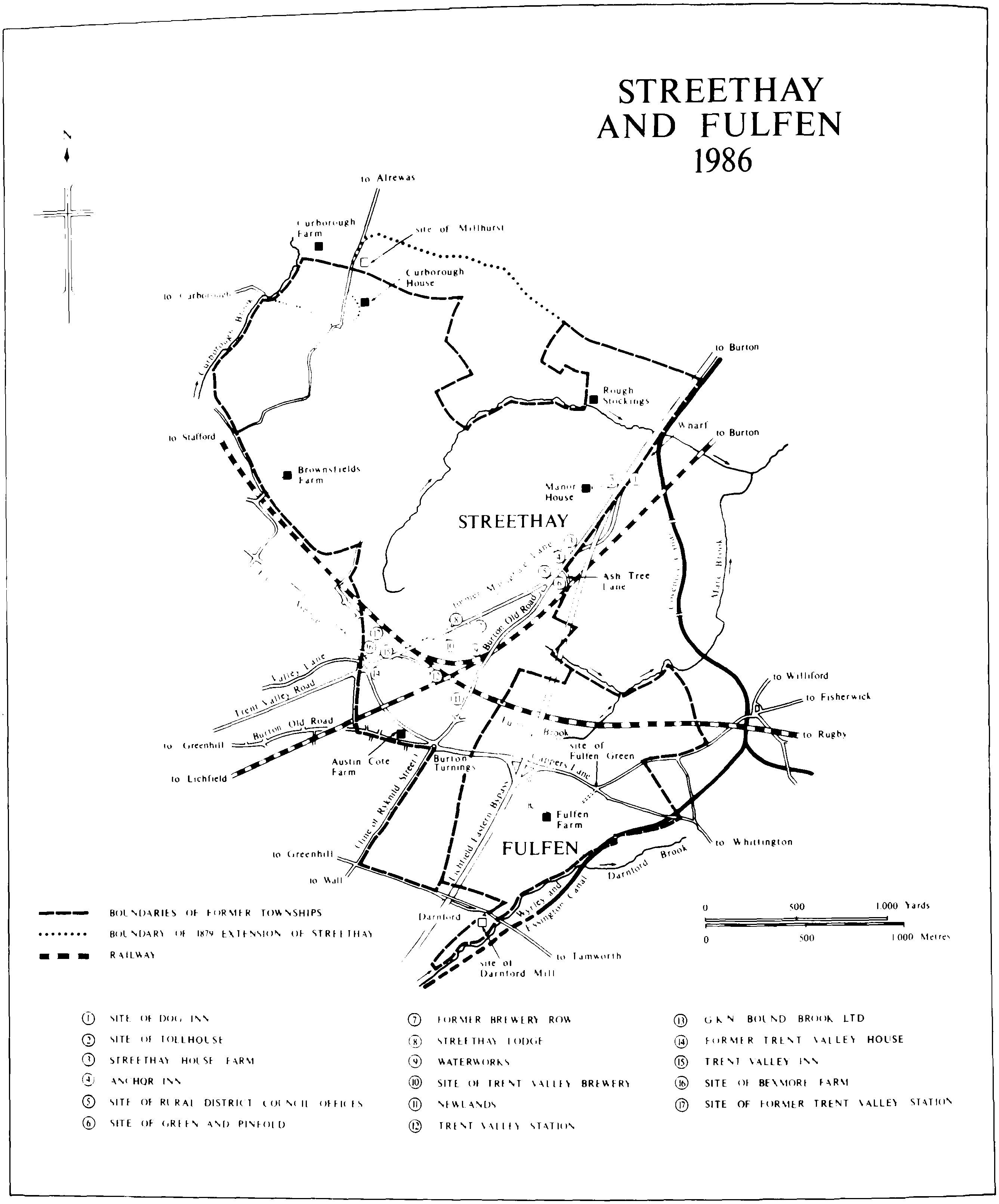 Twenty-six people were assessed for tax in Streethay and Morughale in 1327 and 37 in 1380. Eight people were assessed in the mid 1520s, and 10 householders were assessed for hearth tax in 1666. (fn. 10) In 1801 Streethay's population numbered 115. In 1841 it was 110 and Fulfen's was 15; the respective figures were 144 and 14 in 1851 and 137 and 10 in 1861. After the 1879 boundary changes the figures were 217 and 38 in 1881, rising to 276 and 43 in 1891. In 1931 they were 252 and 72. After the 1934 boundary changes the population of Streethay civil parish was 263; it had risen to 391 by 1951 but had fallen to 301 by 1961 and 271 by 1971. In 1981 it was 288. (fn. 11)
The name Streethay, meaning an enclosure by a Roman road, was recorded in the later 12th century, and the hamlet was evidently settled by the mid 13th century. (fn. 12) There was a green in the later 16th century and presumably earlier. (fn. 13) The hamlet had an alehouse in 1595. (fn. 14) By the later 18th century there were several houses and cottages near the green, (fn. 15) including Streethay House Farm, originally L-shaped but extended in the early 19th century by the addition of a porch and a large bow on the east. The Anchor inn, north of the green, existed under that name by 1824. (fn. 16) The hamlet in 1851 had c. 50 inhabitants, including three railway labourers and their families; by 1881 the number had fallen to c. 40. (fn. 17) Prefabricated huts were built south-west of the Anchor in the early 1940s for W.R.A.F. personnel from Fradley airfield in Alrewas. Used as offices by Lichfield rural district council after the Second World War, the buildings were demolished in 1986. Twelve council houses were built on the south side of Burton Old Road in the early 1950s, and a small estate of privately built houses off that road in Dyott Close dates from c. 1960. (fn. 18) Eight more houses were built privately on the north side of Trent Valley Road south-west of the district council offices in the 1970s.
The site of Manor House, north of the hamlet, may have been occupied by the mid 13th century. (fn. 19) By 1792 an inn called the Dog stood near by on the east side of the Burton road; it survived until the 1840s. (fn. 20) To the north the name Rough Stockings, recorded in 1632, indicates an area cleared of trees. (fn. 21) A small farmhouse built there probably in the mid 18th century was still occupied by farmworkers in the 1950s but was derelict in 1986. (fn. 22)
The lost hamlet of Morughale, south-west of Streethay hamlet, existed by the mid 13th century. (fn. 23) The name means a nook of land (halh) bestowed as a morning-gift (morgen gifu), referring to the Anglo-Saxon custom by which a man gave land to his bride on the morning after their marriage. (fn. 24) The centre of the settlement was presumably somewhere along the former Morughale Lane, the western continuation of which, over the Lichfield boundary, survives as Valley Lane. (fn. 25) Until its disappearance in the late 15th century Morughale seems to have been a more important settlement than Streethay. Presentments made at the great court of the bishop's manor of Longdon were invariably entered on the court rolls under the heading of Morughale and Streethay, and the open fields of both hamlets lay principally around Morughale. (fn. 26) A charter was dated at Morughale in 1443, but by the late 1480s the hamlet had apparently been deserted. (fn. 27) The only inhabited site around Morughale to survive into modern times was Bexmore Farm on the Lichfield boundary. (fn. 28)
Brownsfields Farm north-west of Streethay hamlet may have been built or rebuilt in the earlier 17th century. Further north the area around Curborough House was known by 1297 as Little Curborough, evidently to distinguish it from the main settlement of Curborough in the adjoining township. The site of Curborough House has been occupied since at least the later 13th century. (fn. 29) Pipe bridge, mentioned in 1386, carried a lane running from Curborough House to Curborough Hall Farm in Curborough and Elmhurst. It was in a ruinous condition in 1489, when both Streethay township and Curborough and Elmhurst township were ordered to repair it. (fn. 30)
Fulfen south of Streethay hamlet was mentioned in the mid 12th century. (fn. 31) The name means foul marshland, which presumably lay along Fulfen brook. In the mid 13th century Fulfen was styled a vill, and it was later a separate township in Longdon manor. (fn. 32) Fulfen Farm was the centre of an estate by the 15th century. (fn. 33) A green, recorded in 1435, lay east of Fulfen Farm where the road from Lichfield, Cappers Lane, forked north to Fisherwick and south to Whittington. A cottage by the green was taken down in 1819; others were built to the east probably in the early 19th century. (fn. 34)
Darnford at the southern tip of Fulfen township was the site of a mill on Darnford brook by 1243. (fn. 35) The name means the hidden or secret ford, (fn. 36) presumably in contrast to a more open or accessible ford at Freeford further upstream. Formerly there were cottages to the north, built in the mid 19th century. (fn. 37)
The Roman Ryknild Street entered Streethay in the south-west and ran through the eastern side of the township. It was referred to as Broadway in the earlier 13th century and as Stony Street in 1375. (fn. 38) It was joined south of Streethay hamlet by Burton Old Road, a name also given to the stretch of Ryknild Street up to the hamlet. A cross, recorded in the mid 13th century, may have stood at the junction, which was known as Burton Turnings in the mid 19th century. (fn. 39) The main route from Lichfield to Burton upon Trent was by Burton Old Road, which was turnpiked in 1729. A tollgate stood near Manor House. An order was made in 1742 for a lodge large enough to take a bed for the keeper, who with his family was to live in a nearby house. A new lodge was built in 1767, on the west side of the road; it was demolished after 1940. Trent Valley Road, providing a more direct route between Lichfield and Burton, was built under an Act of 1832. The Lichfield-Burton road was disturnpiked in 1879. The Lichfield Eastern Bypass, opened in 1971, enters the parish in the south and joins the Lichfield-Burton road north-east of Streethay hamlet. (fn. 40)
The Coventry Canal, completed in 1788, runs along the edge of the Burton road northeast of Streethay hamlet, and there was a wharf on the Whittington side of the boundary by 1817. (fn. 41) The Wyrley and Essington Canal, opened in 1797 and partly closed in 1954, runs through part of Fulfen. (fn. 42) The Trent Valley Railway from Stafford to the Birmingham-London line at Rugby was opened along the south-west side of Streethay in 1847 with a station for Lichfield on the north side of Trent Valley Road. A station master's house was built near by. The South Staffordshire Railway running along the south-east side of Streethay was opened in 1849 with a station, Trent Valley Junction, where the railway crossed Burton Old Road. Both stations were replaced in 1871 by a new one where the lines crossed and the 1847 station was converted into the station master's house. (fn. 43)
The opening of Trent Valley Road and of the two railway lines led to the development of the area south-west of Streethay hamlet. The farmhouse at Bexmore became an inn called the Railway tavern, first recorded in 1854. (fn. 44) It lost its custom to the Trent Valley hotel (later inn), built near by on Trent Valley Road in the late 1870s. (fn. 45) Trent Valley House opposite the hotel was newly built in 1861. (fn. 46) Streethay Lodge on Trent Valley Road east of the Trent Valley railway line was built in the 1850s, apparently for William Leedham (d. 1863), a retired surgeon from Burton upon Trent and an uncle of William Holland of Streethay House Farm. (fn. 47) Trent Valley Brewery Co. opened a brewery on the south side of the road in 1877. A row of twelve cottages called Brewery Row was built to the north for its workers; 58 people were living there in 1881. The brewery was demolished in 1970. (fn. 48) In 1986 its site was occupied by the premises of Douglas Plant Ltd. and Swan National Leasing. The South Staffordshire Waterworks Co. opened a pumping station east of the brewery in the late 19th century. (fn. 49) Council houses on the north side of Trent Valley Road date from the 1950s and privately built houses there from the 1970s.
The area on either side of Trent Valley Road west of the Trent Valley railway was taken into Lichfield in 1934. From 1946 it was developed as a trading and industrial estate and includes a factory opened in 1949 by Bound Brook Bearings (later G.K.N. Bound Brook) Ltd. (fn. 50)
ESTATES.
An estate known as STREETHAY and centring on the later Manor House was held of Longdon manor by Nicholas of Streethay in the mid 13th century. (fn. 51) William of Streethay, recorded in 1262 and 1283, had been succeeded by his son Hugh by 1286. (fn. 52) Hugh was dead by 1305, leaving a son John, who was alive in 1337. (fn. 53) The estate was evidently later held by William of Streethay (d. 1395 or 1396), whose son Philip was still alive in 1418. A John Streethay was recorded in 1469. (fn. 54) Later heads of the family were Thomas (d. 1521) and John (d. 1523). John was succeeded by his son Thomas (d. in or before 1538). Thomas's heir was his son Thomas (d. in or before 1540), who was succeeded by his brother John. (fn. 55) In 1574 John, described as a gentleman, held 219 a. freehold and copyhold in Streethay. (fn. 56) He was succeeded that year by his son Philip. (fn. 57) In 1588 Philip held what was called the manor of Streethay, which he sold in 1591 to Richard Pyott, a London alderman whose family were landowners in North Staffordshire. (fn. 58)
Richard Pyott died in 1620, leaving a son Richard (d. 1667). The younger Richard, sheriff of Staffordshire in 1635–6, was succeeded by his son John, who was succeeded in 1677 or 1678 by his son Richard (d. 1728). Richard's heir was his son John (d. 1729). John was succeeded by his son Richard, a barrister, who later moved to Chesterfield (Derb.) where his wife Pyarea had property. Richard died childless in 1747, having devised the Streethay estate, subject to his wife's life interest, to a another barrister, Edward Wilmot of Duffield (Derb.). (fn. 59)
In 1791 the estate covered 106 a. (fn. 60) Edward Wilmot died in 1795, and in 1796 his son Edward sold it to Richard Holland. (fn. 61) Richard was the son of William Holland of Rodbaston Hall in Penkridge (d. 1784), who was living at Streethay by 1758 and owned Streethay House Farm. (fn. 62) Richard died in 1835, and his son William succeeded to both the Streethay and the Streethay House Farm estates. William was succeeded in 1839 by his son Richard. In 1851 the combined estate, then known as Streethay House farm, covered 250 a.; by 1861 it had been increased to 330 a. (fn. 63) In 1869 Richard sold it to his brother William, on whose death in 1887 the estate, mortgaged in 1878, passed to trustees. (fn. 64) It was eventually bought in 1920 by Ernest Pyatt, who sold it in 1946 to Mr. R. F. Foden, the owner in 1986 when the estate covered 260 a. (fn. 65)
In the Middle Ages the house was surrounded by a double moat. It was rebuilt, probably by the Richard Pyott who succeeded in 1620, in brick with a symmetrical front of three gabled bays; the central bay projected, and over the door was set the coat of arms granted in 1610 to Richard Pyott (d. 1620). (fn. 66) In 1666 the house was assessed for tax on 14 hearths. Most of it was demolished in 1792. (fn. 67) What survives is apparently the back range of an enclosed courtyard to which a short wing was added. The house was converted into cottages used by farmworkers until the later 20th century, when it was remodelled as the present house. It was bought in 1986 by Maj. R. Conningham. (fn. 68)
The remains of the moat round the house were apparently used in the 18th century as a garden feature and as fishponds. (fn. 69) A short straight-sided canal was formed on the axis of the house, probably in the late 17th or early 18th century, stretching south-west from the remains of the moat. A stone bath house with a corbelled roof probably of the 17th century stands west of the house. (fn. 70) In the early 18th century there was a dovecot in the grounds. (fn. 71)
BEXMORE FARM
BEXMORE FARM in Morughale originated as a virgate which Bishop Muschamp, 1198–1208, bought from Geoffrey son of Alard and gave to his farrier Robert Ruffus. (fn. 72) The bishop evidently made a further grant of land in Morughale to Ruffus. (fn. 73) In 1298 two virgates there were held by Robert le Rous, presumably a descendant. (fn. 74) About 1300 Robert granted a capital messuage to John son of Henry de la Bourne. (fn. 75) The estate passed to the Rugeley family, (fn. 76) probably by 1363 when Nicholas son of Richard Rugeley was disputing a half virgate in Morughale. (fn. 77) In 1399 Nicholas son of Henry Rugeley held what was called the manor of Morughale. (fn. 78) Probably identifiable as Nicholas Rugeley of Hawkesyard in Armitage, and later of Saredon in Shareshill, (fn. 79) he left his estate in Morughale to his wife Eleanor, who by 1443 had married Richard Harcourt, lord of Saredon. (fn. 80) By 1574 the estate was held by the 'heirs of Harcourt'. It then comprised 58 a. held in severalty and 168 a. in the open fields of Streethay and of Lichfield. Part of the land held in severalty was called Berkesmoor, meaning birch moor, from which the name Bexmore is derived. (fn. 81) In 1580 Cassandra Cooke, mistress of Robert Harcourt (d. 1558), and their son John let the estate to Anthony Dyott, the owner of Freeford, who bought at least part of it in 1584. (fn. 82) In the early 1750s Richard Dyott let part of the estate in two portions, one of 26 a. with a house and the other of 36 a. (fn. 83)
Another part of the estate was evidently acquired by or passed to Sir Theophilus Biddulph, Bt., of Elmhurst, who in 1723 sold it to Thomas Capenhurst of Haunton in Clifton Campville. Capenhurst was living at Bexmore in 1735, when he sold his estate there to Hugh Annerley, also of Haunton. In 1790 Annerley's son Hugh owned 21 a. at Bexmore, together with the farmhouse; he sold the land and house that year to the Revd. Hugh Bailye. (fn. 84)
The later descent is unknown until 1849, when the house was owned by a Jane Godwin. (fn. 85) In 1851 it was occupied, and may have been owned, by William Sharrod, who farmed 45 a. there. Some time before 1854 he converted the house into an inn, the Railway tavern. (fn. 86) He died in 1858, and his son Francis continued to run the inn. After the opening of the Trent Valley hotel in the late 1870s, the Railway tavern became a farmhouse again. In 1881 Francis Sharrod ran a 27–a. market garden at Bexmore. He was still alive in 1900, but by 1904 the business had been taken over by his son Thomas. (fn. 87) The later history of the estate is unknown. The farmhouse was demolished when Eastern Avenue was laid out in 1972. (fn. 88)
Bishop Durdent, 1149–59, granted a tenement in Morughale to his clerk Walter as an augmentation of his prebend in Lichfield cathedral. Bishop Peche in the later 1170s granted the same tenement to Matthew the precentor. (fn. 89) In the early 13th century it was held by Hugh of Morughale. Soon afterwards Hugh or his son Hugh, being in debt and 'driven by hunger', sold it to Robert of Hulton. (fn. 90) Before 1241 the precentor confirmed Hulton's possession and gave him land called 'Blacknaveriding' to augment the holding. (fn. 91) In 1510–11 the lessee was Thomas Harcourt, whose family held Bexmore farm in Morughale with which it was presumably amalgamated. (fn. 92)
BROWNSFIELDS FARM
BROWNSFIELDS FARM apparently took its name from the Brown family of Lichfield. In 1440 the estate of John Brown of Lichfield was divided between his two daughters and coheirs, one of whom, Alice, was the wife of William Rugeley. (fn. 93) In 1562 Alice's descendants granted land to Richard Hussey, who in turn sold land called 'Brownes fields' to Michael Lowe of Timmor in Fisherwick and James Weston of Lichfield. Weston died in 1589, and his interest passed to his son Simon; Lowe died in 1593 or 1594, leaving his interest to his son-in-law Edward Bromley. (fn. 94) Weston and Bromley sold their shares to Richard Pyott (d. 1620), or his son Richard, of Streethay, (fn. 95) and by 1632 Brownsfields was let. (fn. 96) When the Pyott estate was broken up in 1796, Brownsfields was bought by a farmer named Oldacres. (fn. 97) Thomas Oldacres, the owner in 1834, was succeeded c. 1850 by Edward Oldacres, possibly his son. Edward, who was chaplain to the Lichfield poor-law union, farmed 187 a. at Brownsfields in 1851. (fn. 98) By 1861 his cousin Ralph Oldacres was farming there. Ralph's sister Ann bought the farm in 1870. She was declared bankrupt in 1887, and the farm was sold. (fn. 99) It was owned by William Boston in 1928, (fn. 100) and remained in his family in 1986. The brick farmhouse dates from the earlier 18th century and possibly incorporates an older core.
An estate in Little Curborough centring on CURBOROUGH HOUSE originated in a virgate held in the later 13th century by John de Somerville, lord of Wychnor in Tatenhill. John was succeeded in or shortly after 1279 by his son Robert, and Robert in 1297 by his son Edmund. (fn. 101) Edmund held the estate as ¼ knight's fee of the bishop as lord of Longdon in 1298. By 1301 he was a clerk and claimed that he held no lay fee. (fn. 102) His father apparently had granted an interest in the estate to Sir Ralph de Cromwell on Ralph's marriage to Edmund's aunt Joan in 1292–3, (fn. 103) and in the 1320s, after Edmund's death, the estate passed to Sir Ralph's son, also Ralph. (fn. 104) Ralph, Baron Cromwell, a descendant, still had an interest in the estate in 1442–3. (fn. 105)
John Langton (d. by 1502) had acquired the estate by 1497. His heir was his brother Henry, who was dead by 1540, leaving a son John. (fn. 106) John lived in Lichfield and was probably the John Langton who was a member of the 1548 corporation. He was dead by 1560. (fn. 107) William Langton, who held 20 a. in Little Curborough with 115 a. in the open fields in 1571, was probably the William Langton who died in 1610, leaving a son John who held the estate in 1623. (fn. 108) Its later descent is unknown until 1834, when it was held by John Hanbury, who was lessee of the adjoining estate in Curborough and Elmhurst belonging to Curborough prebend. (fn. 109) Hanbury died probably soon after 1851, leaving two daughters as his heirs. (fn. 110) The later descent is unknown until 1919, when the estate was bought by Gordon Powell (d. 1966). His son James was the owner in 1986. The estate then covered c. 150 a. (fn. 111)
Curborough House, so called in 1851, (fn. 112) is a small 18th-century brick farmhouse, enlarged to the south in the same century. In the earlier 19th century it was given a north wing and a new roof, and there was internal remodelling. The remains of a dovecot stand on the east side of the house. (fn. 113)
An estate known in 1574 as MILLHURST, (fn. 114) in the detached part of Farewell and Chorley parish added to Streethay in 1879, originated as part of Henry II's grant of land called Lindhurst to the nuns of Farewell priory. (fn. 115) At the priory's dissolution in 1527 the Crown granted its estates to the dean and chapter of Lichfield cathedral for the support of the choristers, and in 1550 the dean and chapter granted them to William Paget, Lord Paget, at fee farm. (fn. 116) The tenant at Millhurst in 1574 was William Bird, who held the messuage with 60 a.; his holding had increased to 85 a. by 1591–2. (fn. 117) The Bird family remained tenants until the late 18th century. (fn. 118) Soon after 1797 the farm, then 121 a., was sold by Henry Paget, earl of Uxbridge, to Fairfax Moresby of Stowe House in Lichfield. (fn. 119) By 1819 it was owned by Lord Anson and was part of the 235–a. estate centring on Curborough Farm in Alrewas. It was still part of that estate in 1986. (fn. 120) The only building which survives on the site is a ruined brick barn dating from the mid or late 18th century.
About 1170 Geoffrey Peche gave to the nuns of Farewell priory at the behest of his son Richard the service of his man Turstan together with a tenement in Morughale. The grant was evidently a dowry for Geoffrey's daughter Sarah on becoming a nun at Farewell. (fn. 121) The nuns received other grants of land in the area, including one which carried a rent charge for the support of a lamp in the priory church. (fn. 122)
The tithes of Streethay were divided among several prebendaries of Lichfield cathedral. (fn. 123) In 1694 Bishop Lloyd assigned the small tithes to the vicar of St. Mary's, Lichfield. (fn. 124) When the tithes were commuted in 1848, the respective prebendal shares of the great tithes were from 399½ a. (Stotfold), 139 a. (Bishops Itchington), 135 a. (Curborough), and 6½ a. (Dernford). The Ecclesiastical Commissioners, as reversioners of the prebends of Gaia Minor and Freeford, then received tithes from 24 a. and 8 a. respectively; the tithe received on behalf of Gaia Minor prebend, however, was restricted to corn and grain, as the tithe of hay was in the form of a prescriptive payment of 2s. The great tithes from a further 75 a. were divided into five parts, assigned to the prebends of Weeford (two parts) and Stotfold, Freeford, and Hansacre (one each). In addition the great tithes from 60 a. had been merged with the land from which they arose and were owned by 15 individuals. The dean and chapter of Lichfield, to whom Stotfold prebend had been assigned in 1803, received a rent charge of £79 4s. The rent charges for the other prebendal tithes were payable to the Ecclesiastical Commissioners: £38 for Curborough, £14 for Bishops Itchington, £7 4s. for Weeford, £5 12s. for Freeford, £3 12s. for Hansacre, and £2 8s. for Gaia Minor. Further rent charges ranging from £7 10s. to 1d. were assigned to the 15 owners of the merged tithes. The vicar of St. Mary's received a rent charge of £52 10s.
William of Fulfen was recorded in 1286 as a free tenant of the bishop as lord of Longdon, and in 1298 Thomas of Fulfen and John of Fulfen were half-virgaters. (fn. 125) Thomas Fulfen died in 1422–3 leaving as heir his daughter Agnes, widow of Richard Bertrem, (fn. 126) and his estate appears to have been sold; in 1424 it was occupied by Oliver Chatterton whose estate in 1453 was called the manor of FULFEN. (fn. 127) By 1461 Oliver had been succeeded by his son Roger. In 1498 the owner was Thomas Chatterton, who may have still been alive in 1532–3. (fn. 128) It was probably another Thomas Chatterton who died holding Fulfen in 1572 with a son George as his heir. (fn. 129) George was succeeded in 1606 by his son Thomas, who in 1637 sold Fulfen to Humphrey Chetham of Turton in Bolton-leMoors (Lancs.). Chetham may have been acting as a trustee, and in 1638 he and Thomas conveyed the 206–a. estate to Sir Richard Dyott, the owner of Freeford. (fn. 130) The estate descended with Freeford until 1919 when it was sold to Gerald Burton (d. 1960). His grandson, Mr. G. A. Burton, was the owner in 1986, when he farmed 202 a. there. (fn. 131) The brick farmhouse is of the early 19th century, and some of the farm buildings are of the mid 18th century.
The tithes of Fulfen belonged to the prebendary of Bishops Itchington in Lichfield cathedral. The small tithes were assigned to the vicar of St. Mary's, Lichfield, in 1694. The tithes were commuted in 1839. The prebendary received a rent charge of £53 1s. 11d. and the vicar of St. Mary's one of £17 11s. Eight acres were then tithe free. (fn. 132)
In the late 16th century small amounts of land in Streethay were owned by the prebendaries of Bishopshull and Tervin and by St. John's hospital in Lichfield. (fn. 133) The vicars choral of Lichfield cathedral held 2 a. of meadow in Streethay in 1298, (fn. 134) and in the 15th century they held several small parcels of land in Streethay and Fulfen. (fn. 135) In the mid 19th century they still owned 5½ a. in Streethay, north-west of Brownsfields Farm, and 4½ a. in Fulfen, east of Fulfen Farm. (fn. 136) The chantry of Canon George Radcliffe in Lichfield cathedral, endowed c. 1460, possessed land in Streethay and Morughale. After the chantry's suppression in 1548 the land was bought by Walter and Edward Leveson, evidently as speculators. (fn. 137) Land granted to Halesowen abbey (Worcs.) in 1467 as the endowment of the chantry of Boyce Hampton in the abbey in 8 a. on Streethay's western boundary. At the Dissolution the land probably passed to Sir John Dudley, who acquired the abbey's adjoining land at Pones fields in Lichfield. (fn. 138)
ECONOMIC HISTORY.
Agriculture.
The open fields of Streethay, Morughale, and Fulfen lay south-west of Streethay hamlet. Selions were recorded in the mid 13th century in Cross field and in fields called 'Ruding' and 'Brunehill'. By the earlier 14th century there were five open fields: Cross, Morughale Ridding, Brownhill, Nether Bridge, and Over Bridge. (fn. 139) Cross field lay on the north side of Ryknild Street; it presumably took its name from the road junction at Burton Turnings where there may have been a cross. (fn. 140) The field was partly inclosed by 1577. (fn. 141) Morughale Ridding field, which is presumably the earlier 'Ruding' field, lay north-east of Cross field. In 1397 selions were recorded in Further Mastrudding and Middle Mastrudding, possibly divisions of Morughale Ridding field. (fn. 142) At least part of the field had been inclosed by 1580. (fn. 143) Brownhill field probably lay on the east side of Ryknild Street near the boundary with Whittington. It was partly inclosed by 1577. (fn. 144) Nether Bridge field and Over Bridge field lay to the south on either side of Ryknild Street; the bridge was evidently that which took the road over Fulfen brook. (fn. 145) Inclosures in both fields were recorded in 1580–1. (fn. 146) Open meadow lay in 1411 along Darnford brook and in 1577 along Fulfen brook. (fn. 147)
There were 7 free tenants who held land of the bishop in Streethay and Morughale in 1298: 2 held 2 virgates each, 2 a single virgate, and 3 a half virgate. At Fulfen there were 2 free tenants each holding a half virgate. There were in addition 6 neifs, 5 of whom each held a half virgate of 10 a. with meadow and one a virgate of 20 a. Two of the neifs were also recorded as cottars in Morughale, where they each had a nook, or quarter virgate, as did a third cottar there. Labour services, for which a commuted money payment was allowed, were required from the neifs and cottars and from 4 of the free tenants. For the free tenants the services comprised the carriage of malt, venison, and fresh fish to various of the bishop's manors, carriage of millstones to Lichfield, and mowing the demesne meadow at Williford in Whittington, lifting hay there, and carrying it to Lichfield. The neifs owed the same services, except that they carried corn and malt to Brewood and Haywood in Colwich only; in addition they owed carriage of building stone from Cannock to Lichfield and elsewhere, carriage of unspecified items to Stowe mill in Lichfield and digging work there, and reaping at Beaudesert in Longdon. The services of the cottars comprised haymaking, driving animals to the bishop's manors, herding pigs from their woodland pannage and driving them to Haywood and Brewood, carriage of hens' eggs to Haywood and Brewood, carriage of millstones, and cleaning the bishop's houses. A cottar, moreover, was obliged to assist the beadle of Longdon manor when distress was taken, and he was liable for service as reeve. (fn. 148)
Pannage was levied on the neifs and cottars at the rate of 1d. for each year-old pig and ½d. for each pig under a year old. If a neif had seven pigs, he gave one to the bishop and was thereby released from pannage for the remainder; sows in farrow were exempt from pannage. Items liable to be taken as heriot included the best beast, all stallions, all pigs except one, all hives of bees, whole bacons, an iron-bound cart, a bronze pot, and a complete piece of linen.
By the later 16th century Richard Pyott's Streethay estate, the largest in the township, comprised 219 a. of which 45 a. lay in the open fields. (fn. 149) By 1632 his son's estate of over 600 a. comprised 10 holdings, the largest of 134 a. and the others between 71 a. and 31 a., besides 91 a. of open-field land, some of it in Lichfield. By 1688 the estate comprised the home farm, 3 tenanted farms, and 6 smallholdings. (fn. 150)
Small acreages of blendcorn, wheat, barley, rye, oats, peas, and beans were grown on the Pyotts' home farm in the early 18th century. Flax was then grown by some of the Pyotts' tenants: nearly 26 a. of it were sown in 1707, and between 1717 and 1724 one tenant received leases of various closes of land of up to 14 a. for growing flax. (fn. 151) Turnips were grown at Fulfen in 1707. (fn. 152) On the home farm in 1721 there were 10 cows with 4 calves, 20 fat sheep, 50 store sheep, 3 large pigs, and 4 store pigs. (fn. 153)
Timber on the Pyotts' estate in 1709 amounted to nearly 1,000 trees and saplings, both oak and ash, chiefly in the northern part. (fn. 154) Much was cut down in the 1790s when the estate was broken up. (fn. 155) At Fulfen a wood was recorded in 1545. (fn. 156) In the late 18th century there was a plantation north-east of Fulfen Farm, (fn. 157) and there was still woodland in Fulfen in 1844. (fn. 158)
A shepherd was living north of Streethay House Farm in 1861 and 1871, and in the latter year one was living at Brownsfields Farm and one at Fulfen Farm. There was still a shepherd at Fulfen Farm in 1881. (fn. 159) Sheep numbered 178 at Streethay House farm in 1887, when there were also 27 milking cows, 36 other cattle, and 13 pigs. The crops then grown on the farm were oats and wheat. (fn. 160) At Brownsfields farm in 1928 there were small acreages of wheat, oats, potatoes, mangolds, and swedes, besides a herd of 36 dairy cows. (fn. 161) Crops were grown on nearly twothirds of the 593 ha. (1,465 a.) returned for Streethay civil parish in 1984. Wheat and barley accounted for 350 ha., while potatoes, cabbages, and cauliflowers, grown principally at Fulfen, covered 32 ha. There were over 400 head of cattle in the parish and nearly 500 sheep and lambs, and at Streethay House farm there were 2,600 turkeys. (fn. 162)
James Bird, described as a gardener in 1841 and as a market gardener in 1850, had a smallholding centred on Yewtree Cottage (later Austin Cote Farm) in Burton Old Road. It covered 20 a. in 1851. (fn. 163) After Bird's death in 1859 the business was taken over by the tenant, John Burton, who farmed 50 a. there as a market gardener in 1861. By 1871 the smallholding appears to have reverted to use as an ordinary farm, Burton and his son George having moved their market-garden business, probably to the nearby Yewtree House in Lichfield. (fn. 164) By 1860 Francis Sharrod of Bexmore farm had a market garden of 35 a., reduced to 27 a. by 1881. Sharrod was still in business in 1900 but had been succeeded by his son Thomas by 1904. Thomas apparently discontinued the business. (fn. 165) In 1919 George Burton's son Gerald bought Fulfen farm and turned it over to market gardening, specializing in broccoli. (fn. 166) Walter Best, who had a smallholding at Newlands in Burton Old Road, claimed to be the largest grower of tomatoes in the district in 1908; he also grew fruit and vegetables and delivered dairy produce. He was still in business in the late 1930s. (fn. 167)
Warren and fisheries.
The bishop as lord of Longdon had a warren in Streethay in 1452–3. (fn. 168) Land called 'coningray', recorded on the Streethay estate in 1632, was presumably the site of a former warren. (fn. 169)
Carp, tench, perch, and eels were put into the moat around the Pyotts' house in 1705. In 1706 the moat and two pools were stocked with 300 carp, and the moat and nearby pools were regularly stocked in the years following. In 1723 the moat contained 250 carp, 40 tench, and an unspecified number of pike, perch, roach, and eels; a pool called Horsemoor pit then had 72 carp, 48 perch, and 3 tench. (fn. 170) At Fulfen a pool on the north side of Cappers Lane was fished by the Dyotts of Freeford in 1764, when carp from it were sent to stock a pool at Freeford. The Fulfen pool was itself stocked with carp and tench in the later 1780s; in 1824 it contained carp, tench, trout, and perch. It was still being fished in 1837. (fn. 171)
Mill.
In 1243 a rent from a mill at Darnford was granted by Geoffrey son of Benet of Lichfield to Reynold de Cleydon, a canon of Lichfield cathedral. (fn. 172) In the early 14th century the mill was held by Robert of Rodswell, archdeacon of Chester, whose heir granted it to William of Freeford and his son Robert. (fn. 173) In 1365 Sir John Freeford, William's heir and other son, granted the mill to two chaplains of Lichfield cathedral, one of whom in 1373 transferred it to the chaplain serving a chantry founded by Cleydon. (fn. 174) The mill was held by successive chaplains until the suppression of the chantry; a lease made in 1545 was surrendered to the Crown in 1561. (fn. 175) In 1610 the mill was held on lease by Anthony Dyott, the owner of Freeford. It was then described as three water mills, presumably under one roof. Dyott bought it from the Crown in 1611, subject to a 40s. fee farm. (fn. 176) His family still owned the mill in 1782. (fn. 177)
By 1811 the mill was owned by William Dennitts, probably the lessee of Fulfen farm. He sold it that year to George Webb of Hill Ridware, in Mavesyn Ridware. It then comprised three corn mills and a malt mill. (fn. 178) Webb constructed a substantial mill pool. (fn. 179) By 1818 it had been converted into a paper mill, run by James Webb. The conversion may have taken place by 1815 when a paper maker was living near by at Greenhill in Lichfield. (fn. 180) Isaac Newey, presumably a lessee, was running the papermaking business in 1828 and 1841. (fn. 181) By 1851 the mill had been converted back to grinding corn, but by 1860 it was used for grinding bones, still its function in 1864. (fn. 182) By 1867 ownership had descended to George Webb's great-granddaughters, Emily Briggs and Mary Gillson. With their husbands they sold it in 1871 to Richard Dyott of Freeford, who in 1872 redeemed the fee farm. (fn. 183) Under Dyott's chairmanship a co-operative of 16 local farmers was established to use the mill for cheese making. (fn. 184) It was apparently no longer working in 1881, when the millhouse, a brick building of the early 19th century, was occupied as a farmhouse. (fn. 185) The mill has been demolished.
LOCAL GOVERNMENT.
The township of Morughale and Streethay made presentments at the great court of Longdon manor in 1297. In 1327 it was represented by two frankpledges, evidently one for each of the constituent settlements: in 1437 the Streethay frankpledge attended the great court, but Morughale was fined for not sending its representative. (fn. 186) Two frankpledges were sent in 1457 but one only by the late 1480s, probably an indication that Morughale hamlet was no longer inhabited. The township was still known by the double name in 1642 but by the early 18th century simply as Streethay. (fn. 187) There was a constable for Morughale and Streethay by 1377. (fn. 188) Election to the office at the Longdon great court was recorded by the later 15th century. (fn. 189) A constable was still chosen at the court in 1839. (fn. 190)
A township for the area around Curborough House also made presentments at the Longdon great court. Known as Little Curborough in 1297, it was called Curborough Somerville by 1327. In that year it was represented by two frankpledges but by one only in 1375. (fn. 191) The inhabitants evidently consisted at that date simply of the owner of the estate and his household: in 1386 it was reported that no frankpledge came because there was no tenant living there. By 1401 the township had ceased to exist separately and any presentments relating to the area were thereafter made by the frankpledges for Morughale and Streethay. (fn. 192) In 1436, however, Curborough Somerville again constituted a separate township, which survived at least until 1629. (fn. 193)
Fulfen was originally part of Morughale and Streethay township but had become separate by 1486. A single frankpledge attended the Longdon great court until 1499; after that date presentments were again made by the frankpledge for Morughale and Streethay. (fn. 194) Fulfen presented separately again in 1578, and a frankpledge was still sent in 1642. (fn. 195)
In the earlier 16th century Millhurst and the nearby land of the nuns of Farewell priory formed a township known simply as Curborough. Its frankpledge attended the Farewell manor court and was usually the same man who acted as the Curborough Somerville frankpledge for Longdon manor. It remained a separate township in the early 18th century. (fn. 196)
A pinfold at Streethay was mentioned in 1599. (fn. 197) In the early 19th century it stood in Ash Tree Lane, then known as Pinfold Lane; it was still there in 1900 but had been removed by 1921. (fn. 198) A pinner for Streethay was appointed at the Longdon court in 1728 and until 1839. (fn. 199)
Parochially Streethay was part of St. Michael's, Lichfield, and by 1637 it had its own sidesman. (fn. 200) There was an overseer of the poor in the late 1720s. (fn. 201)
Fulfen was claimed as extra-parochial in 1825, probably because it was owned by the Dyotts of Freeford, itself regarded as an extra-parochial area. (fn. 202) Although Fulfen was sometimes treated as part of Streethay, as in 1861, it appears to have become a civil parish of itself under an act of 1857. (fn. 203) It remained separate until 1934, when it became part of the new Streethay civil parish. (fn. 204) Streethay was placed in Lichfield poor-law union from 1836, and Fulfen joined on being recognized as a civil parish. (fn. 205) As part of Lichfield rural district Streethay civil parish became part of the new Lichfield district in 1974.
Streethay and Fulfen subscribed to the Whittington association for the prosecution of felons, formed by 1780 and surviving in 1828. (fn. 206)
CHURCH.
Although Streethay was part of St. Michael's, Lichfield, some inhabitants attended church at Whittington by the late 17th century. (fn. 207) In 1983 the part of Fulfen east of Lichfield Eastern Bypass was transferred from St. Michael's to Whittington parish. (fn. 208)
NONCONFORMITY.
None known.
EDUCATION.
No evidence.
CHARITIES FOR THE POOR.
None known.