Pages 173-182
A History of the County of Stafford: Volume 5, East Cuttlestone Hundred. Originally published by Victoria County History, London, 1959.
This free content was digitised by double rekeying. All rights reserved.
SHARESHILL
Shareshill is a small parish lying six miles north of Wolverhampton, an equal distance south from Penkridge, and three miles south-west from Cannock. It is mainly agricultural and as yet almost untouched by the nearby industries. The main road from Wolverhampton to Cannock crosses the parish on the south-east, and the Staffordshire and Worcestershire Canal runs through the north-west corner. The only large centre of population is the village of Shareshill, closely grouped, with narrow tortuous roads and a church, a post-office, and several timberframed houses. The ancient parish is divided into the two civil parishes of Shareshill and the Saredons (Great and Little), of 994 acres and 1,833 acres respectively. (fn. 1) The Saredons occupy the northern half of the ancient parish, which is separated from Shareshill by a small watercourse in a valley with steep descents from north and south, the boundary having been adjusted under the Staffordshire Review Order of 1934. All three townships occupy relatively high ground on a formation of waterbearing Pebble Beds, the highest point (Saredon Hill between Great and Little Saredon) reaching 500 ft., but the ground falls steadily to the west where the sub-soil is Boulder Clay and unbedded sand and gravel. The boundaries of the parish are not physically conspicuous, except for the northern boundary formed by the Saredon Brook (the 'Sarebrook' of early records) which flows due west into the Penk near Somerford, in Brewood.
There were 23 households in Shareshill constablewick chargeable for hearth tax in 1666 and 13 too poor to be taxable. (fn. 2) In Great Saredon constablewick there were 14 chargeable and 7 too poor, (fn. 3) and in Little Saredon constablewick 15 chargeable and 7 too poor. (fn. 4) The population of Shareshill in 1801 was 200 and of the Saredons 241, (fn. 5) and in 1951 301 and 428 respectively. (fn. 6)
The tile-works belonging (1956) to Stella Tileries Ltd. lie in the south-east of the parish and were in operation by 1940. (fn. 7)
There are remains of a medieval moated site to the north-east of Shareshill village, (fn. 8) but these are partly obliterated by the school playground. To the west of Moat House Bridge in the north-west of the parish two sides remain of a homestead moat. (fn. 9) Another homestead moat lies near Black Lees Farm. (fn. 10)
The village contains several timber-framed houses but none appears to date from before the 16th century. A cottage at the east end of Elms Lane has exposed timber-framing in large panels above a high stone plinth. It probably dates from the late 16th century and one of its bays was originally a singlestory hall. An inserted floor in the hall and the easternmost bay of the cottage are of the 17th century. Two timber-framed cottages in Tarts Row, now largely faced with brickwork, date from c. 1600. Manor Farm contains in its south half a wellpreserved early-17th-century house with attics and a central chimney-stack. The west wall has closestudded framing above a sandstone plinth and a door-way with a shaped head. Stone-mullioned windows, now blocked, remain in the cellar. Internally there are stop-chamfered beams and a moulded hearth lintel. A continuation of the framing northwards suggests that the taller brick addition of c. 1750 replaced an earlier structure. The brick malthouse is dated 1761 and the 18th-century brick barn has restoration tablets inscribed 't.s. 1855'. Home Farm is an 18th-century brick building but a wide fireplace and chamfered joists internally suggest that it is a reconstruction of an older house. The large brick barn was originally a timber-framed structure of five bays dating from the early 17th century. At Orchard Brook, an early-19th-century house, there is a low timber-framed annexe of c. 1600. There are indications that Villa Farm, an 18th- and mid-19thcentury house with wide eaves, is a reconstruction of a timber-framed structure. Hall Farm dates in part from c. 1700. The Lodge and The Elms are early 19th-century houses in their own gardens. In March 1956 the licensing justices approved a scheme for moving the licence of the Swan Inn, a small brick building in Elms Lane, to The Elms. (fn. 11)
The corrugated iron village hall in Elms Lane was built as a Temperance Hall by Mr. A. L. Vernon of Hilton Park c. 1904. (fn. 12) Eight council houses in Elms Lane date from c. 1952.
An alteration in the course of the CannockWolverhampton road in 1939 (fn. 13) changed the appearance of the south end of the village and several buildings, including a public house, were demolished.
Great Saredon Hall is a brick house, the oldest part of which appears to date from c. 1700. Adjoining it is a brick outbuilding with stone dressings which is at least 100 years older. It retains stone-mullioned windows and two stone doorways with four-centred heads. Saredon Hall Cottages, immediately to the west, form a timber-framed range of three bays, probably dating from the 16th century. The most northerly bay, in which there is a moulded and embattled fireplace lintel, appears originally to have been a single-story hall.
Little Saredon Manor, formerly the Hall Farm, is a moated house of stone, brick, and timber, and is of various dates. The central timber-framed portion, largely faced externally with brickwork, probably represents a 16th-century hall. The porch at its east end has a classical stone doorway, probably of the 17th century. There are later additions at both ends of the building. The house was much restored in 1942 and later, and many of the features, such as the oak staircase and fireplaces, were brought from elsewhere. Two sides of a rectangular moat and part of a third are still in existence.
Hollybush Hall is a timber-framed house of the early or mid-17th century. Internally there is an open gable-end fireplace, chamfered ceiling beams, and an oak staircase with shaped flat balusters.
William Henry Havergal (1793–1870), the composer of sacred music and writer of books on the subject, was Vicar of Shareshill from 1860 until his death, (fn. 14) although he was absent for much of his incumbency owing to blindness and infirmity. (fn. 15) His daughter, Frances Ridley Havergal (1836–79), was a writer of hymns. (fn. 16)
Manors
SHARESHILL appears in Domesday as 'Servesed' assessed at 3 hides. (fn. 17) It had been held before the Conquest by three freemen and afterwards by Robert de Stafford (fn. 18) with whose barony the overlordship descended until at least 1565. (fn. 19)
In 1086 one Hervey was holding Shareshill of Robert de Stafford (fn. 20) but at some date prior to 1166 the holder of the fee appears to have been Robert Burnell, whose sister Sybil was married to Ralph Purcell, the owner of lands in several southern counties. (fn. 21) This marriage must have established Ralph in Staffordshire, for he held 2/3 fee of Robert de Stafford in 1166. (fn. 22) Ralph was dead by 1212 when Sybil was suing a Robert Purcell for dower, and in 1213 she was granted the capital messuage of Shareshill. (fn. 23) Robert was holding a full fee in Shareshill by 1243. (fn. 24) Otewy (or Otwell) Purcell had lands in Shareshill by 1252 (fn. 25) and by 1255 he was holding the fee, which was still assessed at 3 hides, geldable, and paid 3s. to the sheriff's aid, 3s. to the view of frankpledge, and 12d. to the hundred. (fn. 26) Otewy, alive in 1271, (fn. 27) was dead by 1281, when his widow Denise was claiming dower in a messuage, a carucate of land, 20 acres of wood, and 50s. rent in Shareshill. (fn. 28) The heir Otwell Purcell (II) was then a minor (fn. 29) but was of age by 1284. (fn. 30) He was named as lord in 1316 (fn. 31) and was still alive in 1328. (fn. 32) By 1332 he had been succeeded by his son Thomas, who conveyed some rights in the manor in that year to Sir John de Swynnerton, lord of Hilton. (fn. 33)
In October 1334, however, Ralph de Stafford granted 1½ knight's fee in Shareshill and Coven to Sir William de Shareshill and Denise his wife together with the homage and services of Thomas Purcell, (fn. 34) licence to enfeoff having been obtained in September. (fn. 35) This transaction was in effect the interposition of a mesne lordship between Purcell and the overlord, but it was followed in 1339 by the transfer of two-thirds of the manor by Purcell to Sir William, with quitclaim of the third part held by Beatrice, widow of Otwell, in exchange for Great Tew (Oxon.). (fn. 36) Sir William de Shareshill, possibly Purcell's relative by marriage, became prominent in law and administration as chief justice of the King's Bench and certainly the most considerable judicial figure of the reign of Edward III. (fn. 37)
Sir William settled the manor in 1341 on his mother Katherine and her second husband John de Hodington for the life of Katherine, (fn. 38) but by an arrangement of 1344 the manor was settled on Sir William for life with successive remainders to Katherine and to his son William and William's wife Joan and their heirs. (fn. 39) John de Swynnerton, son of the Sir John to whom the manor had been conveyed in 1332, quitclaimed all right therein to Sir William in 1358. (fn. 40) The manor was settled on Sir William's grandson William and his wife Katherine in 1367 and the transaction confirmed in 1369 some months after Sir William's withdrawal to the Franciscan house at Oxford where he died within a year. (fn. 41) His grandson having settled the manor in 1390 on himself and his second wife Margaret and their heirs, with remainder to his niece Margaret and her husband Richard Harcourt, (fn. 42) died without issue in 1400, and Harcourt entered into possession under the entail, to the exclusion of the heirs of the settlor, who were his neices Katherine, wife of Roger Wylily, Joan, wife of William Lee, and the two infant daughters of Richard Harcourt. (fn. 43) In 1406 William Lee and Joan and Roger Wylily and Katherine confirmed to Richard Harcourt and his daughter Isabel the beneficial interest in Shareshill. (fn. 44) Joan Lee seems to have recovered the manor by 1439, (fn. 45) and in 1441 or 1442 the reversion after her death was said to lie with a distant cousin, Joan, and her husband John Dynham. (fn. 46) Joan Lee leased the manor to Richard Hall in 1441 or 1442. (fn. 47) She had died without issue by 1455, (fn. 48) and Sir Robert Harcourt, great-nephew of Richard Harcourt, (fn. 49) died holding the manor of Shareshill in 1470, with a son John as his heir. (fn. 50) Robert's widow Margaret claimed dower in one-third of the manor in 1474, (fn. 51) and although John Harcourt seems to have held it in 1475, (fn. 52) Margaret was seised of the whole manor at her death in 1486, with reversion to Sir Robert Harcourt, son of John. (fn. 53) Robert's cousin Sir Simon Harcourt of Witham (Berks.) had succeeded by October 1509, (fn. 54) and the manor then descended in the Harcourt family (fn. 55) until 1604, when Sir Walter Harcourt settled the manor on John Skinner, (fn. 56) presumably an intermediary for Sir Walter Leveson of Wolverhampton, who was holding the court baron of Shareshill in December 1605. (fn. 57) Sir Walter, with Anne his wife and Thomas Leveson, presumably his brother, made a settlement of the manor in 1611 (fn. 58) and was granted free warren in 'Great Shareshill' in 1618 or 1619. (fn. 59) Sir Walter died in 1621 leaving an infant son Thomas (fn. 60) who was holding the great court of Shareshill in October 1637. (fn. 61) By September 1639 the manor had passed to Sir Edward Littleton of Pillaton, (fn. 62) in Penkridge parish, who made a settlement of it in 1642. (fn. 63) The manor then descended in the Littleton family with Pillaton, (fn. 64) the 4th Lord Hatherton being lord of the manor in 1940. (fn. 65)
The view of frankpledge attached to the lordship of the manor of Shareshill in at least 1469 (fn. 66) belonged by 1527 (fn. 67) and also between at least 1623 and 1630 to the lordship of Great Saredon. (fn. 68)
In 1604 the Dean and Chapter of Lichfield were holding a messuage in Shareshill, with pasture, meadow, and 40 acres in the common fields, of the manor of Shareshill at a rent of 3s. (fn. 69) The estate had been leased to Edward Bourne by 1650 when it consisted of 37 acres and was valued at £15 13s. 6d. (fn. 70) The dwelling, said to be much out of repair and possessing about an acre of ground, was worth 50s. (fn. 71) The dean and chapter owned over 60 acres in Shareshill about 1841, when the estate, most of it in the tenure of John Jackson and situated to the west of the village, included a house on the road to the south-west of the church. (fn. 72)
The manor of GREAT SAREDON ('Sardone'), which lay in the north of the parish and was sometimes styled 'Beresardon', appears in Domesday as one of the fees of Robert de Stafford, having been held formerly by four free thanes. (fn. 73) The overlordship descended with the Stafford barony until at least 1565. (fn. 74)
In 1086 Hervey was holding Saredon of Robert de Stafford, (fn. 75) but by 1166 it formed parcel of one of the fees held of Robert de Stafford (II) by Robert fitz Ralph, founder of the Standon family, (fn. 76) in which family a mesne lordship seems to have descended until at least 1300. (fn. 77)
A Nicholas de Sardonia was holding Great Saredon of Robert fitz Ralph in 1166 as 2/3 knight's fee. (fn. 78) By 1243 the tenant in possession was Henry de Audley, holding Saredon as a whole fee, (fn. 79) and a further intermediate lordship seems to have descended in the Audley family until at least 1471. (fn. 80)
Henry de Audley's daughter Emma married Griffin ap Madoc, lord of Bromfield in Lower Powys, (fn. 81) who in 1244 was granted exemption from suit at hundred and county courts so long as he held the lands in Derbyshire, Staffordshire, and Cheshire which he had as Emma's dower. (fn. 82) By 1255 Griffin was holding Great Saredon, which was then assessed at 2 hides, and for eight years had performed none of the services due to the king, except the 2s. paid annually to the view of frankpledge, so that the king had lost in all 6 marks. (fn. 83) Griffin died in 1269, (fn. 84) and in 1279 Emma was being sued for what was called the manor of 'Beresardon' by a John Wymer of Stafford, as the nephew of a Nicholas le Bere who was alleged to have held the manor during the reign of Henry III. (fn. 85) Emma, the wife of William of Worcester by 1288, continued to hold the manor, apparently consisting of a messuage, a carucate, and 6 marks rent, until at least 1290. (fn. 86) William de la Pole and Gladys his wife were holding the manor of Beresardon by 1293 when John Wymer, having again sued for it, acknowledged her right. (fn. 87) William, still alive in 1303, (fn. 88) was dead by 1308, (fn. 89) but Gladys continued to hold the manor until at least 1316. (fn. 90) Griffin de la Pole, son and heir of William, was 29 years of age in 1319 when he was found entitled to restoration of his lands, held in wardship by Sir John de Cherletone, (fn. 91) and he heads the section of the tax list of 1327 dealing with Saredon. (fn. 92) As lord of Great Saredon Griffin with his son William conveyed land there to Sir William de Shareshill in 1349, (fn. 93) and in 1352 Griffin granted the manor to John Musard, (fn. 94) who three weeks later conveyed it to Sir William de Shareshill and his wife Denise. (fn. 95) Griffin's son William confirmed this conveyance the following March, (fn. 96) and although his son John began an action to recover the manor in 1370, (fn. 97) Great Saredon descended with Shareshill (fn. 98) until at least 1851 when the 1st Lord Hatherton held the manor. (fn. 99)
What was later known as LITTLE SAREDON appears in Domesday as Seresdon, assessed at a hide and held of the king by Udi, a thane of King William and the successor at Saredon of the pre-Conquest Gamel, who had owed suit to King Edward (soca ejus fuit regis). (fn. 100) The royal manor to which Saredon was subordinate was no doubt Kinver (in Seisdon hundred), (fn. 101) since by 1182 Saredon had been given to the priory of Dudley by Osbert de Kenefare (fn. 102) and in 1253 the Crown claimed 12s. rent from Robert de Whiston in respect of land in Saredon which had been alienated from the king's manor of Kinver. (fn. 103) The overlordship remained with the Prior of Dudley, who was himself holding it by 1255 of his religious superior the Prior of Wenlock (Salop.), and descended after the Reformation with the possessions of Dudley Priory until at least 1630 when it was held by Lord Dudley. (fn. 104)
Robert de Whiston, who probably held Little Saredon by 1251, (fn. 105) was holding it of the Prior of Dudley for 1 mark by 1255. (fn. 106) It was then still assessed at a hide, geldable, and paid 12d. to the sheriff's aid and 12d. to the view of frankpledge. (fn. 107) A Robert de Whiston was holding it in 1285, (fn. 108) and though still alive in 1291, (fn. 109) was dead by 1293 when his widow Beatrice, by then wife of Ralph de Wasteneys, was suing for dower in Little Saredon. (fn. 110) A Robert de Whiston was stated in 1300 to be holding the vill with William Trumwyn, (fn. 111) and about this time the capital messuage was held by Robert le Champion. (fn. 112) Robert son of Robert de Whiston occurs in 1322 or 1323. (fn. 113) By 1324 he had been succeeded by a John, (fn. 114) probably his son, (fn. 115) who was dead before 1333 when his widow Rose, by then the wife of Adam de Shareshill, was suing for dower in Little Saredon. (fn. 116) John was succeeded by his son, also John, (fn. 117) who as Sir John de Whiston granted in 1358 what was called his manor of Little Saredon to Sir William de Shareshill, (fn. 118) Sir John's widow Elizabeth quitclaiming her right in the manor in the following year. (fn. 119)
The manor then descended with Shareshill (fn. 120) until 1443 when Richard Harcourt and his wife Eleanor made a settlement reserving a life interest in Little Saredon to themselves with remainder to Richard Congreve and his issue. (fn. 121) In 1454 or 1455 Richard Congreve appointed attorneys to take seisin of the manor after the death of Eleanor, (fn. 122) but in 1457 he was suing her executors for his rights there. (fn. 123) This may indicate a dispute over the devolution of the manor, although Richard made a settlement of at least the capital messuage in 1460 or 1461. (fn. 124) Little Saredon was returned as one of the manors held by Sir Robert Harcourt at his death in 1470 (fn. 125) and was held by his son and heir John in 1475. (fn. 126) Francis Congreve was holding the manor by 1620 (fn. 127) and was succeeded in 1630 by his son Richard, (fn. 128) to whom the manor was then released by the Crown. (fn. 129) Richard and his wife Anne conveyed the manor in 1641 to Edward son of Sir Edward Littleton, (fn. 130) in whose family it then descended, being held with Great Saredon as one manor in 1851. (fn. 131) In 1913 the estate was sold to R. G. Arblaster. (fn. 132) The Hall Farm was sold c. 1940 to Mr. Hawkins of Hawkins Tile Works, Cannock, who restored the house and renamed it Saredon Manor. (fn. 133)
The prebend of Shareshill in the collegiate church of Penkridge was valued at £10 in 1291. (fn. 134) In 1535 the prebend consisted of the site of the PREBENDAL MANOR and lands, valued at 20s., assised rents averaging 20s., tithe of grain averaging £3 a year, tithe of wool and lambs averaging 4 marks, other tithes averaging 33s. 4d., Easter offerings averaging 20s., and oblations averaging 10s. (fn. 135) Synodals of 6s. 8d. were due to the Dean of Penkridge every third year. (fn. 136) The lease of the prebend was granted to Edward Littleton in 1545 at a rent of £16 6s. 8d. (fn. 137) The prebend itself presumably descended with the rest of the collegiate possessions, (fn. 138) and in 1585 it passed to Edward Littleton of Pillaton, (fn. 139) grandson of the lessee of 1545. The prebend then descended in the Littleton family with Pillaton in Penkridge (fn. 140) until at least 1709. (fn. 141) Lord Hatherton was impropriator of the tithes of Shareshill in 1851. (fn. 142)
Lesser Estate
The William Trumwyn of Cannock who was named with Robert de Whiston in 1300 as holding the vill of Little Saredon (fn. 143) was, with his wife Emma, holding a messuage and carucate there in 1309. (fn. 144) His grandson, Sir William Trumwyn, released all the lands at 'Blakelye' called Saredon Wood in Little Saredon to John Trumwyn, apparently his son, in 1342, (fn. 145) and John devised them to his brother Roger who in 1360 granted them to Richard de Wyrley. (fn. 146) In 1380 Richard's widow Katherine granted the messuage in Little Saredon called 'Blakelie' to John de Swynnerton, (fn. 147) and the estate then descended in the Swynnerton family until at least 1470, and probably until at least 1525. (fn. 148) Its subsequent descent is obscure until 1697, but it is known that a Mary Sanders lived at Black Lees in 1608. (fn. 149) In 1697 Collins Wolrich of Shrewsbury sold a messuage and lands in Little Saredon known as the Lees, the Black Lees, or the Great Black Lees, to Benjamin Hinds of Little Saredon, whose widow and son sold the estate in 1725 to Walter Duncalf of Albrighton (Salop.), as Hinds himself had intended to do before his death. (fn. 150) Duncalf mortgaged it in 1742 to Thomas Wenlock of Tong (Salop.). (fn. 151) By c. 1841 the Black Lees farm, owned and occupied by T. Stokes, was over 81 acres in extent. (fn. 152) The present Black Lees Farm is a brick farmhouse dating from c. 1800. A rectangular homestead moat, (fn. 153) lying about 300 yds. farther north, probably marks the site of the earlier messuage.
Mills
William le Champion of Little Saredon, was holding a mill and a messuage there in 1331 and 1332. (fn. 154) There was a windmill in the centre of the township by 1832, (fn. 155) and this continued in use until at least 1872, (fn. 156) a portable steam engine being used in the corn-grinding for a few years after the use of wind-power had been discontinued. In 1942 the remains of the sails were removed, and the building was converted into a farm cottage by Mr. Hawkins of Hawkins Tile Works, Cannock. (fn. 157)
A mill at Great (or Bere) Saredon formed part of the estate there of William of Worcester and his wife Emma in 1288 (fn. 158) and 1290 (fn. 159) and their successors, William de la Pole and his wife Gladys, in 1293. (fn. 160) A water-mill on the Saredon Brook, which forms the boundary between Saredon and Hatherton (in St. Peter's, Wolverhampton), had been granted by 1388 by Sir William de Shareshill for life to William atte Mulnehous, who was then being sued by Sir William for not carrying out repairs to it. (fn. 161) This is presumably Saredon Mill described from 1444 as in Hatherton and is therefore reserved for treatment under Hatherton in a subsequent volume.
Deepmoor Mill was situated on the Saredon Brook in the north-west corner of the parish by 1775 (fn. 162) and described as a 'very powerful corn mill' in 1817. (fn. 163) The Moncktons owned the 'water corn mill and blade mill called Deepmore Mills' by 1829, and the mill continued in use until about 1900. (fn. 164) Parts of the millhouse date from the 17th century. The mill pool, now dry, lies to the west.
A quarter share in a water-mill in Shareshill seems to have formed part of the Black Lees estate by 1697. (fn. 165)
There were two fulling mills in Saredon township by 1704. (fn. 166)
Woods
Shareshill and the Saredons lay within the royal forest of Cannock between at least 1167 and 1301. (fn. 167) After disafforestation there would have remained, however, a semi-encirclement of forest lands giving facilities for rough grazing on their fringes.
There was woodland ½ league square appurtenant to the manor of Shareshill in 1086, (fn. 168) while the wood of Great Saredon was formed from part of the royal forest by James de Audley and in 1271 was held by his sister Emma. (fn. 169) The wood of Little Saredon was mentioned c. 1300. (fn. 170) Tenants in Shareshill and Great Saredon were presented before the royal justices in 1286 for old and new assarts in the king's forest, (fn. 171) and in 1311 it was found that Gladys, widow of William de la Pole of Great Saredon, had taken 400 acres of waste at 'Calwehet' in Cannock Forest but was unable to cultivate it and draw profit since John de Swynnerton, steward of the forest, allowed the king's horses and deer to roam over the land. (fn. 172) The tenants of Great and Little Saredon seem to have been able to secure the lease of common rights in Cheslyn Hay within the forest to the east, and as a result there was a clash during the reign of Henry VIII between the inhabitants of Great Saredon and John Leveson of Wolverhampton who had inclosed the Hay as its owner. (fn. 173) Six hundred acres of the Hay were inclosed by an agreement of 1668 between Robert Leveson of Wolverhampton and the freeholders and copyholders of Great and Little Saredon and Great Wyrley (in Cannock), (fn. 174) and 256 acres of Cheslyn Common within the parish of Shareshill were inclosed in 1797 under an Act of 1792. (fn. 175)
Agriculture
There seem to have been five open fields in Shareshill between about 1300 and 1703; Loddersford or Latherford Field, also known as Nether Field (probably situated to the north-west of the village where the name survives in Latherford House); Old Field (possibly situated to the south-east of the village where the name occurs in the Tithe Apportionment of c. 1841); Bromley, later Broomyhalf, Field; Hall Field; and Clay Field. (fn. 176) The process of consolidation of the strips in the open fields is indicated as early as 1363 when the lord of the manor paid a fine of 6s. 8d. for licence to exchange one acre for another, both in Shareshill, and valued at 4d. (fn. 177) In 1647 the penalties for each gap in the hedges of Clay Field, Hall Field, and Broomyhall Field were fixed at 4d. and for each missing gate 1s. (fn. 178) In 1701, when there were also numerous presentments for encroachment on the lord's waste, the penalties for those who did not hang the field gates and make up the field fences in the winter corn field by 20 September and in the barley field by 25 March were fixed at 1s. for each missing gate, 2d. for each gap, and 6d. for each missing perch of fence. (fn. 179) The penalty for keeping a colt over nine days old loose in the town fields or for tying a beast or horse on another's ground was 6d. (fn. 180) With regard to the five town meadows it was agreed in 1647 that they should be held in severalty after 10 August for a year, the meadows to be shared among six men each year and so in turn among all the inhabitants, the rate for each meadow being paid to the constable. (fn. 181) Each man was to have his hedges raised by 30 August. (fn. 182)
Three common fields in the manor of Great Saredon mentioned between at least 1461 and 1630 were the Church Field, the Mill Field, and the West Field. (fn. 183) Two field reeves were appointed in 1629 to supervise the fields. (fn. 184) In 1669 Thomas Burne was selling three closes inclosed from the West Field and the Mill Field. (fn. 185)
By 1654 there seem to have been no common fields in Little Saredon. (fn. 186)
It is not known when the common fields in the parish were inclosed. It was stated in 1817 that the land about the village of Shareshill was good loam, suited to grain, turnips, and pasture. (fn. 187) There were six farms in Shareshill in 1834 and eight in Great and Little Saredon. (fn. 188) By 1940 there were 22 farms, the main crops being turnips and barley. (fn. 189)
Churches
There was a church at Shareshill by 1213. (fn. 190) It seems to have been appropriated to Penkridge College in or after 1225, the year when the advowson was granted to the Dean of Penkridge by Robert Purcell, (fn. 191) and by 1535 all or most of the tithes were held by the Prebendary of Shareshill in Penkridge church. (fn. 192) No vicarage, however, was instituted, the church being served in 1548 by a stipendiary priest on behalf of the prebendary. (fn. 193) Shareshill church was apparently raised from the position of a chapel of ease to Penkridge to parochial status in 1551 when the lay rectors and the Vicar of Penkridge released to it the parochial right of burial. (fn. 194) A graveyard at Shareshill, however, had been mentioned c. 1300 (fn. 195) and in 1455. (fn. 196) The benefice was still called a perpetual curacy in 1956. (fn. 197)
The advowson of the church was held in 1213 by Robert Purcell (fn. 198) who in 1225, after litigation, granted it to the Dean of Penkridge. (fn. 199) At the time of the dissolution of Penkridge College the priest was appointed by the Prebendary of Shareshill. (fn. 200) The advowson presumably passed to the Crown with the advowson of Penkridge with which it was granted in 1585 to Edward Littleton. (fn. 201) It descended in his family (fn. 202) until c. 1910 when it was acquired by the Bishop of Lichfield (fn. 203) who still held it in 1956. (fn. 204)
In 1548 the priest had a salary of £5 6s. and some glebe land and was ordered to go on serving the church at his old salary. (fn. 205) In 1604 the curate's stipend was £6, (fn. 206) but the minister was in receipt of £50 a year by 1646 when an augmentation of £50 out of the sequestered rectory was ordered. (fn. 207) In 1652, however, the minister's income was said to be only 16 nobles, and although further orders were given for its augmentation to £100 out of the sequestered tithes of Hilton and Featherstone (both in St. Peter's, Wolverhampton), the minister was complaining in 1656 of complete lack of means. (fn. 208) In 1780 the total income of the living was £31 6s. 8d., £14 being the interest on a grant from Queen Anne's Bounty and the rest derived from such miscellaneous and casual incidents as surplice fees and grants from charities. (fn. 209) After further augmentation the living was valued in 1796 at £66 19s. 6d. (fn. 210) The incumbent still benefits under the Alport Charity on condition of attending an annual service in Cannock parish church on the Feast of St. Barnabas (11 June), preaching a sermon at this service in annual rotation with seven other beneficiaries, and residing in his benefice for at least 10 months in the year. (fn. 211)
A chapel, possibly founded from Shareshill, existed at Great Saredon in 1578. (fn. 212)
Henry Vernon of Hilton (St. Peter's, Wolverhampton), by will proved 1732, left a rent-charge of £2 on his estate at Hilton to be paid every New Year's Day to the minister of Shareshill as follows: £1 for preaching a sermon on the Feast of the Conversion of St. Paul (25 Jan.), on the subject of parental responsibility for instructing children early in the catechism and their religion, and for hearing the children's catechism that day; 10s. for such poor children as should say the catechism best; and 10s. for books of devotion for the children. (fn. 213) By 1823 £1 was paid for the sermon and £1 for bibles and prayer books for the poor. (fn. 214) Another fund, a rent-charge of £1 on land in Little Saredon, was then used to present bibles and prayer books and testaments to poor children of the parish who said the catechism well. This charity had lapsed in 1828 and proved irrecoverable. (fn. 215) By 1933 the sermon had lapsed and the vicar received only £1 on St. Thomas's Day which was used to buy bibles and prayer books for Shareshill children. (fn. 216) The payment was stopped in 1951, on the sale of the Vernon estate, but in 1953 liability was found to lie with Mr. R. L. Vernon. The rent charge was then redeemed and the proceeds invested in £40 stock. (fn. 217)
The church of ST. LUKE AND ST. MARY THE VIRGIN (fn. 218) was largely rebuilt c. 1742. (fn. 219) The tower, the base of which probably dates from the 14th century, is the only medieval feature that remains. An earlier rebuilding took place c. 1562 by Humphrey Swynnerton of Hilton and Swynnerton, who died at Hilton and was buried in the chancel in that year. (fn. 220) The upper stages of the tower date from the 16th century and may be part of his work. The belfry is pierced with two-light openings and has an embattled parapet with short angle pinnacles. Below the parapet is an enriched string bearing a variation of the lozenge design. The 14th-century tower arch has been partly blocked and the head recut to form a shouldered arch connecting the ringing-chamber with a later west gallery. The original vice staircase is sealed off and access to the ringing-chamber is now by an external stair and in 18th-century doorway on the west face of the tower. The body of the church, long and narrow on plan with an apse forming the sanctuary at the east end, is built of brick and dates entirely from the 18th century. Externally the south side has stone angle pilasters, a classical cornice, and a partly balustraded parapet. The roundheaded windows have moulded architraves, panelled jambs, sill brackets, and shaped aprons. There is a Tuscan porch with an elliptical front and a balustraded parapet. The south doorway has projecting quoins and voussoirs. The north side of the church is much plainer in treatment. The apse has a Venetian window with external details similar to those on the south side of the building.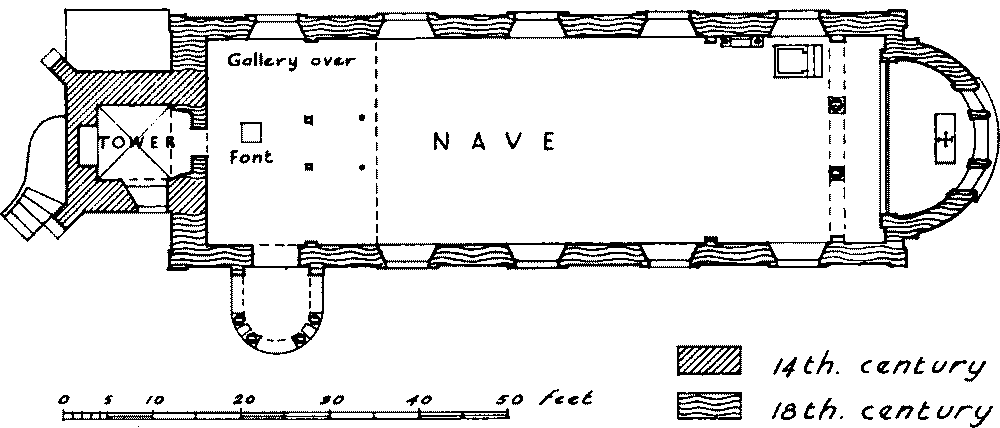 Internally the apse is divided from the body of the church by an Ionic arcade of three bays with plaster decoration in the spandrels. The Venetian east window has a fluted Ionic order. There is a flat ceiling with plaster enrichments and a modillion cornice. The west gallery, originally supported on square posts, was later extended eastwards with additional supports in the form of iron columns. This alteration probably dates from 1842 when the church was restored. (fn. 221)
The fittings, including the altar rails and the painted royal arms, date largely from the 18th century. The original box pews have been altered and reduced in height. The font is dated 1861 and the east window has memorial glass of the same year. Painted boards carry the Commandments, the Creed, the Lord's Prayer, and a list of parish charities.
On window sills near the east end are two alabaster effigies representing Humphrey Swynnerton (d. 1562) and his wife Cassandra. These survive from an altar tomb (fn. 222) which was broken up at the 18thcentury rebuilding of the church. From the style of the effigies it is thought that the tomb, which bore a memorial inscription and six shields of arms, was the work of the Royleys. (fn. 223) By his will of 1561 Humphrey Swynnerton directed that if his death took place at Hilton his body should be buried in Shareshill church 'in the chancel on the north side before the place where the image of St. Luke stood'. (fn. 224) In 1637, however, it is recorded that the tomb stood on the south side of the chancel. (fn. 225) Cassandra died in 1570 and was buried at Swynnerton. (fn. 226) On the north wall is an elaborate marble tablet flanked by cherubs commemorating Penelope (d. 1726) wife of Henry Vernon of Hilton. Other tablets commemorate John Morrall, vicar (d. 1700), William Budworth, vicar and master of Brewood School (d. 1748), George B. Clare, vicar (d. 1859), and Robert Butcher, vicar (d. 1908).
In 1548 Shareshill chapel was said to have no plate or ornaments, but in 1553 it possessed one chalice, parcel gilt, and a maslyn censer. (fn. 227) In 1956 the plate consisted of a chalice, 1562; a paten with small wafer box as foot; a paten on foot, 1608, the gift of Mary Sanders of Black Lees; and a flagon and cover, 1759–60; all were of silver. (fn. 228)
In 1553 there was one bell with a small sanctus bell and a sacring bell, (fn. 229) a further bell having been sold for £4 with the assent of the parish. By 1889 there were four bells: (i) 1686; (ii) no inscription; (iii) 1624; (iv) 1632. (fn. 230) There is now a ring of six: 1899, J. Taylor & Co. (fn. 231)
The registers date from 1565.
In the 18th and early 19th centuries there was no parsonage house at Shareshill, (fn. 232) the incumbent in several cases being also the master at Brewood Grammar School and resident in that parish. In 1841 the inhabitants of Shareshill, 'being desirous of securing to the parish a resident minister', subscribed towards the erection of a parsonage house, Lord Hatherton giving £100 and an acre of land. (fn. 233) This house, which was built in 1845, (fn. 234) stands immediately west of the church. It has a gabled stucco front with 'Tudor' windows and ornamental barge-boards.
Nonconformity
In 1703 William Swan's house in Little Saredon was certified as a Nonconformist place of worship, (fn. 235) and a 'constant meeting' of Nonconformists was reported at Saredon in 1717. (fn. 236) A monthly lecture at Mr. Swain's house at Little Saredon was conducted by an itinerant named 'Russel' apparently for the benefit of Protestant Dissenters who at other times worshipped at Wolverhampton. (fn. 237) Swain and Swan are probably the same person and the itinerant was Paul Russell who is mentioned as preaching every fortnight at Coseley (Seisdon hundred). (fn. 238) The last reference to this cause appears to be in 1738 when the house of Caleb Martin, Saredon Hall, was certified as a Presbyterian meeting house. (fn. 239) In 1851 there was said to be a small independent chapel, built in 1840, at Saredon, (fn. 240) but no further record of it has been found.
About 1895 a congregation of Primitive Methodists was meeting in the houses of W. J. Lycett, Manor Farm, Little Saredon, and Mr. Jarvis, Saredon Hill. After a period of open-air meetings an outhouse in Elms Lane, Shareshill, was fitted up as a chapel, c. 1900. Services and a Sunday school were held regularly until c. 1910. The building was later used as a library and for parish meetings but has since been demolished. (fn. 241)
Primary Schools
In 1818 there was in the parish a dame's school for young children, as well as a school kept by a master in a house belonging to the parish. (fn. 242) The dame's school seems to have been situated in Little Saredon and to have continued at least until 1851. (fn. 243)
The parish school in Shareshill village, housed by 1841 in a building, now demolished, at the south end of the village, (fn. 244) was kept in 1851 by a mistress, with an attendance of about 70 children, (fn. 245) and was supported by voluntary contributions of the inhabitants and a small weekly payment by the pupils. (fn. 246) By 1853 the school had ceased to be held in the schoolhouse cottage which was then leased, the rent going to the Shareshill School Funds. (fn. 247) By 1865 it was held on the ground floor of a house at the corner of Hilton Lane, (fn. 248) and by 1871 in a building with accommodation for 42; the average attendance was then 27 boys and 35 girls. (fn. 249) A new building to the north-east of the village was opened in that year, 'a neat red-brick building', with a residence for a master, paid for by local subscriptions and a government grant. (fn. 250) The school was in receipt of a parliamentary grant by 1882 when attendance averaged 81 boys and girls. (fn. 251) By 1894 attendance had risen to 112. (fn. 252)
The building was enlarged in 1914 to take 160 children. (fn. 253) By 1930 the average attendance was 169 boys and girls including infants. (fn. 254) In 1954 the school became controlled (fn. 255) and is now Shareshill Church of England Voluntary Primary (Controlled) school, (fn. 256) with an average attendance of 150, under a master in 1955. (fn. 257)
Charities for the Poor
John Kempson and his mother, Mary, by will of 1678, gave land which in 1786 was producing 12s. for the poor of Shareshill. (fn. 258) Thomas Worsley bequeathed £10 to the poor of the parish before 1786 when it was producing 10s. (fn. 259) Both charities had lapsed by 1822. (fn. 260)
Sarah Knight of Cannock, by will of 1847, gave an annual income of £5 to the Minister of Shareshill for distribution to the poor of the parish. (fn. 261) The capital was represented by £166 13s. 4d. stock by 1868, and in 1932 the proceeds, £4 3s. 4d., were paid to 24 poor. (fn. 262) In 1956 the charity was distributed on 1 January to the old and infirm. (fn. 263)
A charity called Adcock's Dole was paid to the poor of the parish by 1861 (fn. 264) and amounted to £1 2s. 4d. by 1932 when it was paid to 15 aged poor of Shareshill. (fn. 265) In 1956 the charity was distributed to the old and infirm on St. Thomas's Day (21 December). (fn. 266)
In 1697 Edward Littleton, as lord of the manor of Great Saredon, with Walter Littleton and freeholders and farmers of the manor conveyed to John Kempson a parcel of waste or common from which 5s. was to be paid each Midsummer Day to the Constable of Great Saredon for the use of the township. (fn. 267) This rent was carried to the account of the overseers of the poor by 1822, (fn. 268) but though still paid in 1895 it had lapsed by 1920. (fn. 269)
Tranter's Croft in Cheslyn Hay, leased by the parish officers of Saredon township in 1739 for 25s., was by 1822 producing £3 which was paid to the overseers. (fn. 270) The income by 1861 was 40s. (fn. 271) Land devised by one Southwell (or Southall) for poor widows of Saredon township was producing a rent of 12s. by 1786 (fn. 272) and may be the Poor's Piece from which by 1822 payment due to the poor of Saredon had ceased (fn. 273) but which by 1861 was yielding 12s. (fn. 274) A Scheme of 1906 allowed the income of £2 12s. from Tranter's Croft and the Poor's Piece to be used for the poor of Saredon township in grants to hospitals and provident societies, payment of expenses for journeys made for reasons of health, grants of relief in kind, and temporary financial assistance in emergencies. (fn. 275) Tranter's Croft was sold c. 1948 and the money invested in £269 2s. 6d. stock. (fn. 276) In 1955 the income of the two charities was 12s. from Poor's Piece and £6 14s. 4d. interest. (fn. 277)