Pages 30-34
A History of the County of Sussex: Volume 6 Part 2, Bramber Rape (North-Western Part) Including Horsham. Originally published by Victoria County History, London, 1986.
This free content was digitised by double rekeying. All rights reserved.
THAKEHAM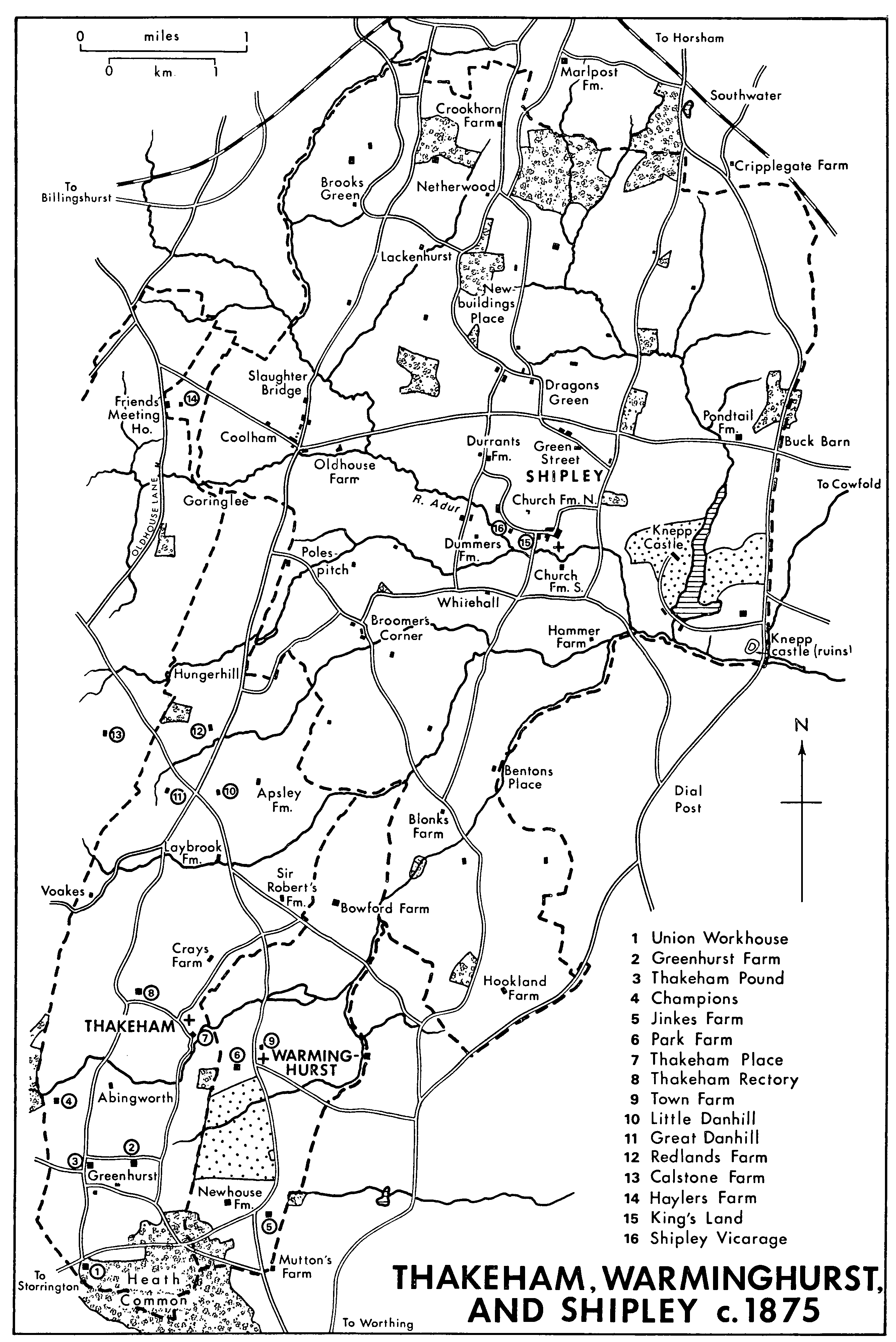 Thakeham lies 10 miles (16 km.) north-west of Worthing and 9 miles south-west of Horsham. The ancient parish covered 3,000 a. including four detached parts totalling 163 a. (fn. 1) Calstone, a 59-a. detached area in West Chiltington, was transferred to that parish in 1882. (fn. 2) The remaining islands, 26 a. near Spear Hill between Shipley and Ashington, 8 a. nearby between Ashington and Warminghurst, and the 69 a. round Mutton's Farm between Ashington, Warminghurst, and Washington, were transferred to Ashington parish in 1933. (fn. 3) The main part of the parish was elongated in shape, 6 miles from north to south by less than 2 miles from east to west. Its northern extremity consisted of a peninsula between Shipley and West Chiltington, joined to the rest by a strip in places barely 22 yd. (20 metres) wide. The boundaries, unknown in 1584, (fn. 4) mainly followed field hedges, but parts were undefined particularly in the north-west and near Apsley Farm in the east.
The northern half of the parish overlies Weald clay and is mostly below 100 ft. (31 metres), falling to 56 ft. (17 metres) on the boundary east of Five Mile Ash. The Hythe and Sandgate Beds, part of the Lower Greensand series, outcrop across the centre of the parish to form a wedge of higher ground with its tip in Warminghurst; it reaches 240 ft. (73 metres) north of Thakeham church. An anticlinal strip of Weald clay at Greenhurst separates the wedge from further Lower Greensand outcrops in the south, which rise to 300 ft. (92 metres) on the Folkestone Beds at Heath common on the southern boundary. (fn. 5)
The line of a Roman road crosses the south-west corner of the parish. (fn. 6) Other roads may have originated as drove roads, including that from Sullington Farm to Coolham and Broadbridge Heath near Horsham. (fn. 7) The southern part of that road from Heath common to Thakeham Place followed Strawberry Lane and may be the road from Sullington to Thakeham mentioned in 1229. (fn. 8) The northern part follows Cray's Lane, which leaves the parish at Goose Green. A curve round the church suggests that the road predates that building and may thus have been the main Anglo-Saxon route through the parish into the Weald. The road was apparently called North Lane in 1693 (fn. 9) and 1804 (fn. 10) and Cart Reed Lane in 1707. (fn. 11) Strawberry Lane was a bridle way in 1982.
By the later 16th century the main north-south road ran further west, perhaps reflecting the emergence of Horsham as a place of importance. It entered Thakeham near Coolham north of Five Mile Ash and continued past Danhill, Picketty Corner, and Jacketts Hill to Heath common; a branch ran east to Thakeham Street and church. The part at Five Mile Ash or Nashland was mentioned in 1600 (fn. 12) and 1669, (fn. 13) and the main road from Thakeham to Horsham passed Danhill common in 1770. (fn. 14) That northern part was called Coolham Road in 1981. The southern part, now Storrington Road, was evidently the highway from Thakeham to Sullington in 1589. (fn. 15) The line across Danhill, Furze, and Greenhurst commons was defined at inclosure in 1812. (fn. 16) The road was turnpiked under an Act of 1824, the part north of Picketty Corner becoming part of the Pulborough-Southwater road and the southern part a branch to Storrington. (fn. 17) It was disturnpiked in 1867. (fn. 18) The part south of Greenhurst Lane was straightened in the 1960s or 1970s. (fn. 19) Another road, perhaps a drove road, from Broadford Bridge in West Chiltington to Warminghurst and Washington crossed it at Danhill and continued south-east to cross the Lay brook at Laybrook bridge. Dishenhurst tithing was ordered to raise the section at the bridge in 1538. (fn. 20) The stretch south of there was called Peacocks Lane by 1875; (fn. 21) the part beyond Cray's Lane was impassable by 1965. (fn. 22) The northern end of the road, Harbolets Lane in 1981, occurred as the road from Steyning to Guildford in 1609 and that from Danhill common to Broadford Bridge in 1724. (fn. 23) The road was joined at Laybrook by Goosegreen Lane from Spear Hill in Ashington; it was mentioned in 1707 as the road from Spear Hill to Five Mile Ash. (fn. 24) It was a secondary road in 1981.
A road from Danhill through Apsley to Blonks Farm in Shipley, in use c. 1800, disappeared between 1843 and 1875. (fn. 25) Further north Old House Lane on the western boundary was called the highway from Chiltington to Coneyhurst common in 1672, and the highway from Danhill to Coneyhurst common in 1679. (fn. 26) Lanes from Hungerhill through Sprouts to Goringlee in Shipley, from Hungerhill to Shipley village, and from Sprouts through Five Mile Ash to Shipley, existed by 1795. (fn. 27) A track from Coolham green to Coneyhurst, mentioned in 1669, (fn. 28) crossed the northern tip of the parish. It was replaced under an Act of 1824 by a new turnpike road further north. Other roads led westwards to West Chiltington and to Wantley in Sullington. That running from the north-south road at Picketty Corner through Voakes existed in 1724 and was turnpiked in 1824. (fn. 29) A bridle way to West Chiltington mentioned in 1616 was by 1897 a track running west from Town House Farm, but may once have been part of a through route from West Chiltington to Warminghurst and Ashington by Thakeham Street. (fn. 30) Further south Greenhurst Lane existed by 1773; (fn. 31) the part in Thakeham was straightened in 1812. (fn. 32) Watery Lane ran from Wantley to Heath common by 1687. (fn. 33)
Settlement in the parish has been mainly dispersed, although a small nucleated village developed in the centre. For long rural and agricultural, Thakeham was described in 1843 as an out of the way parish with no resident gentleman. (fn. 34) From c. 1900 businessmen and professional people settled there, followed by retired service officers after the First World War; they took over some existing farmhouses, but a few built new residences. (fn. 35) The parish became a market-gardening centre at about the same period, (fn. 36) and after the Second World War there was much new building, particularly in the southern part, which began to assume the character of a dormitory suburb.
The earliest evidence of human activity comes from the Lower Greensand ridge in the centre of the parish, where a Mesolithic or Neolithic chert adze was found below the earliest known settlement, a sunken-featured building on South Hill farm apparently occupied between the 6th and 8th centuries A.D. (fn. 37) The building was perhaps the thatched homestead which gave the parish its name. Early medieval pottery found in the infill suggests continued occupation in the area. (fn. 38)
The later Thakeham village grew up not far to the east in a declivity in the Greensand which afforded shelter and an easy supply of well water. The church existed by 1086, (fn. 39) apparently encroaching on an earlier green which formed part of the Sullington to Broadbridge Heath drove road and which widened further south to an open space; there the manor house, Thakeham Place, stood in the late Middle Ages. (fn. 40) West of the green Thakeham Street, so called by 1606, (fn. 41) forms a hollow-way leading up towards the Anglo-Saxon hut site. The medieval rectory house was at the west end of the street and stood back from it, perhaps indicating that, unless there had been an early exchange of glebe, a site nearer the church could not be obtained because the street was already built up. Townhouse Farm further west was perhaps an inhabited site by 1327. (fn. 42) Cootes on the north side of Thakeham Street is a threebayed timber-framed house of c. 1400, originally open to the roof throughout but probably with one or both end bays separated from the longer hall bay by low partitions. There are several other timberframed houses in the street, some of them cased like Cootes in stone or brick. On the south side the Mansion House may also be medieval, and others including the Old Post Office are 17th-century. A row of cottages on the green south-east of the church also dates from that century, and another cottage then stood at the church gate. (fn. 43) There was little new building in the street in the 18th and the earlier 19th century: the 7 houses standing on the south side in 1812 (fn. 44) and 2 of the 3 on the north side in 1843 (fn. 45) were all earlier buildings which survived in 1981. Cumberland House west of the green was built in the mid 18th century probably as the Duke of Cumberland inn and was used soon afterwards as a workhouse; (fn. 46) from c. 1953 to 1973 it was the home of the marquess and marchioness of Reading. (fn. 47) A 19th-century smithy on the north side of the street (fn. 48) survived as cottages in 1981. Also on the north side stood the school opened in 1875. (fn. 49) Thakeham Street was infilled with houses and bungalows in the 20th century; others were built on a parallel back lane running into Cray's Lane. (fn. 50)
The clay lands in the northern half of the parish formed an area of dispersed farms, some perhaps existing by the 11th century. Names of later manors indicating clearings were Apsley (a cultivated area by 1073), and perhaps Laybrook (settled by 1262). Farmsteads which in 1982 retained parts of medieval houses, rebuilt from c. 1600, included Apsley, Haylers, Laybrook, and Redlands. (fn. 51) Frobishers (formerly Little Danhill), west of Apsley, is a more complete late medieval house perhaps mentioned in 1555. (fn. 52) Two farmhouses of the 17th century survived in 1982, (fn. 53) and several others, though since rebuilt, were recorded at various dates from 1673 to 1812. (fn. 54) From the 17th century cottages were built on the waste at Danhill common (fn. 55) and in Goosegreen Lane; at both, 17th- and 18th-century cottages survived in 1982. There was some scattered building both of gentlemen's houses and labourers' cottages in the 19th and early 20th centuries. Of the former the most notable were Sprouts, Redcot (later Danefield) in Harbolets Lane, and Hunger Hill west of Hungerhill farmstead. (fn. 56) More houses were built, particularly in Sprouts, Peacocks, Goosegreen, and Harbolets lanes after the Second World War.
Isolated farmsteads had appeared in the southern half of the parish by the later Middle Ages. Champions and Abingworth may have been established by the late 13th century, though rebuilt respectively c. 1660 and c. 1910, and Snapes Cottage further south is 15th-century. (fn. 57) Other scattered farms included two at Greenhurst by the 17th century, (fn. 58) besides Hills and Hampers Farm (later Green Dene), a 17thcentury house recorded in 1718, (fn. 59) Wilkins (later Greystones), recorded c. 1718, (fn. 60) and Parkfields (later Irelands), existing by 1812 but since demolished. (fn. 61) Squatter settlement on Greenhurst common had begun by the later 16th century: Perryhogs, a twobayed house on Greenhurst Lane, dates from that time. From the 17th century other houses were built there and on Furze common further north. (fn. 62) Old House Farm and Thakeham Lee in High Bar Lane and the Old Thatch in Greenhurst Lane date partly from that period. Building was spreading along the Storrington road by the 18th century, (fn. 63) and some 18th- and early 19th-century houses survived there in 1982. Gentlemen's houses included Merrywood (1875 X 1896) (fn. 64) and Little Thakeham (1902), (fn. 65) both in the Greenhurst area. In the 20th century more houses and bungalows were built in Storrington Road and Greenhurst and High Bar lanes, (fn. 66) while in Furze Common Road A. G. Linfield & Sons (later A. G. Linfield Ltd.) laid out a housing estate before the Second World War and extended it c. 1962. (fn. 67)
In 1296 several inhabitants bore the surname Heath, suggesting residence near Heath or South common. (fn. 68) A cottage stood on the common in 1664 (fn. 69) and by 1812 there were about eight nearby, besides the union workhouse built in 1789-90. (fn. 70) Inclosure in 1812 seems to have delayed rather than promoted building, but in the 20th century the area became the main centre of residence in the parish. Between 1909 and 1946 Orchard Way was built south of Merrywood, Crescent Rise with at least 34 bungalows was laid out east of Storrington Road, and further south many new scattered houses sprang up along tracks on the former common. There was also industrial development with a tileworks and sandpits. (fn. 71) The opening of a secondary school on the workhouse site in 1940 encouraged further growth after the Second World War, the area becoming an eastward extension of Storrington. (fn. 72) By 1981 some 18 streets and closes, with over 200 mainly detached and semidetached private houses, had spread over Heath common, and a large estate had been built east of Water Lane. There had also been some further building in Crescent Rise and detached houses were put up in Storrington Road.
In 1327 there were 59 taxpayers in Thakeham vill (fn. 73) and 14 in Apsley; (fn. 74) then, as later, the Apsley figures may have included Shipley, while the inhabitants of Laybrook may have been excluded from both figures. (fn. 75) Seventy-three people in Thakeham and 33 in Apsley paid poll tax in 1377; (fn. 76) in Thakeham 54, in Apsley 42, were assessed for tax in 1524. (fn. 77) In 1642 the protestation was signed by 88 adult males; 8 more were ill or absent. (fn. 78) Households in 1664 included 17 in Thakeham tithing, 12 in Apsley, and 8 in Dishenhurst. (fn. 79) Some 40 families were recorded in 1724. (fn. 80) The population rose from 539 in 1801 to 631 in 1851; certainly in the latter year, and probably in the former, union workhouse inmates were enumerated. A decline to 404 persons by 1901 was not wholly attributable to a fall in the number of workhouse inmates or to the loss of Calstone, which had 8 people in 1891. Numbers rose markedly to 1,117 in 1961, falling to 1,103 in 1971. In 1981 there were 1,565 usually resident. (fn. 81)
An alehouse was attached to Payns farm, perhaps on the site of Cumberland House, in 1670; (fn. 82) it was presumably the inn recorded with one bed in 1686 (fn. 83) and the alehouse noted in 1764. (fn. 84) The inn was rebuilt in brick in the mid 18th century, presumably as the Duke of Cumberland. It had ceased to be an inn probably before 1788 and certainly by 1855. (fn. 85) The Old White Lion at Thakeham, an inn in 1789, (fn. 86) was presumably the White Lion in Thakeham Street; that was a public house in 1812, (fn. 87) the sole alehouse in 1845, one of two in 1855, and the sole inn from 1862; (fn. 88) it survived in 1982. It is a 17th-century house converted to double pile and cased in brick c. 1800.
Thakeham benefit society, established in 1838, met at the White Lion by 1855. (fn. 89) In 1903, however, there were no parish societies. (fn. 90) In 1907 the parish council proposed a public reading room and library, and one was established between 1909 and 1913, possibly in the parish room built next to the school in 1910. (fn. 91) The library survived in 1938 (fn. 92) but no more is known of it. The parish room was still used in 1976; a new village hall was opened on Green Dene farm in 1980. By 1976 A. G. Linfield Ltd. had provided a sports ground on Storrington Road, and there was a sports field adjoining the rectory in 1981. Stoolball was played on both. Societies c. 1980 included a table tennis and stoolball club and a horticultural society. (fn. 93)
A post office was established apparently in 1867. (fn. 94) In 1875 it occupied a house on Thakeham Street opposite the White Lion. It was transferred c. 1900 to a timber-framed house on the south side of the street, (fn. 95) closed in 1975, and reopened in 1980. (fn. 96) By 1875 there was a police station in the 17th-century house immediately west of that house. (fn. 97) It was not recorded thereafter. There was a carrier in 1867, operating by 1878 a service thrice weekly to Worthing, which his successor continued until c. 1906. (fn. 98) Electricity was supplied in the later 1930s under an Order of 1930, (fn. 99) and mains water in 1935. (fn. 100) The Storrington Gas Co., from 1937 the British Gas Light Co., provided gas to Crescent Rise at about that time. Main drainage was provided in 1957. (fn. 101) The parish council unsuccessfully sought a bus service from Coolham to Storrington via Thakeham in the early 1930s, but the village had a bus service by 1946. The council provided shelters from 1951. (fn. 102) In 1982 Thakeham was served by four buses daily from Horsham to Storrington and Arundel, and by a weekly community minibus. (fn. 103) Street lighting had been set up in the Heath common area by 1963. (fn. 104)