Pages 7-10
A History of the County of Sussex: Volume 6 Part 2, Bramber Rape (North-Western Part) Including Horsham. Originally published by Victoria County History, London, 1986.
This free content was digitised by double rekeying. All rights reserved.
ITCHINGFIELD
ITCHINGFIELD lies 3¼ miles (5 km.) south-west of Horsham. The ancient parish and its modern civil successor covered 2,520 a. (1,019 ha.). (fn. 1) The parish seems to have formed the greater part of the medieval vill of Dishenhurst, (fn. 2) and includes the modern village of Barns Green. Shaped like a lozenge, the parish lies mainly on high ground on the watershed between the Arun, which forms the north-eastern boundary, and the western Adur, whose head streams rise near the western boundary. The irregular boundaries otherwise follow streams and field hedges and, for short distances, lanes or roads. Most of the land overlies Weald clay, but in the north-east are beds of Horsham stone, with gravel terraces and alluvium in the Arun valley. The centre and west side of the parish lie at over 200 ft. (62 metres), reaching 279 ft. near Locketts Farm, and commanding wide views northwards to the Surrey hills. The high ground is divided into a set of north-south ridges. The ground falls to below 100 ft. at the southern tip and northeast side. (fn. 3) Much of the parish is woodland. (fn. 4)
The road from Horsham and Broadbridge Heath to Billingshurst skirts the north-west side of the parish. It was turnpiked and straightened under an Act of 1811, with a tollgate at Lyons Corner in Itchingfield, and disturnpiked in 1876. (fn. 5) Several tracks or lanes, probably former drove roads, cross the parish from south-west to north-east, mostly following the high ground. The westernmost ran from Priors Farm in Billingshurst past Shiprods Farm and along the parish boundary to join the Billingshurst road at Toat Hill. By 1876 the southern part had been closed south of Shiprods; (fn. 6) the whole was a bridle way in 1984. Further east a lane from West Chiltington, known in its southern part as Possession House Lane and in its northern as Toat Lane, was paved with stone c. 1870 (fn. 7) and was still a highway in 1984. Further east still, a track leading from Hook Farm in Billingshurst past Muntham and the church was already in part a private road in 1755; (fn. 8) the stretch north of the church was a public road in 1984. Plumtree Cross Lane, running from Shipley and Barns Green past Weston's Farm towards Itchingfield, was perhaps the highway from Itchingfield to Mableswell mentioned in 1487 or 1488 (fn. 9) and the highway from Shipley to Itchingfield mentioned in 1625. (fn. 10) Plumtree Cross stood west of Sharpenhurst Hill and may have been an early wayside cross. (fn. 11) A branch road leading south-west to Valewood was presumably the Farlewoods Lane mentioned in 1616. (fn. 12) It was straightened c. 1859 when the Mid Sussex railway line was built across its old route. (fn. 13) Another lane leading from Plumtree Cross south towards Coolham was blocked in the earlier 20th century. (fn. 14)
The London, Brighton, and South Coast Railway's Mid Sussex line from Horsham to Pulborough, crossing the parish from north-east to south-west, was begun c. 1857 and opened in 1859. (fn. 15) A branch line to Shoreham, opened in 1861, joined it at Itchingfield junction (fn. 16) in the west part of the parish, where there was a station by 1870. (fn. 17) The station had apparently closed by 1875. (fn. 18) The Horsham- Guildford branch, opened in 1865, cut across the north part of the parish. It joined the Mid Sussex line at Stammerham junction in Horsham, on the eastern boundary of Itchingfield. It closed in 1965. (fn. 19) Christ's Hospital station at Stammerham junction, partly in Itchingfield, was opened in 1902 for the convenience of Christ's Hospital. It was still open in 1984, although the station buildings of 1899-1902 had been demolished c. 10 years earlier. (fn. 20)
Roman settlement may be indicated by the discovery of a tileworks in the north-east part of the parish. (fn. 21) Since in the early Middle Ages Itchingfield seems to have been entirely divided between estates centred in other parishes, (fn. 22) medieval settlement was probably late, although the name Itchingfield indicates open land. (fn. 23) A settlement pattern of farmhouses and cottages scattered through the parish persisted until the 20th century, although a hamlet, later a village, grew up at Barns Green from the late Middle Ages.
The church, near the centre of the parish, is of the 11th or 12th century, (fn. 24) presumably indicating habitation then, and there were several families in the parish by 1296. (fn. 25) Nevertheless none can be firmly associated with later farmsteads, although many houses in the parish are medieval in origin. Until c. 1700 or later houses were timber-framed, surviving late medieval ones having crown-post or clasped-purlin roofs; many houses were bricknogged or weatherboarded later. Several houses of c. 1600 were built with a smoke bay, usually at one gable end. Near the church the north wing of Church Farm appears medieval; two cottages nearby are 17th-century, and there are several 19th- and 20th-century houses on the lane running east from the church.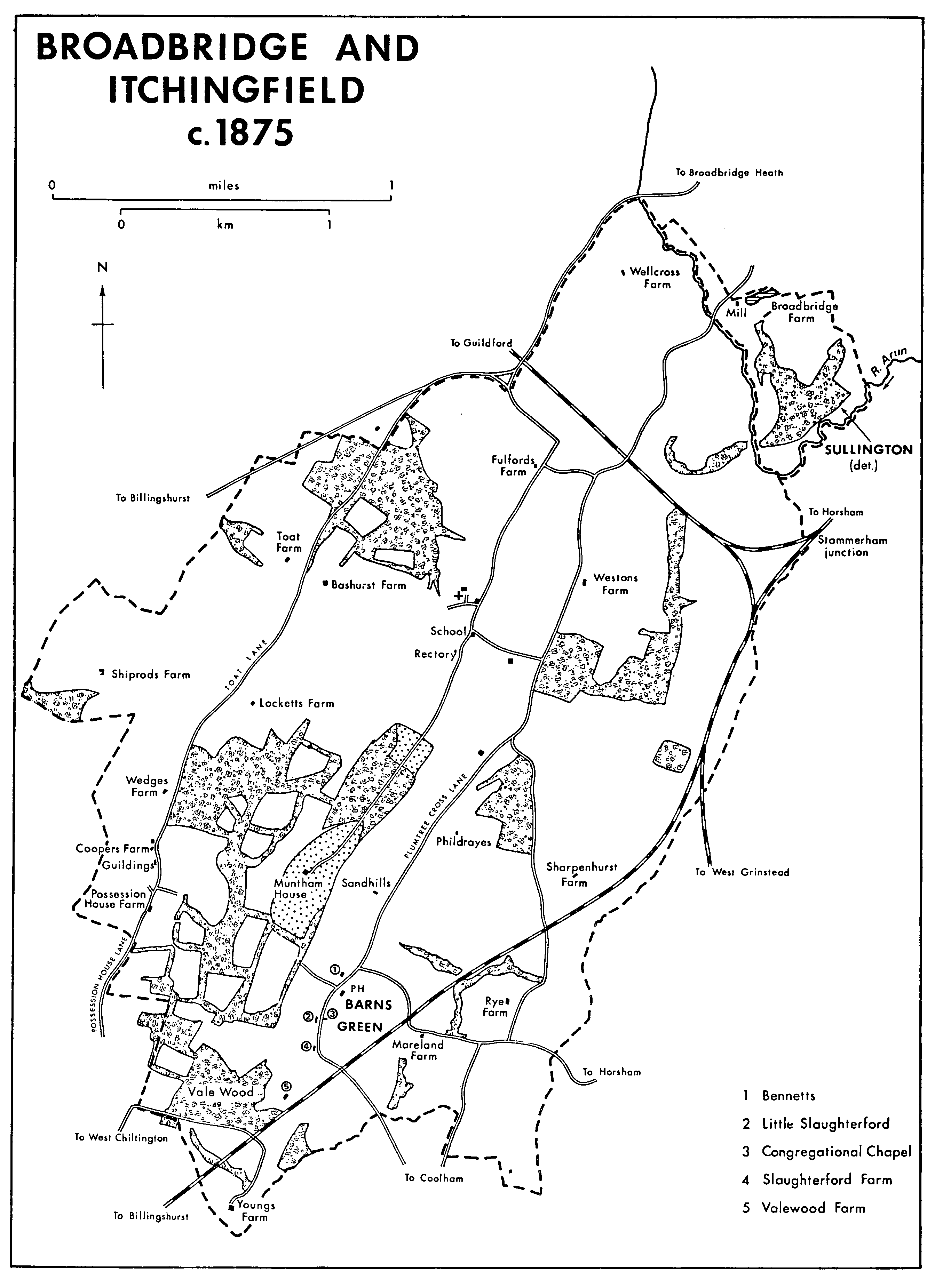 In the north there may have been farms at Fulford by the late 13th century, at Sharpenhurst by 1300, and at Wellcross by 1328. (fn. 26) A William Weston held land in Itchingfield in 1375, (fn. 27) and Weston's Farm existed by 1607, (fn. 28) although the present house dates from later in the 17th century; it includes some reused medieval timbers. Phildrayes or Netherlands west of Sharpenhurst existed by 1548; it was a timber-framed house demolished c. 1915. (fn. 29)
Scattered farms are strung out along Toat Lane and Possession House Lane. Bashurst existed by 1377, (fn. 30) Toat is a medieval farmhouse whose roof was re-used when it was rebuilt in the 17th century, and Locketts (formerly Stringers) retains its late medieval timber frame and clasped-purlin roof. Wedges, since rebuilt, existed by 1660, (fn. 31) Coopers dates from c. 1600, Guildings is 17th-century, and Possession House (formerly Wares) 17th-century or earlier. Shiprods further west is dated 1688. (fn. 32) All except Guildings were listed in 1701. (fn. 33)
In the south a house was presumably built at Muntham after the division of the manor in 1375, and one existed by 1602. Rye Farm is late medieval and was mentioned in 1543; Valewood Farm probably existed by 1507, (fn. 34) although the present house is 17th-century. (fn. 35) Mareland Farm was mentioned in 1566 (fn. 36) and rebuilt in the 18th century and later. In the far south Valewood Cottage, of three bays with a crown-post roof, is 15th-or early 16th-century and may have been the farmhouse of Shingells, a nearby farm mentioned in 1548 which had no farmhouse c. 1800. Bullbrook (formerly Youngs) Farm, mentioned in 1548, (fn. 37) is late 16th- and 17th-century.
In the late 19th and earlier 20th century the parish began to attract wealthy or middle-class settlers who converted old houses or built new ones, in some cases creating parks round them. Wellcross and Bashurst farms became gentlemen's residences, with extensive parkland by 1914. Marlands, a new house and park of c. 1902, is another example. Shiprods Manor was built on Shiprods farm, also with a park, in the 1890s. Also by 1914 a few middleclass houses had been built on the road south-west of Marlands. (fn. 38) Council houses south of Toat are dated 1927. By 1957 there was an estate of detached houses in the north-west part of the parish in Bashurst copse and near Toat Farm, besides scattered new houses elsewhere. (fn. 39) Other isolated houses had been built in the parish by 1984, and in the early 1970s a small estate of large, mainly neo-Georgian, houses was built on Coopers and Wedges farms, replacing the open-air schools started there in 1946. (fn. 40)
From the late Middle Ages a hamlet, later the main settlement of the parish, developed at Slaughterford, later Barns Green, near a stream and a junction between two roads from Shipley. Farmhouses lay west of the north-south road. A William of Slaughterford was mentioned in 1343; (fn. 41) the present Slaughterford farmhouse is 19th-century, but Little Slaughterford next the stream further north is a 16th-century house extended in 1688. (fn. 42) Further north Bennetts is a 15th-century house mentioned in 1507, of four bays with a crown-post roof; (fn. 43) Sandhills, built on a similar plan, appears to be 16thcentury or earlier. Cottages were later built east of the road, including the Old House and Blacksmith's Cottage, both in origin c. 1600, and the 17th-century Queen's Head inn. Barns Green Farm, now demolished, was perhaps the Horns mentioned in 1706, although in 1844 there was no house attached. (fn. 44) There had been little further building by c. 1800. (fn. 45) A Congregational chapel was built c. 1870, (fn. 46) and by 1875 there were c. 12 houses, besides another on Two Mile Ash Road to the east. Several cottages had been built by 1898 on both roads. (fn. 47) It was said in 1884 that most parishioners lived two miles from the church, presumably at Barns Green, and that the population there had increased markedly within the last four years. (fn. 48) By 1913 Melrose Farm and Coombdale had been built further east on Two Mile Ash Road. (fn. 49) By 1957 two new roads had been laid out and built up south of that road, perhaps including the 50 council houses completed by 1953. There were also a terrace and some scattered houses, some of which appear to date from before the Second World War, on the lane between Two Mile Ash Road and Brooks Green in Shipley. (fn. 50) The St. Julian's community moved from Haslemere (Surr.) to Barns Green in 1943, before leaving for Coolham in Shipley in 1950. (fn. 51) In 1965 three- and fourbedroomed houses were being built in Lime Avenue and there were plans for c. 30 private houses to be built behind Barns Green Farm. (fn. 52) After the sale of the farm soon afterwards (fn. 53) it was gradually built over, development continuing in the 1980s. In 1984 there were also several cottages on the Muntham estate, and infilling along the main road.
Nine people were taxed in Dishenhurst tithing in 1327, (fn. 54) and 28 paid poll tax in 1378. (fn. 55) Only 15 were assessed to subsidy in 1524. (fn. 56) The protestation in 1642 was signed by 63 parishioners of Itchingfield, (fn. 57) and 200 were listed in 1676. (fn. 58) There were c. 42 families in 1724. (fn. 59) The population rose rapidly from 249 in 1801 and 268 in 1811 to 349 in 1821, then more slowly to 371 in 1851 and 377 in 1871. A faster increase to 434 in 1881 and 492 in 1891 was attributed to the rebuilding of Muntham House in 1880 and the purchase of the Stammerham estate by the Aylesbury Dairy Co. Numbers thereafter rose more slowly to 603 in 1931, then rapidly to 1,197 in 1951, perhaps partly because of the opening of Wedges open-air school: only 857 were in private households in 1951. Following the closure of the school numbers fell to 927 in 1961. In 1981 1,358 people were usually resident. (fn. 60)
A bus service between Horsham and Billingshurst via Christ's Hospital and Barns Green was established c. 1920 and reprieved in 1935. (fn. 61) Barns Green still had hourly buses to Horsham in 1965, (fn. 62) and less frequent ones in 1985. In the mid 1930s the parish council was negotiating for a public electricity supply for Itchingfield; (fn. 63) one existed by 1965, when Barns Green also had street lighting, but there was no main drainage. (fn. 64) A waste treatment plant at Itchingfield served Horsham and the surrounding area in 1981. (fn. 65) A post office was opened at Barns Green between 1882 and 1895. (fn. 66)
The Bricklayer's Arms at Barns Green, mentioned in 1844, had become the Queen's Head by 1852 (fn. 67) and was still open in 1985. It is a timberframed building of the 17th century, cased in brick in the 19th. No other inn is known.
'Skug hunting', the pursuit of squirrels, was practised in the woods of the parish on Boxing Day, and the custom of 'boxing' survived apparently until the later 19th century. There was an occurrence of rough music between 1879 and 1896. (fn. 68) The Barns Green friendly society was founded in 1850 and registered in 1851. There were 73 members c. 1895. (fn. 69) The society survived in 1965. (fn. 70) In the late 19th century the society took a leading part in the village fête, held on the third Monday in July. A horticultural show, first held at Muntham in 1887, (fn. 71) took place annually in August in the 1960s. (fn. 72) A village hall at Barns Green was built in 1887 to commemorate Queen Victoria's Golden Jubilee; it was used by the workmen's institute, founded that year and surviving in 1924, as a reading room in winter, by cricket teams in summer, and by the parish council and school board as a meeting place. (fn. 73) The adjoining green was settled in trust for the village in 1947, and a new hall to hold 150 was built in 1958. (fn. 74) A nine-hole golf course on Sharpenhurst Hill was established for the Christ's Hospital staff in 1902. (fn. 75) In 1965 there were several sports clubs in the parish. (fn. 76) An annual drama festival was held from 1965 until 1973 or later. (fn. 77)