Pages 58-60
A History of the County of Warwick: Volume 5, Kington Hundred. Originally published by Victoria County History, London, 1949.
This free content was digitised by double rekeying. All rights reserved.
COMPTON VERNEY
Acreage: 1,668.
Population: 1911, 42; 1921, 85; 1931, 56.
The north-western boundary of the parish is formed by the Roman Fosse Way, which is crossed near the southern edge of the parish by the road from Warwick to Kineton. In the angle formed by these two roads lie the extensive grounds surrounding Compton Verney House and the church. The house is a fine stone building in the Classic style erected by Robert Adam about 1780. The main front faces north-east and is divided into five bays by Corinthian pilasters; it is flanked by long wings, making the plan half-H-shaped. It occupies the site of an earlier house dating, in part, from the middle of the 15th century. This, of which Dugdale gives a view, seems to have been built round a courtyard, with gate-house towers; its south-eastern elevation had four projecting chimney-stacks and ten gabled dormers. The house stands on rising ground overlooking the mile-long stretch of water known as Compton Pools, which occupies the bottom of the coombe.
Manor
In 1086 COMPTON was held by the Count of Meulan; it was rated at 7 hides and had been held by Ulward and Cantuin before the Conquest. (fn. 1) The overlordship descended with the earldom of Warwick, of which (then vested in the Crown) it was still held in 1507. (fn. 2)
Earl Roger (1119–53) granted the estate to Robert Murdac, and Earl William (1153–84) confirmed it to Robert's son Roger. (fn. 3) From this family it took its name of COMPTON MURDAK. In 1217 Thomas Murdac succeeded his brother Robert (or Roger?), (fn. 4) to whose widow Maud he assigned dower. (fn. 5) He was dead by 1242, when the fee was held by the heir of Thomas Murdac, (fn. 6) this heir being William Murdac, who had a grant of free warren here in 1254. (fn. 7) William died about 1261, leaving a son William, a minor, whose custody was disputed between Geoffrey de Lewkenore as overlord of Edgcote (Northants.) and Margaret, (fn. 8) Countess of Warwick, and John du Plessis (her husband) in right of the manor of Compton Murdak. Geoffrey was successful, but the elder William before his death had sent his son to Simon de Montfort, Earl of Leicester, by whom he was sent to the Countess of Lincoln; William's widow Eve promised to do her best to get him back. (fn. 9) The younger William died seised of the manor in 1298, leaving a son John. (fn. 10) This John apparently died without issue and was succeeded by his brother Sir Thomas, (fn. 11) who was the victim of a peculiarly atrocious murder in 1316. His wife Juliana de Gayton, with the assistance of his squire, two chaplains, and other persons (and probably with the connivance of Sir John de Vaus, though he was eventually acquitted), (fn. 12) killed Sir Thomas at Stourton (Staffs.), cut up his body and dumped the pieces in his manor of Edgcote (Northants.). For this Juliana was eventually, in 1321, burnt. (fn. 13) Sir Thomas died seised of the manor, his son and heir John being then aged 18. (fn. 14) Sir John Murdak in 1323 settled the manor on himself and his wife Eleanor, (fn. 15) but died without issue and was succeeded before 1342 by his brother (Sir) Thomas. (fn. 16) John's (second wife and) widow Alice seems to have married, and outlived, Simon de Northwood (fn. 17) and was still holding dower in the manor in 1370, when Sir Thomas Murdak conveyed the manor to William de Greseley, clerk, (fn. 18) who in 1373 conveyed it to John Bernes of London and others. (fn. 19) They may have been acting for Alice Perrers, the notorious mistress of Edward III, to whom Sir Thomas had conveyed the manor in November 1370. (fn. 20) In 1371 she sued John Straunge for poaching in her free warren at Compton Murdak. (fn. 21) On the accession of Richard II her estates were forfeited and this manor was put in the custody of John Spenser; (fn. 22) in 1380, how ever, it, with the reversion of the portion still held by Alice widow of Sir John Murdak, was granted to Sir William Windsor, husband of Alice Perrers. (fn. 23) They at once made a settlement of this and other estates, (fn. 24) and on the death of Sir William the manor passed to his daughter Joan and her husband Robert Skerne, (fn. 25) who obtained a quitclaim thereof in 1405 from Arnold Murdak, brother and heir of Thomas (son of Sir Thomas). (fn. 26)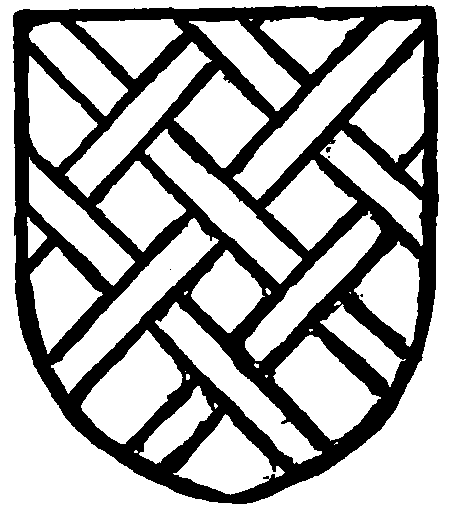 About 1440 the manor came into the hands of Richard Verney, (fn. 27) a strong supporter of the Lancastrian line. (fn. 28) He died in 1490 seised of the manor, valued at £20 and held of the Earl of Warwick as 1/20 knight's fee. (fn. 29) On the death of his son Edmund exactly five years later the manor is called Compton Murdak alias COMPTON VERNEY, is valued at 20 marks, and is said to be held of the Abbot of Abingdon, (fn. 30) presumably in error. His widow Elizabeth (Fielding) held it until her death in 1507, when it was held of the king as of the castle of Warwick as ½ fee. (fn. 31) It then descended in this family (fn. 32) to Sir Richard Verney (d. 1630), who married Margaret sister of Sir Fulke Greville and heir to the barony of Willoughby de Broke, which was successfully claimed in 1696 by her grandson Richard Verney, who died in 1711 at the age of 90. (fn. 33) His great-grandson John, Lord Willoughby de Broke, under the will of his cousin Margaret Peyto of Chesterton in 1772 assumed the name Peyto before that of Verney, and died in 1816. He left two sons, who inherited the title and the manor successively but left no issue, and a daughter Louisa, whose son Robert John Barnard succeeded to the title in 1852 and changed his family name to Verney. (fn. 34) The manor continued to be held by the Lords Willoughby de Broke until 1921, when the estate was sold to Joseph Watson, who was created Baron Manton in 1922 and died the same year. The second Lord Manton sold the property, (fn. 35) most of which, including the manor, was acquired by Samuel Lamb.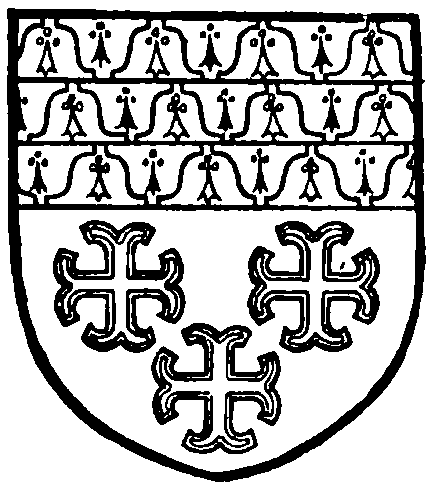 Some 6 virgates in Compton and Walton were held of Roger Murdac by John Durvassal, who died between 1217 (fn. 36) and 1221, when his son John was under age. (fn. 37) The younger John died before 1262, and as he held of William Murdac by knight service the marriage of his son Robert came to William, who gave it to Robert de Leycester, who granted it to one Amabel, who conveyed it to Geoffrey de Chaucumbe, who married Robert to his daughter. (fn. 38) Similarly in 1342 Sir John Murdak confirmed a grant by his brother Thomas to Thomas de Farneburgh of the marriage of John son and heir of John Durvassal of Compton Murdak. (fn. 39) But no more is known of this freehold estate.
Church
West of Compton Verney House is the chapel, built at the same time as the house, in the Italian Classic style. (fn. 40) It is about 58 ft. long by 27½ ft. wide and has walls of ashlar masonry. The windows are round-headed, and the principal entrance is at the west end. The 16th-century coloured glass, that was until recently in the windows, having been brought from the former chapel that stood near the lake, has been removed and sold. (fn. 41)
There are many memorials to members of the Verney family. The oldest is a brass to Anne daughter of Richard Verney and wife of Edward Odyngsele of Long Itchington, died 1523; it has her figure, a shield of arms, and a symbol of St. Mark; those of the other three evangelists are missing.
The second is also a brass with the figures of a man in 16th-century armour and his wife, nine sons and five daughters: the marginal inscription is incomplete, the name being missing and the date 15 . . . incomplete. At the angles are the Evangelistic symbols (one missing). There is a shield of arms charged quarterly with Verney and Greene, and others missing.
The third is a brass to George Verney, who married Jane Lucy of Charlecote and died 1574; it has his figure in armour and a shield of Verney impaling Lucy. There is a stone slab to John the infant son of Sir Greville Verney 1620. An altar tomb of Richard Verney 1630 and his wife Margaret 1631 has their recumbent effigies of alabaster in the costume of the period, he in armour and having a sword. Their heads rest on cushions. The inscription is carved on the top edge of the base, which is of light-coloured marbles and has grey marble panels with other inscriptions. At the east and west ends are achievements of arms of Verney and Greville.
A brass inscription to Greville Verney, 1642, has three shields of arms. A stone slab to Greville son of Sir Greville Verney is carved with a skull and hourglass and two shields of arms.
A brass plate, formerly enamelled, is to George, fourth son of Sir Greville, and Catherine his wife, and there is a stone slab to Catherine Verney, 1657, with two shields and a lozenge of arms; also another slab to another Greville, 1660. A mural monument of marble is to Sir Greville Verney, 1668; in it is his bust.
A floor slab is to William Verney, 1683, and another to Richard son of Richard, Lord Willoughby de Broke, 1698.
There are also later, 18th and 19th century, monuments to the family.
There are no ancient registers, entries relating to this parish being made in the registers of Lighthorne. (fn. 42)
Advowson
The church of Compton was given by Henry de Newburgh, Earl of Warwick, to St. Mary's Collegiate Church at Warwick as a prebend for the support of a canon. (fn. 43) In 1340 it was valued at 8 marks, (fn. 44) but in 1535 the rectory was farmed for only 53s. 4d, (fn. 45) under an 80-years lease made to Thomas Verney in 1533. (fn. 46) Although called a parish church in 1535, (fn. 47) after the suppression of the college in 1544 it seems to have become practically the private chapel of Compton Verney Hall, was allowed to fall into decay towards the end of the 18th century, and replaced by a new building when the hall was rebuilt. This was consecrated for parochial use in 1852 and Compton Verney was united with Combroke in 1858, the benefice being in the gift of the lord of the manor.